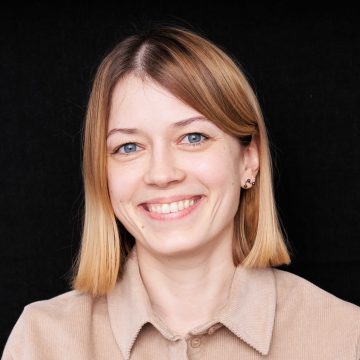 Karolina Jūrėnė
Product Marketing Manager
Reading Time: 4 minutes
SMS is a rapidly growing marketing channel and major mobile carriers are taking action to keep it a trusted one. AT&T and T-Mobile have announced that they will no longer support shared short codes as of March 1, 2021 in order to safeguard the end-customers from potentially spammy and confusing texting.
Up until now, many brands relied on using shared short codes for their SMS marketing. Shared short codes are five- or six-digit sending numbers used by multiple businesses for commercial (A2P, or application-to-person) messaging. Using a shared short code used to be beneficial because of its high throughput (sending speed), however, it has a major drawback too. Because the number is shared, there is a high risk of confusing the customer with multiple texts from different businesses coming from the same number. In turn, this also increases the risk of spam complaints, which hurts all the brands under the same number and reduces their deliverability. 
With the shared short code ban coming into effect this March, the signal for brands engaged in SMS marketing is clear: they all need to switch to dedicated sending numbers to continue using the channel for commercial purposes. 
Nothing changes for Omnisend merchants
The good news for Omnisend customers is that nothing will change.  Omnisend has never used shared short codes in the US, Canada, or any other of our supported countries, and, by default, Omnisend uses free of charge, dedicated toll-free US sending numbers.
What this means for our customers: 
There is no need to change or migrate your sending number
You will not face any extra costs or throughput surcharges
Your shoppers already receive your messages from a single, dedicated US number
At Omnisend, we stand for our mission to make marketing relevant and therefore applaud the efforts to establish SMS as a trusted marketing channel. We strongly believe in the potential of SMS—whose conversion rates doubled last year—and suggest using it in a subtle, personalized way to complement your email, and build a consistent, omnichannel marketing experience.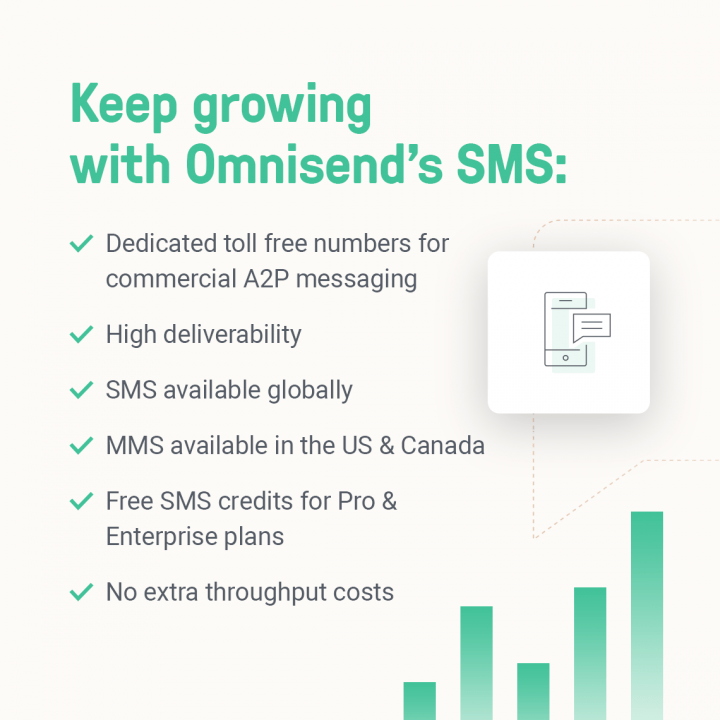 Dedicated SMS number options
Having a single, dedicated SMS sending number will be the new SMS marketing norm starting this March. Here's a short run down giving more details on all the dedicated number options merchants will have to choose from: 
10DLCs
10-digit long codes are emerging as a new, popular option for commercial (A2P) messaging. Unlike the previously popular P2P (peer-to-peer) local long numbers, A2P 10DLCs are supported for mass-texting and are less filtered by major mobile carriers. However, the industry and infrastructure for 10DLC are just emerging, e.g. with AT&T only launching an A2P 10DLC solution in March 2021, therefore certain deliverability issues might be expected until 10DLCs will rely on a fully supported and widely established infrastructure. 
Note: If you want to choose 10DLC as your dedicated number option, make sure your current SMS provider that offers long numbers specifically supports the A2P 10DLC type of infrastructure to maintain your deliverability: your default sending speed should be higher than 1mps, and you shouldn't need to buy multiple sending numbers when using an A2P 10DLC number.
Dedicated toll-free numbers
Unlike 10DLCs, toll-free numbers are a tried-and-tested option for brands who do commercial messaging and care about their deliverability. This type of sending number has a high throughput, is approved for mass-texting and can be instantly provisioned. 
Note: Omnisend provides a high throughput (40-60mps) dedicated toll-free number to each brand free of charge. If you're considering using this option with a different SMS provider, take into consideration the additional monthly costs that might apply for obtaining a toll-free number and increasing your throughput.
Dedicated short codes
Using dedicated short codes is the priciest option of all dedicated sending numbers, and it takes the longest time to get them provisioned (up to 8 weeks). However, it is most memorable (better customer experience) and has the highest throughput over other options. If you have a large SMS subscriber list (e.g. over 100,000 subscribers) and want to send out high volume campaigns in a matter of minutes, a dedicated short code might be the best option. 
Note: Omnisend provides dedicated short-code numbers upon request. Please take into consideration that the provisioning period to get this type of number might take up to 4-8 weeks. If you're interested in purchasing a dedicated short-code, please contact our support or your customer success manager for more information.
See how Omnisend's SMS offer compares
The shared short code ban is a major shift in the industry to safeguard the SMS channel from spammy practices and provide the best possible experience for mobile customers. If you also put your customer experience first, take a look below to see more details why Omnisend is the best choice for ecommerce brands who want to build consistent, personalized email & SMS messaging in a way that is scalable and reliable.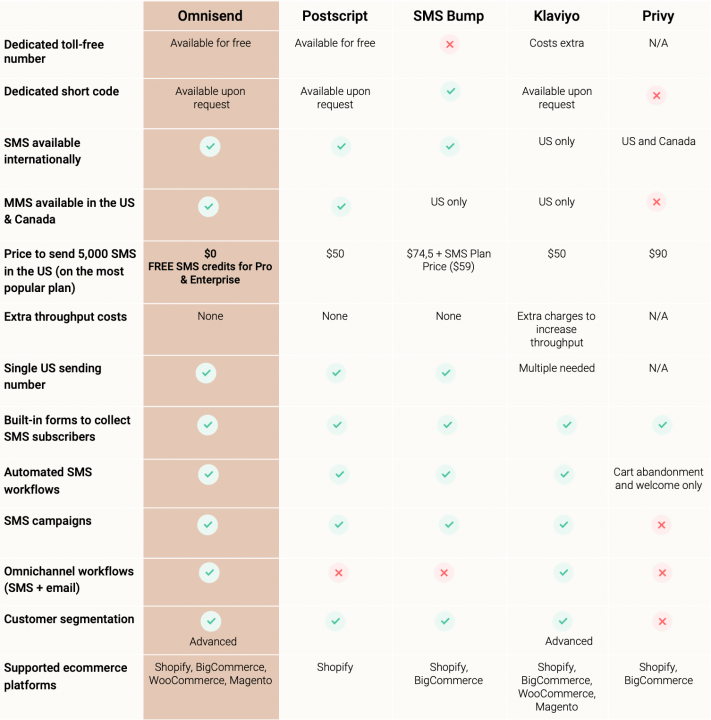 Special thanks to our friends at
Omnisend
for their insights on this topic.