Black Friday and Cyber Monday (BFCM) weekend is coming up fast (just where did 2022 go?) It's high time for brands to begin planning for this massive, revenue-generating shopping event.

179.8 million unique shoppers shopped in-store and online during the BFCM holiday weekend in 2021, despite the disruption caused by the COVID-19 pandemic.
With 2022 seeing record rates of inflation and more cautious consumer spending, brands will need to pull out all the stops to wow customers this holiday season.
Although still associated with shoppers streaming into store locations, BFCM weekend is becoming increasingly digital and mobile-first. According to Nosto, mobile outperformed desktop at 69% versus 31% when it came to product discovery and browsing, where social media emerges as a key channel. In fact, 54% of Gen Z shoppers and 58% of Millennials say that social platforms are better than online search for finding products and brands.
In sum, a robust social media strategy is now essential for a profitable BFCM weekend.
We've put together a list of the top social media planning practices your brand should follow to attract and retain customers this holiday season — and how Marsello's brand-new social media toolkit can help.
---



Quick Links:
---
1. Use data to inform your BFCM initiatives and planning
Not sure where to begin with your social media planning? A good place to start is to look into what strategies worked for your brand last year — and what didn't. 
Social media metrics such as engagement, impressions, click-through rate, website traffic, and conversion rate will help you to gauge the performance of previous initiatives and where you can build on this success. Likewise, learning from past mistakes, such as posting at the wrong time of day for your audience, is one of the best ways to set yourself up for a profitable BFCM period.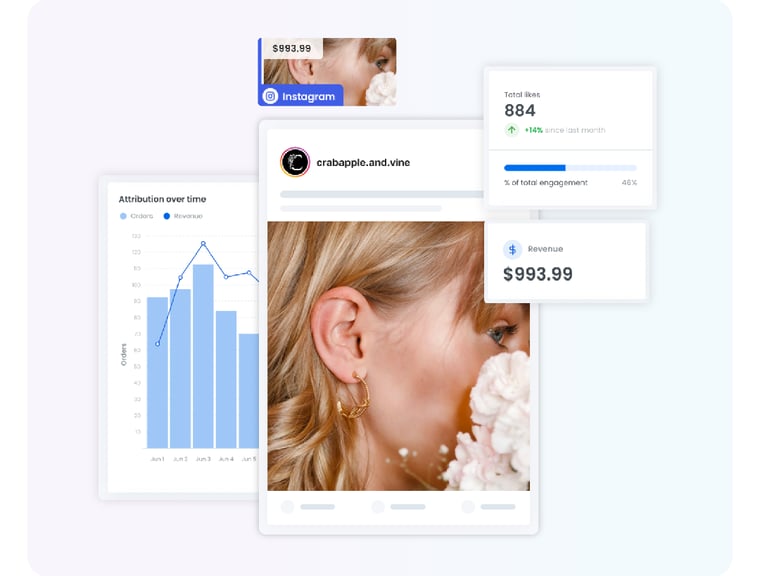 Using Marsello, look back on what kinds of posts generated the most sales over past campaigns.
In addition to using your own data, don't ignore the power of industry trends. Knowing what's hot with social media users is a great way to stay innovative and serve up the content consumers want to see. 
For example, short-form video is gaining traction across all social platforms in 2022, with 26% of social media marketers investing more in short-form video than any other content format. If your target customer belongs to the Gen Z demographic, this should definitely be in your BFCM toolkit.
2. Iron out the BFCM promotions you'll be running
Running seasonal promotions is an essential part of BFCM, and your followers will expect you offer some compelling deals and discounts throughout the weekend. To maximize engagement with your social content, make sure you've planned out all the core details of your promotions, such as:
The type of content. Are you using a single image, carousel, or video to publicize your promotion?
The type of promotion. The size of the discount/offer, what products are included/excluded, etc.
Length/timing of the promotion. How long the promotion is valid and whether you might extend it to increase conversions
However, be careful not to make your social media feeds too promotion-heavy. Constantly pushing discounts over BFCM weekend can become boring and repetitive for your followers. Consider mixing up your feed with other types of content and putting aside some time to plan out your content streams. This includes promotional offers, gift inspo, and user-generated content.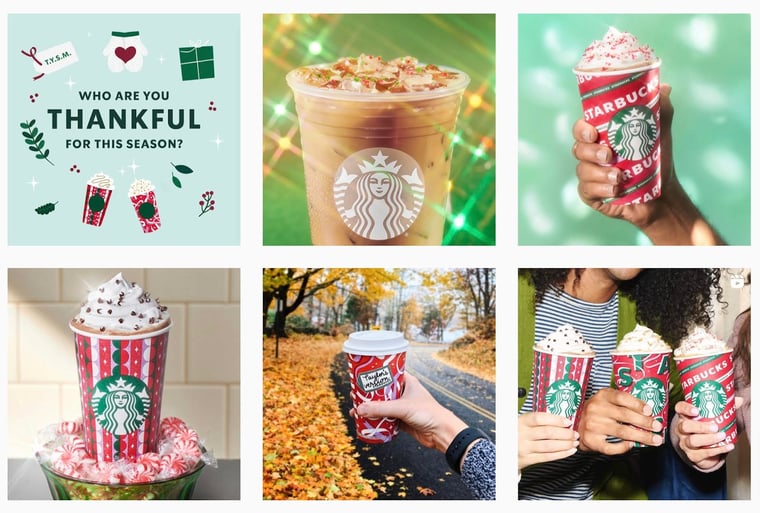 Starbucks is a great example of a brand that posts a careful mix of content during and in the lead-up to BFCM. In addition to posting about their seasonal drinks range and limited-edition holiday cup promotions, its social media feeds also include user-generated content and question prompts designed to encourage engagement.
3. Create compelling images

Consumers' newsfeeds and inboxes are being inundated by promotions and discounts during BFCM weekend, trying to persuade them to drop everything and shop right now. But don't join the race to the bottom by choosing the steepest discount possible; focus on creating eye-catching visuals that entice consumers to stop scrolling and check out your offer.
To tap into those short attention spans, your images need to have a "wow factor" that's pleasing to look at and primes people to explore what you have to offer.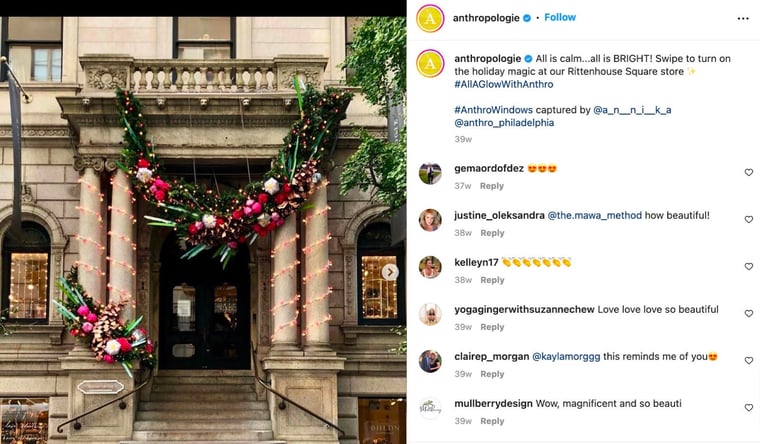 Known for its stunning social media feeds, Anthropologie does a great job at putting its followers in the mindset of holiday shopping ahead of BFCM. This fun visual swipe post allows Anthropologie fans to "turn on" the Christmas lights at one of their flagship stores — a clear sign of more holiday-themed content to come.
4. Use a calendar to track and schedule your BFCM content

It can be tempting to post all your social media content on the fly. But while there's room for spontaneity in your content (for example, jumping on a trend while it's still viral) you don't want to leave your BFCM content to chance. 
Peak season is a busy time for brands, and it's time-consuming and stressful to plan and post content as you go. More importantly, a scattergun approach also runs the risk of missing key promotional opportunities during Thanksgiving weekend.
Using a calendar tool is a great way to maintain control over your BCFM social media planning. Marsello allows you to add individual social posts to your calendar and add relevant information such as launch dates, copy, or associated promotions, ensuring that your team always knows what's in the pipeline.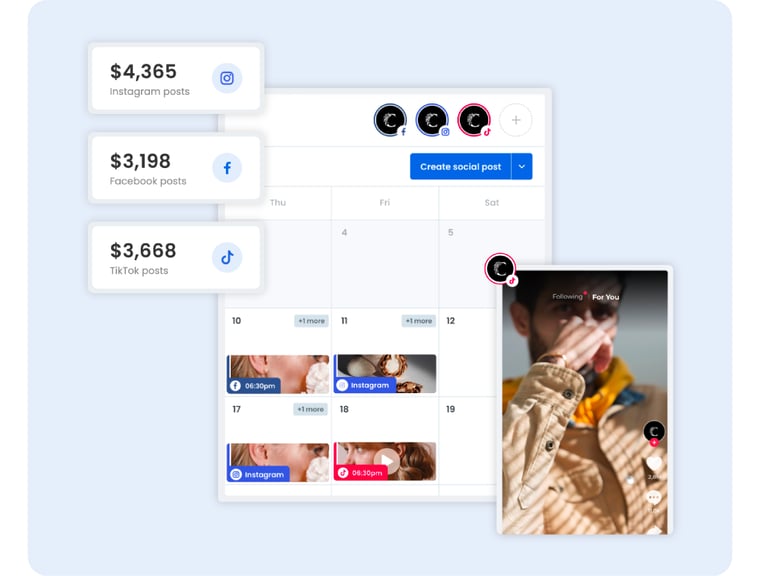 5. Keep your marketing collateral organized
BFCM is one of the biggest revenue-producing periods of the year for retailers, so your business is likely to be using more social media collateral in the form of graphics, videos, and product photography during this period to increase engagement. 
With so much revenue on the line, it's vital to make sure your marketing team has a system to store and organize these assets. After all, nobody wants to lose a vital photo or video right before posting!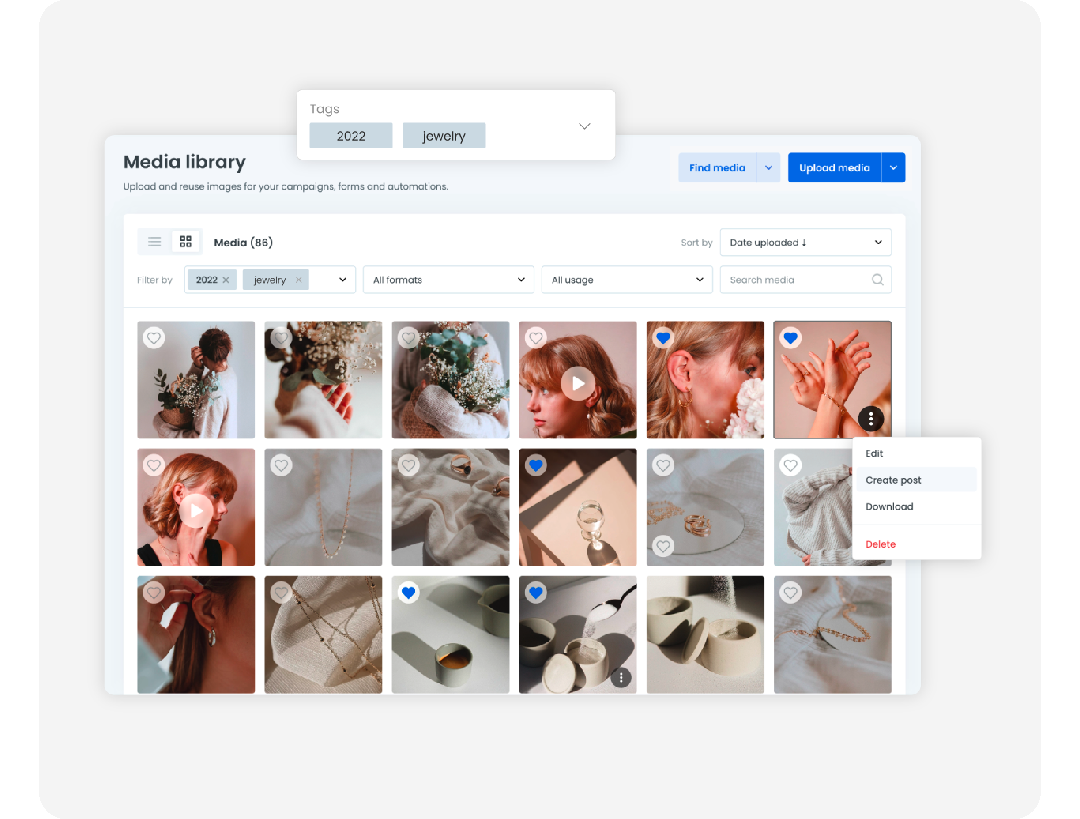 The Marsello media library is an excellent way to keep all of your BFCM collateral in one place where it's easily accessible to your team. The media library connects seamlessly with all major storage systems, including Google Drive and Dropbox, so you can retrieve your assets as you need them for emails, social media, and other campaigns being run by Marsello.
6. Keep your BFCM initiatives consistent across all platforms
If you're planning on running a big promotion (or several) over BFCM weekend, it makes little sense to only publicize your offer on a single platform. To drive as much traffic as possible to your website and storefronts, all of your marketing channels — including social media, email, and even your store signage — need to be working together in harmony. 
It's easy to say that the more channels you use, the stronger your promotional strategy will be. But it's not quite that simple; more channels also means more time spent making sure that your messaging stays consistent. 
Here is a great example from Sephora, which successfully reinforced last year's Cyber Monday sale across email and social media by using the same graphic and messaging: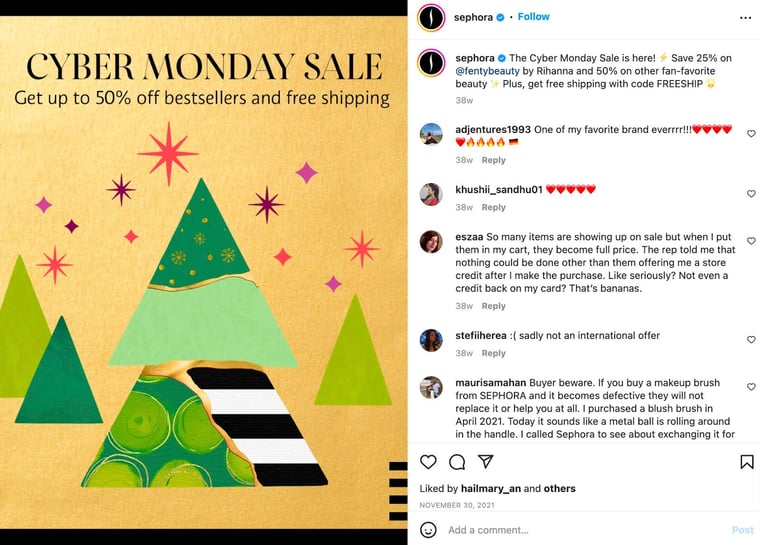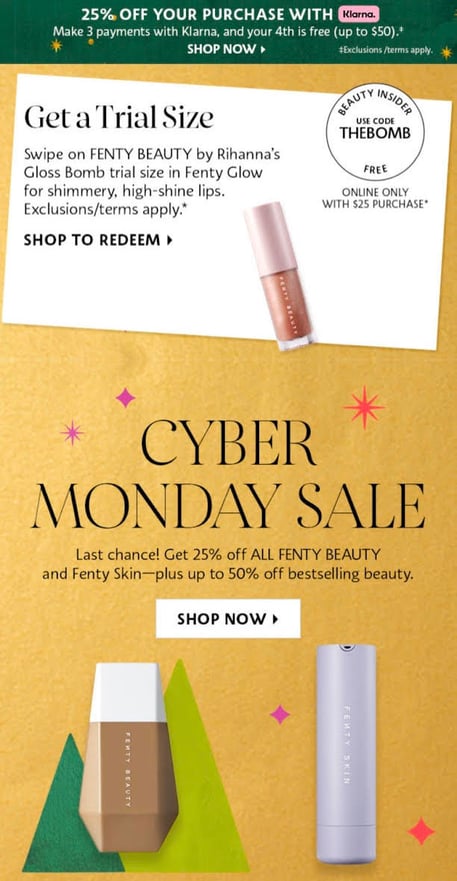 Marsello's campaign calendar makes it easy to achieve coordinated campaigns like Sephora's. Social media, SMS, and email can be planned within a single dashboard to streamline your social planning and ensure consistency across channels.
7. Optimize your BFCM social media accounts for sales by leveraging built-in social selling features
Social media is no longer simply a marketing channel designed to direct shoppers to where the action takes place. Thanks to the birth of social commerce, many platforms now boast a range of tools that enable users to purchase products directly within the app.
Social commerce has a range of benefits for both shoppers and brands during BFCM. If prospective customers see a great holiday gift option, they're going to want to move fast. By shopping directly within an app, consumers only have to tap the product tag to be taken directly to the product page and checkout. Redirecting shoppers to your ecommerce website, where they'll need to find the product themselves and place it in their cart, takes extra time and effort and may result in them abandoning the purchase.
In addition to speeding up the checkout process, social selling makes your product catalog easy and seamless to navigate. For example, Walmart has created a range of collections in its Instagram store to address different shopper needs:.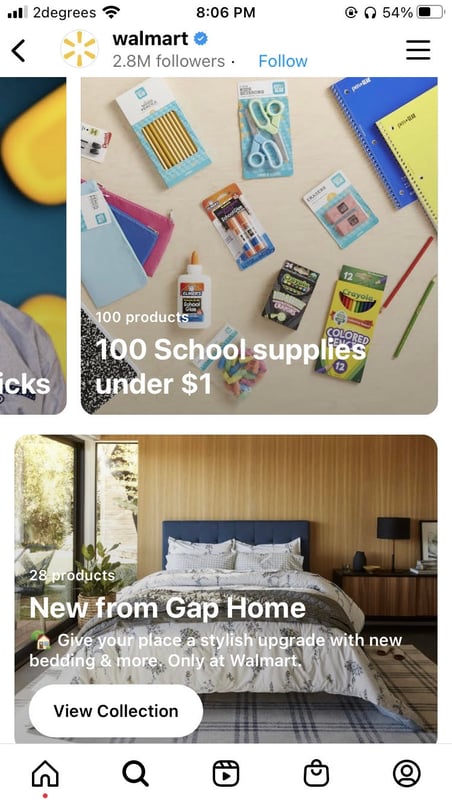 Collections have a ton of applications for BFCM weekend. Consider catalogs such as "'Top holiday picks for under $30"' or "'red-hot Black Friday deals" to optimize your sales strategy and drive consumers toward high-value merchandise.
Final words
Black Friday and Cyber Monday are among one the most important holiday shopping weekends on the calendar, and brands need to begin their social media planning early to maximize the promotional opportunities available. By following the social media planning tips above and utilizing Marsello's social media tools, you'll be well-placed to make your BFCM 2022 the best yet.
Marsello: All your Black Friday marketing, in one place.
Send email and SMS campaigns to customers
Create set-and-forget marketing automations
Schedule social posts and track the impact on sales
Track the direct impact of all your marketing on revenue
Build a customer database
Published Sep 14, 2022 9:58:06 AM
Special thanks to our friends at
Marsello
for their insights on this topic.