did you know
Omnisend customers automate 32% of their email conversions. Are you maximizing sales?
Reading Time: 10 minutes
BigCommerce gives merchants plenty of opportunities for customization, but the theme you pick when starting out will have a direct impact on many areas of your design. Selecting a theme that aligns with the goals you have for your online store will help you achieve your ideal design as quickly and efficiently as possible.
Different designs make sense for different businesses, but we've found that these ten options stand out from other BigCommerce themes.
What to look for in a BigCommerce theme
It's easy to judge an ecommerce theme based on screenshots alone, but you'll need to consider a few other factors in order to identify the best overall option for your BigCommerce store.
Speed: One in four visitors will abandon your site after waiting for just four seconds, and a delay of just one second will lead to a 16% drop in customer satisfaction. Test a few different themes to see how each one affects your performance.
Mobile friendliness: Mobile orders are expected to make up roughly three-quarters of all ecommerce sales in 2021. Your BigCommerce theme should work just as well on smartphones and tablets as it does on desktops and laptops.
Customization: You'll need to customize your theme to match your brand style and deliver a more personal customer experience. Themes with an overly rigid design will be difficult to adapt to the unique needs of your site.
Home page: An ideal home page offers plenty of space for a captivating hero image while making it easy for users to navigate your site and find the products they're looking for.
Product pages: Product pages should include a high-resolution image, a detailed description of the item, shipping and return policies, and any other information that could make visitors more confident in their purchase.
Support: Your theme provider should offer some basic support to help you respond to technical issues. While a few themes are developed and supported by BigCommerce itself, many more come from third-party providers.
Pricing: While there are some free themes, a paid theme may be worth the price if it offers a unique design or powerful features that will add significant value to your site. 
Cart and checkout features: Persistent carts are a crucial feature for ecommerce businesses, ensuring that a visitor can leave your site, come back, and see the same products in their cart.
Let's look at the best BigCommerce themes that check these boxes.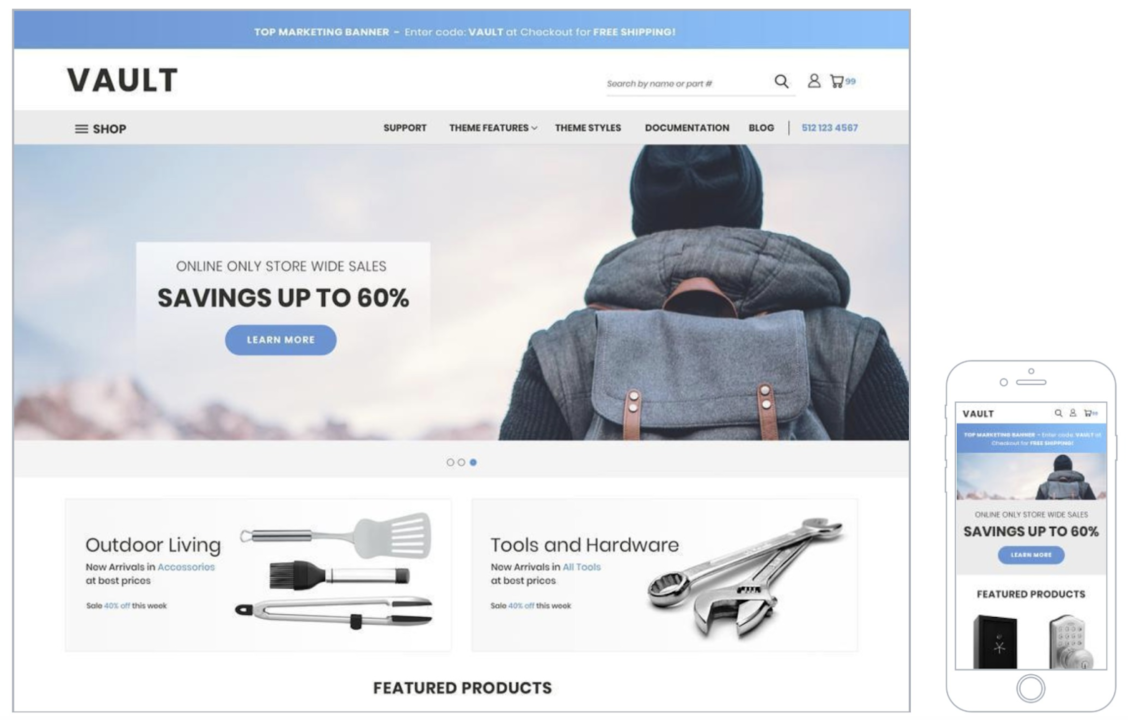 Main features: Vault is a free custom BigCommerce theme with a sleek design that should work well for all kinds of ecommerce brands. The Vault design includes a banner at the top of the page that could be used to highlight promo codes, order minimum for free shipping, information about processing delays, or anything else that might be relevant to your visitors.
Price: free
Optimized for: Vault is fully optimized for mobile devices, only making minor changes to the design in order to accommodate the smaller screen.
One thing to watch out for in your mobile design is that the hero image will be a fraction of the size on a smartphone or tablet. Text in your hero image might look fine on a desktop, but it will likely be too small for your mobile visitors to read.
Styles: Vault is currently available in three styles:
Bright, which comes with orange elements
Cool, which comes in blue
Natural, which comes in green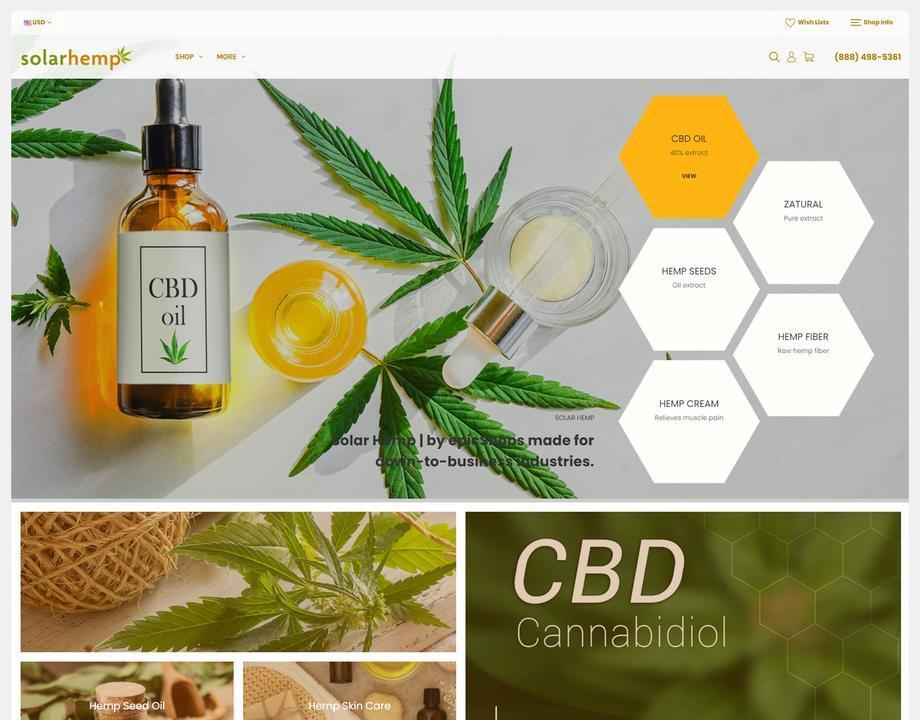 Main features: Solar provides a familiar ecommerce setup, with basic information at the top and a hero image for top products and offers. One unique element is the inclusion of category buttons on the sides of the page, leaving space for a hero image while making it easier for visitors to find the items they're looking for.
Price: At $300 per license, Solar is one of the more expensive BigCommerce templates we've covered.
Optimized for: The Solar theme is optimized for mobile devices. Keep in mind that your site will look different to visitors who are accessing it on a smartphone or tablet. For example, these users won't be able to see the category buttons that are visible above the fold on desktops and laptops.
Styles: Each Solar style comes with a distinct feel compared to the other three. The Hemp style, for example, uses a green and yellow color palette that's perfect for brands that sell all kinds of natural products.
On the other hand, the Beauty option has a more sleek, monochromatic tone. However, they're connected by shared design elements such as the centerfold hero image with a few category buttons located on one side or the other.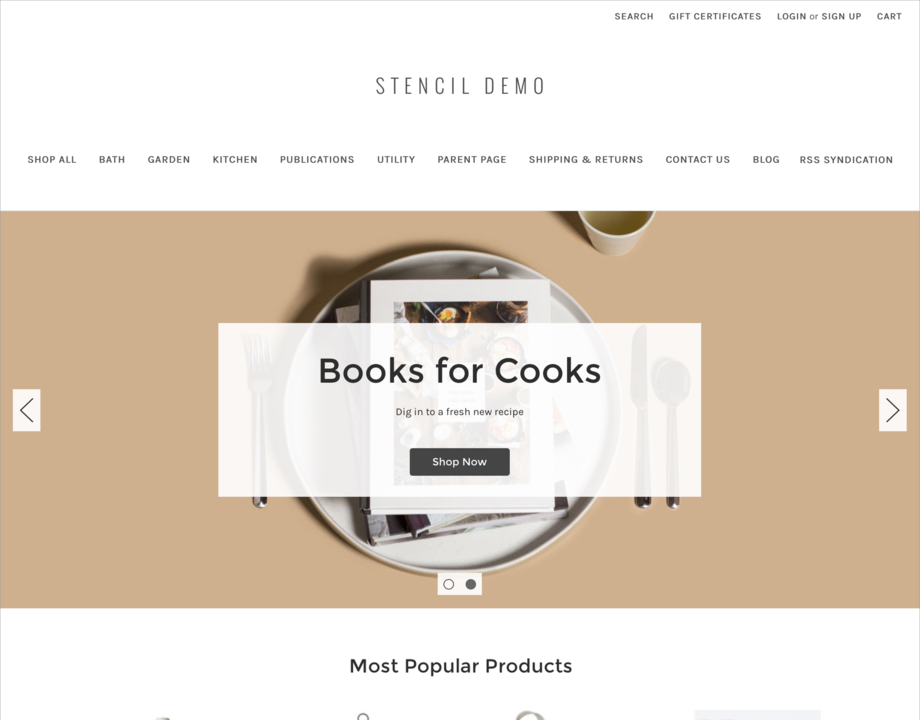 Main features: Similar to Vault, Cornerstone includes space for text in the middle of the screen. This is laid directly on top of the hero image instead of being left off to the side as we saw with Solar.
Cornerstone will automatically cycle through up to three images in order to highlight different products or promotions. It also includes social media icons to help you move website visitors to your social media profiles for further engagement.
Price: free
Optimized for: Like the other themes we've covered, Cornerstone is built to work just as well on smartphones and tablets as it does on desktops and laptops. It also offers more real estate at the top of the screen compared to many other BigCommerce designs, making it particularly effective for brands that have large catalogs or sell products in many different categories.
Styles: Cornerstone's styles (Light, Bold, and Warm) use the same basic design elements, but come with enough changes for each one to feel distinct.
For example, the Light style provides more space at the top of the screen plus a larger call to action in the center. On the other hand, the Bold preset makes those elements smaller to offer an even greater focus on the hero image.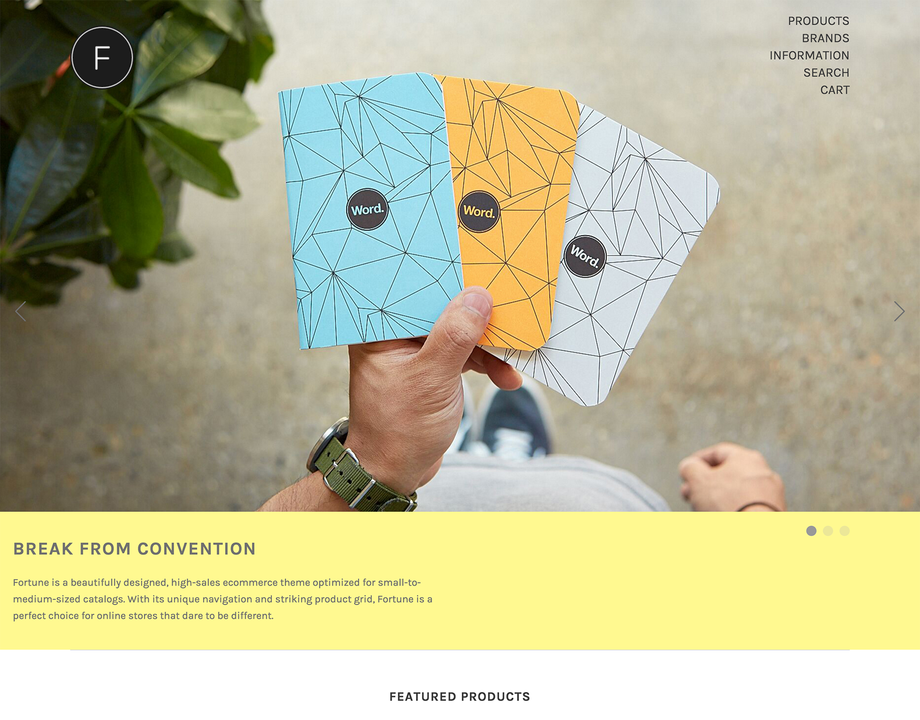 Main features: Fortune's design puts the main image front and center, with no calls to action or other content to distract from the most important visual.
The only other elements above the fold are small sections in the top corners for branding and information, plus a larger space below the image that's perfect for things like mission statements, sourcing details, and other details that could get visitors more interested in your products.
Price: free
Optimized for: While almost any merchant could get great results from Fortune, they recommend it for BigCommerce sellers with small to mid-sized catalogs. With a strong hero image and large product icons, this is an ideal choice for boutiques that work in aesthetic fields such as fashion and beauty.
Styles: Fortune comes in four styles: Minimal, Bright, Contrast, and Highlight. Like we've seen from other themes, those presets come with similar BigCommerce templates, but each one has a unique color palette and some small differences in design. In particular, the Minimal style has a much smaller space for the hero image compared to the other three options.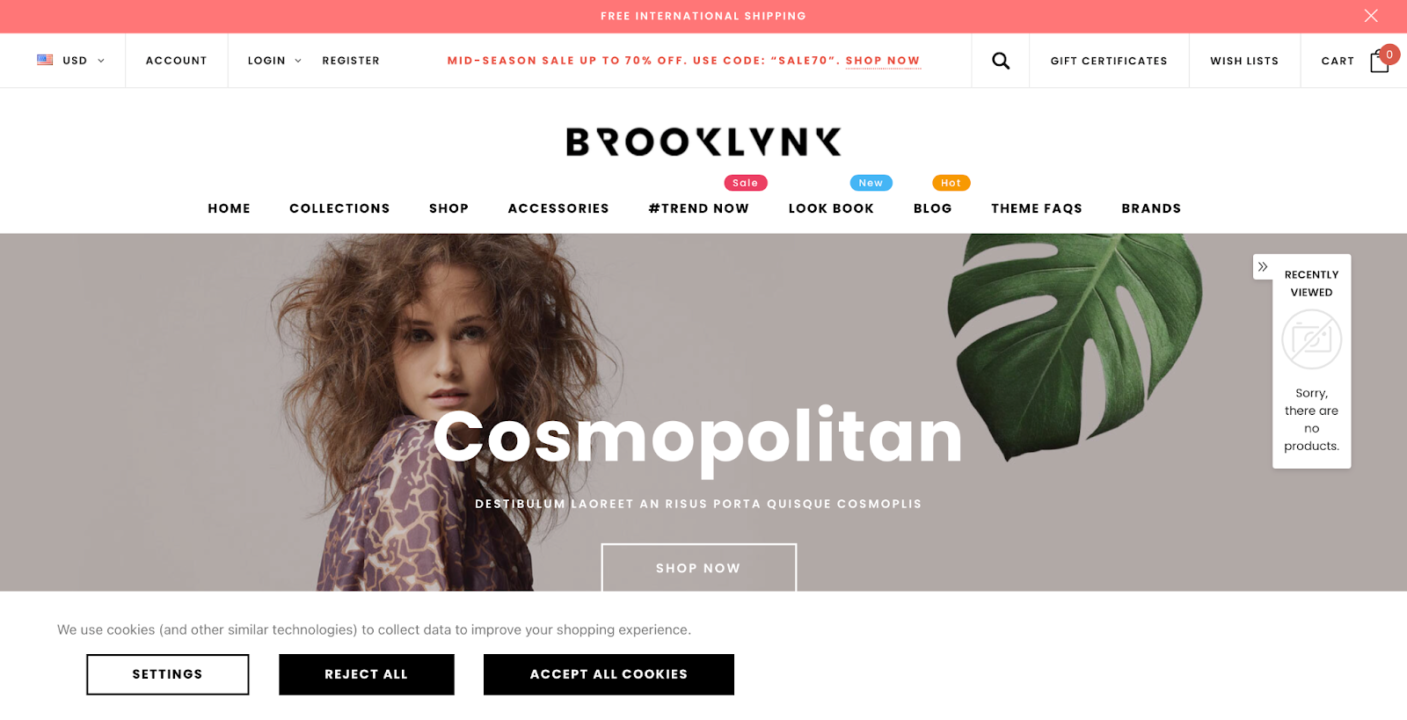 Main features: Brooklynk's Mega Menu is an especially popular feature, enabling merchants to add images, video clips, and other elements to their site menus. When working with the theme, we were also presented with a popup that invited us to sign up for an email newsletter. This is a great way for store owners to keep users engaged and take full advantage of each visit to their site.
Price: Brooklynk currently runs at $159 for a regular license with six months of support. Users can add six more months of support for an extra $54, or $213 total. Unlike some of the other themes we've looked at, Brooklynk also offers an extended license with resale rights for a hefty $3,550. While it isn't available through BigCommerce itself, you can access Brooklynk through the third-party ThemeForest marketplace.
Optimized for: Brooklynk automatically adjusts design elements to the size of each user's screen, ensuring that your site is equally accessible on all kinds of devices. It also includes Google's Rich Products Snippets to help you reach more leads through Google search results.
Styles: Brooklynk only comes with a single preset, but you'll still be able to customize that design based on the goals you have for your site.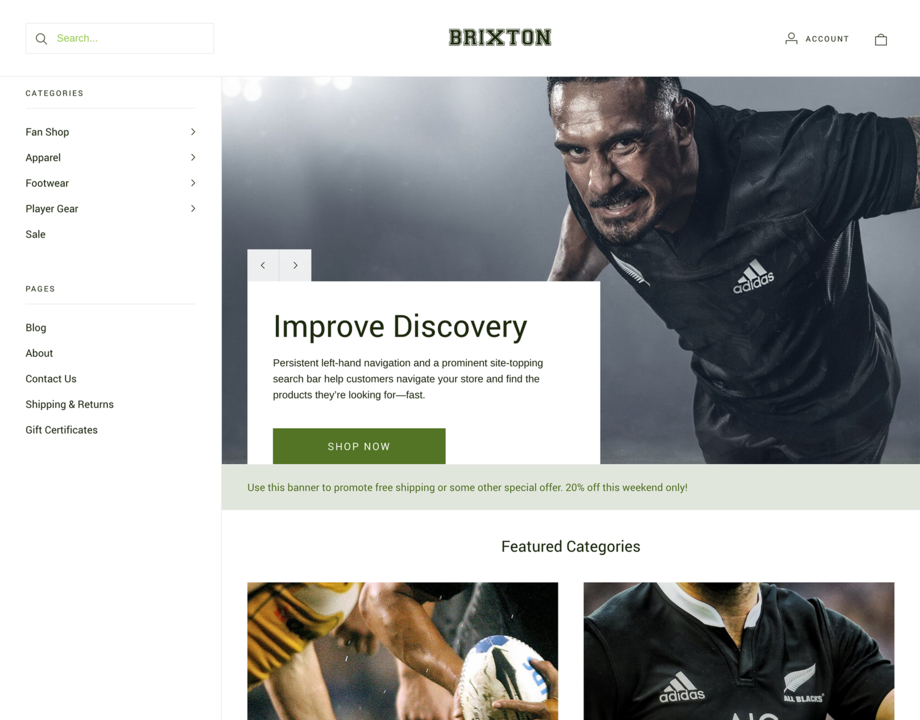 Main features: The menu bar on the left cuts into space that could be used for a hero image, but it also makes it easy for users to find the products they're looking for. That makes Brixton a good option for brands that typically receive highly engaged visitors who are ready to make a purchase.
Brixton is also developed and supported by BigCommerce itself, so you can depend on them to regularly update the theme, remove bugs, and make sure that it is fully compatible with all future BigCommerce releases.
Price: $225
Optimized for: Brixton is compatible with major browsers like Chrome, Firefox, Safari, and Edge (10+) on both desktops and mobile devices. With a clear navigation bar on the left-hand side, it's also well-suited for merchants that have larger catalogs or that sell many different categories of products.
Additional styles: Brixton's four styles—Warm, Classic, Industrial, and Luxe—come with minor differences such as fonts, colors, and spacing. However, as with other popular themes, each one includes the same basic design with a hero image, a centralized call to action box, and a menu bar on the left-hand side.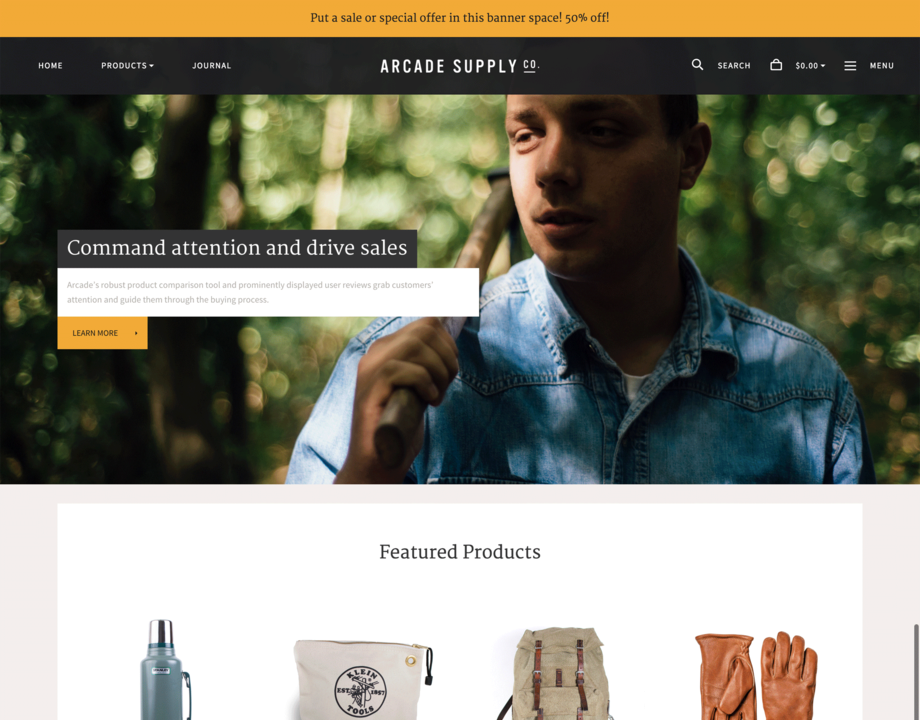 Main features: Arcade offers a unique emphasis on user reviews, giving merchants a space to leverage social proof on their homepage. Three of the four styles also include a large banner at the top of the screen to highlight promo codes or other special offers.
Price: $175
Optimized for: Arcade comes with built-in support for smartphones and tablets. With that being said, it's worth noting that the default text elements take up much more relative space on smaller screens compared to their appearance on desktops.
Styles: Arcade offers four unique styles: Natural, Light, Bright, and Bold. As you can see below, these mostly differ from each other with respect to the color scheme, although there are some other minor changes, such as the absence of a top banner in the Bold style compared to the other three.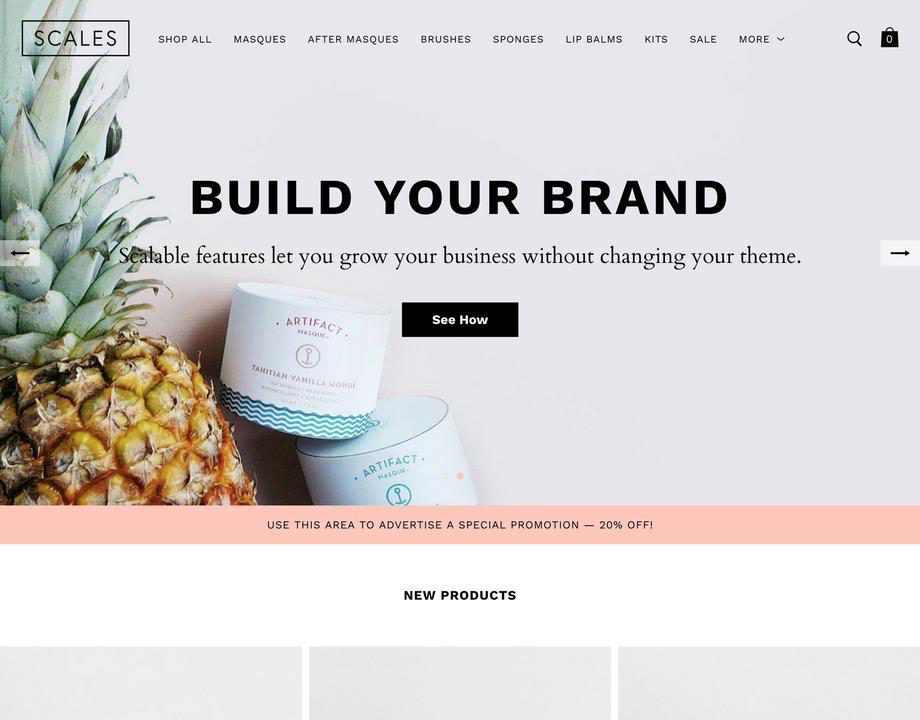 Main features: Scales is another theme that's crafted for a strong hero image. Unlike most of the other BigCommerce themes, the Scales team put the promotional banner at the bottom of their design rather than the top. 
Price: $175
Optimized for: Scales is optimized for all device types. Even better, it's another theme that's both developed and supported by BigCommerce, and it's among the best BigCommerce themes currently available.
Styles: Scales offers four unique styles: Chic, Modern, Pop, and Minimal. However, these designs are mostly similar, with the exception of colors and other minor details. One notable difference is that the Minimal design leaves significantly more space for the hero image while pushing most of the "Featured Products" section beneath the fold.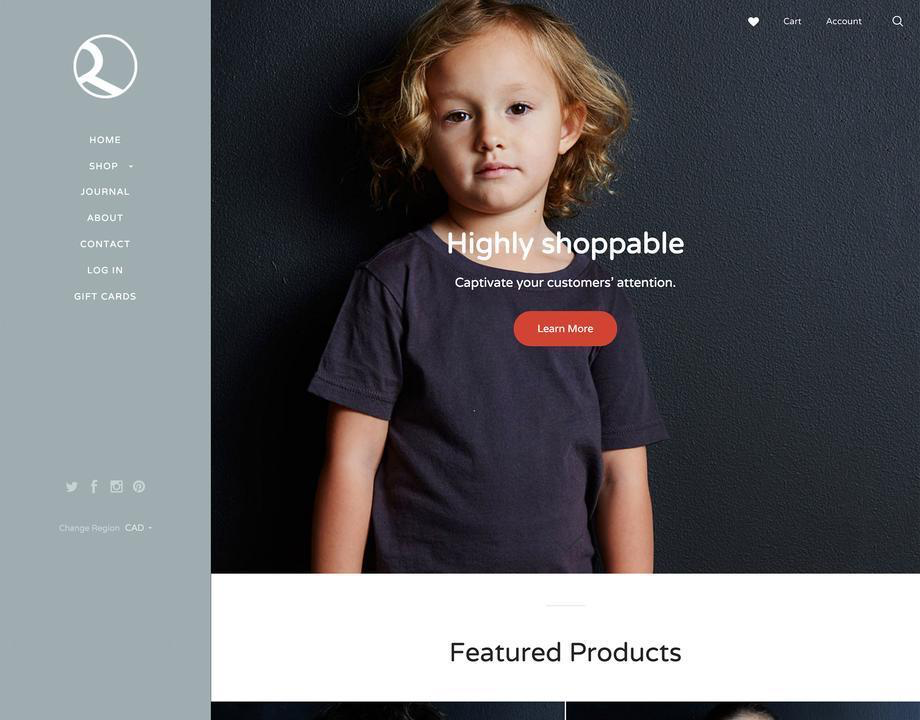 Main features: Runway is similar to Brixton in its design, displaying a navigation menu on the left side with a large hero image taking up most of the screen. There are also built-in social media buttons on the left, plus a dropdown menu visitors can use to access the version of the site that corresponds to their region.
Price: $150
Optimized for: Runway works perfectly well on smaller devices, with the desktop buttons being collapsed into a familiar menu icon in the upper-left corner. Remember that your hero image will also be shown to mobile users in a different size and aspect ratio.
Styles: Runway provides four different styles, each of which comes with a unique set of colors: Minimal, Bold, Warm, and Bright. As with the other best BigCommerce themes on this list, there are little to no differences among Runway's presets aside from the colors themselves.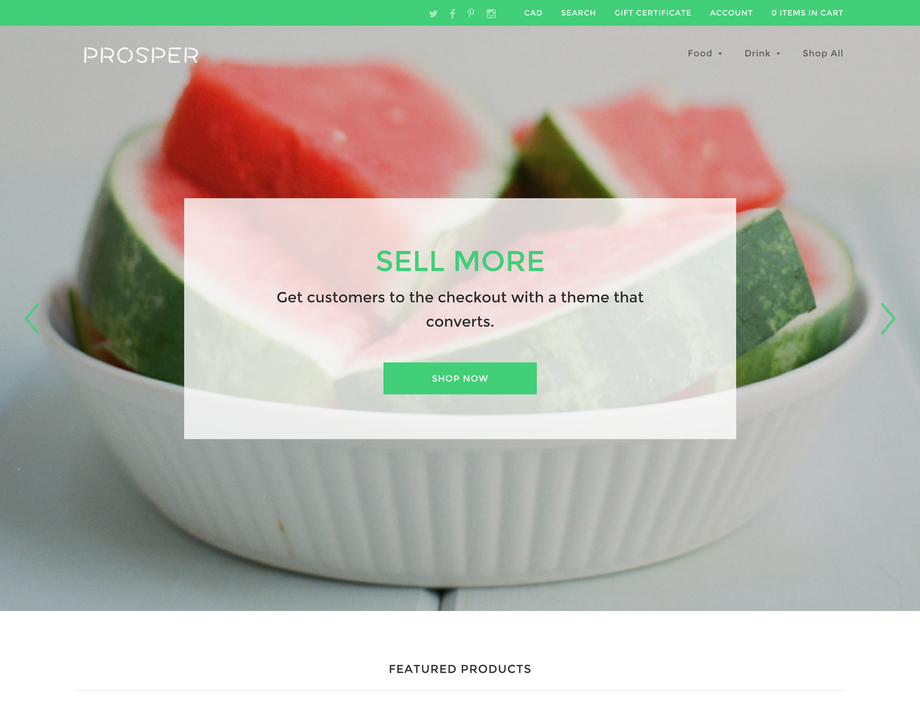 Main features: Prosper comes with all the features you would expect if you're looking to customize your BigCommerce theme including social media buttons, persistent carts, and a streamlined one-page checkout sequence.
Price: $150
Optimized for: Prosper is developed and supported by BigCommerce as well, and its design transfers well to mobile devices. It also offers a banner and plenty of space at the top of the screen for promotions and product categories.
Styles: Prosper users can start with one of four styles: Bold, Bright, Warm, or Minimal. While each option is broadly similar, there are more distinctive elements than we've seen from most other themes.
For example, Bold and Warm include a clear division between the top menu and the hero image, while Bright and Minimal allow the hero image to reach almost to the top of the screen.

Final thoughts
If you want to create the best possible BigCommerce store, you need to start with a professional, eye-catching theme that will captivate your audience. And there are plenty of beautiful BigCommerce themes to choose from.
While the theme you choose will change the basic layout of your site, remember that you will have the chance to customize various elements and tailor the design to your needs. Whatever theme you end up using, start free with Omnisend to see how our platform can help you easily create and fully optimize your omnichannel marketing campaigns.
Special thanks to our friends at
Omnisend
for their insights on this topic.