Reading Time: 9 minutes
In 2022, Shopify SMS marketing is no longer a "nice-to-have" but a must-have in your marketing mix. Here are three good reasons why:
It's an owned media channel. Unlike with social media, you're not dependent on algorithm changes—you're fully in control of who gets your message, and when.
It's great for sales! Since people opt-in to get your messages, they're generally happy to hear from you. Our data showed that click rates for promotional SMS increased from 10.6% in 2020 to 11.5% in 2021.
It helps to cut through the noise. Your targeted SMS message will not get lost between cute cat videos or work emails—it will be the first thing your customers see when they get on their phones!
The Shopify ecosystem is especially great for SMS marketing since it offers plenty of apps compared to other platforms such as Bigcommerce, WooCommerce, or Magento. Plus, Shopify makes it easy for you to capture SMS consent at checkout (learn how to do it here).
And since most of the work with Shopify text marketing can be automated, your main job is simply to find the right tools. To help you do that, we've rounded up the 10 best Shopify SMS marketing apps that will help you increase sales while you sleep!
1. Omnisend
Best suited for: Omnichannel marketing solutions for ecommerce businesses
Pricing: Start free with 60 SMS/mo with all features included. Paid plans start from $16/mo and include a special SMS deal—free monthly credits based on your monthly plan price. There are no hidden fees for higher sending speed or scale.
Main features:
Integration of SMS marketing into your email campaigns 
Pre-built SMS automation workflows (birthday, order & shipping confirmation, cart abandonment)
Special, one-off SMS campaigns (new items or flash sales)
Global audience reach—Omnisend supports all country codes for SMS
SMS list building tools: popups, sign-up boxes, landing pages, wheel of fortune
Full TCPA compliance—your subscribers can easily unsubscribe by replying STOP or via integrated unsubscribe links
2-way SMS messaging to engage your subscribers and boost retention rates
SMS channel reports to make data-driven improvements to your campaigns
Omnisend is an all-in-one ecommerce marketing platform with email and Shopify SMS campaigns at its core. With Omnisend added to your store, you can collect the phone numbers of your visitors, nurture leads with SMS campaigns, and boost your sales. This omnichannel app helps you to cover your entire marketing funnel. 
Most importantly, Omnisend fully integrates with Shopify stores—it offers pre-built automation workflows and is very intuitive to use. Omnisend's SMS solution will help you convert your visitors into shoppers without diving into the tedious details.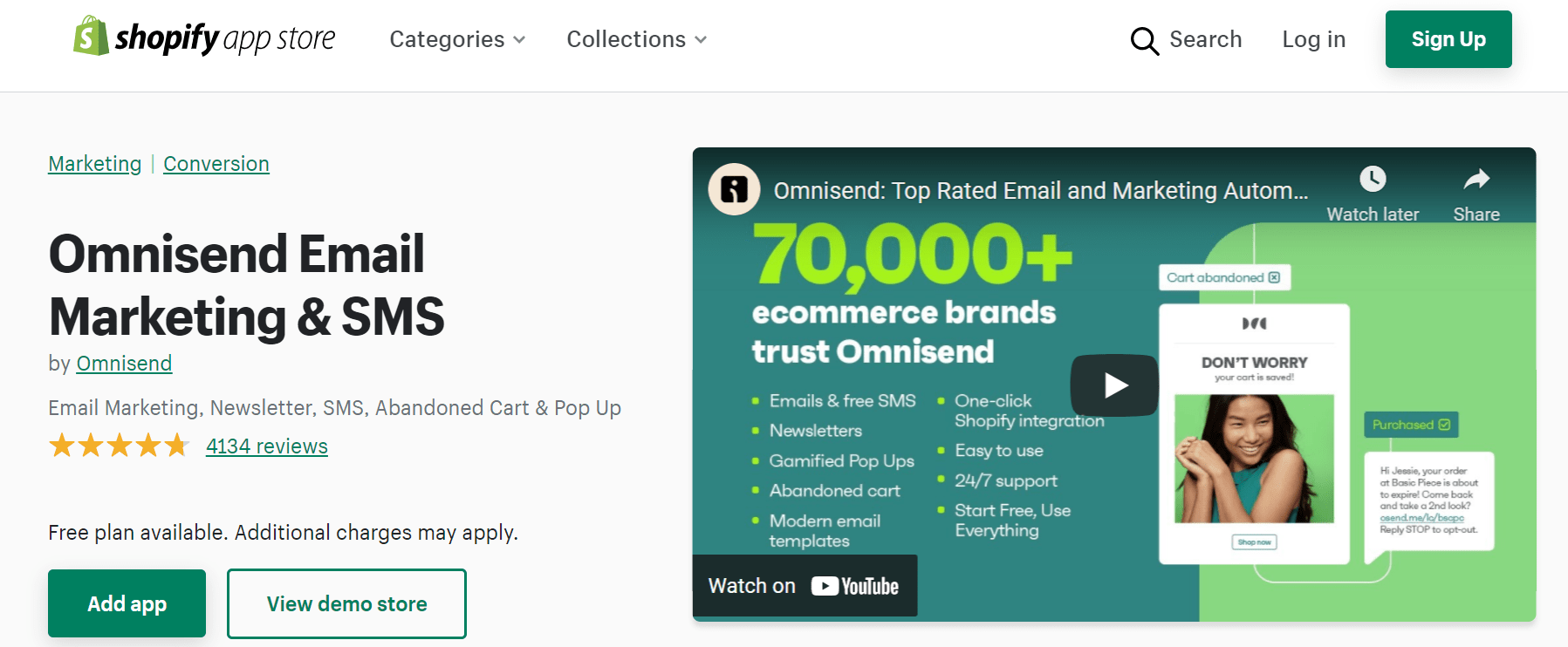 Omnisend is hands down the best text marketing app for Shopify stores. For one, it's very easy to synchronize contacts with the Shopify platform, and setting up your SMS campaigns will be a breeze, even if you've never done it before. Advanced Omnisend workflows, personalization, and segmentation will enable you to send relevant and timely texts to your customers.
For example, you'll be able to create segments for high-value customers, likely-to-churn customers, specific category shoppers, first-time or repeat customers, and many more types of audiences based on real data. Your sales will hit the roof!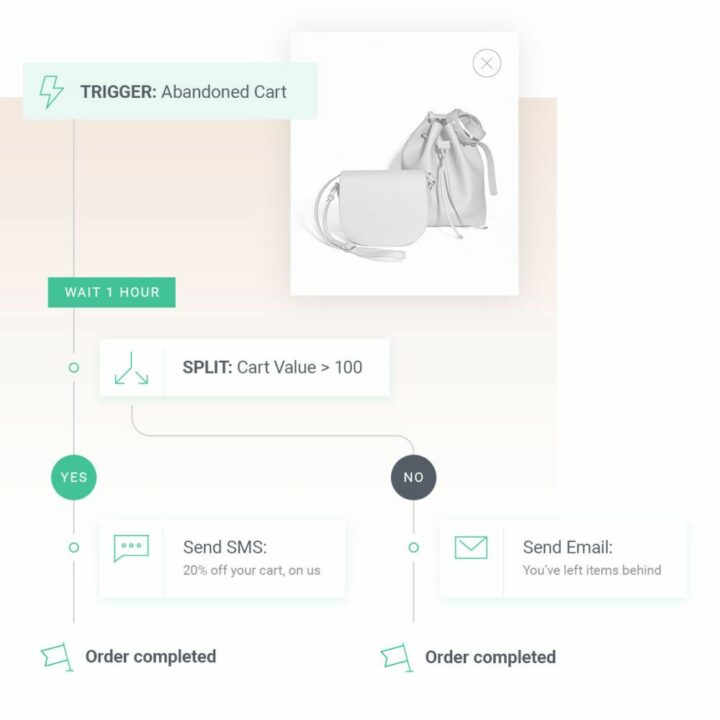 And, of course, Omnisend also offers all the usual SMS marketing features, such as targeting abandoned carts. It's truly a one-stop-shop for all your marketing needs.
2. SMS Bump
Best suited for: SMS communication only
Pricing: You can start for free. Paid plans start at $19/mo + $0.0149 per SMS (US).
Main features:
SMS and MMS
Messaging based on time zones
SMS segmentation based on Shopify filters
A/B testing 
SMS automations based on the payment method, shipped orders, and more
Campaign scheduling
Signup Keywords
SMS chat
SMS Bump is one of the best marketing apps for Shopify, if you're looking for SMS communication only. 
Unlike Omnisend, SMS Bump works as a separate channel—you won't be able to add your text messages to your email automation workflows to create an omnichannel marketing strategy. However, if you're only searching for a tool to send text messages, SMS Bump is a good choice.
SMS Bump has plenty of great features. You can send both SMS and MMS and automate your abandoned cart recovery, welcome series, product upsells, and many more marketing techniques.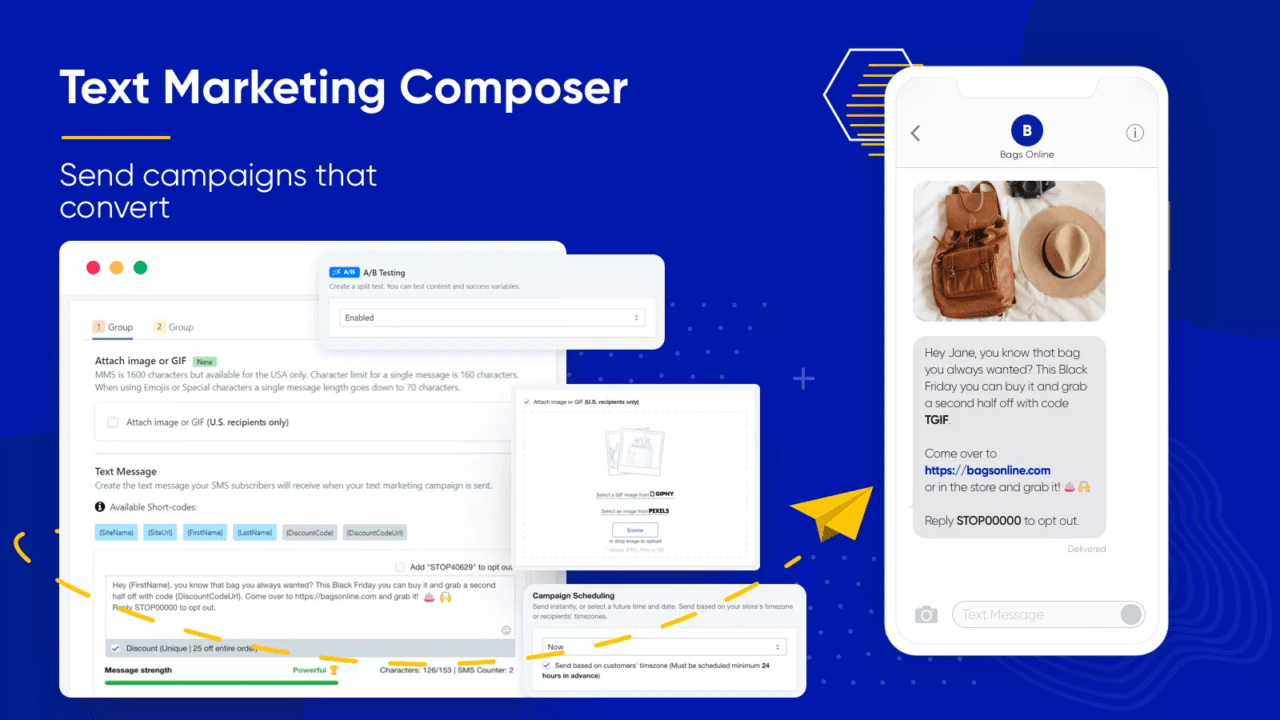 Since this app integrates well with Shopify, you'll also be able to use Shopify's filters to segment your audience. Sending MMS campaigns with GIFs and images is also a nice-to-have feature. And, of course, SMS Bump is fully compliant with TCPA and GDPR.
3. Privy
Best suited for: SMS and email marketing
Pricing: You can start for free. Privy text starts at $10/mo for up to 100 textable contacts.
Main features:
After sign-up messages 
Abandoned cart messages
Shopify coupon integration
Shopify cart integration that sends shoppers back to their carts
Integrated SMS list growth tools (pop ups, banners, landing pages)
Privy offers SMS, email, and pop up marketing channels. However, be aware that Privy's SMS marketing feature comes with a separate Privy Text plan, which means that if you're already on a paid plan, you'll have to add a minimum additional $10/mo to start sending text messages.
Also, with Privy, you can only send two types of Shopify SMS—welcome messages and abandoned cart reminders. On the other hand, with Omnisend, you get all SMS automation workflows and stand-alone campaigns.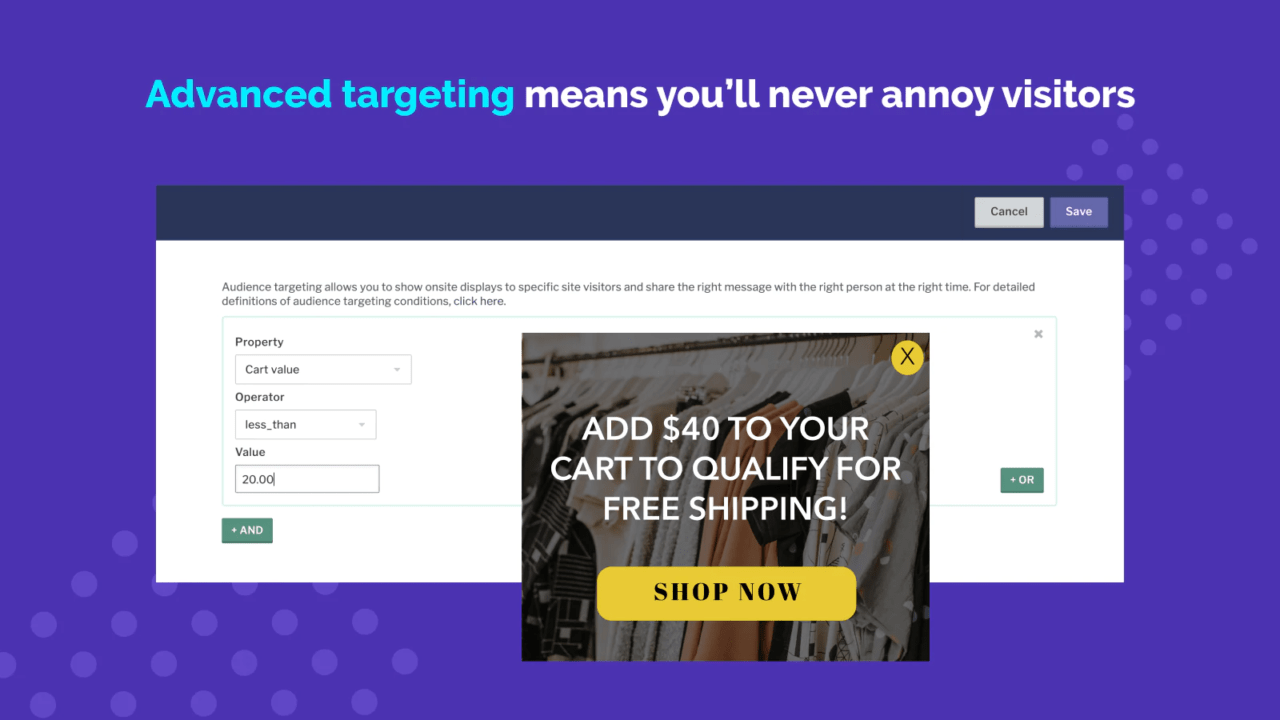 Privy is a reasonable choice for smaller business owners who still can't use the full potential of more advanced SMS marketing services. If you've never used SMS marketing for your business, Privy will cover all the basics.
4. Postscript
Best suited for: SMS communication only
Pricing: There's a free plan available to use the app but you still need to pay for text messages ($0.015/SMS, $0.045/MMS + Carrier fees (avg. $0.0025/msg)).
Main features:
SMS and MMS campaigns
Segmentation
SMS campaign automation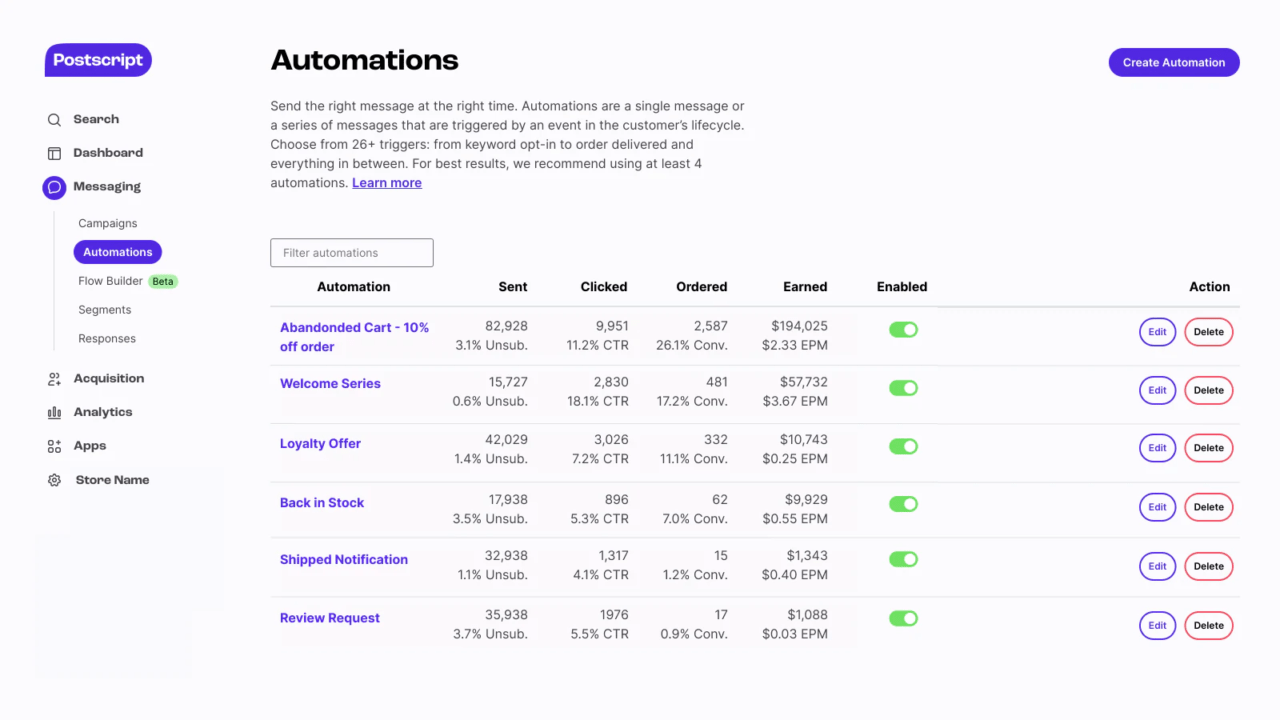 Another great SMS marketing app, Postscript is a more sophisticated platform than Privy, but it's still easy to use. Its main advantage is segmentation—Shopify store owners can easily segment their customers based on their purchases.
Great for small- and medium-sized businesses, Postscript offers Shopify SMS and MMS marketing and lets you quickly build a TCPA-compliant subscriber list. You can use pop-ups, email opt-ins, links, and landing pages.
Postscript also lets you automate your text marketing and run personalized SMS campaigns for welcome series, abandoned carts, back in stock, etc.
However, Postscript has been created specifically for the Shopify system, so if you used a Shopify alternative like WooCommerce or BigCommerce to build your store, you'll have to look elsewhere!
5. Txtcart
Best suited for: Abandoned cart recovery with SMS
Pricing: You can get started for free +15% of TxtCart Sales. Paid plans start from $49/mo. They also have custom and enterprise plans.
Main features:
SMS cart recovery
Real human reps
Real-time analytics
Custom discount codes
Unlimited SMS cart recovery
SMS blast campaigns
Audience segmentation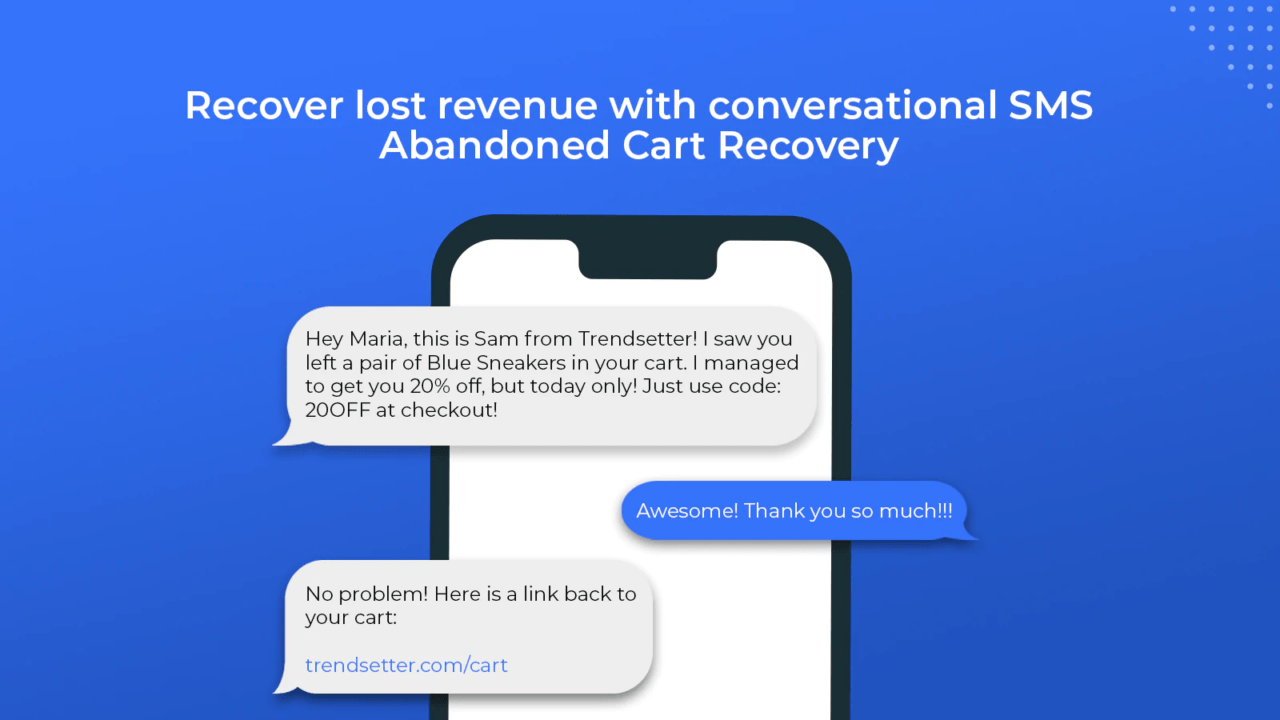 Txtcart stands out from some other apps in this list because it's powered by real humans. They text your subscribers in real-time and do it with personalized messages to help you recover abandoned carts. There's an actual team of real people who text your customers manually!
While there might be a slight risk of having someone else speak for you, they claim that their agents are experienced and will ensure that their messages align with your brand. Their main goal is first to get to know your customers better to see what motivates them the most and then decide whether a discount or other incentive will help your visitors convert.
With Txtcart, you also get other usual Shopify SMS marketing features like audience segmentation and insights.
6. Cartloop
Best suited for: SMS campaigns backed by real people
Pricing: There's a 14-day free trial available. Their plans start at $49/mo, plus a success fee. 
Main features: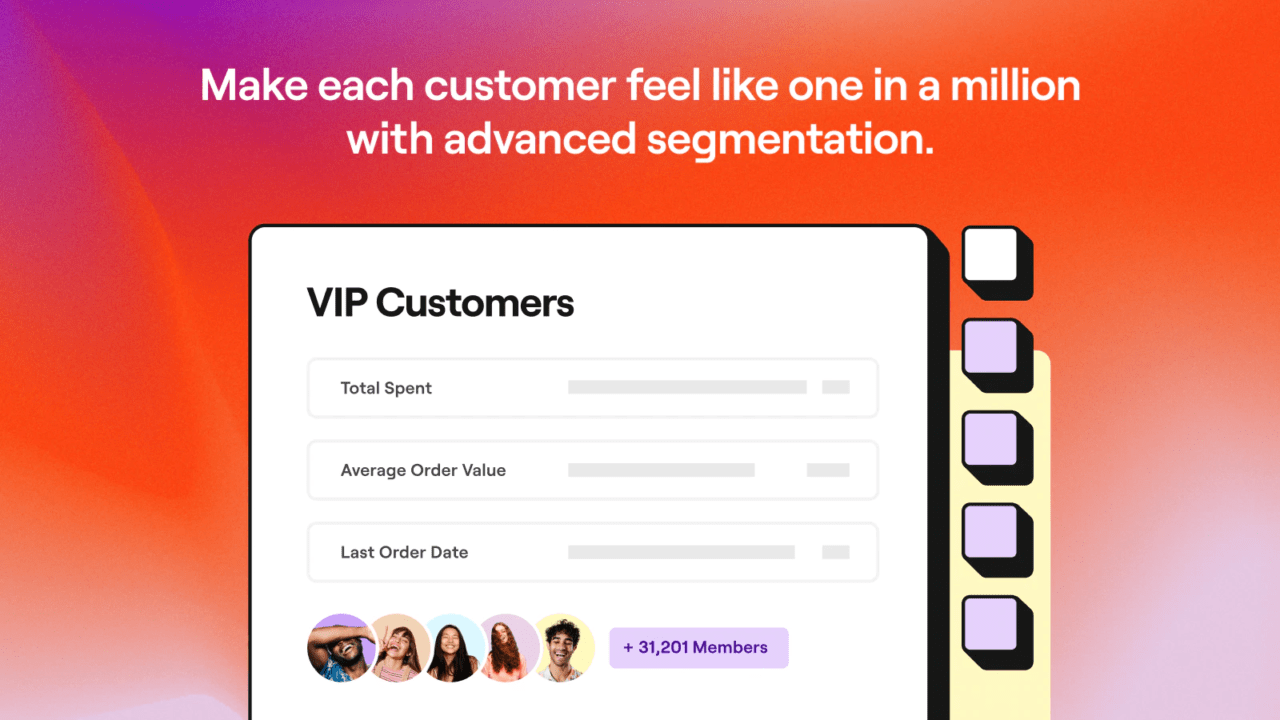 Like Txtcart, Cartloop also provides real-time communication via SMS with your customers. Cartloop offers your customers personalized product recommendations, closes sales, and helps them deal with shipping questions, all while maintaining an emotive approach.
Another great benefit is that Cartloop provides 24/7 assistance to your shoppers so you can be sure you won't lose potential sales because it's after midnight. Like other apps, Cartloop is also TCPA and GDPR compliant.
However, Txtcart is more pricey. You may want to consider other Shopify apps offering more channels for a similar (or even lower) price.
7. Automizely
Best suited for: SMS campaigns for cart recovery
Pricing: Free
Main features:
Works with Shopify and Shopify plus
Automations for abandoned cart recovery
Trigger settings optimized for the best open rates
Detailed reporting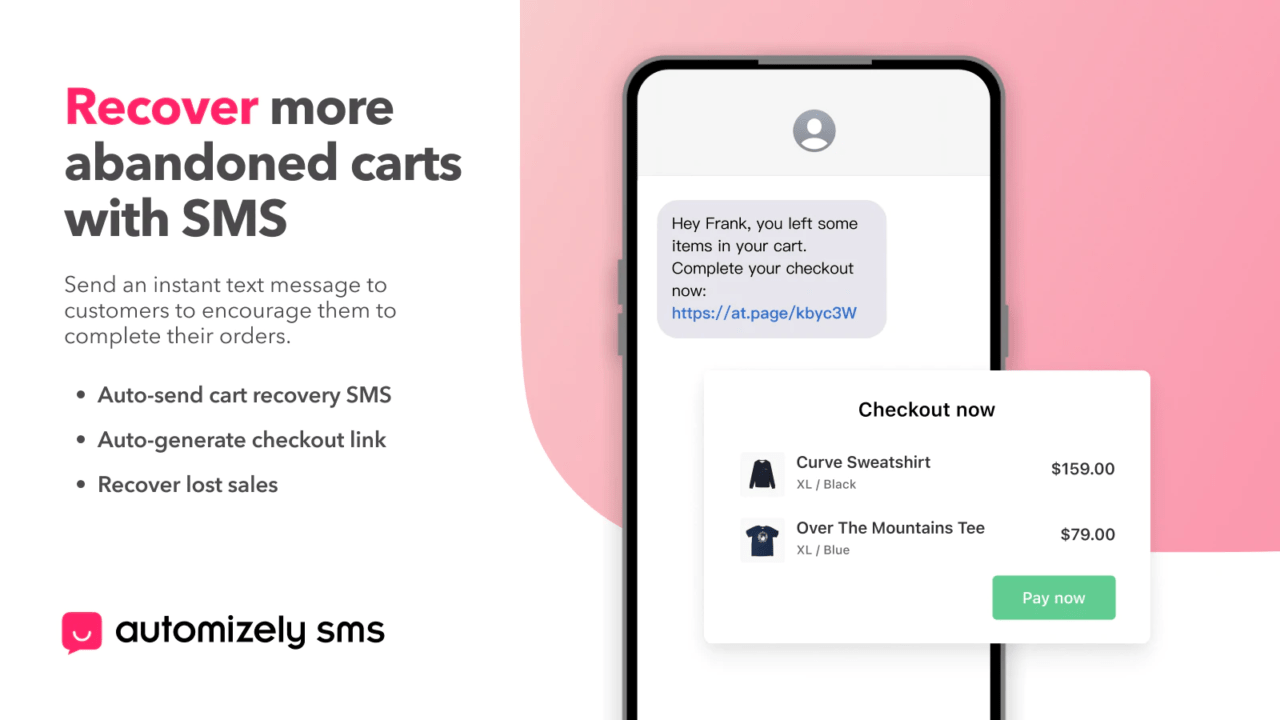 Focused on recovering abandoned carts with SMS, Automazely helps Shopify store owners encourage customers to complete their orders via instant text message. Their three-step process of setting up your abandoned cart notifications is pretty straightforward—you can get started in a couple of minutes.
Just like you'd expect, the app is TCPA and GDPR compliant. They also offer 24/7 live chat support.
It's a free app, but be aware that you won't be able to run sophisticated SMS marketing campaigns with it—it's built only for one-off SMS campaigns.
8. YSMS
Best suited for: SMS campaigns only
Pricing: Free to install–you only pay for the SMS you send depending on the recipients' country.
Main features:
SMS with links, emojis, and discounts
Reports
Advanced filters for audience creation
Specific contact lists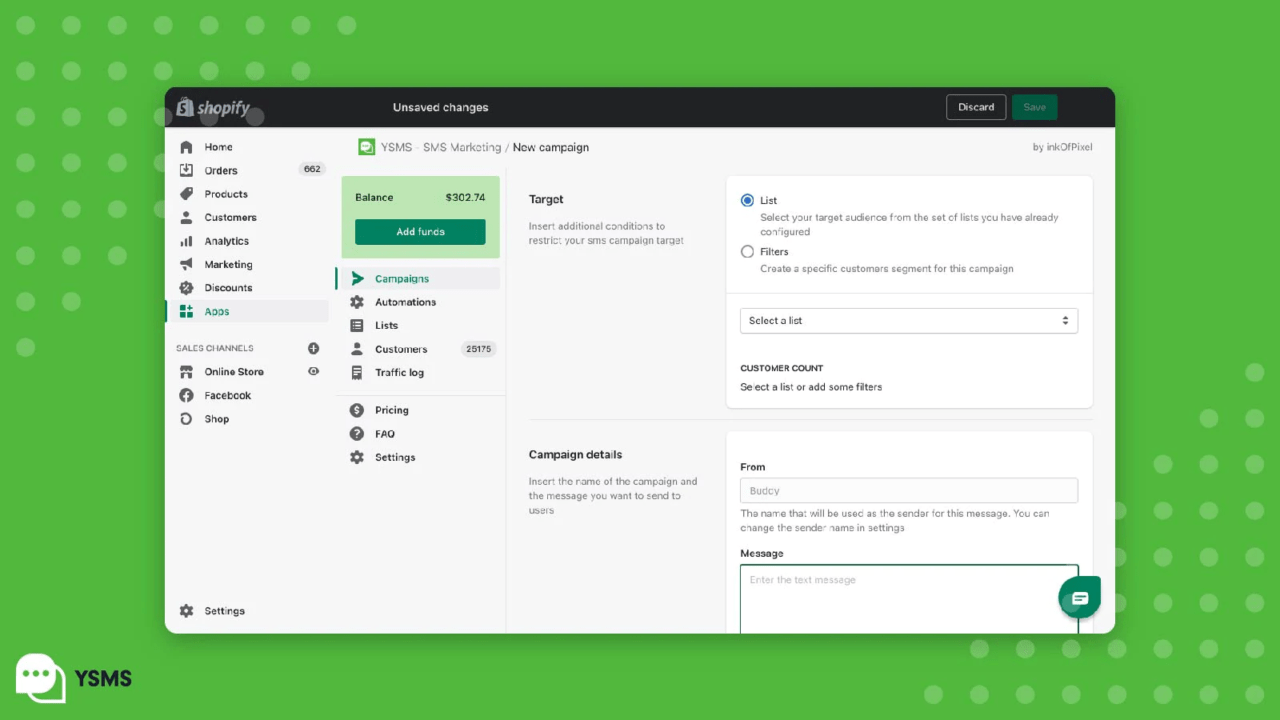 YSMS is a simple Shopify text marketing app. It offers multiple filters to create different audiences for different SMS campaigns. You can also liven up your texts with emojis, insert links, and add discount codes. 
You'll also find reports on your campaign performance—you can easily track your sales and see how many messages you've sent, how many clicks your links received, and how many people unsubscribed after specific campaigns.
Overall, YSMS is nothing too fancy—it's a good app if you're just starting with SMS marketing. However, keep an eye on the number of SMS campaigns you send because your app fee depends on it.
9. SMSGo
Best suited for: Automated abandoned cart recovery with SMS
Pricing: Free plan available (pay per SMS usage). Paid plans start from $19/mo.
Main features:
Automated abandoned cart recovery
1:1 conversational SMS
SMS marketing flows
SMS upsell
Order notifications
Automatic discounts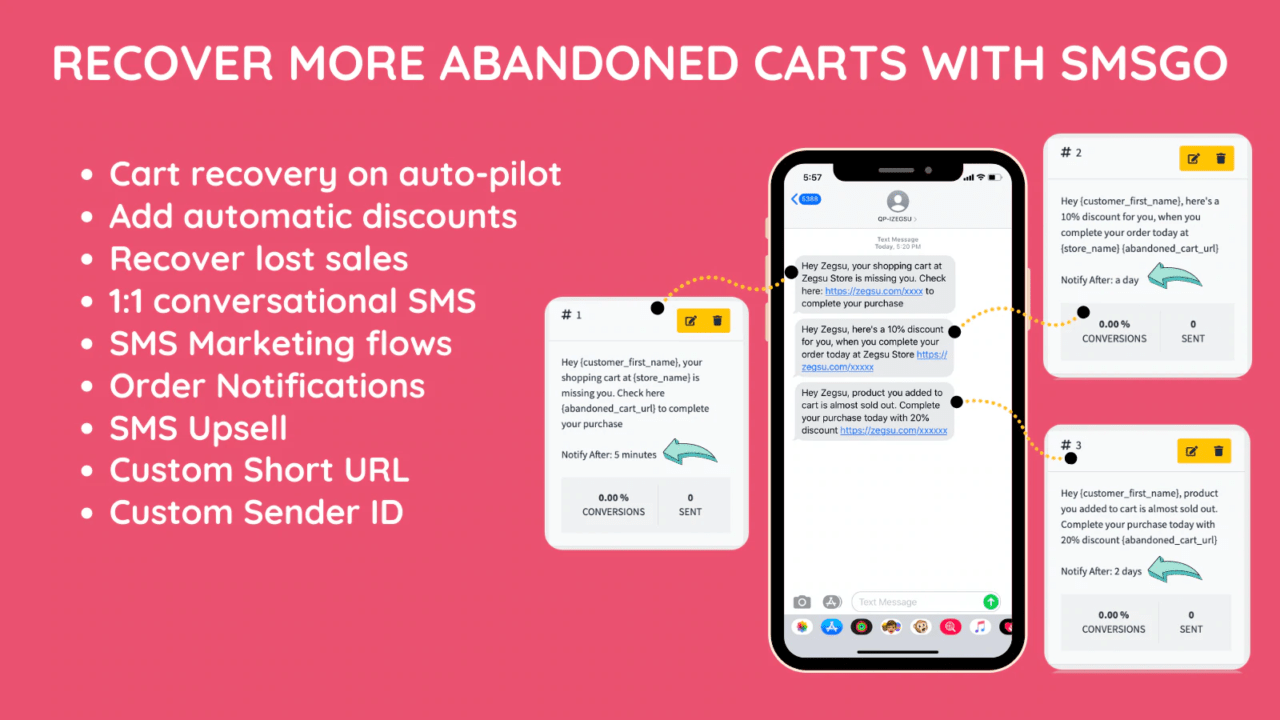 SMSGo is one of the best SMS marketing apps for merchants looking for competitive prices. They claim to have the lowest cost per SMS alert, and they also have a free plan. Of course, you'll still have to pay for SMS usage.
This text marketing app also focuses on abandoned cart recovery, just like most apps in this list (except Omnisend, where all your marketing channels are taken care of in one place). 
You also get other perks such as 1:1 SMS marketing which allows you to close sales and get real-time customer feedback. Customers also get order status updates. To ensure you don't bother them while they sleep, you can temporarily schedule DND zones to pause sending SMS notifications.
10. Winback
Best suited for: Abandoned cart recovery with SMS marketing
Pricing: Free plan with 50 SMS credits available. Paid plans start at $59/mo.
Main features:
SMS campaigns
SMS blasts
Campaign templates
SMS shipping notifications
SMS for abandoned carts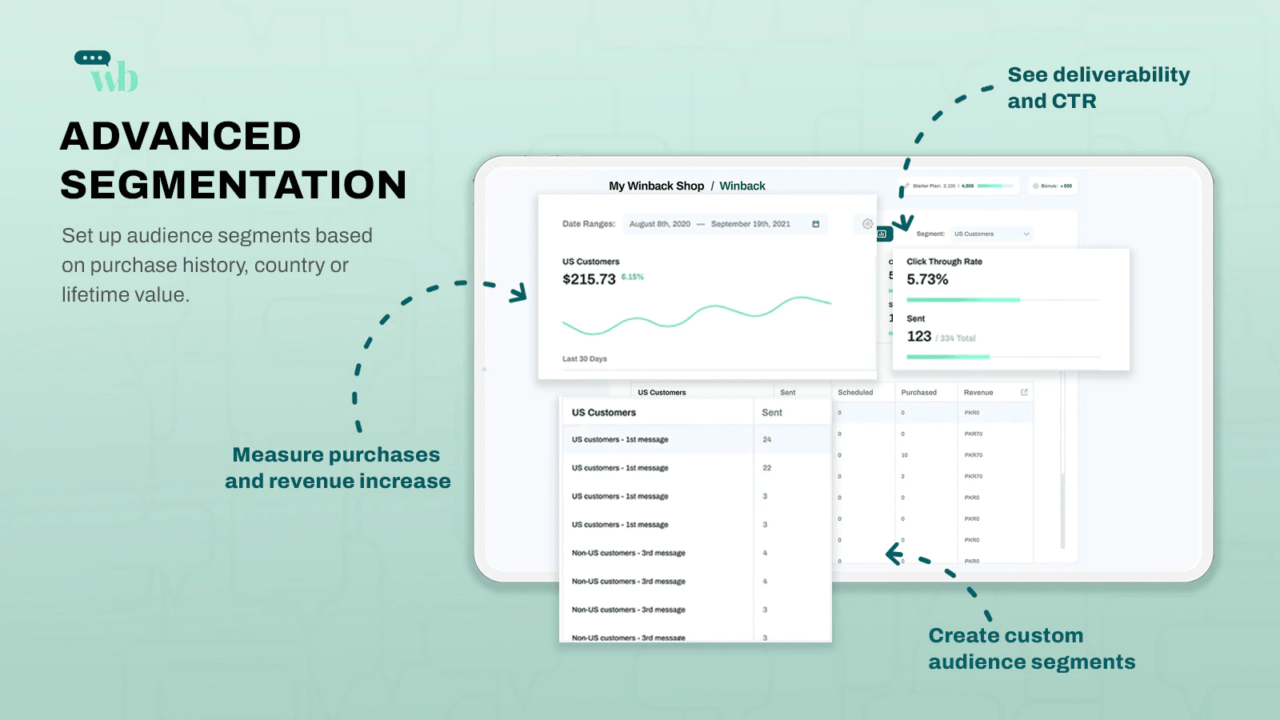 Winback is the last Shopify SMS marketing app on this list, but it's definitely worth your attention—they even promise you a 35x ROI. 
The app supports this claim by saying that they proactively clean up your subscriber lists (they remove non-mobile phone numbers) and regularly carry out reviews through Zoom or screencasts. You also get alerts when your SMS credits are being wasted.
As for features, just like with other apps, the focus is on SMS campaigns for abandoned carts. Winback also offers sequences for post-purchase upsells.
So, which Shopify SMS marketing app is the best?
That's it—these are the 10 best Shopify apps for SMS marketing available in 2022. They all have been tested by thousands of merchants and have received great reviews, so you shouldn't be disappointed with whichever one you choose.
However, if you're looking for something more than just SMS marketing, consider going with Omnisend. In addition to text marketing, this app offers automation for multiple marketing channels and can help you significantly increase your sales. 
And with a 9.2 ease-of-use rating (the highest for any email & SMS marketing platform), you'll be able to set up any campaigns quickly and confidently. 
Get started with Omnisend today & drive sales on autopilot with pre-built automation workflows
Special thanks to our friends at
Omnisend
for their insights on this topic.