What you've been learning about print on demand so far is wrong, if it wasn't you'd be on your way to your first $100k. If you are, congratulations, it's a milestone that is denied to many.
Sine 2014 I have been fortunate enough to sell in excess of 8 figures in the print on demand industry with my business, and in doing so we have created multiple systems that have allowed us to continue to sell successfully over that time.
When you're starting, or if you're in a rut it's important to understand the 4 critical fundamentals of print-on-demand designs that sell.
In this article, I am going to share with you what they are and help you on your path to not only selling your first $100,000 but in creating a real business that creates consistent profit year after year.
The 4 Critical Fundamentals Of Print on Demand Designs That Sell
In POD you will be pulled in a million different directions by a million different educators and often get stuck well before taking that initial leap. For this reason, one must focus, whether it be on a niche, an educator, or a goal. Flip-flopping from niche to niche or goal to goal will have you spinning your wheels.
There is a term in the industry that has been used since it started. That is, "It's the phrase that pays". First and foremost, making sure the fundamentals of design are down, allows for you to be able to design phrases in a way that immediately captures the attention of your target audience.
The Print on Demand Marketing Difference
Print on demand is unlike every other style of selling online. The typical marketing funnel is about brand building, building audiences with the KLT factor (Know, Like, Trust), constant posting to social media channels, Top of Funnel advertising, Middle, bottom, messenger marketing, and so on.
Print on demand turns this marketing funnel on its head. From the moment we run ads we are asking for that sale. It doesn't matter if it's a new ad account or on a new Facebook or Insta account.
When we launch we want conversions fast! If your design and phrases connect you will get sales. If not you will be back to the drawing board.
So how do we do that? By nailing the fundamentals. Making sure we hit each one of the following 4 critical fundamentals so the platforms we're advertising on are getting the early engagements we need to get in front of more people.
Critical Fundamental 1 – The Font Must be Clearly Legible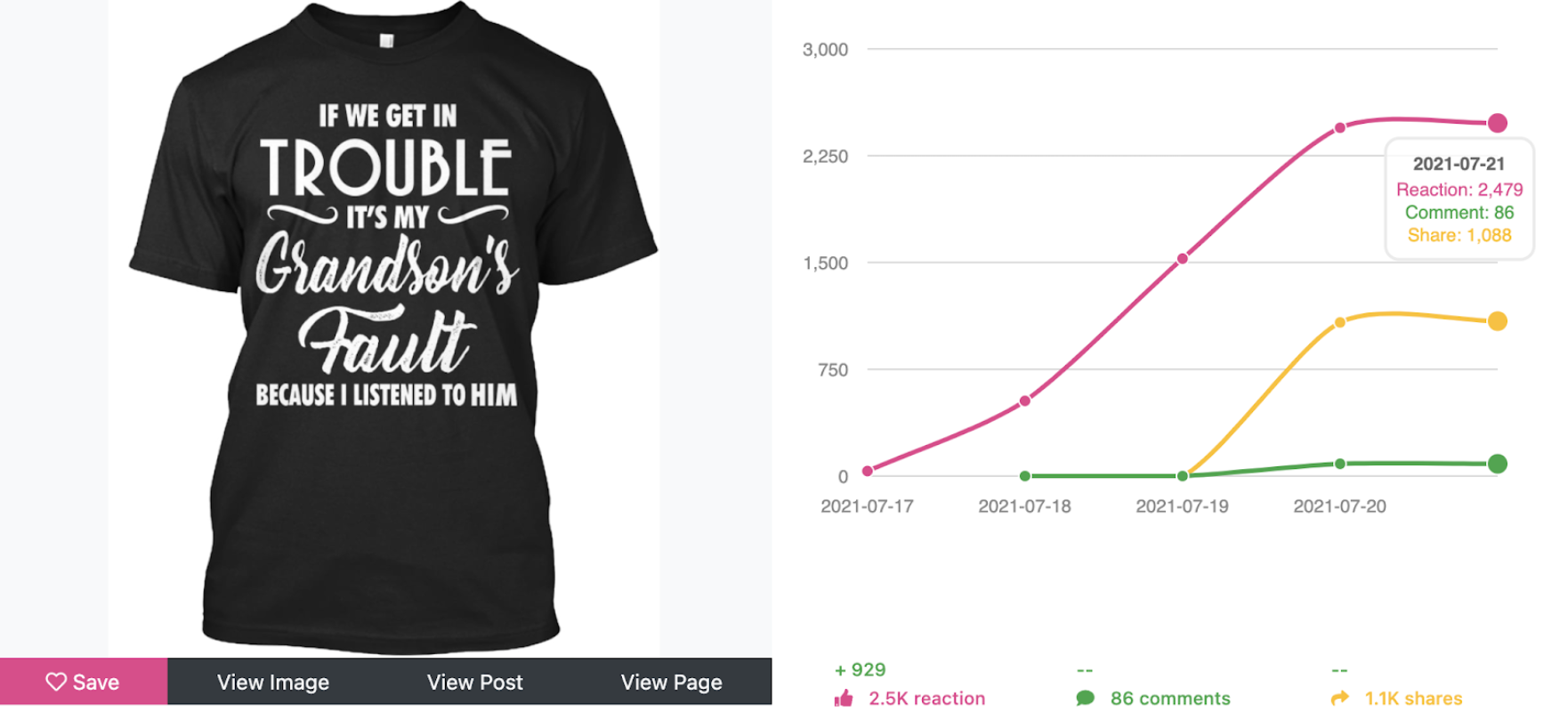 Once you've chosen your niche, the next step is breaking into it. To do that, your target needs to clearly see that the product you're advertising is for them.
With this in mind, when designing products the audience needs to be able to read exactly what is written on the product as quickly as possible. No fancy fonts, not gothic scripts or fonts that make it hard to read.
The above example makes it very easy to read what is on the shirt (If we get in trouble…), there's no distraction or time taken trying to decipher the message.
Every millisecond is critical when we are all continually bombarded by advertising every single day.
Meanwhile, the nurse design is taken up by images that have no real meaning to what the phrase is actually expressing about the person wearing the item.
Yes, the little images speak to nurses. I can assure you, however, it's not the type of shirt that can scale. People that buy these shirts aren't fashionistas, they are people that want to share something about themselves with other people. The design needs to be read from 20ft away.
If it doesn't pass the 20ft test then don't spend your time or money designing the product.
Critical Fundamental 2 – Attention on Print on Demand Niche/Person
Calling out who you're targeting is critical. Dad and Papa are clearly the most distinctive elements of the design above. As soon as a grandparent scrolls onto this shirt it's immediately evident that it was designed for them.
Grabbing attention fast is important. Facebook's algorithm is incredibly smart and can track scroll stops, hang time, images being enlarged, and clicks. Everyone is being monitored by the smallest interactions online, use that to your advantage.
In order to trigger the algorithm making the design easy to decipher is a must, calling out the target is fundamental.
Critical Element 3 – Attention on Punchline/Message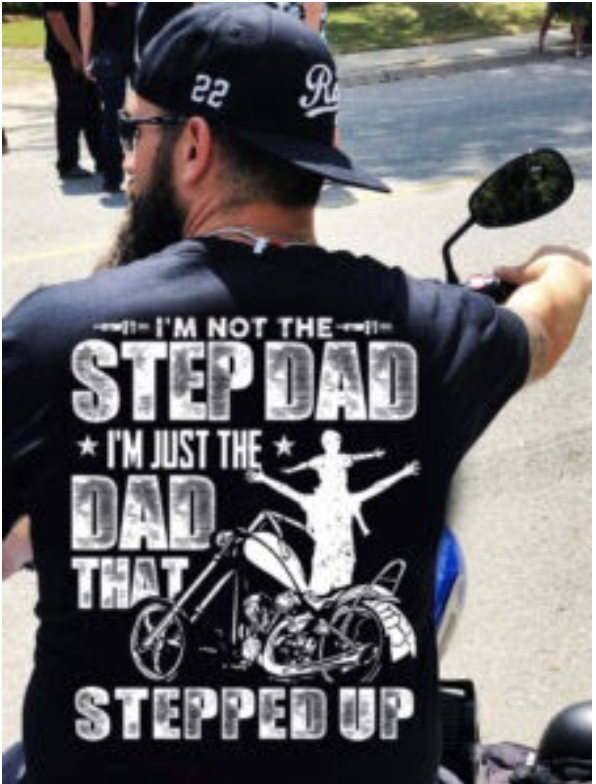 After the 2nd critical element, the message is what ultimately sells the item.
In the design to the left, you can clearly see the niche is called out and it's immediately evident what the message conveys.
The message is clear that the merchant is targeting very proud stepfathers who ride motorcycles.
The part of the message that sells this particular design is "I'm just the dad that stepped up". It is easy to read, has no fluff, no extra words, no bad font choice.
Every bit of this design works perfectly for having the target taking immediate action. This brings us to…
Critical Element 4 – Contrasting Background & Limited Use of Color
Circling back to making sure we get the engagements early on with our advertising. Limiting color is another important element of making your design pop to everyone who is in your target market.
People are fickle. If you've included pink, or purple or any other color it potentially limits the number of people who would otherwise take action and purchase. If someone doesn't like one of those colors it will stop them from purchasing the item.
After you've started to have a bit more success and consistently sold products to the particular niche. That is the time when you can start experimenting with more interesting designs and colors.
There are obviously niche relevant colors e.g. hunting = camo's, orange etc, patriotic designs = red white, and blue.
Wrapping it up
With anything, there are obviously outlier's that will have people selling several thousand units by going against the norm. What you're aiming to do is create consistency in your business.
These 4 critical elements are most important when first trying to break into a niche.
Staying narrow. Sticking to a particular design style allows your designer to be clear about what you need. Doing so will increase your launches per day, and helps you find that initial traction through consistency.
This method works, and it will work for you purely from having a plan in place that is easy to reference.
Special thanks to our friends at
Recart
for their insights on this topic.