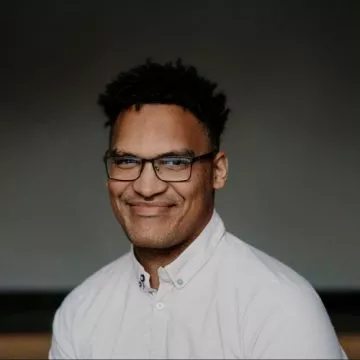 Bernard Meyer
Content Growth Marketer
Reading Time: 6 minutes
Ecommerce is big business, especially right now. It's predicted that retail ecommerce in the United States will rise to more than $843 billion in 2021 and 1.2 trillion by 2024, with ecommerce reports showing that conversion rates increased more than 100% in 2020 compared to 2019.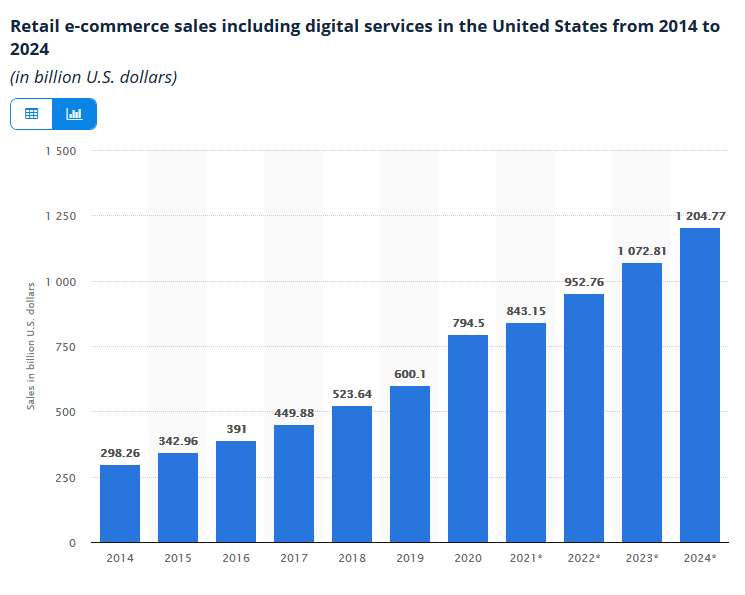 More and more established businesses are pivoting to an ecommerce model in the wake of the pandemic. Alongside this, more would-be entrepreneurs are using their time to launch a business idea that they may have had on the back burner for a while.
If you haven't been a part of an ecommerce business previously, it can sound easy. You just buy a product or offer a service, set up a website, then make money, right? 
The reality is that it's not that simple.
There are lots of moving parts to an ecommerce business—dealing with suppliers, budgets, marketing, distribution, understanding your web presence, competitor analysis—which can present all sorts of challenges if you don't have the understanding, skill or ecommerce experience that you need to succeed.
It's always a good idea to build your skills before you dive into running an ecommerce business to ensure that you can operate profitably. We've created a guide to choosing the best ecommerce course below, so that you can find the right ecommerce business course for you.
Get all the omnichannel marketing resources you need to supercharge your ecommerce business
How to choose the best ecommerce course
The best ecommerce courses are usually offered by either an individual or collective who has previously owned or run a successful ecommerce business themselves.
Other options are service providers who offer specialized ecommerce consultancy services or advice—they often work with lots of different brands and pick up valuable expertise in real-time. 
Check the Instructor
By choosing a course that's being offered by someone with that real-world experience, you can learn from their successes and mistakes to avoid making the same ones. 
Take the time to read reviews, scope out their success and check their qualifications before you buy. You need to ensure that you're going to come away with actionable insights and skills that you can utilize in your own ecommerce business.
Understand Your Own Skills
When choosing a top ecommerce course, you also need to be aware of your own skill level and ecommerce knowledge. There's no point in choosing a top-level course aimed at established ecommerce businesses if you've never run an ecommerce business before and don't have the basics down. 
Maybe you already have the basics and you're looking for more of an ecommerce marketing course? Marketing an ecommerce business is pretty full-on, so you might want to try an ecommerce course that focuses on digital marketing or marketing automation.
Marketing automation that segments users can lead to 62.2% higher order rates than non-segmented campaigns, so it's well-worth getting familiar with this as a marketing tool for your business.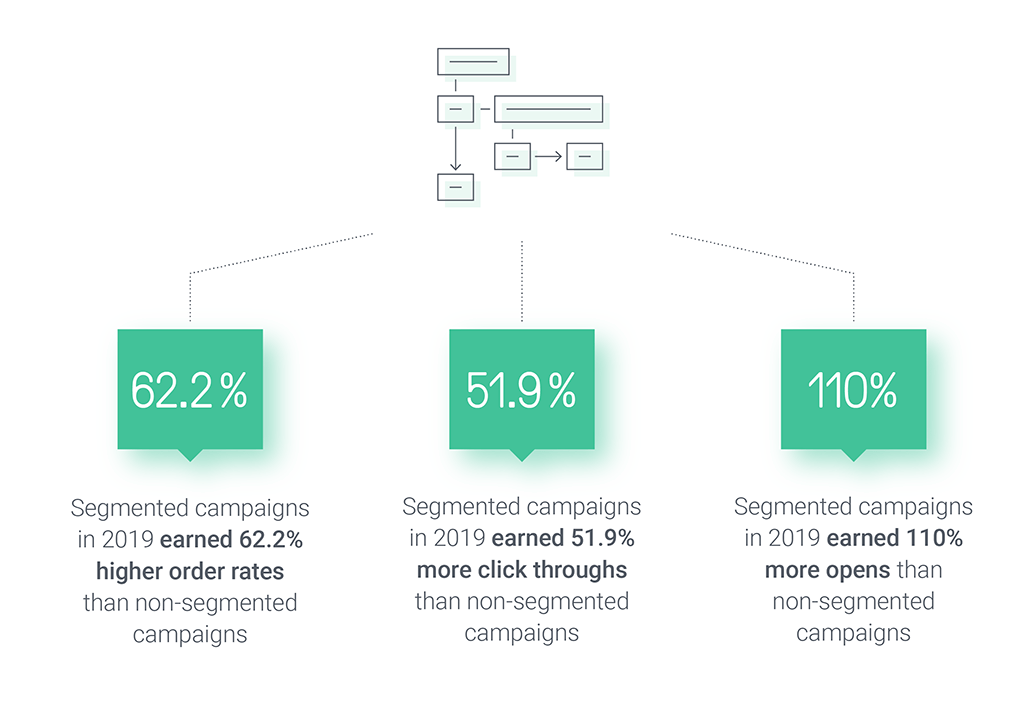 Keep an Eye on the Price
Price—and the value that the content delivers—is also an important factor with an ecommerce course. There are lots of free and lower-cost webinars out there, but sometimes they don't quite go into as much depth as you need.
Be prepared to pay for specialist and in-depth knowledge, and to think of it as an investment into your business.
What's Are the Top Ecommerce Course Available Today?
The best ecommerce course will depend a little on what you're looking for. If you're looking for the best ecommerce analytics course, then your needs will be different to someone who's looking for an ecommerce marketing course.
Here are 7 top ecommerce courses to explore to gain that essential ecommerce knowledge.
1. Omnisend's Onboarding Course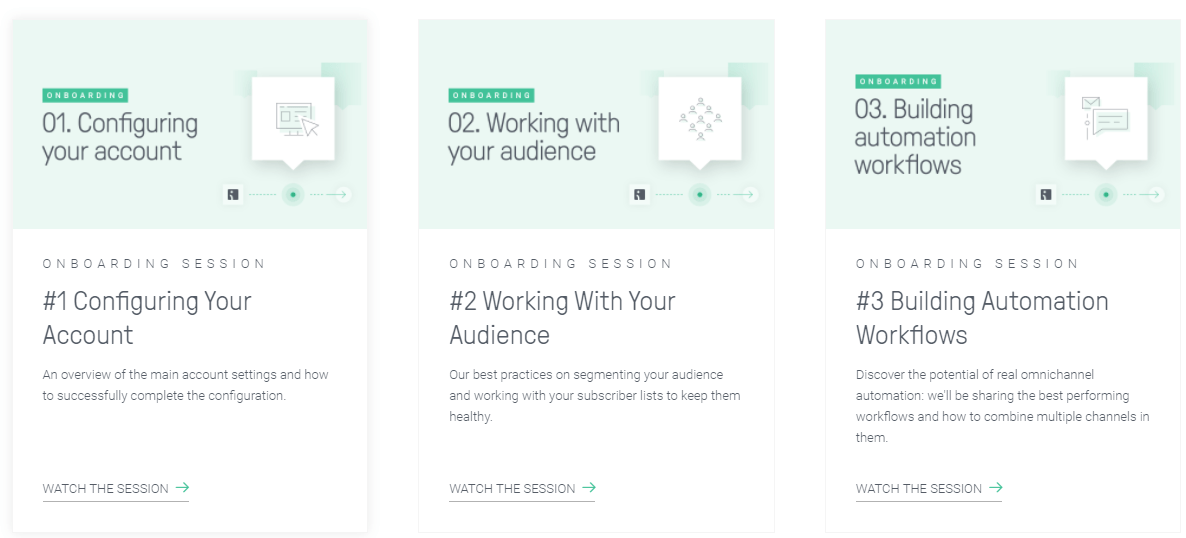 Ok, we're a little biased here but we wouldn't recommend (or offer) this ecommerce marketing course if it wasn't great. This course takes you through the fundamentals to build automated workflows and email campaigns that convert when you've started using Omnisend (you can get your free trial here). 
We share all of our best tips and go right from the basics of configuring your Omnisend account right through to understanding your campaign analytics.
Analytics are an essential part of any ecommerce business. Unlike a physical retail site you get instant, measurable insights that you can use to improve your business and achieve goals.
Cost: FREE
2. How to Create, Make & Build an Online Ecommerce Store Website
If you're starting out and want to understand the basics of running an ecommerce store, then this course makes sense. You'll learn about building an ecommerce store, design (without needing to know coding), creating a website, analytics, SEO, setting up payments and even dropshipping.
This course gives plenty of insights into running an online fashion, jewelry or beauty ecommerce brand and how to do this without spending thousands on stock and storage upfront.
Cost: Usually $120, plus materials—you can usually find coupons for Udemy courses if you look online
3. Start and Scale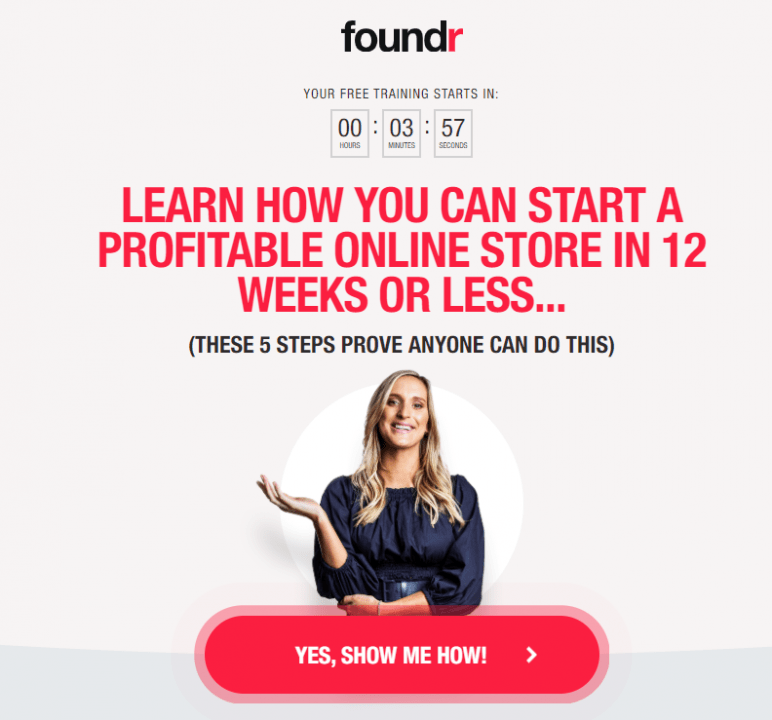 Created by Foundr and delivered by business founder Gretta Van Riel, who has set up four multi-million dollar businesses, this course is for anyone who wants to put in the work to create a successful ecommerce business.
It starts at the idea stage and takes you right through to building your audience and launching your products.
It's delivered as an ecommerce management online course that's self-paced. You also get materials, access to private mastermind groups with your peers and information about operations management, influencer marketing and more. It's a powerful and comprehensive course to drive your ecommerce business.
4. Introduction to Ecommerce
If you like the idea of starting an ecommerce business but want to understand more about the basics, then this course from Alison.com can be a good start.
You'll learn about the basics of buying and selling goods online to give you an idea of where to start, what the challenges might be and some of the technical insights that you need to be able to run a successful business online.
This is definitely a course that's more of an overview than an in-depth, specialist course but if that's where you're at then this is a great start. You get a certificate for completing the course.
Cost: FREE
5. Ecommerce fundamentals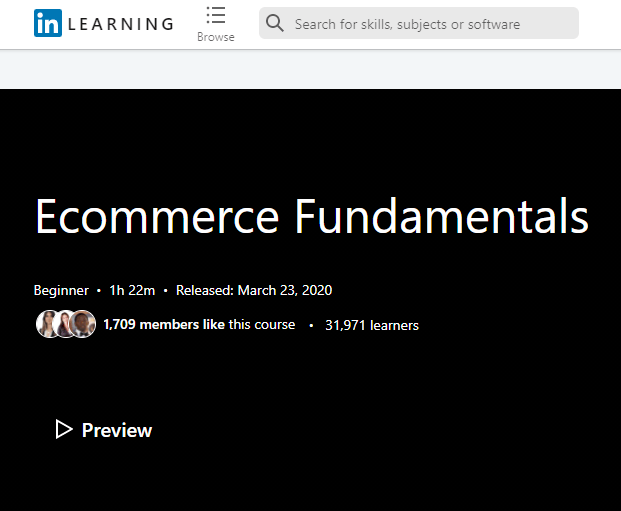 If you've heard of WooCommerce or WordPress (or if that's what you plan to set up your ecommerce site) then you need to check out this course. Patrick Rauland, product manager at WooCommerce, teaches this course on Linkedin Learning.
You'll learn about different ecommerce business models, how to choose the right one for your business, how to define the type of customer you're selling to and the practicalities of getting your products or services out there.
It's not totally focused on WooCommerce or WordPress as a platform as he does talk about other marketplaces to sell on. He also shares insights on marketing, fulfilling orders and managing your finances.
Cost: $35.99
6. Certified Ecommerce Marketing Specialist
Ok, you've got the basics down and have already set up your ecommerce store. Now it's time to level up your marketing knowledge to really drive sales and conversions.
This course from Digital Marketer will help you understand some helpful tools, what your page should look like and give you the info you need on some essential services.
You'll learn about how to build a profitable store and receive certification that you can use in your digital presence (if that's your thing).
Cost: $495
7. Diploma in E-Business
If you feel that your online business strategy is the area that you want to develop, then this free course from Alison.com (published by Google, so they know a thing or two about online businesses) gives you the basics of online marketing strategy, with a raft of Google tools to help your business perform online. You can take an assessment and get a certificate. 
Having a strong strategy behind your ecommerce store is essential for planning and growth. Everything from the resources and stock you need, the people you need to help get your business off the ground and how to market to your audience should be covered in your ecommerce strategy. Understanding this part of your business is essential.
Cost: FREE
Wrap Up
There are so many resources out there to utilize as an ecommerce entrepreneur, that it makes sense to take advantage of the knowledge that's being shared by experienced ecommerce experts.
The resources we've shared vary in price. Just because an ecommerce business course is expensive, doesn't mean it's going to give you everything you need and just because it's free, doesn't mean it is doesn't provide value.
With that in mind, we're currently offering a free 14-day trial of Omnisend so that you can expand on your marketing automation and boost sales for your ecommerce store, without having to work on it daily. 
Remember, you can sign up for our free ecommerce marketing course too.
Special thanks to our friends at
Omnisend
for their insights on this topic.