Contents
Introduction
Imagine for a moment what e-commerce marketing would be like without email….
Impossible to imagine, isn't it? That's because in this chicken-and-egg scenario, we know which one came first: Email predates e-commerce. The earliest electronic messages were shared in 1965, and email programs were developed in the 1970s (source). The first B2B online store opened in the early 1980s, but the first consumer e-commerce retailer, Book Stacks Unlimited, opened its virtual doors in 1992 (source). 
Email and the public internet gave rise to the powerhouse that is e-commerce.
E-commerce has become big business and continues to become even bigger business despite economic shifts that one might expect to deter it. Even when in-store sales rose 15.4% in 2021 as consumers enjoyed fewer lockdown restrictions, the retail e-commerce showed strong growth across product categories, ranging from 9% growth in food and beverage to a whopping 24.5% in apparel and accessories.
For e-commerce marketers, email is an essential key to maximizing that revenue potential. 
This guide is here to help you understand e-commerce email marketing from A to Z and ensure that you're using the latest strategies and technology. Find out what you need to know to stay ahead of the competition while also creating better, more meaningful experiences for your customers.
What Is E-Commerce Email Marketing?
E-commerce email marketing is email that engages customers with a brand's digital business model. 
If you think that definition is broad, you're right; it's meant to be. Some might claim e-commerce email marketing is specifically about direct messages that drive consumers to make purchases from your online store. However, that's a limiting way to think about it. Consider this example: If your favorite indie band emails you about their next concert and directs you to buy tickets from an online platform (which the band neither owns nor controls), is that e-commerce email marketing? Of course it is. 
However, enterprise-level brands operate at a much different level than your favorite indie band (hopefully at a much higher level). 
Quick quiz — which of the following are e-commerce marketing emails? 
An email ad for the newest line of swimwear, linking you to the online store
An email summarizing your recent activity in the language-learning app you subscribe to
A reminder email that your antivirus software will renew automatically in one week
An email invitation to join a loyalty program
An email notification that your recent order has shipped
A welcome email inviting you to join a "fellow grillers" user group after you purchase a new grill in a physical store
A birthday email with a $5 voucher that you can use either online or in-store
If you say "all of the above," you're correct. Even though only some of these emails are promoting products, all of them are 100%, bona fide e-commerce marketing emails. Whether the email is promotional, transactional, or simply informative, it represents your brand and your digital presence. Each email is part of the complete customer journey. 
What to Look for in an Email Marketing Service Provider
To send out all your essential e-commerce emails in all their many forms, you need an email service provider (ESP) that meets your marketing needs. 
Self reflection question: 
Is my current ESP the best email marketing software to meet my needs? 
If you can't immediately answer with a resounding "yes," or if you aren't sure what even makes an ESP the best in class, here are essential features to look for:
Connected Data
An effective e-commerce email strategy is dependent on a 360-degree view of your customers. A unified customer profile enables you to deliver personalized messaging, which customers today expect when they engage with any brand, including yours. Connected data also makes it much easier to measure the results of your email campaigns.
Omnichannel Engagement
Email is without a doubt the core channel for most brands, but it doesn't exist in a vacuum. Email must work in cooperation with other outlets (web, SMS, mobile, and so on) to deliver a coherent, consistent brand experience. 
Automation and AI
Automation and artificial intelligence (AI) aren't scary monsters in the closet waiting to take your job — they're like extra teammates that make it possible to even do your job. Automated campaigns can constantly run in the background while you do the more creative tasks like figuring out which campaigns will energize your audience. Meanwhile, artificial intelligence processes the neverending stream of customer data, makes sense of it, and makes smart decisions. With both automation and AI working together, your email marketing can run at scale.
Ease of Use
All the nifty features in the world won't matter if they're confusing or difficult for users, so make sure the ESP's interface is easy for marketing team members to understand and use. Higher adoption leads to better results. (Emarsys was recently recognized by G2 for Highest User Adoption.)
Continuous Innovation
Continuous innovation isn't a function of the software as much as it is of the software company, but make sure your provider is always bringing you new ways to enhance your e-com email marketing. Adaptation is critical for growth in an ever-changing digital world. 
Tips for Crafting the Perfect E-Commerce Marketing Email
When it comes to creating emails that get engagement, it takes a village to succeed. Copywriters, graphic designers, email marketers, demand gen, and other team members may all be involved at some point. Given that some marketing teams are small, roles might also overlap. 
So logically, the first and most important tip for email writing is hiring the right marketing team.
That being said, following are essential tips for crafting the kinds of emails that drive customer engagement.
Subject Lines Matter
According to eMarketer, the number #1 factor that determines whether your email gets opened is the subject line. It's never silly or wasteful to spend extra time ensuring the subject line is on target. 
When writing subject lines:
Keep the wording short and tight. Aim for 5–7 words if possible. Also be mindful that mobile devices display only about 25–30 characters. 
Write with enthusiasm. Write with a sense of enthusiasm. If the email is about a time-limited opportunity, use that to add urgency to the subject line.
Be clear and consistent. Make sure the subject line matches the body content. Never bait-and-switch with customers who will inevitably feel tricked if they receive an email that leads to a page about something unexpected — that's a breach of trust and a bad customer experience.
Draft multiple subject lines. Don't hold back! Open the writing floodgates and throw down as many ideas as you can. Then pick your favorites or ask a teammate which ones are strongest.  
You can also run your subject line through one or more subject line testers. Many free versions of testers are available online. 
Balance Copy and Design in the Body
Copy and design should work together to create an email that flows nicely. 
Use your real estate wisely. The topmost portion of the email body is the most important, so don't hide high-value content or offers too far down — you can't guarantee the customer will scroll all the way.
As with the subject line, keep the copy concise. 
Ensure your look and feel are consistent and that the email flows smoothly from top to bottom.
Don't be afraid to experiment with different layouts! That's what A/B testing is for. 
Treat Customers As Individuals
We talk a lot about the importance of personalization in marketing. It's a tenant we live by. Rather than rehash the many strategies we've already shared, here's a quick list of ways to make your customers feel like you know and understand them on a 1:1 basis (even while marketing at scale): 
Use their name. In fact, use recipients' names in more than just the greeting! Marketing technology can allow you to add the customer's name to offers and images, too. 
Recommend products that are related to the customer's purchase history. Visual affinity, a feature provided by Emarsys, even allows recommendations based on visible similarities in products. 
Send unique offers based on their spending habits. Someone who makes small, frequent purchases will respond to different offers than a customer who makes large, infrequent purchases at certain times of the year.
Respond to their actions (or inaction) in real time with abandon browse and abandon cart emails. 
To enable your email personalization, first-party data is incredibly important. Collect it, centralize it in a unified profile, and use it wisely. 
Refresh and Update Older Emails
Iteration is an important part of email craft. Your brand will grow and change over time, and the way you communicate needs to reflect that. Also, your customers may grow and change over time, so your emails should speak to who they are today rather than who they were months ago. And hey, if you upgrade your email software, you may find you have more features and capabilities you can use.
This story from Retail Revival is a great example of an e-com email makeover: 
"But here I've got a couple of our email comparisons in the way that we really talk to our customers. So on the left here, we have a cyber sale that we ran in 2018. So you can see we communicate the sale well and then we give them a lot of text they have to digest. We give them a code [that] they have to copy and paste at the checkout. Then we send them to our Facebook family, and then we have recommended products just for you, which I specifically remember sitting down and handpicking. So they weren't really recommended just for that customer. They were the ones that we wanted to push. And so moving forward to the most recent sale we did with an afterpay sale. With our new platform that we bought on, Emarsys, and our new customer journey priority, we were able to really streamline that [and] have different emails for different segments. So if they were a defective or an active customer, we [could] send them an email that is really strong on reviews, how much they're going to be saving, most-loved products. And then on the other side of that, if they are a high-value spender, then we can send them products really targeted to what they've been browsing, what they've been looking at, as well as really high-value products that we are hoping they're going to convert with. And so, just as a comparison, looking back, our cyber email from a couple of years ago had a 10% open rate, 2% clip, and then less than 1,000 opens for their click-throughs to the site for that email. And then with our new system, new customer database, and new look and feel, we have an over 15% open rate, 4% click rate, and then more than 10 times the opens compared to the first one. So pretty cool stats, really."
Natalie Peat
Finance & E-Commerce Manager, ECO. Modern Essentials
You can also watch the complete interview with ECO. Modern Essentials.
Get Feedback
One last thing: Get feedback. Simply throwing emails out into the world and hoping they succeed won't help you reach e-com email perfection. 
Feedback can come in many forms:
This may seem basic, but read the email subject line and body content out loud. Your ears will give you instant feedback if something sounds wrong. 
Request internal feedback. Send test emails to select individuals.
Track your open, click, and conversion rates. 
Set up A/B tests and compare the results. 
Ask for feedback in customer surveys. 
How to Develop an E-Commerce Email Campaign
The campaign you create depends on various critical factors: 
Your audience
Your message
Your audience's goal
Your goal
With all those things in mind, you can create the kind of campaign that makes the most sense and suits your purpose. To quickly recap from another blog post on email marketing strategies,  the most widely used types of campaigns are:
Product recommendations
Promotions and offers
Win-back messages, such as abandon browse or abandon cart emails
Transactional messages, such as welcome emails, order confirmations, shipping notices, requests for product reviews, and so on
The real secret to success with any of these campaigns? You come up with creative marketing ideas and then use automation and AI to do the heavy lifting. 
Segmentation
An astounding 94% of marketers recognize that using AI to prepare and segment data is a key opportunity to save time. That's not surprising when surveyed marketers stated that preparing and segmenting data was the #1 task taking up their time. 
That job isn't reasonable for humans, so let AI do the work. Then reap the benefits as you apply segments to your automated campaigns and speak to different groups with more relevant and appealing messages.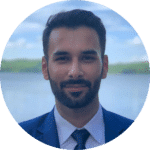 Prithvi Raj Tikku, Director of Email and Retention for CSC Generation, uses segmentation extensively: "Oftentimes we find a lot of quick wins come from just some advanced segmentation where we are able to use different kinds of tiers of audiences and provide them with different offers. So you can essentially send one communication which is dynamically personalized to each different tier. That in itself gives us a better response rate."
Send Time Optimization
Optimizing the timing of when you send your emails is another facet of personalized marketing. AI analyzes data on when your customers have engaged in the past and makes smart predictions about when they're likely to open your next marketing message.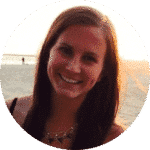 According to Kelly Ringel, Digital Marketing Coordinator for JOLYN, "Send Time Optimization is [a] favorite of mine. We use that for almost every campaign, and that's actually increased our open rate by over 8%."
Dynamic Content
We're used to thinking about emails like static letters. After you mail it, nothing can really change about it. But that's not actually true.
With AI-driven dynamic content, the content of your email can adjust to suit the time and location of the customer. Imagine being able to customize your email for the precise moment in time that your customer opens it — that's exactly what you get with dynamic content.
3 Examples of E-Commerce Email Marketing with Emarsys
Here's the fun part: sample emails! Talking about email in theory is nice, but there's nothing quite like getting a close look at real examples. 
The following three samples are real examples from real customers. You can also find many more examples by logging into the Emarsys Help portal and visiting Emarsys Inspirations.
Welcome Email (Crabtree & Evelyn)
This welcome email hits the right notes by stating what the email is about (confirming the newsletter signup); making an offer; introducing product collections with large, bold images; and inviting the consumer to connect in more ways. 
Abandoned Cart Email (Bamboo Clothing)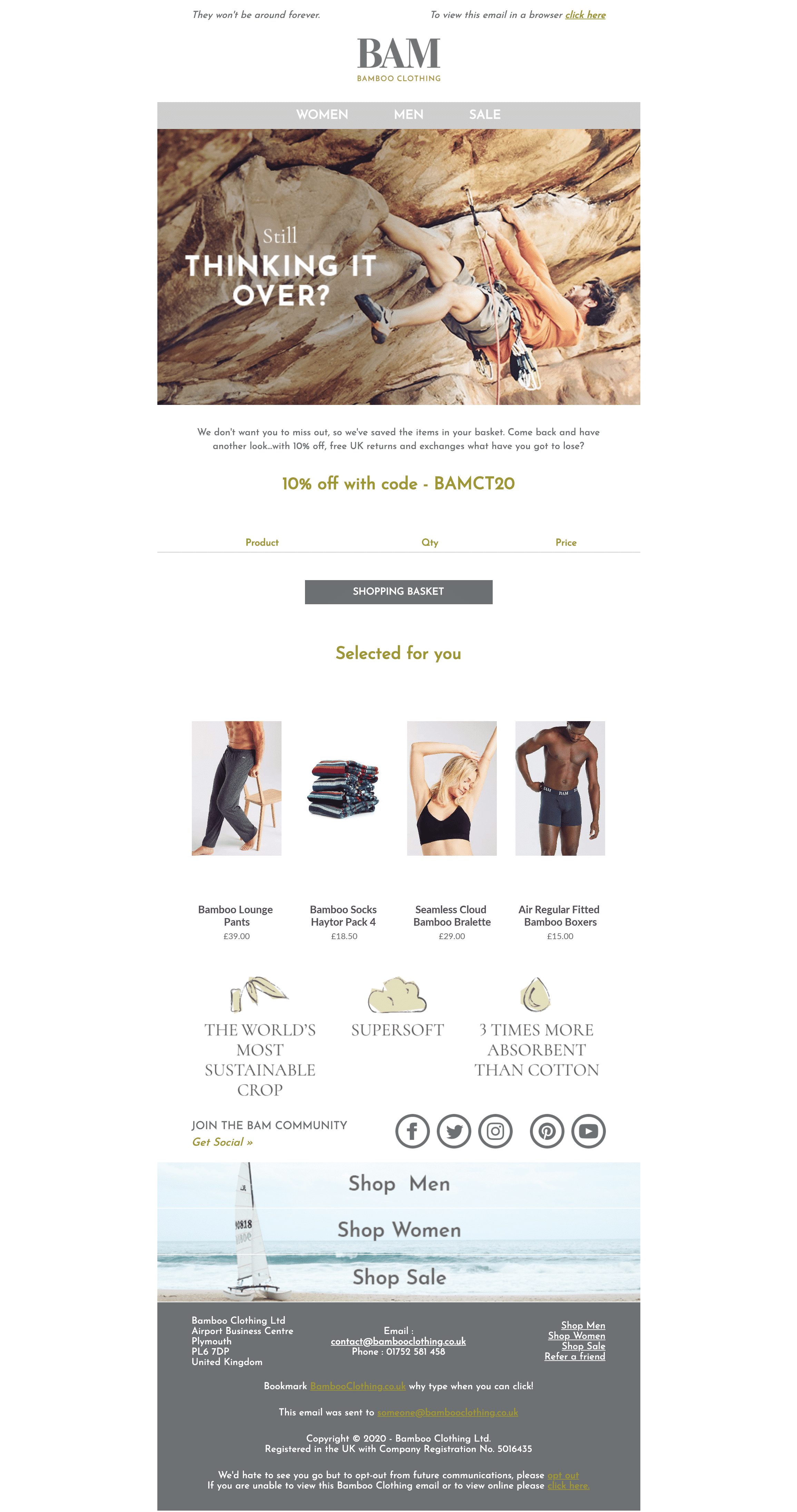 Automated abandon cart emails are good for not only brands but customers as well. Many customers simply become distracted, and the reminder is a gentle nudge to help them stay on track. And if they meant to abandon the cart, a little discount might change their mind and seal the deal. 
Order Confirmation Email (ROMAN)

This order confirmation email is both classy and clever. The "Complete the Look" section offers suggestions for items to pair with the purchased clothing. 
Final Thoughts
Email is an incredibly important part of any e-commerce marketing strategy. There's just one more tip you have to remember to be successful with it:
You didn't become a marketer to bore customers or bother them. You became a marketer to engage them in creative ways. So put on your creativity hat and start thinking about new ways to deliver the best possible experience for your e-commerce customers. 
---
Handpicked Related Content:
Special thanks to our friends at
Emarsys
for their insights on this topic.