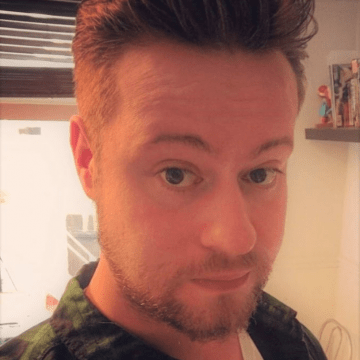 Tom Simpkins
Content Marketing Manager
Reading Time: 8 minutes
The world of food ecommerce is increasingly changing, and booming, with each passing year. Since 2018, revenue from ecommerce food sales has almost doubled, with sales leaping in the millions between 2019 and 2020 alone. This upward trend is predicted to continue, making it an exciting time for food ecommerce.
Customers have come to rely on online shopping more than ever—and the food ecommerce sector is embracing new trends to keep up with demand.
What is Food Ecommerce? 
Ecommerce food businesses sell food and drinks online. Products range from standard groceries to unique specialties.
Unlike online stores that sell non-perishable products, it is absolutely essential that food ecommerce merchants nail time management and deliver efficiently. 
It can make for a juggling act, especially with an American public that is devouring the ecommerce food option. In 2020, monthly sales ranged from a low of $4 billion to a high of $7.2 billion. 
Food Ecommerce Trends
Whether a supermarket, chocolatier or spirit manufacturer, all ecommerce merchants can benefit from food and beverage ecommerce trends. The industry is a competitive landscape that, like any other market, requires the right commerce platforms and marketing strategies to thrive.
Omnisend has witnessed the growth of food and beverage ecommerce through our customers' experiences. Our clients are attracting larger and more frequent orders with the help of some trends. 
Luxury Products
There is always an audience that expects and demands the finer things in life. This is usually the prime audience for products with high price tags. However, it doesn't need to be the sole audience. 
Those who don't subscribe to high-priced food and drinks might make an exception for a special occasion. Luxurious food and drink, such as rare spirits or unique chocolates, are ideal gifts for hard-to-shop-for family members and friends. 
Explaining your brand and what makes a luxurious product so special is part of a successful marketing strategy. Our client, To'ak, does this very well.
They separate themselves from other high-end chocolatiers by focusing on what makes their product unique—that it's created using a near-mythological, considered-extinct type of cacao. They spread awareness through automated marketing. A brand-focused welcome series that tells the To'ak story is responsible for generating an 18% conversion rate. 
Special Delivery
While delivery might not be a new trend for food ecommerce, quicker and more direct delivery is. We're talking about instant and same-day delivery options.
Many merchants are partnering with delivery companies for more expedient and direct-to-customer delivery.
For example, our sweet-toothed client, Sweet Pete's, has partnered with Cornershop and Uber. The same is true of grocers and restaurants, which means there's no reason for other food ecommerce merchants to consider this trend.
Quick Repeat Purchases
Targeting prior customers is nothing new—it's the cornerstone of retention marketing. However, food and beverage ecommerce stores thrive more than most with this technique, as it takes advantage of the product's limited shelf life. 
Overall, customers naturally consume these products when they are still fresh. Perishable products force customers to make a repeat purchase much more quickly than other types of products. So, food and drink ecommerce stores have a big advantage in transforming customers into repeat ones.
And with the direct-to-consumer model, the process becomes much quicker with the potential for greater engagement. Our client, Eat Me Guilt Free, experienced these kinds of results. Its subscribers increased 900% within a month, prodded by promotional emails, as well as a staggering 17.7% conversion rate.
Subscriptions & Restocking
A similar trend that relies on the perishable nature of food and drink products is that of a subscription or renewal service. While post-purchase marketing can encourage customers to repeat their purchases, automated processes lead to a seamless customer experience and higher frequency of repeat purchases.
Take our client, Love Cocoa. Customers can select products to be delivered regularly, or choose from curated options. The cycle is chosen by the customer, ranging from once every month for three months to once a month indefinitely.
Personalization
Many merchants know the value of product recommendations within personalization efforts. In the world of food ecommerce, there are many more opportunities to literally offer personalized products.
The Cake Store is the perfect example, as their entire business focuses on creating custom-made cakes for all occasions. Their luxury items, novelties, and even standard cakes may be personalized, making them alluring products for first-time buyers. 
By using Omnisend, The Cake Store used our 'product picker'. This helps to improve the customer experience as well as The Cake Store's marketing attempts. Then, when it came to engaging with prior customers, they targeted buyers not after a week or a month,but a year.
This may sound like a lengthy wait, but it's important to remember their product. Cakes are generally reserved for specific celebrations. They strategically timed the communication to maximize engagement opportunities and rate of success. 
By waiting almost a year before sending an email with a reminder of the prior purchase and a discount offer, they boosted their relevance and therefore repeat sales prospects. 
The technique worked wonders. The Cake Store is seeing an engagement rate almost 32 times higher than efforts made previous to enlisting the assistance of Omnisend.
Cross-Selling
Sometimes a food or drink product is exactly what your customer wants and they won't need much encouragement to make a purchase. However, there are times when the product alone can either be enriched, enhanced, or only be enjoyed in tandem with another product. 
If you can concurrently introduce this complementary product while the customer is still shopping, you increase your chances of successfully cross-selling.
For example, Sagebrush Coffee offers combinations of its coffee beans, both on emails and on the website itself. They also offer special brewing equipment for those beans, endorsement products that they suggest provide a better brewing experience.
Cross-selling for food ecommerce must be handled correctly. Without creating relevant product recommendations, it's unlikely that customers will engage.
Niche Products
Some customers shop at certain stores for morality reasons, such as wanting to support small businesses. Others may choose to do so for more specialized reasons, like dietary needs. Food ecommerce is in a unique position here. Although the former reason applies to almost any ecommerce store, the latter is usually an exclusive opportunity for food and drink. 
Offering uncommon items, the likes of which are difficult to source in conventional food and drink stores, can make your food ecommerce store shine. This can include gluten-free products, cruelty-free items, and vegan treats. Take our client Sweet Pete's, which has a special section dedicated to vegan confectionery. 
Welcome emails are ideal for showcasing specialty products such as this. Further, by segmenting customers who have already purchased a specialty product, such as a product with the 'vegan' tag, you can send them specially catered, post-purchase emails. Market related new products in this way, too, for a tailored customer experience that's more likely to engage. 
How to Enable Food Ecommerce Trends with Omnichannel Marketing
More and more, food ecommerce merchants are pursuing omnichannel marketing, as it provides them with ample opportunities to boost sales. But what is omnichannel marketing? In a nutshell, it's marketing via interconnected, multiple channels, such as emails, SMS and push notifications. 
For example, Omnisend's reports show that food ecommerce websites make good use of omnichannel marketing by using a combination of cart abandonment emails and SMS reminders.
Take a humble cookie vendor for instance, a store that sells one box to a customer. With omnichannel marketing, they can create the following customer experience:
After the customer receives the box of colorful cookies, they receive a push notification asking them to share fun photos of the product across social media. 
If they engage with social media, tagging the vendor in their pictures or posting them on the vendor's own social media, they'll receive a discount on the platform, see a social media ad, or receive an email with the discount for their next purchase. 
They receive an SMS notifying them of new flavors, along with a discount. 
This integrated experience is the heart of omnichannel marketing, providing your customers with a more engaging experience that's beneficial to them and your business. To understand how to use omnichannel marketing with food ecommerce, let's explore some examples.
On the Website
Email marketing may be the main method of reaching out to your audience, but a well-crafted website makes possible the most opportunities for marketing. Pop-ups, banner ads, CTAs and more—take advantage of all the ways you can engage with customers on your food ecommerce site.
For example, Omnisend client Little Waves notifies website visitors when a fellow customer makes a coffee bean purchase. This small pop-up shows that there are other customers engaging with the store. 
While this technique helps establish a company's prime product, it's also a great way to showcase the lesser known. 
Also worth considering are push notifications. They exist to enhance the ecommerce customer journey, and with food ecommerce stores, they can do so in a variety of ways. This includes alerting customers of upcoming sales, time-sensitive offers, and new products. 
Emails
Once a customer is a subscriber, whether it's after a purchase or signing up for deals and notifications, reach out to them with different email marketing campaigns. These include sending friendly welcome messages, following up with personalized recommendations, or reaching out after a cart abandonment.
Automated email campaigns save a lot of time and effort, especially when combined with segmentation. These types of emails have shown to have incredible results. For example, over half of recipients in 2020 made a purchase when receiving an automated welcome email, and approximately 34% of cart abandonment emails led to conversions.
In the case of food ecommerce, there's plenty of potential for email campaigns, from post-purchase emails sent soon after checkout to campaigns dedicated to annual occasions. 
SMS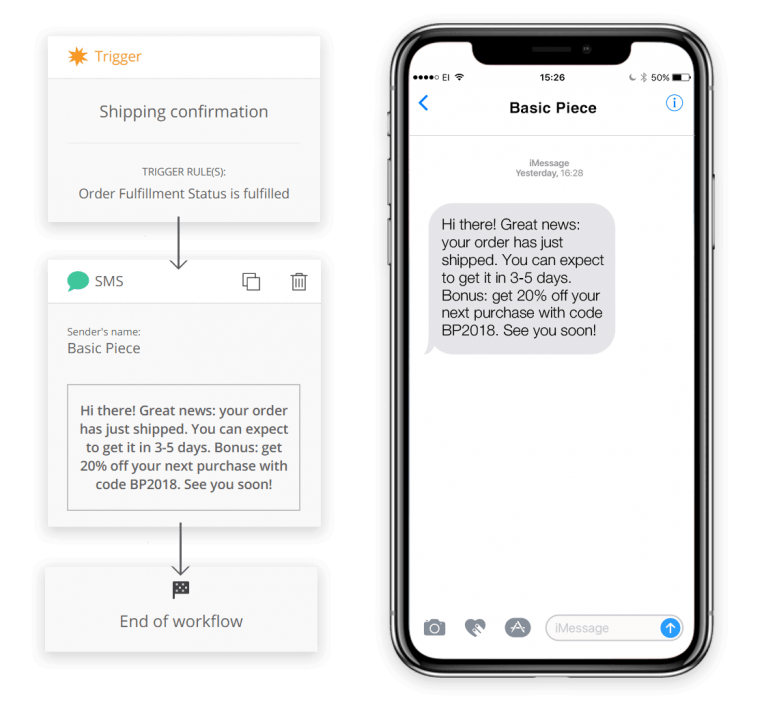 Often underrated, SMS marketing is a simple but powerful tool to use in tandem with our marketing approaches. Whether it delivers an extra incentive during holiday promotions or casually reminds customers about their abandoned carts, SMS often serves as the perfect addition to traditional email marketing. It's best used as a soft push and gentle reminder, compared to the potentially heavy-handed techniques of email marketing.
SMS marketing is easy to implement alongside marketing campaigns, especially when using omnichannel-focused platforms like Omnisend. Some of its strengths are unique to the channel, such as two-way SMS messaging, which offers customers a much more engaging and potentially helpful experience.
SMS can provide valuable services for food ecommerce, such as sending concise messages about new stock or with eye-catching discount codes. It's especially beneficial for updating the customer with delivery information. 
Social Media
Social media is an outlet for advertising products, sharing important news, and simply engaging with customers in fun ways.
Food ecommerce can really shine on social media. Whether it's asking customers to showcase your eye-catching food or working with influencers to concoct delicious-looking cocktails, food ecommerce can certainly engage with social media in an organic and effective way. 
Omnisend's omnichannel marketing easily integrates efforts with social media platforms, including the likes of Facebook and Instagram. 
Wrap Up
The food ecommerce industry is on the rise, with few signs of slowing down. Pair that with its unique challenges, such as selling perishable products, and food ecommerce needs to employ unique marketing opportunities to stand out.. 
The recipe to thrive? Food ecommerce trends with omnichannel marketing. 
Ever eager to improve engagement, increase conversions, and boost sales, Omnisend is the perfect marketing platform for food ecommerce. We know, because our clients have seen incredible results.
Special thanks to our friends at
Omnisend
for their insights on this topic.