Affiliate programs are great ways to generate passive income, and you can earn a surprising amount of money if you can make consistent referrals. Many software-as-a-service (SaaS) brands offer lucrative software affiliate programs to generate more leads and use word-of-mouth marketing.
In this article, we'll look at some of the top SaaS affiliate programs available in 2021. While some platforms offer a flat reward in exchange for each referral, others provide an ongoing commission or percentage of the referral's spending.
Make sure to allow your contacts to collect affiliate rewards on your own subscriptions—this approach will generate rewards for both sides without adding any extra costs.
What Are the Best SaaS Affiliate Platforms?
Different businesses can benefit more from different Saas affiliate programs, and each program merits research into which one would serve a merchant best. However, there are clear points to take from each program, each with its own benefits.
Let's explore the best Saas affiliate programs available, one by one.
1. Omnisend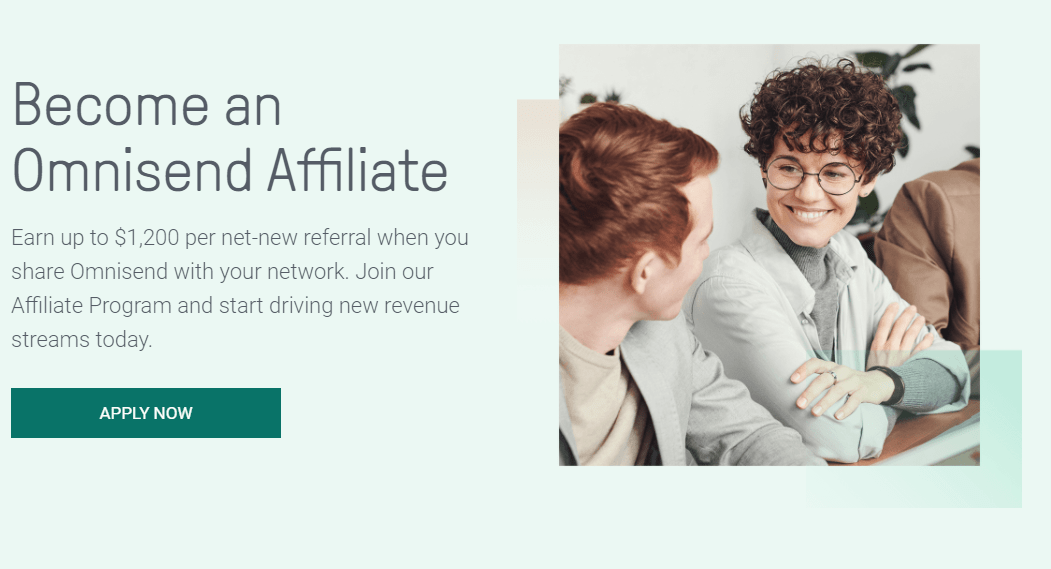 Omnisend's affiliate program allows partners to earn as much as $1200 for each successful referral. The platform also provides ready-made marketing materials, including ads and banners that help you reach out to your contacts more easily.
Furthermore, Omnisend partners can stay in contact with a dedicated account manager who will offer advice and support as needed. Omnisend's affiliate programs aren't just designed to be beneficial, they're also simple to follow. Apply online with an easy to fill out application form, use ads and share content to spread the word, and then receive payouts.
Check out the affiliate program's page for more information about applying and earning rewards as an affiliate partner.
2. Shopify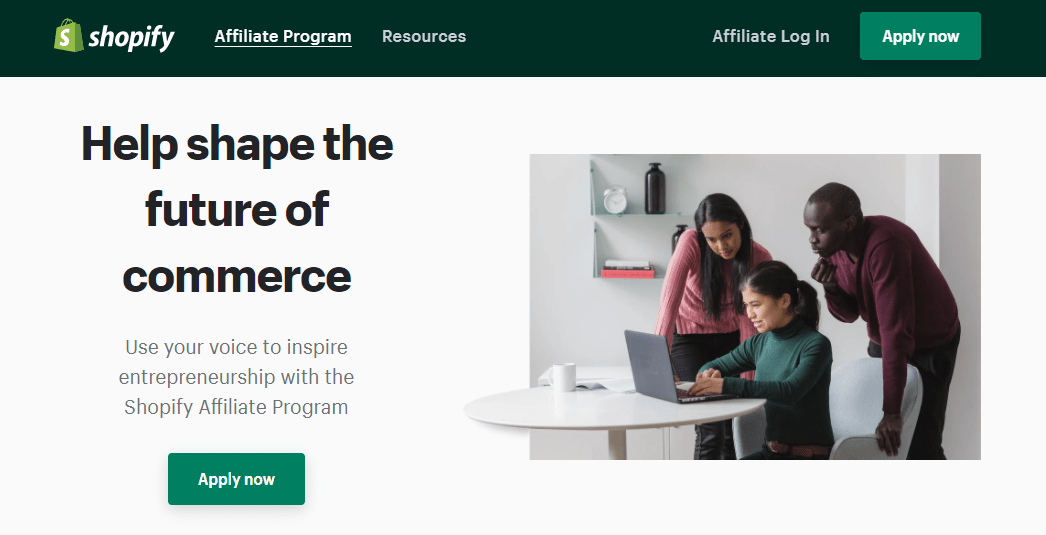 Shopify is one of the most popular ecommerce tools on the market, and it's the perfect tool to recommend to aspiring ecommerce vendors. After becoming a partner of the software affiliate program, you'll earn an average of $58 each time a new user starts a paid subscription through your referral link.
There are no limits on how much you can make through Shopify's SaaS affiliate program, making it potentially very profitable. Thanks to this, you can spend as much or as little time recruiting new subscribers as you want. Like Omnisend, Shopify gives partners a dedicated account manager for ongoing education, materials, and other support.
3. BigCommerce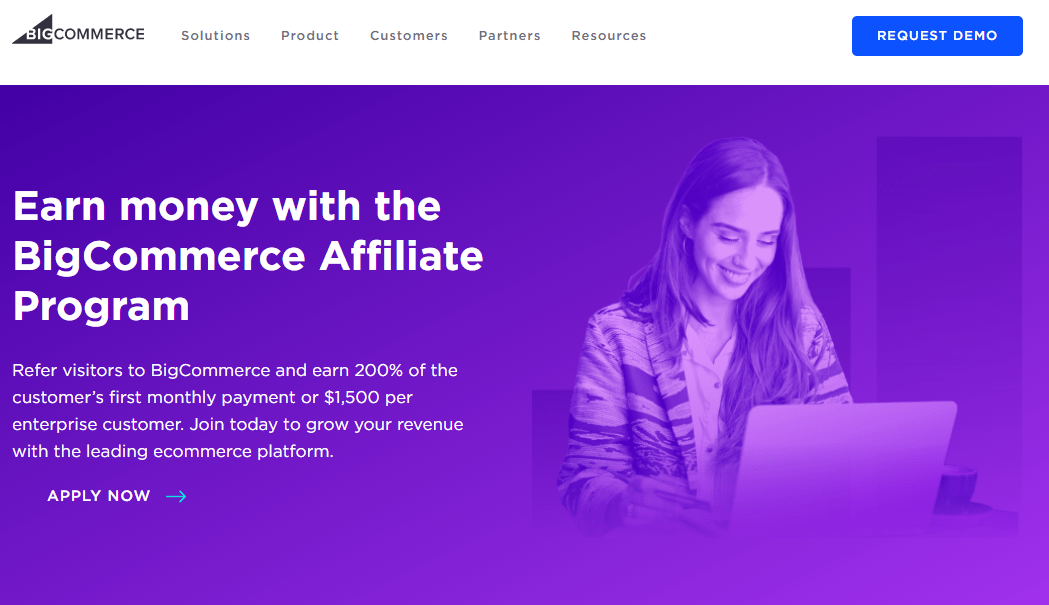 As a BigCommerce affiliate, you'll earn 200% of each referral's first monthly payment. For example, if they sign up at the Plus tier for $79.95 per month you'll come away $159.90 richer.
That lucrative bonus makes this one of the best SaaS affiliate programs for digital marketers to be aware of.
Every 'Enterprise-level' subscription is different, but BigCommerce provides a flat $1,500 bonus for successful referrals to the Enterprise tier. Enterprise plans are designed for businesses with over $400k in annual online sales—the highest volume allowed in the Pro subscription ($299.95 per month).
BigCommerce affiliates can simply use the referral link or take advantage of pre-set content, including emails and banners. Like Omnisend and Shopify, BigCommerce provides a dedicated account manager for all affiliate partners.
4. Loox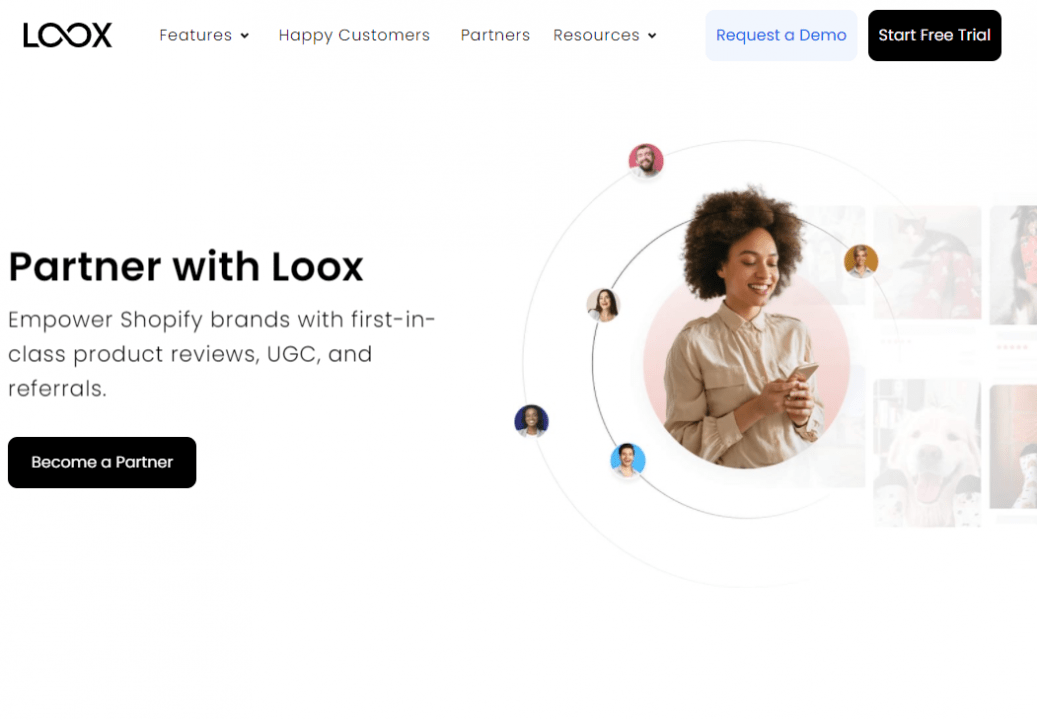 Loox is a popular Shopify solution for reviews and referrals, leveraging the power of social credibility to help brands drive sales. The platform's SaaS affiliate program comes with familiar features like dedicated support, assistance through co-marketing, and a partner dashboard to help you manage your referrals.
In contrast to BigCommerce and some other SaaS programs, Loox gives affiliates a percentage of revenue rather than a one-time reward after the initial subscription. Unfortunately, the website doesn't provide any further details on the reward system other than that partners are given a "competitive revenue share."
Clearly Omnisend, Shopify, and BigCommerce offer clearer, greater benefits and incentives for their affiliate programs. However, it's features still provide plenty for any SaaS.
5. ReferralCandy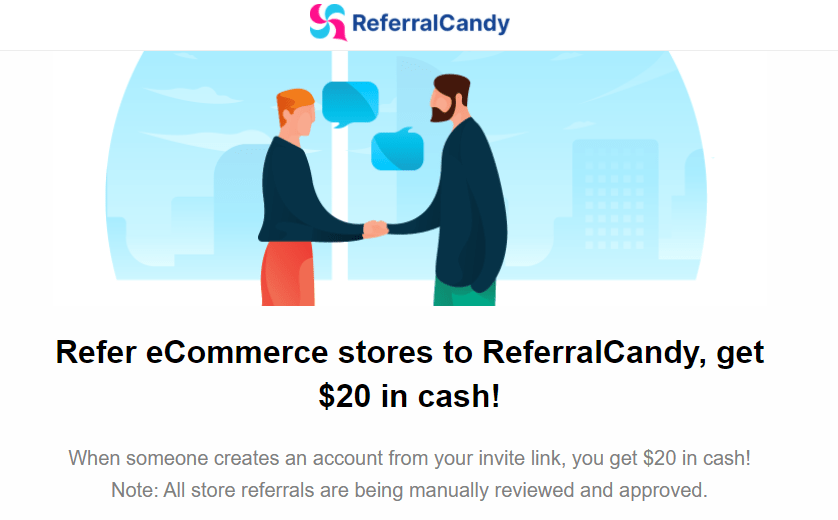 Unlike the platforms we've highlighted so far, ReferralCandy doesn't require any qualifications or even an application from new affiliate partners. Anyone who wants to earn affiliate benefits can simply request an invite link, making it one of the easiest to use from start to finish.
With ReferralCandy, Enterprise customers pay a flat $3,999 per month (billed annually) while non-Enterprise users pay $49 per month, plus a commission based on their referral sales. As a partner, you'll receive a $20 reward every time someone signs up for a new paid subscription through your invite link.
ReferralCandy doesn't provide any unique content or SaaS affiliate program tips, so you'll be on your own when it comes to getting your contacts interested in the platform. On the other hand, there are no limits or other restrictions on benefits, making it one of the top SaaS affiliate programs for self-starters who are willing to do that legwork.
6. Gorgias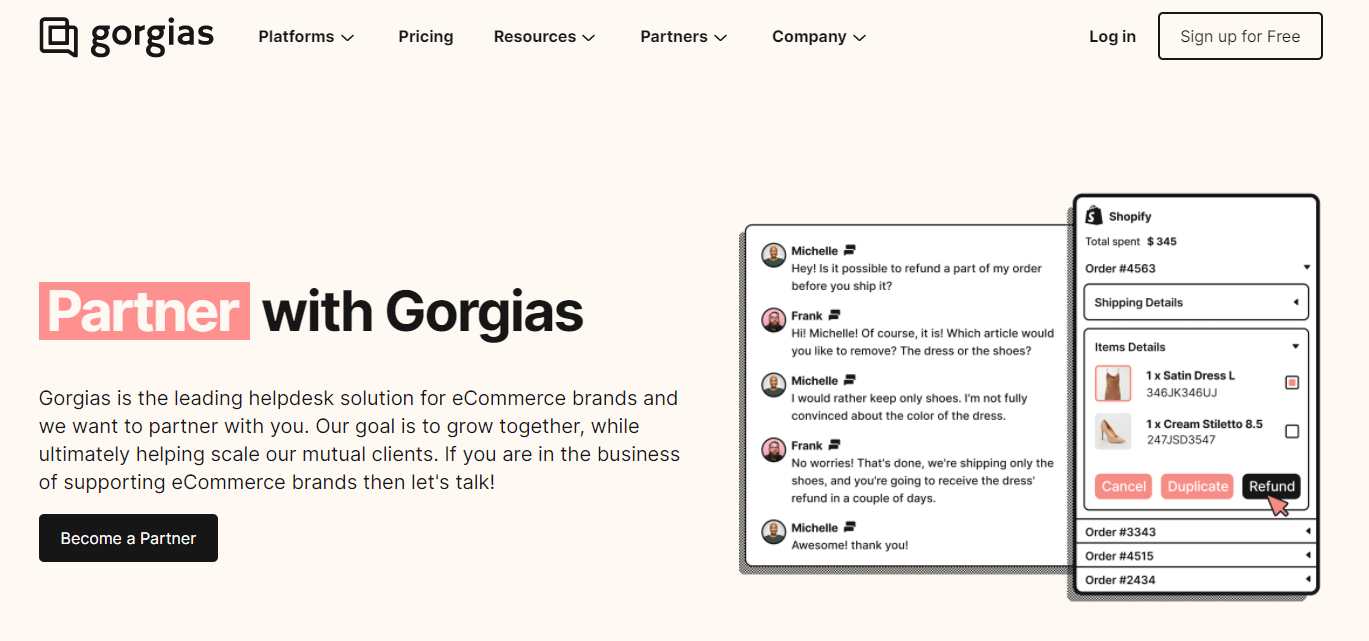 Gorgias is an ecommerce helpdesk solution that centralizes support requests and makes it easy to take certain actions within the customer service interface. Users can also take advantage of if-then sequences to create automated responses and reduce the need for human employees.
After acceptance into the Gorgias partner program, you'll gain access to a robust toolkit, including lead sharing, co-marketing initiatives, training, and dedicated support. However, like Loox and some other companies with affiliate programs Gorgias describes its rewards as an "industry leading revenue share" without offering any more specifics.
7. Pipedrive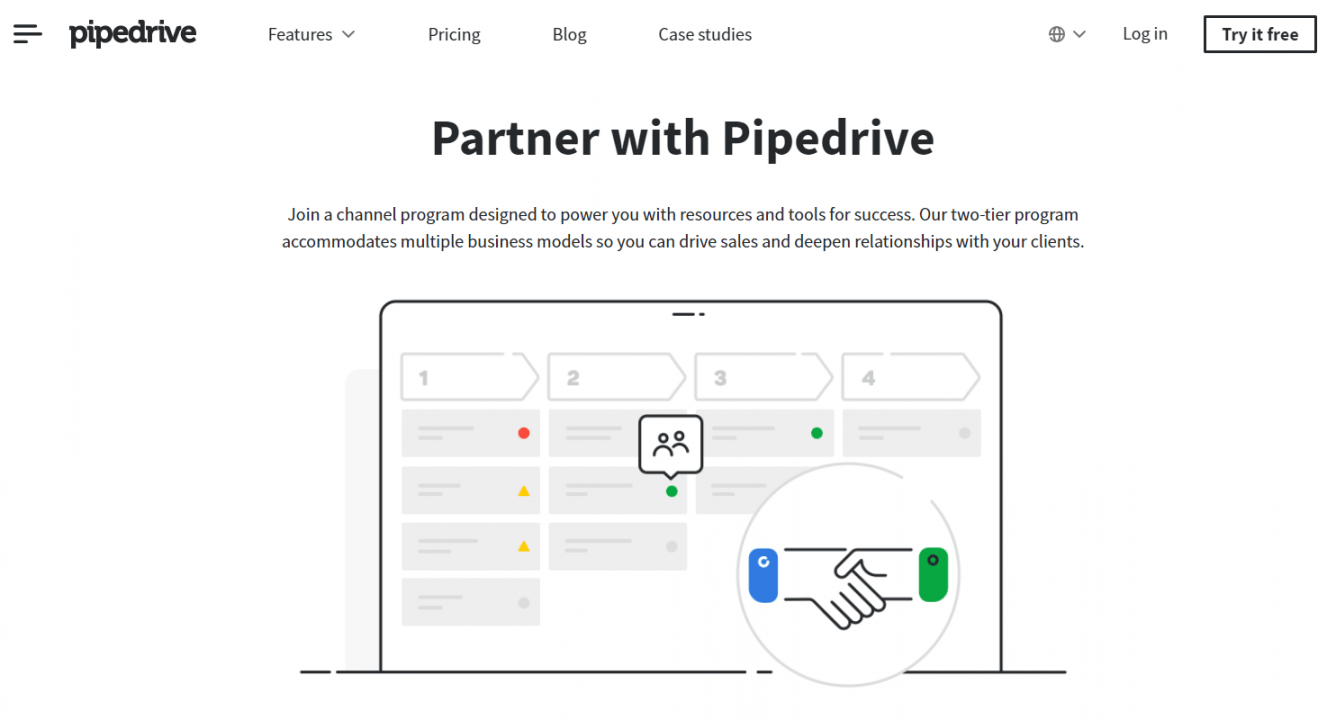 Pipedrive is powerful sales CRM software that can help marketers manage leads, track messages, automate their digital marketing, analyze past results, and more. If you're new to the CRM, you can start integrating existing customer data into their system in just a few minutes.
The Pipedrive channel partner program is actually two different product affiliate programs:
One for affiliates who simply refer customers in exchange for a one-time referral fee
Another for "solution providers" who offer their own services and consulting in exchange for an ongoing share of revenue.
Solution providers are further divided into the "premier" and "elite" categories. Elite providers need additional skills such as marketing and project management in addition to the sales, engineering, support, and account management abilities that are expected from all providers.
As an elite provider, you'll also be given marketing funds and SaaS affiliate program tips as well as lead distribution to help you make more sales.
Basic affiliates, in contrast, are mostly left to their own devices when it comes to making referrals. While they still receive some basic online training materials, the relationship with Pipedrive is generally hands-off. Because of this, you should consider starting out as an affiliate before deciding whether to make the jump to becoming a solution provider.
8. Zyro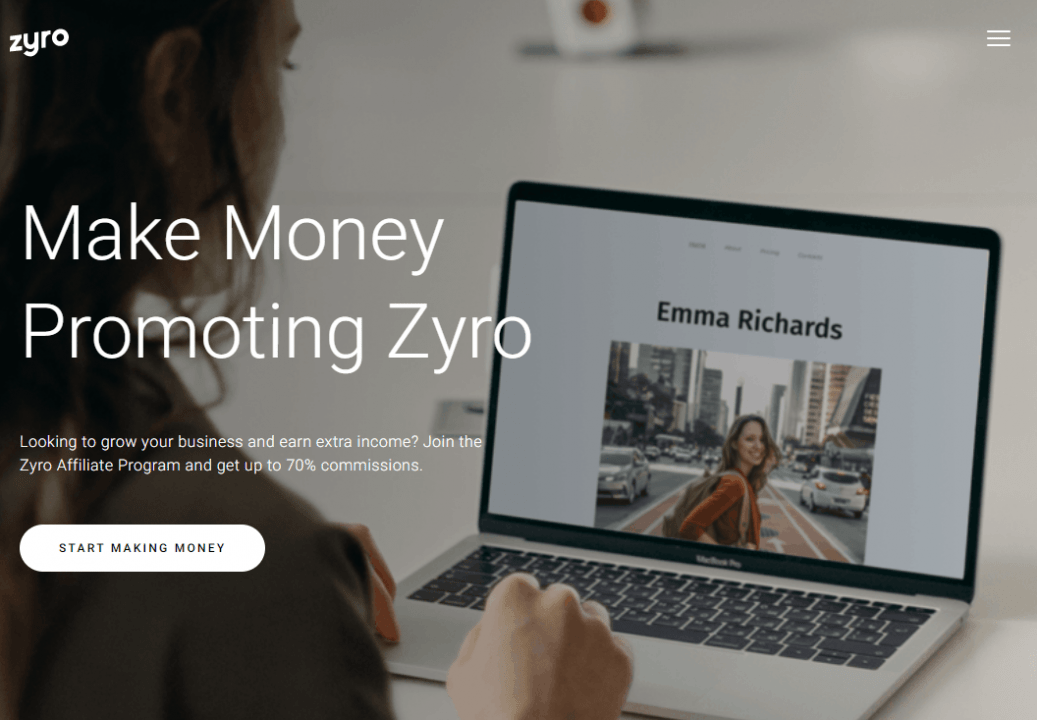 Zyro is a website builder, web hosting provider, and domain name provider. In other words, it's a comprehensive solution for anyone looking to create a website or online store. The service also integrates smoothly with third-party platforms including Amazon, Instagram, and Facebook in order to help vendors maximize their reach.
The Zyro Website Builder software affiliate program claims to offer "up to" a 70% commission when partners refer new subscribers. Unfortunately, the website only repeats that same "up to" language without describing the criteria that are used to determine a partner's commission rate.
As a Zyro partner, you can market the platform independently or even use paid search traffic as long as you run your idea by your dedicated affiliate manager. Zyro pays out balances of $100 or more via PayPal at least 35 days after the transactions have cleared.
9. PDFLiner
PDFLiner is an all-in-one online PDF solution to help with organizing the document workflow. This PDF editor offers broad-ranging features to work with documents, including creating and editing forms, esinging and sharing them, protecting with passwords, and storing them in the cloud. PDFLiner comes with a 5-day free trial and pays lifetime commissions.
With the PDFLiner affiliate program, you will gain a 40% commission from every first sale and a 20% commission from a recurring sale via your affiliate link.
As a PDFLiner affiliate, you can promote the editor independently or even use paid search traffic after you agree with your dedicated affiliate manager. PDFLiner pays out balances of $100 or more via PayPal at least 30 days after the transactions have cleared.
Conclusion
While there are more companies with affiliate programs than ever before, product affiliate programs vary widely in both rewards and partner support. These software affiliate programs generally offer outstanding rewards along with training and responsive assistance to help partners make as many referrals as possible. With the right contact list and networking skills, you can earn a surprising amount of money through promoting affiliate programs.
Take your affiliate links a step further with marketing automation—try Omnisend free for 14 days!
Special thanks to our friends at
Omnisend
for their insights on this topic.