As any good ecommerce merchant knows, Shopify serves as one of the greatest platforms for selling online. After all, the top Shopify stores include world-famous companies like Tesla, Moet Hennessy, and Pepsi.
From the top Shopify pet stores, such as Modkat, to prestigious merch stores like the Lakers Store, Shopify serves as a go-to ecommerce platform for brands across the world.
Take their growth over the last few years—online sales with Shopify shot up by 50%, compared to the 21% increase the global ecommerce market saw. Overall, Shopify has contributed a staggering $319 billion in global economic activity—putting it just behind behemoths such as Amazon.
Want automatic VIP segments without lifting a finger? Try Omnisend free for 14 days!
Why Merchants Choose Shopify
The reason for this titanic growth comes from the wealth of benefits Shopify stores enjoy. There are 1.75 million sellers on Shopify. One of these is their ability to be mobile-friendly out of the box. Mobile optimization opens a lot of doors for merchants. In fact, 79% of traffic and 69% of sales made on Shopify stores come from mobile devices.
The myriad of instant, plug-in apps it offers makes Shopify the ultimate one-stop-shop for many ecommerce merchants. From robust email marketing apps like Omnisend to SEO-focused apps and even contest-driven apps—Shopify's app store provides merchants with plenty of tools and toys to play with.
87% of merchants using Shopify have stated that these apps are crucial to running their business. Some apps are better than others—Omnisend, for example, integrates seamlessly to create successful Shopify stores. Thanks to this, it's no surprise that over 12 million apps installs have taken place over the last decade.
Thanks to this versatility, ecommerce merchants all over the world are able to create successful Shopify stores. While Shopify might make it simple to create and run an online store, success won't be a given.
Let's take a look at a list of top Shopify stores, and explore what lends to their success.
What are the Most Popular Shopify Stores?
Boasting an incredible 11% of the total ecommerce market share, it's no surprise that industry juggernauts have found a home with Shopify. From beer behemoths Anheuser-Busch to workout gear goliaths Gymshark, big names trust Shopify.
This makes sense, as it excels with website design, offering Shopify themes that simply plugin for a great-looking website in just a few clicks.
Each industry has its own leaders with Shopify stores. To see just how versatile Shopify is, let's examine some Shopify store examples. Included will be the successful Shopify stores that provide something special to customers and their industry as a whole.
Top Shopify Apparel & Fashion Stores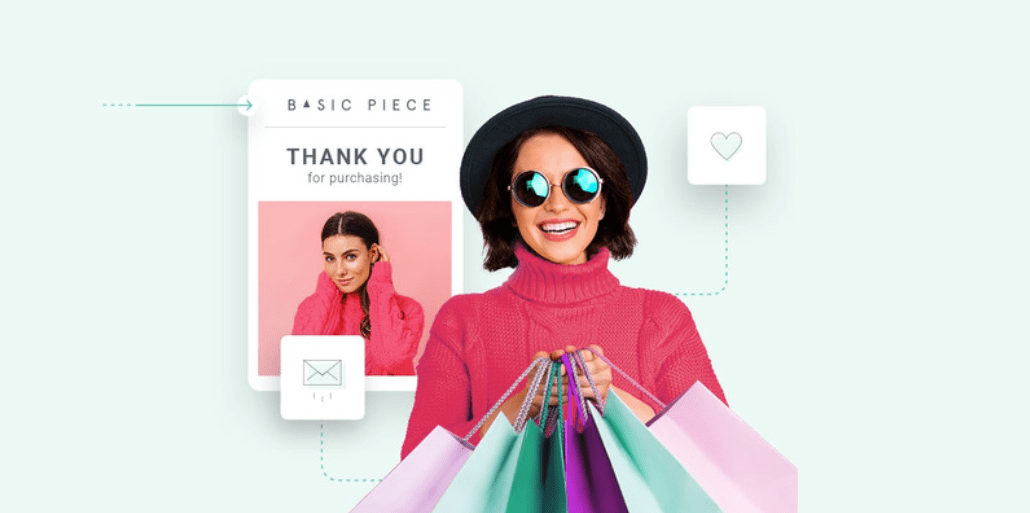 Apparel & fashion stores make up one of the three largest industries on Shopify. Dominating approximately 11% of Shopify Plus, it's clear that there's a huge market for these stores on Shopify.
This should come as no surprise. Many estimates for the top-selling Shopify stores place the likes of Louis Vuitton, Cettire, and Fashion Nova among the top five Shopify top stores in the US.
But it's not just prestigious and highly fashionable ecommerce stores that are performing well. According to Shopify's 'State of Commerce' report, one of the reasons that apparel & fashion stores are succeeding so wildly is because t-shirts are the number one selling products worldwide.
This report showcased some other fascinating insights. For example, did you know that Germany loves costumes and dance dresses? So much so that they're top-selling products.
While these insights are interesting, it's important to understand how Shopify clothing & footwear stores appeal to their audiences to see what really makes them successful.
Hiut Denim Co.
Hiut Denim Co. focuses on one simple mission statement—make jeans. Most of their branding and marketing that features models reflect this, often showcasing nothing but the jeans they wear. It's this razor focus simplicity that makes their branding so impactful and alluring to the eyes—something that's masterfully executed with Shopify.
The Hiut Denim Co. store is structured to highlight various staples of Shopify stores. It draws the eyes ever downwards, allowing their messaging to be clearly read and understood by visitors—all the while having their main store and products easy to access.
They achieve this with a header toolbar that is completely exposed. They don't use dropdown menus, opting to be as transparent as their mission statement.
Among their achievements are tailoring for Meghan Markle, being an integral part of Matty Bovan's 2021 fashion show, and collaborating with artists like Daniel Savage. This kind of brand recognition allows Hiut Denim Co. to focus on the quality of their jeans, which allows their customers to enjoy these products all the more.
This degree of quality is clear from the get-go when visiting their Shopify store.
Dixxon Flannel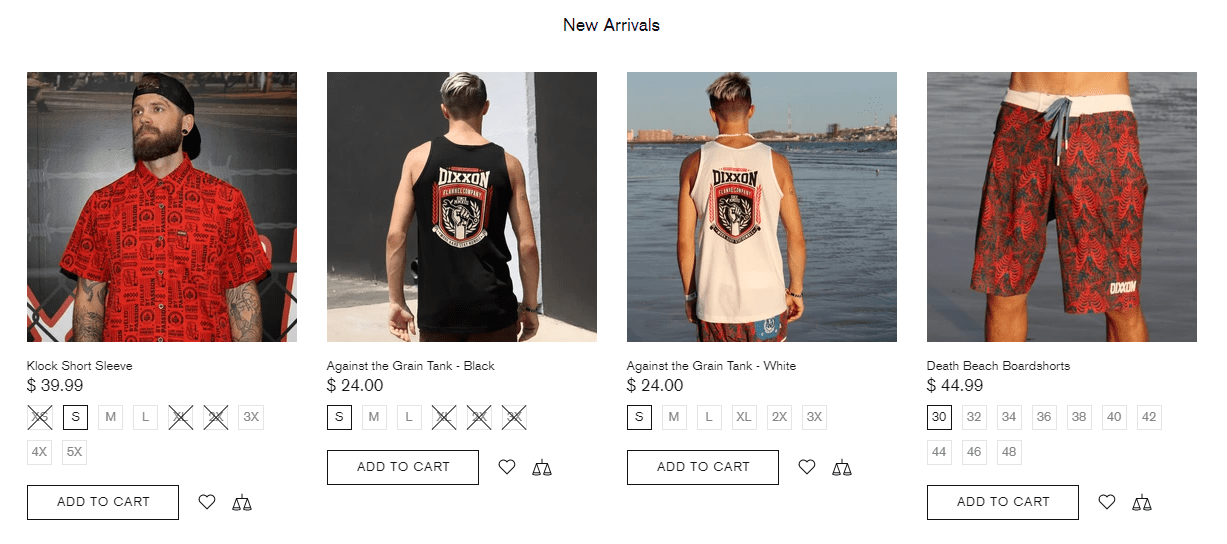 Already setting the tone is their URL, as Dixxon Flannel lists itself as 'Dixxon Quality'. Right off the bat, this sets Dixxon Flannel apart from the competition, as the place to be for great designs and great quality clothes. A visitor to Dixxon will see not just a variety in products but get an incredible sense of their strong branding.
Thanks to Shopify's video-style banners, Dixxon Flannel has capitalized on making its homepage as stylish as possible. This involves showing 360 shots and revolving images of products. Immediately, this shows that Shopify allows ecommerce merchants to show off products. They can do so in a much more organic way than simply pushing customers onto category pages.
Similarly, Dixxon Flannel opts to integrate their social media platforms on the homepage—showcasing their customers, their products, and their brand out in the wild. Another great use of structure is with their clearly visible banner ads, such as having one only appear at the very top of the screen.
This subtle marketing, like a single sentence in the header, really stands out.
Black Halo
Black Halo proves that it has its finger firmly on the pulse of its audience—thanks to Shopify's structure and social media integration. Visitors to Black Halo will quickly see a section labeled as 'BH Muses'. This creates a unique combination of social media integration and product recommendations—making it clear where their products and style comes from.
Better yet are elements such as interactive photos below this section, which also ties into social media integration. This style is an incredible way of making products pop, appearing akin to looking through a friend's photos.
Even stepping away from Black Halo's style for a moment shows plenty of spectacular uses of Shopify elements. One prime example is the many scrolling text bars that are superimposed either over images in open spaces on the storefront.
The text boldly stands out, invokes the style that the brand is going for, and masterfully delivers information—all in one.
Top Shopify Accessories & Jewelry Stores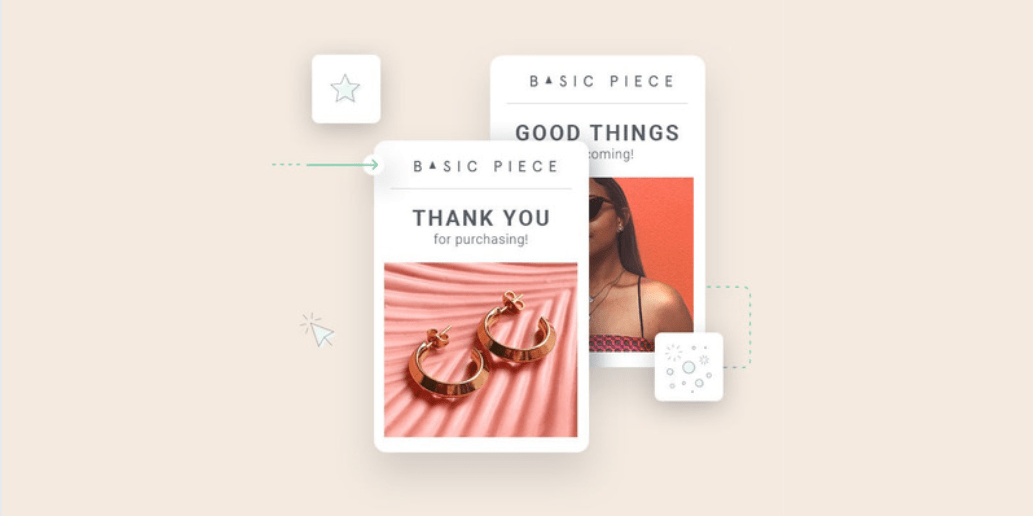 The jewelry industry is projected to reach $31.1 billion by 2024. With this in mind, it shouldn't surprise anyone that some of the top Shopify jewelry stores are making big waves in the world of ecommerce.
Shopify's ecommerce report reveals that jewelry, particularly bracelets, performs exceedingly well in the US, Canada, Germany, and France. It's these insights that help showcase where the best audiences for industries are.
Some of the pioneers riding these waves are CRAFTD US, Missoma Limited, and King Ice. However, these aren't the only industry leaders making a big impact on the world of jewelry ecommerce. Let's explore some of our favorites and see how they're shining as brightly as diamonds on Shopify.
Rothy's
Rothy's is a store dedicated not only to being as eco-friendly as possible but doing so with innovation. By recycling over 60 million plastic water bottles, with more coming in by the day, Rothy's creates bags using 3D printing. They also utilize these to create biodegradable packaging strong enough to ship on their own.
This kind of innovation extends to their Shopify store. Rothy's website design highlights their products and brand with a muted yet charming color scheme and layout.
This extends to common and essential features of a Shopify store, such as the basket, account, and search tabs. They are all discrete yet easy to find in the header of the store, along with unobtrusive promotions and messaging.
Rothy's also makes use of the Shopify customizable menus. Their menus showcase their product categories with recommended and featured products—complete with images.
FiGPiN
FiGPiN makes it clear right from the top of the homepage that its products are unique. This is why their Shopify store design highlights their products above all else. It achieves this with a simple color scheme, using only black, white, and the odd splash of red, to allow the products themselves to really shine.
The storefront itself aids this display. It uses elements such as revolving slideshows to showcase its products—both in and out of vibrant packaging. Their structure puts a lot of focus on these products too, but in a manner that's designed to appeal to their core audience—collectors.
Scrolling down past slideshows reveals a huge catalog of their affiliated licenses. It proudly puts on display the licenses they work with. This makes it easy for virtually any 'geek culture' collector to find something that appeals to them.
Silver Street Jewellers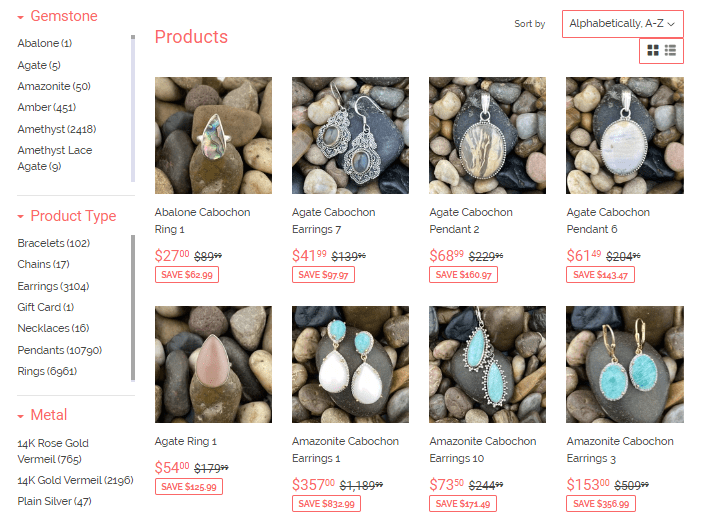 Shopify's accommodation to international business helps merchants like Silver Street Jewellers serve customers around the world. Customers automatically see a pop-up that allows them to adjust the website's prices and shipping options to their country—instantly improving the customer journey.
Besides this, Silver Street Jewellers also make it exceptionally simple to navigate their store. Their homepage makes it easy to shop their best offers and their main drop-down menu adapts to both simple and precise inquiries.
For example, customers can simply search for products featuring a specific gemstone, up to a filtered breakdown of what they're looking for.
Silver Street Jewellers are also eager to showcase what makes them unique merchants. Not only do they use images of their wildly different products, but they also show pictures of their travels.
This shows how and where they source materials, putting a face on the brand and granting a story behind each product that they sell.
Top Shopify Health & Wellness Product Stores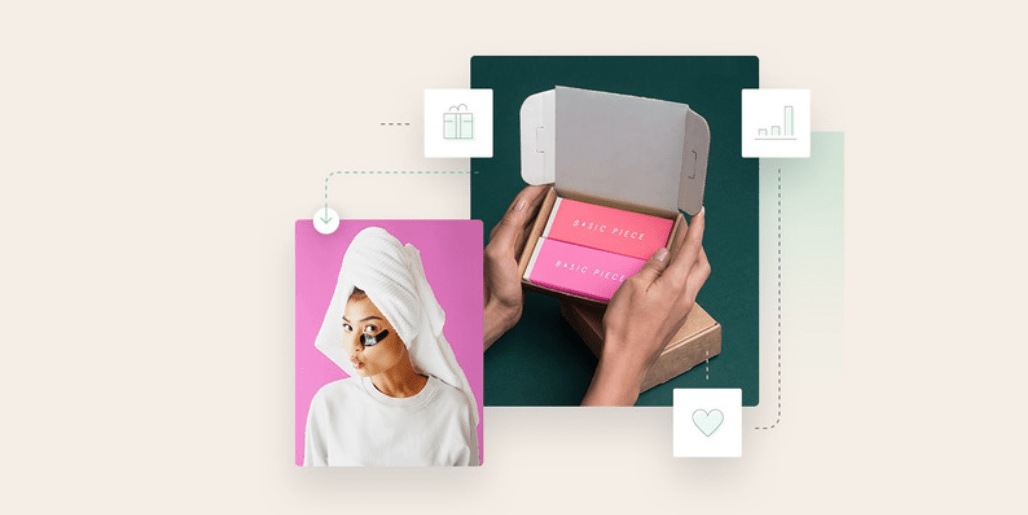 Health & wellness products will always find comfortable sales across the world. Yet some countries embrace different wellness products better than others.
For example, according to Shopify's State of Commerce report, New Zealand leads the world in vitamin sales. On the other hand, in the US, CBD is seeing a surge in popularity.
When you include Shopify beauty stores into the mix, the industry explodes in success and sales. Shopify Plus sees a healthy portion of these industries—with both health & wellness stores as well as cosmetic & beauty stores each making up 5% of all Shopify Plus stores.
Health and beauty websites find themselves among some of the most successful Shopify stores too. Many statistics comfortably place the likes of ColourPop, Fab, and Kylie Cosmetics among the top 15.
To see what makes these stores so successful, let's examine some of our favorite Shopify health & wellness product stores.
Beneath Your Mask
A beauty-based company focused on wellness, Beneath Your Mask uses all-natural and non-toxic ingredients. The combination of natural products with luxurious branding makes Beneath Your Mask a beauty Shopify store that looks as stunning as its products.
This may explain why industry giants like Vogue and GQ have featured the store. With so many eyes on the brand, Beneath Your Mask has needed to put on its best face with its Shopify store—something certainly achieved thanks to Shopify's templates.
There's also plenty of substance to match the brand's style. Fantastic features that are synonymous with Shopify are all over Beneath Your Mask's store.
One of the best features includes the promotional header banner—one used not only to spread awareness about promotions but also to essential information relevant to their customers.
Duke Cannon
A masterclass on branding and appealing to your core audience, Duke Cannon makes magnificent use of Shopify's design capabilities. Duke Cannon truly shows how Shopify allows a brand to speak its own language. Take their header toolbar, for example.
There's plenty there one would expect from a functional Shopify store, such as drop-down menus and cart options.
However, Duke Cannon goes beyond simply looking fantastic. It also makes use of the personalizable tabs, such as being gruff enough to simply list their products under 'Buy Stuff'. The same creativity applies to their intelligent use of interactive elements, such as their 'call to action' buttons.
Instead of simply saying "Buy Now" or "Click Here", they opt for messaging like "A Better Beard Awaits" and "Take a Digital Whiff".
It's this approach to conventional ecommerce elements that makes Duke Cannon a Shopify store worth watching. They also utilize optional pop-ups that go towards the likes of loyalty programs and alternative sign-ups.
The latter blends in with their manly style, utilizing language like "we hate spam too," perfectly marrying in Shopify tools and brand tone.
Inglot Canada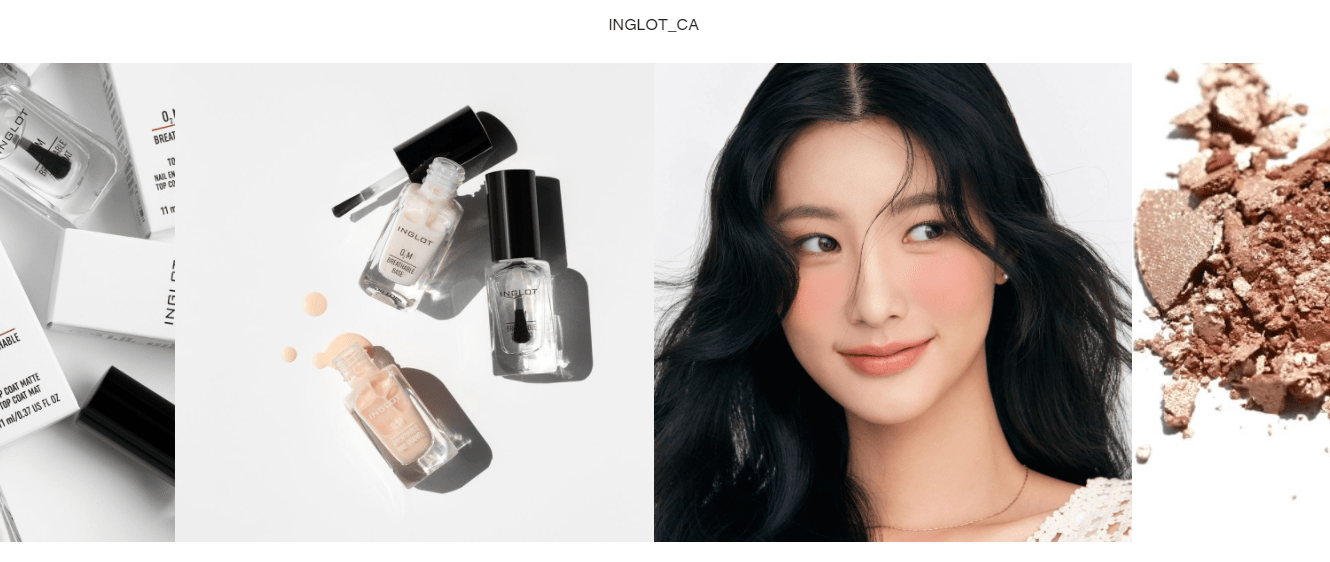 Inglot Canada knows how to make stylish products exciting. Their on-point branding helps to make their products stand out vividly in their store, thanks in no small part to Shopify's store designs. This effect is only amplified by making use of interactive, adaptive elements, such as shifting images.
Their flawless branding doesn't just work in tandem with the likes of scrolling image bars. It vamps up promotional sign-ups with gamification tools like the wheel of fortune. This isn't the only way that Omnisend's specialist Shopify elements aid Inglot Canada.
They have also famously stated how easy it is to use a combination of push notification and text messages for marketing—all thanks to seamless Shopify/Omnisend integration.
Similarly, the Shopify/Omnisend integration makes omnichannel marketing relevant. Visitors to the store can scroll down to see social media like Instagram embedded in the store front.
By combining this section with the likes of recommended products, Inglot Canada effectively markets to customers twice at the same time—showing off satisfied customers and products alongside the option to buy those very same products.
Top Shopify Food & Drink Stores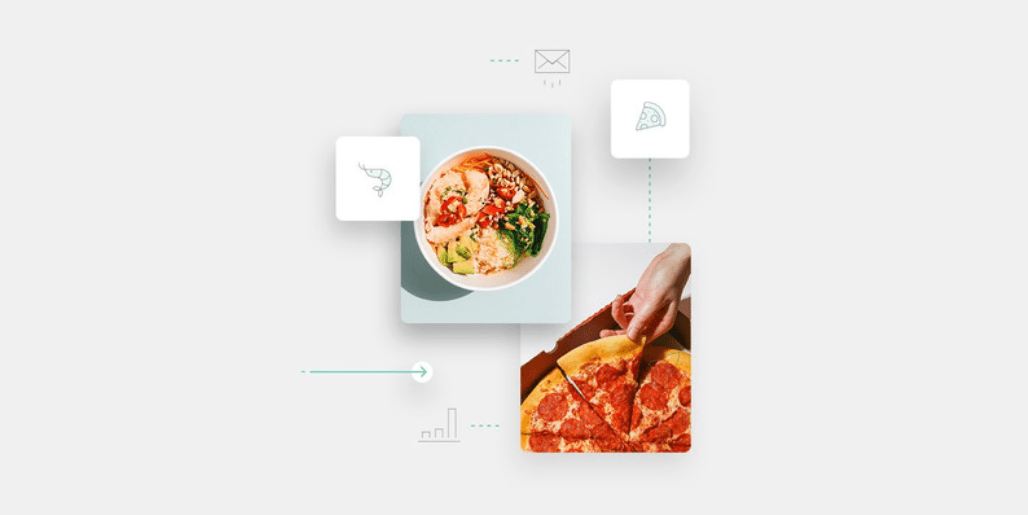 The list of top Shopify stores continues with titans of the food & drink industry. Nestlé, Kraft Heinz Co., and Lindt & Spruengli easily take up several of the spots in the top 10 performing Shopify stores.
Food & drink is such a successful industry with Shopify that they're not alone with that success. The likes of Red Bull and Whole Foods Market join them on many lists of top Shopify stores.
This wild success with Shopify stores is thanks in part to using marketing automation that works with lifecycle stages. Omnisend merchant, Island Olive Oil, for example, features pop-ups that exclusively aim for customer contact information.
By using this intuitive Shopify store feature, they can then craft automated processes. One of the best synergies between automation, lifecycle stages, and Shopify stores is with something unique to food & drink stores—quickly restocking purchases.
Many of the top-performing Shopify stores that handle food & drink find success through the platform's wide array of features.
Partake Foods
Partake Foods is one of the most successful Shopify stores in the world. With its charming design, easy-to-navigate structure, and transparent product information, it's easy to see why. The branding and design of Partake Foods are bright and colorful.
As you explore the website, there are passively interactive elements that make exploring the website a joy.
This isn't to say it's lacking interactive elements with substance either. They use these to combine both their branding and their dedication to making it clear what's in their products. Most of all, this can be seen in the section of their home screen that invites customers to 'learn more about ingredients.'
Shopify allows these small elements to reveal information, not unlike a pop-up, but designed in a way that doesn't intrude upon the customer journey.
One of the greatest strengths of Partake Foods' Shopify store is its ability to adapt for accessibility. This takes the form of a simple to spot, omnipresent accessibility options tab found in the bottom left of the website.
With it, customers can make interacting with the website simple for them, with the Shopify store adapting to their accessibility needs.
To'ak Chocolate
To'ak Chocolate doesn't just pioneer food trends, they also use Shopify to its maximum potential. For luxury food & drink stores like To'ak, there are certain things they need to pin down. This includes accurate and alluring product descriptions with eye-catching and high-quality images.
These can all appear on product pages on online stores with Shopify—which To'ak masterfully showcases. It does so with pages that provide interactive elements like scrolling through separate images.
Provided by Shopify, To'ak truly serves as a prime example for how to make the most of these elements.
For example, the homepage features a sliding bar showcasing their prolific reviews. It also highlights an embedded video educating visitors about their products. This structure encourages visitors to discover anything and everything about their products.
Eat Me Guilt Free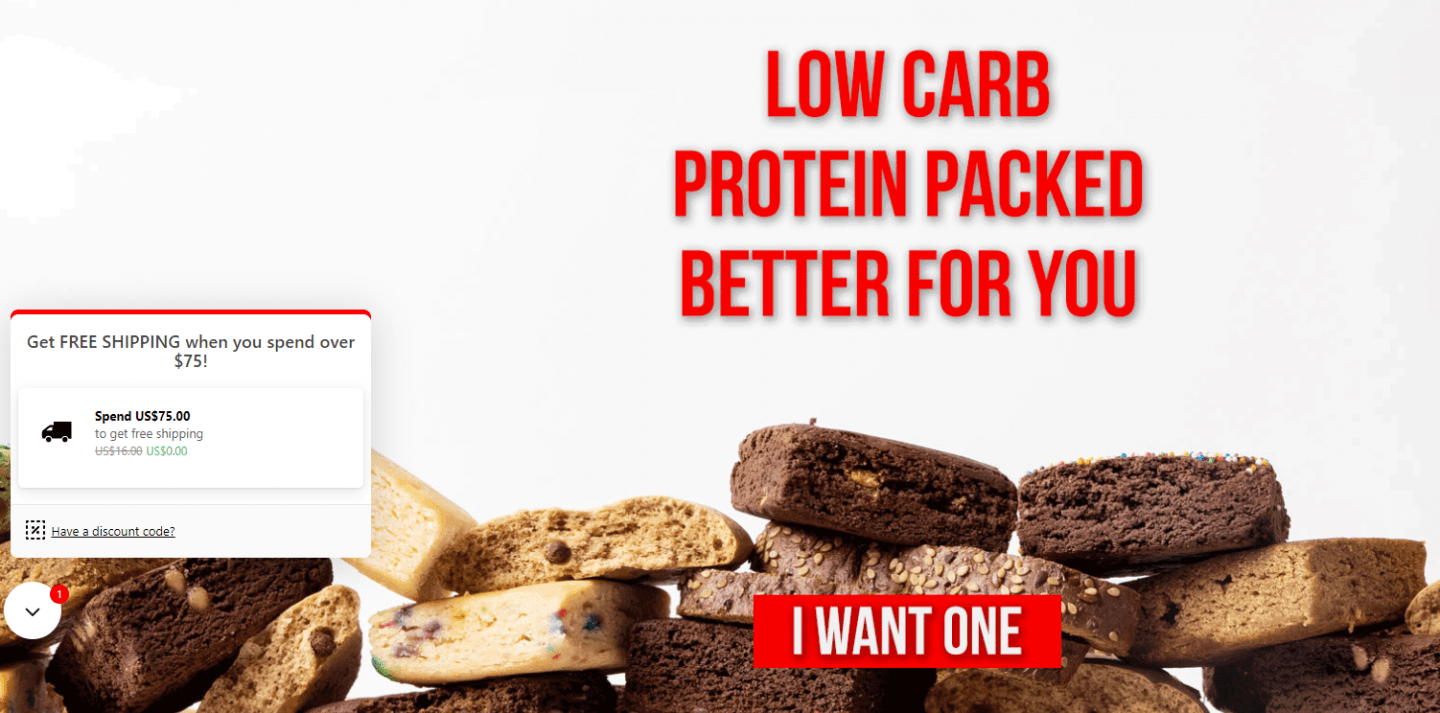 Eat Me Guilt Free is a Shopify store that knows you should put your best foot forward. It does this perfectly with its branding, structure, and images. Customers visiting Eat Me Guilt Free will immediately come face-to-face with a large header image.
This highlights their product's greatest selling points with bold, clear messaging. It's also accompanied by alluring imagery to help make the very first impression impactful.
Another aspect of Shopify stores that Eat Me Guilt Free uses well is pop-ups, especially those that don't impact the customer journey. On the homepage, Eat Me Guilt Free opts to use a pop-up offer that appears at the side of the screen.
This is easier on the eyes than conventional pop-ups and also provides useful information about the offer itself.
Last but not least, Eat Me Guilt Free openly encourages omnichannel marketing—something that Omnisend helps with significantly. They don't opt to use promotions or offers in their header. Instead, Eat Me Guilt Free provides visitors with a simple method of opting into SMS messaging.
Top Shopify Home & Decor Stores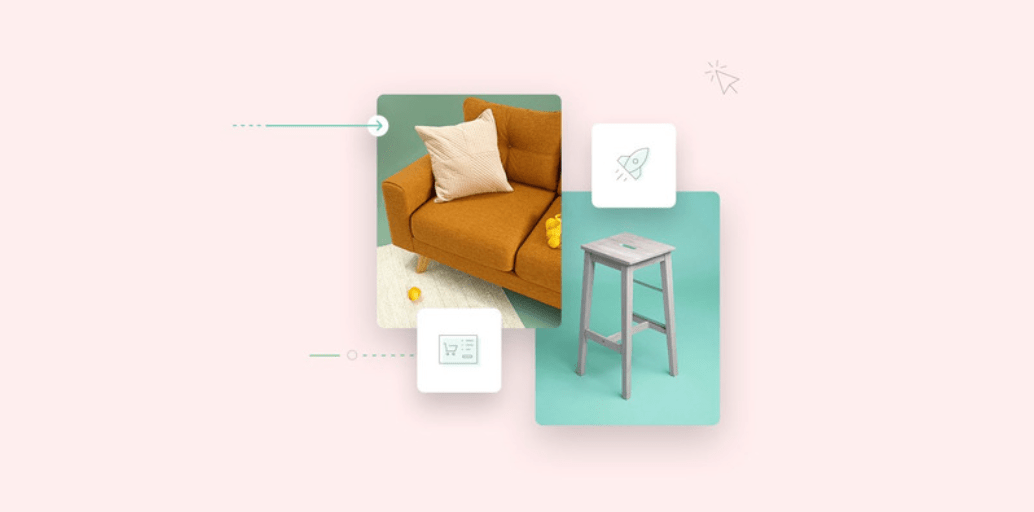 Last, but certainly not least, are some of Shopify's goliaths in the world of the home & decor industry. A diverse industry with many different stores under its umbrella, Shopify accommodates these stores just as well as any other industry.
Way back in 2017, home, decor & furniture stores were the third-best performers on Shopify. However, since then, they've seen less love than other industries—yet they still enjoy healthy sales. This is clear when seeing that in 2019, furniture ecommerce stores alone saw sales reach $27.9 billion.
Top Shopify stores for home & decor include United By Blue, Ruggable, and Brooklinen—each of which takes up several spots in the US's top 40 selling Shopify stores.
To see how stores such as these can truly make the most of Shopify, let's examine some of our favorites.
Package Free
Package Free is a home ecommerce store that puts its focus right there in its name—zero packaging. This eco-friendly approach is clear to see all throughout the Shopify store, something that the design of Shopify themes truly aids.
Neutral tones, a flowing structure, and an ever-changing slideshow at the top of the homepage—Package Free's brand is clear to any visitor.
This slideshow in particular is executed with a stroke of genius. As opposed to conventional header slideshows that advertise different products or offers, Package Free separates its products with a simple tag—shop by material.
This, along with the simple 'Shop All' and 'Zero Waste Kits' tabs in the main menu, is what Package Free opts to use for separating their products. It's simple, it's elegant, and it's unique.
Finally, Package Free makes great use of one of Shopify's pop-up style elements—quick view. When hovering over a product, visitors are given the choice to click through to the product's page. Though, by using 'Quick View', the product page can appear as a pop-up with essential information.
This helps to make the process of browsing to buying so much smoother than standard ecommerce store experiences.
Made In Cookware
Pioneers of superior kitchenware and improvements to dining areas, Made In Cookware proudly wears its branding on its sleeve. Shopify's store themes make creating professional, industry-leading styles like the branding found on Made In Cookware's website.
Not only is the design and use of brand coloring gorgeous, but the structure of the store and the homepage makes it obvious that Made In Cookware is for professionals. Scrolling through the website shows off master quality photography of high-class products.
All this, along with incredible endorsements via world-class reviews and a revolving slideshow of renowned chefs.
Naturally, Made In Cookware displays the kind of confidence that allows their brand and products to speak for themselves, but Shopify provides the perfect platform from which to proclaim this.
Black Mango
Black Mango offers customers everything they could want from a furniture store and makes this clear from the get-go. Their easy to navigate Shopify store, made so with clear structuring, makes it easy for customers to find everything Black Mango has to offer.
It achieves this with a two-prong method—an omnipresent navigation bar at the top of the screen, and a clear selection of category pages on the home page. The former helps to make the customer journey as easy to navigate as possible. The latter partners with integrations like social media.
This is only further boosted with Black Mango's own hashtag, #LOVEMYBLACKMANGO. This organically encourages social media interactions with customers—both potential and existing.
Another main way Black Mango makes use of Shopify is with the robust and intuitive 3D product images. Since 2020, Shopify merchants have been able to focus on 3D product images, which have seen conversions increase as high as 250%.
It's this kind of innovation, found only with Shopify, that helps stores like Black Mango truly showcase their products in the best possible way.
Wrap Up & Recommendations
Shopify is an ecommerce titan, one that's trusted by ecommerce merchants across the world—both big and small.
With success stories being commonplace for those who work with the colossal ecommerce force, it seems only natural that after reading this article there should only be one recommendation that springs to mind—Shopify!
You should also know by now which email marketing platform can seamlessly integrate with and greatly enhance the best Shopify stores—Omnisend. To see how well Omnisend works with your Shopify store, try out a free trial today.
Special thanks to our friends at
Omnisend
for their insights on this topic.