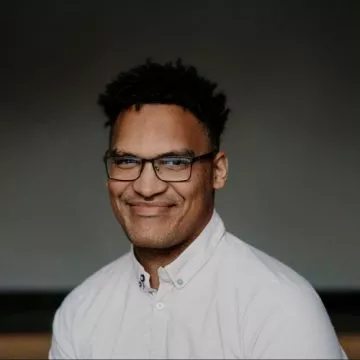 Bernard Meyer
Content Growth Marketer
Reading Time: 12 minutes
In 2019, more than 224 million Americans shopped online. At that time, analysts predicted a rise in the number of online shoppers, but the unexpected and devastating global pandemic limited consumers' purchasing channels. 
As a result, shoppers are now purchasing holiday gifts, streaming entertainment, essentials, and so much more at unprecedented levels via the web. Online purchases of grocery items alone escalated to a staggering 40% in 2020.   
With a substantial amount of customers utilizing online platforms, standing out from the crowd can be challenging. At the same time, managing the influx of online buyers can cause problems. 
So how do you solve that problem? With the help of an ecommerce interface that helps you be faster on the back-end while ensuring a fantastic customer experience, known as headless commerce.
In order to adjust to the sudden increase of online shoppers, business owners require technology that allows them to curate a responsive, user-friendly, and captivating shop. By differentiating themselves from their competition, business owners can focus on revolutionizing customer experience and increasing brand awareness. 
Let's discuss in-depth what headless commerce is and why you should choose it. 
What is Headless Commerce?
Generally speaking, headless commerce is the practice of separating the back-end of your ecommerce store from the front-end. The front-end refers to the customer-facing part of the website: the website design, the user interface, the templates, images, fonts, colors and so on. It answers how the website looks. 
The back-end, on the other hand, discusses how the website works. This includes things like how payments are handled, servers, bandwidth, customer data, and so on. Separating the back-end from the front-end allows business owners to have much more freedom on a shorter timescale. 
Headless commerce is a relatively new space, having first been coined in a 2013 Forrester paper. In fact, the very definition of "headless" seems to have multiple meanings depending on what provider you're considering. 
Let's look at some of the current solutions available for headless commerce.
Types of Headless Commerce
Regardless of the varying definitions of what an actual "headless commerce" is, there are generally four accepted areas of the types of ecommerce (headless and traditional) solutions that business owners may want to consider.
The Monolith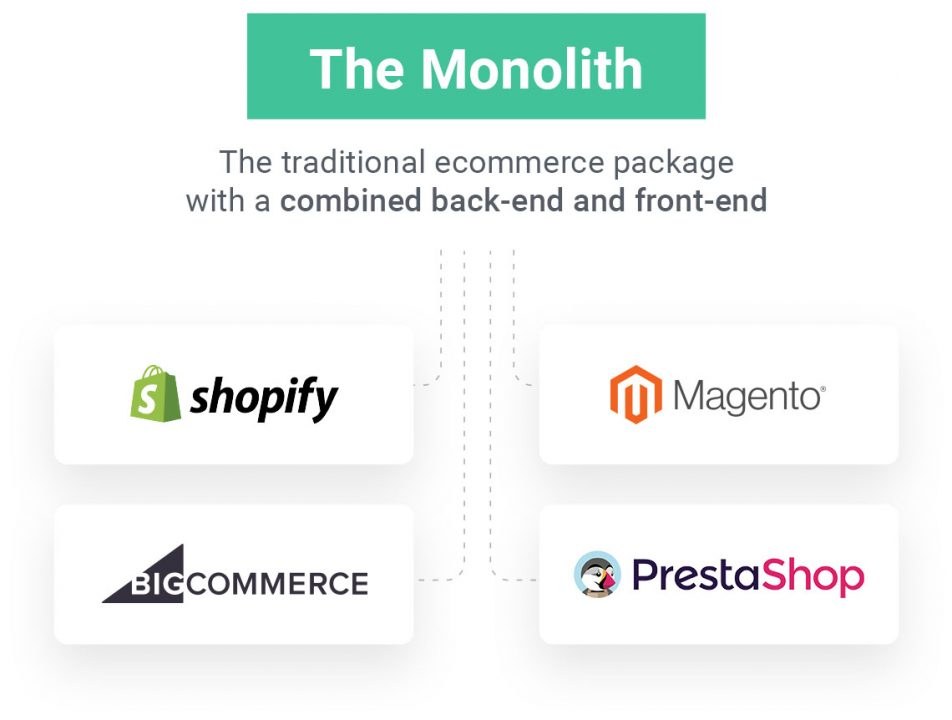 The traditional ecommerce platform is also known as a monolith or monolithic solution. This is the standard ecommerce platform that most people are aware of, with the front-end and back-end coupled in one clean solution.
This includes the major platforms like Shopify, BigCommerce, Magento and Prestashop. If you want a turnkey, out-of-the-box ecommerce solution, you'll probably want this.
Cart & Checkout Addons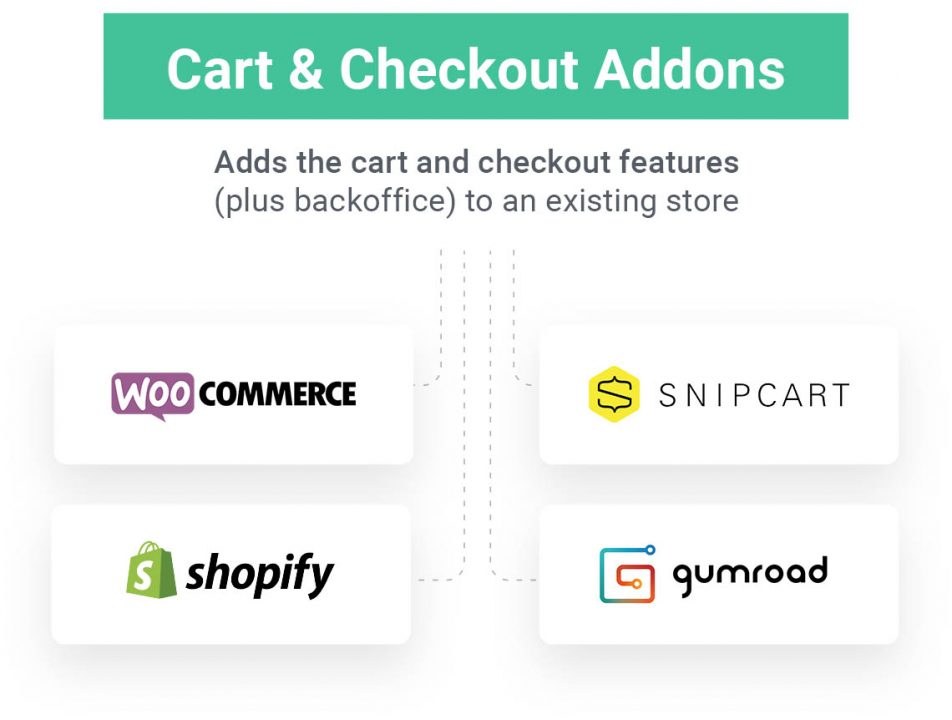 In this type of solution, you're essentially adding on a cart and checkout option to your existing website. This normally comes with a back office so that you can properly run your ecommerce business.
The most popular version of this is WooCommerce. It's a plugin/addon for a WordPress site. However, we can't say that it's necessarily a "clean" headless solution, since you can't decouple it from WordPress. Another popular option is the Shopify Buy Button.
Furthermore, customization is limited, so you only gain a little bit of freedom over the traditional monolith model.
Decoupled front-ends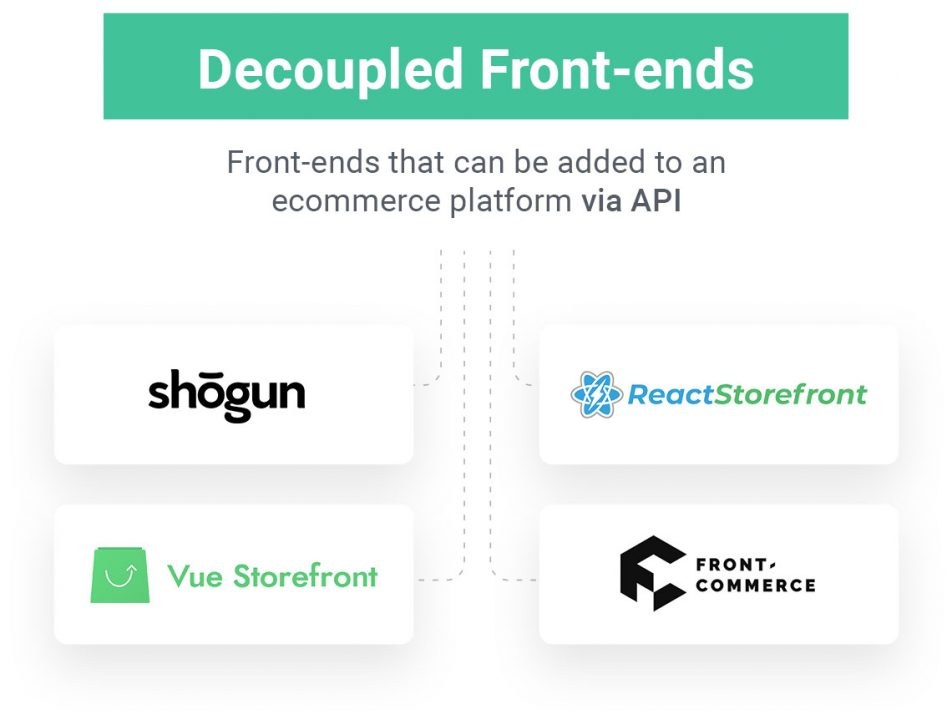 There are many storefront solutions that are more in line with the base definition of "headless." These solutions, such as Shogun, Vue Storefront or Swell, offer ecommerce businesses the ability to attach these front-ends to any ecommerce platform. 
That way, for example, you can use Shogun as your front-end and Shopify Plus as the back-end, both decoupled and separately customizable. 
APIs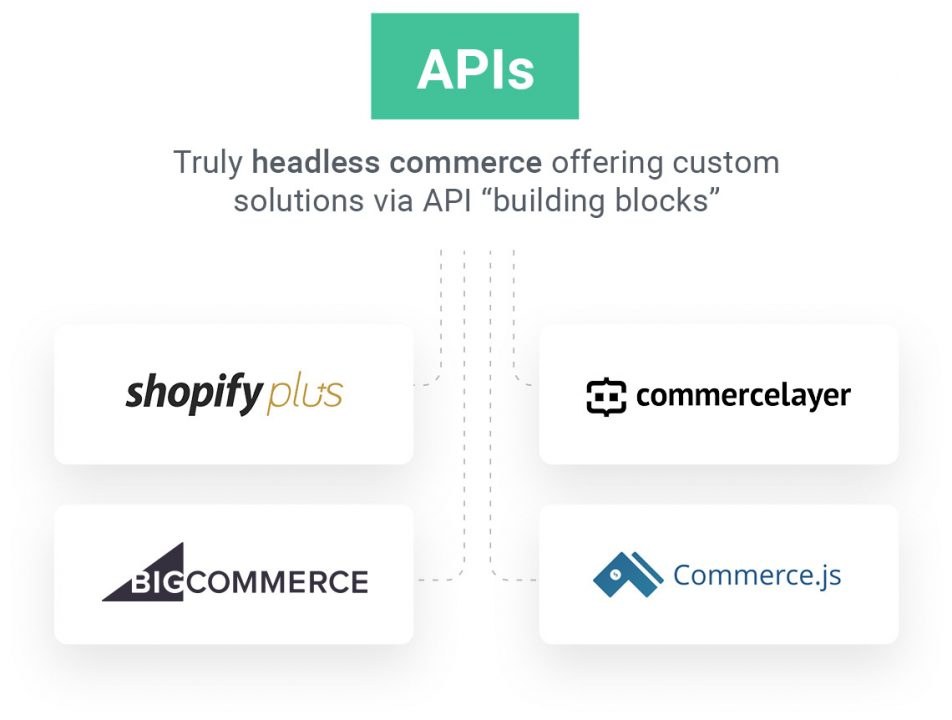 Here, we get to a truer sense of headless commerce, as these solutions offer custom solutions via API "building blocks." While the front-end from above was decoupled, it was still a complete front-end solution.
With APIs, you can customize and modularize your front-end and back-end based on the needs of your store. As you may have guessed, this will take the most developer time, but it results in greater data portability.
BigCommerce, Shopify (Plus) and Magento offer their decoupled backends that you can combine with other tools of your choice.
Headless Commerce Compared to Traditional (Monolith) Commerce
In general, headless commerce does require a higher level of technical knowledge. Headless commerce architecture was introduced to solve all the technical challenges traditional businesses faced in their marketing and sales requirements. 
As a result, the most significant difference between headless commerce and traditional or monolith commerce is the ability to enjoy swift and smooth changes with little to no work necessary on the back-end and zero interruptions to the customer experience. 
Let's discuss the key considerations to help ensure you select the ideal option. 
Front End Development 
When it comes to front-end development, traditional ecommerce is easier to set up. Here you can choose between a wide variety of popular ecommerce platforms, including WooCommerce and Shopify. 
Next, you have to pick a theme that speaks to you and add content and products accordingly. Keep in mind that customizing all the moving parts of the platform may take a while. 
However, headless commerce requires you to curate your front-end development from scratch. Not only does this mean it's going to take longer to configure your web store, but it also means you'll have to do a whole lot more work. The benefit, however, is that with headless architecture, you gain access to better customization opportunities and greater design flexibility. 
On top of that, you can build functionality that caters to your personal business needs, although prior development knowledge can make the process smoother.
It should be clear that headless commerce provides you greater flexibility when discussing front-end functionality. Let's now examine whether the same is true for back-end and commerce functionality. 
Flexibility 
Traditional ecommerce typically provides users with templates that connect to the back-end. While this does add limitations on what you can and cannot do, it makes development easier. 
For example, you'll find that selling a limited number of specific products on your website is easier with traditional ecommerce. However, with the expansion of your business, you'll find scaling and marketing with traditional platforms' front-end and back-end functionality challenging.  
On the other hand, headless commerce solutions are completely customizable. This means that headless solutions are flexible when considering front-end and back-end development. Besides this, you can enjoy designing personalized experiences for a wide variety of different target markets. 
Overall, it's clear that headless commerce wins when talking about flexibility since it provides greater customization freedom—although with more technical skills required.
Technical Knowledge 
From front-end development and flexibility, it becomes pretty clear that headless commerce requires more technical know-how. 
Traditional ecommerce requires little to no technical knowledge and is ideal for users lacking the budget or skills for advanced development.  
Conversely, headless commerce is perfect for those who are technically capable or have the budget to hire those resources. This means that headless commerce is ideal for growing and larger enterprises.
These businesses can typically afford to enjoy access to the potentially millions of different customization options that headless commerce provides, as well as the ability to curate user interfaces for an enhanced experience for a variety of customers and audiences.
Time to Value 
Regardless of the ecommerce platform you choose, the fact is that back-end business logic, capabilities, and functionality adds up to 85% of a software development process. Using a headless commerce platform means that you are starting from the point of completion. In this way, you can improve the user experience and deliver a final solution with less effort, time, and cost. 
In 2021, headless commerce platforms will likely continue to become more popular. With buyers demanding a better ecommerce buying experience and greater flexibility, headless commerce is becoming the top option thanks to its lower cost options and better performance.    
How Does Headless Commerce Work?
With the growth of omnichannel capabilities, marketers are curating shopper journeys that begin and end at multiple touchpoints. Retailers often turn to headless commerce to meet the increasing desire for high-quality digital experiences and a unified shopping experience. 
Headless commerce is a brilliant ecommerce solution that allows for greater flexibility and customization by decoupling the front-end and back-end.  This means that headless commerce is not a plug-and-play or turnkey solution. If your business is looking for that option, headless commerce may not suit your needs at the moment.
Instead, headless commerce will require more work upfront to get your store live, but with less time to integrate various tools, services and custom solutions as your business progresses.
For that reason, headless commerce is a strategy that allows businesses to be competitive and offer faster turnaround times to customers. The platform enables business owners to find sales opportunities across multiple devices and platforms and integrate them based on the needs of their stores. Again, based on the fact that it is not turnkey, it's proving to be instrumental in delivering a powerful digital experience. 
This allows for a brand-specific and brand-optimized omnichannel experience powered by a unified platform that ensures a smooth buyer's experience regardless of the medium used. For this reason, headless commerce provides the following benefits:
Seamless integration between multiple platforms from CRMs to ERPs
Easy updating since you may install the updates independently
A single source for all digital activities
Consolidated back-end that connects a wide variety of technology from marketing to resource planning
Less expensive IT costs
Better agility when talking about platform updates
Headless Commerce Examples
If you're a marketer, you'll find that determining whether a brand is using headless commerce as a strategy is pretty daunting. 
Let's discuss a couple of best examples of headless commerce. 
Burrow
Burrow is a DTC furniture store founded to remove the need to visit traditional furniture stores. The people behind this engaging store designed a modular product that was comfortable, stylish, and affordable.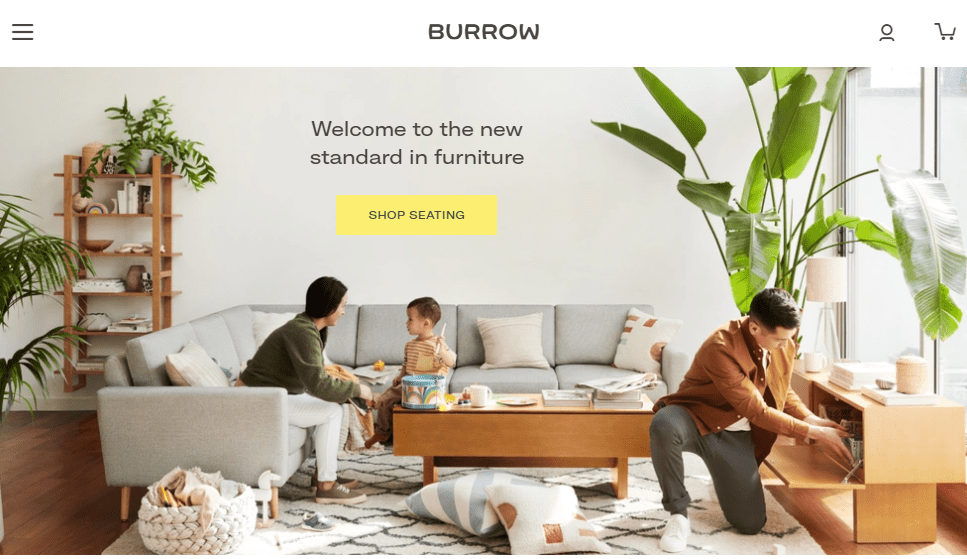 It turns out their idea resonated with the audience pretty quickly, and they noticed a staggering $3 million in sales after its initial launch. This remarkable growth required them to seek a robust back-end platform that could integrate well with their business success. 
Burrow found out that the solution to their scaling problems was headless commerce. Using headless commerce as a scalable back-end could enhance the customer experience further and enjoy even better revenue. 
Louise Kennedy
A team of Irish fashion designers, Louise Kennedy uses WordPress on the front-end to host stellar quality blog posts, products, and merchandise. For checkout, however, they outsource checkout uptime and security to BigCommerce's headless commerce platform.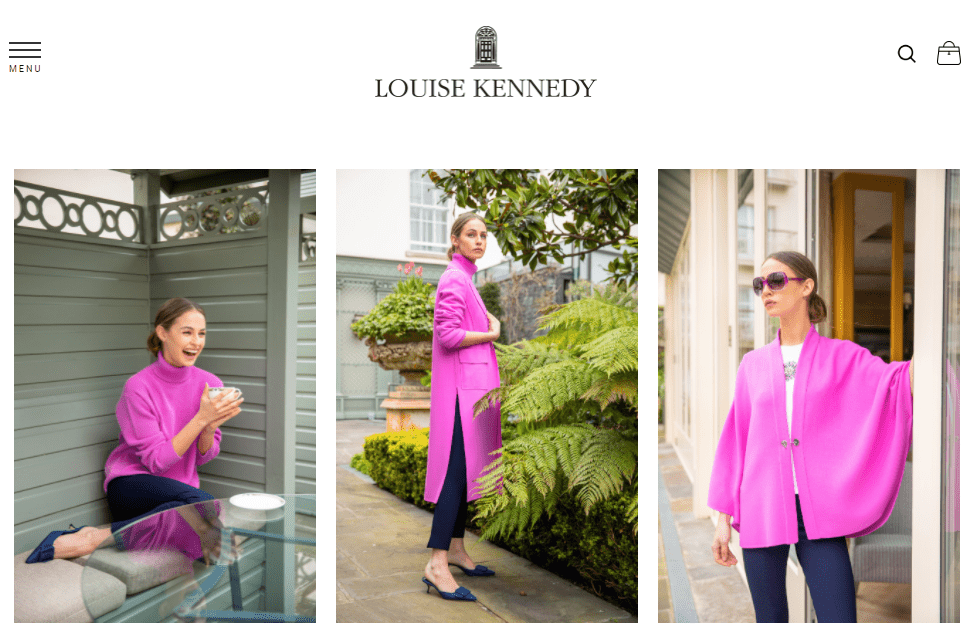 It allows them to enjoy using integrated payment options such as Apple Pay, Amazon Pay, PayPal, etc. Going the headless commerce route also helps them save time and money while increasing security and innovation.
Key Benefits of Headless Commerce
Headless commerce circumvents many of the problems and limitations that traditional ecommerce causes. How it achieves this is by using the API as the core to interface with different business systems. 
Let's discuss the key benefits of selecting headless commerce.
Greater Omnichannel Integration 
One of the greatest benefits of headless commerce is that it lets businesses better engage with customers and, in turn, build brand loyalty via omnichannel retailing. Even traditional retailers boasting brick-and-mortar outlets and an online presence can create a seamless experience for their customers via omnichannel retailing and headless commerce. 
With traditional ecommerce, where the front-end and back-end are combined in one platform, there is less flexibility and fewer tools that can be used with a particular store. For example, if you use Wix's Ecommerce platform, which is a traditional ecommerce setup, then you'll find your options for ecommerce app integrations are very limited. 
The 'marketing' category for Wix offers only 66 apps:

While Shopify has 1305 apps in its marketing category:

If you use Wix's traditional ecommerce store, you'll find you simply won't be able to accomplish all of your omnichannel integration goals. 
With a good headless commerce platform, you can ensure that your customers experience a unified approach that is consistent with your brand. You can even take it a step further and integrate social media or BOPIS (buy online, pick up in store) into your sales strategies. 
With such an integrated approach, customer data is shared across all channels which will allow you to not only to better segment customers and personalize your messages, but also to improve your marketing and sales strategies.
In this fashion, marketers put their brands, products, or services in the limelight—clearly visible for prospective customers. 
In fact, according to a study by the Harvard Business Review, more than 73% of consumers utilize multiple channels when making a purchase. Thus, boasting only a traditional commerce business or a website that isn't mobile-friendly limits your consumer base. 
Consistent and Better Customer Experience 
One incredible advantage of headless commerce is that it allows you to provide a better, more personalized customer experience compared to traditional ecommerce. This ties into the "flexibility" we mentioned above when discussing the differences between headless and traditional ecommerce stores. 
Headless commerce allows you to move away from platform limitations when the front-end is glued to the back-end. Separated, you can attach much more customer experience-enhancing tools to your store and finetune that experience by using those tools' APIs.
Better Security 
Headless commerce's multiple systems lower the chances of a compromised account by using intricately structured strategy and execution. Without this, you could experience severe and devastating harm to your website and revenue.  
For instance, if the coupled system of a content author with administrative privileges is accessed by an unauthorized user, you could suffer from profound loss. This could lead to inventory destruction, a breach of customer records, or hacked payment systems.  
How to Choose the Best Headless Commerce Platform
If you've concluded that traditional ecommerce platforms are inadequate for your growing business, it's best to move to a headless ecommerce solution. More importantly, you must pick the right headless solution for your business. 
Here we discuss the top factors that you need to consider when choosing a headless commerce platform for your business.
Support 
One factor you should consider before selecting a platform is whether the vendor will provide you with the necessary support if things go wrong. No matter what type of headless commerce you'll be using, you'll most likely need support along the way.
Be on the lookout for vendors that offer live chat, personal support managers, and even 24/7 emergency support. Moreover, make sure your vendor can easily be contacted via different channels, including web chat, email, and phone.  
Scalability
With the expansion of your business, your ecommerce platform will also need to grow. The fact is that your ecommerce platform is the central hub of your business. 
If your platform is challenging to scale, this can stunt the expansion of your business. 
To this end, it will most likely be easier to scale up an API-based or even completely custom-built headless commerce solution—if time and resources are no problem and if business expansion is likely.
However, if you are only starting your first foray into headless commerce, then something like a decouple front-end on a backend like Shopify's or BigCommerce's headless would work well.
Mobile Friendliness 
Mobile commerce is the next phase of ecommerce and commerce in general. Studies have shown that mobile commerce accounted for more than half of all retail ecommerce sales. 
Your entire shop's development, including both front-end and back-end, and all tools and plugins, must have mobile responsiveness at its core. Offering a headless commerce site with a poor mobile experience would certainly be a failure.
Security 
One of the most crucial aspects of selecting a platform is online security. Since ecommerce is a digital platform that involves financial transactions, you want to make sure your ecommerce provider boasts the necessary security protocols.
To that end, ensure that the various parts of your headless commerce solution has a good history of strong security. Make sure they also have proper guidance on how to best implement robust security policies into their platform.
 The Top Headless Commerce Platforms to Consider 
Headless commerce is a relatively new space, having first been coined in a 2013 Forrester paper. However, several ecommerce platforms now offer APIs that facilitate a decoupled approach to ecommerce. 
Because of their relative ease to implement (unlike creating a truly custom-built headless commerce platform), we'll look at the top ecommerce platforms below. 
Shopify Plus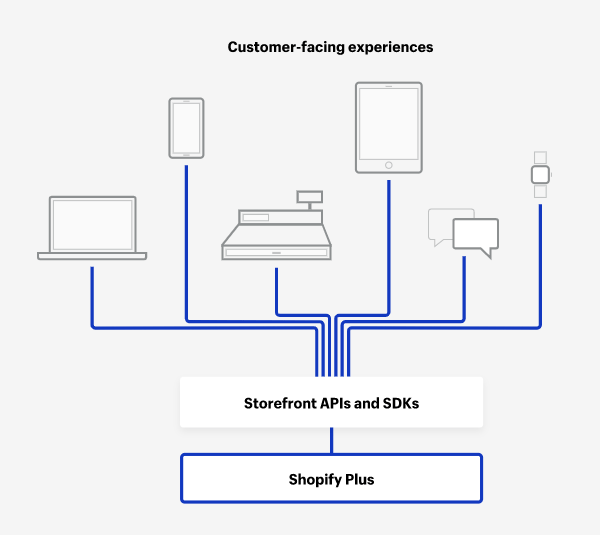 Shopify is a popular, subscription-based service where business owners can enjoy access to a subdomain and hosting space for their ecommerce store. The platform's headless solution allows businesses to have complete control over all of their customer touchpoints, allowing for at-will, seamless data integration and a powerful customer experience.
This solution is built on Shopify plus' commerce engine, allowing businesses to swap in and use any tools or content management systems to fully express their creative, marketing, and overall business selves.
From multiple payment methods to revolutionary management features, Shopify Plus is one of the best headless commerce platforms. It's also mobile-friendly and boasts more than a hundred vibrant themes.
BigCommerce 
BigCommerce is another excellent subscription-based service. With it, business owners can create a well-crafted and mobile-friendly website. BigCommerce's headless solution allows for brands to have multiple storefronts built on one single BigCommerce account. This allows for a cohesive across all the company's brands, as data can seamlessly be integrated and marketing activities can be coordinated.
BigCommerce also boasts sophisticated APIs that allow businesses to extend and connect the platform to any other environment. This allows them to reduce bottlenecks and increase overall efficiency.
Enjoy access to millions of different ecommerce apps and utilize its fantastic product management features to design a website that matches your business needs. 
Magento 2
A very popular headless commerce platform, Magento allows marketers to create a top-notch quality online store effortlessly.
From featuring a robust platform to offering SEO benefits and fast loading times, Magento is one of the best headless commerce options. This flexible platform is highly customizable, allowing you to choose between a plethora of different payment options, plugins, shipment, and language options. 
Magento offers the traditional monolith structure, but also a decoupled storefront in Progressive Web App (PWA) Studio, a web technology standard that allows customers to enjoy an app-like shopping experience on both mobile and desktop. Due to its acquisition by Adobe, Magento's headless commerce solution is compatible with Adobe Experience Manager, which can help businesses craft complex, personalized customer journeys.
Bottom Line
Headless commerce is an innovative platform where you can experiment with new ideas. It helps with everything from fostering flexibility to using the back-end and front-end independently. It also helps when merchants are creating brand new experiences, aiding efforts to create highly personalized experiences. 
One fantastic feature of headless commerce is that it allows businesses to power all customer touchpoints to create a unified commerce experience. 
Overall, headless commerce is a futuristic and modern alternative to the boundaries created by traditional commerce. With more shoppers using the online store to fulfill their day-to-day needs, the need for highly responsive and well-structured websites increases.  
With the help of headless commerce, business owners can offer an excellent customer experience, make changes seamlessly, and ensure low costs. 
Are you ready to market your headless commerce website and up your revenue? Get a free trial of Omnisend and see how it can integrate seamlessly with your favorite headless commerce platform.
Special thanks to our friends at
Omnisend
for their insights on this topic.