Customer retention is one of a business's best tactics for growing and increasing revenue, since loyal customers are simply more profitable than first-time buyers.
You've probably already heard that it is 6 to 7 times more expensive to acquire a new customer than it is to convert a repeating one, and loyal customers tend to spend 5X times more than first-time customers.
But loyal customers don't just appear out of thin air – you have to work at building a relationship with your existing customers that would turn them into loyal ones, who keep coming back to buy from you again and again.
The Role of Post-Purchase Communication
Post-purchase communication is one of the key components in your customer retention plan, and in this post, we will talk about the specific tactics and tools that you can use in your communication to maximize its effectiveness and get better results.
But first, let's make sure we are on the same page on why it is important to communicate with your customers post-purchase:
Stay on Their Mind
There is so much noise in today's world, and so many options for your customers to choose from when shopping online, so your best bet at not disappearing in the background of all that noise is to keep in touch with them.
Communicating with your customers post-purchase is your way of making sure that they remember you and you stay on their mind when they start thinking about their next purchase.
You need to also make sure that your communication is unique and consistent with your brand's tone of voice so that it actually sticks out in your customers' minds.
Reduce Buyers Remorse
Buyers remorse is this feeling of regret we sometimes get after making a purchase (usually an expensive one).
When shopping online this feeling might even increase, since you purchased an item you have not seen yet, and the doubts about what you are about to receive start creeping in.
Communicating with your customers post-purchase can help reduce their feelings of buyers remorse, by encouraging feelings of excitement towards the upcoming package that they will receive, as well as reinforcing their decision to buy from you by showing them how happy other customers were with the same product and reminding them of its benefits.
Build a Relationship
Lastly, keeping in touch with your customers post-purchase is essential for creating an actual relationship with them that will turn them into these loyal customers that are so profitable for your business.
That means that following up with your customers once after purchase is not enough, you need to make sure that you have a system in place that keeps you on your customers' minds as well as keeps them engaged with you and interested in your content for the long run.
If you can, get your customers to follow you on social media so that it is easier to keep them informed on any news regarding your brand. But even if they don't follow you on social media, there are other ways to make sure they keep hearing from you and try to engage them with your brand again.
How to Use Post-Purchase Communication to Improve Retention
Use the Customer's Preferred Channel
Different channels and mediums of communications tend to work for different people, and we tend to think that what we would respond best to is what our customers would respond best to as well.
But the truth is, we can never know how our customers prefer to hear from us until we ask them and/or test it.
So my advice to you – offer your customers the option to sign up for marketing and updates from you in any available platform, to make sure each customer has the option to receive messages in the platform that they actually want to. It will increase your general open rates and engagement.
Emails
People will tell you emails are dead, and I'll be the first to say that any promotional email I receive doesn't even make it to the trash folder, my engagement with my non-business email is so low, that it just stays in the inbox and I don't care.
However, this is not true for everyone, and plenty of e-commerce stores are still seeing major growth from their email marketing.
So don't write emails off as irrelevant, use them as one of the mediums you communicate with your customers at. The problem with emails begins when brands only rely on them to communicate with their customers – so make sure you branch out and not get stuck in the past.
Facebook Messenger
While the Facebook audience is getting older as time goes by, and we see younger audiences turn to newer social platforms, it is still the top platform for B2C marketing, with only 31% of businesses using its messenger marketing abilities.
Facebook is known to be very saturated with ads, but Facebook Messenger is still relatively new in the ads space, and it is the place where most people never miss a message.
Using the Facebook Messenger platform as an opportunity to communicate with your customers allows you to both market to them and connect with them on topics they care about (like shipping updates or birthday celebrations).
Using a Facebook Messenger app like Recart, you can easily connect the platform to your Shopify store and use any of their variety of growth tools to get more people into your Facebook Messenger distribution list.
Push notification
Push notifications allow you to send messages that pop up in your customer's device, regardless of what website they are is currently on, or what they are currently doing.
These messages pop up form the browser and are pretty difficult to miss, so they can help you achieve very high open rates.
The downside of push notifications is that they are very limited in text, media, and links, but they can be a great opportunity to send your customers a sneak peek to any new announcement, with a link back to a page telling them all about this new offer or campaign.
My personal favorite push notifications app for Shopify is PushOwl, giving you advanced Integrations and design options for any notification you send your customers.
SMS messaging
SMS, for some reason, is not a very popular marketing platform, which makes competition in it very slim.
Similarly to Facebook Messenger, most people open every SMS message they received, and these messages are available in their mobile device, no matter where they are or what they are doing.
SMS messages cost money per message sent, so you do need it to be in control of how many messages you're sending and make sure the ROI you are getting from them is positive.
SMS Bump is a Shopify app that will allow you to not only automate your SMS marketing campaigns but also keep in touch with the amount you're spending and how much money you make back from it.
Ask for Feedback
The beauty of post-purchase communication is that it doesn't have to be one way, these are actual customers that you are communicating with, and they probably have some opinions on their experience with your store.
Asking for their feedback can give you new insights into what you need to improve and what works, as well as help you collect some new user-generated content to improve your social proof on-site and your SEO.
Post-Purchase Survey
Post-purchase surveys are your way to offer your customers the opportunity to give you direct feedback on the shopping experience, customer service they have received, general product satisfaction, and more.
It doesn't only help you learn more about your customers and what they actually want, but also gives them the sense that you care about their experience and are committed to their satisfaction.
This is one of the best ways for you to strengthen your relationships with your customers and keep them with you long term, by making sure that they are pleased with their experience.
You can send out a post-purchase survey directly after a purchase, or even display it on the thank you page where the purchasing experience is still fresh in your customers' minds.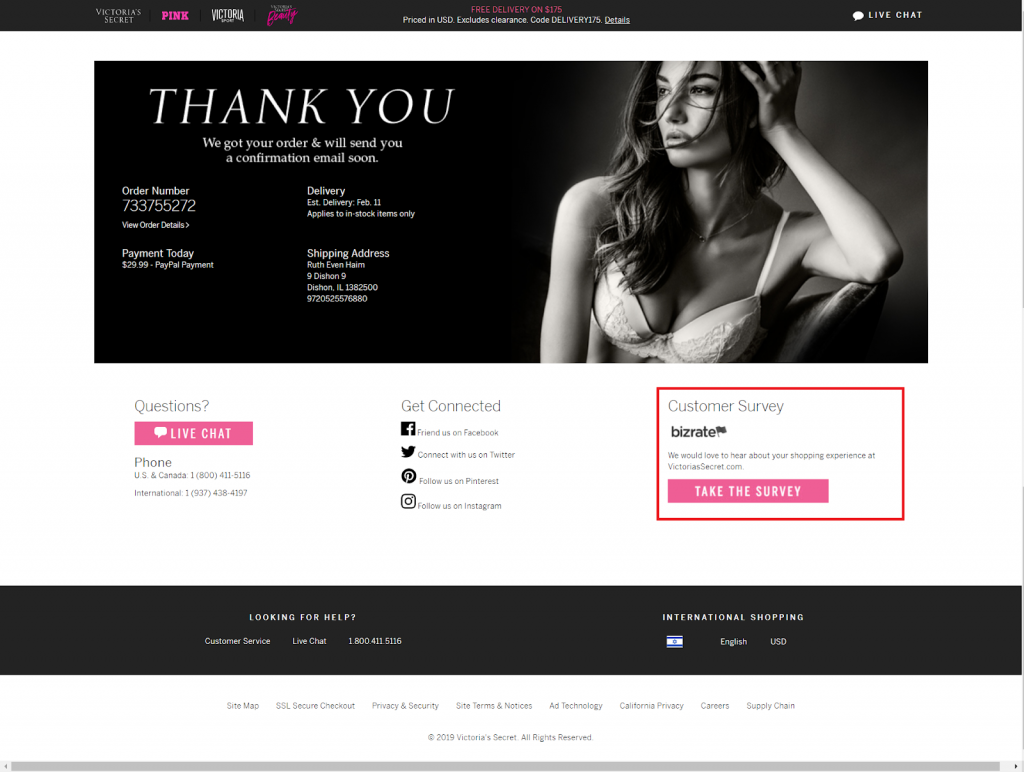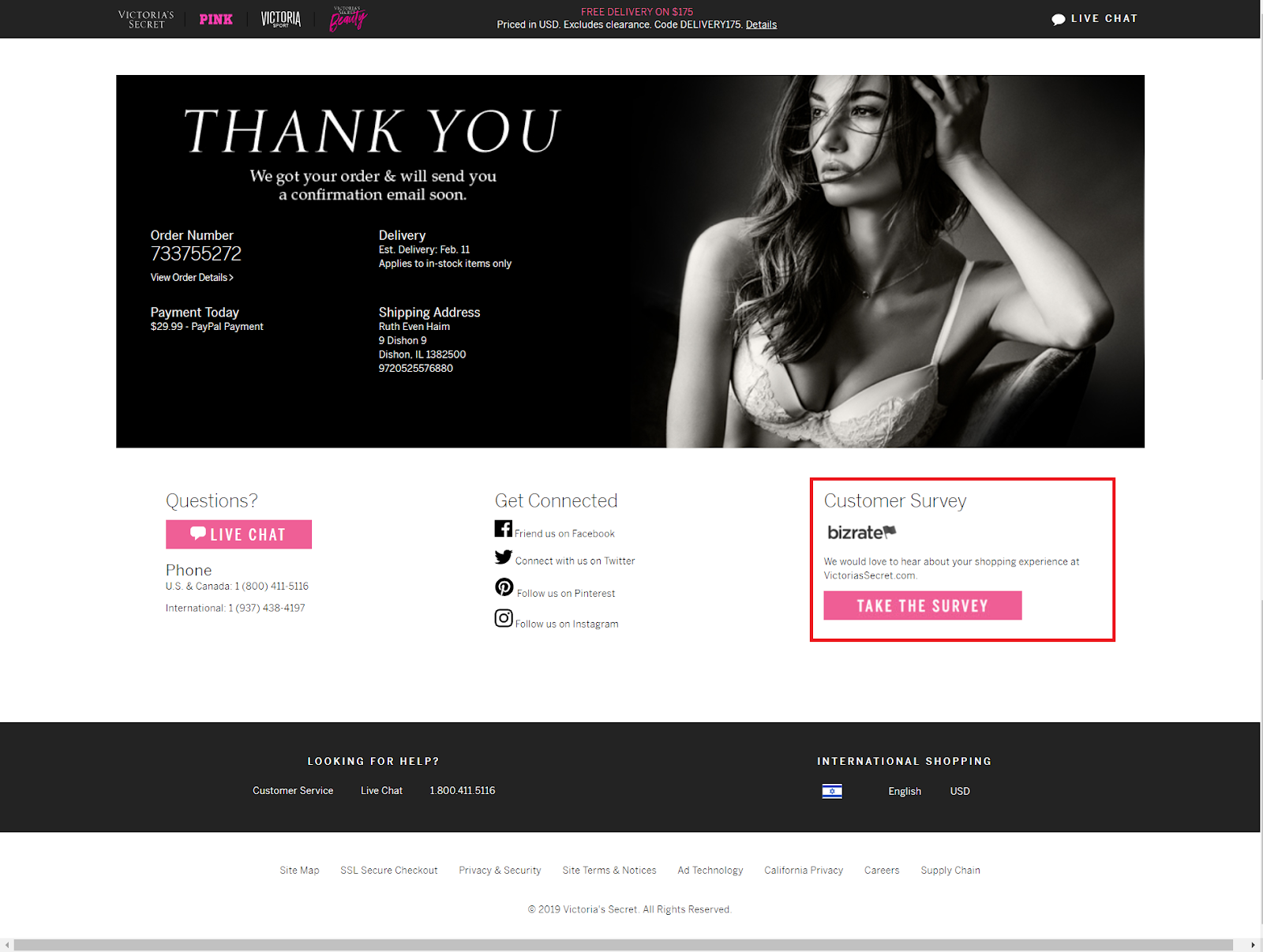 Request a Review
Customer reviews are arguably the most effective social proof tool that you could use on different pages on your store – product, collection pages, and even the homepage.
Reviews are crucial for conversion rate optimization, in fact, studies show that the likelihood of purchasing a product with a five-star review is 270% higher than the likelihood of purchasing a product with no reviews.
The struggle with reviews is collecting them, because most customers don't think about coming back to your store and leaving a positive review- they are more likely to do it if they had a negative experience and want to warn others off.
The best way to get customers to leave you a review if they are pleased with the product, is by asking them to do it.
Use all of your post-purchase communication mediums to remind your customers how much you value their opinion and how much their reviews can help. To make leaving a review truly desirable, you can incentivize your customers by offering them cash back or a discount for the next purchase if they leave a review on your website.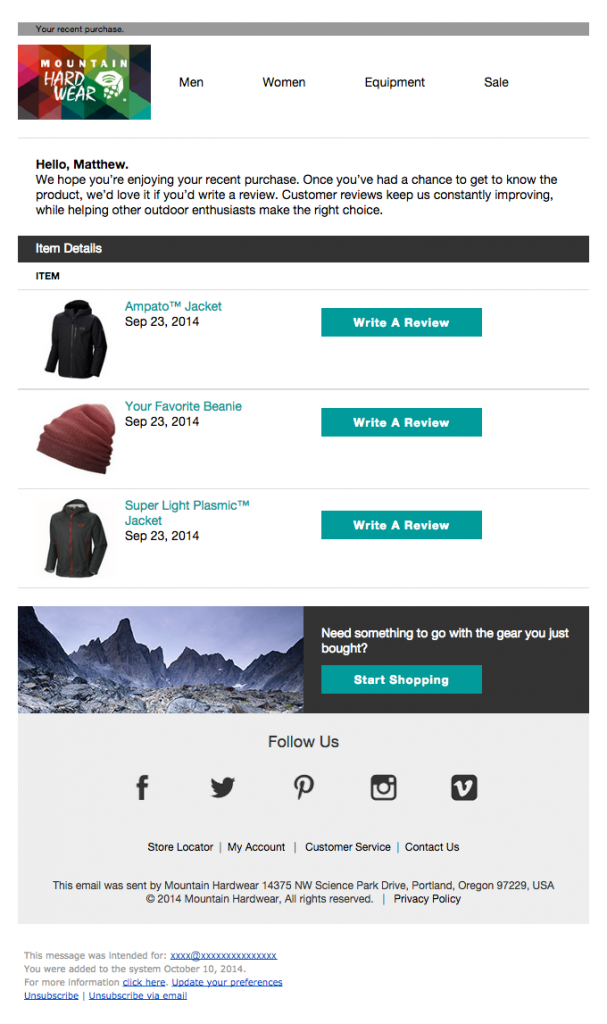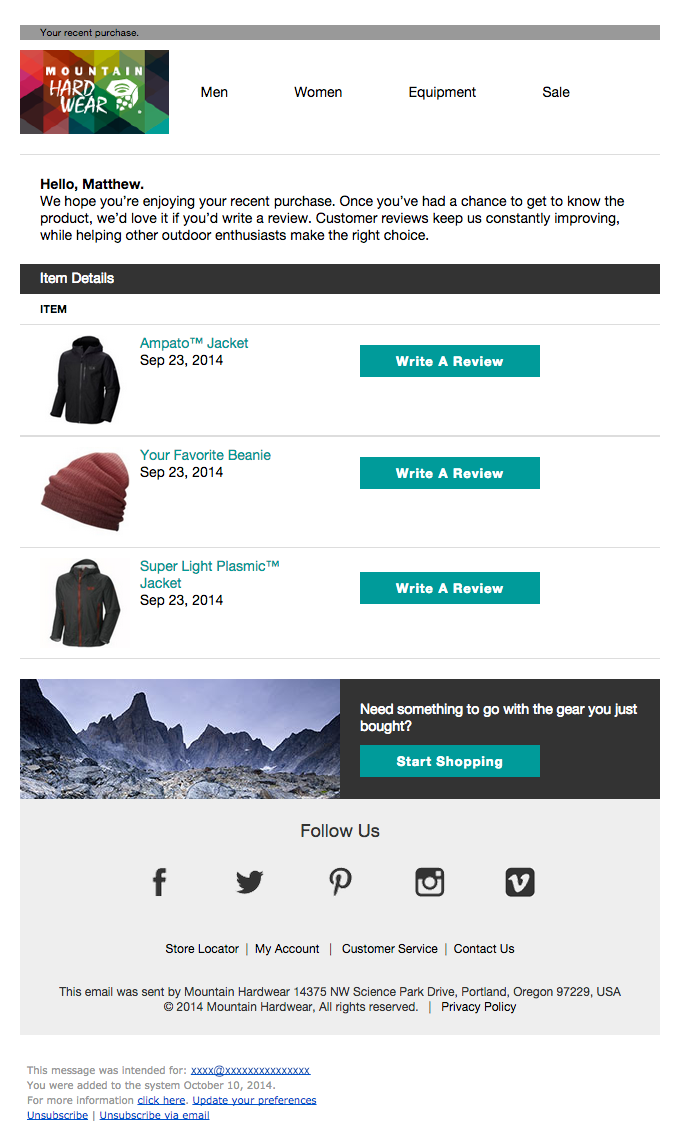 Cross-Sell and Upsell
Upselling and cross-selling post-purchase can be very effective and lucrative, since these are people that have already purchased from you and trust you. Plus, you know what kind of products they are interested in.
And let's not forget the other communication mediums available (such as Facebook and SMS), why not use each time you communicate with your customers as an opportunity to upsell as well?
Order Confirmation Page
The order confirmation page is the first page your customers see after they complete a purchase, they haven't left your website yet and you still have a few seconds while they are checking the confirmation information, to catch their attention and bring them back to your store.
On Shopify, this page tends to be underused, or not used at all. But by adding a simple upsell to the page you can make sure you actually utilize the visibility of customers arriving at the thank you page.
It is an opportunity to not only say thank you to customers for purchasing and give them some basic details about the order, but to get them interested in some other products in your store before they even leave.
Using an app like ReConvert allows you to easily add a variety of upsells and cross-sells to your thank you page on Shopify.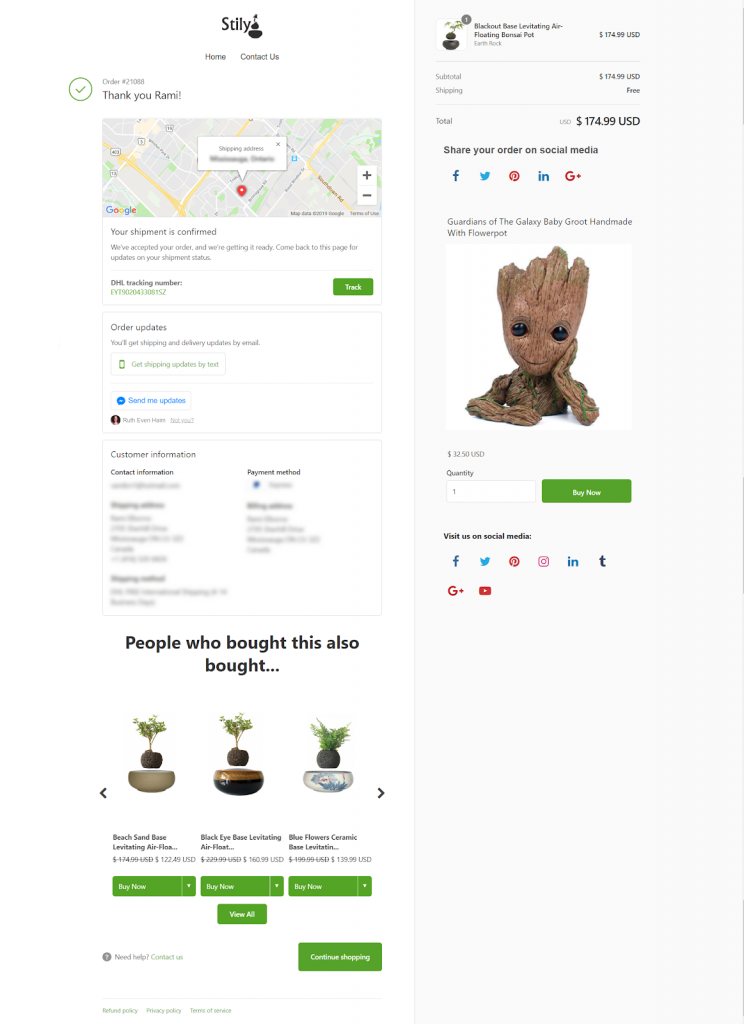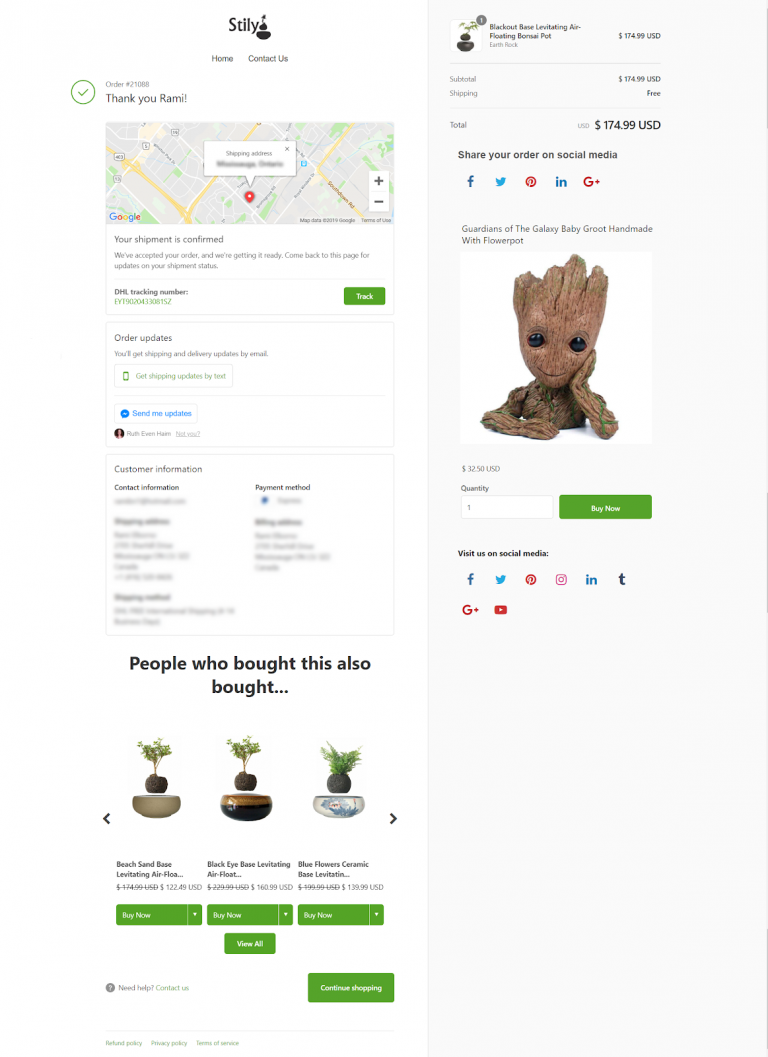 Transactional Updates
One type of communication you will always have with your customers, even if you haven't set up any other automation, is the order confirmation and delivery updates.
Instead of just sending customers empty updates about their order status, insert some cross-sells into the message containing the update.
Whatever you are using email, Facebook Messenger, push or even your thank you page for order updates, you can insert some recommended products based on the products that the customer originally purchased, or offer a general discount for the next purchase to give customers an incentive to come back to your website.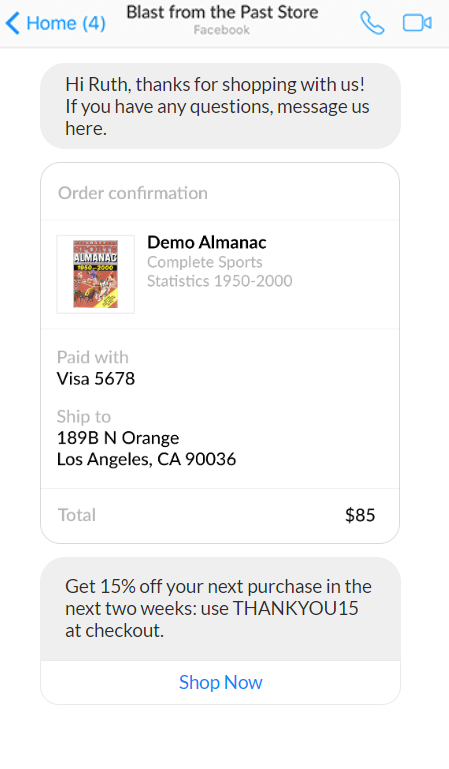 Dormant customers
If you are not sending out a campaign to reactivate dormant customers, you definitely need to start doing it. Send out messages to customers that have purchased in the past and haven't come back to your store for the last 30 days or more.
You can use these campaigns to convey whatever message you want, but one great way to get them back to your store is by offering a discount for products you think they might like.
Either give them a general discount to the store, or offer specific products that are related to their previous purchases.
If the products you sell are consumable, you can offer a discounted refill of the previously purchased product.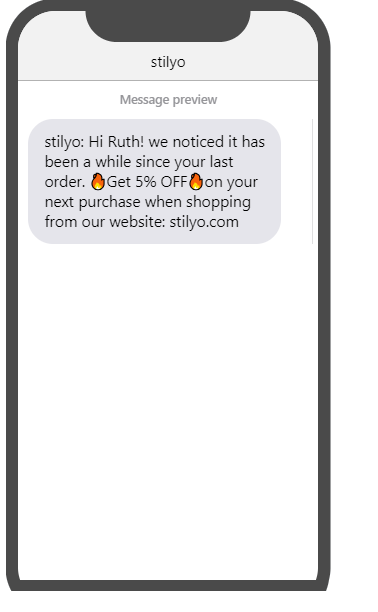 Add a Personal Touch
A customer purchasing from you more than one time is a repeating customer – and that is definitely something that you want to encourage.
But a customer that purchases from you, again and again, follows you on social media, and raves about you to their friends is a loyal customer- and that is the kind of customers that would really make a difference in your business.
In order to inspire loyalty in your customers, you need to show loyalty right back,and create a personal relationship with each one of them. One way to do that is by making your entire communication with them more personal.
Personalize Your Communication
The most straightforward form of personalizing your communication is making sure you use whatever data you have about the customer to make them feel like you are speaking directly to them.
Use their first name, age, interests and any other data that you have about them to customize each message they receive.
Most businesses use the customer's first name, which is a great first step, but you can take it a step further by collecting information about them throughout the shopping experience in your store and using it when talking to them.
When directly communicating with the customer through support channels, add any new data about them to their customer profile. This data can help you later market to them, or just connect with them on a personal level.
Celebrate Customers' Birthdays
Birthdays are a wonderful example of going the extra mile for your customers to gain their loyalty.
Collect your customers' birthdays – whatever it is post-purchase or while they are browsing on the website – and when their birthdays come around, send them a happy birthday email (possibly with a discount of freebie from your store).
You will both delight the customer by remembering their birthday and helping them feel special, as well as give them another incentive to come back to your store, and maybe purchase again.

Give Value
The last principle we will talk about, when it comes to optimizing your communication with your customers, is giving value.
Even though your ultimate goal is to sell, sending out only promotional materials will get very old very fast, and make your customers unsubscribe from any communication channel with you.
The only way to create long-lasting relationships with your customers is by making sure your communication actually provides them value, without spamming them or over selling all the time.
Newsletter
Create a weekly/bi-weekly/monthly newsletter, sending out updates on subjects relating to your niche.
These don't have to contain content that you create, it can be content curated from the internet, that you think would interest your audience. However, if you have a blog or YouTube channel, it would be a great opportunity to send your content to your customers.
You need to take into account your promotional messages schedule as well and make sure that you don't spam your customers with too much communication.
In this newsletter, don't try to sell anything – your only goal here is to keep your customers engaged with you and to establish yourself as an authority in your niche.
Social Media
Use your social media as a channel to communicate with both potential customers and existing ones – send out updates about your brand, and important announcements, but don't forget to add some content as well.
You can share information regarding your niche (the same type of information you would share in your newsletter) as well as sneak peeks to your company's life, to give faces to the people behind the brand.
Show stories about how you started, why you're interested in this niche, what your employees are doing to give the best service ever, etc.
To make sure existing customers are actually on your social media, put social media buttons on any form of communication with them that we've already talked about.
Key Takeaway
Customer retention is one of your biggest multiplayer as a business.
Communication is the only way to ensure that customers don't forget about you, and actually turn into returning or even loyal customers.
So put in the effort necessary to communicate with your customers as efficiently as possible, to help you reach your goals and connect better with them.
This might seem overwhelming at first, but you can start by choosing one area to implement, test it out and then move on to the next one.
This article was originally published by our friends at Recart.