We're always on the lookout for ways to enhance your experience with Wonderment, and today, we're excited to unveil our latest feature: Time in Transit for delivered packages! This new filter on the dashboard makes it easier to identify slow shipping experiences and the underlying trends. This takes the data that you've previously accessed from Delivery Time Reporting, and brings it into the rest of Wonderment.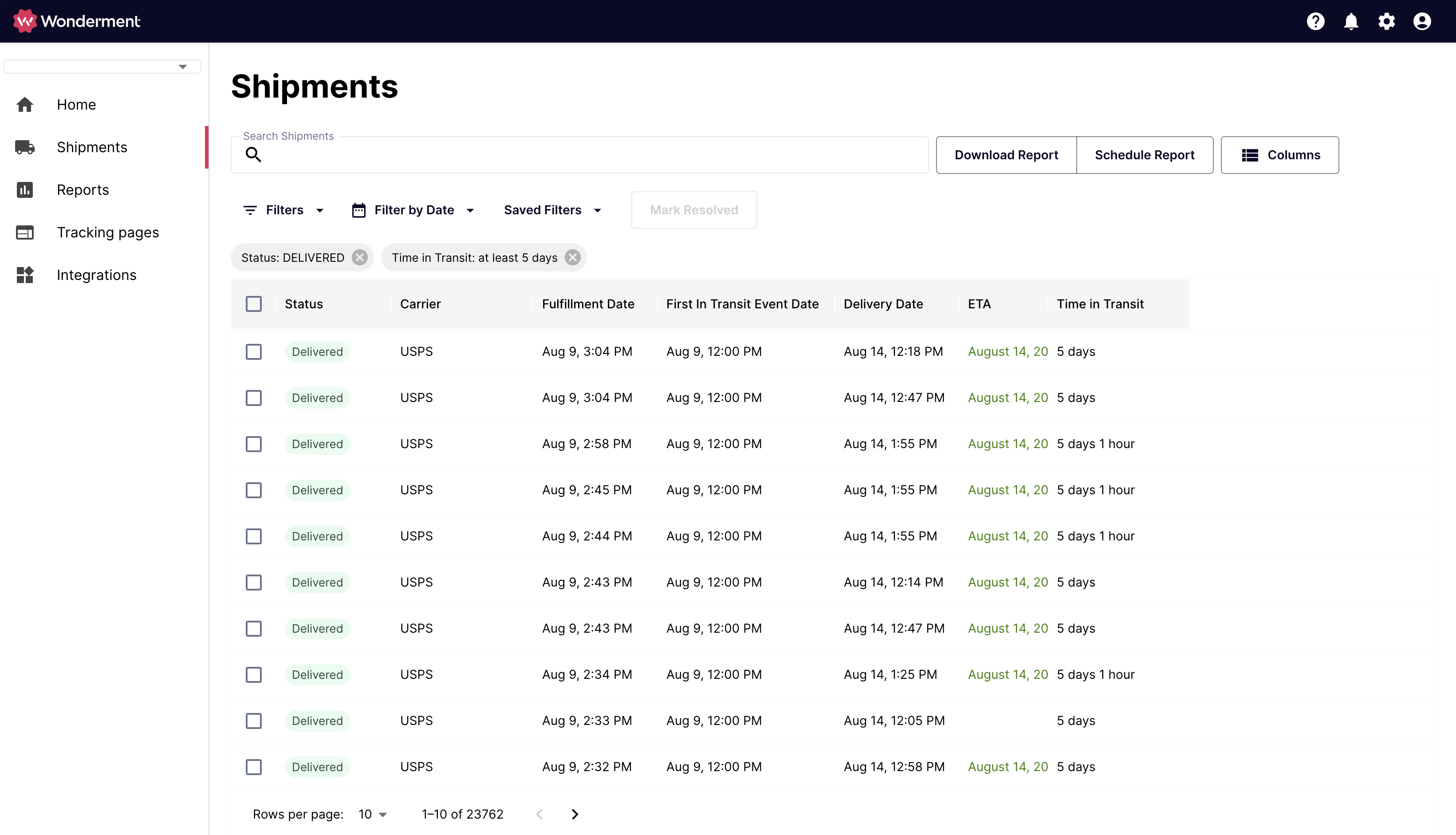 What Can You Expect?
New Visibility: The Time in Transit column will provide an at-a-glance view of the duration packages spend in transit, offering you deeper insights into your shipping efficiency.
Powerful Filtering: Need to analyze shipments based on specific transit times? Our Dashboard now allows you to filter by various time ranges, so you can find 
Export with Ease: For those who rely on external analysis or reporting, the Time in Transit data is also available in your exports. Dive deeper into your data or match it with other data sets. 
By understanding Time in Transit, you can make informed decisions to refine your shipping processes, choose better carriers, and potentially save costs while delivering a better experience. Whether it's for monthly reviews, quarterly audits, or annual reports, having Time in Transit data enhances the depth of your logistics analysis.
Getting Started is Simple:
Head to your Shipments Dashboard in Wonderment.
Find the new Time in Transit column — it's all set for you to view. Find the filter for Time-in-Transit days under the Filters menu. When you pick a time range, packages that took that many days or more to deliver will be shown in the Shipments table. 
Use our other filters to refine your query or download your data as needed.
We believe in the power of information, and this feature is another step towards offering you unparalleled clarity and control over your shipping operations. As always, your feedback propels our innovations, so don't hesitate to share your thoughts or experiences.
Looking for better access and insight into your customer experience or delivery data? Join us for a personalized demo of Wonderment. 
This originally appeared on
Wonderment
and is available here for wider discovery.