It's that time of the year again! When everything around us turns to 50 shades of red, storefronts are covered with chocolate & candy, and your inbox is overflowing with sweet deals and discounts. We know it, you know it – Valentine's Day is coming soon.
As one of the biggest retail events in the calendar, traditionally, consumer spending is skyrocketing in February. And even if your store doesn't belong to the candy-flowers-jewelry love triangle, there are still plenty of ways for you to join the festivities and drive more sales.
Whether you are new to text marketing or a seasoned SMS pro, we got you covered! Enjoy 9 powerful tips combined with 15 inspirational SMS templates to help you make this Valentine's Day your best one yet.
January 27- February 4
Eager to start Valentine's Day festivities as early as possible? Consider the end of January as your cue. Use this time to grow your list of subscribers and launch powerful and engaging Warm-up campaigns. 
Suitable dates for SMS campaigns:
January 27: VDay Warm-up campaign
January 31: VDay Expedited Shipping
VDay SMS Tip #1: Maximize subscriber collection
"Could I have your phone number?"
They say you never get a second chance to make a first impression. Consider the very first time someone lands on your store as your first date – the key is in the details, and it all comes down to making a good impression. 
Bring your A-game this Valentine's Day by setting your store as the scene of the perfect first meet-up. But instead of lighting candles or playing romantic music, get site visitors in the mood to shop with powerful and eye-grabbing subscription forms. Think of them as little cupids that will make people instantly fall in love with your brand and special deals. 
A beautiful and timely pop-up will serve as the perfect final touch of your themed decor – set it up to appear 15 seconds after potential customers land on your home page. For a more delicate presence, use a floating button or a footer form that will stay discreetly at the bottom of the page and turn store visitors into dedicated SMS subscribers with a single tap. 
Use colors such as red or pink to match the general Valentine's Day vibe and sprinkle some lovey-dovey wording. Add a small incentive in the form of a discount or free shipping to urge shoppers to sign up for your SMS marketing club. 
Pro tip: Don't forget to adjust the copy of your welcome text to match the offer from the subscription form. The good news? It's literally a "set and forget" type of thing, but it makes all the difference in the world because this is how your new subscribers are welcomed to your store. Because let's not forget the first rule of dating: as soon as your new crush gives you their phone number, they will be waiting for you to reach out, right?
VDay SMS Tip #2: Start The Conversation
"Tell me more about yourself."
Now that we are past the excitement and the thrill surrounding (most) first dates let's move on to something even cooler – getting to know each other a little bit better. Not all customers want the same thing and come looking for exactly the same product, right? Gone are the days when bulk text messaging was considered a good idea. 
Nowadays, personalization isn't just important — it's imperative. The majority of shoppers find texts from brands more engaging when they contain information relevant to their interests and past purchases.  And sometimes, the best way to understand what your customers want is to just simply ask them…
Set your store up for success this Valentine's Day by sending conversational SMS flows every time someone subscribes to your text marketing club or makes a purchase on your store. Use this opportunity to learn more about shoppers' preferences or what they came searching for in your store: gifts for themselves or a significant other? Use keywords to create separate scenarios for the different options and give personalized product recommendations based on responses.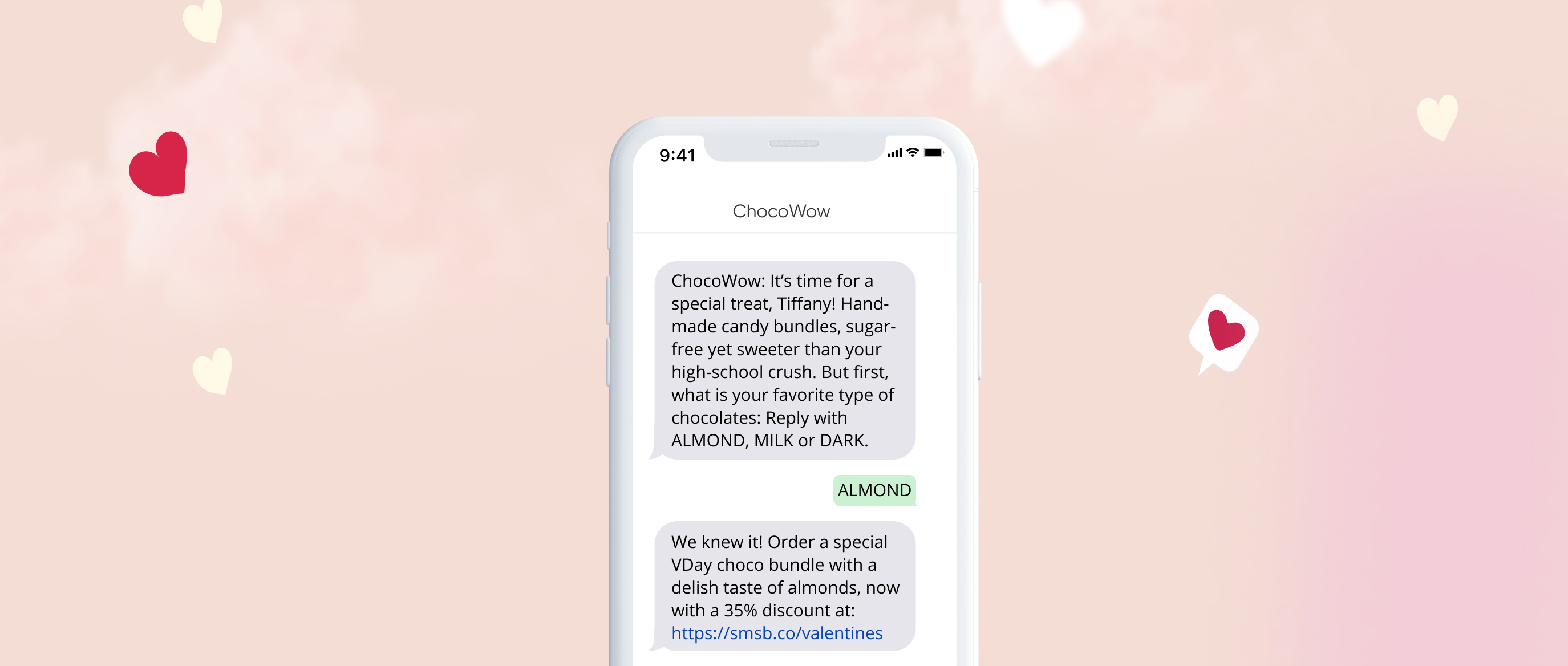 Pro tip: Use this opportunity to divide your subscribers into dedicated lists based on their responses to make sure you'll continue sending them tailored offers even past Valentine's Day.
VDay SMS Tip #3: Launch a Warm-up Campaign
"Let's get cozy."
If you've played your cards just right, you now have a list of precious phone numbers, and it's time to launch your Warm-up SMS campaign! The earlier – the better.
Grab the attention of early-bird shoppers with a heartfelt message combined with an appealing offer. 
Flash sales are the go-to choice for many brands, especially around special occasions, due to their effectiveness. Buy One, Get One Free deals are also a great fit around Valentine's Day as they provide shoppers with great value and the opportunity to get a gift for themselves as well. Think matching socks, matching shirts, matching suitcases – you get the point. 

Pro tip: Don't go big on discounts just yet, there's plenty of time for that later on. After all, this is just the starter to your VDay main course.
VDay SMS Tip 4: Communicate Shipping Deadlines
"A relationship without communication is just two people."
It is important in both business and love "to underpromise and overdeliver." Or in other words, don't make promises you can't keep. And what is a sure way to lose a client? To mess up a delivery or miss a deadline. 
As Valentine's Day is quickly approaching, including information about shipping deadlines in your communication with shoppers is crucial. Let them know now is the time to order so that their package will arrive on time and not a single person will be left without their VDay special gift. Use phrases such as "Offer valid until," "Order now," "Last chance" in your SMS campaigns. 
Add limited-time-only free shipping to make your deals even more appealing. It's a great incentive for customers to finish their VDay shopping on time and benefit from your juicy deals.

Pro tip: Leverage SMS to send other important information such as order confirmation, tracking number, expected delays, or return policies. Automated transactional messages will take customer communication to a whole new level, which is super important, especially around big retail holidays because this is the only way to ensure each shopper gets the attention and care they deserve.
February 5 – February 11
This is the time to take care of your most loyal customers and work on your cross-sell game.
Suitable dates for SMS campaigns:
February 5: Wear Red Day 
February 7: National Send a Card to a Friend Day
VDay SMS Tip #5: Pamper your VIP customers
"Loyalty is rare. If you find it, keep it."
February is the Month of Love, and what better way to express it than by showing gratitude and appreciation. When planning your Valentine's Day activities, don't forget to connect with your most important customers – those who have stuck with you through thick and thin. Reach out to them separately by offering early access to your special deals or a sneak peek into your brand new collection. 
Set up a tailored SMS campaign targeting customers with higher average order value at your store or those who have purchased more than X times. Cater to their needs by offering discounts bigger than the usual, limited-edition items, or extended periods of free shipping and return. 
Mix best-selling or exclusive items with slow-moving products in bundles to create VIP Love Baskets. Sweeten up your deal with some small gifts and a personal note to win your customers' affection for the year ahead.  

Pro tip: Combine SMS marketing with Loyalty program rewards for the ultimate VIP experience. Offer VDay gifts and perks to your most important customers, depending on their loyalty level. Urge them to reach a certain threshold to join the next VIP tier. 
VDay SMS Tip #6: Make Greeting Cards Great Again
"Let's keep in touch."
Isn't it exciting when you find a beautifully styled envelope in your mailbox? The feel of the luxurious paper, the personal touch of a hand-written note – it's nice to make that switch from our all-digital daily routines and remember the real-life ways of showing appreciation to a friend or a loved one. Especially in an ongoing pandemic situation, heartwarming messages such as "I miss you" or "Feel better" just hit differently. 
   
Greeting cards hold a solid share of consumer spending each holiday, but especially around VDay, sales go through the roof. 
Don't wait till the very last minute and nudge shoppers to send their Valentines earlier this year. Plan a campaign around February 7 when we mark National Send a Card to a Friend Day.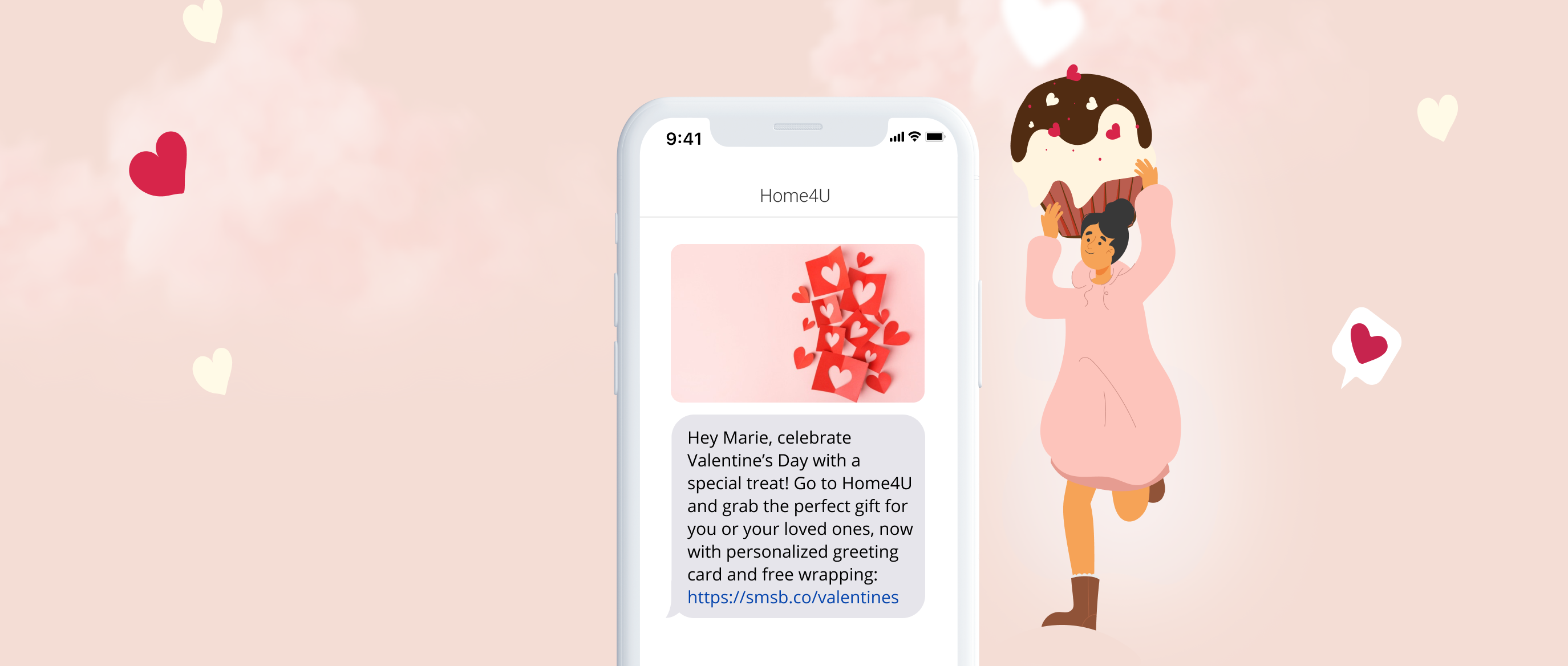 Pro tip: Use this opportunity for a cross-sell. Cards are the perfect addition to every product. Incentivize shoppers to purchase from your store this Valentine's Day by offering free packaging or a personalized note with every order above a certain threshold.  
February 12 –  February 15
We have now reached the culmination of Valentine's Day festivities. Plan and schedule a few more SMS campaigns in advance and get ready to score big in the following days!
Suitable dates for SMS campaigns:
February 13: Galentine's Day 
February 14: Valentine's Day
February 15: Singles Awareness Day
VDay SMS Tip 7: Time For One Final Sales Push
"We're in the endgame now."
In the last days before the big date, use every opportunity to further engage with your audience and drive some extra VDay sales. Schedule last-chance SMS campaigns to remind shoppers to hurry up and make their purchases before your deals expire. 
Start your final sales push on Friday (February 11), and then send a follow-up right on Valentine's Day to keep your eye-grabbing promotions top of mind. 
Make sure to use plenty of FOMO in the copy of your messages to create a sense of urgency and scarcity that will further urge shoppers to hit the Purchase button right away. 
Even though their presents might not get on time, February is the month of love, so an unexpected, late gift will be greatly appreciated.

Pro tip: Procrastinators represent 50% of your customers base, so you need to make sure you're catering to their time-sensitive needs as well. Gift cards are the perfect solution for last-minute purchases. Also, consider offering curbside pick-up or same-day deliveries – another life-saving option for every procrastinator out there that would really help you outshine competitors and save the (V)day.
VDay SMS Tip 8: Don't Forget Galentine's Day
"Love is beautiful. Friendship is better."
Galentine's Day is yet another great sales opportunity for all brands that want to interact with their customers with engaging, out-of-the-box marketing campaigns. 
Celebrated on February 13, this holiday originates from a popular TV show and has turned into a well-known day to celebrate female friendships. Remind shoppers that their friends too deserve some special care and appreciation.
Launch a limited-time-only promotion such as a 24-hour flash sale or a special gal-themed BOGO deal. And what about GalsBeforePals gift guide? Use puns or funny captions to make your message more on-theme. 

Pro tip: Boost conversion rates by tailoring and personalizing your message. Use gender segmentation to target female shoppers specifically.
VDay SMS Tip 9: Self-Care is Important Too
"The most exciting, challenging, and significant relationship of all is the one you have with yourself."
Valentine's Day doesn't have to be just about couples, it can also be about celebrating self-love. 
Offer your customers personalized discounts or run a self-care sale. Remind shoppers of the importance of treating yourself first and urge them to make room in their busy schedules for some quality me-time.
Use this as an opportunity to go beyond the traditional messaging and connect with your audience on a deeper level.
On February 15, we mark Singles Awareness Day, which is the perfect occasion to extend your sales even past Valentine's Day and pamper your unattached customers with some extra care and attention.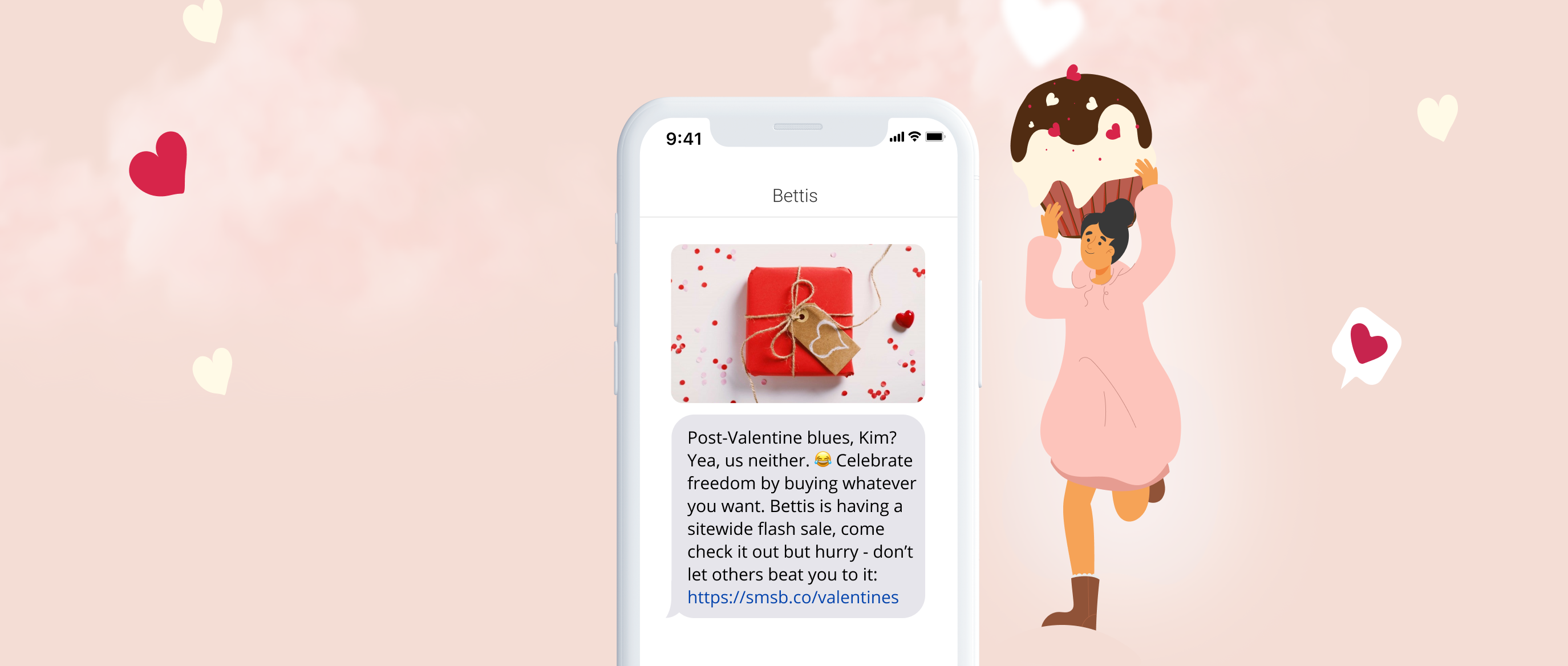 Instead of a Pro tip: Remember that love comes in all shapes and sizes. And that this time of year might be difficult for a lot of people. Keep your messaging as thoughtful and inclusive as possible. 
This was our list of 9 VDay tips designed to set you up for success this February and make your customers fall in love with your brand and products.
Eager for more? Check out our 15 love-infused SMS templates, or head straight to our Campaign Planner for more inspirational ideas. 
Special thanks to our friends at
SMSbump
for their insights on this topic.