Run your loyalty and marketing across all your stores and online by seamleesy integrating Marsello with Heartland Retail and your eCommerce platform.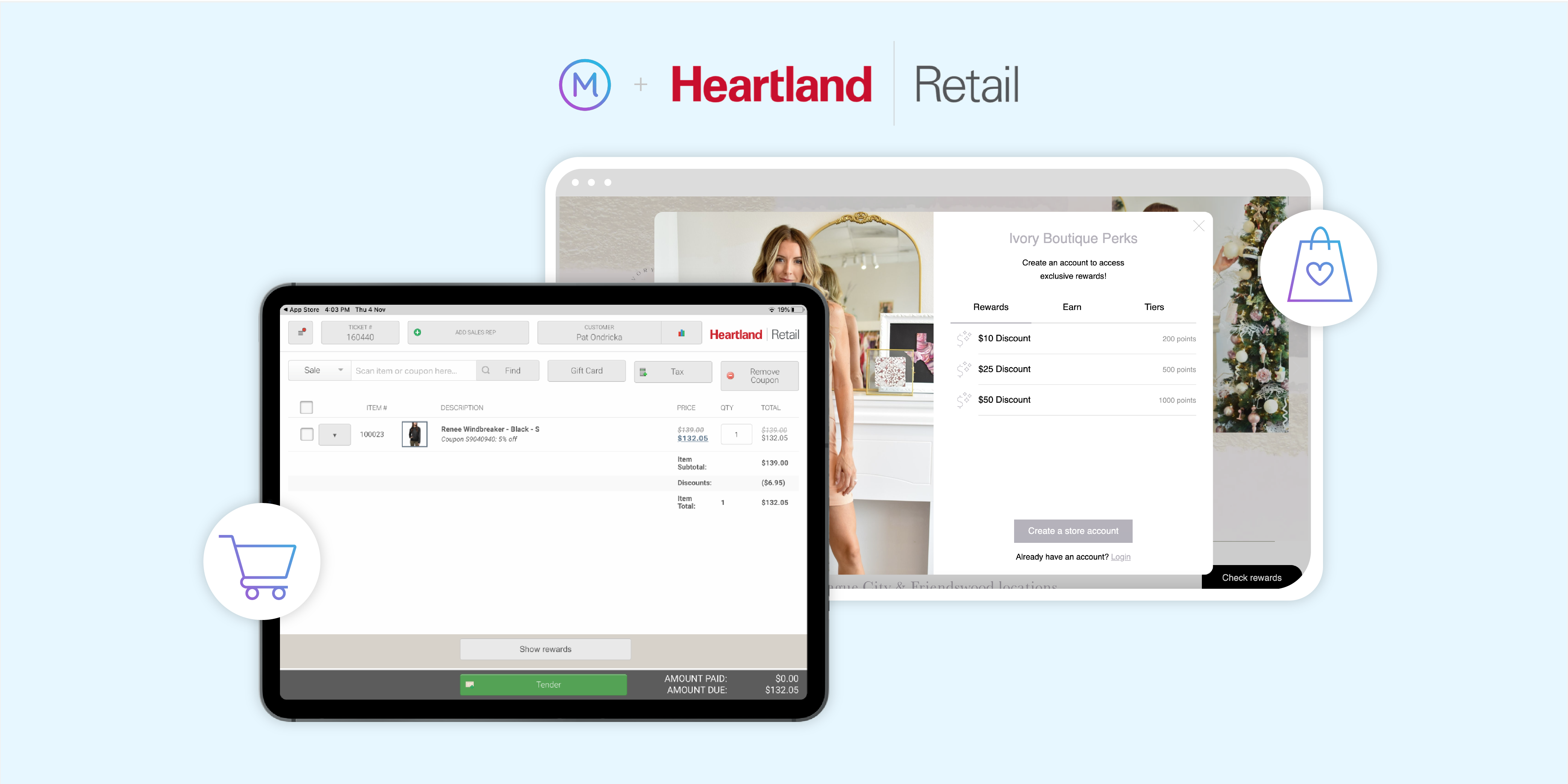 Become the ultimate omnichannel retailer with marketing across all your sales channels! You asked for an all-in-one retail marketing platform that would integrate with both Heartland Retail POS and your eCommerce provider, and we've delivered!
Let's dive in and learn what Marsello brings to Heartland Retail POS users. 
How do Marsello and Heartland Retail POS work together?



It's easy to set up and run your retail marketing strategy across brick-and-mortar and online stores. Marsello integrates seamlessly with Heartland Retail POS and your choice of eCommerce platform.
Integrate your customer loyalty program in-store & online, and turn shoppers into brand ambassadors

With an omnichannel customer loyalty program integrated across your Heartland Retail POS-powered store and eCommerce, you can create a seamless customer loyalty experience. Track and reward customer engagement, gather valuable customer information, trigger perfectly-timed notifications to encourage customers to shop, grow life-long customer relationships, and more! 
Create an undeniable customer loyalty program that can turn one-off customers into brand ambassadors by bringing your in-store and online customer, marketing, and retail data into one platform.
Get started by learning how to add customers to your Marsello x Heartland Retail POS loyalty program and how customers earn points.
Send personalized email and SMS campaigns and delight customers with communications they love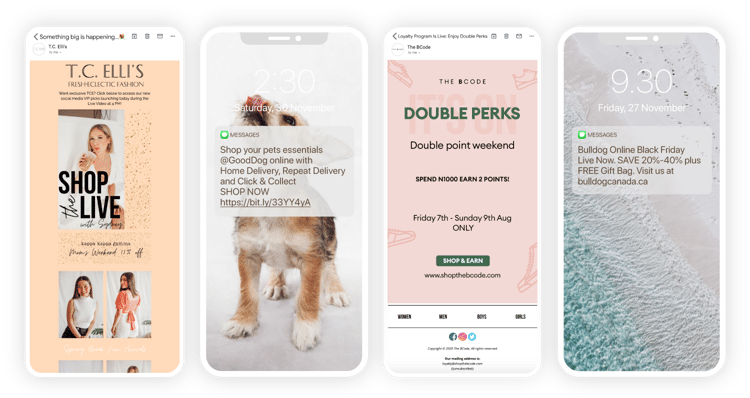 Personalization is the secret ingredient to make email and SMS campaigns stand out. When you include brand colors, logo, product images and use data to feed-in customer information, you create a standout marketing experience that captures your customers' attention. 
With tools like data-driven product recommendations, merge tags to automatically include customer details (like their names), unique coupon codes, a drag-and-drop email builder, and professionally designed templates, it's easy to create campaigns that encourage customer engagement.
Marsello's email templates library is an excellent place to source inspiration while quickly creating memorable email campaigns if you're new to creating them.



Trigger automated marketing campaigns based on customer data and boost your ROI
Automated marketing campaigns are a powerful customer retention tool. Celebrate critical milestones, encourage customers to return to your store, reward your best customers, and more – all automatically triggered, so you don't have to manually remember every date for every customer. Better yet? Marsello includes pre-designed automated campaigns. All you need to do is customize the flows with your branding, check that the settings meet your desired goals, and then click enable. Our pre-built automated campaigns include:
A 'Thank you' automation to new customers who have shopped for the first time. 
A product recommendations and exclusive discount email flow designed to encourage Best shoppers to keep shopping with you.
A 'Happy birthday' celebration flow for customers who have shared this data with you. 
A 'win-back' automation to encourage at-risk customers (those who've not shopped recently) to make a purchase.
An automated flow dedicated to recovering abandoned carts when customers fail to complete a purchase.

But with customizable campaigns, the options are endless. Learn more about Marketing Automations by Marsello or book a demo today.
Understand detailed marketing reports and customer data to improve your marketing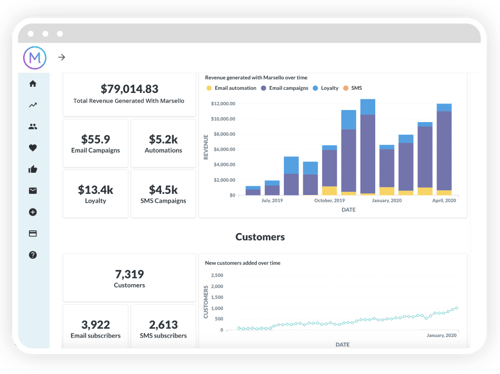 By integrating your Marketing results with your Heartland Retail POS and eCommerce data, you can accurately attribute sales and successes from your marketing to specific sales channels, giving you results you can trust. Marsello uses closed-loop data attribution to ensure you can make informed decisions that see results. 

Track your Return on Investment, Average Customer Lifetime Value, specific marketing results (like loyalty program insights), and detailed customers & revenue insights. Then, use this information to improve your marketing campaigns and processes to ensure that your efforts see the best results in-store, online, and through whatever marketing channels you use.



Use customer segmentation to target specific customer groups through email, SMS, or paid advertising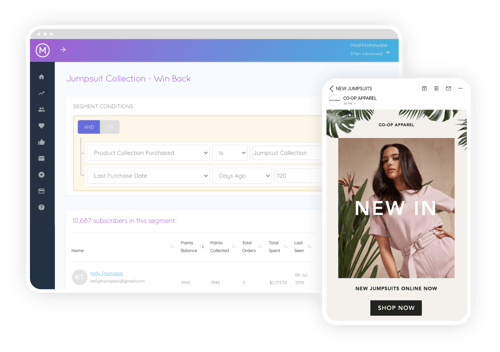 Capture visitors' details with POS & eCommerce marketing opt-ins, email capture pop-up forms, and website landing pages. Then, leverage your customer data with Marsello's in-built segmentation, which can be used for email, SMS, and Facebook ad targeting.
Marsello automatically segments your customers into specific groups to help you create personalized marketing campaigns that get results! With RFM segmentation, you'll see your customers grouped into the following segments:
Best: ordered recently, ordered the most often, and spent the most 
Loyal: ordered recently, ordered often, spent good money
Promising: ordered recently, ordered more than once, and spent an average amount
New: made their first order recently
At-risk: haven't ordered recently
Lost: haven't ordered in a very long time.  
Customer segmentation is a valuable tool for enabling marketing that gets results. Although you might be narrowing down the recipient list, you're also making it more relevant, which means that customers in that list are much more likely to engage; this is particularly important when creating email or SMS campaigns and paid advertising.
Learn more about Marsello's Marketing Lists feature.



Final words
The options don't stop at loyalty marketing, email and SMS campaigns, automations, or customer data either! From customer feedback collection to native eCommerce integrations, Marsello creates an all-in-one marketing powerhouse designed for omnichannel Heartland Retail merchants.
Ready to increase your ROI and create an omnichannel retail marketing strategy your customers love?
Published Dec 10, 2021 3:04:22 PM
Special thanks to our friends at
Marsello
for their insights on this topic.