Whitney Blankenship
Content Marketing Manager
Reading Time: 8 minutes
There's no doubt that the COVID-19 pandemic has changed the way we shop forever, with the trend toward ecommerce increasing sharply as many brick-and-mortar retail stores remain closed.   
Shoppers, retailers, and shippers have adjusted admirably to the new normal. However, the extra load on shipping companies and the desire to slowly reintroduce foot traffic to physical stores have driven a new phenomenon, something that bridges the gap between offline and online experiences. 
It's time to talk about BOPIS. 
What is BOPIS?
BOPIS, meaning Buy Online Pick Up In-Store, is the best of both worlds for busy customers. They can browse online, make a purchase when they are ready, and pick up the order at a time and location of their choosing. This provides valuable flexibility to the customer while avoiding steep shipping costs, long delivery times, and the hassle of shipping back returns.
BOPIS sales took off in 2020, increasing by 259% as people searched for safe, fast, and convenient ways to receive their orders. And with over a quarter of these new BOPIS users planning to continue using the service even as the restrictions are lifted, it's safe to say that BOPIS will become a part of the "new normal" in retail. 
How can you use your ESP to create a BOPIS ecommerce strategy? Find out Why Choosing an Ecommerce-First Email Provider Matters.
How Does BOPIS Work for Retail?
When retailers do it well, BOPIS is an excellent way to increase online sales. At the same time, BOPIS retail is helpful for normalizing visits to physical stores again, an important benefit as we slowly start to emerge from the pandemic. 
With 90% of retailers saying that they plan to offer the purchase online pick up in-store option in 2021, now is the time to implement it for your own business! 
Luckily, there are only a few things you'll need to start offering BOPIS straight away: 
1. A Brick-and-Mortar Outlet
Obviously, offering BOPIS won't be possible unless you have at least one physical place (preferably a store) that can act as a meeting place for customers to come and pick up their orders. 
Your brick-and-mortar location should be in a convenient place (easy parking, pick up area for bulky goods, away from busy roads, etc.) and you should create a designated BOPIS counter/area within the store. Thoughtfully place add-on or impulse items that are popular with BOPIS customers close by to encourage cross-selling. 
With customers now coming back to your physical store, it's a good opportunity to remind them of the simple pleasures of browsing for products in an actual shop. 
2. An Online Store
Connect the online and offline experience with a professional, easy-to-navigate, and branded online store. BOPIS works particularly well within an omnichannel strategy, so after choosing the right ecommerce platform to host your store, you can look into a marketing platform that offers advanced omnichannel capabilities.
Omnichannel marketing puts customer data front and center to provide an immersive, seamless customer experience. This is crucial for properly implementing BOPIS, in which your order information, fulfillment, pick up information, and inventory needs to be perfectly in sync across both digital and physical channels. 
So for example, a customer makes an order in your store. Your omnichannel marketing software will be able to automatically send an order confirmation with pick-up info by email, and provide live updates via more 'urgent' channels like SMS and push notifications on their mobile device. The customer can be easily guided to exactly the right location at exactly the right time, ensuring that their order is ready to pick up with no lengthy queuing.
3. The Ability to Track Inventory in Real-Time
All the elements of your fulfillment system need to be interconnected to ensure a smooth BOPIS experience. A customer is more likely to buy if they can see that an item is immediately available to pick up in-store, and the ability to show available items in real-time requires inventory visibility, good communication among warehouse and store employees, and smart stock management software to predict, schedule and manage your inventory availability. 
After all, you don't want a customer to show up to your store to find that the item they ordered isn't there. Real-time inventory tracking between your online store and retail locations will ensure that BOPIS is a smooth-running process. 
How Does BOPIS Work for Customers?
Customers are responding favorably to the convenience of a purchase-online-pick-up-in-store option, with Shopify data showing that 59% of consumers are interested in BOPIS-type shopping options.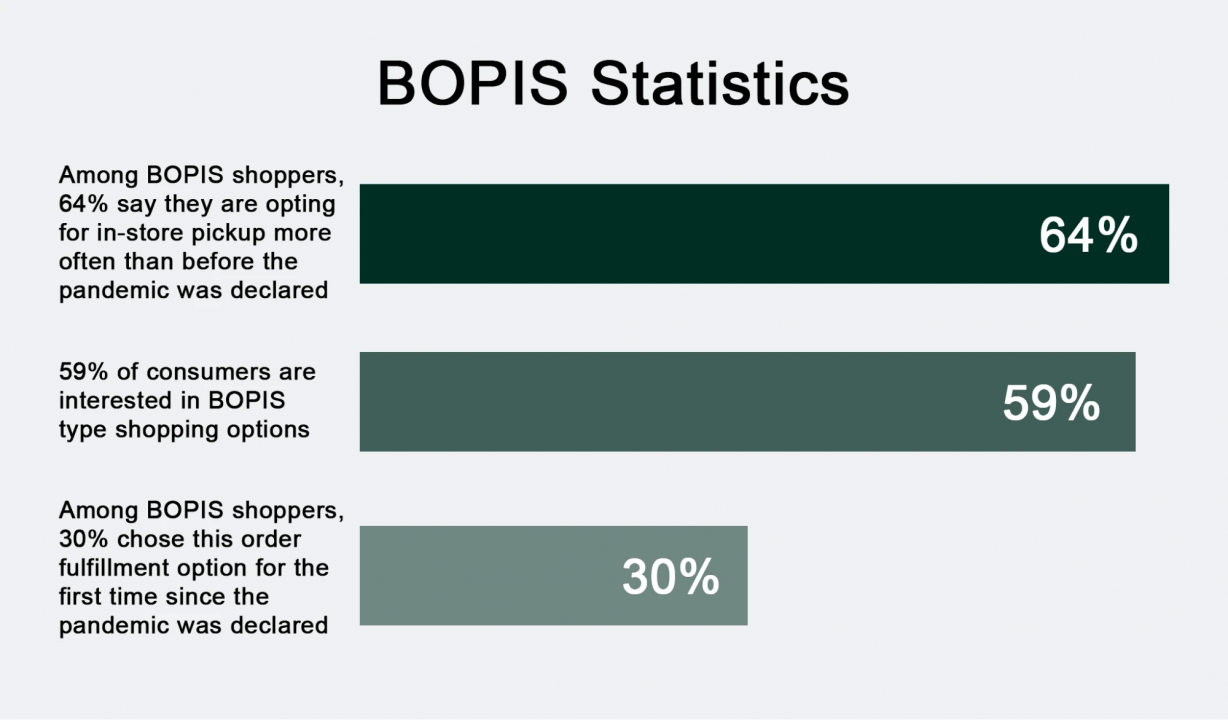 Source: Shopify
A shopper simply finds the product that they want in your online store, where real-time information about the item's availability is shown. During the checkout process, there is an option for the shopper to choose the best available pick-up time and location for them, and this is confirmed with an order confirmation email containing a scannable code or order number.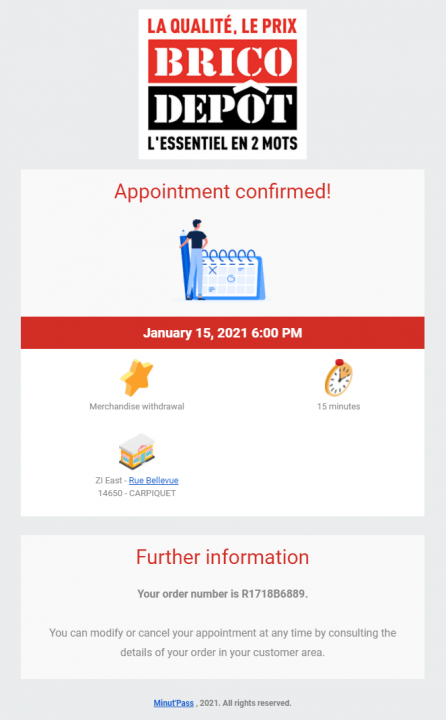 Live updates are sent via push notification or SMS, giving any additional info about changes in time, place, etc. Customers might even receive further offers and recommendations about similar or related products, which they can also pick up while they are at your store.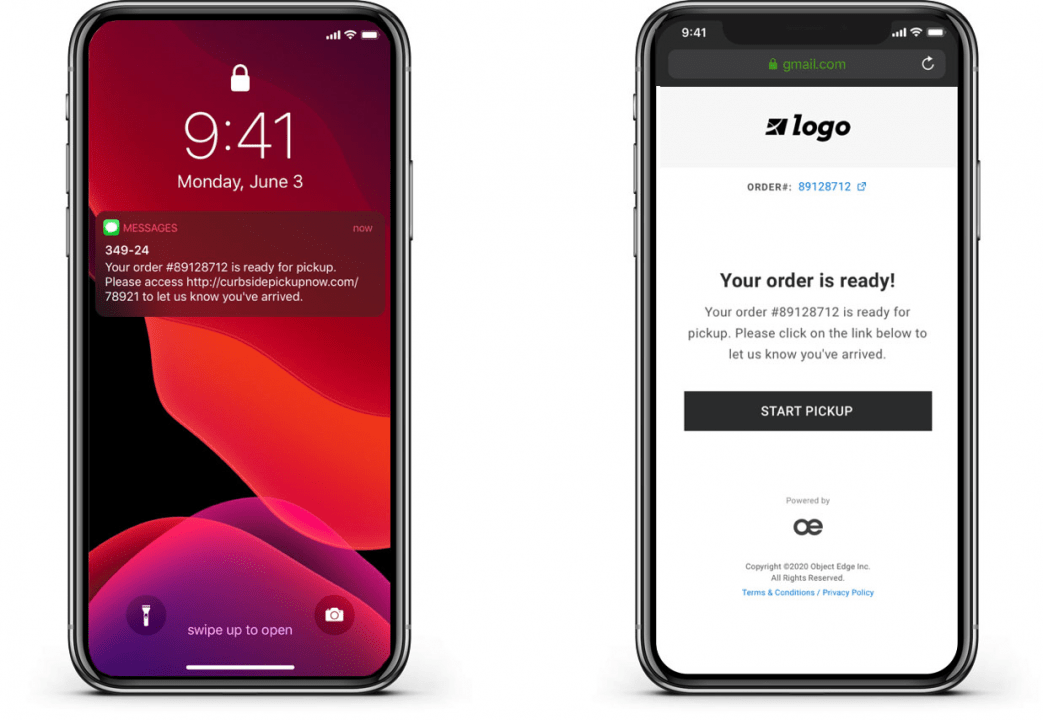 On arrival at the designated pick-up point (it could be a counter in-store or even a curbside pickup), the customer presents their order info and the product is handed over. The process is clear and predictable from start to finish, with pick-up times carefully scheduled to avoid queues and congestion in your pick-up location. 
What are the Advantages of Providing BOPIS?
Providing a buy online pick up in store option offers a host of benefits for retailers and customers alike. Let's first take a look at what retailers can expect to gain from the increased adoption of BOPIS: 
Increased Sales: Having shoppers visiting your brick-and-mortar store is an excellent way to increase cross-selling opportunities. According to one report, 80% of customers who use BOPIS shop for other things while they're picking up their orders—a huge potential source of additional revenue. On top of this, you are likely to see a drop in your cart abandonment figures too. Unexpected shipping costs are the main reason why customers leave their carts without completing a purchase, so giving shoppers the option to skip shipping entirely and simply pick up their order at their leisure is sure to help reduce this painful problem. 
Lower Shipping Expenses: Shipping is expensive for retailers too, especially last-mile deliveries to customer's doors. An overall reduction in local shipping expenses and logistical requirements means that you can focus more on competitive international shipping options, expanding your reach into other markets. 
Integrated Inventory Management: BOPIS requires a complete inventory management system to enable you to show product availability in real-time. With in-store and online inventory merged into one system, you can have more control and better access to your entire stock, have your staff trained to find and move stock quickly to where it is needed, and have a perfect synchronization between what is on your shelves and in your distribution center. 
Sounds good, doesn't it? But that's only half of it. Let's look at the ways that your customers benefit from BOPIS too.  
No Shipping Costs: This is a big one, especially for smaller purchases where shipping can often cost more than half of the price of the product itself. Shipping fees are very often the biggest barrier to shopping online, so with this removed, shoppers will be much happier making quick, convenient purchases on their PC or mobile device. In fact, 35% of consumers say they prefer picking up items in-store because it allows them to avoid shipping fees.
Faster Service: Despite an increase in express shipping options, BOPIS offers a speed and convenience that shipping companies cannot match. Customers like to be able to get their orders as soon as possible, so the ability to head immediately to the pick-up point to receive their products in a matter of minutes is a major advantage. BOPIS also avoids the problem of missed/rearranged deliveries and offers safety and security that the package will not be damaged/stolen during shipping.
Better Customer Experiences: Overall, BOPIS provides customers with the convenience of shopping at home without the lengthy waiting, cost, and uncertainty of shipping. Customers can pick up their item at a time that suits them while avoiding the crowds and queues that often come with shopping in a brick-and-mortar location. They'll also have the opportunity to open, check, and test out their product before taking it home, allowing for instant, hassle-free returns. 
4 Great Examples of BOPIS
Which companies are setting a good example for the successful implementation of BOPIS? Let's check out a few who are leading the way in this rapidly expanding retail strategy. 
1. Lululemon
Lululemon has BOPIS easily available through its website app, allowing shoppers to pick up their orders at  a local store in two hours. There is also a curbside-service for fast and easy contactless pickups.  
The shopper simply selects in-store pickup when making their order, finds their closest store, and is automatically sent an email informing them of the times that are available. They make their pickup by presenting the confirmation email or their ID.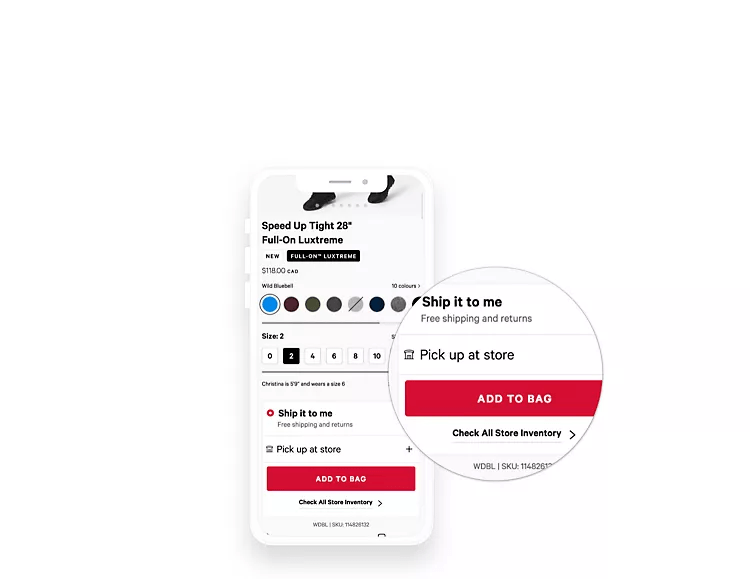 2. Nordstrom
Nordstrom was an early adopter of BOPIS, which it has called Nordstrom Local, and it is reaping the benefits. In 2019, half of its digital sales growth came from order pickup, rising to two-thirds of digital sales growth in its most advanced regions such as Los Angeles.
"Leveraging existing store assets and digital capabilities enabled us to implement their shared inventory approach without making additional material investments," explained co-president Erik Nordstrom. 
"Order pickup is our most profitable transaction. This represents a meaningful opportunity to increase convenience for customers during the holidays and at a lower cost for us."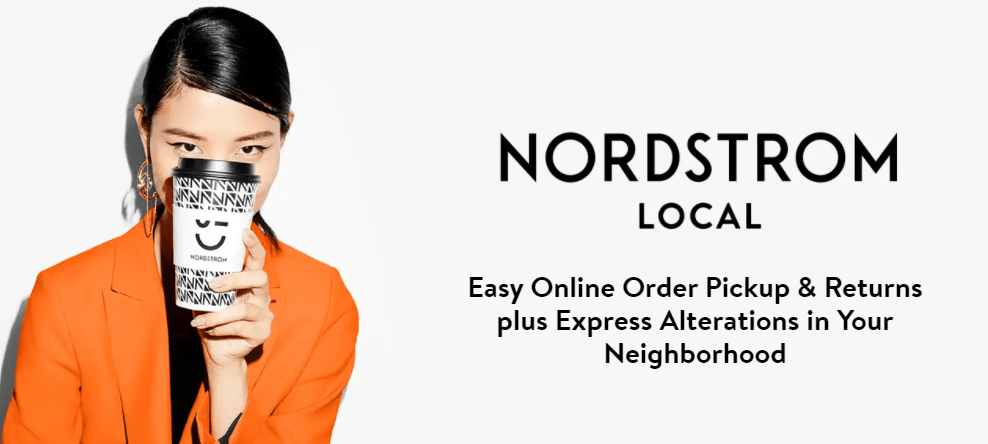 3. Petco
With over 1,500 stores all across the USA, BOPIS is the ideal solution for a company like Petco. After rolling out the service in 2018, the pet retailers quickly received more than 100,000 BOPIS orders, increasing their ecommerce revenue and number of new customers by more than 5%. 
Since the COVID-19 pandemic, Petco has adopted a curbside service that gives a 25% discount on orders over $50. When the order is ready, the customer receives an email with a number to call for curbside pickup. They ring the number on arrival, and the order is brought out to the customer's car. 
4. Lowe's
This home improvement giant brought its BOPIS strategy together by providing 88,000 smart mobile devices to all of its stores, giving them the capability to process BOPIS orders with an average of just two digital scans. They have also recently rolled out an area of pickup lockers in all of their stores, providing an even safer way of collecting same-day orders.
Shoppers can access their products with a one-time barcode, which is sent via automated email confirmation when their order is fulfilled. This means that customers don't have to wait in lines for the lockers, and it keeps the entire interaction quick and touchless.
"Our number one priority is making sure we are keeping things safe for our associates and customers while continuing to provide additional options to make it even easier to shop with us," said Joe McFarland, EVP of Stores at Lowe's. 
"With more than 60% of online orders picked up in our stores, this gives our customers one more option and the added convenience and flexibility to control how and when they get that order."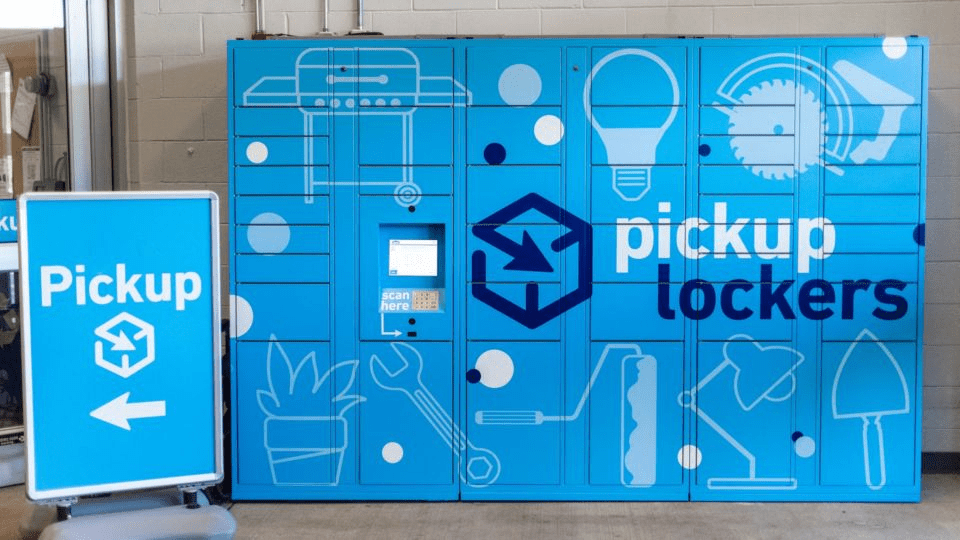 BOPIS is Here to Stay
BOPIS retail was already a growing trend, but the pandemic has accelerated its mainstream adoption to the point where it has quickly become part of the "new normal." In fact, by 2025, 10% of all retail sales are expected to be fulfilled using BOPIS.
However, while the model is pretty straightforward in theory (receive order, fulfill order, direct customer to nearest pickup location), there are some potential complications, particularly if you don't have your inventory and omnichannel strategy in tip-top shape. This is shown in a study by Forbes, who found that 24% of BOPIS orders were not ready for pick up even though the pickup notifications were sent. 
That kind of negative customer experience is sure to discourage shoppers from using your buy-online-pickup-in-store service in the future, so pay particular attention to your omnichannel capabilities. 
Check out Omnisend for a great example of fully integrated omnichannel marketing, helping you to coordinate perfectly across channels to deliver a smooth, seamless BOPIS experience for your customers!
Special thanks to our friends at
Omnisend
for their insights on this topic.