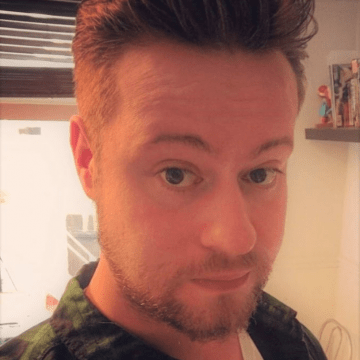 Tom Simpkins
Content Marketing Manager
Reading Time: 7 minutes
As an online merchant, you naturally want to spread the word about your website and your products to as many potential customers as possible. Carefully building a sizable email marketing list is one way for companies to do just that.
Once you have a healthy number of email addresses, you can carefully plan marketing campaigns and orchestrate eye-catching emails that increase sales.
However, with this list of potential customers virtually in hand, there can be one term that sends shivers down email marketers' spines—unsubscribe.
As an ecommerce business, it's time to change your mindset when it comes to email unsubscribes. Don't worry about the negatives your mind might conjure when considering your contacts unsubscribing. Surprisingly, there are often more pros than cons when it comes to unsubscribers.
You need to ponder—are you losing valuable customers or people who arbitrarily signed-up for an offer they never acted on? We explore the prospect of unsubscribing from emails and the value and importance of understanding your unsubscribers.
Should I worry about an email unsubscribe?
In so many words, no!
Sending emails to those who no longer wish to receive them can negatively impact your email marketing program. And, it hurts your bottom line since it costs money to send these emails.
Beyond the cost, those uninterested subscribers can reduce your open rate which, in turn, can decrease your inbox deliverability and revenue potential from your email channel.
This is why an email unsubscribe should be welcomed, not feared, by email marketers. To explore this more, let's look at the top reasons unsubscribes are actually a good thing:
1. Provides list growth baselines
We are often tempted to go shopping after spring cleaning, right? The same is true for securing new email subscribers after subscribers churn. Brands are constantly trying to increase their email list growth, but what growth rate is considered good? By understanding your unsubscribe metrics, you can better understand your list growth goals.
Let's say you have a common unsubscribe rate of 0.3%, equivalent to 200 unsubscribers per month. From a list growth standpoint, your bare minimum goal should be 200 new subscribers each month. If you find yourself growing your list at a slower rate, it's time to optimize your list growth strategies.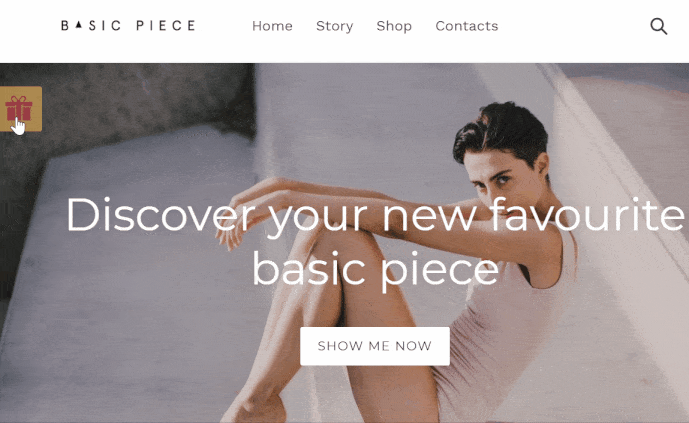 2. Reduces email marketing costs
Let's face it, sending email has a cost—even if you use an email platform's free sending tier. Sending to subscribers who would sooner delete your email than purchase something from them doesn't make sense, so why do it?
Each time you send an email and someone unsubscribes from it, it's one less disinterested person you need to email with the next campaign. Since you pay to send each and every email, each unsubscribe should be viewed as cost savings.
If you are using an email platform's free sending tier and are limited to the number of emails you can in a given time, these unsubscribes give you more room to grow your subscriber file with engaged consumers.
3. Stops your emails from being marked as 'junk'
For email marketers, the word "spam" is much more feared than "unsubscribe." When an email subscriber marks a message as spam, the email provider (such as Gmail and Yahoo) takes that seriously. This can have a negative impact on a brand's email deliverability.
If your audience doesn't want to unsubscribe or engage with your emails, they can list the emails you're sending as 'junk' or 'spam.' When someone unsubscribes from an email, they are politely telling the email service, "thanks, but no thanks."
While it's true that a regular number of unsubscribes don't negatively impact deliverability, the same can't necessarily be said of spam or junk designations. It's better to have them unsubscribe than mark your email as junk.
4. Unsubscribes keep your list clean
Someone who signed up for Black Friday deals everywhere and bought from a competitor isn't exactly a loyal or beloved customer. The same might be said for those who made a purchase and now ignore each of your emails.
Performing a little list cleaning and removing those who clearly don't want to receive your messages will help ensure your marketing efforts go to those much more likely to engage with them.
Maintaining a clean and healthy email list is a significant factor in maintaining good email deliverability, and will give you more reliable email marketing metrics. Consider this when managing your email list.
5. Unsubscribes can help you identify how often to send emails
One of the most asked questions by email marketers is, "how often should I send my marketing emails?"
The answer is always, "it depends." By understanding both your unsubscribe rate and the makeup of your unsubscribers (e.g., purchasers, non-purchasers), you can monitor your rates as you test an increase or decrease in send frequency—giving you insights into what the "right" number of sends is for your brand.
This same principle applies to automated remails, or booster sends. If you see a large spike in unsubscribes when using booster sends, it's a good indication that you should reassess your remail strategy.
6. Prime opportunity for feedback
Last but not least, when someone unsubscribes from your mailing list, consider taking them to a landing page that asks for feedback (which we'll touch upon soon). The feedback from those that are leaving you can help you when you're experimenting with new messages and campaigns.
Some of this feedback may drive your marketing towards alternatives to emails.
Consider marketing alternatives for unsubscribers
After a contact unsubscribes, you should consider alternative marketing. After all, between social media, texting, and casual web searches, maybe email just isn't their thing. It's worth thinking about different approaches and monitoring the effectiveness different channels have on your audience.
Some alternative marketing channels include:
SMS marketing
In 2020, there were 378% more SMS marketing messages sent than in 2019. This shouldn't come as a surprise. After all, do you ever go a day without texting?
If consumers stop engaging with your emails, SMS may be the way to go. Brands and consumers are rapidly adopting SMS as a trusted, opt-in marketing channel—and it is effective. SMS conversion rates increased by more than 100% last year, proving it can serve as both a complementary and stand-alone marketing channel.
Planning marketing campaigns with SMS requires a slightly different approach, yet we have all the SMS expertise you need to increase sales with SMS marketing.
While not as direct to a customer as email, social media marketing offers unique marketing benefits for ecommerce brands. By making use of social commerce, you can see increases in your ecommerce revenue, all while decreasing your email costs.
With Omnisend's Facebook Custom Audiences sync, it's possible to automatically move your customers from Omnisend in and out of your Custom Audiences and retarget them on Facebook and Instagram. Because you have a contact's email address and history, you can super-target your ads on Facebook and Instagram based on customers' real shopping behavior.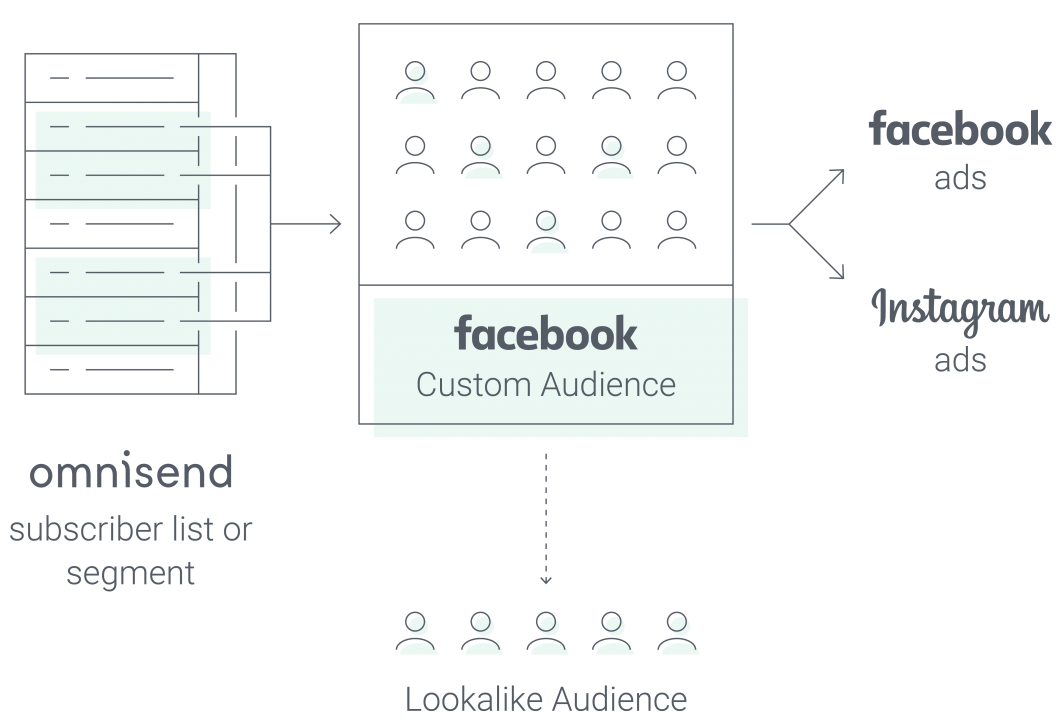 How to handle an opt-out email message
Many may be curious about opt-out email message examples, considering what to send with an unsubscribe email. However, there's one vital thing to remember with these—it's a terrible practice to send an opt-out email!
In terms of both engagement and metrics, there's no reason to send out any type of opt-out email. They will rarely result in anything other than angering customers—and that's if they open them at all.
But that doesn't mean all opt-out messages are a bad thing. There may be select instances where it is appropriate to confirm an opt-out. When considering how to handle an opt-out email message, it's important to make the most out of it.
Take is an example of an alternative to the opt-out email—a form that focuses on the brand as well as functionality. By using a manage preference landing page for those looking to unsubscribe, you can direct that traffic to somewhere that encourages feedback or provides better email subscriber options to continue.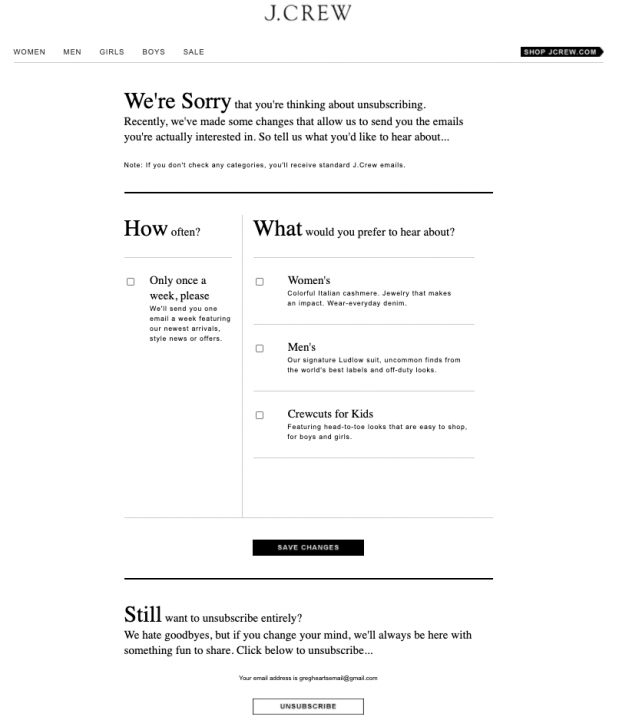 A feedback option, or simple option choice, can help you cater to your current and future contacts.
If you grant a contact a choice to unsubscribe or manage their preferences, they might choose to opt for the latter. However, this should not make you forget about the benefits of letting a truly non-responsive contact go. If a contact wants to unsubscribe from emails, let them!
The ROI impact of unsubscribes
If the benefits of unsubscribes don't hit home quite yet, then you should certainly consider how they impact your ROI. An easy way to calculate this is to consider the ROI of unsubscribers with the different types of purchase history, such as:
Repeat buyers: Customers who have bought from you more than once.
One-time buyers: Customers who have made a single purchase.
Non-buyers: Customers who signed up for your email program, yet have never purchased from you.
With this in mind, we can better examine the value of each unsubscribe. For example, if a repeat customer unsubscribes, it's much more damaging than a non-purchaser. You can take this one step further and analyze the average order value (AOV) and customer lifetime value (CLV) of the unsubscribed contact.
By determining a baseline for your unsubscribed contacts you can better calculate the true ROI of an email campaign and identify when changes to your program have a positive or negative impact. For example, if you add an additional booster sends (remail) to your weekly promotions schedule and find a large increase in repeat customers unsubscribing, it is a good indication that this strategy should be put on hold.
The benefits of identifying the different email subscribers who are leaving:
Repeat buyers: If a repeat buyer leaves, it may provide the most insightful feedback. Understanding what has caused them to unsubscribe, such as an increased send cadence. This is the feedback you can use to adjust your send strategy and prevent others from opting-out.
One-time buyers: Knowing you have a high number of one-time purchasers unsubscribing may be indicative of a poor post-purchase experience or product quality issues. You can use this to institute a better post-purchase series that checks in on first-time customers and ensures a better experience.
Non-buyers: If a non-purchaser unsubscribes, they don't take any proven revenue away from you. This allows you to clear up your contacts and focus on converting subscribers who want to receive your messages. This might also be a signal that you need to optimize your welcome series for better conversion.
Email unsubscriber wrap up
The thought of all your hard work resulting in email subscribers saying, "no thanks" can be daunting. Low open rates are one thing, but losing your audience altogether can seem like a nightmare. However, regardless of how valid or worthwhile a massive list of contacts may be, losing email subscribers can be highly beneficial to your business.
As you can see, there's no reason to shun, ignore, or even fear contacts unsubscribing. By focusing on list growth, complementary marketing channels, and providing relevant email marketing messages, you will not only learn to embrace the unsubscribe but use it as a tool to help you increase your email marketing sales.
Special thanks to our friends at
Omnisend
for their insights on this topic.