Guest Post
Field Experts
Reading Time: 7 minutes
The convenience of shopping from your couch and having things brought straight to your door is an appealing option to many customers. It's no surprise that in 2020, global ecommerce sales amounted to $4.28 trillion.
But this ease of shopping is taking a toll on the environment. Carbon emissions result from shipping orders, manufacturing the products and packaging; it all adds up and contributes to climate change.
Consumers are aware of how their shopping impacts the environment. Many are opting to shop online from businesses that provide sustainable packaging, products, and shipping. In fact, 88% of customers want to support brands that are actively working to help the planet, and will even pay more to do so.
By appealing to these consumers, you can strengthen your brand and capture new audiences, all while helping out the planet. If you want your business to prosper in the changing online shopping space, being environmentally friendly is not optional—it's a necessity.
Your Customers Want Sustainability
"Eco-friendly," "good for the planet," and "carbon neutral" are just a few of the terms consumers look for when seeking more sustainable options. As the younger generations join the workforce and their spending power increases, they are wary of what brands and companies they support. With this shift, sustainability is quickly becoming the bare minimum for Millennials and Gen Z when shopping.
The COVID-19 pandemic has only amplified this movement toward sustainability. Being at home, people have had to buy many of their products online—most of which they previously bought in stores. More consumers are opting for the business that makes efforts to be environmentally friendly, even if it's at an extra cost. Among Gen Z, 73% are willing to pay more for sustainable products—a marked difference from older generations.
Of course, you can't just advertise your products as eco-friendly without committing to sustainable practices. "Greenwashing," a term coined decades ago, refers to companies that simply claim they are environmentally friendly without showing any real proof or efforts of being sustainable. This is why it's important to be intentional in your sustainability initiatives.
Benefits of Sustainability for Ecommerce
When it comes to sustainability, there are no downsides. Not only do you contribute to the planet's health, you'll be at the forefront of ecommerce as the market changes to incorporate more eco-friendly practices. Sustainability can strengthen and grow your business in a variety of ways, whether it be boosting brand value, retaining old customers or capturing new ones.
Sustainability is Good for the Planet
The most obvious reason you should implement sustainable practices is for the planet. Without a planet, there wouldn't be any customers to serve! Protecting our shared home is important in order to ensure the well-being of yourself, your loved ones, and your customers.
It's no secret that ecommerce is bad for the earth. Last-mile delivery growth is poised to increase carbon emissions by 30% by 2030. Packaging plays a huge role in the negative impact of ecommerce, as over 3 billion trees are cut down each year to produce cardboard and paper packaging. These are just some of the reasons why we owe it to the planet to do our part.
Increase Customer Loyalty
Changing your practices to be more eco-friendly will help you retain customers. As we previously established, a majority of customers want to shop from and support brands that are sustainable and consistently making efforts to help the planet. Customers are loyal to brands that share their values, and changing your business model to be a little more eco-friendly will ensure you retain their interest.

More than half of Americans are more likely to buy from a company that supports the same causes that they do, and consumers are even willing to cut ties with brands that don't share their beliefs. Companies that pay attention to the rising bar around sustainability practice expectations will prosper.
Capture New (and Growing) Audiences
Being more eco-friendly will aid you in gaining new customers. Nearly 70% of consumers think that it's important for a brand to be eco-friendly. With so many options available (especially because online shopping allows people to buy products from anywhere in the world), customers will quickly pass on a brand that isn't sustainable and opt for one that is.
We mentioned that younger generations are growing up, and with them, their spending power. So appealing to them is imperative. These days, it's very easy for a company to go viral for their unsustainable practices, or for their eco-friendly ones. If you want to capture new customers, you'll have to keep up with demands to be eco-friendly.
Boost Cart Conversion
When you do capture those eco-conscious customers, your eco-friendly standards and practices need to be enough for them to hit "checkout."
Tools like EcoCart, a free ecommerce plugin, help brands easily make a difference and have proven to help spur sales. With EcoCart, businesses offer their customers the choice of making their orders carbon neutral at checkout. When clicking on the option, customers contribute to carbon-offsetting projects. Brands that added EcoCart to their store have seen an average 14% increase in cart conversions.
For example, Tribe Kelley, a clothing brand dedicated to producing high-quality and long-lasting pieces, integrated EcoCart in addition to their sustainable business practices. They also practice slow fashion, make their clothing locally, and are conscious about the fabrics they use. By adding EcoCart, they experienced a 19% increase in cart conversions—and lots of happy customers.
Plant-based supplement and nutrition brand Nuzest has seen a similar result since adding EcoCart to their checkout. Sustainability has always been a part of Nuzest—they source their ingredients from sustainable sources and opt for more eco-friendly containers for their products. After EcoCart, their cart conversions increased by 22%!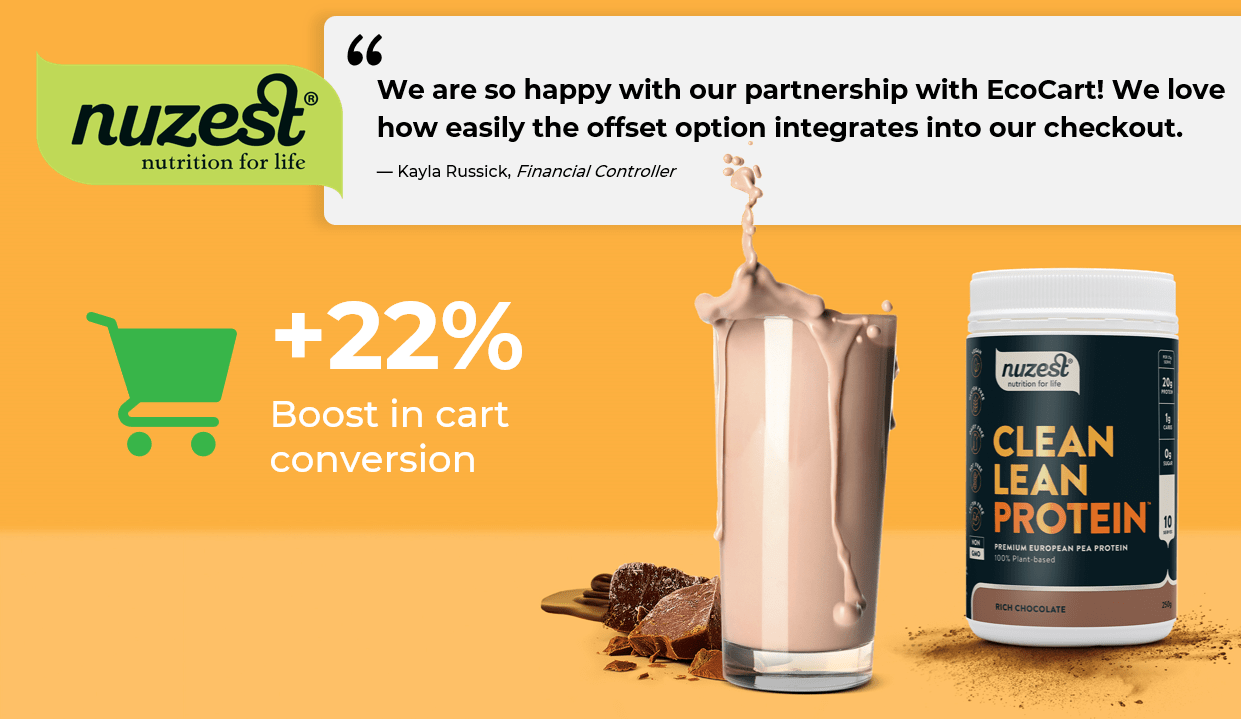 4 Ways to Make Your Brand More Sustainable
Now that you know how important it is to be a sustainable brand, what can you do? The answer varies.
Sustainability looks a little different for every business since they vary in size, market, products, and more. Also, changing your sustainability practices takes time and lots of small steps.
There are many ways to approach it. Here are a few ideas to get you started.
Use Eco-Friendly Packaging
One option that many brands have embraced is eco-friendly packaging. Packaging and box fillers made from post-consumer waste, or easier-to-recycle materials like cardboard and paper, are a few possibilities. Using paper tape instead of plastic, compostable labels, and biodegradable packing peanuts are all great alternatives to traditional packaging.
For example, EcoEnclose offers a variety of eco-friendly packaging to fit any brand's needs. Any packaging made of recyclable or renewable materials is eco-friendly, and helps reduce the amount of waste generated from e-commerce.
Reduce Shipping Times
Though it doesn't seem logical, offering customers slower shipping times can also help the planet. With expedited shipping, more trucks—with less cargo—are populating the roadways to satisfy demand.
The slower shipping option contributes to packing trucks closer to 100% capacity and therefore decreases the overall amount of trucks sent out and, consequently, carbon emissions. The more time a package has to arrive at its destination, the more efficient it can be. Plus, when offering slower shipping, you have more opportunity to consolidate orders into fewer packages, sending out fewer parcels overall.
Offset Your Carbon Footprint
Greenhouse gas emissions are one of the major causes of climate change. Unfortunately, many production and shipping tasks cannot be completed without producing emissions. While minimizing these emissions at the source is the best way to reduce your carbon footprint, offsetting whichever emissions you can't get rid of benefits the planet, too.
Carbon offsets allow your brand to counterbalance emissions generated from any and all business activities. By supporting these projects, you'll actively reduce carbon from the atmosphere. Projects include forest protection, building wind farms, and providing fuel-efficient cookstoves to families. EcoCart can help you offset the carbon emissions of shipping, and even the manufacturing of your products.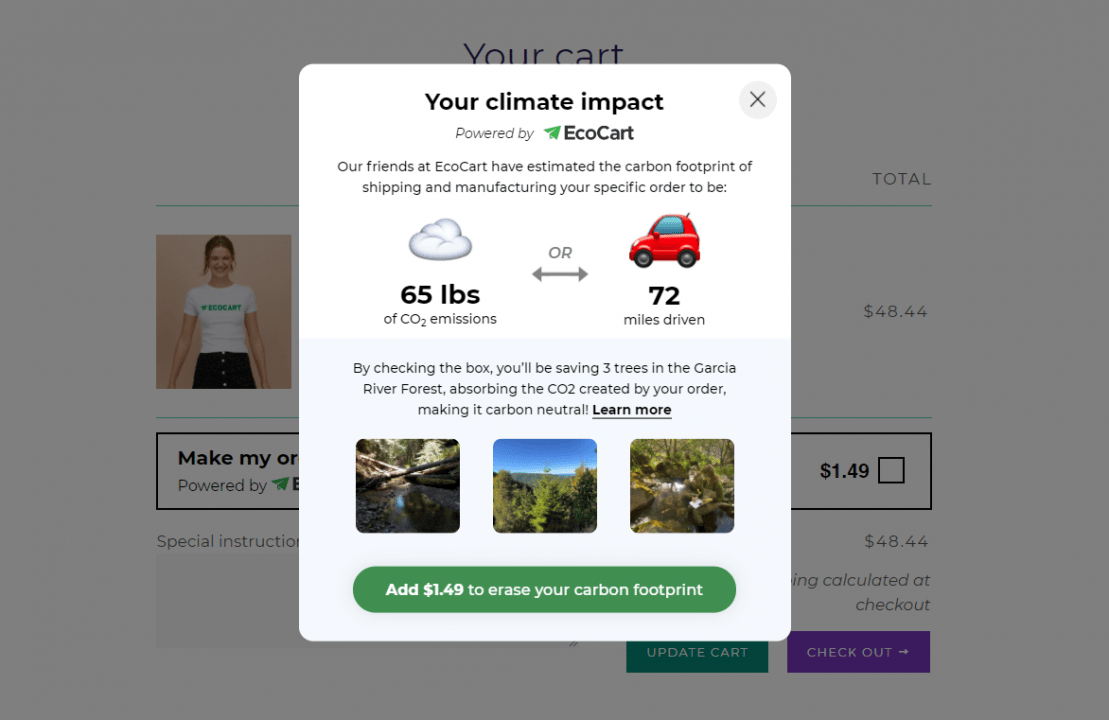 Optimize Your Website
While it's not an obvious option, optimizing your website to be more eco-friendly can help reduce your carbon footprint.
The internet uses a lot of energy, which means that a lot of fossil fuels need to be burned creating greenhouse gas emissions. By removing unnecessary elements, reducing the amount of moving images, and hosting your website on an eco-friendly server, you can reduce your website's carbon footprint (and often speed up your website, too!).
Not to mention, an optimized website is best for SEO and will improve your organic search results.
Conclusion
Being sustainable is the right choice for your brand and the planet. What started as a marketing ploy is quickly becoming a necessity for all brands in order to retain existing customers and gain new ones.
When implementing sustainable initiatives, it's imperative to communicate your efforts to your customers. By utilizing a marketing platform like Omnisend, you can effectively and easily share your various initiatives via SMS and email marketing.
Changing business practices to be more eco-friendly has never been easier. Small changes in your website, shipping, and production are all appealing to customers and beneficial to the earth. By becoming more sustainable, you'll be able to keep up with a changing market and ensure your business will excel for years to come.
Create an omnichannel experience without increasing your workload. Try Omnisend Free for 14 days!
About Our Guest Author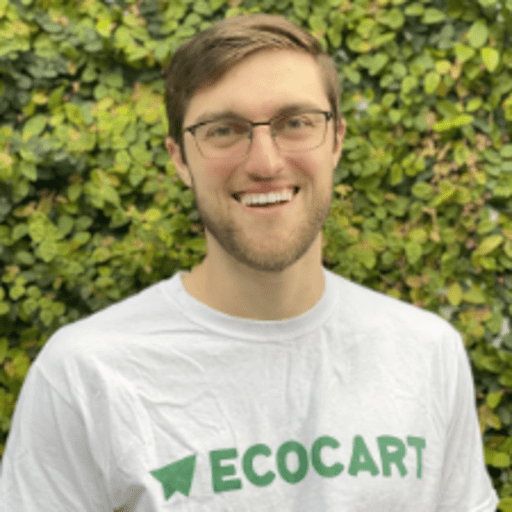 Peter Twomey is the co-founder and COO at EcoCart. Peter's professional passion is building software solutions that solve problems he experienced-first hand in his time as an entrepreneur. In his free time, you can find Peter skateboarding around San Francisco and cleaning up the beach with his dog Butters.
Special thanks to our friends at
Omnisend
for their insights on this topic.