Why Should Brands Start Thinking About Holiday Marketing Now?
If you are grappling with the age-old question: When should you kick off your holiday marketing campaigns, don't worry—you are not alone. Although there isn't a right or wrong answer, the holiday shopping season seems to start earlier every year. This year is no exception.
Data from eMarketer shows that half of consumers (50%) expect to start their holiday shopping before the calendar turns to November. So, to make the most of this holiday season, prepare for an early start to the holiday shopping season.
Last year, holiday season retail sales grew by 4.8% YoY, following two years of surging retail and ecommerce growth. According to eMarketer, we can expect a similar gain of 4.5% for the 2024 holiday season.
According to Numerator data, Thanksgiving and Christmas are the holidays with the highest expected spending, with 70% of shoppers planning to spend $100+ on Christmas.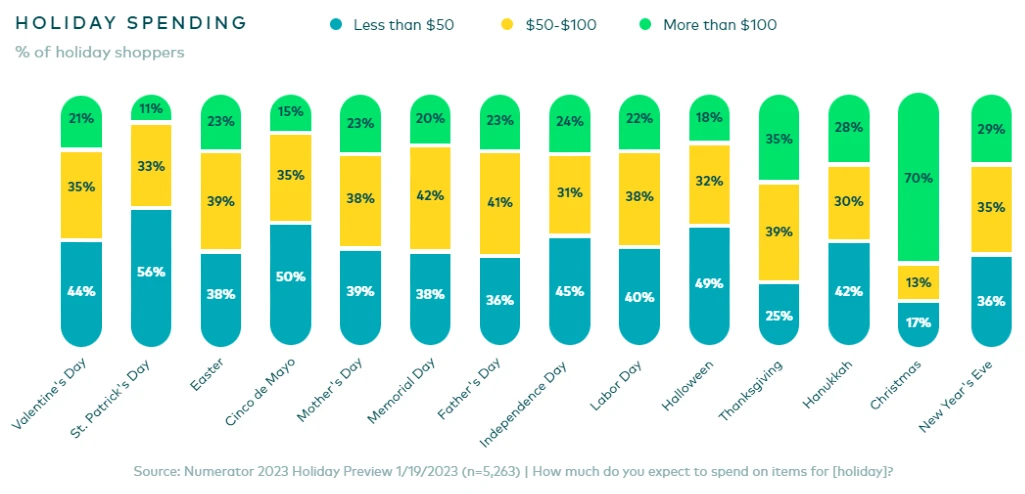 Similar to last year, CNBC predicts we can expect another discount-heavy season. Order activity shows retailers ordering less and expecting consumers to be looking for discounts and freebies to entice them to buy more.
However, if you want to differentiate from your competition, you can rely solely on discounts. Adding influencers to your marketing mix will help you reach your target audience and boost sales this holiday season.
Influencer Marketing Impact on Consumer Spending
Customer behavior has evolved significantly over the years. People use social media to discover new products and rely on influencers' recommendations for their next purchase. As a result, a new marketing playbook is emerging. Businesses that want to succeed in the latest commerce chapter must embrace influencer marketing.
Social media plays an essential role in the way people shop today. Data from Deloitte shows that 64% of digital buyers discover brands and products via social media. According to the same research, one in three consumers like to find things categorized by what is trending in their social circle. Influencer marketing comes into the picture—67% of social media users would consider a brand/product if promoted by their favorite influencer.
The rise of influencer marketing
The influencer marketing market has bloomed in recent years. According to Statista, the global influencer marketing market value stood at 16.4 billion U.S. dollars as of 2022, having more than doubled since 2019. 2024, the market was estimated at a record 21.1 billion U.S. dollars. Marketers say influencer marketing has the second-highest ROI, right after short-form video content.
With all these numbers in mind, it's no surprise U.S. influencer marketing spending will grow 23.4% this year to reach $6.16 billion, according to eMarketer's forecast. U.S. influencer marketing spend on Instagram will top over $2.75 billion this year, followed by YouTube ($1.09 billion), TikTok ($1.05 billion), and Facebook ($839.9 million).
Influencer marketing and customer spending habits
Customers are exposed to influencers' content daily. Data from Morning Consult shows that 72% of Gen Z and Millennials follow influencers on social media. Furthermore, 35% of American consumers purchased in 2022 after hearing a virtual influencer advocate a good or service.
Deloitte research confirms the significant influence that content creators and influencers have on customer spending habits. According to the study, 63% of Gen Z and 66% of Millennials are more likely to trust a brand if an online content creator they trust has reviewed a brand's product.
To top it off, younger customers trust influencers more than traditional advertisements. Deloitte's data shows that 59% of Millennials and 68% of Gen Z believe product reviews by online content creators are more authentic than brand advertisements.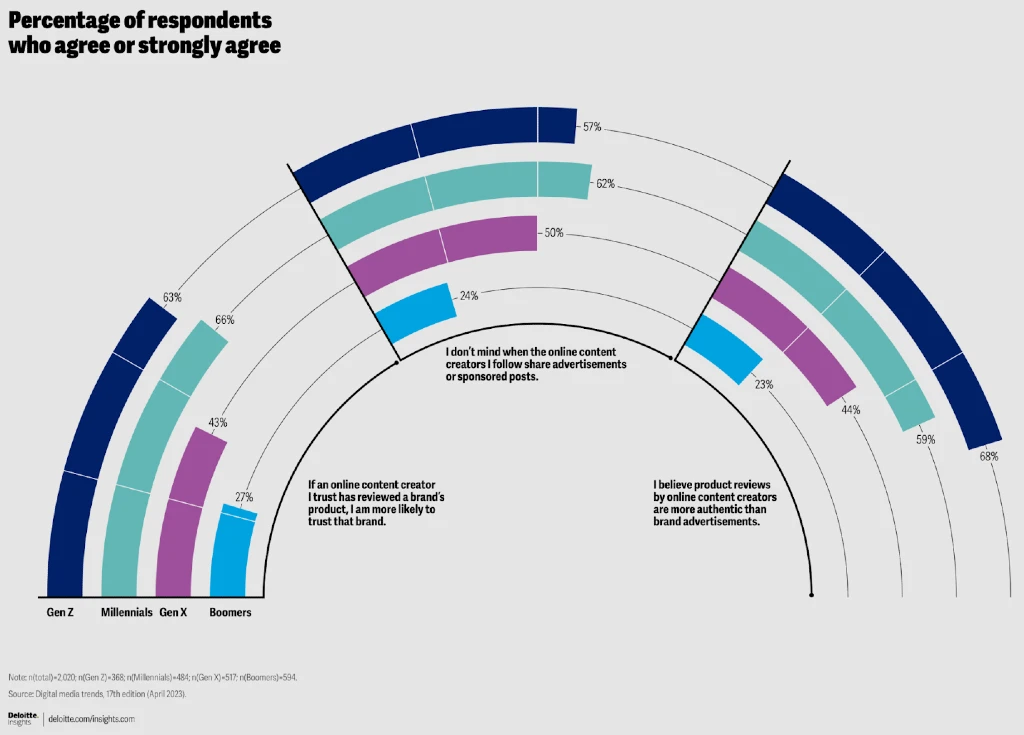 The importance of influencer marketing during the holiday shopping season
Influencer marketing is far more than just a brand awareness tool. Adding it to your marketing strategy during the holiday season can boost your bottom line. Data from McKinsey shows that social media influences most U.S. consumers' holiday-buying decisions and inspires more than 80% of younger consumers.
According to the research, 58% of consumers agree that social media influences their holiday season buying decisions. And of those consumers, the platforms that are influencing behavior the most are Facebook (67%), YouTube (57%), and Instagram (52%). However, platform preferences differed significantly by age. 87% of Gen Z are inspired by social media, with YouTube, Instagram, and TikTok being their most likely sources of inspiration.
Benefits of working with influencers
Businesses have seen positive results from influencer marketing, increasing their share of the marketing budget. According to Capterra, 65% of marketers indicate that their company plans to increase their influencer marketing spending despite a majority citing that they will decrease or hold steady on overall marketing spending.
Some of the most significant benefits of working with influencers include building trust or credibility (65%), creating content (64%), increasing engagement (62%), and increasing brand or product awareness (61%), according to the same research.
Building relationships with influencers can lead to longer-term collaborations. Going from ad hoc sponsored posts to lasting partnerships allows you to define a long-term influencer marketing strategy that brings tangible results.
One of the biggest challenges for content creators is maintaining consistent brand partnerships. Influencers are looking for more dependable and long-term streams of income. On the other hand, businesses are looking for content creators that will eventually become brand ambassadors. As a result, pivoting from one-off collaborations to long-term partnerships is a win-win.
10 Influencer Marketing Campaign Ideas for the Holiday Season
As you gear up for yet another holiday season, here are ten ideas for your next influencer marketing campaign to spice up your marketing efforts and get more sales.
1. Special discount codes through affiliate marketing
Affiliate marketing is a low-cost and low-risk way to boost sales. Since this is a performance-based model, businesses pay affiliates only if customers purchase through their unique link. If you are dipping your toes into influencer marketing, you can test this approach with micro or nano influencers and then scale your marketing budget.
Start by selecting the products you want to promote this holiday season and create special discount codes for your influencers. Once you set up the campaign, track the results and optimize.
2. Gift guides and recommendations
People are constantly struggling to find the right gifts for their loved ones. This can be your perfect opportunity to promote your products. Work with influencers to create customized gift guides for various audiences. They can curate a selection of your products that make great gifts and promote them on social media. Don't forget to include different price ranges to create recommendations that resonate with a broader audience.
"Influencers are the new recommendation engine, right? So, in addition to pitching media for inclusion in holiday gift lists, start using the same messaging in outreach to influencers by saying something like: 'We'd love to be included in your holiday gift guide this year!' You can sponsor their holiday gift guide in addition to other overt endorsements. Remember to communicate early and often since most holiday gift guides are curated months in advance," said Lia Haberman, Instructor of Social and Influencer Marketing at UCLA.
3. Countdown campaigns
Nothing says more "it's the holiday season" than countdowns. Get your audience excited for the holiday season with daily or weekly posts from influencers. Each post can highlight a unique aspect of your products or services, building anticipation among their followers.
4. Advent calendar collaborations
Advent calendars are the precursors of the holiday season. Instead of the classic box with surprises, create an advent calendar influencer marketing campaign where influencers share a daily tip, discount, or giveaway related to your brand. This strategy maintains followers' interest during the holiday season and fosters daily engagement.
5. Holiday challenges and contests
Suppose you are looking for ways to increase brand engagement and generate user-generated content. In that case, you can later repurpose design a holiday-themed challenge or game that influencers can participate in. Create a specific hashtag and encourage their followers to share their content. TPreparesome gifts for the most creative ideas. to make the contest more appealing
Another idea you can try out this holiday season is a social media takeover. Partner with a few influencers and allow them to control your brand's social media accounts temporarily. They can share their holiday experiences, stories, and perspectives, giving your audience fresh and engaging content. Taking your audience on a shopping spree, showing a "day in a life," or showing behind the scenes of their holiday preparations can be a great way to boost engagement.
"Allow influencers creative freedom," said writer Ashley Cummings. "Their audience follows them for a reason, and when you direct too much, it impairs authenticity, is obvious to the audience, and is a turn-off. I'd add that trends usually are born out of creativity, not following the crowd."
7. Holiday giveaways
Holidays are all about gifts, which makes them the perfect time for a giveaway. If you want to bring joy, partner with influencers to organize joint giveaways. This expands your reach and provides added value to both the influencers you work with and their followers.
8. Exclusive unboxing
The first thing that comes to everyone's mind about the holidays is gift unwrapping. If you want to introduce a new product, the holiday season is perfect. Partner with influencers for an exclusive unboxing of your new product to capture customers' attention and create buzz around the new product launch.
9. Charitable partnerships
It's always the right time to help those in need, but somehow, people are more aware of the importance of giving back and helping others during the holidays. To support a charitable cause during the holiday season, team up with influencers, and for each sale or engagement generated through their affiliate link, donate a portion to a chosen charity.
10. Proactive product seeding
Marketing consultant Grace Clarke recommends getting a jump start on relationship-building by seeding products aggressively pre-holidays, gathering UGC they generate, and then approaching them about whitelisting this content in November when the holiday season is in full swing.
"The seeds you plant now are the fruit you'll harvest next year. Identify who you want to be singing your praises in 2024. Build that relationship now, organically. Your first task should never (well, rarely) be a paid campaign," she said.
FREE CONTENT TO HELP YOUR BRAND GROW!
Incorporate Influencer Marketing in Your Holiday Season Campaigns: A Step-by-Step Guide
If you want to include influencer marketing campaigns this holiday season,but you are unsure where to start, here's a step-by-step guide to help you get the benefits of working with influencers.
Step #1: Define your goals
Before launching an influencer marketing campaign, defining your goals using the SMART framework is crucial. This sets a benchmark for measuring results and optimizing your campaign. By specifying goals upfront, you establish a North Star to guide your drive toward success.
Whether you want to reach a certain amount of sales, boost the average order value, increase the number of followers, or something else, follow the SMART framework to define Specific, Measurable, Attainable, Relevant, and Time-Based goals.
Step #2: Find the right influencers for your niche
Finding the right influencers on your own can feel daunting. About 8 in 10 (81%) report that their company typically discovers influencers using influencer search tools or software. Besides simplifying the process, using an all-in-one influencer marketing platform allows you to explore micro and nano influencers.
Working with micro and nano influencers can help you reach your niche audience and get the best bang for the buck. Influencer marketing is not limited to big names and celebrities anymore. Brands collaborating with nano and micro-influencers have witnessed the impact and engagement these content creators have with their followers.
According to Influencer Marketing Hub, 39% of brands prefer working with nano-influencers, followed by 30% opting for micro-influencers. The reason? Brands prefer nano and micro-influencers due to their cost-effectiveness, potential for long-term partnerships, and access to tightly-knit communities. Additionally, smaller creators are often more trusted by their audiences.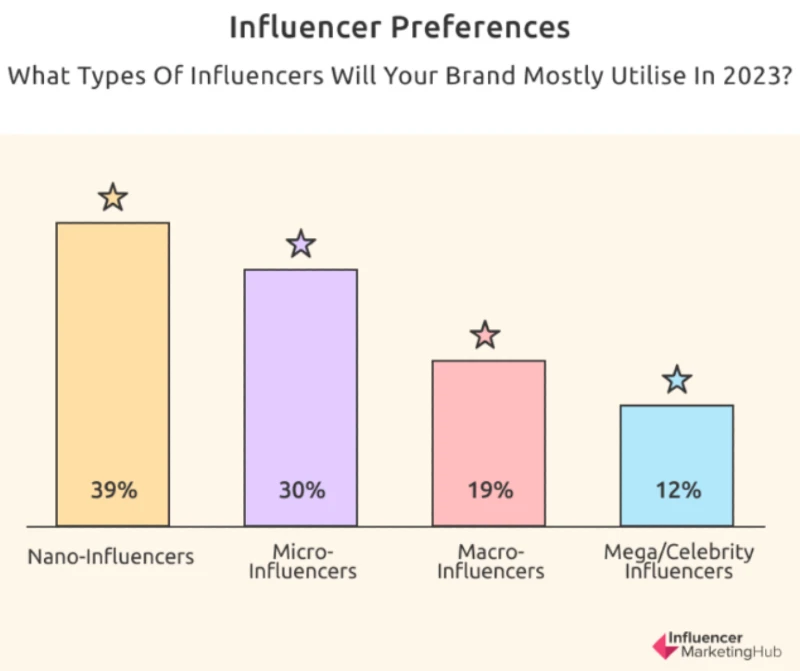 Step #3: Establish clear guidelines
Before reaching out to influencers, define your campaign expectations and guidelines. This includes the type of content you want, key messaging, campaign timeline, and specific requirements (e.g., hashtags, mentions, links). Clear communication is crucial to ensure your campaign aligns with your brand identity. Besides this, communicate the specific product features you want the influencers to highlight or provide any tips and examples they can follow to ensure they promote your products in the best possible way.
Step #4: Negotiate terms and details
Before moving forward, it is essential to discuss compensation, whether monetary, product, or a combination of both. Additionally, negotiate the terms of the collaboration, including content format, posting schedule, and usage rights. Setting the right expectations and ensuring that both parties are on the same page.
The negotiation phase is more accessible when using an influencer marketing platform. Brands can post collaborations with predefined terms and conditions that influencers are aware of before applying, which simplifies the whole process.
Step #5: Allow creative freedom
Influencers and content creators are creatives who need freedom to express their creativity. While you'll want to provide guidelines, allow influencers creative freedom toorganically  integrate your holiday campaign message into their content. Authenticity is kcriticalto maintaining trust with their audience. Influencer marketing works best when it's not forced and fits seamlessly iith what influencers post edaily
Step #6: Amplify content
One of the biggest hurdles for modern businesses is constantly creating social media content for your channels. The good news is that you can repurpose content and introduce new perspectives into your social media strategy with influencer marketing.
Once the influencers' content is live, promote it on your social media channels and website. Cross-promote by sharing their posts, stories, or videos on your brand's platforms to maximize the campaign's reach.
Step #7: Monitor and measure results
Since influencer marketing brings tangible results, you need tracking tools to monitor the pcampaign's performance Measure engagement, click-through rates, website traffic, and conversions directly linked to the influencer's content. Compare the results with your goals, assess the effectiveness of the campaigns, and adjust future strategies accordingly.
Nail This Holiday Season with Influencer Marketing
Working with influencers has never been easier. Unlike its beginnings when influencer marketing was reserved for big-name brands with big marketing budgets, today, the access to micro and nano influencers allows even small businesses to add influencers to the mix and reap the benefits. This puts you on a level playing field against big brands, allowing you to use creative campaigns to reach your target audience.
Whether you've worked with influencers in the past or you are just starting, the holiday season can be perfect to use influencer marketing to boost sales and reach your goals. From affiliate marketing and gift guides to holiday challenges, giveaways, and social media takeovers, there are countless ideas to spice up your online presence and capture your customers' attention.
Ready to make the most out of this holiday season using influencer marketing? Afluencer marketing platform like Afluencer will help you find the right influencers and prepare for the holiday shopping season. If you want to explore the power of influencer marketing and see how it can help you reach your goals this holiday season, install the Afluencer app for Shopify here.