What gets Fitness Brands to the top of their domain? Do these brands have awesome fitness influencers promoting their apparel and workout gear? Or do these brands simply have the best fitness products on the market?
What about both?
Hot workout resistance bands. Powerful progress cut-off tanks.  Military-style fitness tees. Game-changing leggings.  Comforting activewear. Stunning laser-cut sports bras and leggings.  Badass muscle tanks. And more amazing hot leggings.
And let's not forget you—creating uplifting and inspiring fitness content for your followers.
Fashion-conscious health and fitness influencers, we've got some hot brand collab opportunities that are right here for you.
Here are the top fitness brands of 2023 with exciting apparel and supplies looking for influencers to market their top-of-the-range workout gear:
Ready.  Set. Go!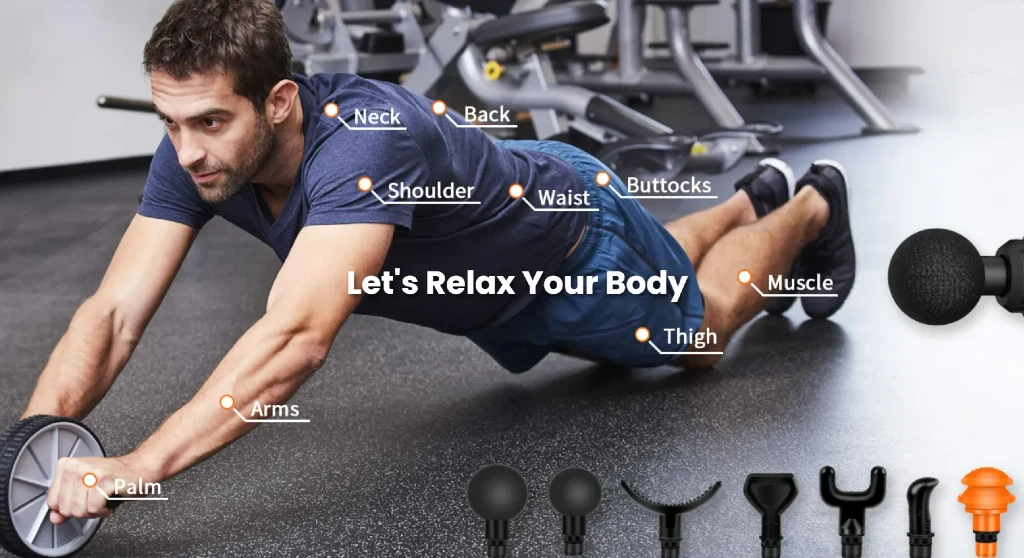 Fivali is the ultimate go-to brand for all your fitness needs, offering top-notch knee braces and massage guns that will make you jump for joy! Their mission? To boost your life with health and vitality, because let's face it, everyone deserves to exercise with confidence!
But here's the real excitement: Fivali is on the lookout for fabulous influencers and content creators who share their passion for sports, health, fitness, or wellness. If you've got a minimum of 1000 followers on Insta, TikTok, or YouTube, you could be in for a thrilling collab! Oh, and did we mention they're offering a fantastic 20% product sales commission? That's right—getting fit and making moolah? Sign us up!
Fivali may be currently focused on US-based influencers, but keep your eyes peeled, non-US pals because they plan to expand their collaborations worldwide as they grow. So, even if you can't join now, there's hope for an amazing partnership in the future!
Say goodbye to fitness woes and hello to the fabulous world of Fivali Fitness. Get ready to level up your wellness game and spread the word to your followers. It's time to team up with Fivali and promote a healthier future for ourselves and our communities.
Let's make fitness fun again!
---

If you're an influencer or content creator looking for a fitness brand that's as unique as your personality, look no further than Armour RX. This science-based nutraceutical company is all about addressing the untapped problems in the industry, offering proven alternatives to the usual suspects of drugs.
Let's start with their three main fitness supplements.
First up, we have Flight Armour. This remarkable supplement takes on the three major dangers of air travel: Jet Lag, DVT (Deep Vein Thrombosis), and Viral Immunity. Say goodbye to groggy post-flight days and welcome the boost you need to keep up with your adventurous lifestyle.
Next in line is Sibo Armour, a clinically tested solution for SIBO (Small Intestinal Bacterial Overgrowth). Unlike other supplements, Sibo Armour has clinical proof to back up its claims, ensuring that you can conquer this pesky condition and get back to doing what you love.
Last but not least, we have Thor, the muscle-boosting wonder. This powerhouse blend of Turkesterone and Ecdysterone promotes superior performance and natural gains. Whether you're a seasoned gym-goer or just starting your fitness journey, Thor is here to help you unleash your inner beast.
Armour RX doesn't mess around when it comes to scientific research and product efficacy. They've gone the extra mile to develop supplements that are truly innovative and impactful. So, if you're seeking a fitness brand that aligns with your adventurous spirit and health-centric goal, Armour RX is the perfect partner to amplify your fitness journey.
---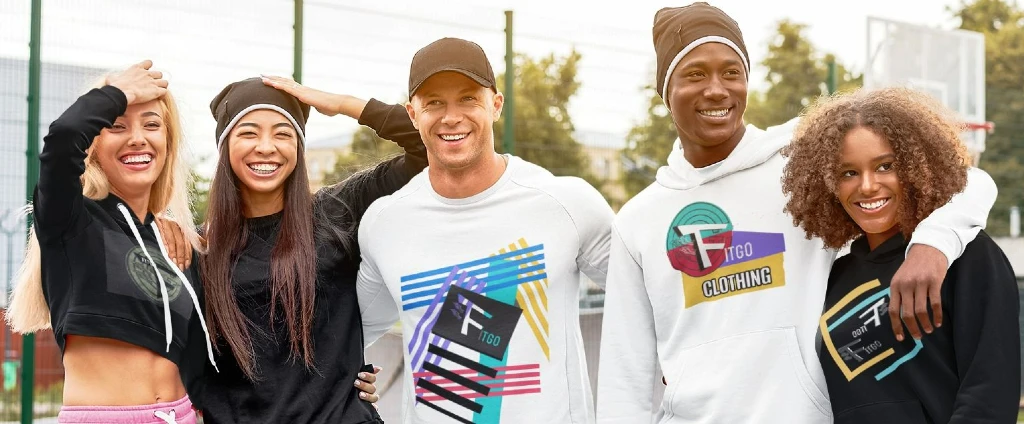 FITGO, the premier fitness brand, is revolutionizing the way people approach their wellness journeys. With a thriving e-commerce store offering a wide range of fitness apparel, gear, and supplements, FITGO caters to men, women, children, and even plus-sized individuals. They believe that fitness goes beyond physical exercise and encompasses mental and social well-being.
FITGO embraces the power of fitness as a holistic experience. Whether you prefer cardio, yoga, dancing, or strength training, FITGO can provide the perfect apparel and gear to maximize your performance. Their collection is designed to motivate and inspire, allowing you to wear your motivation proudly.
This is a brand that understands that true fitness extends beyond the body, reaching into the realm of the mind. And that's why their fitness line incorporates uplifting messages, promoting a positive and determined mental state. FITGO believes that a strong mind can conquer any obstacle and break through barriers.
Their mission is to empower health-conscious individuals with high-quality fitness apparel, athleisure wear, accessories, and services. As a socially conscious brand, they donate a portion of every sale to various charities, fostering positive change in our communities.
FITGO isn't just a brand; it's a movement.
So, what are you waiting for? Partner with FITGO today and embark on a journey towards a healthier, happier, and more fulfilled life. Help them to spread social, physical, and mental wellness, one step at a time.
Stay connected and never miss out on the latest Collabs, guides, and more from Afluencer.
mPort – 3D Full Body Scans for Tracking Fitness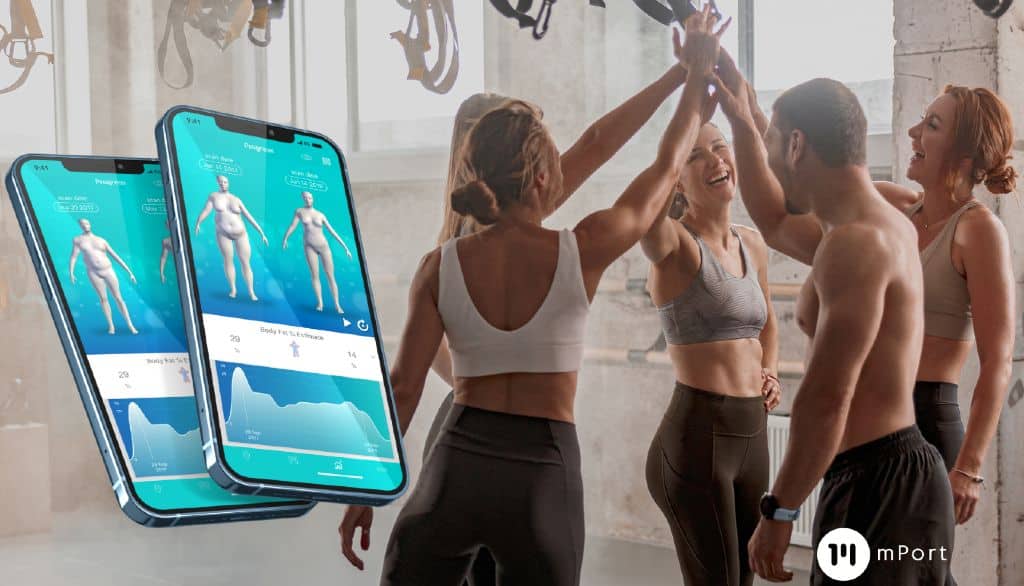 If you're big on fitness and find yourself frequenting gyms, then chances are that you've come across an mPod. Installed in over 600 gyms across the United States, the mPod is the world's first fully automated body mapping device. These standalone booths (also found in selected shopping malls) have been developed to run 3D full-body scans.
The ingenious minds behind this revolutionary technology are Fitness Brand experts, mPort.
When it boils down to fitness goals, tracking data about your body is super important to help you monitor your progress. But accessibility to fitness tools is just as important. And that's why mPort developed its body scan app that allows you to track your fitness progress from the comfort of your home.
Collabs
mPort is looking to Collab with Influencers and Content Creators aged 25 to 45 who would be excited to spread the word about their fitness app. Their vision of a successful Influencer Collab is to get more people to download their app and increase sales.
Earning potential: up to $351 per post
---

Fitness Brands step back! Make way for Muscle MX. Here's a Brand that stands tall behind its products. From CBD balms to lotions to gummies, their all-natural products are perfect for fitness recovery and to give you that pre and post-workout boost.
A previous customer of Muscle MX, Tim R says, "After using the Muscle MX balms, I have ZERO pain after my workouts. I repeat, ZERO!"
Their fitness products have been reviewed by giant publishers such as Forbes, Newsweek, and Men's Health.
Collabs
Muscle MX is looking to partner with social media Influencers in the CBD space to promote their top-quality products. Their main aim is to focus on creating content through Instagram Reels and Tiktok. However, they are happy to consider other channels too!
So reach out to Muscle MX and start talking about Collab terms!
Earning potential: 20% commission on sales
---

In case you needed some fiery workout inspo, then Chicks Who Lift will get you pumped up with apparel for your next training.  Designed in London and made in the U.S.—get squat-proof leggings, moisture-wicking sports bras, and more.
Designs like Wild Cat, Silly Cow, Tigress, Big Bear, Python, Snow Leopard, and Zebra will fire up the fitness animal in you—and maybe even inspire someone else too!
Influencer Program
Chicks Who Lift is looking for fitness, health, and fashion influencers to collaborate with and promote their brands' gear.
Influencer perks include:
10% commission on sales
Discount code
---

Squats. Lateral band walks. Hop bridges. And more squats. No pain no gain right? But how about more gain? More gain with lower-body resistance bands from VELA.
Along your fitness journey, sometimes you need a little push. VELA is that push that you'll love, every squat along the way.
These trendy fitness bands will take your workouts to the next level – available in stylish camo designs.
Fitness Influencer Program
Fitness influencers, inspire your followers to work out with VELA's hot resistance belts.
Create your own workout using VELA and post it to Instagram, Facebook, or TikTok.
Influencer perks include:
10% commission on sales
Free products
---
→ Top Tips on How to Entice Influencers to Join Your Affiliate Program

Whether you're a basketball fanatic or you're an avid player, among all your collectibles and gear, you can never have too many jerseys—right?  So bounce over to SportsWRLDD and check out their collection of basketball jerseys, available in some of your favorite teams and players.
SportsWRLDD jerseys are made from breathable heavyweight polyester that is dry wicking and embroidered with player names and numbers.  Shorts are also available.
Fitness Influencer Program
USA streetwear and men's fashion influencers—SportsWRLDD would love to collaborate.
Influencer perks include:
10% commission on sales
Your followers get free shipping
---
Progress Gym Wear — Fitness Apparel Brand

Progress.  The thing we're all chasing after on a daily.  Moving forward towards our goals. Fitness is certainly one of them.  So motivation, inspiration, and a whole lot of positivity are welcome.  Especially when it comes from Progress Gym Wear.  Progress statement cut-off tanks and t-shirts in appealing black, khaki, sand, blue and red colors are a fantastic dose of feel-good.
Progress is your fitness apparel companion that will boost you through your journey and inspire you to keep making progress – for men and women.
Fitness Brand Ambassador Program
Are you passionate and dedicated to the fitness lifestyle and would you love to join #TeamProgress?
Then here's your chance to become a Progress Gym Wear influencer and help grow their fitness apparel brand.
Earn a commission of 10% on sales and also get a 15% discount on your own purchases.
You must be passionate about the health and fitness lifestyle and must be able to take high-quality photos.
TohoFit — Military-Style Fitness Apparel

When the going gets tough, the tough put on their fighting spirit.  Plus it helps to wear a military-style fitness tank or tee, too. Fighting your everyday battles with fitness and military lifestyle brand, apparel from TohoFit, couldn't get any more uplifting.  From crop hoodies, and crop tanks to flag tanks, and the hot red patriot tee for the ladies.  While men can work it out with flag tees and hoodies.
Fitness Brand Ambassador Program
TohoFit is looking for fitness influencers with a passionate active lifestyle that would like to share this brand with their followers.  Influencers must not be representing any other fitness brands and must be fully committed to tasks.
Fitness influencers will be required to create and publish content relating to the brands' workout gear on a weekly basis.  Reward levels are applicable with a 20% discount on purchases and a 5% commission on sales to start.
---
Curve Envy Fitness — Game-Changing Leggings Collection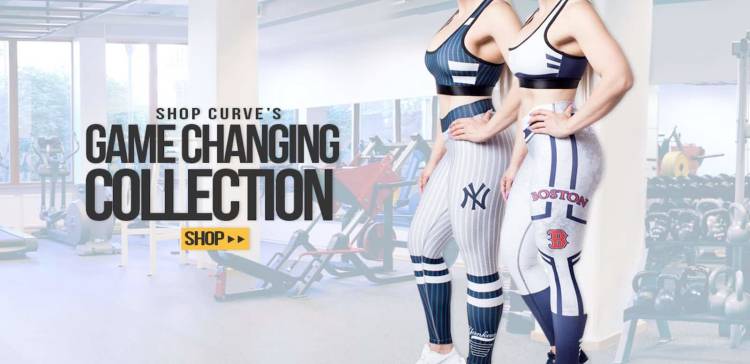 WOW.  I'm impressed.  I'm convinced that I've just discovered the hottest selection of leggings from Curve Envy Fitness.  You most certainly need to check out their game-changing collection for yourself. Totally unexpected but super hot.  Legging outfits in your favorite game teams. From NY Yankees, and LA Dodgers to Curve Boston Red Sox leggings.  Then there's the Drakon collection with my fav emoji love high waist leggings.
Fitness Brand Ambassador Program
Fashion-forward influencers, here's an opportunity to promote a hot fitness apparel brand.  Especially if you're passionate about an active lifestyle.
Get a 15% discount code and also earn a 10% commission on sales.
---
Girls Got Fitness — Everyday Activewear

If your fitness gear has become part of your everyday wardrobe then you'll love the Girls Got Fitness brand.  You'll get all the activewear you need to complement your fitness lifestyle.  Like the gorgeous black Jessie burnout leggings. Or perhaps the sleek Ava leggings. Then there are all the beautiful sports bras, tops, and bodysuits for your active fitness needs.  Move and enjoy comfort in this gear.
Fitness Brand Ambassador Program
If you're passionate about your lifestyle and share your fitness enthusiasm with your followers, then this collab opportunity is definitely for you.
Promote Girls Got Fitness and you'll earn some tasty influencer rewards.
---
Love Fitness Apparel — Beautiful and Fashionable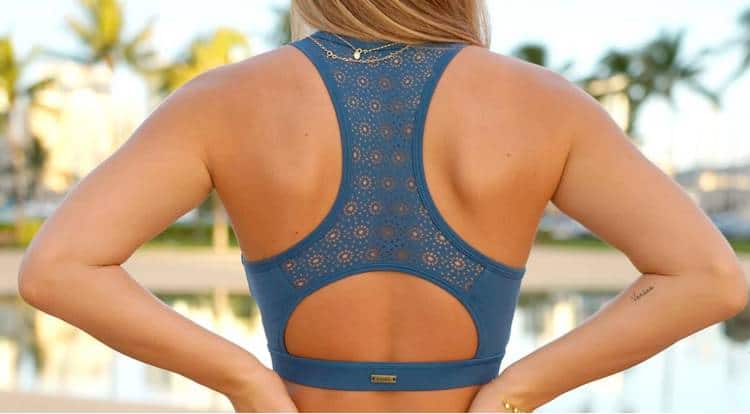 When a fitness apparel brand is inspired by Aloha, you can expect something beautiful.  Love Fitness Apparel is all about striking detail.  Like the pretty laser-cut sports bras that you'll immediately fall in love with.  And the figure-flattering laser-cut black Allure seamless leggings in the urban collection.  These sports bras and leggings come in all the hot colors you'll love. From stone-washed, black, grey, teal, maroon, and more.
Fitness Brand Ambassador Program
This opportunity is for both elite athletes and social influencers with a passion for fitness and fashion.
Influencers get free apparel, discount codes to share, commissions on sales as well as an opportunity for sponsorship.
You'll need to send a detailed resume as part of your application.
---
The Omega Fitness — Premium Wear for Men & Women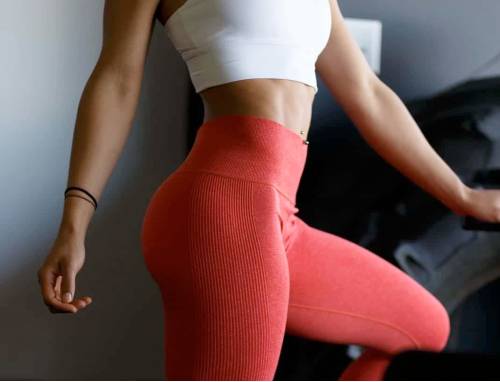 For outstanding quality fitness apparel, Omega Fitness is where you need to shop.  This premium fitness apparel brand will certainly amaze you with the quality and design of its fitness wear.  Let's start with their hot leggings that are super stretchy and come high-waisted with a supportive ribbed waistband.  Available in coral, army, gunmetal, and more. Sports bras, too.
Oh, and do check out their men's section with tanks, tees, and hoodies.
Fitness Brand Ambassador Program
Would you like to share and inspire your followers with your active lifestyle?
Fashion fitness influencers, you should certainly check this gig out.
Influencers of Omega Fitness are required to create images and video content as well as become knowledgeable about the brand.
Influencer perks include 30% discount codes plus a 5% commission on sales.  You'll also have an opportunity to be featured on the brand's social accounts.
---
Fervid Fitness Apparel — Charges Up Your Workout

If a fitness apparel brand gets you all charged up before you've even started working out, you can get excited about your journey ahead.  And that's what Fervid Fitness Apparel is all about.  Just browsing through the brands' fitness gear collection online is enough to get you excited.  What more when you've thrown on that fresh white USA strong crew tee? Or that flowy crop top?  Or what about that badass snatch heavier muscle tank?
Fervid Fitness Apparel gives you so much to love and feel inspired about your lifestyle.
Fitness Brand Ambassador Program
If you have a social media following, big on fitness, then Fervid Fitness Apparel wants to hear from you.
If you collab with these guys, you would then be required to publish 2-3 posts per month, featuring clear images.
Receive a 25% discount code for your own purchases, get a 15% coupon code to share with your followers and you'll also earn a commission on sales.
This originally appeared on
afluencer
and is available here for wider discovery.