Say hi to Melody Dukaj, your go-to lifestyle micro-influencer who knows how to keep things fresh and positive! With a passion for all things beauty, home, motherhood, and DIY, Melody's Instagram feed is a treasure trove of inspiration.
Melody's secret sauce lies in her captivating captions that effortlessly draw readers in and leave them motivated to conquer their own daily challenges. Whether you're looking for a skincare routine that actually works or seeking life hacks, she's got you covered with her genuine enthusiasm and expertise.
But that's not all! Melody's popularity has caught the attention of numerous brands in the lifestyle niche, resulting in paid partnerships scattered across her Instagram page. She's a pro at showcasing their products in an authentic and engaging way.
So, if you're a brand in the lifestyle industry searching for a collaboration with micro-influencers that will make waves, look no further! It's time to reach out to Melody and join forces with this talented influencer. Together, you can create content that resonates with her dedicated audience and helps your brand shine. Get ready to take your brand to new heights with Melody by your side!
---

Get ready for a thrilling journey into the captivating world of @justmelody. This lifestyle micro-influencer creates a whirlwind of excitement that will inspire you to upgrade your lifestyle. Vibrant colors, dazzling smiles, and a whole lot of positivity await…
Melody Robinson is a gem, a true creative who has mastered the art of delivering top-tier beauty and lifestyle content. With each post, she takes us on a ride through her universe, showcasing her incredible talents with passion.
From skincare and travel, to cool collabs that will have you reaching for your credit card, Melody is a force to be reckoned with. Did we mention she's got double-digit engagement rates? She is definitely doing something right.
So, if it's lifestyle content you want, Melody is the one you need. Let her captivating content transport you to a world where inspiration knows no bounds. Get ready to be swept away by the sheer brilliance and infectious enthusiasm that is Melody!
---

East Coast folks! Get ready to dive into the captivating world of @alliehbennett on Instagram. This gal knows how to bring fun and charisma to your feed! Check out her page and you will find soon yourself in a visual wonderland.
Allie's feed is an absolute blast, filled to the brim with vibrant colors and infectious smiles. From her workouts and adventures around the country to her quirky everyday moments, she's got your lifestyle content covered. You'll discover jaw-dropping landscapes, mouthwatering culinary creations, and the most heart-warming meetups with friends.
But that's not all! Allie's charismatic personality shines through every post, leaving you feeling like you are right there beside her, experiencing all the laughter and excitement firsthand. Her hilarious captions and witty anecdotes are guaranteed to make your day brighter and your sides ache from laughter.
So, whether you're a travel enthusiast, a foodie, or simply seeking a daily dose of positivity, @alliehbennett's Instagram is an absolute must-follow for lifestyle content. Get ready to be charmed, entertained, and inspired by this vibrant influencer. Trust us, you won't be able to resist hitting those "follow" and "Invite to Collab" buttons!
---

Meet Mayra, the sunshine-infused lifestyle micro-influencer hailing from the land of endless summers, California! With a heart full of adventure and a zest for life, Mayra's content radiates the joys of embracing both motherhood and a vibrant lifestyle.
As the proud mama of three outdoor-loving sons, Mayra's days are a whirlwind of laughter, mud-splattered clothes, and unforgettable memories. And let's not forget her fur baby, a mischievous husky who adds a touch of wildness to their everyday escapades!
Mayra's online world is a captivating blend of storytelling and tasteful imagery. And oh, her captions? They're as authentic as they come, like sitting down with an old friend, sipping some tea (which she loves, by the way), and sharing secrets under the stars.
But that's not all! Mayra's collaborations with brands from various niches showcase how seriously she takes her content creator role. She's always on the lookout for unique partnerships that leave her followers longing to join the fun.
So, if you're ready to embark on a whirlwind of lifestyle inspiration and motherly magic, let Mayra know you're up for a Collab.
---

Adrienne, a talented lifestyle micro content creator hailing from Boston, Massachusetts, captivates her audience with an enchanting blend of family-centric moments, home decor inspiration, and fashion styling. Through her Instagram account, she invites viewers into her world, where her loved ones, including her kids and husband, take center stage.
With an eye for aesthetics, Adrienne effortlessly infuses her home with charm, sharing delightful glimpses of her decor choices that are sure to inspire and spark creativity in others. From cozy living rooms to vibrant play areas, her passion for creating inviting spaces shines through.
But that's not all! Adrienne's flair extends to fashion, as she curates delightful outfits that showcase her unique sense of style. Whether it's chic ensembles or casual attire, she effortlessly combines comfort and elegance, encouraging her followers to embrace their own personal fashion journeys.
Perhaps one of the highlights of Adrienne's content is her infectious sense of humor. With witty captions and playful moments, she sprinkles laughter throughout her feed, making it a joyous experience for everyone who follows along.
Adrienne's Instagram account is a delightful blend of family, home decor, fashion, and laughter, ensuring that her audience is constantly entertained and inspired. That sounds like the perfect Collab partner!
---

Meet Ariele, a vibrant lifestyle micro-influencer hailing from the US! With a genuine passion for guiding and inspiring others, she wholeheartedly embraces her role as a source of inspiration, support, and advice. As the visionary founder of the popular lifestyle blog, American Woman, she pours her heart and soul into sharing everything she has learned to make life better. Count us in!
Ariele's infectious enthusiasm shines through as she generously imparts her wisdom, offering a treasure trove of tips and tricks on how to live your best life. Whether it's food, caring for the earth, parenting, or self-care, she leaves no stone unturned. But her influence goes beyond the online realm, as she effortlessly juggles her responsibilities as a devoted mom.
Through captivating videos and stunning imagery, Ariele brings her content to life, ensuring a rich and immersive experience for her followers. Her dedication to delivering valuable, high-quality content in multiple formats truly sets her apart. Ariele's genuine desire to uplift and empower others makes her a beacon of positivity in the digital landscape. Join her journey, or… you know, invite her for a Collab, and let her show you the path to a brighter, more fulfilling life!
---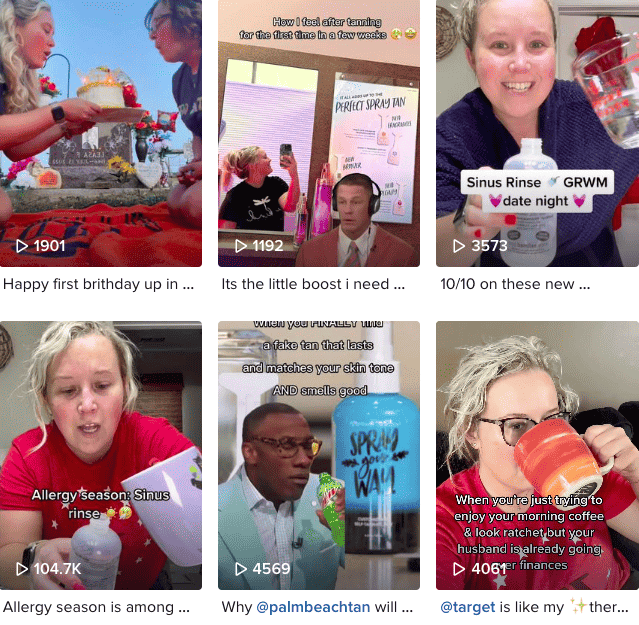 Meet Emilee, the one and only "Sinus Rinse Girl"! This lifestyle micro-influencer has taken the world by storm with her love for… well, rinsing her sinuses! Emilee knows no boundaries when it comes to sinus cleansing. And where does she showcase her extraordinary talent? None other than her channel on TikTok @emileechestnut.
But it's not just about the rinses. Emilee exudes a fun, positive attitude that's contagious. Her smile is radiant, and it's hard not to grin along with her as she performs sinus miracles. And let's not forget her hilarious memes! This girl's got a wicked sense of humor, and she knows how to tickle our funny bones.
So, if you're ever feeling down, just head over to Emilee's channel. She's the one who'll make you laugh until your sinuses ache—in a good way! Who knew nasal hygiene could be so entertaining? Emilee, the Sinus Rinse Girl, brings smiles, laughs, and squeaky-clean nostrils to the world, one rinse at a time! Invite her for a Collab to get in on all this fun!
---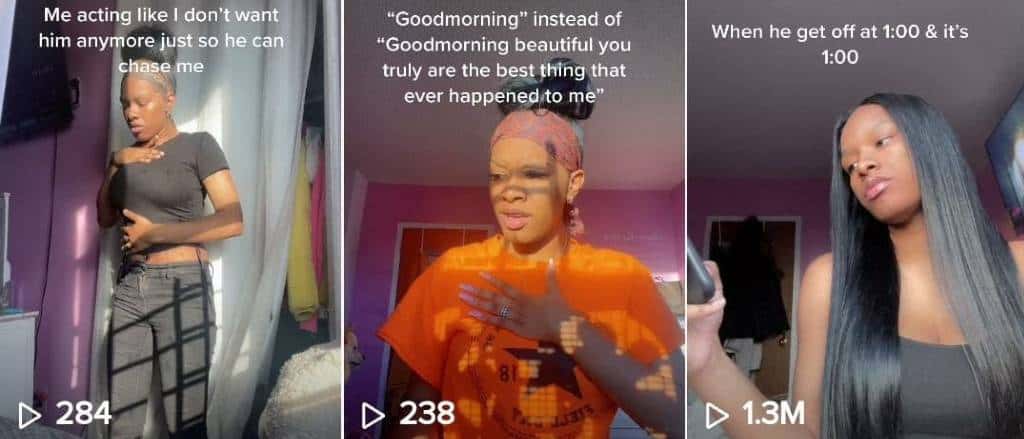 Abby Lin is a 21-year-old African-American lifestyle influencer living in New York. She loves to post about the everyday challenges of being a Gen Z woman in a rapidly evolving world. Her content is relatable, and funny, and also carries a unique undertone.
With a special focus on women's fashion, Abby provides outfit inspiration to her followers looking for creative ways to put together interesting, colorful pieces.
Abby recommends her go-to brands often so her followers can see the versatility of different staple pieces on her TikTok. Here, she shares snippets of her internal mental dialogue dressed in well-put-together outfits.
With 3,900 followers, Abby is certainly an ideal pick for brands catering to African-American women's styles. Abby is also a great pick for brands looking to partner with Gen Z and millennial-focused content creators.
So if you're looking for lifestyle micro-influencers who are big on fashion, Abby is your best bet.
---

Sunshine seekers! Prepare to be swept away into the delightful world of Dana and her family at @simplelifeofsunshine on Instagram. This quirky and friendly soul knows how to infuse everyday life with a dash of whimsy and a whole lot of smiles.
As they say, it's the simple things in life: get ready to embark on a journey of simplicity and joy. Dana's feed is like a warm hug on a chilly day, filled with cozy moments and heartwarming adventures. From sipping hot cocoa by a crackling fireplace to munching on comforting snacks, she knows how to find the magic in life's simplest pleasures.
But wait, there's more! Dana's personality shines through every post, adding a splash of laughter and wholesomeness to your scroll. You will find yourself giggling at her hilarious antics and playful captions.
So, if you're in need of a daily dose of sunshine and a reminder to embrace the whimsical side of life, @simplelifeofsunshine is your go-to account. Get ready to befriend this delightful soul and join her on an adventure filled with laughter, warmth, and a whole lot of quirkiness. Trust us, you won't be able to resist becoming a part of her growing sunshiny community!
---

​​Meet Alexandra, better known as Lexie, a lifestyle micro-influencer whose online world is brimming with positivity, inspiration, and creativity. With a focus on recipes, motherhood, sustainability, and DIY, Lexie's content is a refreshing blend of warmth and practicality.
As a loving mom of one with another little bundle on the way, Lexie's heartfelt captions draw you in, offering thoughtful insights. Her Instagram account is the perfect hub to explore her engaging content.
Lexie's channel extends beyond her personal journey, generously inviting her followers to be part of her family adventures. It's a remarkable experience that makes you feel right at home.
While Lexie's passion shines through organically, she also collaborates with various brands through paid partnerships, making her a valuable ally to boost your brand's reach and reputation.
If you're seeking a Collab that will propel your brand to stardom, inviting Lexie into the mix is a great choice. Get ready to embark on an exciting journey together!
---

Alexa is a travel writer, lifestyle influencer, and digital creator based in California. She shares her travel stories, guides, hotel reviews, and vacation tips with fellow globetrotters on her blog called livingbylex. Her Instagram features reviews of the products she swears by, easy recipes, exotic locales, and so much more.
She has over 25,000 Instagram followers and her feed is a travel journal mixed with the occasional product review. Each post is artfully curated and helps her audience travel around the world vicariously through her adventures. Free People and Lattelier are some of the brands that supply the wardrobe for her enviable travel pictures.
---

Agus Wibowo is a lifestyle blogger based in Indonesia. On Instagram, he talks about products in varied categories ranging from tech gadgets, to travel, to health, and beyond. He also has a blog called awidiot where he shares detailed reviews of tech products, travel destinations, and health advice.
Agus is at the micro-influencer level but has a steadily growing Instagram account with over 1,200 followers. He not only talks about the features of a product but also shares the ways in which they can have a positive impact on one's lifestyle. Thus, making him a great choice for brands looking for tech-focused lifestyle micro-influencers to work with.
---

Meet Cassie and Alexa, your friendly neighborhood lesbians and lifestyle micro-influencers! These two amazing individuals have a passion for all things DIY and are currently embarking on an exciting journey of DIYing their first home together. From crafting unique home decor to tackling renovation projects, they bring their creative flair to every corner of their cozy home.
When they're not immersed in DIY projects, Cassie and Alexa find solace in their beloved garden. They have a green thumb and take great joy in cultivating a variety of plants, adding a touch of nature to their homey atmosphere. They love sharing their gardening tips and tricks, along with delicious garden-to-table recipes that are sure to tantalize your taste buds.
But that's not all—Cassie and Alexa are also documenting their heartfelt journey to start a family. With open hearts and an unwavering spirit, they are embracing the joys and challenges that come with building a loving home for their future children.
Hailing from Maryland, this dynamic duo embodies the warmth and charm of their community. Their genuine enthusiasm and down-to-earth nature make them relatable and approachable.
If you're looking to collaborate with talented individuals who are passionate about DIY, gardening, and creating a welcoming environment, don't hesitate to reach out to Cassie and Alexa. Together, you can bring even more inspiration and joy to the world!
---

Aimee is a UK-based micro-influencer focusing on lifestyle blogging and also photography. She loves to share beauty and makeup tips on her Instagram page with over 1,900 followers. Aimee frequently redirects her viewers to her YouTube channel where she shares unboxing videos, skincare, and makeup routines, as well as product reviews and snippets from her daily life.
Her Instagram aesthetic is eclectic: you'll find uniquely crafted beauty content intertwined with personal experiences and life updates. She takes her followers on a journey to discover varied fashion and beauty products, sharing her unfiltered reviews through creative posts, reels, and videos.
Revolution Pro, Makeup Revolution, and Alya Skin Aus are some of the brands she frequently collaborates with. Her thumbnails feature their products on her skin and she also makes a note about her experience of using them.
---

Alexandra (or Alex as she likes to be called) is a digital nomad who travels the world. She is a photographer, digital creator, traveler, and marketing entrepreneur with an impressive list of achievements under her belt. A liberal arts graduate from Harvard University, Alex has amassed over 17,700 followers on her Instagram page in less than six months.
She frequently collaborates with brands and incorporates their product in a scenic setting with an informative caption. What better way to sell a sports bra (Knixwear) than with a sun-showered picture on a hiking trail? Or a pair of white sneakers (Merrell Canada) set against a blanket of red-yellow autumn leaves?
Her Instagram account is a travel diary where she shares her experiences, must-visit places, hotel recommendations, and travel tips with anyone planning their next vacation. So head to her feed and explore the ways in which she can add to your brand image and provide thoughtful lifestyle content through a masterfully created Instagram collaboration.
---

Alejandra (Alex) Fernandez is a family lifestyle blogger and runs her Instagram account by the name of three little ferns where she shares lifestyle tips, parenting advice, DIY craft videos, and so much more. A proud mom of three and a military spouse, Alex shares her experience of being a military wife, raising her kids, and celebrating small milestones in her daily life.
She currently has 11,400 Instagram followers, and her feed is a mix of Fun DIY craft ideas, life updates, and simple food recipes all pulled together with a touch of authenticity and quirky references to love.
She's a great fit for brands that endorse a healthy family life, quirky mugs, or kids' apparel. So go ahead, and add Alex to your list of awesome micro-influencers for your lifestyle campaign.
---
Partner with lifestyle micro-influencers today
As people reel from the repercussions caused to their everyday lives by the pandemic, they feel a great need to associate themselves with lifestyle brands that reflect the values that they aspire to incorporate into their lives.
Lifestyle micro-influencers are that model of inspiration that people look up to and wish to emulate aspects of their lifestyle in one way or another. Partner with a lifestyle influencer and see a steady surge in your product sales.
Install the Afluencer app for Shopify and start leveraging the power of influencer marketing. If you are a non-Shopify merchant, then you can register here.
This originally appeared on
afluencer
and is available here for wider discovery.