Oh, and if you're a brand looking to partner with the best yoga influencers and creators, then these are the yogis you want to reach out to.
I'll let the expressive content of these uplifting yoga influencers do the rest of the talking.

Based in California, Peter Walters is a heartfelt yoga teacher and a passionate wellness enthusiast.  He also calls himself a "joyful student of life" and all it takes is one post for his lively spirit to rub off on you.
And that's not all.  Peter is also quite entertaining and light-hearted.  He is an uplifting yoga and feel-good source that everyone needs to connect to.
Content
Looking at Peter's Instagram, you can see his inspiring content creator mind at work with every yoga post enriched with deep thoughts, emotions, and entertaining humor.  As a follower, you will feel Peter in a strong way.
He is funny, immensely inspiring, and open about his raw emotions.
From his hysterical video skits promoting his Saturday Night Live online yoga classes, yoga poses in nature, trail running with beautiful views, and walks with mindful messages, to his vulnerable openness about personal experiences.
"I'm right there with you, trying to remind myself of what I know deep down.  It's all here.  The seeds or keys to your awakening are always ever-present.  So, if not now, when?  I love you.  Now.  Get.  Going."
Peter's captions will move you and inspire you to your core.  He'll either inspire you to signup for his yoga classes, or he'll deploy his influencer charm to inspire you to change your life.  Or both.
Collabs
Some of Peter's brand collabs include Detox Organic, Hi-Ball, Lululemon, Gomethodology, Seed, and various CBD brands.
---
Based in Washington DC, Karla Tafra is an exquisite yoga teacher, nutritionist, writer, and wellness coach.
Content
Delicate strength couldn't look more graceful and beautiful than on Karla's Instagram page.
Her yoga is inspiring, moving, and artistically captivating.
Backbends between bars on a walkway, rooftop deck workouts, powerful stretches overlooking city views, scenic outdoor yoga by the lake, enchanting poses by a majestic Buddha in Thailand, and exhilarating yoga by the beachside.
Stylish quality leggings, athletic crop tops, ripped-back tops and so many beautiful yoga outfits – picture-perfect post after post.
Karla's precise moves, contemporary yoga apparel style, perfect scenes, and uplifting captions like "just because something seems impossible, it doesn't mean it actually is and that you shouldn't try to achieve it", all reward her the attention and influence that she has developed.
Blog
Our inspired influencer also has a blog where she covers topics on yoga and wellness.  From storytelling to information sharing, be inspired by posts like "I Started Meditating Before My Run And This is What Happened" and "The Ultimate Wellness Gift Guide".
Collabs
Some of Karla's brand collabs that show why we have her on our top yoga influencers list include Ultra MD, Hylete, World Vision USA, and Simple Protein.
---

From the USA but living in the United Arab Emirates, Tina Bock is a sweet-natured Ashtanga yoga instructor and E-RYT.  She's also passionate about the importance of the mental and physical wellness of children.  And yes, she does kid's yoga too.
Tina hosts workshops, retreats, and yoga training all over the world.
Content
Tina has been creating and sharing yoga content on Instagram for a long time and it only takes one post for you to feel her warm-hearted authentic service to yoga enthusiasts.
And her love for Ashtanga is undeniable.
Followers can catch her in her home, in the desert, or with her adorable toddler – doing what she loves.
Tina's social media is rich with video tutorials, and tips.  Learn how to swing into pose ever so gracefully even if you feel like you'll launch yourself into a tangle.  But don't stress, Tina caters to everyone with her helpful modifications.
Whether you're a beginner, a flexible yogi, or if you've sustained an injury – Tina provides detailed technique breakdowns that will inspire you to accomplish poses at every stage.
And in case you need help, she'll gladly respond to questions in her comments.
Tina's resourceful influence on social media naturally makes her extremely credible – so it's no surprise that she's developed an audience of yoga instructors.
Collabs
Tina is an ideal influencer match for brands that are especially looking for a top yoga instructor full of passion and with a credible influence.
---

Based in the USA, Anahata Conscious Living is a wellness yoga tribe founded by Dr. Ari Beers.  She's also a lead teacher and philanthropist.  Anahata Conscious Living is a verified Yoga Alliance and approved school in holistic medicine and yoga.
Content
Anahata Conscious Living is all you'd imagine the yoga lifestyle to be about.
Inspired by the heart of Chakra, Anahata Conscious Living's vision is based on bliss, peace, harmony, love, understanding, empathy, clarity, purity, unity, compassion, kindness, and forgiveness.
And Dr. Ari's Insta page is a gentle tone and expression of all these beautiful qualities.  A minimalistic aesthetic packaged with impactful mindfulness inspiration.
Soothing poses, healing quotes, breathtaking landscapes, humble communities, and life-altering experiences like monk meditations in Siem Reap.
Dr. Ari even hosts yoga teacher training in Bali.
Her social media is more than just about yoga, it's an inspiring lifestyle that will move you to become a better you.
Blog
The Anahata Conscious Living blog shares more on yoga and holistic wellness. A relaxing getaway with meaningful content like "one-minute meditation", "recipe drink for deep sleep", "simplify your life", "exalted crescent lunge", and so much more.
Collabs
Anahata Conscious Living is an ideal match for brands looking for top influencers to help them reach the yoga and holistic wellness audience across the world.
---

Meet Anitra Jackson, your go-to source for Montessori-inspired yoga for kids aged 3-9 years. Anitra is not just a yoga influencer; she's a multi-talented mom, small business owner, and Montessori educator.
Content
You can discover her world of mindful parenting on Instagram, where her posts are a treasure trove of information.
Anitra's lessons extend beyond yoga, offering insights into raising joyful children. She preaches "KINDFULNESS," the art of consciously spreading love and kindness to ourselves and those around us. Her content is a daily dose of positivity, reminding us that happy kids start with a loving and mindful environment. Anitra's page is a haven of inspiration and practical guidance.
Collabs
Are you looking for that elusive needle in the haystack of kids' yoga influencers? You've found her! Anitra is also open to Collabs with like-minded brands in her niche. Take advantage of the opportunity to join her journey towards happier, kinder kids. Reach out to her today!
---

Introducing Marcela, your go-to source for health, holistic wellness, and yoga inspiration, all the way from sunny Atlanta, Georgia. She's all about those positive vibes and letting go of the past, embracing the present moment like a true guru.
Content
Marcela's mantra is simple but profound: "We cannot give what we do not have".  She encourages us to fill our buckets, nurturing our own well-being so we can radiate positivity to others. It's a lesson we all need in today's fast-paced world.
In the world of yoga influencers, Marcela is a breath of fresh air. Her gentle reminders about what truly matters in life are like a soothing balm for the soul.
Collabs
So, if you're looking for a Collab partner who embodies positivity and holistic wellness, don't hesitate—reach out to Marcela ASAP. She's not just an influencer; she's a beacon of inspiration we all need in our lives.
---

Gisele Lupi, a passionate full-time international traveling yoga teacher, embodies the belief that our journey in life accelerates when we extend a helping hand. Her mantra: "Everyone deserves a chance to self-heal and thrive."
Content
On her engaging Instagram page, expect an enchanting blend of yoga content, ranging from the fundamentals of hand placement to awe-inspiring techniques and practices.
Gisele's unique approach to yoga caters to both beginners and those seeking to explore the gentler dimensions of this ancient practice. She reminds us that there's a yoga style tailored to every individual's needs and preferences, a philosophy that warms our hearts.
Collabs
But what sets Gisele apart is her boundless enthusiasm for Collabs. She's brimming with excitement to partner with various brands within the yoga community, making her an irresistible choice for those looking to create something truly magical in the world of yoga. Don't miss the opportunity to invite her to Collab, as Gisele Lupi's journey in spreading yoga's warmth and wisdom continues to inspire and uplift all who cross her path.
---

'Stacy's mom has got it goin' on…' *singing* (and simultaneously revealing my age…)
Welcome to Hot Yogi Moms, where Jillian and Samara, our dynamic duo, are not your typical yoga instructors. They've gracefully transitioned from "hot yoga instructors" to "hot mess moms," and they're embracing it with a laugh and a sweat!
Content
Yoga and humor are the heart and soul of Hot Yogi Moms, and we absolutely adore their realness. They're navigating the wild journey of motherhood, complete with all its ups and downs. Sound familiar, moms?
These two are all about self-love, embracing your authentic self, and, of course, hot yoga. So, grab your yoga mat and pack your sense of humor because you're going to need both for this fantastic adventure.
Jillian and Samara are rolling with the punches, making their health and wellness a top priority while keeping their sense of humor intact. Join them on this rollercoaster ride of realness – it's a yoga class like no other!
Get ready for some laughter, sweat, and a whole lot of love at Hot Yogi Moms. Your mat and a smile are your tickets to the fun!
---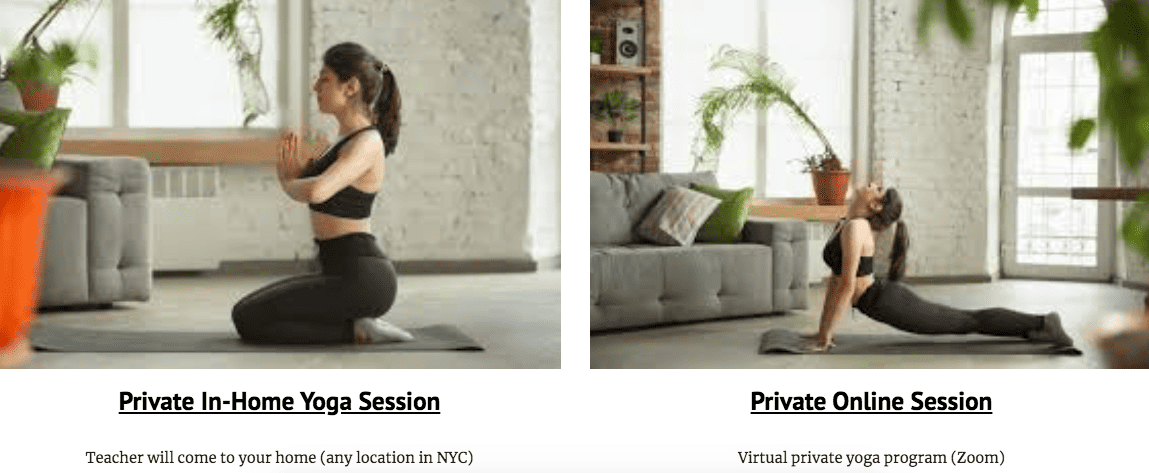 Meet Cecilia Wang, your friendly neighborhood supermom with a passion for well-being! Cecilia wears many hats in her bustling life – she's not just a mom, but also a librarian, a skilled pianist, and an experienced Yoga teacher.
Content
What makes Cecilia stand out is her commitment to tailoring her yoga programs to fit your unique needs. Whether you're aiming to boost flexibility, build strength, or simply find your inner zen, she's got you covered. Just share your goals with Cecilia, and she'll work her magic, crafting a personalized yoga flow designed exclusively for you.
But Cecilia isn't the kind to leave you high and dry with a list of poses. Oh no, she's your guiding light on this yogic journey. With in-depth instructions and hands-on practice, she'll be right there with you every step of the way.
Best of all, Cecilia is based right in the heart of New York City, so you can experience her expert guidance in the vibrant energy of the Big Apple. Get ready to transform your life, one yoga pose at a time, with Cecilia Wang!
---

Heather Carwile, the embodiment of living life in balance, gracefully balances her yoga mat and wine glass with unwavering dedication. With priorities that make us smile, she's a yoga influencer who knows how to keep it real!
Content
Heather's secret to happiness is simple yet profound: a good workout, especially through yoga, is the magic elixir for a radiant mood. Yoga never disappoints, and Heather's zest for it is contagious!
But her world isn't limited to asanas and wellness; Heather loves exploring the globe and indulging in the finer things like wine and spirits. Her journey with @yogathenvino is a delightful blend of serenity and indulgence, reminding us all to savor life's moments.
Collabs
When you think of a Collab with Heather, you can be sure it's not just about work; it's about creating an experience that's fun, rewarding, and filled with positive vibes. Partnering with her promises both a good time and outstanding results.
---

Florian, the yoga influencer extraordinaire behind @yoga_with_flo, is your gateway to the world of Hatha yoga and holistic well-being.
Content
As a seasoned Hatha yoga teacher, Florian extends a warm hand to beginners, guiding them on their journey to yoga mastery. But he's not just about yoga; Florian is your go-to source for wellness and mindfulness. His awesome food recommendations are sure to nourish your body and soul.
Scroll through Florian's Instagram, and you'll discover a refreshing perspective on yoga. He practices in various breathtaking locations, proving that yoga knows no bounds of time or place. With Florian's expert guidance, those intricate yoga poses you've been eyeing will become second nature in no time.
Collabs
Don't miss out on the chance to collaborate with Florian the yoga influencer; it's an opportunity waiting to transform your wellness journey. Join his community and embrace the holistic path to a healthier, happier you!  #YogaWithFlo #WellnessJourney
---

Meet Dr. Priyanka Dongre, the incredible fitness trainer who's not just any yoga guru, but also holds a Ph.D. in engineering and teaches as a professor. With her expertise, this flexibility trainer can have you bending backward in no time!
Content
But her talents don't stop there. If you check out her Instagram, you'll not only find inspiring fitness content but also get a glimpse into her life as a passionate professor. Her students often grace her page, showcasing her love for what she does.
Collabs
Dr. Priyanka Dongre is all about inhaling the good vibes and embracing opportunities. Whether you're looking to enhance your flexibility, seeking fitness guidance, or considering a Collab, she's the one to connect with. Her unique blend of academic prowess and fitness expertise makes her a remarkable individual who's ready to help you reach your goals. Don't miss the chance to be part of her inspiring journey!
---
Paige Rene — Yoga Enthusiast & Content Creator

From the USA, Paige Rene is a pretty bright tattooed yoga enthusiast.  There's really no way of introducing her without mentioning her epic tattoos, and at the same time, her lovely radiance is just as striking.
Content
It's quite unexpected to imagine a full-body tattooed woman as lovely as the girl next door until you discover Paige.
She's a walking radiating sunflower that emanates mindfulness with every yoga pose and thoughtful captions that she shares.  And her body tattoos couldn't be a more beautiful expression of who she is.
Her Insta profile demonstrates her content creator skills with a magnetizing gallery of high-quality yoga videos and scenic images.  Stretches on rocky coastlines, the splits in front of a huge rushing wave, yoga in Hawaii, poolside mindfulness, challenging SUP yoga float, and even thrilling bikini yoga in the snow – Paige is one of a kind.
For more soulfulness, she hosts live-streamed morning yoga with themes like "becoming comfortable with change".
And her realness is packaged with honest captions like "Temporarily closed for maintenance".
The more you get to know her, the more you'll discover her own struggles and personal life experiences.
Her tattoos may amaze you at first, but Paige's sweet nature and authentic openness make her relatable and pretty lovable.
Collabs
Some of her brand collaborations that stuck out while compiling our influencers list include Lull, Shein, and Arcadia Meat Market, as well as top yoga apparel brands.
---
Yoga Loft Studios — Chicago Wellness Community

Yoga Loft Studios is a wellness community in Chicago that offers yoga and fitness classes.
Content
If you're a yoga enthusiast in the Chicago area, Yoga Loft Studios is the Instagram page to follow.
Although the page is small and growing, it certainly provides value to its niche community.
Followers can discover studio and virtual classes in the area, support yoga initiatives, get yoga gear, and keep in touch with all the latest events.
From free instructor meditations, Ashtanga-inspired flow yoga, Shakti slow flow yoga, full moon flow yoga, popup classes, and "Restorative & Reiki" sessions to instructor introductions – Yoga Loft Studios is a valuable source of info for yoga lovers.
Followers will even discover novel sessions like "Learn to Fly with Giana" for the occasional yoga spice-up.
And a community yoga page isn't complete without regular inspo with meaningful quotes like "Yesterday I was clever so I wanted to change the world.  Today I am wise, so I am changing myself." by the most popular poet, Rumi.
Collabs
For yoga and fitness brands looking to work with top influencers to target a niche audience in the Chicago area, Yoga Loft Studios is an ideal match.
---
Briohny Smyth — Yoga Teacher, Content Creator & Influencer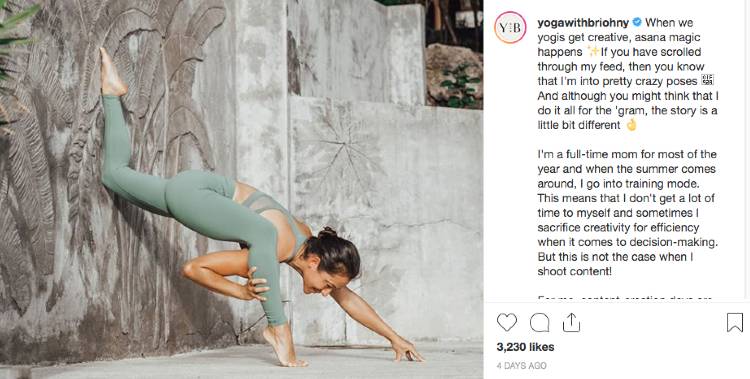 Authentic, true to life, yoga teacher.
Briohny Smyth is a yoga teacher based in Thailand.
You'll be ready to take on life and find your personal inner alignment as Briohny's content works on you.
She's more than just one of those yoga influencers with a large online following.  She's a mindful well-experienced yoga teacher with enough words to provoke your mind to be a better you.
Her videos like "why positive thinking is killing your career" on her Instagram profile are examples of some of the life-improving insights she shares with her followers.
Her brilliant yoga teaching skills mixed with her creator skills can be seen in her beautiful how-to video content – making her a great resource for all yoga enthusiasts.
Post after post, yoga and the yoga lifestyle is all she shares.  Briohny's content is very well presented, with charming photos that will certainly strike deep emotion in you.
And you can't help but love her yoga apparel style, too.
Her content expands through her 15k subscriber Youtube channel where she shares a lot of how-to yoga content.
Briohny has recently launched her beautiful new website where you'll find information on her upcoming training.
---
Michelle PoleFitDubai — Yoga & Pole Fitness Instructor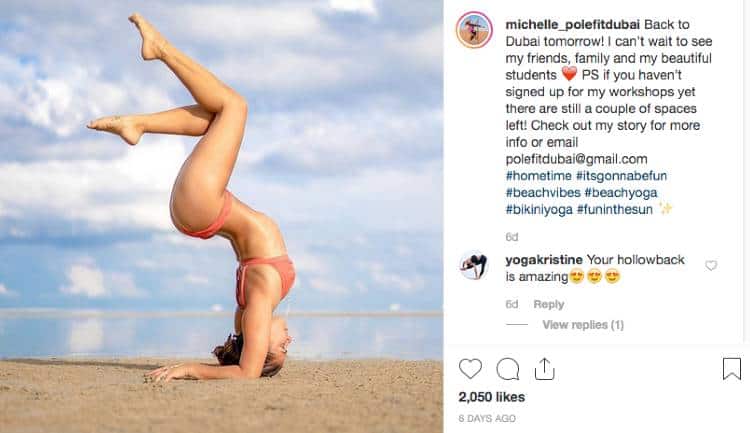 Michelle is a yoga teacher and pole fitness instructor based in Dubai.
Michelle's yoga content is so attention-grabbing that it leaves you wondering if that's really real.  But, it most certainly is because that is proof of just how beautiful yoga can be.
From her poses in the city to her poses in old buildings to the classic holiday poses at the beach, one can't help but feel energized from consuming her content.
You'll find her in her bikini, lovely yoga outfits, or just casual shorts and sneakers.
Michelle's content creator side does drop some engaging videos on her Instagram influencer profile, whether it's an eloquent pole sequence or an edgy yoga feature.
What's especially lovable about Michelle is how she is open about her struggles.  She recently shared with her followers how she struggled to get back into pole fitness because of her body weight insecurities.
Her "keeping it real" personality makes her so easy to love.
---
Carla Villaorduña — Traveling Yoga Teacher & Influencer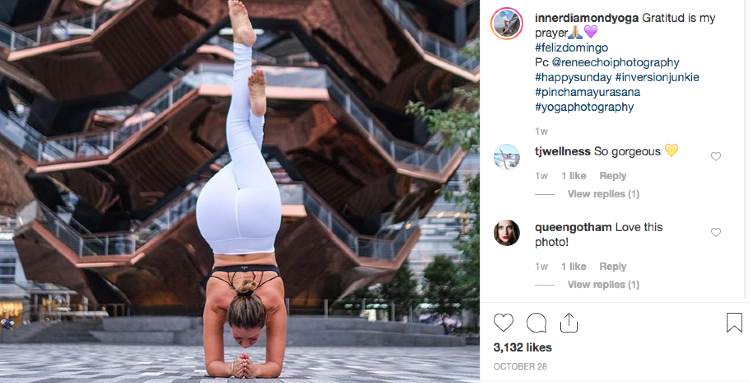 Captivating New York-based traveling yoga teacher, Carla Villaorduña.
Scrolling and scrolling through Carla's Instagram yoga posts, I was trying to figure out what "it" was that kept me hooked and entranced with this influencer's content.
Until I saw a comment that hit the nail on the head for me: "All these lines are so satisfying".
Carla's content is extremely satisfying to consume.  Her pictures are not just perfect. The thoughtful detail that is evident in every picture posted is profound.
The synergy between her poses and her environment is crafted so beautifully in her content.  From buildings to landscapes, you will certainly be wowed away.
She loves to travel, so her audience is even more delighted with her traveling yoga – from Mexico to Santorini.  Yoga and travel couldn't look any more beautiful.
"You are a master peace of pure love" – Carla Villaorduña.
Beautiful content, inside and out, all around.
---
Odette Hughes — Yoga Therapist & Instagram Influencer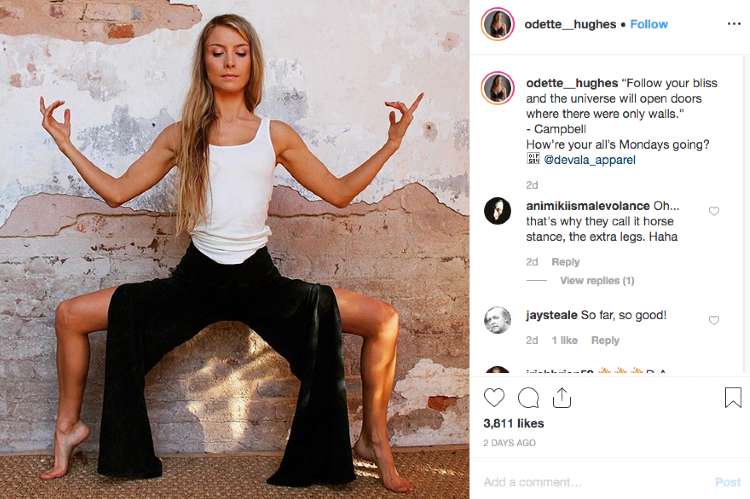 Nature-loving yoga therapist and Instagram influencer, Odette Hughes.
Based in the United States, Odette conducts yoga therapies as well as yoga training.
From soothing yoga poses to pictures of nature and cats – these are three prominent things you'll find on her Instagram profile.
She's your daily dose of inspo that will take you through your week with gratitude, mindfulness tips, and just simple uplifting words that will brighten life up for you.
"Stop and think after reading this of at least 3 wonderful things that already occurred today. Doesn't matter how seemingly small." – Odette Hughes
What is especially noteworthy about her content, is her unusual yoga outfit style.  You'll catch her in colorful hipster yoga pants and also some free-spirit bohemian-style pants.
From her influential yoga content to her style, you can't help but smile.  Odette is where you'll get much-needed happy vibes.
She participates in various yoga challenges and she drops a giveaway here and there on her feed.
---
Cathy Madeo — Inspiring Yoga Instructor & Influencer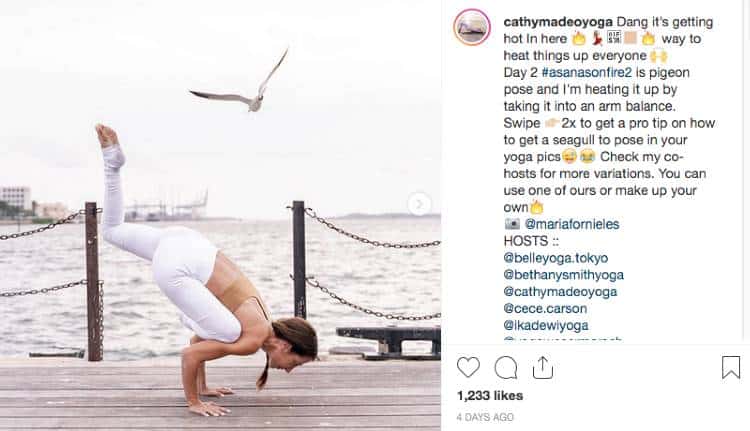 Well-experienced inspiring yoga instructor and influencer, Cathy Madeo.
When you come across a yoga instructor who has been practicing since 1995, you kind of want to lean in.
Cathy's experience in the yoga industry is evident by her detailed captions where she shares some uplifting stories.
"My arms would shake, my ego would break, but something inside me stirred and I felt called to know a kind of strength and power I couldn't yet possess. Now I'm in the privileged position to teach others these poses which for me is really about empowering you to own your own strength and power." – Cathy Madeo
Probably one of the biggest challenges people face when starting yoga is questioning their ability.  But Cathy is here to inspire you to believe in yourself and also believe that attaining the ability to do these poses is not impossible.
Cathy is incredibly inspiring.
She's based in Florida, you'll catch her doing training, retreats, and workshops.
Cathy collaborates with various brands across the yoga, athleisure, beauty, and wellness industries that regularly work with creators and influencers.
This originally appeared on
afluencer
and is available here for wider discovery.