Choosing the Right TikTok Content Creators for Your Brand
While there are other ways to market your brand on TikTok – such as paid ads – you're highly likely to find more success by Colabbing with a TikTok content creator.
You need to ensure you find a content creator who is a good fit for your brand.
Do they appeal to the same niches as your target audience?
How engaged is their following?
How good are their dancing skills? 😉
Ok, that last one isn't super important, but it helps!
To kickstart your search for your perfect TikTok content creator, we have put together our selection of TikTokers to keep an eye out for.
TikTok Content Creators on Afluencer
Let's get started!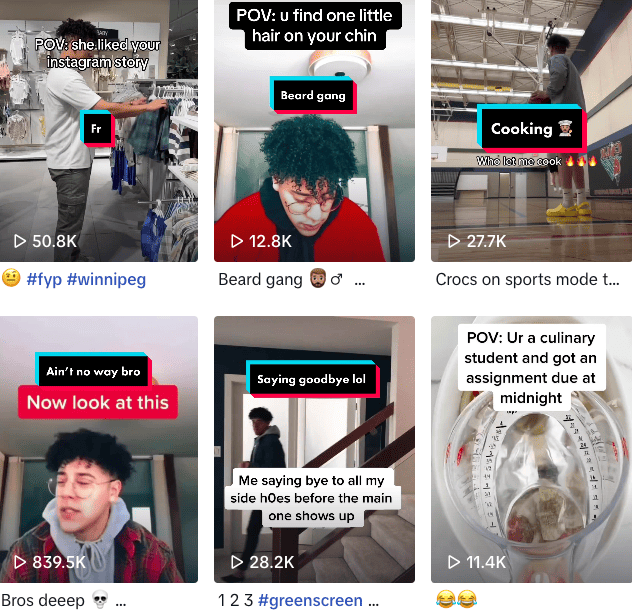 Ramez Girgis is your go-to guy for some seriously entertaining TikTok content! With a passion for creating relatable and hilarious videos, Ramez has managed to bring together a fantastic collection of content that will keep you glued to his page. Trust us when we say, you won't be able to resist clicking that 'play' button over and over again!
Content
What sets Ramez apart is his uncanny ability to strike a chord with viewers through his relatable approach. You'll find yourself nodding in agreement and laughing out loud as he perfectly captures those everyday moments we all experience. It's like he's inside our heads, turning relatable situations into comedy gold!
If you're a brand looking for a Collab that's sure to make waves, reaching out to Ramez is the way to go. His attention-grabbing content and engaging style will undoubtedly create magic when combined with your own creativity. So don't miss out on the fun—head over to Ramez Girgis' TikTok page and prepare for a joy-filled journey through his entertaining videos!
---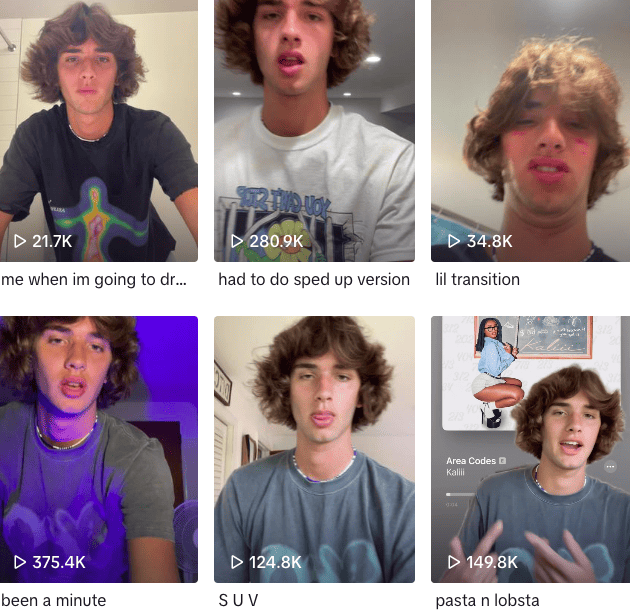 Let the good times roll with Jesse Tierney, your go-to TikTok content creator for a dose of pure charisma, authenticity, and a delightful sense of humor!
Content
If you're craving content that's 100% relatable, look no further. Jesse's got it all covered – from hilarious failed dance challenges to perfectly knowing the lyrics of your favorite songs. And who can resist Mac and cheese for breakfast? (Anyone else guilty?)
Getting ready in the morning just got a whole lot more fun with Jesse by your side. He's that crazy friend we all need in our lives, bringing laughter and joy to every moment. But it's not just us who adore him; his audience keeps growing as more and more people fall head over heels for Jesse too! As a content creator, he's a dream come true for any brand seeking to win the hearts of its audience.
So, if you want your TikTok feed to be a constant source of laughter and relatability, Jesse Tierney is the creator you need to follow and work with.
---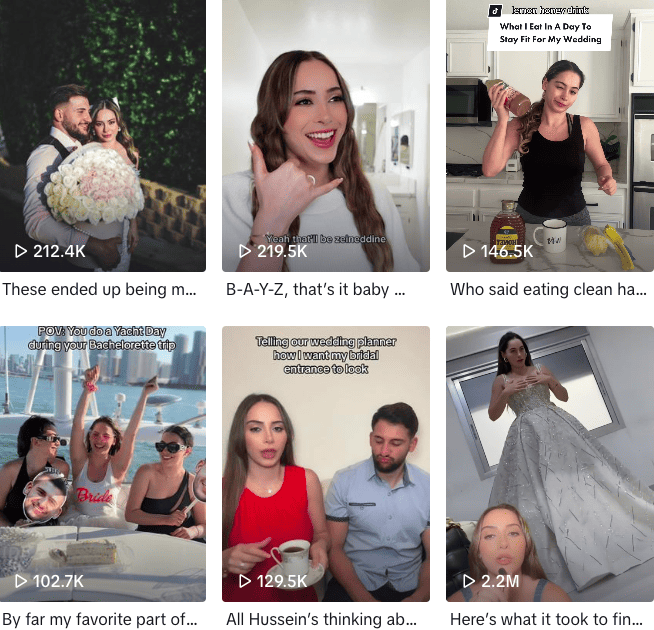 Meet Diana Zeineddine, the ultimate multi-talented star who wears many hats (not just literal ones!). As an actress, dancer, host, and TikTok content creator, this Lebanese-American powerhouse is booked and busy, yet she always finds time to take us along for her incredible ride.
Content
Her content is a delightful blend of lifestyle and entertainment, and recently, she let us be a part of her journey as a bride-to-be, leaving us completely wowed. Diana doesn't shy away from hopping on various trends, and let's be honest, who doesn't love a good trend?
Keep an eye out for her now-husband, who makes charming appearances on her page – we see you! The atmosphere on @dianazofficial is all about good vibes and positivity, making it a joy to follow.
If you're looking for a TikTok content creator to Collab with, Diana is the one you won't want to miss. Don't hesitate to reach out and join in on the fun and creativity!
---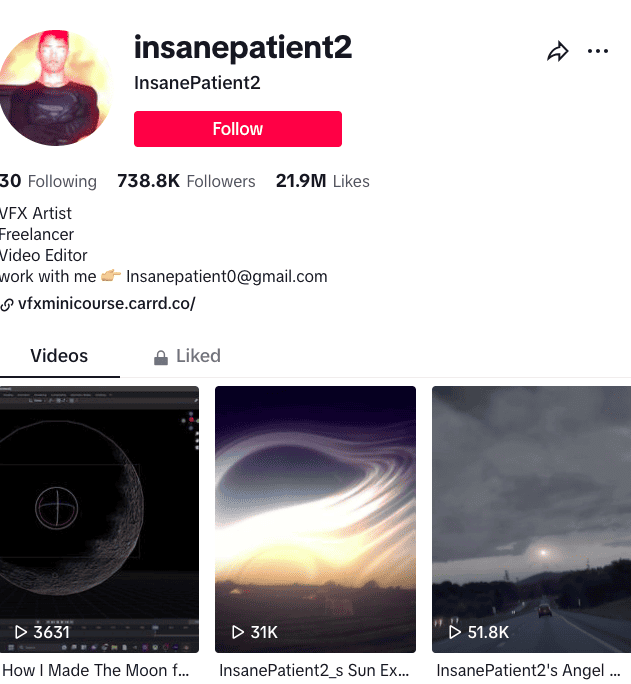 Introducing Jared Fries, the incredible VFX content creator, and artist taking TikTok by storm!
Content
If you're on the hunt for mind-blowing visual effects, look no further than @insanepatient2. Jared's page is a portal to a world of awe-inspiring wonders, from the sun exploding in epic splendor to ethereal angels gracing the skies, and even Godzilla terrorizing the city!
Wondering how he pulls off such jaw-dropping magic? Thankfully, Jared generously shares his secrets through helpful tutorials. So, whether you're a seasoned VFX enthusiast or just getting started, he's got something for everyone.
We also get to see Jared's amazing personality and incredible sense of humor along the way. His passion for VFX also shines through from video to video and his skills are undeniable.
Embrace your inner VFX geek and make @insanepatient2 your new favorite TikTok content creator. A Collab with Jared is sure to mesmerize his engaged audience thanks to the fantastical universe he brings to life! Calling all brands who aren't afraid of next-level creativity!
---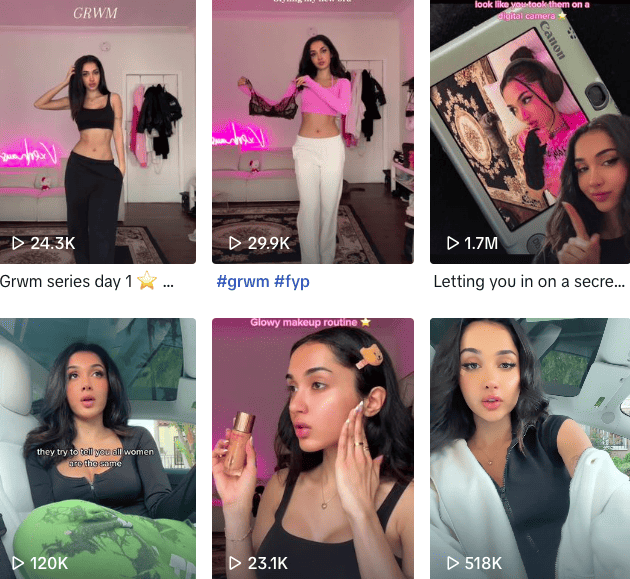 Are you looking for a vibrant TikTok content creator with a flair for all things fashion, beauty, and lifestyle? Say hello to Esha.
Content
This Pakistani beauty is an absolute pro at curating stunning outfit inspirations and trust us when we say, you'll never run out of #OOTD ideas! From fabulous GRWMs to makeup tips that guarantee you'll slay every day, Esha's got you covered.
But hold on, it's not all about the glitz and glam. Esha also knows how to tell an enthralling story, like that one time she discovered her neighbor's dead body in his apartment—no, we're not making this up!
And it doesn't end there! Esha generously shares a diverse range of content beyond beauty and fashion, giving you a little something for everyone. From heartwarming life experiences to humorous anecdotes, she's got one entertaining collection that you'll never tire of watching.
Beauty, fashion, and lifestyle brands listen up! Don't hesitate to reach out to Esha for a Collab you won't regret. Also, hit that follow button—you won't be disappointed!
---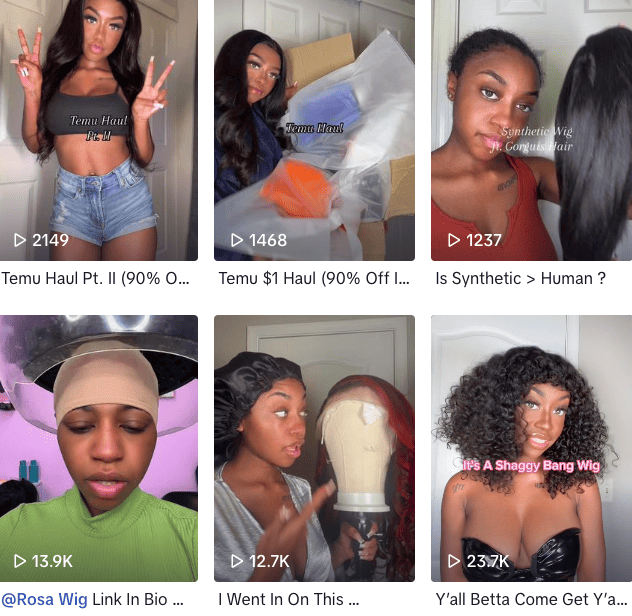 Say hello to Tierra, your go-to TikTok content creator for all things hair, beauty, and lifestyle!
Content
If you are obsessed with wigs or simply want to add some flair to your look, Tierra has you covered (literally). With her extensive collection of wigs for any occasion and every personality, you will be spoiled for choice.
Struggling with a wig installation? Don't you fret. Tierra is to the rescue with her easy-to-follow tutorials, making sure you rock your wig like a pro.
But there is more to Tierra than wig expertise! Get ready to be entertained by her hilarious skits where she transforms into different characters with wigs that perfectly match the personalities she acts out. Her talent and execution with leave you howling with laughter.
That's not all. Tierra treats her followers to exciting fashion halts. Engaging paid partnerships (her Collab game is on point!), and plenty of surprises.
For brands in the haircare industry, you definitely want to get in touch with this rising star. Allow Tierra to bring some fabulousness to your brand!
---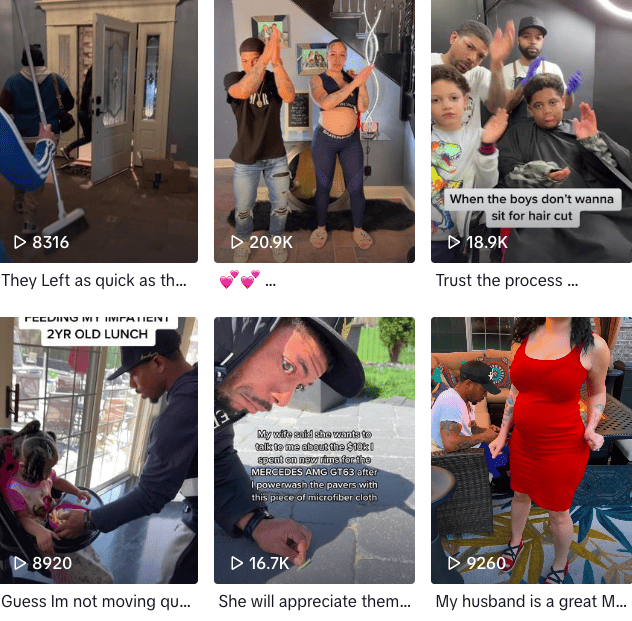 Jessica Grooms is the heart and soul of TikTok's most wholesome and entertaining family content! With a focus on family and lifestyle, Jessica's videos are a delightful mix of laughter, relatability, and a touch of fashion flair.
Content
As a busy mom herself, Jessica is passionate about sharing her favorite products and hacks to make her followers' family lives more efficient and manageable. From time-saving gadgets to parenting tips, she's got you covered!
But it's not all serious business; Jessica's TikToks are an absolute riot! Join her family's hilarious adventures, from mischievous kids causing chaos to leaving her husband alone with the little ones and even their adorable dogs! And let's not forget the moments when she shares exciting news like "when your wife tells you she's pregnant" – you'll find yourself grinning from ear to ear.
Brands looking for a fun and family-oriented collaboration need not look any further! Jessica's friendly and relatable nature makes her the perfect partner for wholesome and engaging brand partnerships. So, don't waste time and reach out to her for a partnership that'll leave TikTok users smiling and coming back for more!
---
Meet Valentina Raso, the vibrant Italian TikTok content creator, and social media manager with a passion for all things travel and food! If you're in need of some serious wanderlust and culinary inspiration, she's the one to follow. While she has a presence on Instagram, her TikTok account is where the real magic happens, boasting a large and engaged following.
Content
Valentina's niche revolves around exploring the world's most amazing places and seeking out unforgettable experiences, not just giving you a basic itinerary. Whether she's uncovering hidden gems off the beaten path or sampling delectable local dishes, her content always surprises and delights.
But don't be captivated by the picturesque travel videos alone; Valentina keeps it real with relatable content, such as savoring some mouthwatering grub. Her down-to-earth approach will leave you feeling connected and inspired to step out of your comfort zone and experience something new.
So, get ready to be transported to breathtaking destinations and indulge in delectable flavors—Valentina's content will ignite your adventurous spirit and leave you yearning for more! This is Collab gold right here.
---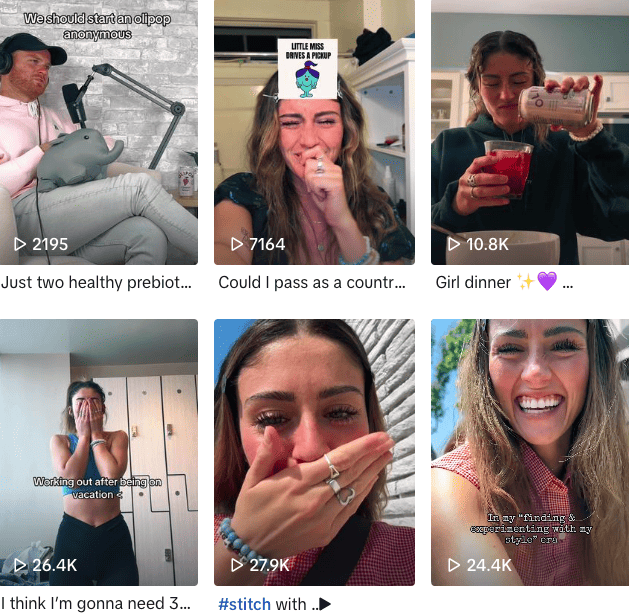 Give it up for Nicole Mitchell, your friendly neighborhood TikTok content creator, and Podcaster! She stumbled into the world of content creation when she noticed a lack of vulnerability and authenticity on social media. Determined to change that, Nicole made it her mission to be real and open about her own struggles, sharing how she's learning to overcome them.
Content
Visiting Nicole's TikTok feels like a warm hug – her radiant smile is infectious, instantly making you feel at home. Her page is a safe space for everyone to be heard and appreciated, reminding us all of what gems we truly are.
But it's not just smiles and sunshine; Nicole's content also includes her love for cooking. With her, there are no recipe #fails, only successes! She generously shares some of her favorite recipes, making sure we can all enjoy cooking just as much as she does.
For a strong dose of realness and positivity, Nicole's page is a must-follow. Come along and join the supportive community she's built – you won't be disappointed!
---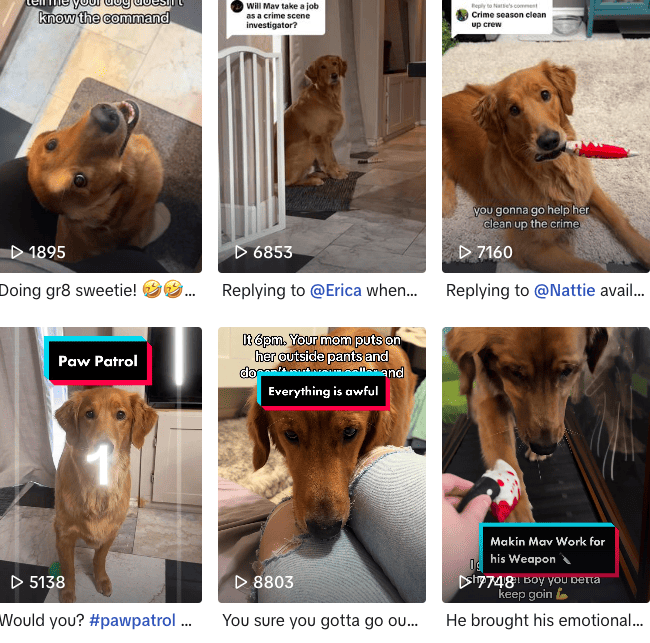 Melissa is the creative mastermind behind Mav&Mel, a heartwarming TikTok duo that's guaranteed to brighten your day! Together with her adorable sidekick, Maverick, and her lovable dog, they're on a mission to make you smile, laugh, and embrace the joy of everyday life.
Content
Through their delightful content, Melissa and Maverick share their daily adventures, filled with doggo cuteness and genuine moments that will warm your heart. But it's not just about the "awws" and "oohs"—Melissa also takes her role as a pet content creator seriously. She shares valuable insights and showcases products that have genuinely improved the lives of her furry audience.
Maverick, the true star of the show, effortlessly steals the limelight with his irresistible charm. As he wins the hearts of new followers every day, it's no wonder people can't resist hitting that follow button!
So, if you're looking for a Collab that will leave your customers thanking you, sign up Mav&Mel. Their heartwarming content, contagious laughter, and dedication to improving dogs' lives will create a lasting and positive impact on your audience. Get ready for an unforgettable partnership filled with smiles and tail wags!
---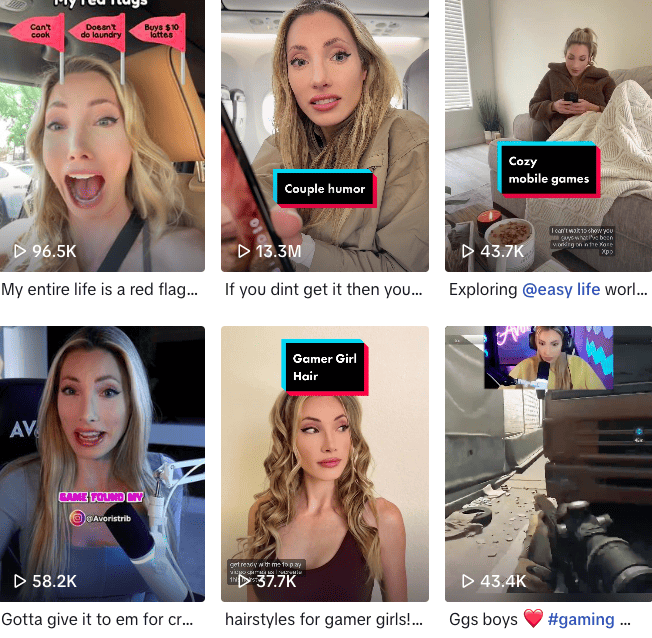 A model, a gamer, and a world traveler walk into a bar… oh wait! In this case, that's one person. Her name is Avori and she is a delightful TikTok content creator whose passion revolves around gaming and tech!
Content
If you're looking for a one-stop destination for all things gaming-related, she's your go-to guru. From exciting game recommendations to clever tips on how to earn money through gaming, Avori has you covered.
But her content doesn't stop there! Brace yourself for unboxing of the latest gaming consoles, hilarious pranks, and jokes that will leave you in stitches. And that's not all – Avori generously shares glimpses of her lifestyle, from married life to everyday relatable moments, including Get Ready With Me sessions, hair tutorials, and tons of humorous content that will brighten your day.
In this vibrant online space, you'll also find lots of trending videos, proving Avori's finger is always on the pulse of what's hot. Her infectious personality shines through every post, defying stereotypes about gamers. Cheers to Avori, redefining the gaming landscape and making it undeniably cool. Brands in the gaming industry would be wise to have her on their Collab team, as she effortlessly makes gaming accessible and appealing for everyone.
---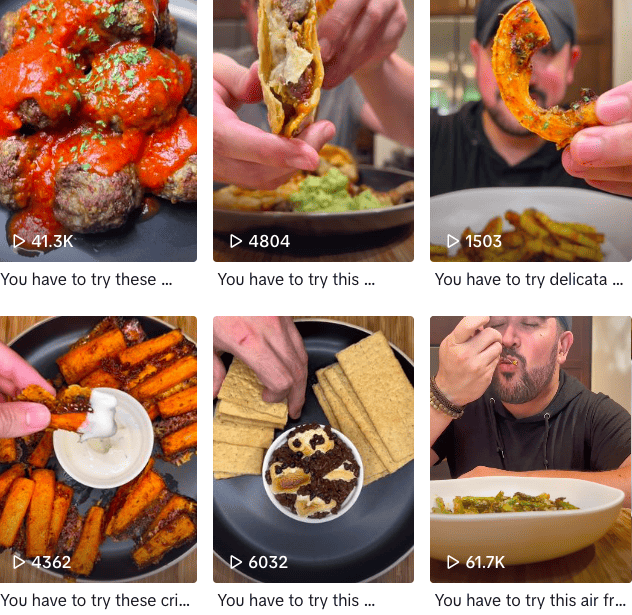 Meet Skyler Paladino, the talented TikTok content creator and home cook who's all about cooking up simple and mouthwatering dishes! If you're looking to ignite your inner chef, his TikToks are a must-watch. Prepare to be inspired as he effortlessly whips up delectable meals that'll leave you craving more.
Content
Skyler Paladino doesn't just cook; he throws down in the kitchen! His magic lies in turning everyday recipes into 5-star delights, making cooking look like an art form. From comforting classics to innovative creations, he's got something for everyone.
This home chef's TikTok page is a culinary treasure trove filled with his passion for cooking. They say the secret ingredient is love, and he proves it with every delicious dish he creates. Rarely do you come across TikTok content creators with such genuine dedication. Feeling hungry? A visit to Skyler's page will undoubtedly have you rushing to the kitchen to whip up something amazing.
Need dinner ideas that won't disappoint? Head over to @cookwithskye and immerse yourself in a world of culinary delights. And if you're on a quest for healthy meal inspiration, look no further than Skyler's ingenious creations.
Calling all food industry brands on the hunt for a Collab! Skyler is the perfect addition to your team. With his flair for cooking and captivating TikTok presence, Collabs are a match made in culinary heaven. Reach out now and let the flavor-filled adventures begin!
---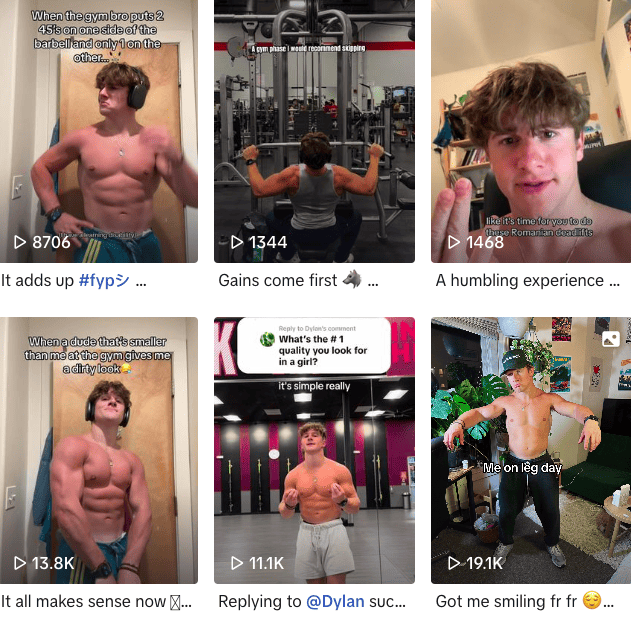 Step into the incredible world of Dylan Kolak, where the energetic and dynamic TikTok content creator is absolutely killing it! This gymnast also happens to be a Marine Biology major.
Content
His passion for fitness shines through in every video he creates. Get ready to be inspired as he shares workout routines that will motivate you to push your limits and achieve your fitness goals.
Dylan's expertise doesn't stop there; he's a pro at giving tips on which workouts are perfect for specific body parts, ensuring you get the most out of your fitness journey. But it's not all serious – be prepared for a good laugh with his hilarious gym jokes that will leave you in stitches.
Beyond fitness, Dylan lets us in on his personal gymnastics journey, offering an intimate glimpse into his life and addressing relatable questions we all face. His candid and open approach makes him instantly relatable and loved by his ever-growing community.
For brands in the fitness industry, teaming up with Dylan is a no-brainer. His authenticity and enthusiasm make him the perfect Collaborator to spread the message of health and wellness. So go ahead and join Dylan on his fitness adventure – it's a journey you won't want to miss!
---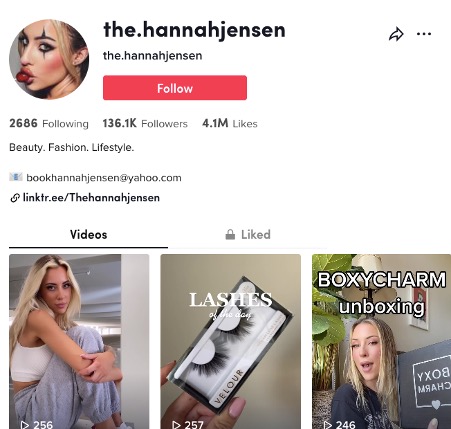 Representing California, Hannah Jensen is a beauty, fashion, and lifestyle TikTok content creator with over 136k followers. She wears many hats including mom, spokesperson, and model to name a few.
Content
While Hannah focuses on 3 categories, she really is the plug for all things beauty. She gives practical, never-before-seen tips such as cutting your fake lashes in half (it's good, trust us), and her get-ready with me's are easy to follow and fun to watch. It goes without saying that her makeup skills are truly superior.
What we also love about Hannah is her personality. It's not hidden behind the makeup – instead, it shines through (with a touch of whimsy).
Attention, beauty brands! A Collab with Hannah is exactly what you need to reach her followers on TikTok.
---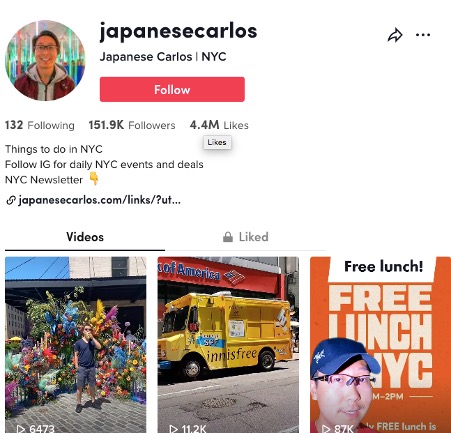 Carlos is from New York City, born and raised. He's got a strong love for his city, which shows through his choice of content… Let us take a look, shall we?
Content
This TikTok content creator's content is all-around travel. Travel in New York City, to be exact. Carlos' goal is to help New Yorkers fall in love with their city too and to help them realize that they don't need to go far for adventure – it's all right there in their backyard!
Carlos' TikTok page is full of fun things to do in and around New York. From where to get free food and flowers to premiers, events, sales, pop-ups, festivals, and so much more. What's great is that each of these activities ranges at different price points, so there is something for everyone – you just have to stay tuned!
Travel brands – Carlos is the partner you need to tap into the TikTok market.
---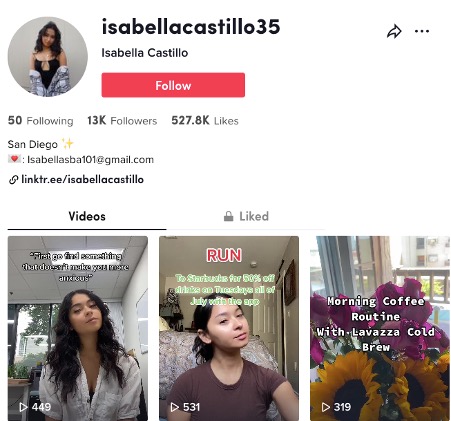 Make way for fashion and lifestyle TikTok content creator, Isabella.
Content
This coffee lover puts a hilarious spin on everyday situations, giving her bonus points in the relatability factor.
Her fashion posts are super inspiring, offering outfit suggestions from loungewear to full-on glam.
When it comes to Collabs, Isabella is no rookie; and with a marketing background, you can be sure that she's approaching any brand partnership with industry knowledge and professionalism. Plus, she's got the personality to boot! What more could you ask for?
---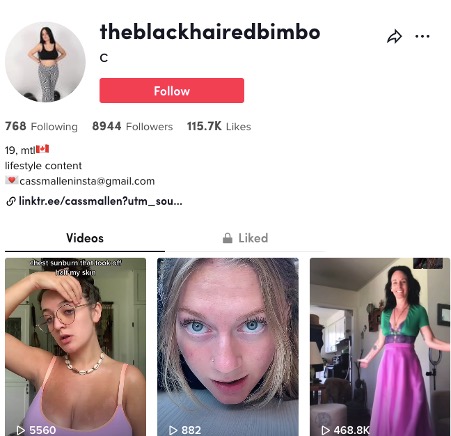 We're headed to Quebec, Canada to meet Cass. She's a lifestyle TikTok content creator with interests in fashion, travel, food, and self-care. That sounds like the perfect mix!
Content
No matter what Cass posts about, this content creator pretty much does her. Her bubbly personality always shines through and exudes confidence, especially when posting some of her awesome dance moves.
This 20-year-old would certainly appeal to customers in her generation. If that's the age demographic you're after, Collab with Cass!
---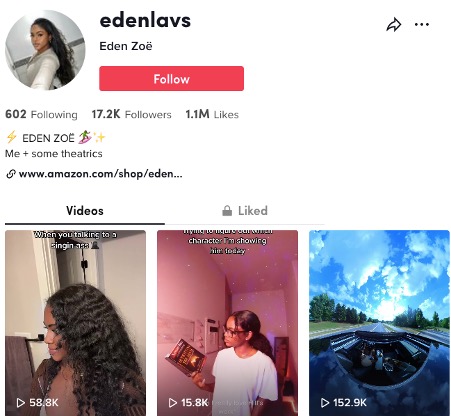 Eden is a New York City-based TikTok content creator with a background in fine arts and a desire to "create artistic visuals that have the power to move an audience".
Content
Talk about talent! Eden's artistic visuals are definitely one of a kind. She has the ability to put you in a trance while being simultaneously intrigued. There's no way to explain it, you gotta see it for yourself.
In between these artistic videos, you'll find Eden posting relatable, humorous content. All-in-all, this TikTok content creator seamlessly combines everyday life with creative visuals we can honestly say we've never seen before on Afluencer.
This is just one of the benefits of joining our platform – coming across awesome content creators such as Eden!
A Collab with Eden presents so many opportunities for brands across different industries – from photography to tech and even travel. Don't miss out on an opportunity like this one.
---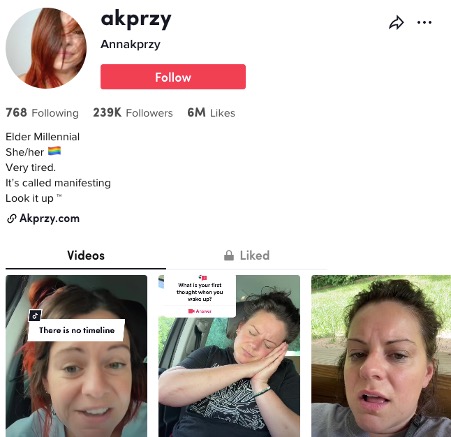 Meet Anna from Michigan, right here in the USA. This 'Elder Millenial' brings her upbeat personality to every piece of content she creates and we love it… so do all 239k of her TikTok followers.
Content
Anna is all about self-growth, personal development, mental health, doing you, and of course her signature line – "It's called manifesting, look it up."
Her positive attitude and energy draw us in from the first video and we're immediately hooked. She covers highly relatable topics and is able to deliver on otherwise sensitive issues with a dose of much-needed humor.
Anna's messages are not only relatable but supportive as well, speaking to her audience as if she were speaking to each one of them one-on-one. She also makes sure to tell share her story. We love this TikTok content creator's unique approach to connecting with her audience.
If you're a brand with a focus on mental health or any form of personal growth, Anna's the TikTok content creator you need to partner with.
---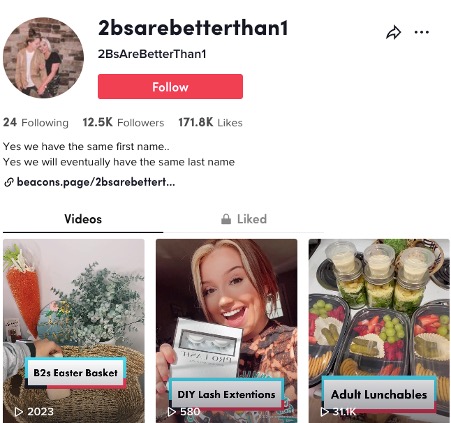 Tennessee, USA brings us Britnee and Brittany. They are a couple with the same first name (just in case that wasn't obvious already) highlighting an LGBTQ+ friendly, romantic, organized, traveling lifestyle.
Content
Here are a pair of TikTok content creators with amazing personalities and just being themselves. We gotta say, we love it.
Their focus is on lifestyle – featuring content that includes recipes, beauty, unboxings, travel, hair care, and so much more. B2 (we're pretty sure this is Britnee) tends to feature most in their content and do all the talking, but we still get the sense that this page is dedicated to the duo's lifestyle and not one or the other.
Lifestyle brands, Britnee and Brittany should definitely be on your list of top TikTok content creators to work with. Their different personalities come together perfectly to create a dynamic that's authentic and just… works.
You know what to do! Hit them up for a Collab.
---
What is it About TikTok Content Creators?
TikTok has a knack for bringing out creativity in its content creators (and brands). Gen Z almost demands less fakery and more authenticity – which is probably why paid ads feature less on this platform.
Our selection of TikTok content creators all has one thing in common – personalities that shine through from the get-go – keeping up with the authenticity required of the platform.
Does your brand have the personality to make it on TikTok? Find the content creator who does, with Afluencer.
This originally appeared on
afluencer
and is available here for wider discovery.