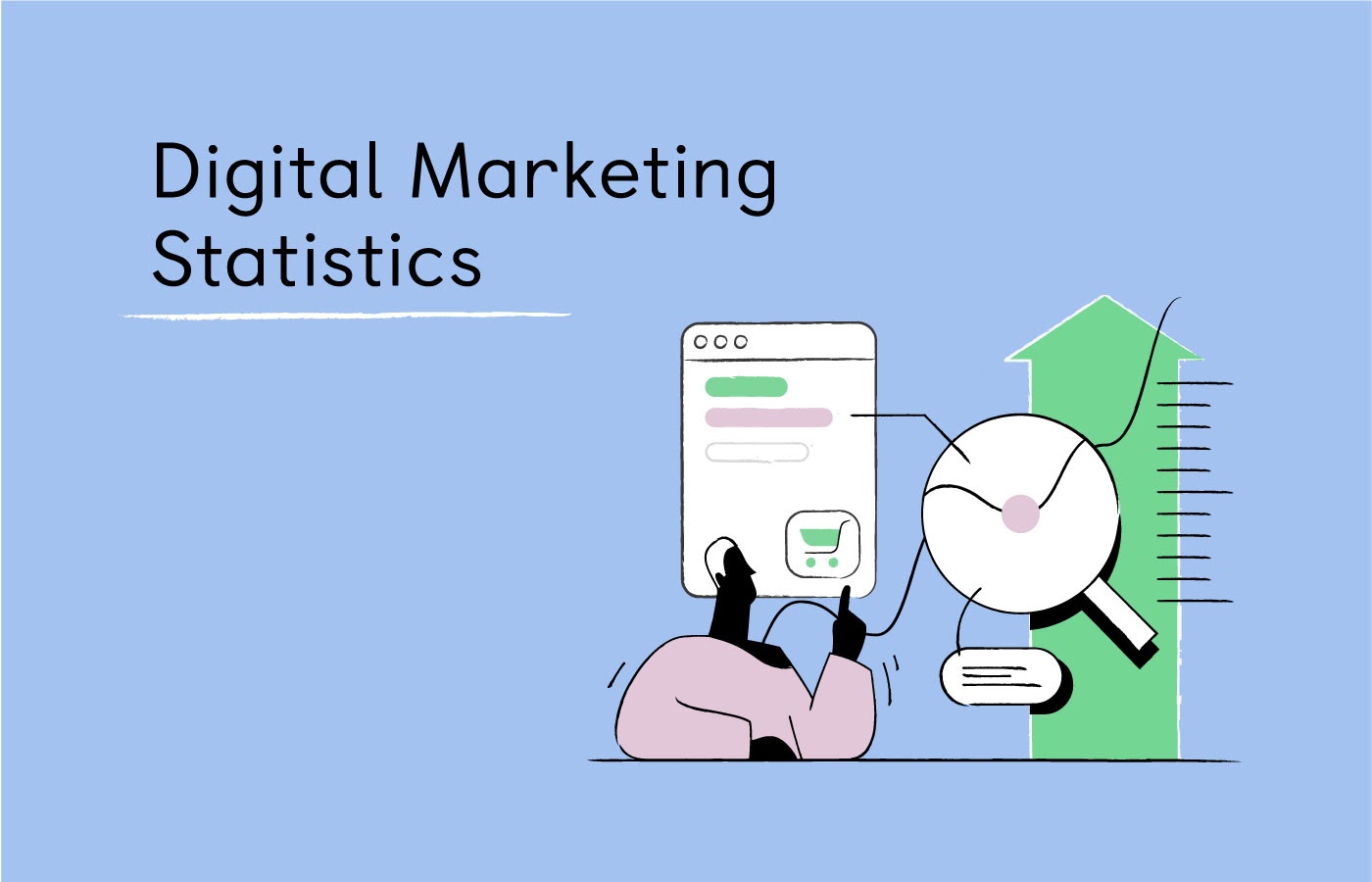 Digital marketing in 2022 is dynamic and ever-changing as never before.
Navigating your digital marketing strategy will require a lot of time and determination. And it might be difficult to stay aware of all trends present at your buffet table.
So how can you stay aware?
Checking the latest digital marketing statistics is a good starting point. By getting yourself aware of the latest stats and facts will add fuel to your marketing strategy.
Whether you're immersed in content marketing, search engine optimization, paid advertising – we've got your back.
Take a look at 30 digital marketing stats for online marketers. We cover data about six major areas of digital marketing you could use to improve your strategy (click to go right to sections):
Email marketing statistics
Content marketing statistics
Video marketing statistics
Mobile marketing statistics
Social media marketing statistics
Search engine optimization (SEO) statistics
Kickstarting digital marketing in 2022
Tailoring your marketing messages to a customer is a must for 2022. Personalized marketing can be applied in various ways, including content, email, product reviews, etc.
If you invest in fulfilling internet users' need for unique experiences and personalized content, you can anticipate optimistic changes in:
Conversion and revenue rate
Understanding of customer
Customer's willingness to leave positive feedback
Lead nurturing
Each marketeer has to pick a form of digital marketing that suits one's business. As well as different digital marketing tools and types to join the game in different phases of the sales funnel.
For instance, if you're focusing on developing customers' understanding of your brand, content marketing tools such as blogs and websites can offer what you need. While items like emails would work in converting a person quicker during the final stages of the funnel.
That said, digital marketing is essential to hold out in today's business environment. You need to expose your brand to a larger audience if you want your business to grow.
Digital marketing may sound difficult at first, but it's worth the squeeze since it has a lot to offer in expanding your results in 2022!
Kickstart your marketing guru dreams with Firepush
Email Marketing Statistics
Most online businesses continue using email marketing to engage customers. Check out 5 important marketing stats about their strategies as well as the state of email in 2022.
1. In 2021, four out of five U.S. people in the U.S. use emails at least once a month.
This translates into 267.9 active users, or 81.1% of the country's population.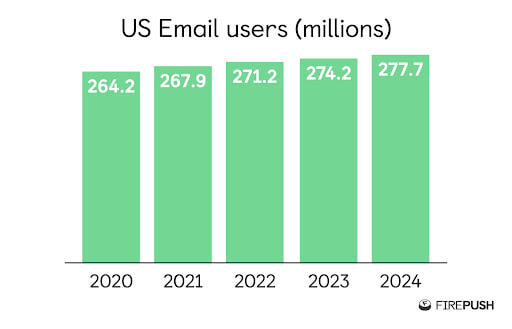 Such extreme popularity of emails makes email an essential tool for marketers in 2022.
2. About 81% of B2C businesses rely on email newsletters for marketing.
This statistic suggests that email marketing will continue to be a major source of leads and sales for ecommerce businesses in 2022 and beyond. That also means all-time-high email marketing competition and the need for differentiation.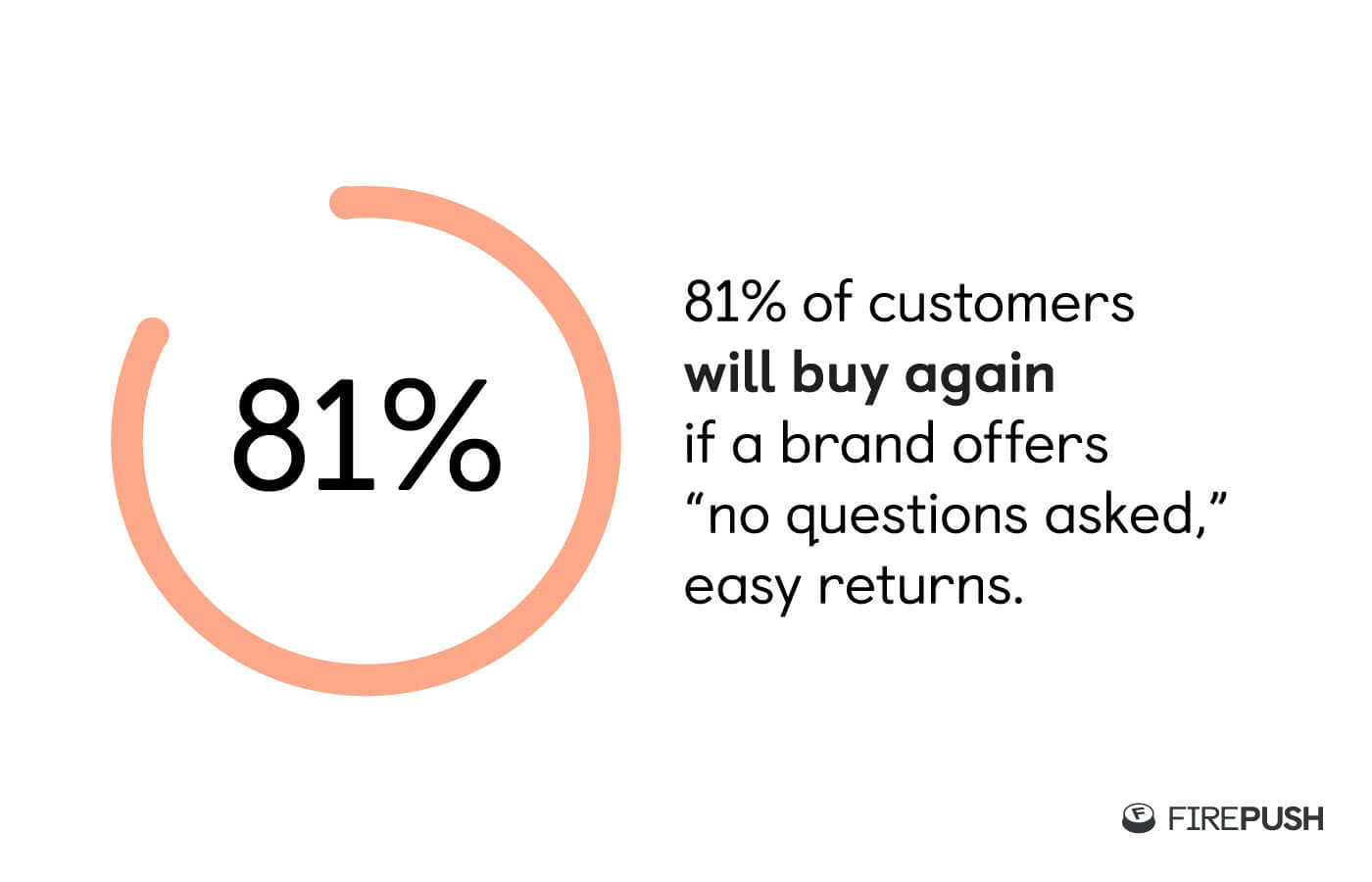 3. The click-through rate of segmented campaigns is 100.95% higher than non-segmented ones.
According to online marketers, the most promising email marketing tactic for 2022 is personalization of email's subject line as it can increase the open rates by 14.31% and double the click-through-rate.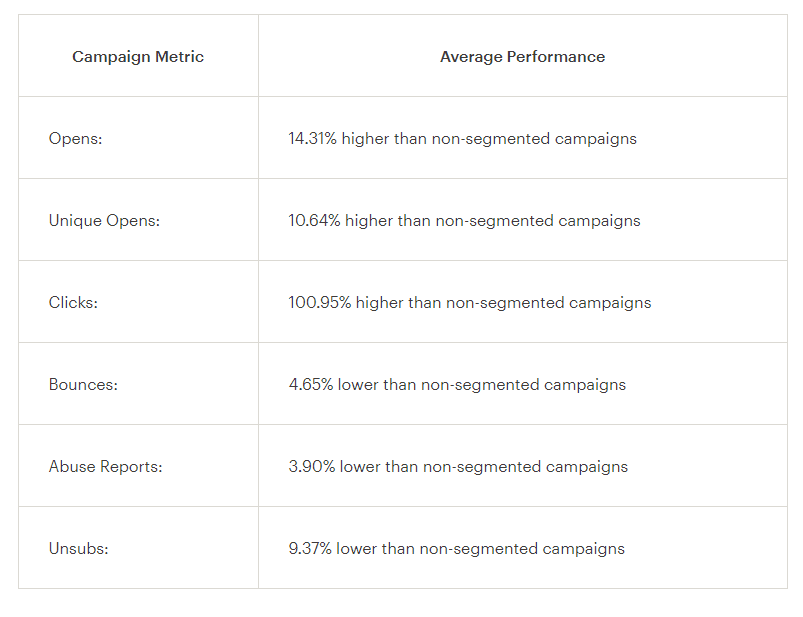 4. Engaging email subscribers remains the most difficult challenge for 45% email marketers.
Many reasons are responsible for this problem, including a lack of ways to get customer feedback consistently, poor user experience on websites, mediocre customer support, and no omnichannel marketing strategy.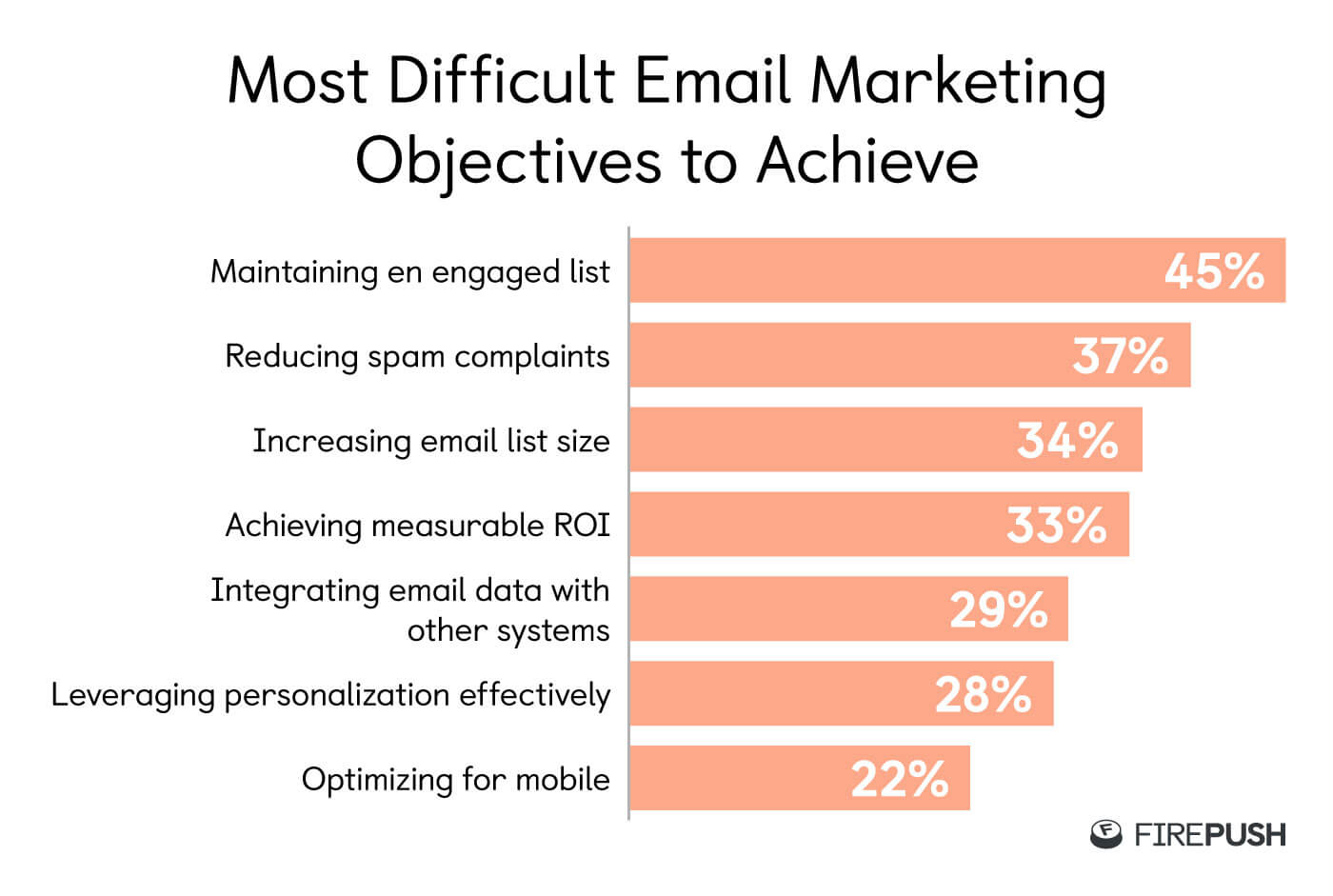 5. Recent statistics indicate that 75% of Gmail users access their emails via mobile devices.
Making email layout mobile-friendly is a promising tactic to increase the effectiveness of email marketing campaigns. It can boost the click-through rate up to 65%; studies also say that 23% of people who open emails on their smartphones have returned to them again.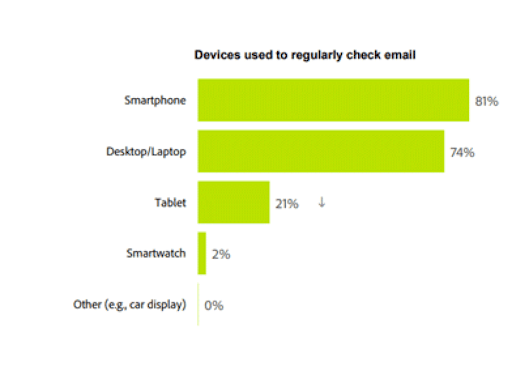 Content Marketing Statistics
From the popularity of content to strategies used by businesses, here are five major digital content marketing stats for 2022.
1. Blog posts are the top B2C marketing content format, with 83% of companies using it within the last 12 months.
Blog posts include short articles (less than 2,000 words) created to promote products and improve search engine positions. These articles typically address problems that brands help to solve with their products or services.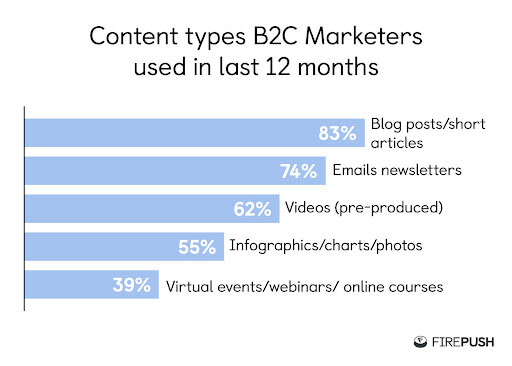 2. When brands demonstrate humanity in their content marketing, customers are 1.6 times more likely to buy from the brand over competitors.
"Demonstrating humanity" means showing care for the experience and well-being of others. This can be done through storytelling-driven content marketing (brand stories, customer stories, brand news, participation in social projects, etc.)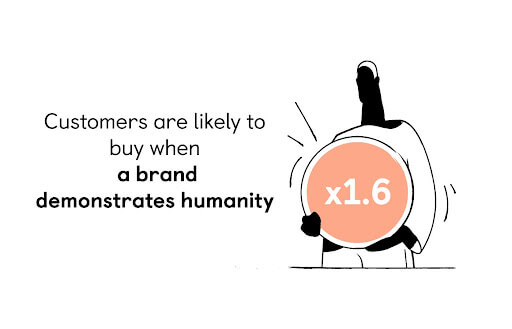 3. 29% of B2C marketers consider their content marketing strategy successful; another 55% claim it was moderately successful.
Although most marketers doubt the effectiveness of their efforts, they still continue investing in content creation. In 2022, content is one of the factors Google uses to judge the quality of websites, so using this strategy is essential to every online business.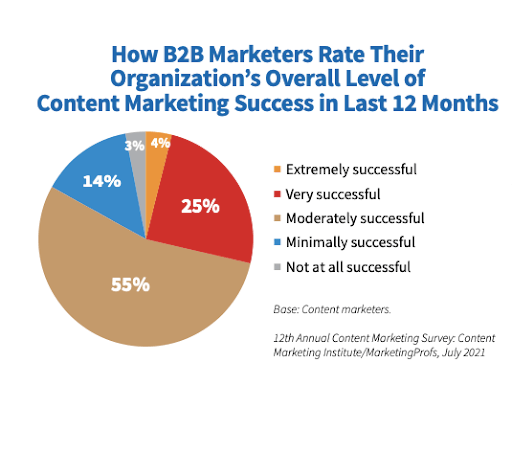 4. This year B2C businesses have put a strong focus on developing strong brand awareness and trust of their target audiences.
Marketers claim the top three objectives content marketing helps them succeed in 2021 are creating brand awareness, building trust, and educating the audience. Developing a community of clients, who have substantial awareness and trust, generates a great value for brands, as loyal clients convert to brand ambassadors.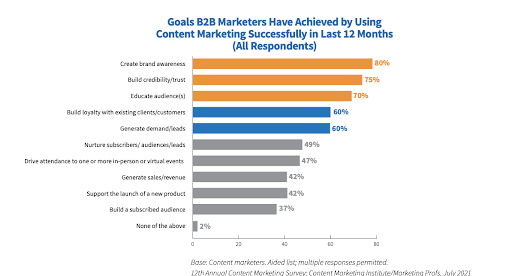 5. Quality content is the most important design element that contributes to creating an effective customer experience, say 58% of marketers.
According to the data, producing quality and relevant content remains a challenge for online marketers. That includes finding professional content creators, ensuring consistent content generation, and developing a unique angle to stand out from the competition.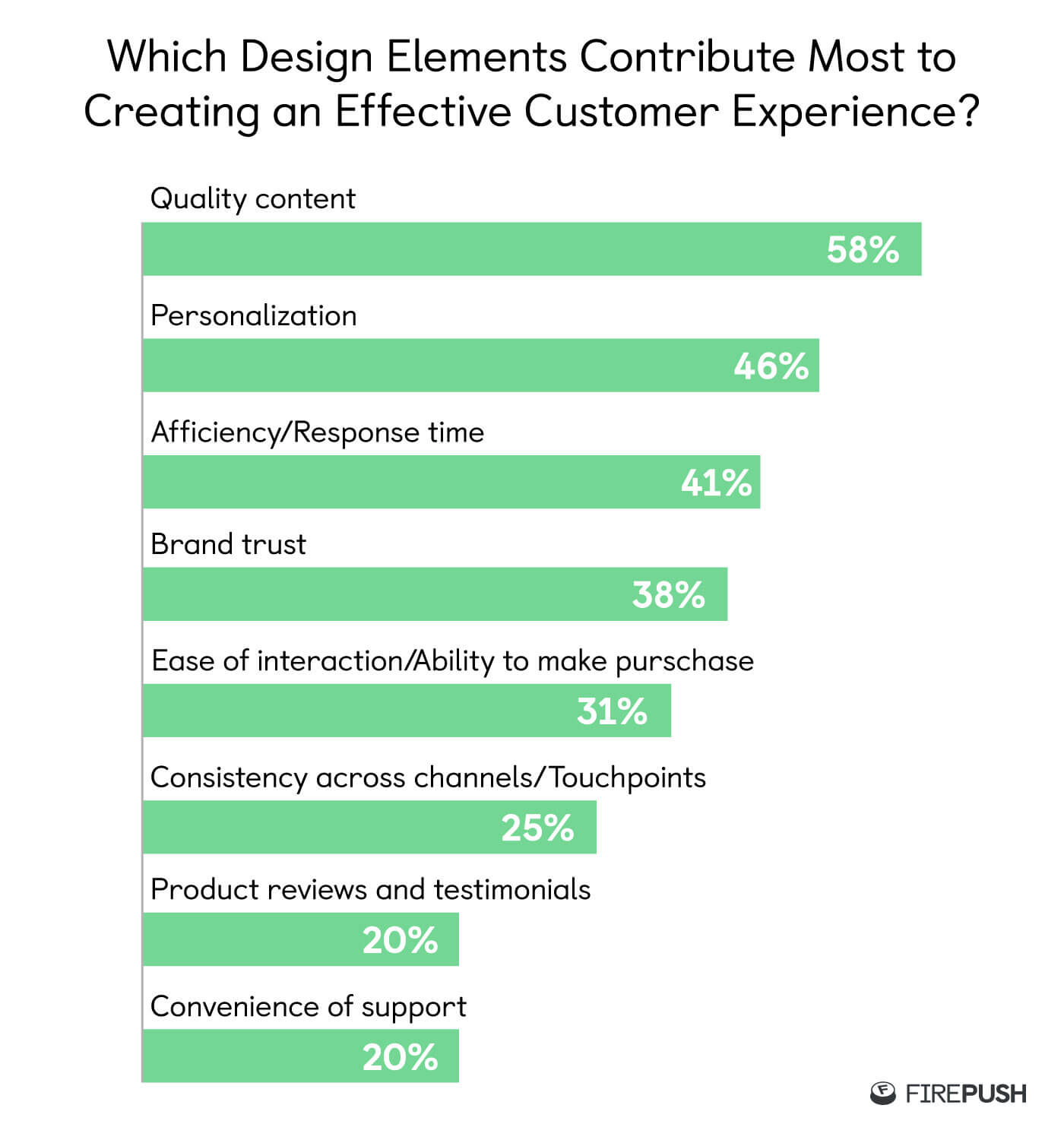 Video Marketing Statistics
Video has become a major source of leads and sales for online businesses. Here are five latest digital marketing stats from companies using this strategy to sell.
1. About 86% of marketers now use video as a marketing tool in 2022.
The use of video for marketing needs has increased by 23% over the last three years. In 2022, video remains a top priority for marketers in terms of spends and usage; thus, making this avenue of digital marketing highly competitive.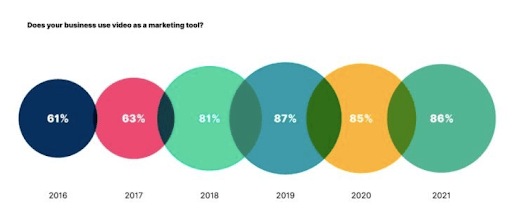 2. Video helped 84% of marketers to generate leads.
Customers like video content because it's more entertaining and engaging. So, using video content marketing in 2022 can help both B2B and B2C businesses to generate more leads, and, potentially, sales.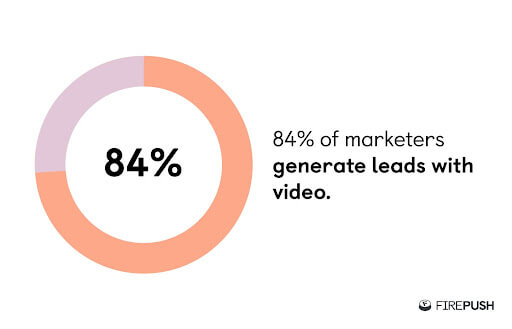 3. 94% of video marketers claim video has helped to increase user awareness.
Video is a powerful gateway to connect with your audience and display why your service or product is a top-notch solution. Video content marketing can nurture a brand-customer relationship and preemptively answer questions they might have had.
4. Video marketers say video has directly helped to boost their sales by 78%.
Even though monitoring data of video marketing can appear a bit difficult, marketers still prefer this as it can increase their revenues significantly.
5. 48% of B2B and 56% of B2C marketers plan to stop conducting interviews, and expert discussions
Podcasts and expert interviews might be incredibly effective for increasing brand awareness; however, it's also time-consuming. The majority of marketers are planning to invest more in short-form videos in 2022 as it has been proven effective, engaging, and digestible pieces of content.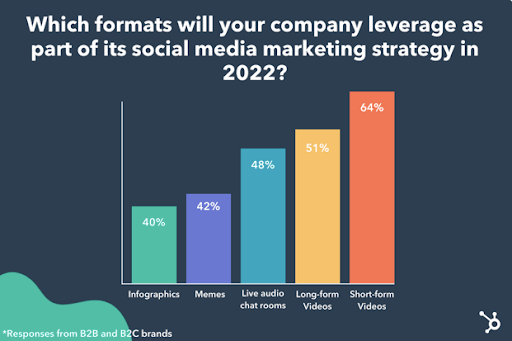 What to expect from social media marketing this year? Digital marketing stats in this section show the latest trends and how an online business can use this strategy to achieve its goals.
1. 83% of marketers reported feeling confident in their social media efforts.
Recent improvements in helping to measure the ROIs has enhanced marketeers' confidence in social media marketing and is likely to grow next year as well. Marketeers will continue to focus on attracting new customers and nurturing relationships with existing ones via social media.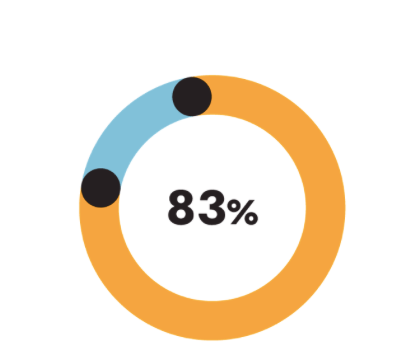 2. More than half of global internet users aged 16-24 use social networks to research brands.
In 2021, the younger shoppers used social media for every step of their purchase journey. It has been reported that social media use for e-commerce needs will double in 2022.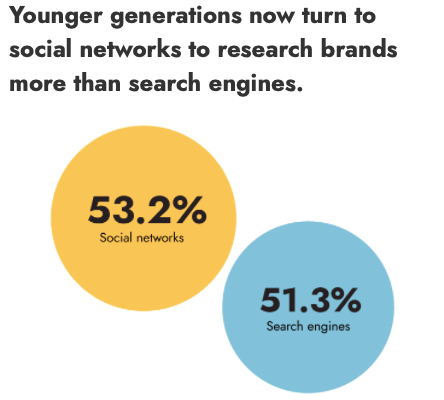 3. Social media advertising generated $47.71 billion in revenues in 2021, accounting for 30% of all internet ad revenues.
Businesses that invest in social media ads in 2022 can generate more revenues, especially compared to other marketing methods. The success, however, will depend on how engaging and entertaining the ads are for social media users.
4. 64% of people said they now prefer to message rather than call a business.
59% of marketeers agree that customer service via social media channels has increased in value for their businesses. In 2022, it is expected that social media platforms will receive further attention as a prospective medium of customer care service.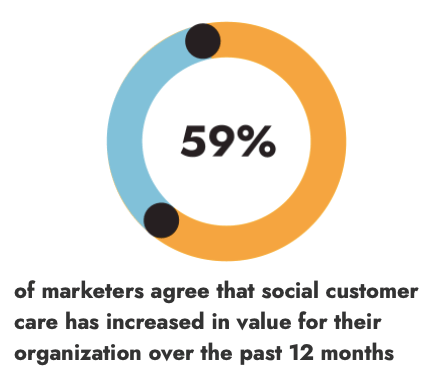 5. E-Marketers are predicting social commerce to be an $80 billion industry by 2025.
Shoppers prefer buying products from social media directly. In 2022, businesses should continue to invest in social commerce and content to buff up their sales.
Mobile Marketing Statistics
Many businesses that invested in mobile advertising have been winning big. Here are digital marketing stats you have to know about this budding industry.
1. The mobile device share in paid search ad clicks makes up 70% in 2021.
For marketers, this digital marketing stat means optimization of advertising campaign content for mobile devices is critical to engage more potential buyers.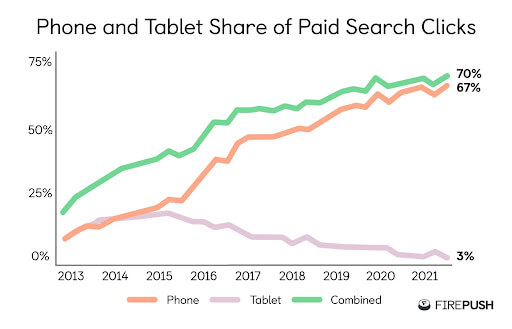 2. Mobile share of organic Google visits to business websites increased to 61%.
Smartphones combined for 61% of organic Google visits in the first quarter of 2021, which represents a 2% increase from Q1 2021.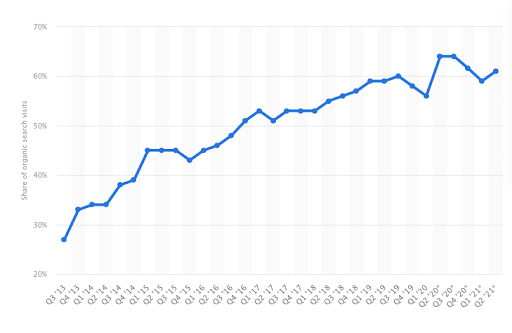 3. Global market of mobile ads is projected to reach $117 billion by 2024.
The growth will be driven by companies that provide more immersive mobile ad experiences that complement in-person experiences. Overall, this digital marketing stat suggests that more marketers will be investing in mobile ads in the next several years.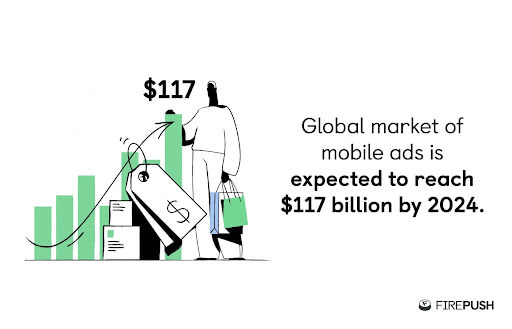 4. 73% of all e-commerce sales this year coming from mobile
Shopping through smartphones and tablets will expand further. Businesses will have to invest in appropriating their e-stores for mobile devices as well as develop satisfying customer journeys to meet this growing trend to drive sales forward.
5. About 95% of Pinterest searches are unbranded.
Here's why it matters: Pinners (85% of which use mobile devices to access the platform) are open to finding new products and ideas. For businesses, it means an excellent chance to market their products in a non-promotional way.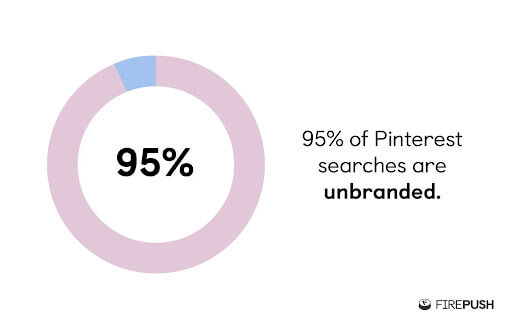 Search Engine Optimization (SEO) Statistics
SEO is critical for ecommerce businesses to appear in search result pages and drive traffic to their websites. In this section with internet marketing stats, let's look at the latest trends in the world of SEO that might apply to your business.
1. 82% of marketers reported major investments to improve their SEO strategy.
Making SEO-focused investments can create customized experiences for website users. In 2022, marketers will continue to capture strategic keywords that would vent their target audience to their websites.
2. 43% of the e-commerce traffic comes from Google's organic traffic.
It was reported that 93% of online experiences begin with a search engine. With so many potential customers doing searches online, proper ecommerce SEO optimization and maintenance will remain essential for businesses.
3. 18% of local searches result in a purchase.
Next year, businesses should keep up with optimizing their website for local search results considering that 75% of consumers search for local stores and locations.
4. In 2021, 70% of businesses altered their SEO content strategy to generate better results.
More and more businesses update their old content. SEO stats predict that altering strategy and content can be effective in increasing organic traffic by 111%.
5. 58% of all Google searches happen on mobile devices.
The research indicates the increase of searches happening on mobile devices. So, excellent SEO optimization and mobile-friendly layout of content shall remain in businesses' bucket lists in 2022.
Digital Marketing Statistics: Summary
Digital marketing is developing fast presenting itself as an increasingly appealing alternative for marketeers. This small collection of online marketing stats show some digital opportunities for businesses to enhance their activity based on the latest developments and trends.
For example, it seems like social media advertising could be a very profitable marketing strategy next year based on the rising revenues. Video marketing also seems promising, with more people watching more videos, especially on mobile.
We hope these digital marketing statistics were helpful to come up with decisions to promote your business more effectively.
FAQ
What is the best strategy for digital marketing in 2022?
The best digital marketing strategy in 2022 should focus on the customization of content through the use of email, social, content, video marketing; and robust SEO strategy.
Is digital marketing worth it in 2022?
Yes, digital marketing is worth the effort in 2022 as it can offer you opportunities to boost your traffic, revenue, and develop brand awareness.
What will be trending in 2022 in the digital marketing world?
Digital marketing for 2022 is likely to include new strategies toward short and long videos, social media and email marketing trends, customized content, vast investments in SEO, and better ways to approach customer service.
Special thanks to our friends at
FirePush
for their insights on this topic.