The electronics industry is only getting bigger. As technology evolves and more tech products become available and accessible to more consumers, the rise in competition naturally happens. Different ecommerce brands emerge offering tech products targeted at different demographics.
It's estimated that the electronics market was valued at 740.79 Billion (USD) in 2022. "The Global Consumer Electronics Market report by Reports Insights reveals that the market is expected to record a market size of more than USD 1063.39 Billion by 2030."
With this growth and increasing competition, loyalty is essential for retaining customers and acquiring new ones to stay ahead of your competitors. These 4 loyalty program examples in the electronics industry highlight that although not all loyalty programs need to look the same, they do have to offer immediate value to customers.
Flare Audio's dB Points
Every top loyalty program should have a well-branded explainer page. It should walk customers through every detail of its loyalty program, including FAQs. Flare Audio sells earplugs and earphones and has built a large brand community on social media. Its loyalty program Club Fare appropriately names its points dB—the symbol for decibel, the unit used to measure sound. This perfectly matches Flare Audio's products being used for hearing.

Its loyalty program invites customers to join and earn 4 dB points for every £1 spent. Customers can continue to earn points for engagements like social media follows, posting a review through the Judge.me integration, and of course repeat purchases. Customers can redeem their points for free shipping and free products.
Flare Audio also has a referral program that gives 10% off to first-time customers and a 10% discount to the party making a referral. Referrals are a fantastic way to get customers to try a new brand or products, while also creating social proof.
A referral program helps you create social proof for future customers in two ways. First, the more they see people referring your store to others, the more familiar your brand and products become. Second, if those referrals are coming from those who are already in their social groups (friends, family, co-workers), the power of social proof becomes even stronger because it's coming from a trusted source.

A branded loyalty program from Osume
Osume offers keyboard accessories though a minimalistic approach to products. From the moment you land on its website and social channels, the minimalist style is clear though everything from its products to its branding. With muted colors and simple photography, it's a relaxing experience.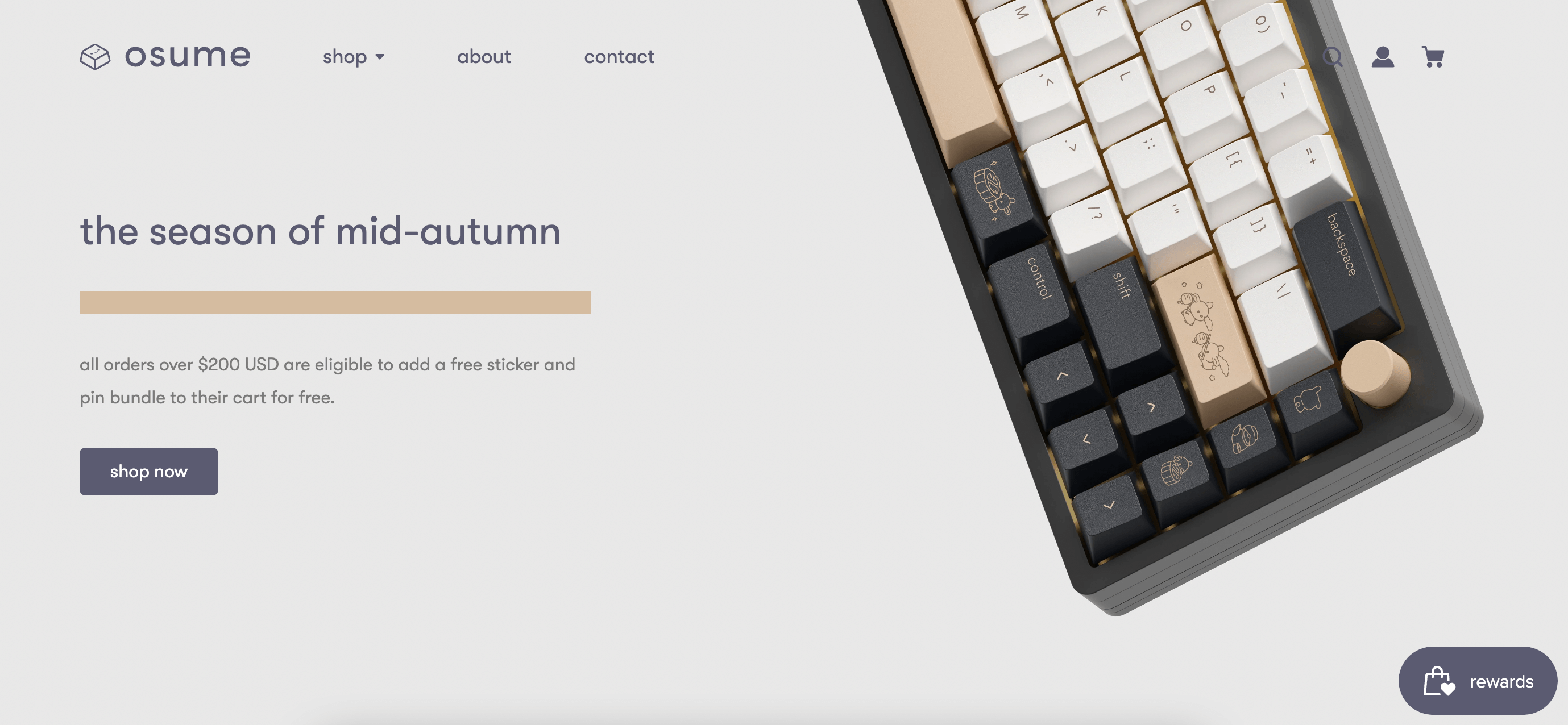 Its loyalty program osume points is no different. Osume keeps its program super simple with only three ways to earn points. 5 points for every $1 spent, celebrating a birthday, and a follow on Instagram. Customers can redeem their points for a coupon ranging from $5 to $50 off.
Osume not only keeps the reward and redemption structure simple, but its branding and reward program launcher aligns with the minimalist branding they are known for.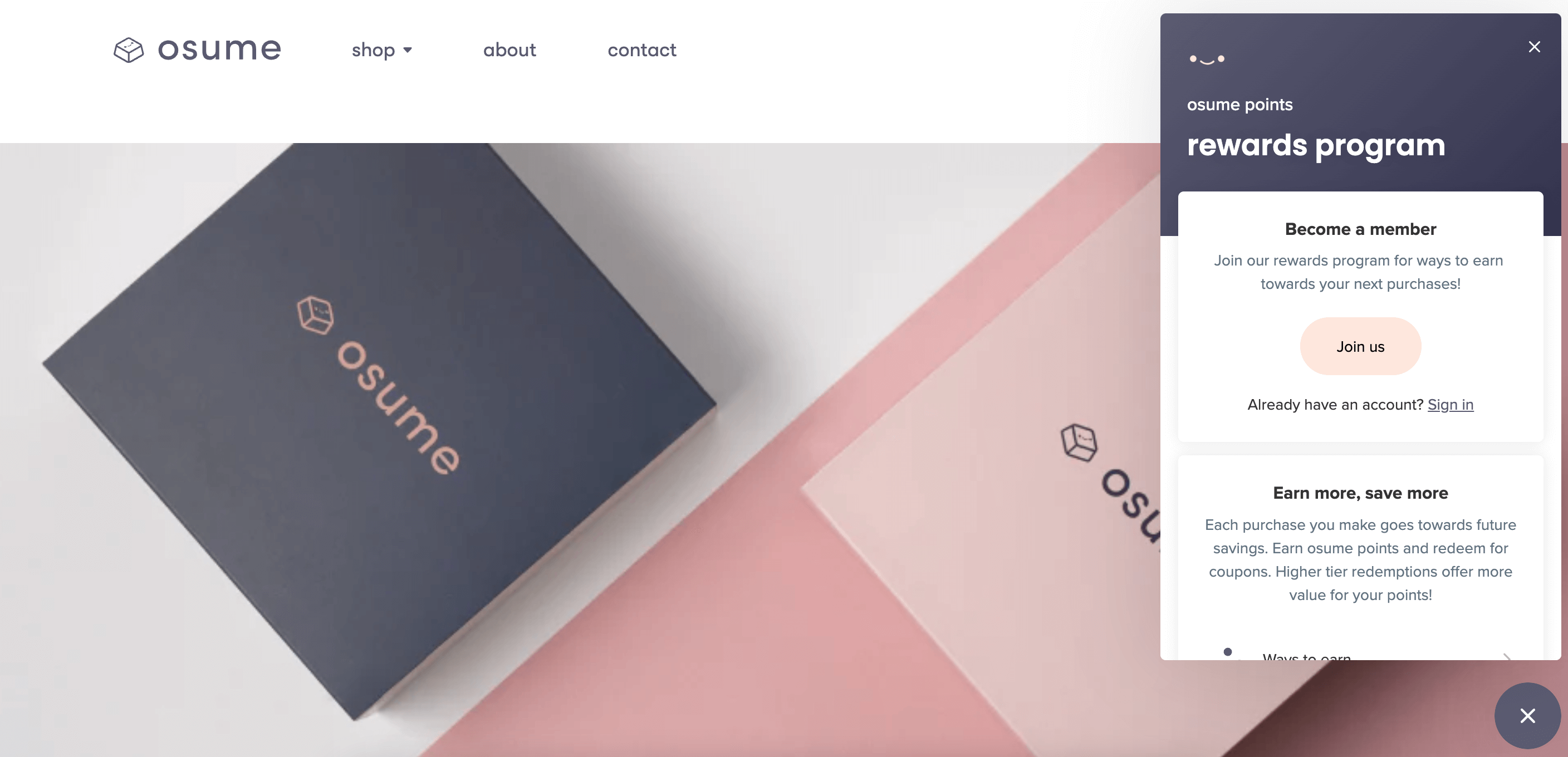 When launching a loyalty program, sometimes you don't need all the things other brands have, such as a long list of earning actions or types of rewards. Especially if your customers aren't engaging or asking for those things in a loyalty program. Focus on customizing your program to fit your brand and style and most importantly, your target audience. Not all loyalty programs need to look the same and that's ok.

Govee keeps it simple
Electronics brand Govee knows how to light up a home or office space. With its products being lights for your space, Govee keeps its rewards program simple for customers who may shop only a few times a year.
Govee Exclusive offers customers 5 Govee Store Points for every $1 spent and introductory points. Customers can redeem their points for a coupon ranging from $6 – $20 off. By keeping it simple, Govee created a loyalty program that works for its customers. The points don't expire and it keeps rewards available when customers are ready for a second purchase.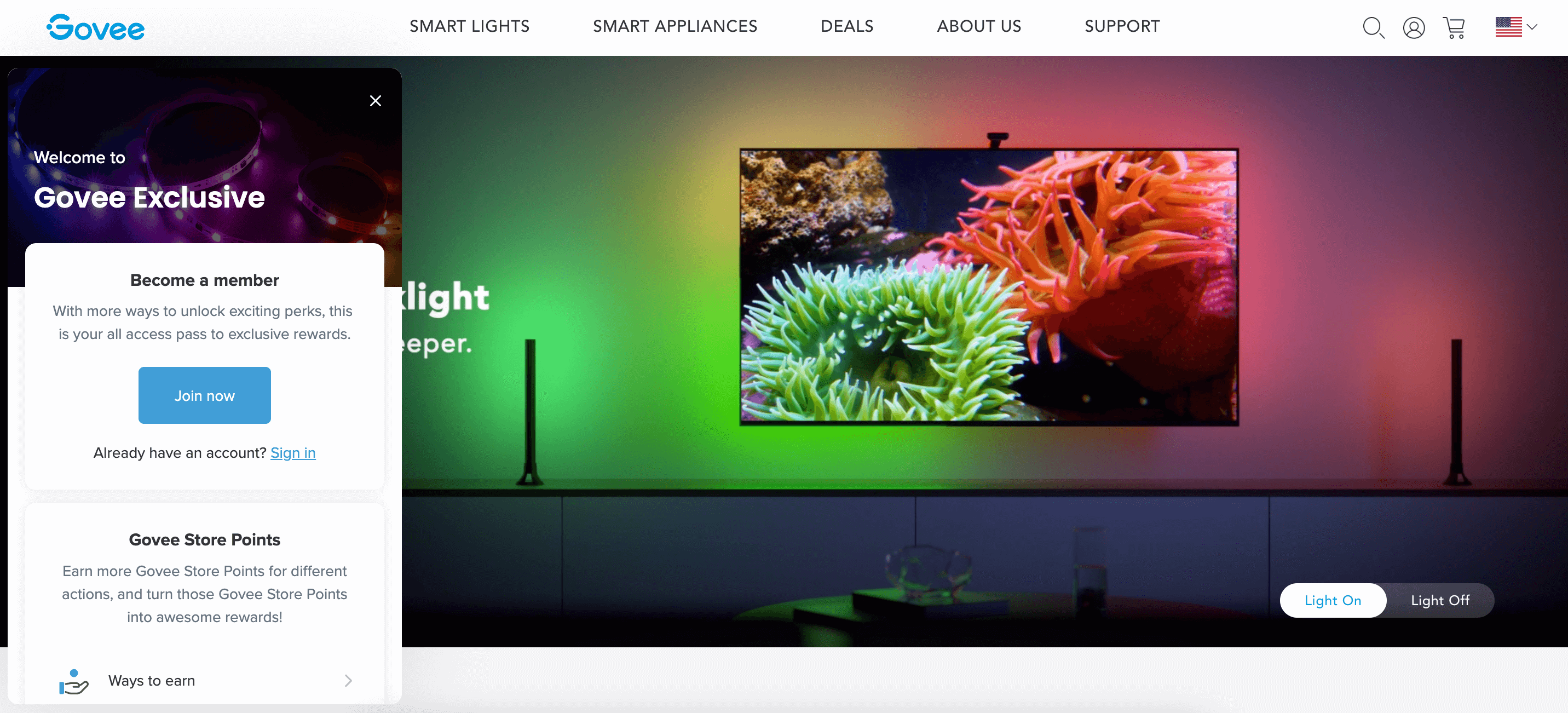 Points never expire with Polaroid
How often are you buying a new camera? Chances are not super often. But camera accessories, film, and products for your camera are reasons why people love a great camera shop. Polaroid is a major brand, that has been around for decades. So how does a major brand pull in loyal customers that stick around even through generations?

It's all about how you make customers feel. Polaroid puts a focus on how customers feel from its products to its loyalty program. Polaroid offers 100 points with every $1 you spend on Polaroid.com. They also offer a generous referral program that gives new customers 10% off and the person making the referral earns 10,000 points.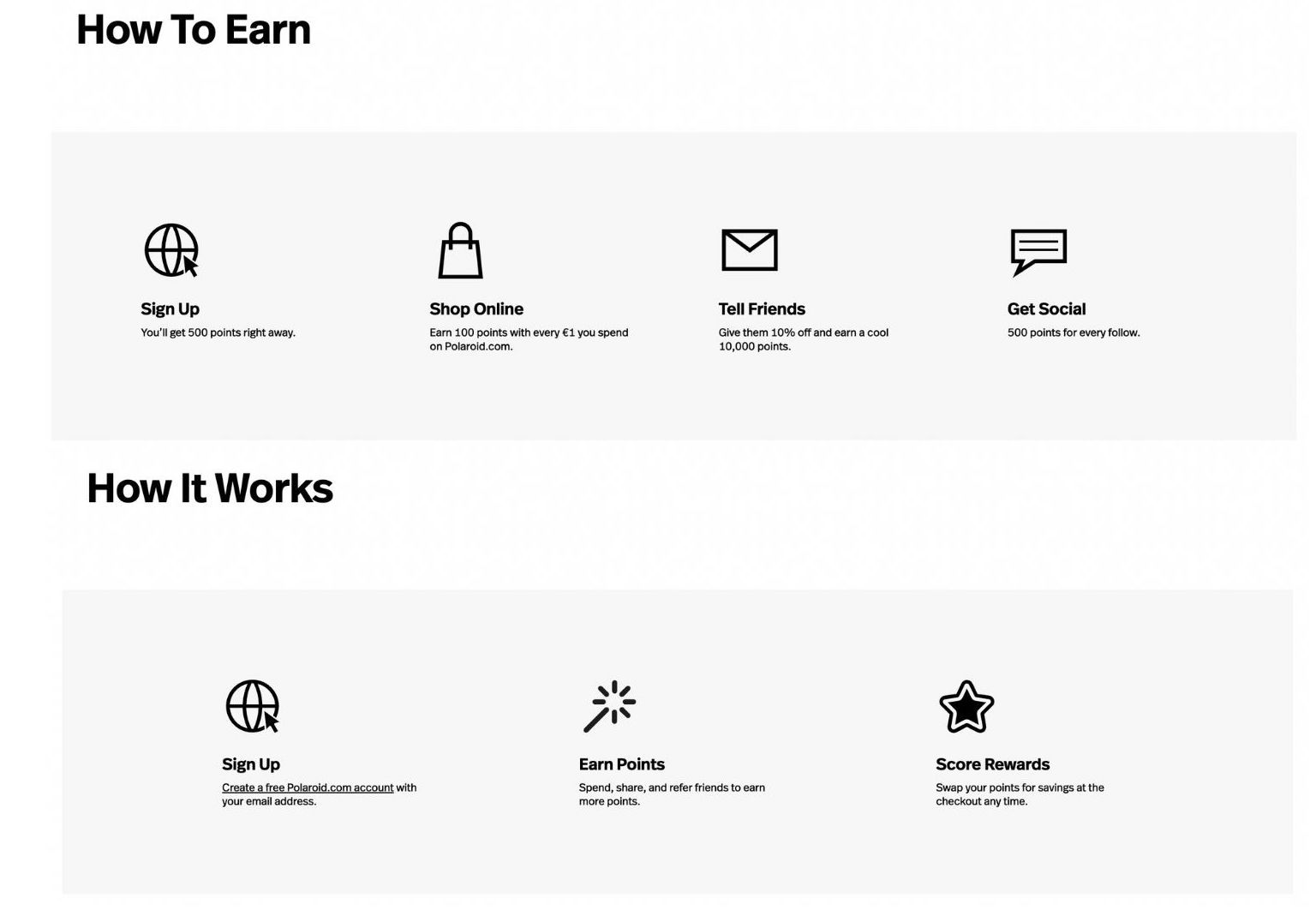 What makes Polaorid's loyalty program a top one is its branded explainer page that includes an FAQ for customers. It is simple and shows step-by-step how customers can sign up and earn rewards.
One key aspect of Polaroid that other electronics brands should incorporate into their loyalty program is making sure points don't expire for your customers. In an industry where customers aren't shopping frequently compared to other industries, allowing points to never expire keeps your customer's balance full of points available when they are ready to come back again.
Tips for loyalty programs in the electronics industry
The bottom line is customers are loyal to their favorite electronic products and brands. The electronics industry is constantly growing and only getting bigger, so offer customers a way to feel valued by your business.
Offer a referral program. Referral programs are a simple way to acquire new customers who often have already established a connection with you via the person making a referral.
Set your customer points to never expire. That way they will have a points balance when they are ready to come back and shop with you.
Explainer pages will answer all the questions for your customers. The more visual the better.
Add an FAQ to ensure you are answering all the questions your customers are asking.
Not all programs need to look the same! Create something that works for you and your customers. Keep it related to your brand and don't miss the details.
Launch your loyalty program in minutes
LAUNCH A BRANDED LOYALTY PROGRAM FOR YOUR ELECTRONICS BRAND
This originally appeared on
Smile.io
and is made available here to cast a wider net of discovery.