Whitney Blankenship
Content Marketing Manager
Reading Time: 9 minutes
With more and more people shopping online each year, the global ecommerce industry is booming like never before. 
From its humble beginnings in easily deliverable and consumable things like books and DVDs, ecommerce has expanded to the point where consumers now feel comfortable purchasing pretty much anything online.
What has driven this rapid shift in attitudes? According to the Ecommerce Statistics Report 2020,  the COVID-19 pandemic has played a huge role in accelerating the trend toward shopping online.
Enter, home goods and furniture ecommerce, an industry that's booming online, as more people are staying at home and taking care of their nests. In 2020, the furniture industry grew to $115.2 billion, and is expected to grow by another 4.4% in 2021. How can ecommerce merchants sell furniture online that responds to that growing demand? Read on for the biggest furniture ecommerce trends and tips to help you grow in 2021. 
Check out how Black Mango generates 43% of their email revenue effortlessly.
What is Furniture Ecommerce?
Furniture ecommerce is classified as any online store or marketplace that is selling furniture and homegoods. It can come assembled, or need assembly on arrival (like the classic flat-pack furniture that's been popular for some time), or be partially assembled, such as a couch that needs the legs attached. It can be larger items, such as couches, beds, desks, and it can also be much smaller decorative items, such as light fixtures, throw pillows, and window treatments.
Driven by giants such as Amazon and IKEA, 8 out of 10 consumers have now bought furniture online with help from things like hyper-personalized marketing, augmented reality, and the ability to contextualize potential purchases within their own home environments according to Emizentech. 
With online sales representing over 90% of the growth in the ecommerce furniture industry, these are really exciting times for retailers! However, it's crucial to keep up with the latest trends if you want to stand out among the best furniture ecommerce sites in an increasingly competitive market. 
In this article, we're going to check out some of the biggest furniture ecommerce trends for this year. We'll also look at some furniture ecommerce best practices, so you can learn how to easily and effectively incorporate these trends into your own strategy.
4 Furniture Ecommerce Trends for the Year Ahead
1. Personalization for Furniture Ecommerce Brands
Personalization in marketing has quickly become a customer expectation. In fact, according to Accenture, a massive 91% of consumers say they are more likely to shop with brands that provide offers and recommendations that are relevant to them.
But personalization doesn't just mean adding a first name at the start of your promotional emails. It means reaching out to your customers with the right message, at the right time, and in the right place. It means building a connection over time by showing that you are aware of a customer's needs and preferences, and have the right answers to their questions. 
For example, rather than sending out a mass batch of emails that say the same thing to everyone, you should be able to divide your audience based on specific criteria and send more relevant messages to each segment. 
You should know exactly who has recently made a purchase, who hasn't visited your site for a while, and who has been showing an interest in your latest range of funky kitchen chairs. Then you should be able to tailor your messages just for them and include recommendations that you know they'll love.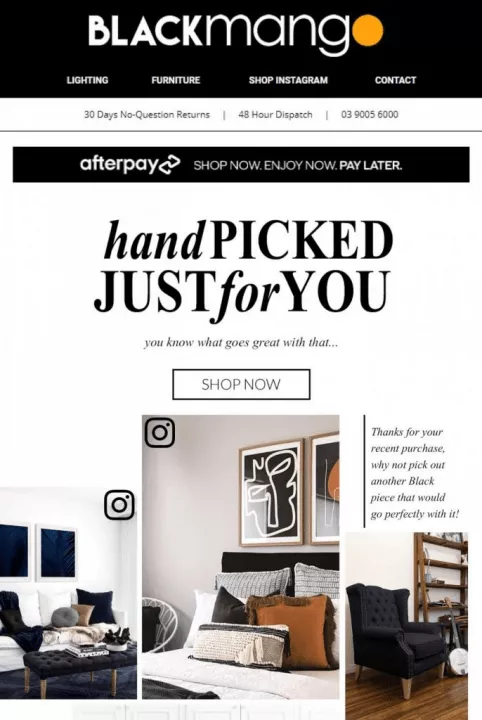 The best furniture ecommerce sites are already successfully using personalization to attract and keep long-term customers. 
2. Augmented Reality for the Ecommerce Furniture Industry
Choosing the right furniture is a big deal for a buyer—they're making a significant investment into something that they'll be living with for years to come. 
Therefore, it's crucial that customers make the right choice from the beginning. Augmented Reality (AR) is a huge help with this, giving people the chance to "try out" a product before making a purchase, therefore reducing the risk of potential disappointment and leading to fewer returns.   
The classic example of AR in furniture ecommerce comes from (who else?) IKEA. Their Place app uses AR to give furniture shoppers a view of different products in their homes, quickly scanning a room for dimensions before accurately depicting how it would look and fit.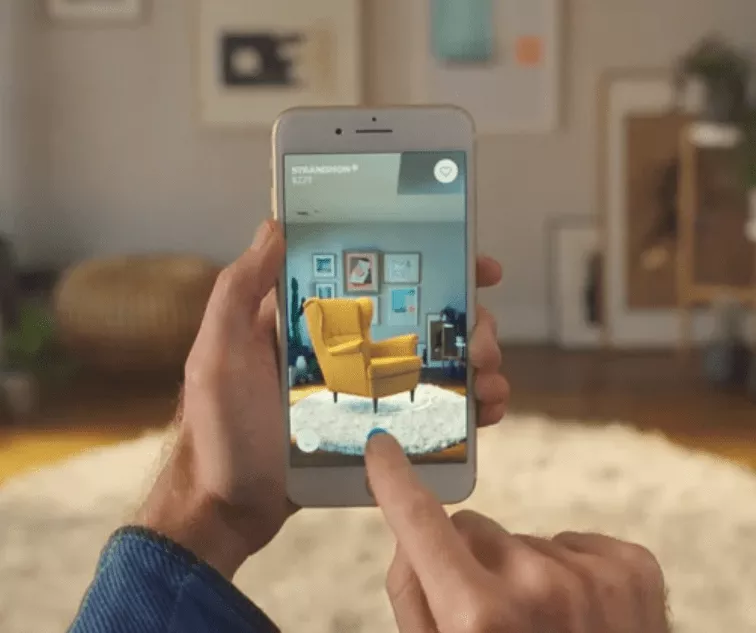 With 73% of users reporting either high or very high satisfaction with mobile Augmented Reality experiences, and its use boosting conversion by 40%, it's clear that AR is here to stay. 
Moving away from the need for apps, there are even more accessible, web-native versions available that are sure to bring AR into the mainstream this year, especially in the ecommerce furniture industry. As a retailer, now is the right time to think about adopting AR into your own business. 
3. The Continued Growth of Direct-To-Consumer (DTC)
DTC has seen considerable growth in the past couple of years, as new technology, shifting consumer attitudes, and the success of well-run DTC brands has seen the need for a retail 'middle man' diminish. 
Today's customers aren't as easily swayed by massive advertising campaigns—they've seen it all before and their first reflex, when faced with obvious marketing, is to look away. 
The more personal approach of DTC, where a brand provides an emotional connection, shared principles, and real value over time, has become a much more attractive way to shop. This is great news for brands who are able to better understand their customers' needs and wants, reduce costs, and enjoy more flexibility in the ways that they advertise, sell, and distribute their products. 
With a more hands-on approach and greater control over the entire sales cycle, it's no surprise to see DTC go from strength to strength. Check out some of the best ways to boost your DTC marketing for 2021 for an in-depth view of the latest DTC trends.  
4. Social Commerce
With 40% of business owners using social media to generate sales and 60% of shoppers learning about new products from Instagram, social commerce is already having a huge influence on how people interact with businesses, discover new products, and share them with their friends. 
This year, social commerce is set to take the next step by bridging the gap between discovery and purchase. Let's say a customer finds a beautiful desk, shown by an influencer on Instagram. Rather than having to remember the name or be directed to another website, they can seamlessly complete the purchase right there and then, without having to leave the platform. 
This is a win-win because people love convenience and customers sometimes make snap decisions based on a strong initial reaction to a particular product. Social commerce allows for both of these things to occur naturally.  
With 30% of customers saying that they would happily make a purchase directly through social media channels, this kind of integrated social commerce is sure to become more common in the near future.  
3 Tips For Implementing Furniture Ecommerce Trends
You'll need a solid foundation to implement these trends in your own store. Make sure you have the following furniture ecommerce best practices in place for quick adaptation of new innovations and technologies.
1. Choose the Best Ecommerce Platform For Furniture Ecommerce
Choosing the best ecommerce platform for your business is one of the most important decisions you'll make. 
Shopify is the biggest and most popular platform out there. It is big, powerful, and full of features and app integrations to make your furniture ecommerce store just the way you want it. 
The best part about Shopify is its ease of use—it needs no special technical skills and you can have your store up and running in minutes. That means you'll save valuable time not having to worry about things like website domain, hosting capacity, payment gateways, SSL certificates, and so on. 
Shopify even has an excellent built-in augmented reality feature, allowing you to start showcasing realistic, interactive versions of your products straight away. 
However, Shopify isn't for everyone. Some more IT-literate retailers might find the platform too restrictive and crave more flexibility. They might be looking for something that costs less, or they might simply prefer a different interface. That's fine, and luckily there are several great Shopify alternatives available, including Magento, BigCommerce, and WooCommerce. 
Each platform has its own pros and cons, so ask yourself the following questions before making your choice: 
How tech-savvy are you? Are you happy with everything being set up and ready to go, or would you prefer more control over the details?
Do you need help with design or will you create your own? If you don't have the time to design every aspect of your furniture ecommerce store, does your chosen platform offer the right templates for you?
Do you need hosting options? You'll need to host your site on a server. Are you able to do this yourself?
Will you be using third-party apps? Even the best ecommerce platforms will lack specific features, so you'll need to optimize with other apps. What kind of integrations does your chosen platform support?
2. Use Marketing Automation to Create a Personalized Customer Experience
The key to personalization is the effective use of customer data. This begins as soon as a user visits your site—your email marketing platform should allow you to track and record the furniture that they've shown an interest in, allowing you to recommend relevant products based on their preferences.
While you have a visitor's attention on your site, you should be doing your best to sign them up to your subscriber list. You can do this using dynamic sign-up forms that capture the imagination with gamification and incentives, allowing you to ask for contact information such as email and phone number, as well as other valuable data including gender, age, interests, and so on.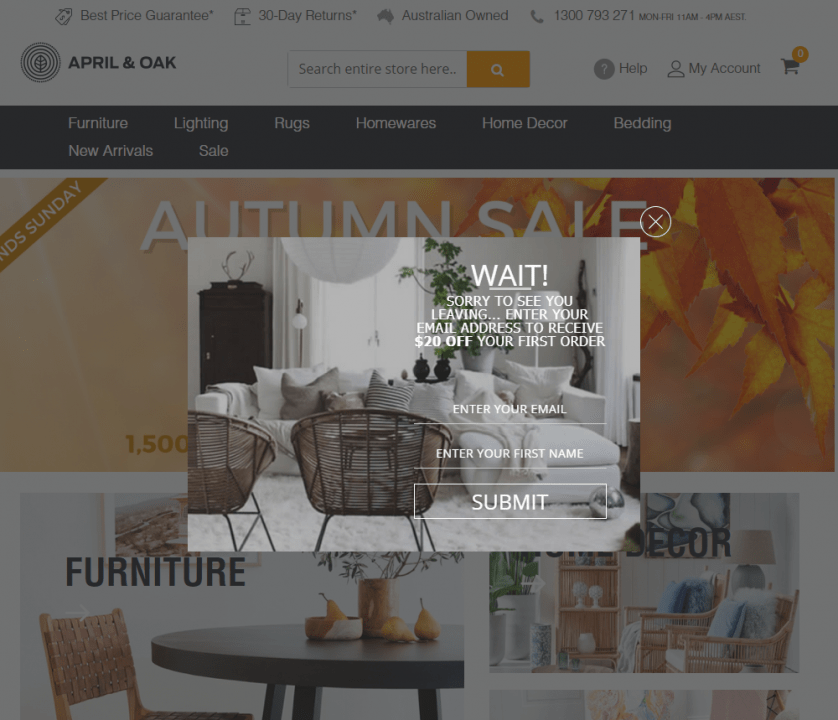 With a healthy and well-stocked subscriber list, you are better able to engage in personalized, omnichannel marketing with automated workflows. For example, if a visitor visits your site, browses a certain sofa, and then leaves without making a purchase, a product abandonment workflow is automatically sent. This allows you to easily reengage the customer with a combination of email, SMS, and push notifications that offer incentives or discounts and showcase relevant recommendations for similar sofa types, different colors, etc.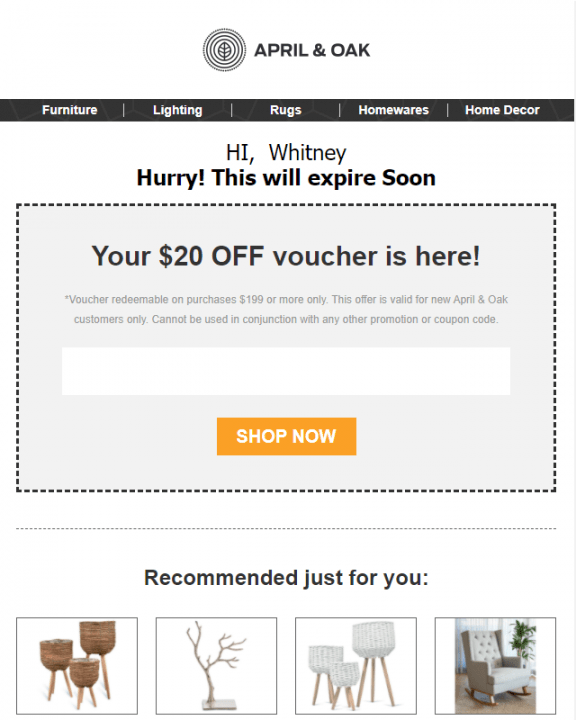 Other popular automated workflows include:
You can also check your automated marketing platform for detailed segmentation options to make your workflows even more personalized. The ability to effectively segment your contacts by shopping behavior, demographics, location, etc. allows you to adjust your messaging accordingly and prioritize your customer retention strategies to your most valuable shoppers—helping you to keep them around for longer.  
With automated emails driving 29% of all email marketing orders in 2020 from less than 2% of email sends, personalized marketing through smart segmentation and omnichannel automation provides a blueprint for retailers to increase their furniture ecommerce sales in 2021.
3. Use Social Media and Paid Ads
A good omnichannel marketing strategy also includes social media channels. For example, if a user was browsing a new kitchen on your site and then left without making a purchase, you can remind them of it on social media and offer similar recommendations. 
This is done by syncing your subscribers to Facebook and Google, a feature that more advanced marketing automation apps will offer, and a retargeting ad will be automatically sent when a customer abandons their browsing session or cart. 
There are many other ways that you can leverage the power of social media to engage your customers and keep them for the long term by building customer loyalty.
You can reward customers with valuable loyalty points for following you on social media, create a close-knit community by sharing customer images and posts and encouraging discussions or use relevant influencers to talk about your products and boost your sales.
Social media has a huge potential with its capacity to engage, inspire, and reach a huge audience. Make sure you have an active presence on all the major platforms and are well-placed for the upcoming age of social commerce.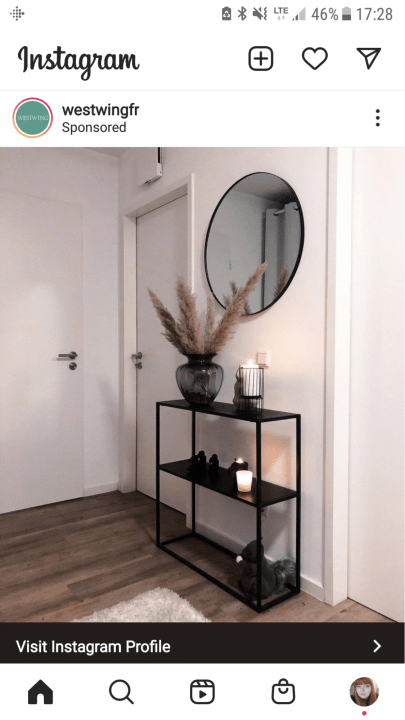 Wrap up
2021 is set to be a huge year for ecommerce retailers as these emerging trends and technologies combine with the further normalization of online furniture shopping.
And while you might not have the budget and resources of major players like Amazon and IKEA, you can definitely thrive in this competitive market by offering a great DTC experience and bringing the service of the showroom onto people's laptops and mobile devices.
So go ahead and try out some of these furniture ecommerce trends for yourself and watch your customer engagement, loyalty, and bottom line grow!
Special thanks to our friends at
Omnisend
for their insights on this topic.