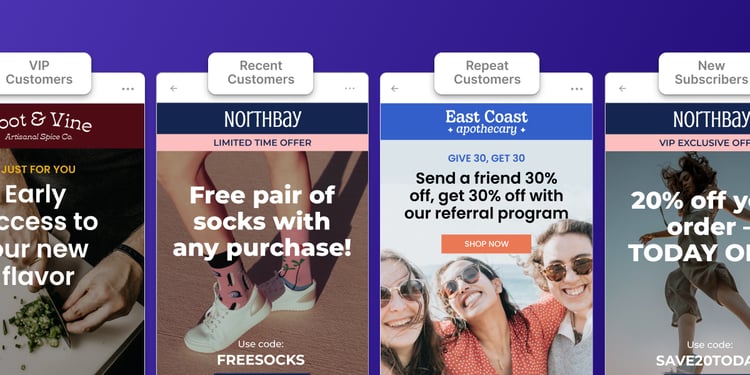 Let's face it – it's a busy time of year.
And when you're short on time, it's even more important that you make the most out of your email marketing for your store.
A little bit of personalization can go a long way when it comes to boosting revenue and customer engagement this holiday season.
That's where email segmentation comes in. Segmentation helps you easily pinpoint specific audiences so you can send them messages they'll actually want to open.
And with holiday plans, end of year tasks and more fighting for your shoppers' attention, you need ultra-relevant messages to pull them in. 
So we put together a list of our top recommended customer segments and last minute campaign ideas you can send them this holiday season.
1: VIP customers
You may have specific attributes in mind when it comes to defining what a VIP means for your brand, but to keep it simple we recommend focusing on customers who've spent the most with your store. 
So you could define this as customers who've bought from you 3 or more times. Or maybe they're spent a certain amount of money with your brand, like over $200.
Finding ways to delight these customers and thank them for their loyalty to your brand is critical for retaining them over the long haul.
Luckily, something as simple as letting them be the first to know about sales and exclusive offers can be a great way to say thanks.
Just like Faithfull the Brand did in this email.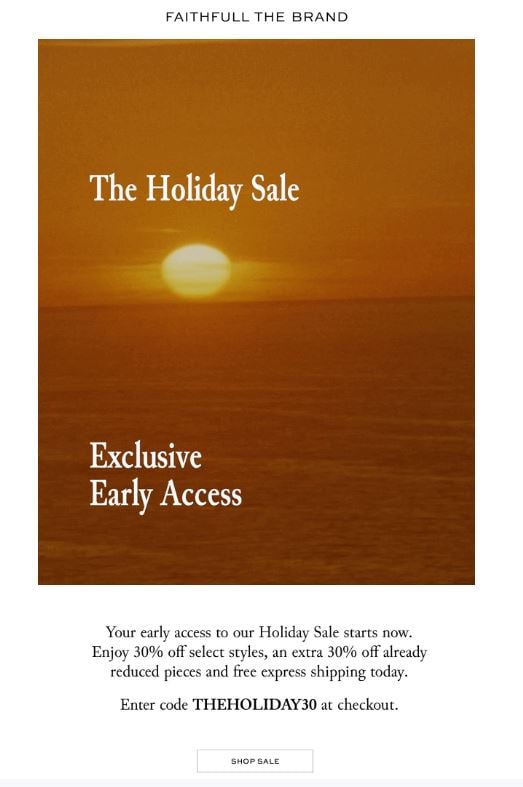 The email is straightforward and keeps the focus on the recipients' early access to their holiday sale.
Keeping content to a minimum (like Faithfull the Brand does here) can be an effective way to drive the behavior you want without distracting shoppers with competing call-to-actions. In this case, Faithfull's call-to-action to shop the sale is reinforced by information about their holiday shipping dates.
If you're looking to send a campaign to your VIPs with Privy, you can use shopping activity filters like order count and lifetime spend to create your very own VIP segment. So a segment of any customers with 3 or more orders would look like this:
And a segment of customer who've spent $200 or more with brand would look like this:
Once you define your VIP segment, you can save it to use for future campaigns.
2: New subscribers
Chances are, if shoppers recently signed up for your list they're considering making a purchase. Even more so if they signed up during the holiday season when they're likely thinking about gift giving. 
So it's safe to assume that a good portion of your new subscribers are primed to make their first purchase with your brand. 
And now is the perfect time to offer an incentive to push them over the hump before the end of the year. That's why we love this email from DOUGHP.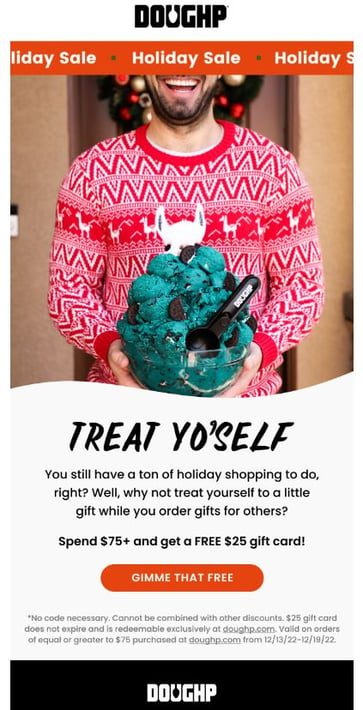 Not only does this email play on the sense of urgency most of us feel this time year, it also offers a unique incentive that isn't a discount code.
DOUGHP encourages subscribers to shop for others with the promise that they'll be rewarded with a $25 gift card if they spend a certain amount.
This is a super smart tactic to try if you're looking to increase your average order value. DOUGHP is essentially guaranteeing that most orders placed through this email will be at least $75.
Plus, it's highly likely these subscribers will come back to shop again so that they can use their gift cards. So with an approach like this, you can turn new subscribers into repeat customers with a single email.
Here's how you might create a segment for new subscribers in Privy. 
Select contacts who signed up for your list after a certain date, such as within the past 7 days. For good measure, you can focus on contacts who haven't yet bought from you or whose order count equals 0:
Get our best content on ecommerce marketing in your inbox 2 times a week
3: Repeat customers
Happy customers are the best advocates for your brand.
And what better way to bring new customers into the fold than with the help of those happy customers?
Consider encouraging your repeat customers to spread the love by promoting a referral program this time of year. 
Take a look at this example from Lunya.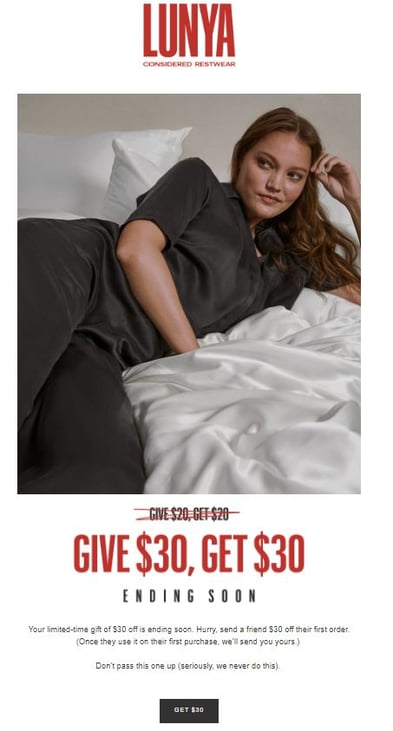 Customers can send their friends $30 to shop with Lunya and will receive $30 when those friends make their first purchase. 
At a time when shoppers are already in the gift giving spirit, this is a smart way to hook your repeat customers who already enjoy shopping with your brand.
The promise of receiving credit to shop again can be a great motivator to bring in those referrals.
So consider targeting your own repeat customers this holiday season. 
A simple way to define repeat customers is anyone who has bought from your store more than once. You can quickly create this segment using the order count filter in Privy's segment builder. 
4: Recent customers
Your recent customers are another segment worth engaging before the end of the year. Recent customers can include anyone who has bought in the past 30 days. 
Keeping that in mind, it's important to be careful about what exactly you send to this segment.
And the holidays can be a great reason to cross-sell complimentary products to your recent customers.
This email from Kulfi Beauty does just that in a really clever way.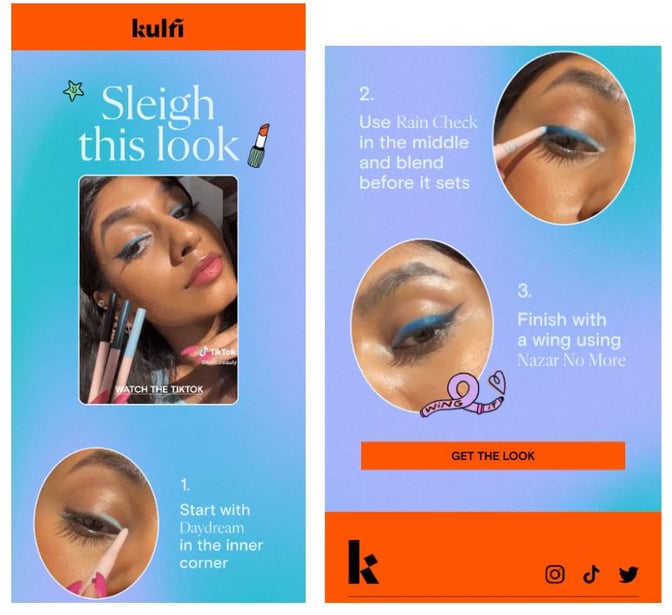 The brand is super playful with holiday-related language like "sleigh this look."
But the campaign itself is something that can be adapted for any time of year. 
For shoppers who bought any of the 3 products featured in the email, the TikTok tutorial is helpful content.
Plus, this is a subtle way for Kulfi Beauty to promote additional products. A customer might have only bought the Daydream eyeliner but if they want to recreate the look from the tutorial, they'll need the other two shades highlighted in the email. 
Kulfi strikes a great balance between sharing useful content and showcasing their products without being too pushy. 
So if you want to pinpoint your recent customers to do some cross-selling, here's what to look for in Privy.
Set the last order date filter to your desired date (we recommend honing in on the past 30 days).
For the purposes of cross-selling, you'll want to layer in some purchase history data like individual products or a Shopify Collection. 
For example, if you might want to promote your holiday collection to shoppers who bought from you recently. But you don't want to include anyone who has already bought from the holiday collection. The purchase history filter in the segment builder will help you do just that. 
5: Lapsed customers
Holiday deadlines approaching can be the perfect opportunity to re-engage customers who haven't shopped with you in a while.
So if you're looking to drive an extra bit of revenue to wrap up the year, reaching out to your lapsed customers could be worth a shot. 
Depending on your customer lifecycle, you might define a lapsed customer as someone who bought in the past but hasn't shopped with you in 3 months.
But if you sell higher consideration products, like luggage or tech accessories, no purchases in the past 6 months might be a better representation of a lapsed customer for your brand.
However you define a lapsed customer, keep in mind that you'll probably need a strong incentive to recapture their attention.
That's why I like this example from Boll & Branch.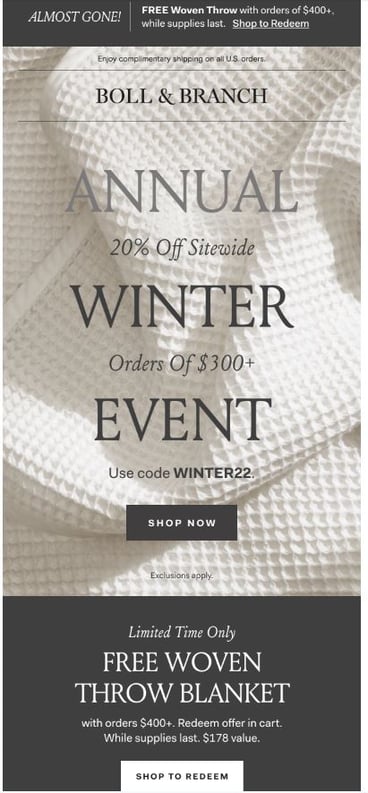 Boll & Branch was already running their annual winter sale. But the sale might not be enough on its own to pique the interest of lapsed customers.
So to sweeten the deal, the brand also offered a free gift for a limited time.
With the holidays quickly approaching, this double incentive is sure to hook some lapsed customers and get them shopping with Boll & Branch again. 
Here's how to create a segment of your own lapsed customers in Privy, which we'll define as contacts with at least 1 order in their purchase history but no orders in the past 3 months. 
You'll start with setting the order count filter to greater than 0.
And then you'll add in the last order filter and set it to before your desired date. 
Save your segments for future campaigns
While segmentation can help you put a personal touch on your campaigns during this important time of year, creating go-to segments you can engage year-round can take your email marketing strategy to the next level.
Segmentation remains one of the most impactful tactics to increase your open rate and drive sales. Why wouldn't you want to do that every chance you get?
The good news is that once you create your preferred segments, you can save them to reuse across different campaigns as many times as you'd like. 
And when it comes time to reach out to one of your segments, you can easily access all of your segments in one centralized place in your Privy dashboard.
These are just a few ideas of how you might implement a segmentation strategy for your campaigns. If you're feeling inspired, you can get started with segmentation in your Privy account today.
Check out how it all works in this 40 second video.
Special thanks to our friends at
Privy
for their insights on this topic.