Loyalty is essential to growing your ecommerce business. With all the competition and new ecommerce brands emerging in different industries, having a loyal customer base is needed to remain in business for a long time.
The home and garden industry is categorized as products for your home, outdoor space, and garden. Whether you're renovating your kitchen, decorating a bedroom, or fixing up your garden, the home and garden industry is full of brands and products that benefit your home.
New home and garden brands are emerging each week, and DTC brands are becoming more popular in this sector as anything related to your home can be delivered right to your doorstep. The home and garden industry grew during the pandemic when everyone was staying home and finally had the time to get around to those renovation projects they were thinking about. Even though it has since slowed down, this industry is still growing, specifically revenue in the lawn and garden market amounting to $129 billion this year. It's estimated to grow annually by 2.64%.
Dropps Rewards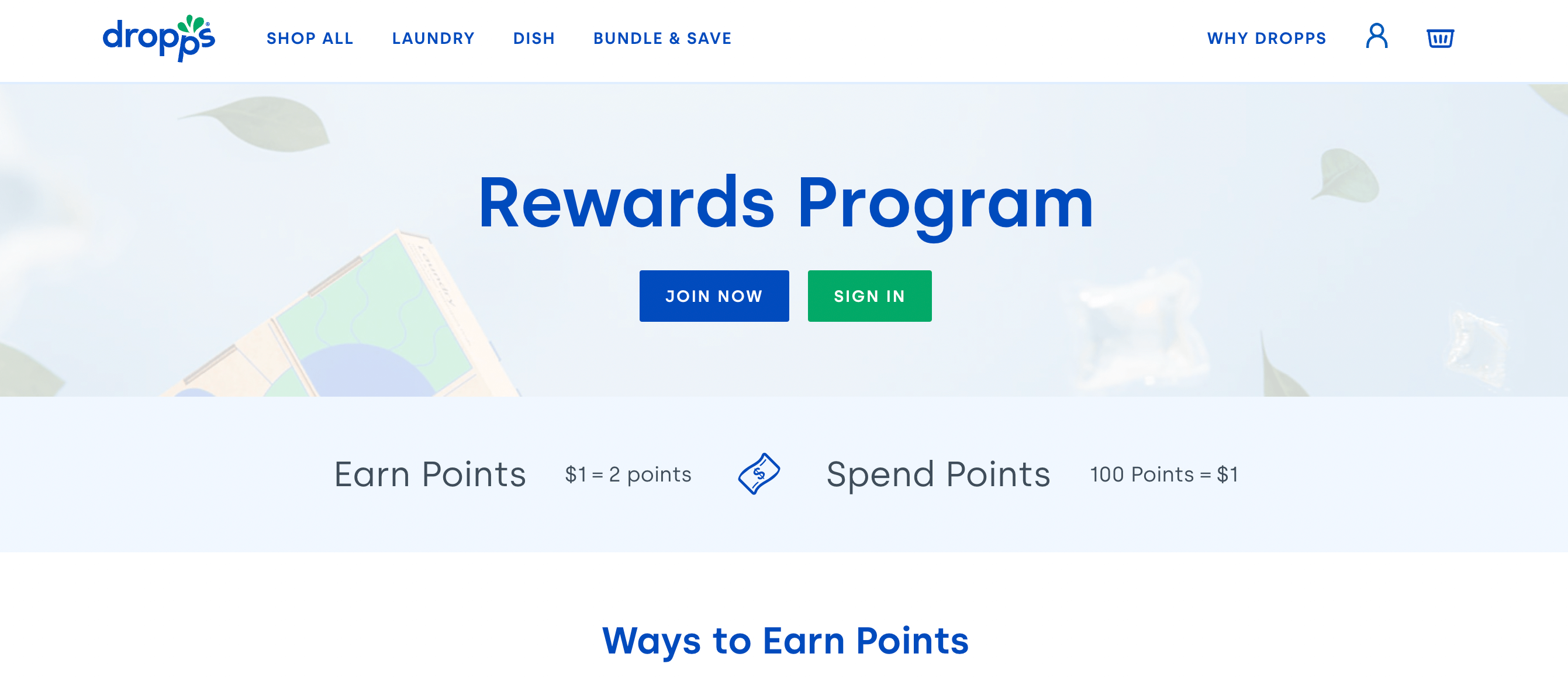 Dropps is a sustainable laundry and soap brand that launched in 2008 with a clear mission, "We have a vision for what household cleaning products can and should be: effective, eco-responsible, and essential. Better for you. Better for your home. Better for our planet." To date, Dropps has saved 4.5 million liters of water since 2018 and has since become a B-corp company.
Dropps' loyalty program gives customers 2 points for every $1 spent, which can be used towards $5-$25 off their purchase. "Being a digital-first, subscription-based business, our customer's loyalty proves paramount," explained Dropps. "We also believe that sharing is caring. We encourage our customers to tell their community to give Dropps a try, and they can be rewarded for their referral!" Referred customers get $15 off their first order ($30 minimum), and referring customers earn $30 redeemable on their next shipment.
So, what makes Dropps Rewards a successful loyalty program?
Dropps has a clear, thorough, and well-branded explainer page.
Dropp's rewards are generous and meaningful—something customers actually want to build towards getting.
Dropps leverage cross-selling opportunities by pairing products that go well together, increasing its average order value (AOV).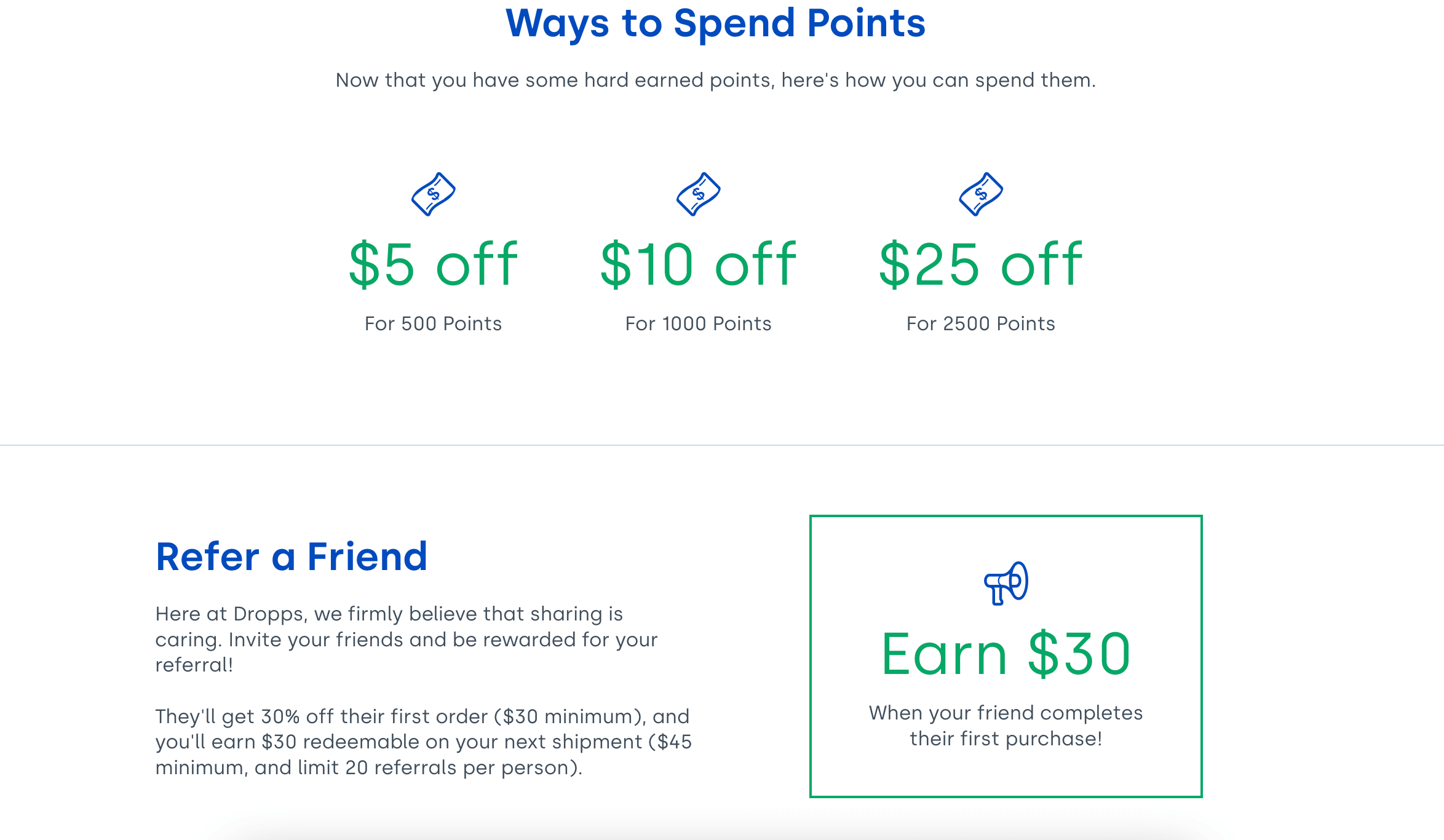 One way Dropps' loyalty and rewards program stands out from its competitors is its explainer page which is clear and guides customers on what to expect from earning (and redeeming) points. It's branded well and positioned on its website so customers can clearly sign up for its program.
Dropps also has meaningful rewards that incentivize customers to earn points and redeem them on their next purchase. Another reason why Dropps is successful is it does a great job of pairing products together that go well together. Buying some hand soap? That might pair well with some Swedish dishcloths.

Nurserylive's referral program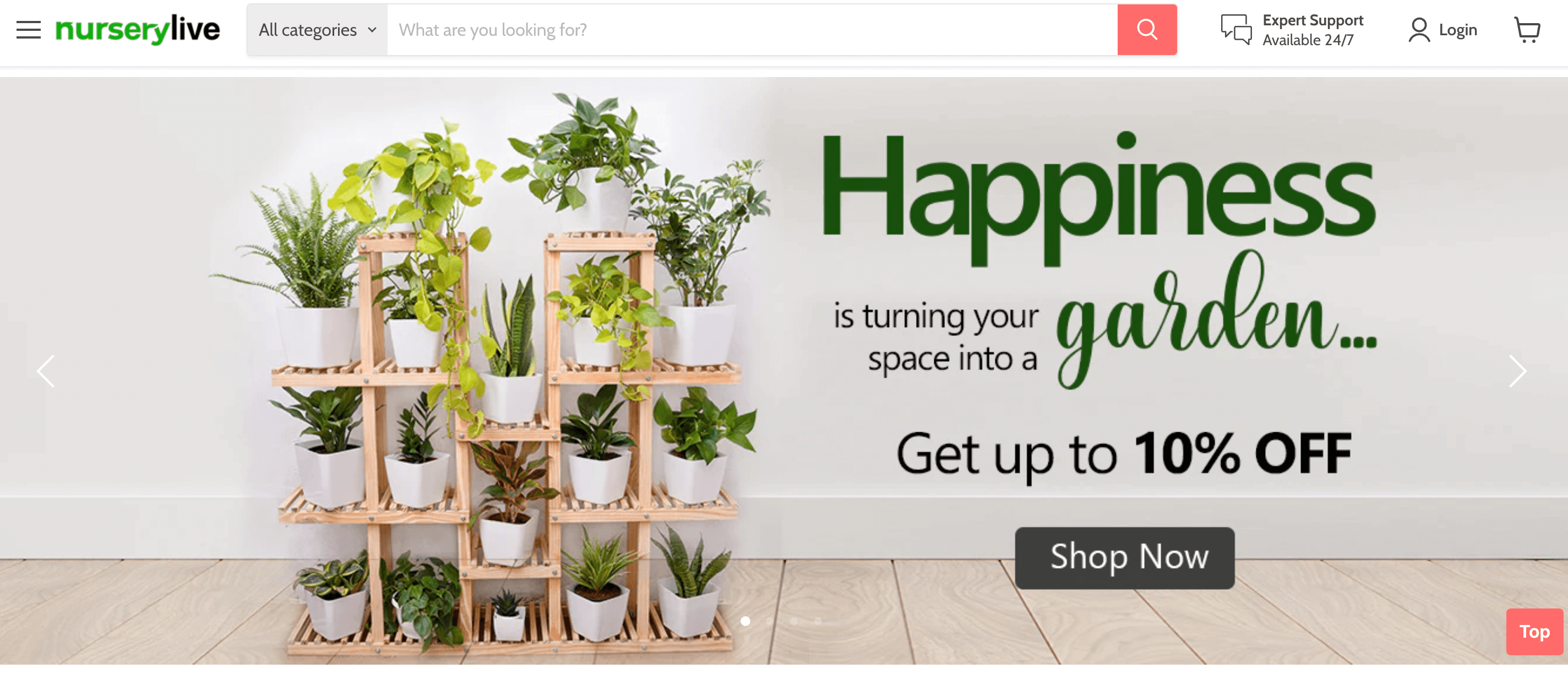 A referral program is one of the best ways to acquire new customers. Those customers already have built a connection with your brand simply by being referred to you by someone they trust. The key to a good referral is trust and authenticity. The more trustworthy a person is in sharing the referral, the more trust you will place in the brand, especially as a first-time customer.
👥
It's estimated that "92% of consumers around the world say they trust recommendations from friends and family, above all other forms of advertising."
India's largest garden store Nurserylive sells everything you need for your garden and makes your outdoor space beautiful. From flower and vegetable seeds to accessories for your garden, Nurserylive has it all. Its referral and rewards program is enticing to customers, offering 2 points for every ₹1 spent.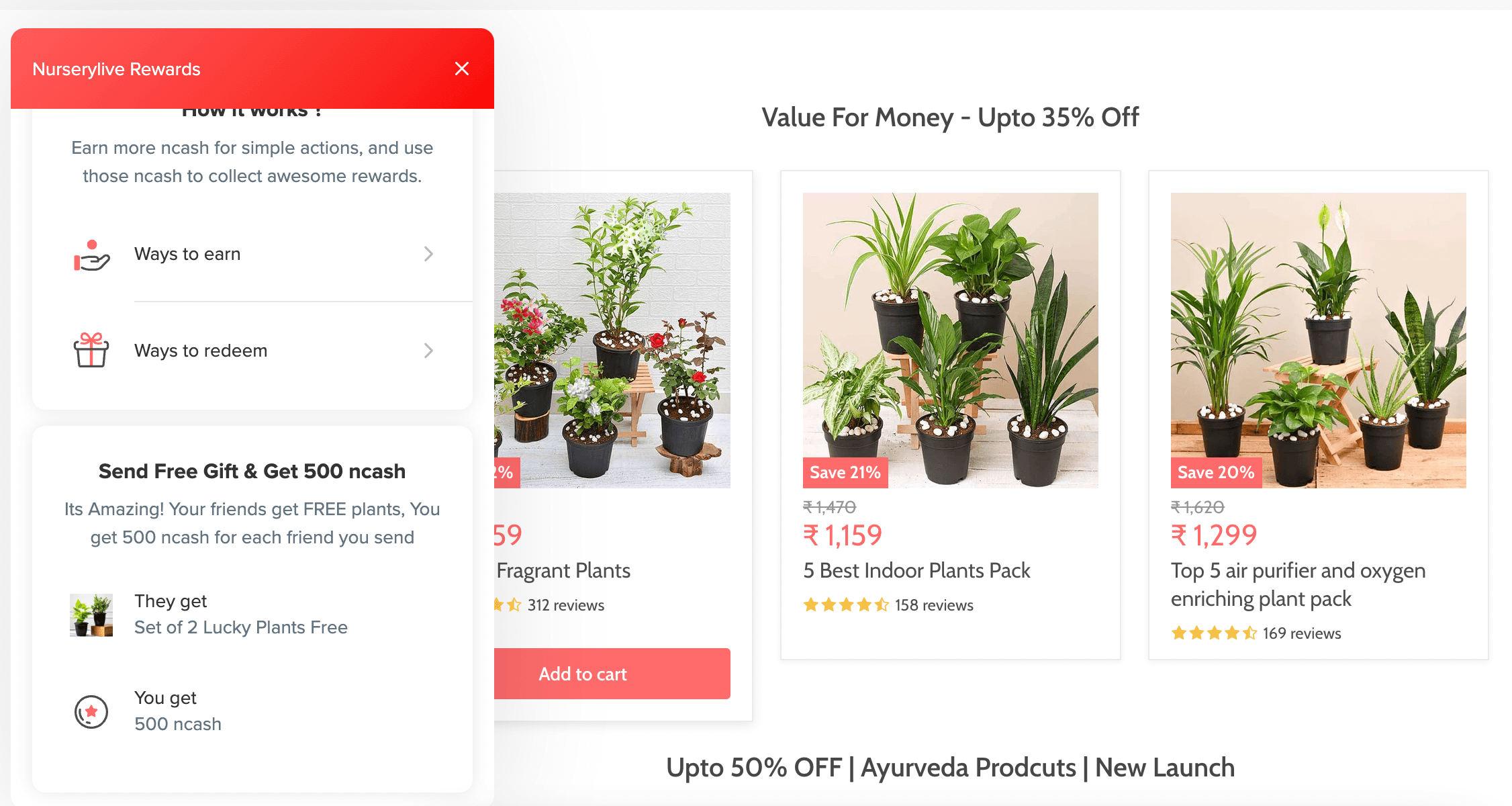 Customers are able to redeem for discounts and free products, such as an aloe vera plant. Its referral program is a standout because you can actually refer someone by sending them an actual plant, while you get 500 points. Sending someone a physical product as a referral is a unique approach that works perfectly in the home and garden industry. It adds a personal touch to online shopping, not to mention eliminates the doubt that comes with shopping online for perishable products such as plants.

BWH Plant Co and the Bros Garden Club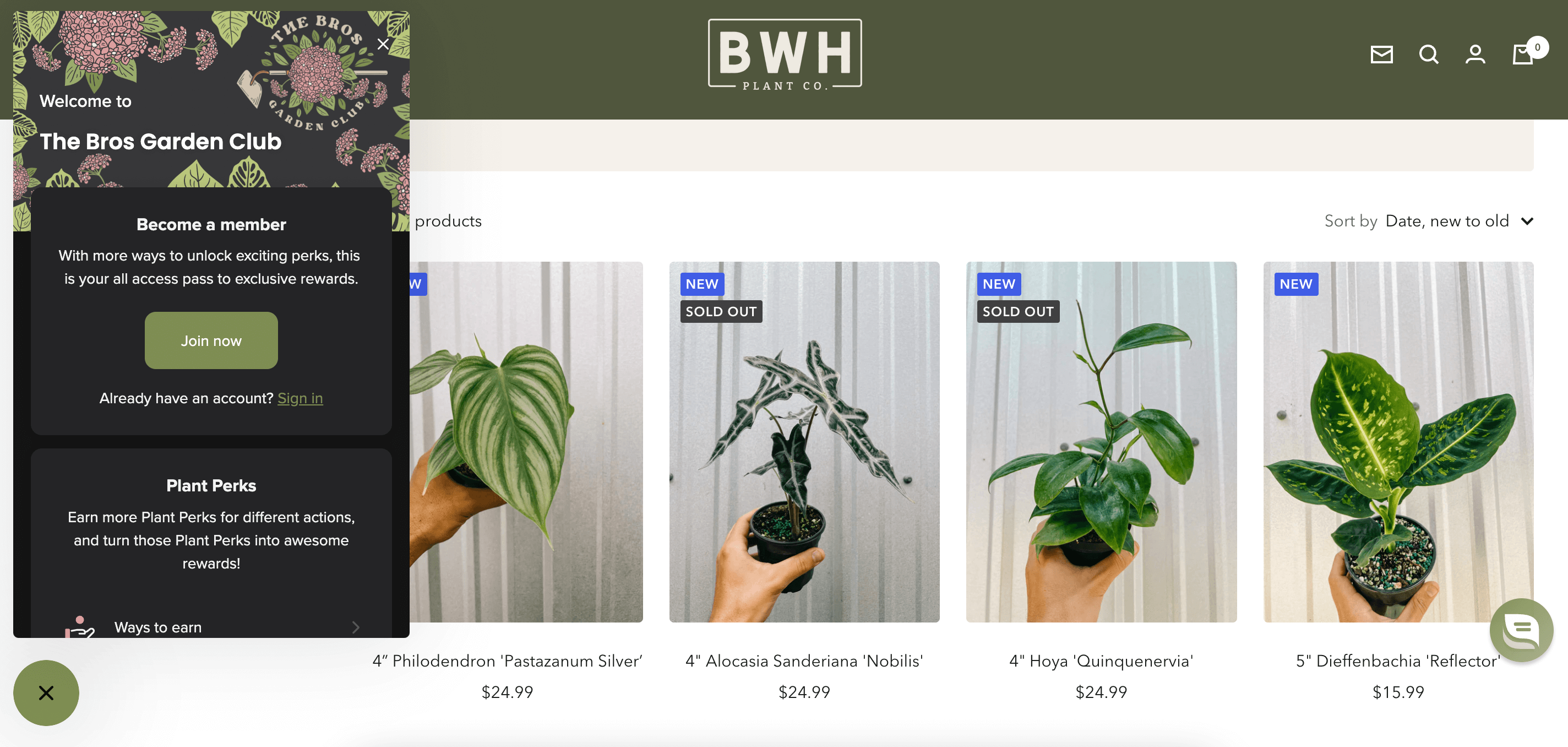 BWH Plant Co offers every type of plant directly to your doorstep. BWH Plant Co has cultivated a successful brand and an online community where it educates customers on taking care of plants on Instagram, as well as through a private Facebook group for those in their loyalty program.
The Bros Garden Club is BWH Plant Co's loyalty program that offers 10 Plant Perks (points) for every $1 spent. It offers additional points in exchange for leaving reviews and have meaningful rewards that get customers excited to redeem points. For example, redeeming 750 points can get you free shipping on your order.
The Bros Garden Club allows customers to earn $15-$25 off depending on their points, and free plants when you redeem 1,000 points.
Looking at the details and the branding, BWH Plant Co's rewards program is a top example of a loyalty program that gets customers excited. One key aspect of the program is its Facebook group, which has over 7,600 members. Members in this group get access to member-only deals, a direct line to the team, and a way to connect with other like-minded people who love plants.
Having a built-in community is something that every ecommerce brand should aspire to create. Not only do you have an audience ready to interact with you, but you also have a direct line to product feedback from your most loyal customers.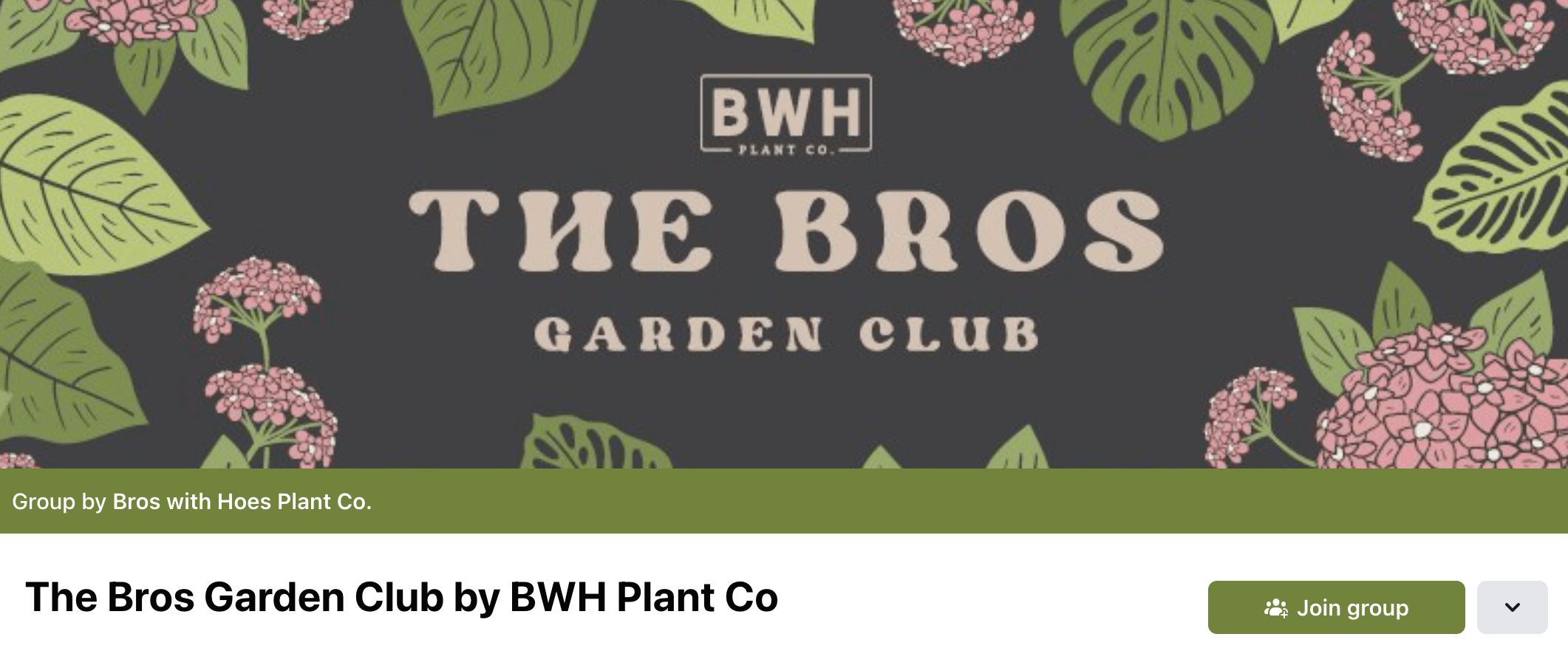 Onsen Points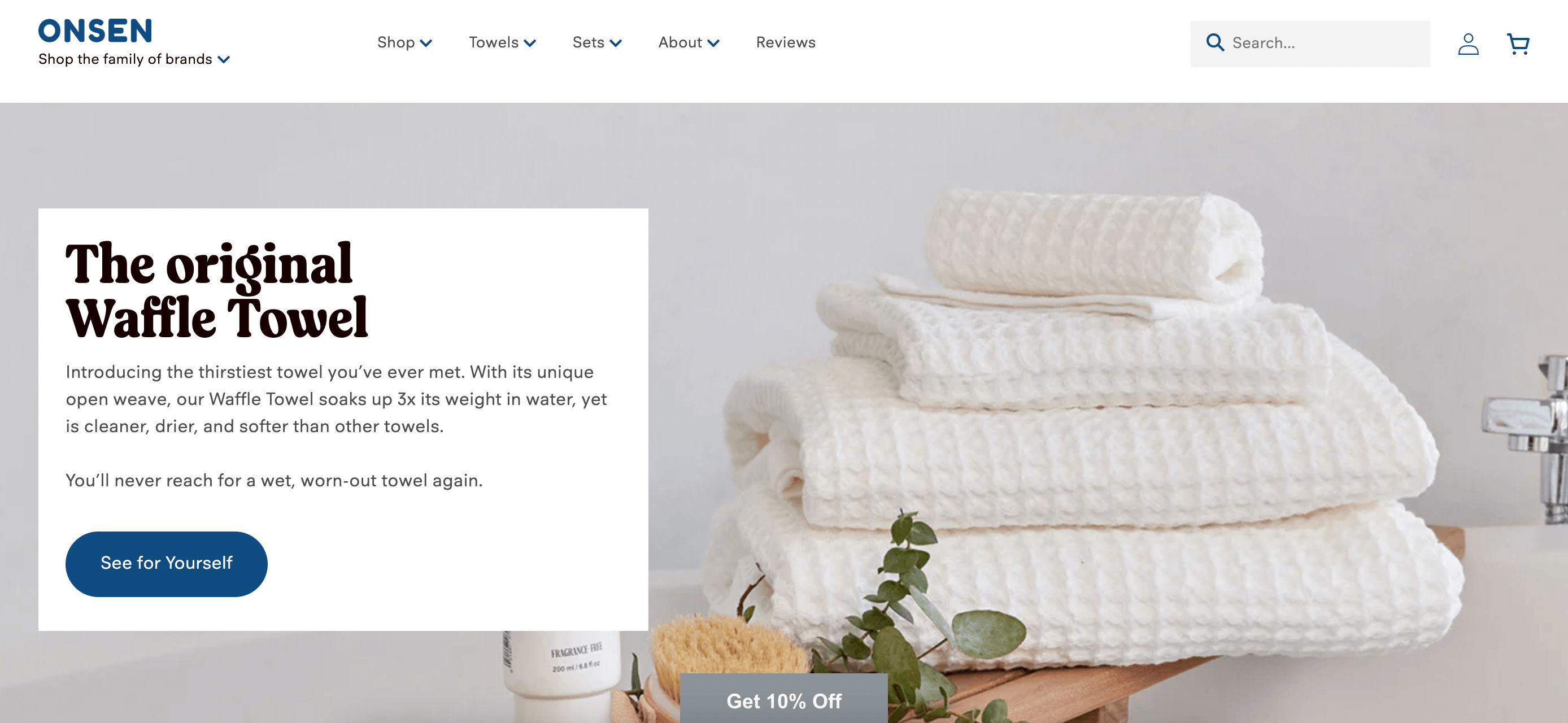 Known as the "internet's favorite towel," Onsen is known for its waffle-style towel sets and bathrobes. It was inspired by the founder's Japanese heritage and his time spent living and working in Japan. "Our founder wanted to design a towel that embodies product functionality while elevating the basic routine of bathing into a joyful ritual."
Onsen Points is its rewards and loyalty program that gives customers 5 points for every $1 spent. They also reward customers for every referral with a $5 off coupon for both the person making the referral and the person being referred. The reason Onsen's loyalty program is successful is its simplicity. It's a simple, straightforward rewards program that offers discounts and no fluff (that's saved for the towels). Customers know what they are getting, and it works for them since they simply want to select what type of colors they want their towels to be.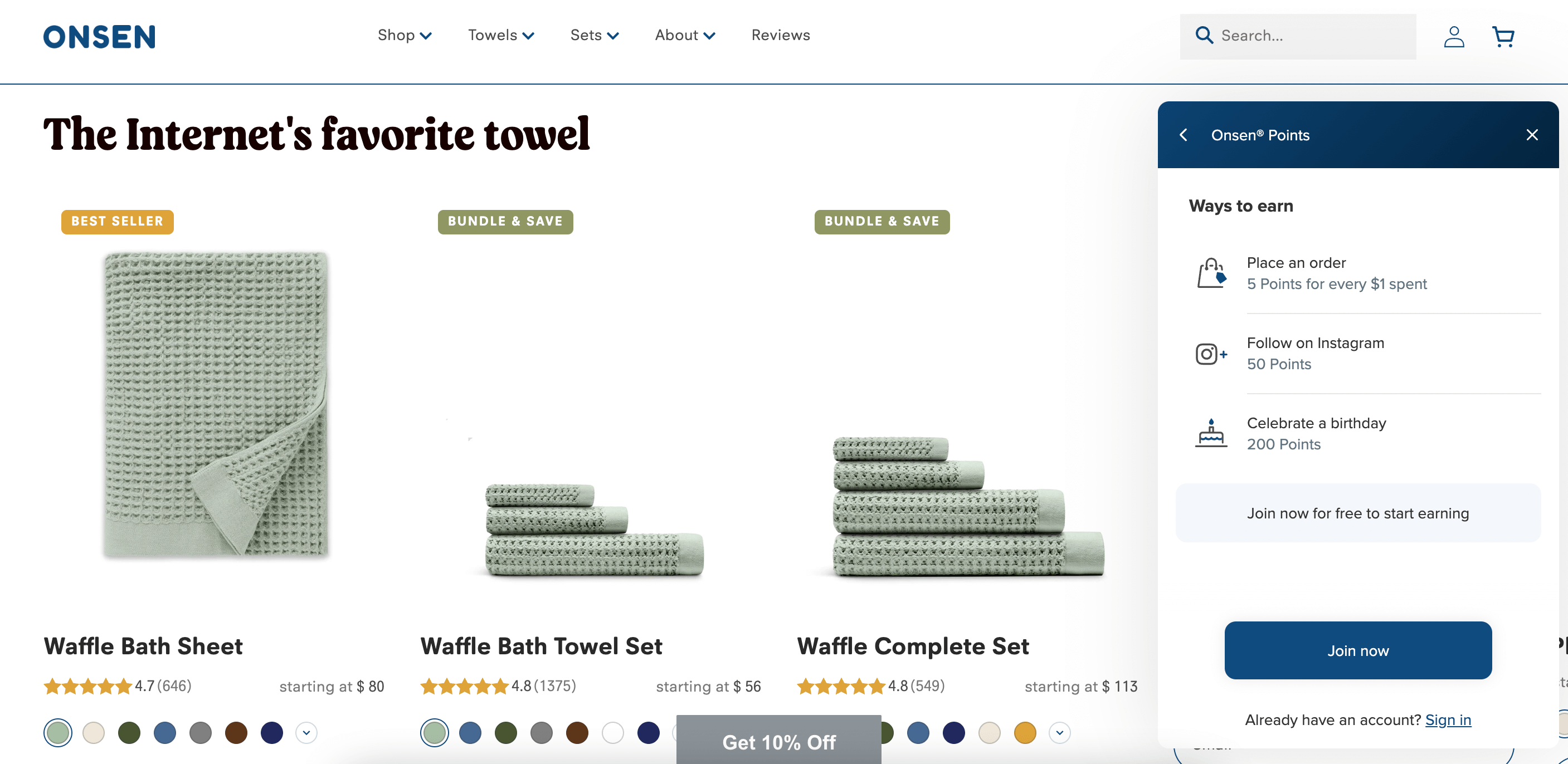 ZeroCo's Refer a Mate
ZeroCo is an Australian-based brand that sells home goods products like body wash, shampoo, lotions, dish soap, and home cleaning products. Its unique aspect is that it compares itself to the milkman for reordering your products—"You order, we deliver, you return, we refill"— taking subscriptions to another level.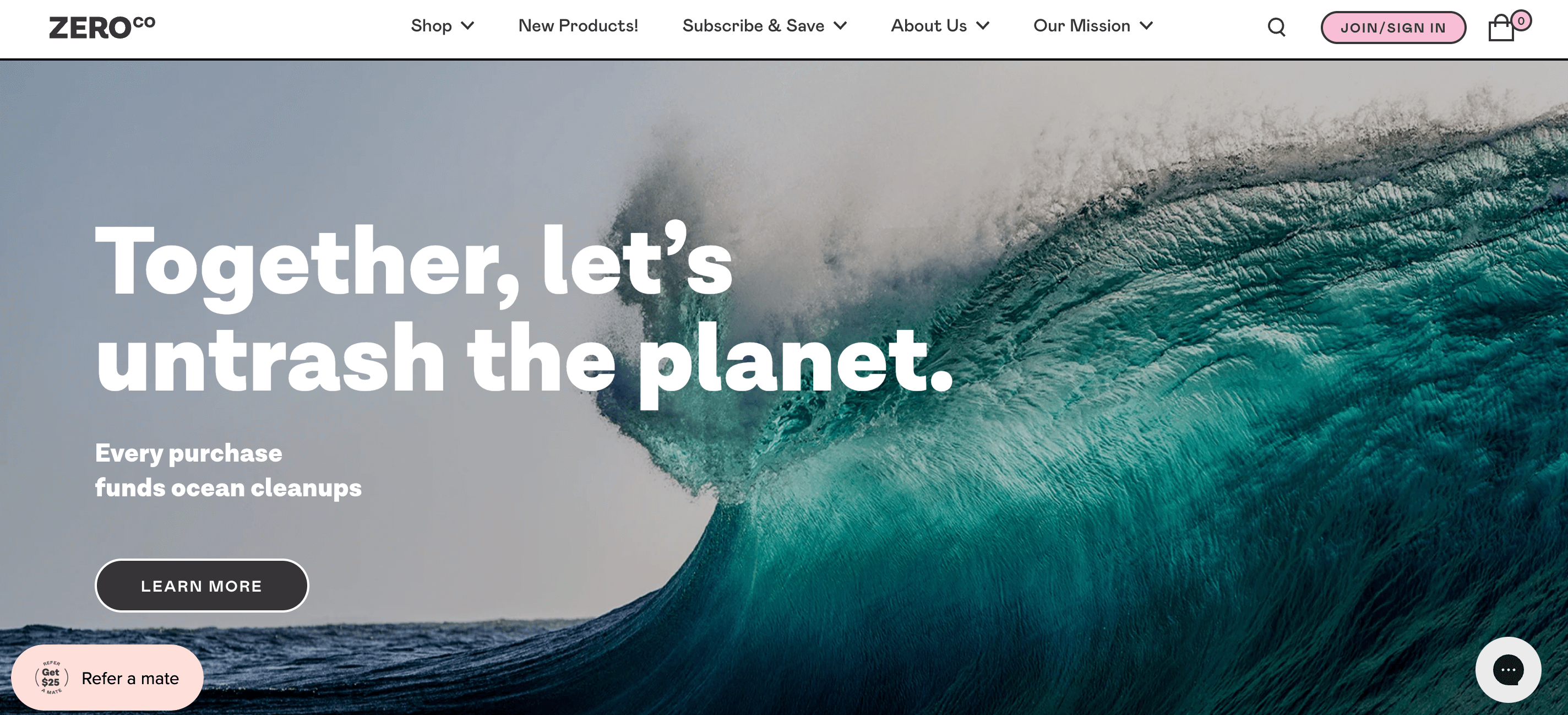 ZeroCo has a mission to "untrash the planet", evident through its Instagram content with every product funding ocean cleanups. It has built a brand community that believes in its mission and supports the products, therefore supporting the wider mission of keeping the planet clean. One key aspect of ZeroCo is that it has made its brand synonymous with its mission.
Opting for a referral program as its retention strategy, ZeroCo's Refer a Mate is generous and gives both parties $25 off. A generous referral is a major incentive for first-time customers. In this example, this $25 can get you some products without having to spend so much, just on your first purchase alone.
This helps both the person making a referral and the first-time customer by giving them a way to build out a balance of store credit, especially if you refer on a recurring basis. Not to mention ZeroCo's referral program is branded, simple, and fits its brand, brand voice, and colors.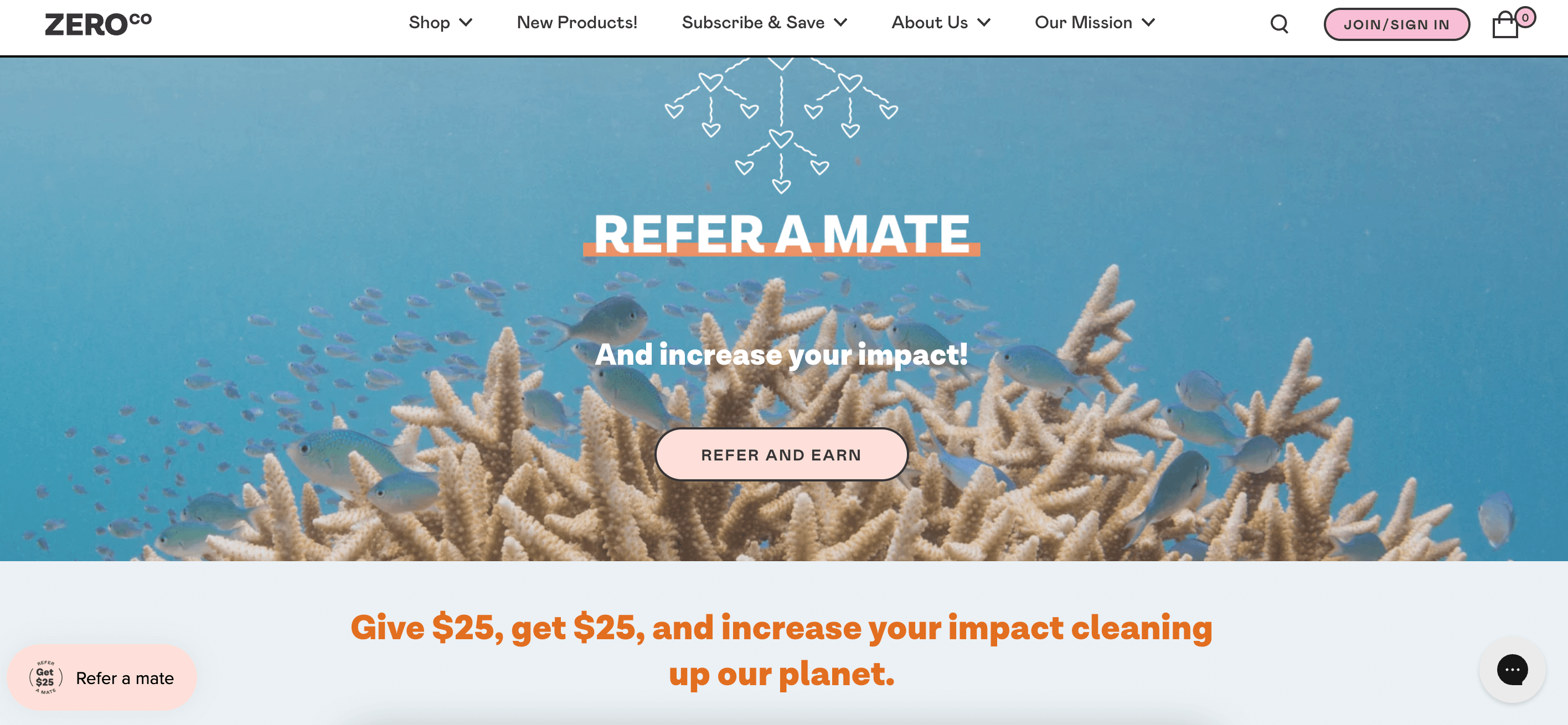 Whole Lotta Lovers VIP Program
Sage and Clare is an Australian-based brand started by husband and wife duo, Chris and Phoebe after a trip to India. They design homewares, apparel, and accessories "that are handcrafted, bohemian, soulful and eclectic." They sell everything you need to decorate your home from bedding to rugs, to apparel for kids.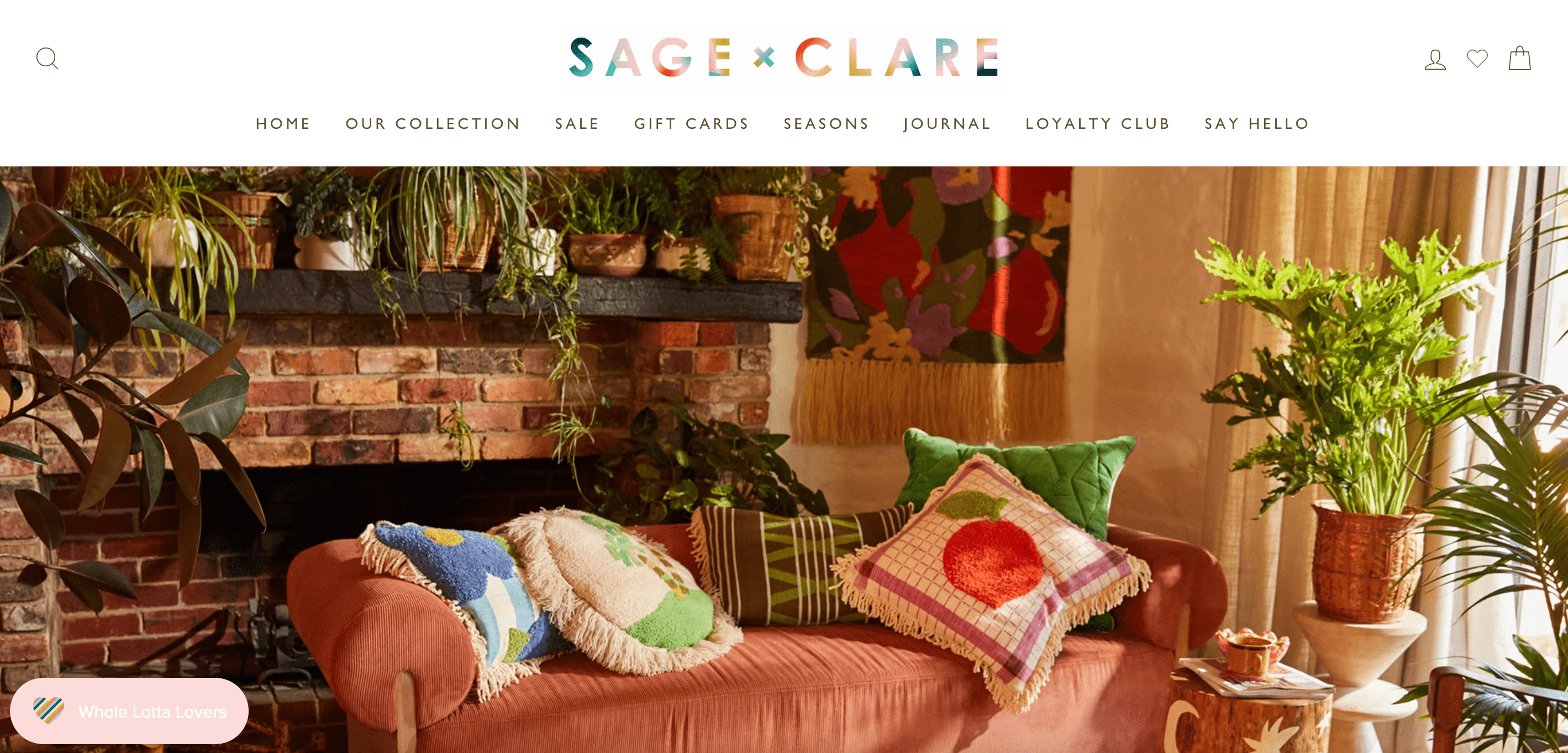 Its VIP loyalty program, Whole Lotta Lovers is where it shines because it offers different rewards tiers its customers can unlock. Sage and Clare's generous rewards incentivize customers to come back again and again.
Sage and Clare's loyalty program gives customers 1 Point for every $1 spent, an additional 10 Points for photo reviews, and 20 points for video reviews through the Smile.io and Okendo integration.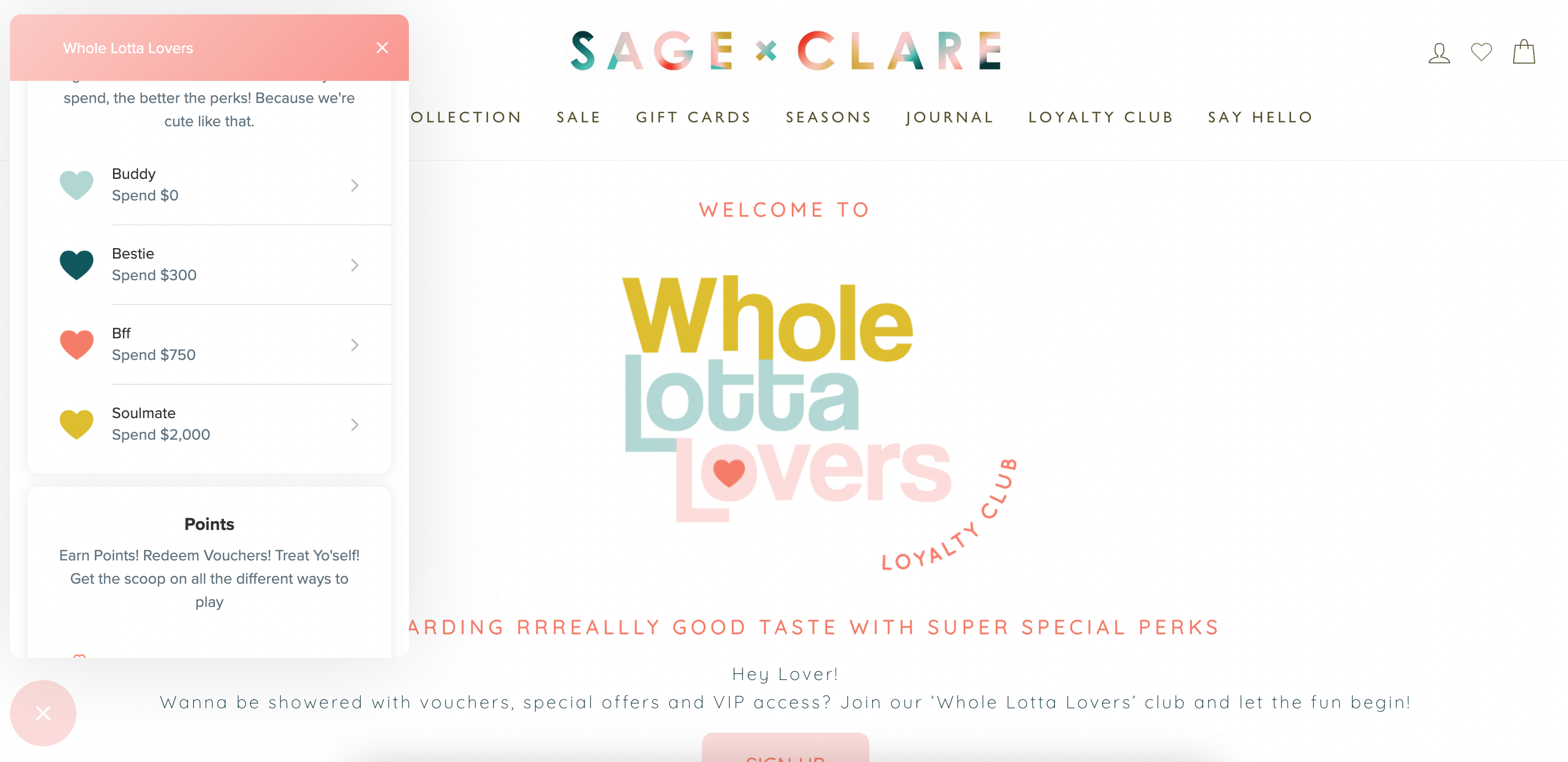 Customers can redeem points for anything from $10 – $100 off. Its VIP Program encourages customers to move up to the top tier for more rewards and perks. For example, after spending $2,000 you will fall into their top-tier Soulmate, which unlocks access to hidden sales. Sage and Clare also has a referral program that rewards its new customers with $10 off, and points for the person making the referral."Got friends who are new to Sage x Clare? Send them $10 off and you get 40 points when they shop," its website reads.
Offering points in exchange for a referral is a smart strategy because it allows customers to build up a points balance instead of offering a cash incentive to those making the referral. Last but not least, its branded rewards explainer page is a perfect example of educating customers about your loyalty program.
Tips for loyalty programs in the home and garden industry
The home and garden industry is a billion-dollar+ industry that will never end. As long as there are homeowners and people who love to garden, these brands (and emerging new brands) are not going anywhere, anytime soon. Here are three tips for loyalty programs in the home and garden industry.
1. Offer a referral program
A referral program has to be rewarding to both the person making a referral and the person receiving a referral. It's estimated that referred customers have a 37% higher retention rate compared to other customers gained through other marketing channels. A very powerful force to motivate someone's behavior is to show them what's in it for them. Offer a referral program to get your existing customers to refer friends, family, and their community–and get them rewarded. Whether it's additional points, a cash discount, store credit, or even free plants making the reward worth it.

2. Are your rewards meaningful?
Your loyalty program is an experience by itself and part of the overall customer experience. Whether a customer is shopping online or in a physical store, how a customer feels about your brand after a purchase is an indicator of whether they will return and build loyalty with you. Reward customers with rewards they actually want like discounts, free shipping, and free products.
Several home and garden ecommerce stores offer physical products as a way to reward customers. For example, BWH Plant Co's loyalty program lets customers redeem 1,000 points for a free plant. A free product they otherwise wouldn't have received.

3. Create an explainer page for your loyalty program
The best loyalty programs guide customers on what to expect and effectively display information about their program on their website. An explainer page should excite customers about the program's benefits, explain how the program works, and how to participate in the program. It also should immediately convince the customer to participate and earn the sign-up points.
Launch your rewards program in minutes
BUILD A REWARDS PROGRAM FOR YOUR HOME AND GARDEN BRAND
This originally appeared on
Smile.io
and is made available here to cast a wider net of discovery.