From new wellness brands and fitness trends (hello cold plunge and backyard saunas) to the latest supplements, the health and wellness industry has grown exponentially in the last few years.
With this growth comes the rise of supplement and nutrition brands. According to insights from Wellness Creative Co, the nutrition market is estimated to be worth $305.8 billion in 2023. That worth is predicted to reach $347.5 billion by 2025, growing at a rate of 6.6% each year.  The nutrition and supplements industry has become a very competitive place, both in retail and online.
In order to combat all the increased competition many nutrition and supplement companies are looking at implementing a customer retention strategy through loyalty programs. Here are 7 loyalty program examples in the nutrition and supplement industry.
First Person daily nutrients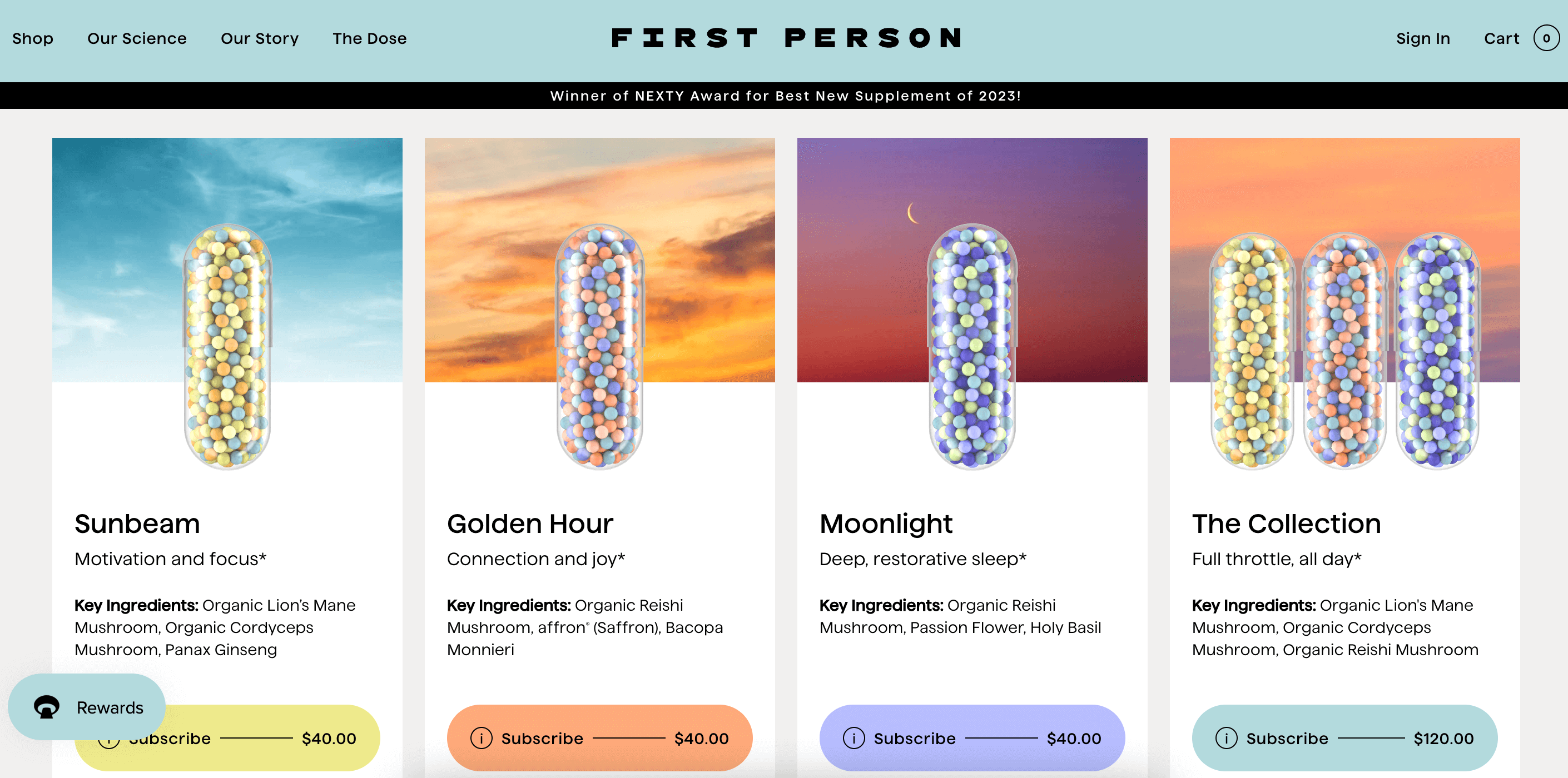 First Person is a brand of daily nutrients that are dubbed as the "future of brain health." First Person is a cognitive supplement "formulated for ideal mental performance." The brand was formed after two brothers discovered they were susceptible to developing Alzheimer's. The supplements look futuristic and come in a tin package to make adding First Person to your daily routine easy.
Its loyalty program, First Person Rewards offers 5 Points for every $1 spent and customers are able to redeem them for up to $25 off a one-time purchase or off a subscription deal. These rewards fit perfectly well for First Person, as subscriptions are ideal for supplement and nutrition brands. Through subscriptions, customers can earn points, while also receiving their monthly dose of supplements.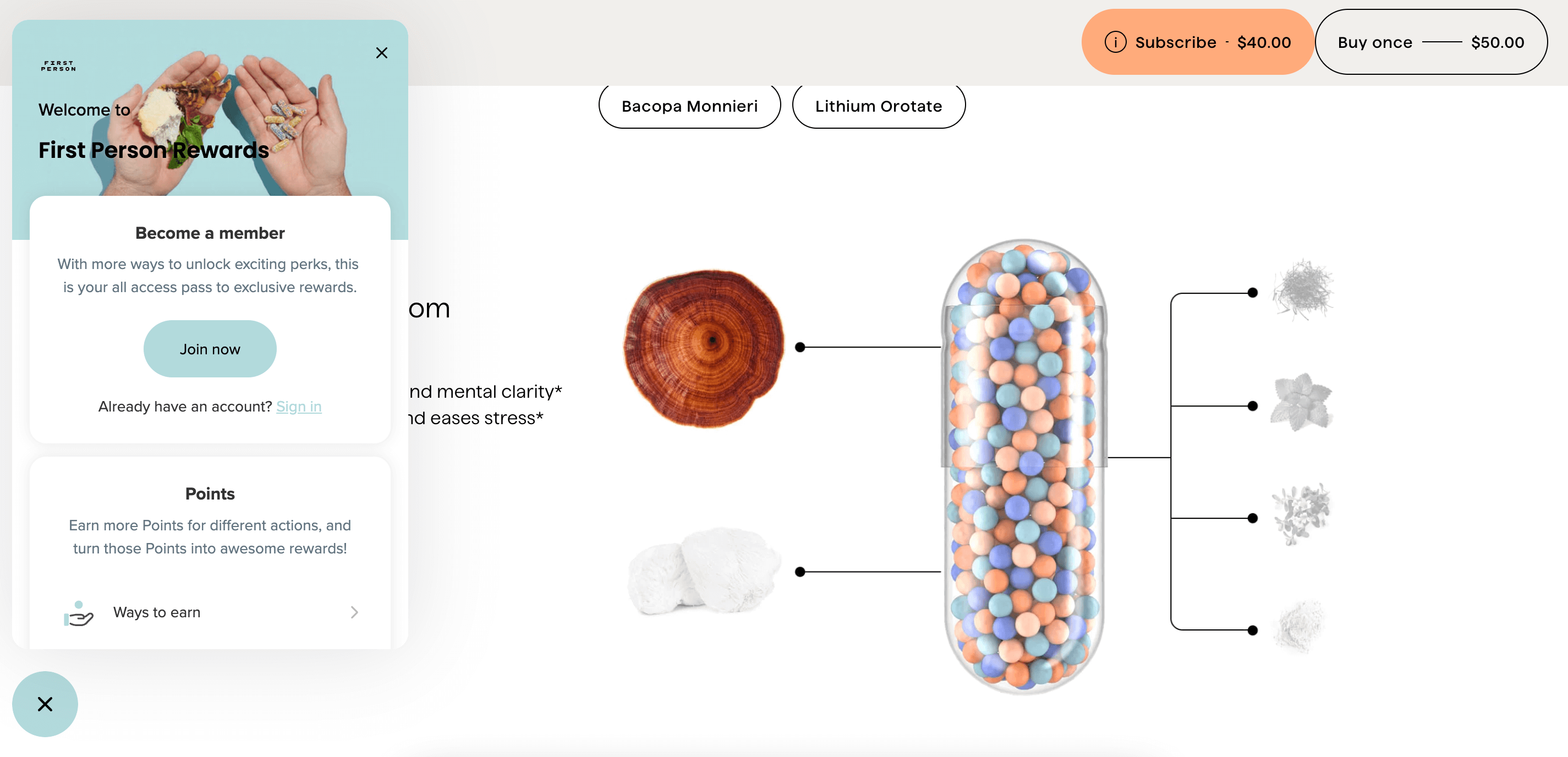 First Person also utilizes referrals as part of its acquisition strategy to get first-time customers to try their products. Through its loyalty program, those making a referral can give $20 off, and receive $20 off themselves.
First Person is a great loyalty program example because it rewards customers for purchases, incentivizes subscriptions, and utilizes referrals to acquire new customers.
SunPoints with Sunfoods Superfoods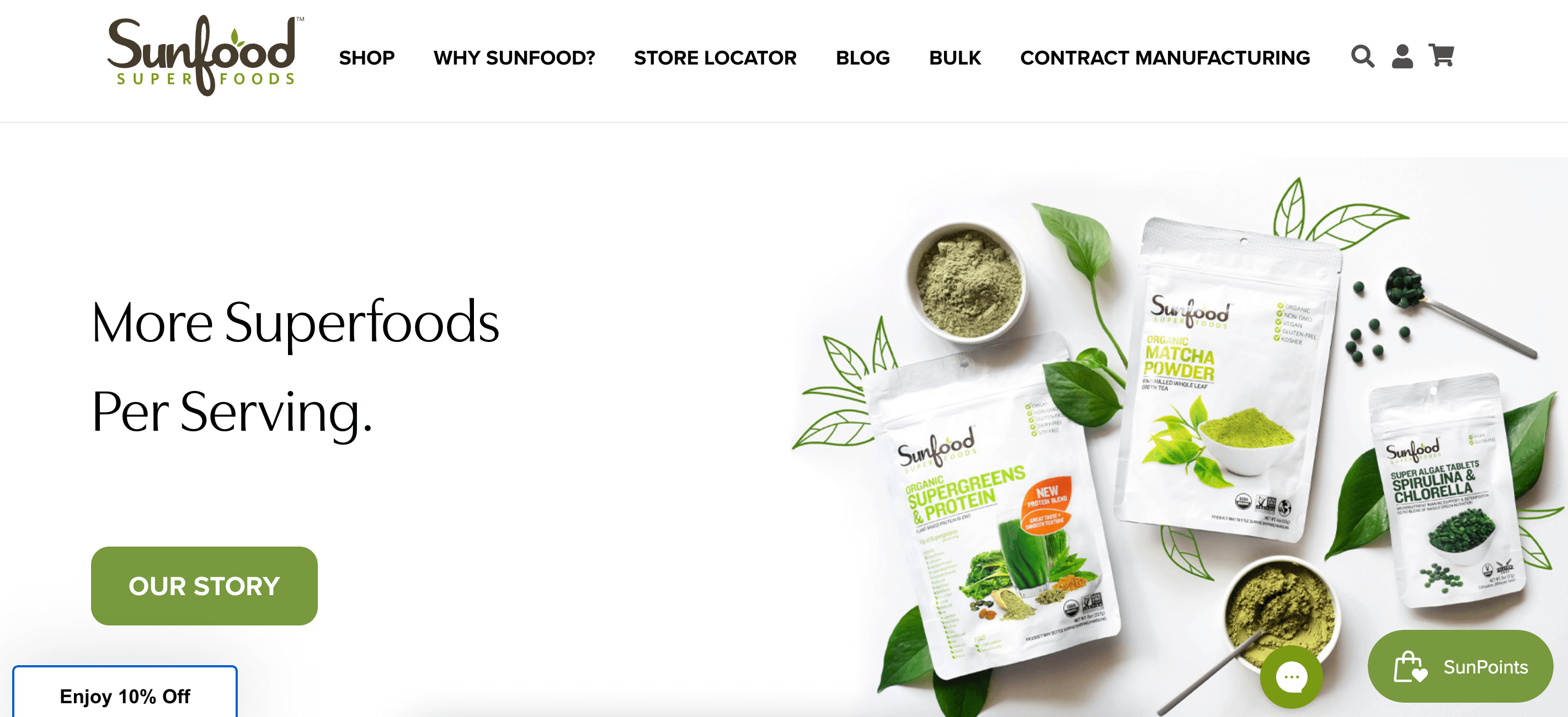 Sunfoods Superfoods is a supplement and nutrition brand that hits all major points in its loyalty program. Customers can earn 10 SunPoints for every $1 spent and redeem points for free shipping, store credit, or a discount.
One key aspect of Sunfood's loyalty program is incorporating reviews into its strategy. Customers are encouraged to leave a review through Smile's integration with Reviews.io. Posting a product review can earn customers 200 points or 500 points for a product review with images. Pairing rewards with capturing reviews is a great way to generate user-generated content (UGC) and positive customer testimonials.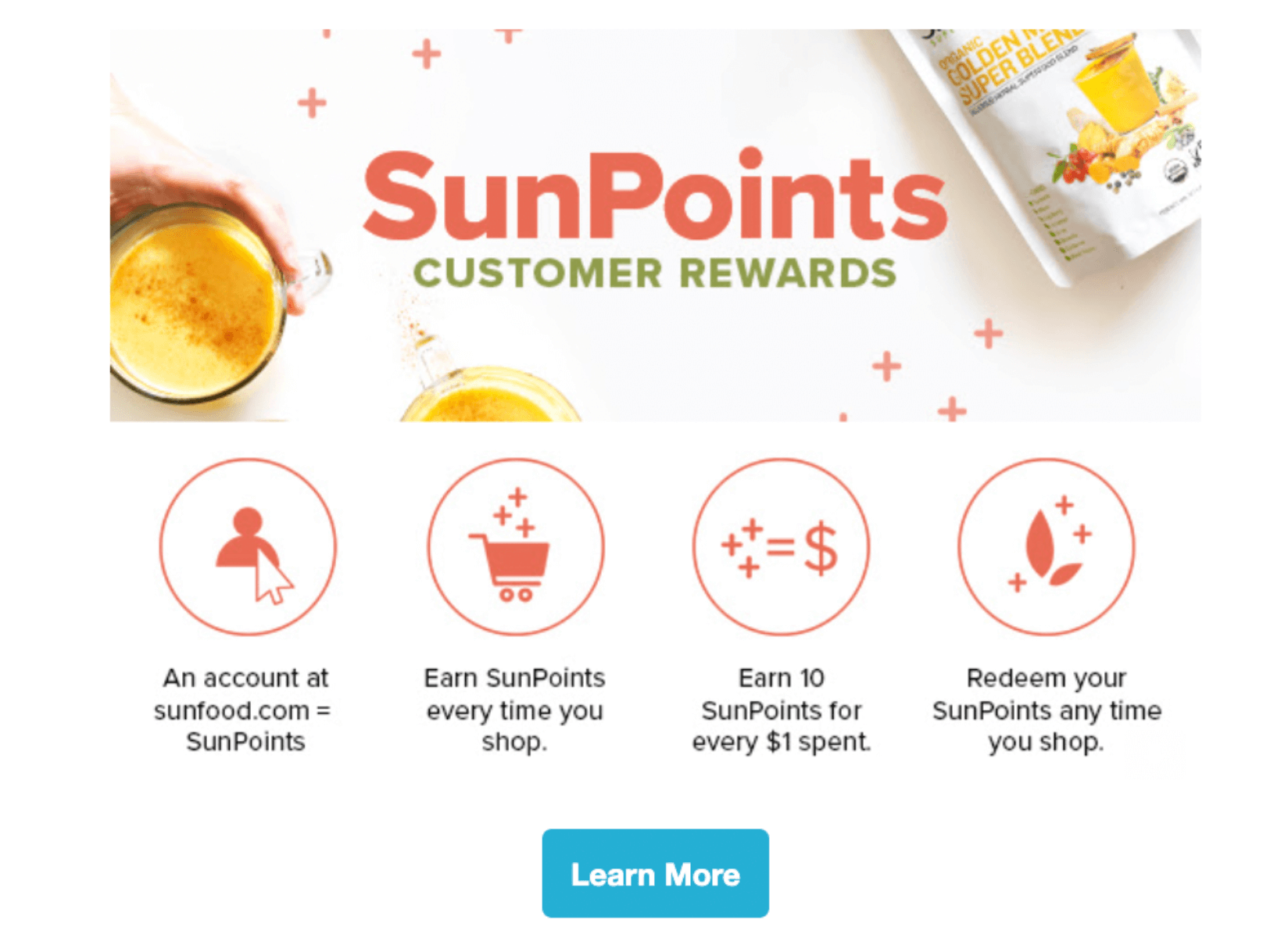 Another key aspect of Sunfoods Superfoods is its welcome email triggered when users sign up for its emails. After a "Welcome to the Sunfood Family" header and 20% off for first-time customers, users are given recommendations on which superfood packs to try out first, followed by information on its loyalty program.
Levels Protein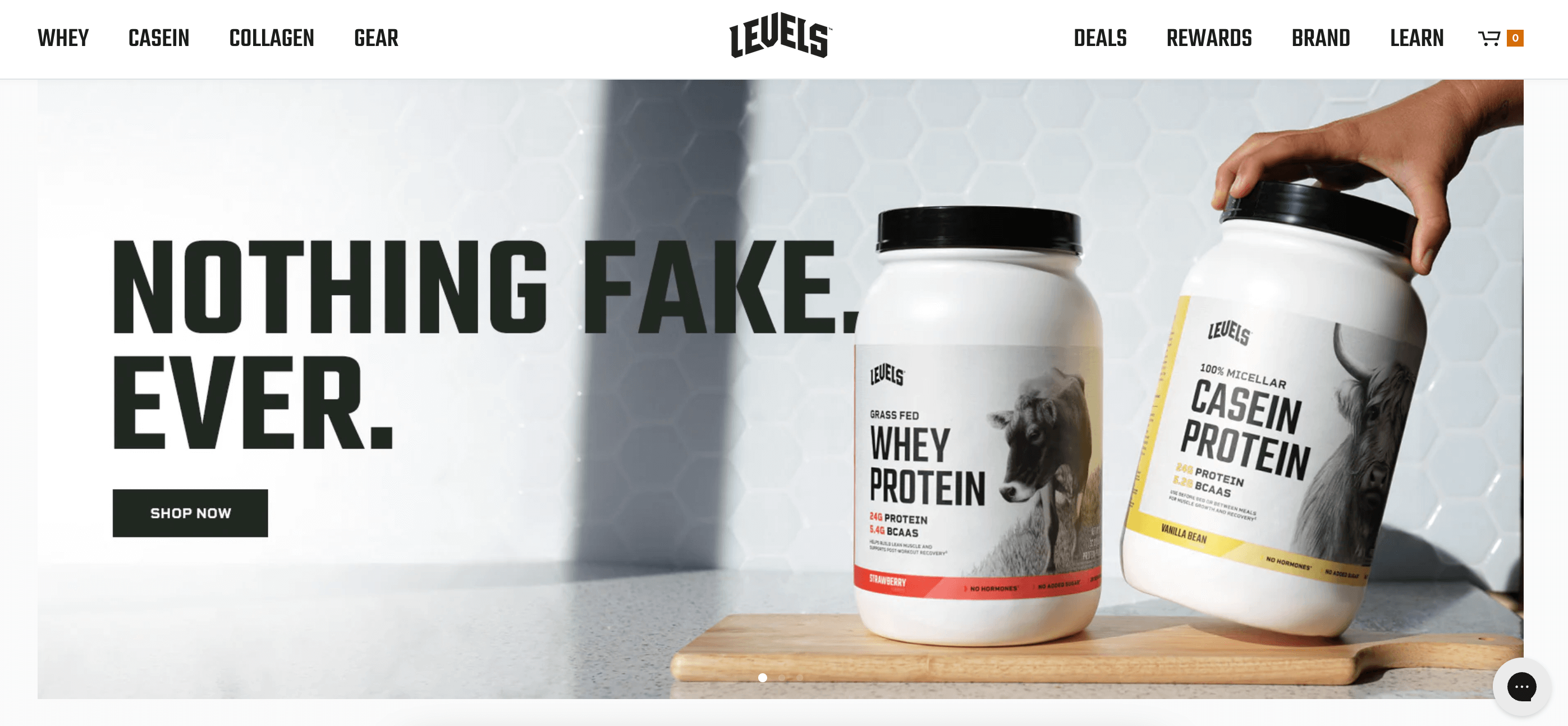 If there is a top branded loyalty program it's Levels Loyalty from protein brand Levels. From its branding to its explainer page to the types of rewards you can redeem, Levels is a top brand to take inspiration from.
Levels loyalty program allows customers to earn 2 Points for every $1 spent, along with earning points for engaging on social media, celebrating a birthday, and of course 500 points for first-time sign-ups. Before you even purchase, those 500 sign-up points amount to $5 off on your first order alone, giving customers a reward they can use on their first purchase. Levels sweetens the deal even further as you build up more points, letting you redeem them for up to a $25 coupon.

One aspect of Levels is its explainer page that details step-by-step how easy it is to sign up for its loyalty program. The graphics explain to customers why they should sign up for the loyalty program and clearly show what customers should look for. Another key aspect of Levels Loyalty is its referral program which gives new customers 15% off—"Refer someone you know with a 15% off discount and you'll get a 15% off coupon when they make their first purchase."
Levels is a top brand with a top loyalty program example because it explains to customers why they should sign up for its loyalty program, and takes a visual approach to show the loyalty program benefits. The site also looks incredible no matter what page you're on.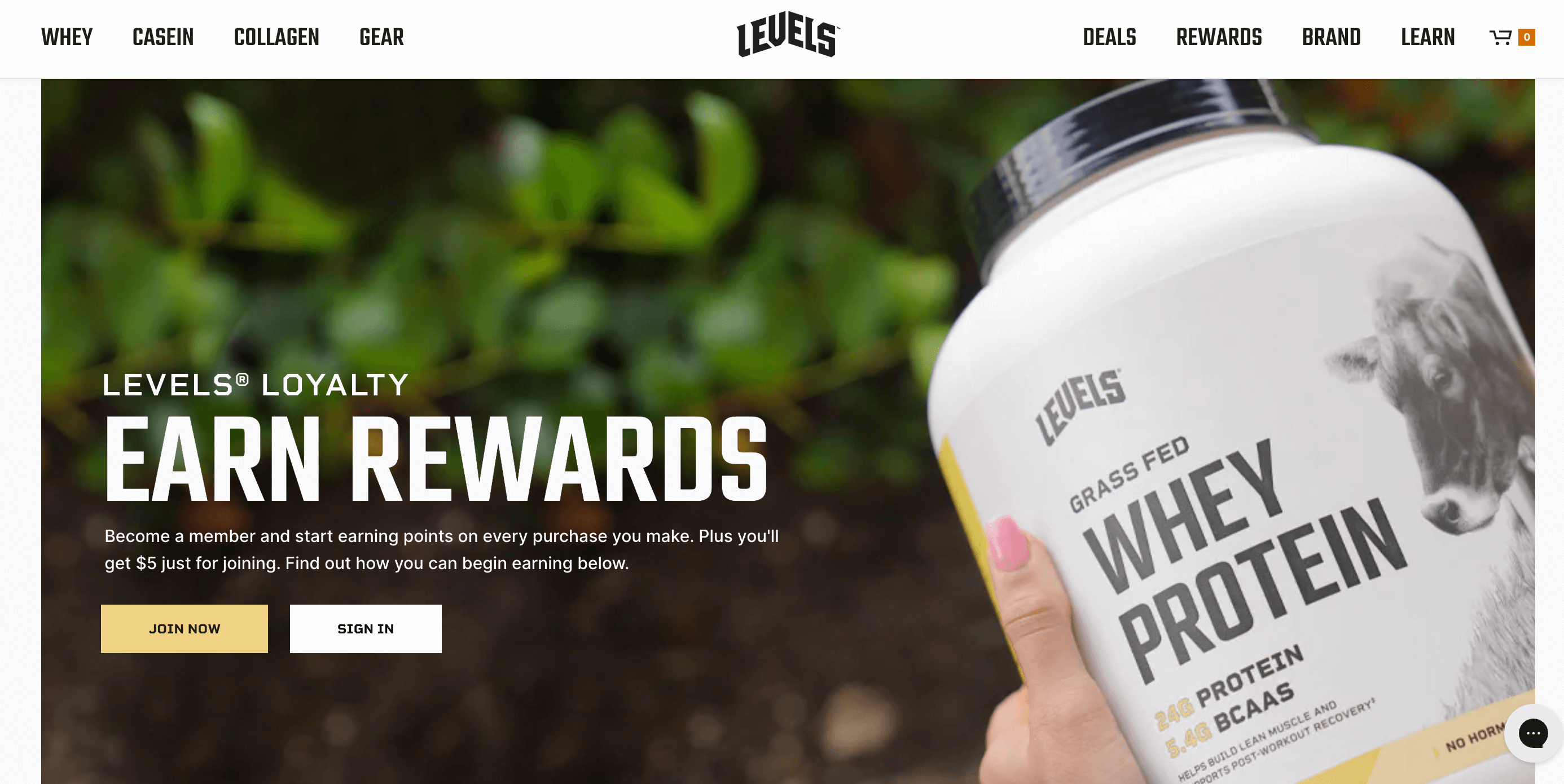 MTN OPS Rewards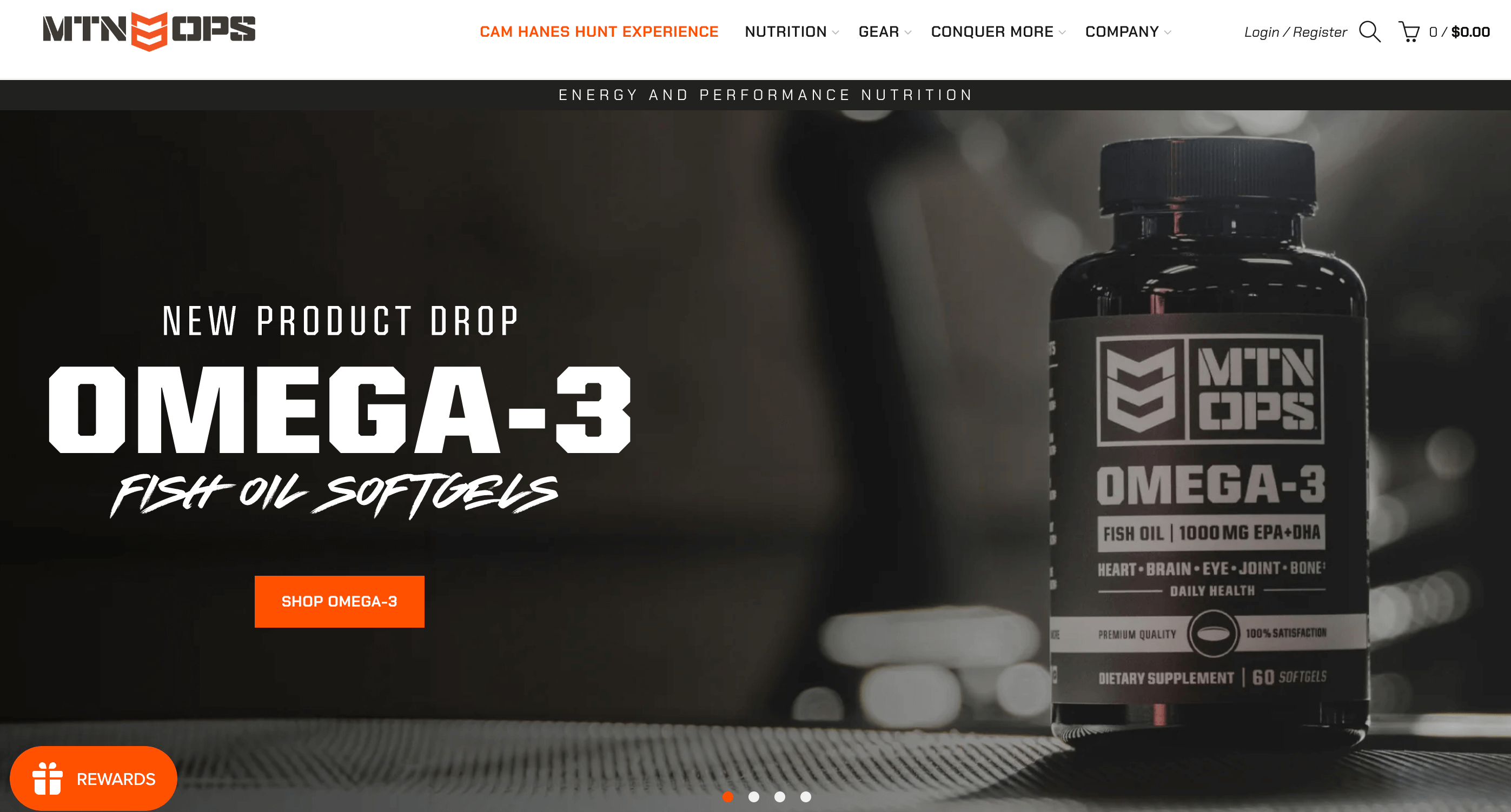 MTN Ops is a supplement brand that has all the supplements a person needs from hydration to daily vitamins, to protein and meal replacements. One key contributor to its growth is its loyalty program MTN OPS Rewards, which rewards customers with 1 Point for every $1 spent. Other ways customers can earn points is through engagement on social media and by posting text and photo product reviews.
The program has been very successful because of its simplicity. There is no confusion as to how much the rewards are worth—customers know what they are redeeming points for, which ranges from a $10 – $50 off coupon. Its explainer page is simple and walks customers through how its program works.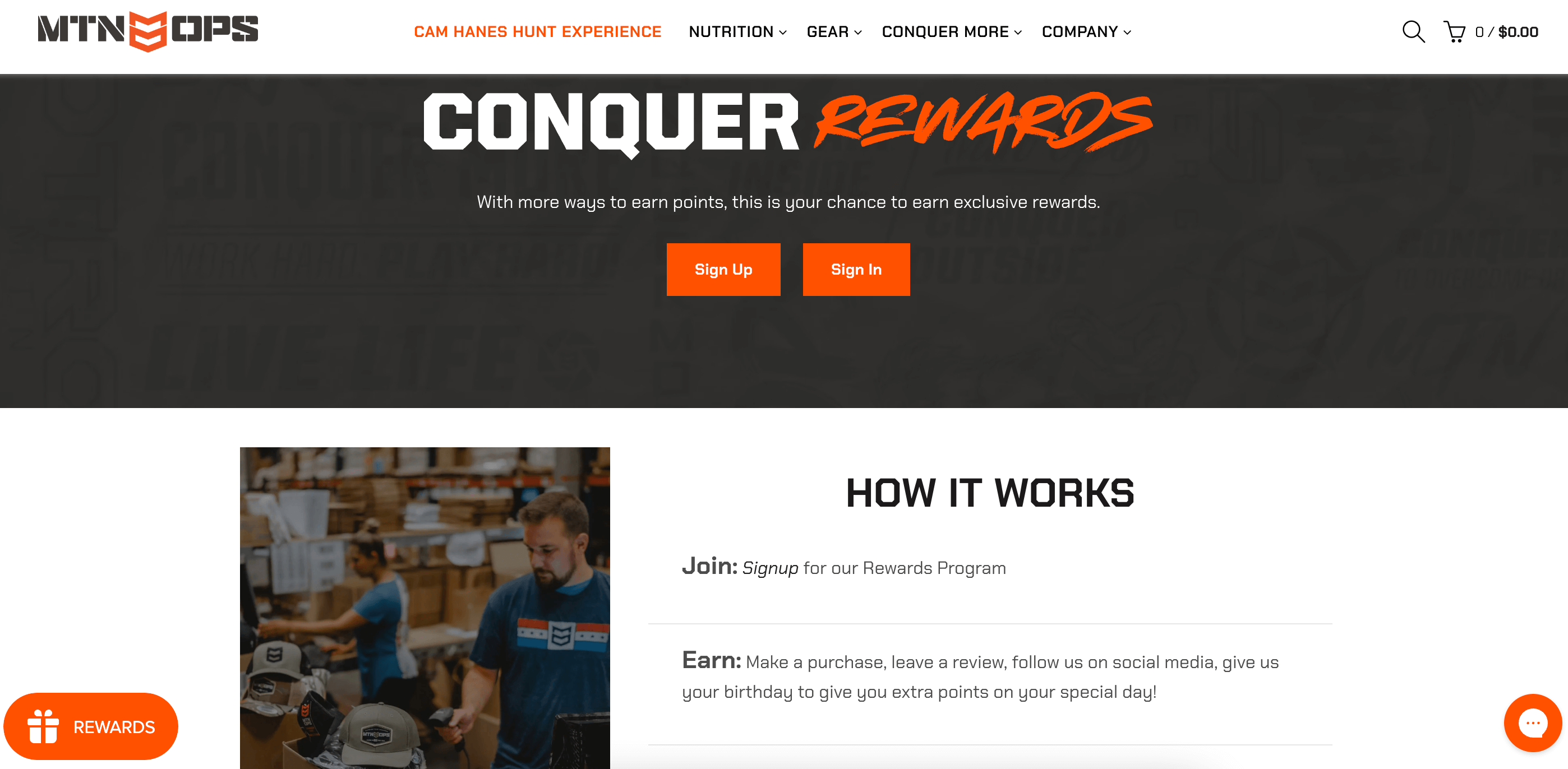 MTN Ops Rewards shows that a program has to cater to its audience and give rewards that are beneficial for customers, in order to be effective. It also shows that an explainer page is key to a successful loyalty program.
LumityCollective Rewards

Incorporating daily supplements can be tough, but Lumity is aiming to make it easier with a subscription plan for morning and nightly supplements, specific to each gender. Subscriptions are a key way to increase AOV and retention rates. Lumity aims to get new customers to try its products through a referral program. Both referral parties get £40 off their first subscription order, making it an easy win for acquiring new customers.
Lumity's rewards program #LumityCollective, lets customers earn 5 points for every £1 they spend. One way to go above and beyond when using your loyalty program as an event-based marketing tool is by tying exclusive points to certain products. Customers can redeem points for physical products, making redeeming rewards just like shopping.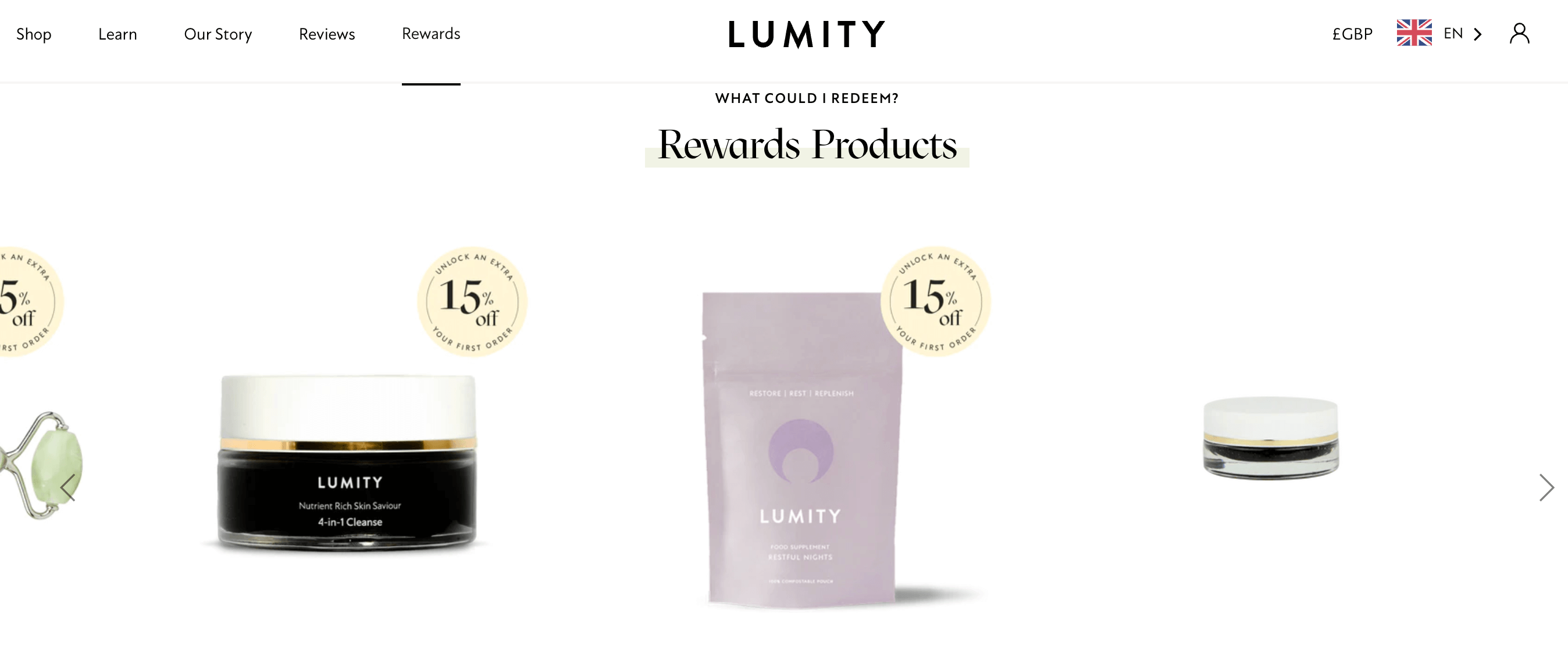 Exclusive perks with Wilderness Athlete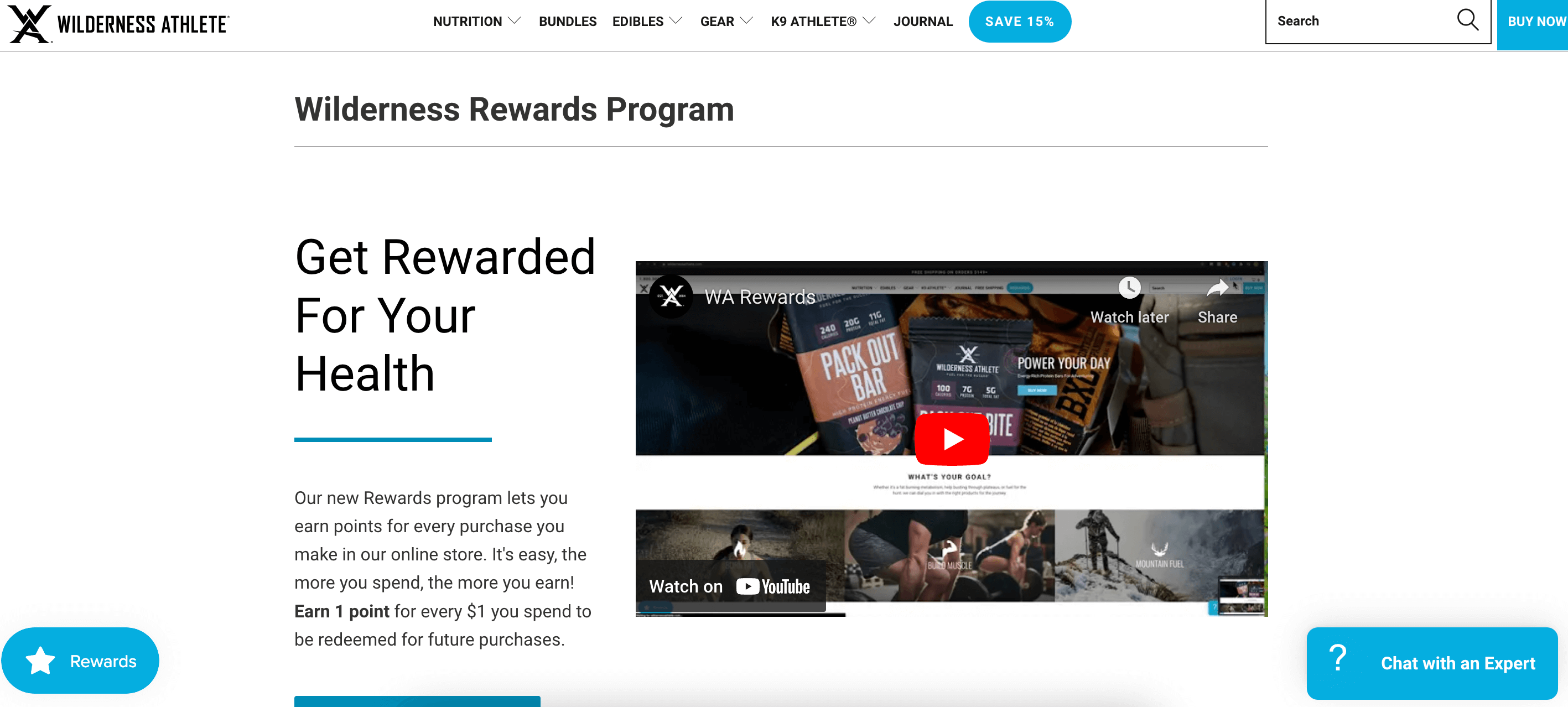 Wilderness Athlete is a vitamin and supplement brand that is all about being outdoors. Its products are aimed at customers who live an active lifestyle. One key aspect of its loyalty program is the type of rewards offered. From free products to up to $100 discount, customers who unlock rewards can earn some sweet deals.
Wilderness Athlete makes earning rewards even simpler, with only 4 methods—signing up for its loyalty program, earning on purchases, celebrating a birthday, and by writing a product review. It keeps its program easy-to-understand and shows that simplicity is effective.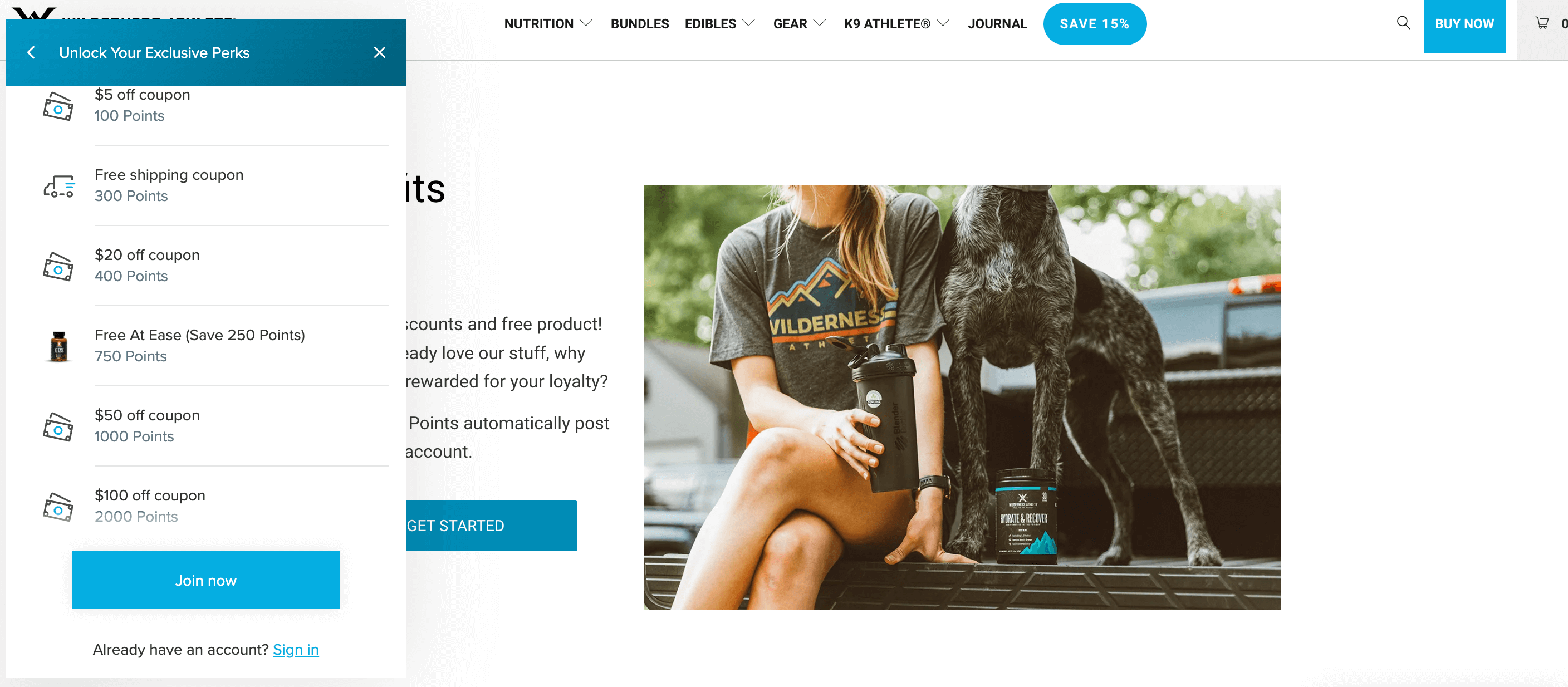 Jimmy Joy VIP Rewards
Jimmy Joy is a brand that knows its customers love earning rewards. With such a fun brand, its loyalty program is no different. Jimmy Joy has a VIP program that offers tiers and different perks and rewards based on the tier you fall under. Its program is top-notch, not only for the look and brand but because it offers meaningful rewards. "Starting as an Earthling, earning enough Time Tokens will turn your Earthling into an Astronaut or even a Time Traveler," the site explains.
Each tier comes with its special perks, like extra discounts, the chance to vote for new flavors and products, and even personalized birthday presents. This is an example of a top VIP loyalty program that combines transactional and experiential rewards. Customers can earn a price-based coupon, free shipping, and gift cards. Jimmy Joy does a great job at getting customers excited about its loyalty program and encourages customers to move towards different tiers to unlock more rewards.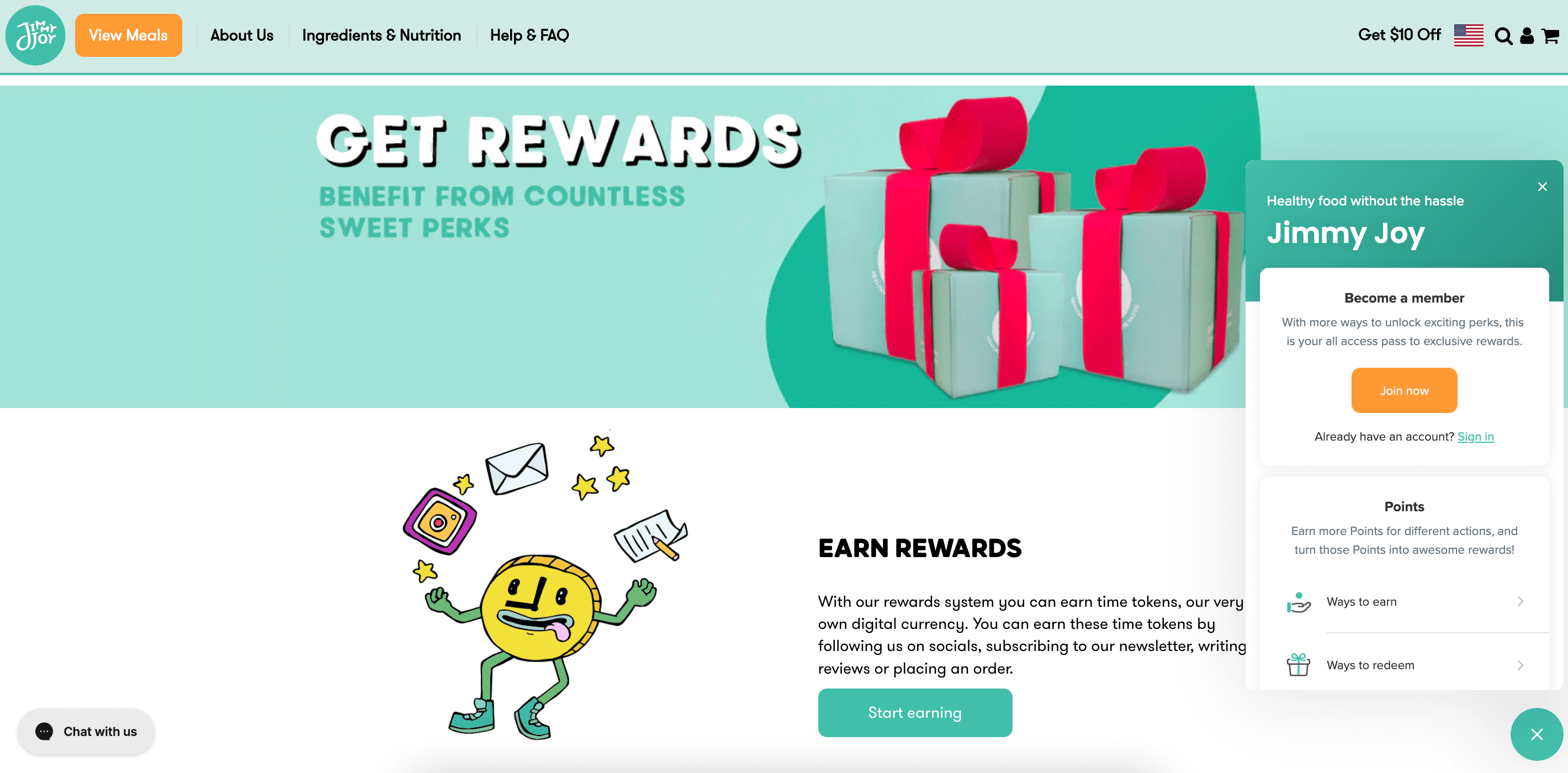 Tips for loyalty programs in the nutrition and supplement industry
There are tons of great nutrition and supplement brands that are using loyalty and rewards programs as part of their retention strategies. These examples are meant to help illustrate what different programs are doing and give you inspiration as to how a loyalty program could work for your ecommerce brand. In our experience with nutrition and supplement loyalty programs, there are three key things to remember.
1. Pair subscriptions with your loyalty program
Almost anything you need on a daily basis can be delivered straight to your doorstep with a subscription offer. Subscription boxes are a win for consumers looking for convenience and savings each month on products they buy anyway.
At the same time, commerce merchants increase average order values (AOV) and retention among their customer base. The solution to standing out from competitors is to pair subscription boxes with a rewards program. This allows customers to earn rewards for the purchases they're already making with your ecommerce brand every month. It incentivizes customers to continue to earn on every purchase and build up a bank of reward points for a repeat purchase.

2. Cross-sell products together
Cross-selling products is a tactic to encourage increased revenue. According to Pantastic, "cross-selling refers to selling related or complimentary products related to the shopper's order." In the nutrition and supplements industry, you can pair products that go with what your shopper already has in their cart. This encourages customers to try new products or simply add to their orders.
3. Reward for customer referrals
People who buy nutritional and supplement products love telling their friends about them. If they are rewarded for telling their friends, they like it even more. Referrals are a perfect way to incentivize customers to spread the word about your product and business.
A referral program has to be rewarding to both the person making a referral and the person receiving a referral. A referral program that rewards the sender of the referral is truly a win-win for you and your customers–they bring you a new customer (win for you), and you reward them with value at your store (win for them).
Referrals are a way to acquire customers without having to target them. It's estimated that "92% of consumers around the world say they trust recommendations from friends and family, above all other forms of advertising." Your customers have a circle of influence that is the strongest form of the community they can bring to your ecommerce business.
Launch your rewards program in minutes
BUILD A BRANDED PROGRAM FOR YOUR SUPPLEMENT BRAND
Editor's Note: This post was originally published on November 7, 2014 and was updated for accuracy and comprehensiveness on September 6, 2023.
This originally appeared on
Smile.io
and is made available here to cast a wider net of discovery.