June has traditionally been celebrated globally as pride month. What started with the Stonewall riots in 1969 has become a month spent celebrating the success of the LGBTQA+ movement and continuing the fight for equality. 
Pride month has risen in notoriety and with it comes marketing in a variety of forms. Businesses everywhere try to market their LGBTQA+ friendliness by turning logos rainbow-hued, posting colorful campaigns, or touting Pride-themed products all month long. But as much as these feel supportive on the surface, it brings up a question of authenticity with many audiences viewing Pride-themed content as a marketing ploy rather than a true reflection of a company's values. In fact, two in five companies with Pride campaigns are not donating proceeds to LGBTQA+ causes in 2019, according to research by Reboot Online. 
As Pride kicks off, ask yourself these questions:
"Do we have a hard time trying to figure out how to celebrate as a company authentically?" 
"Will my company create Pride-centric messaging that is genuine?" 
"How do we as a company support our current LGBTQA+ employees?"
Let's check out some of the ways you can align Pride with your company's values and use this as a blueprint for how to work towards elevating a variety of causes through your business practices.
Cause-related marketing is great for a business to both use its platform for good and create impactful change in the world. Supporting causes near and dear to your heart is one of the many benefits of being an entrepreneur or improving your company's corporate citizenship. 
Consumers are also increasingly aware of businesses and the actions they take (or don't as the case may be) and consider it a responsibility for them to impact societal change. According to Brandwatch, "92% of consumers would buy a product with a social or environmental benefit and 67% said they had done so in the last twelve months."
The key here is to not only talk the talk but walk the walk. Oftentimes businesses latch onto popular and rising social interests to advance their own standing. While these tactics may have worked in the past (disingenuous as they are)– the 24/7 vigilance of today's social media platforms means being "fake" does more to alienate consumers than attract them.
Often it's less about being purposely deceitful and more about a lack of knowledge or consideration for the perspective of the group they're trying to support. This has led to many a cringe-worthy marketing campaign that does more harm than good.
This is something to keep in mind when creating marketing materials centered on supporting a social cause. Pride is rooted in a history of struggle and discrimination, it's not a month-long party decorated with rainbows, but a struggle for acceptance that shouldn't be reduced to a branding opportunity or the chance to pad your sales.
Celebrating authentically
For companies looking to express their support for Pride and celebrate authentically, it's best to first ask yourself why you want to work this into your marketing and what the goal of your campaign is.
Does your company have internal efforts that promote inclusion and equality? Are LGBTQA+ employees supported? Do you have a diversity and inclusion statement or consider it to be a core company value?
Often looking inward is the best first step, rather than starting with an external statement. Make it clear that your company supports Pride and your own employees who identify as LGBTQA+, otherwise, it's taking action for the sake of relevancy. If this is already a part of your culture, you can begin to align public efforts with the ones you're taking internally.
Next, begin to craft a campaign that not only displays support for the cause but also directly advances the LGBTQA+ community. It's not enough to create Pride-themed products or content or add a rainbow to your logo–it's about more than going through the motions and showing up beyond your June campaigns.
Donating the proceeds from these campaigns is one way to show you're not profiting off this group of people or using their culture for the sake of your bottom line. This directly helps impact LGBTQA+ initiatives and supports charities dedicated to advancing equality, and there are a variety of charities to choose from. Check out a list of these organizations here. 
Collaborating with a charity is another great way to give back to the community, whether it's on specific merchandise or an overall awareness campaign. Partnering can also give you more insight into how to shape messages by working directly with a group that is supportive and an authority. Selecting a charity to partner with should depend on your organization's goal for Pride and how your values align. If you'd rather leave it up to your customers to choose where their money goes, you can let them pick a charity to support after their purchase for individualized impact.
Still not sure how to celebrate authentically? That's okay. Sometimes it's not about the glitter and rainbow content during June but about being inclusive all the time. Being an ally doesn't have to be an overt rainbow in every campaign, but creating products and messaging with LGBTQA+ customers and perspectives in mind. 
Pride marketing done right
From household name brands like Absolute vodka to one of our agency partners, Tinuiti, there are companies all over whose Pride marketing is on point. 
In 2020, digital marketing agency Tinuiti posted a video series highlighting diversity in the LGBTQA+ community as an educational resource, set up a Pride shop to support the cause, and wrapped up the month with a video of their own employees' coming out stories to highlight the importance of a community support system. This is a powerful way to show support in a way that isn't monetized but rather an overt display of their internal initiatives.
HubSpot has an LGBTQA+ coalition that works to celebrate Pride all year long with a variety of initiatives. From marches, breakfast round tables, employee events, and more–their coalition works to create a space celebrating everyone's unique identity and grow their community with pride. 
Bombas, the popular sock brand, created a new collection to celebrate the diversity of the LGBTQA+ community. Using designs intended to inspire customers to live colorfully, their collection is a great excuse for consumers to add a little bit of color to their feet. For every pair purchased, Bombas donates a pair to those in need in the LGBTQA+ community through a partnership with the Ally Coalition.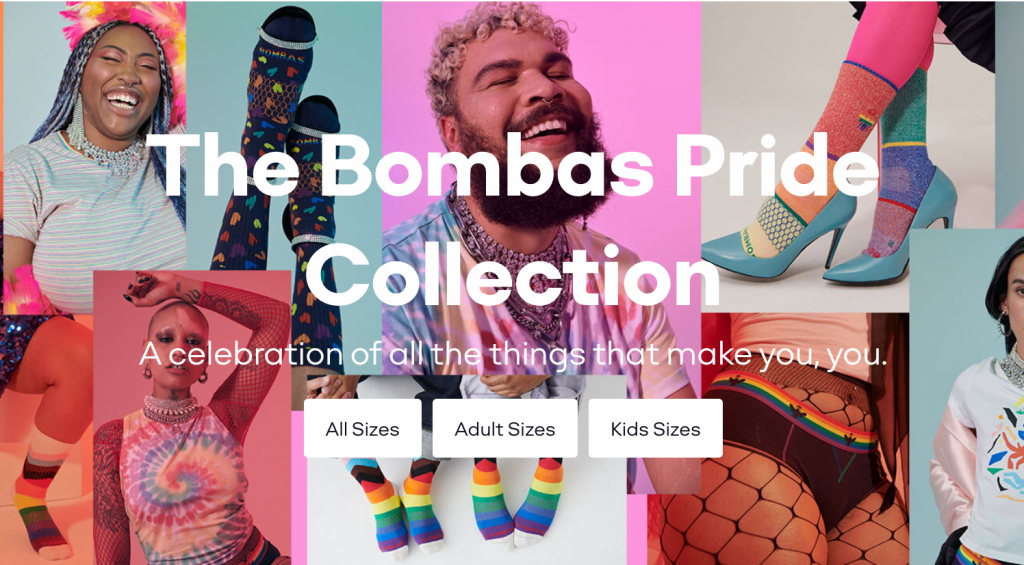 Tipsy Elves, an online clothing retailer, created a Pride Clothing & Apparel collection designed to help those celebrating Pride do so in style. Tipsy Elves emphasizes a belief in fun "that includes all people of all identities." Not only did they create these products aimed at letting people express themselves, but Tipsy Elves also partnered with the Trevor Project donating 10% of the sales from the collection. 

Here at Justuno we want to make it easier for brands to showcase what actions they're taking using onsite messaging, whether it's to let customers know where the proceeds from their purchases are going or what the brand itself is doing internally–these templates can help retailers showcase their Pride all month long. Log in now to get access!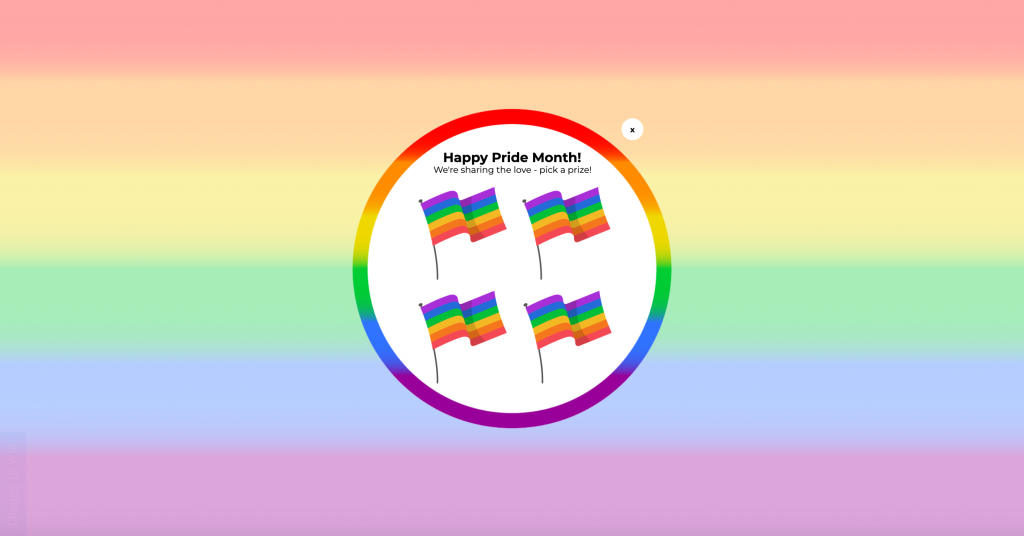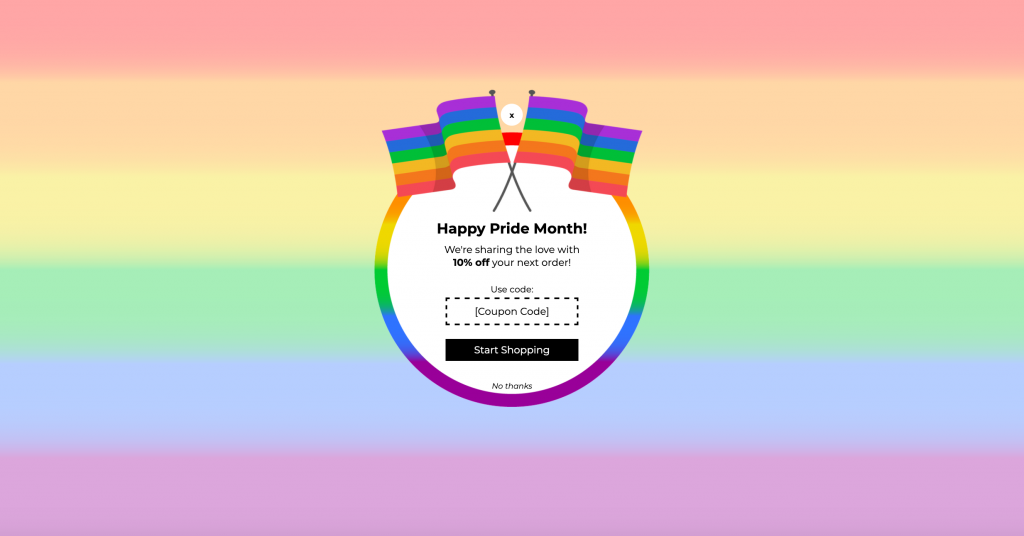 At its best, pride marketing should be educational, supportive, and from a place of sincerity. Don't use a rainbow filter on your logo or products unless you're ready to follow it up with real action and support. Being a supporter of the LGBTQA+ cause doesn't have to be a major production. It can be done with inclusive workplace policies, diversity in your advertisements, or simply making it clear to your own employees that diversity and inclusion are valued. 
June may be the official month for Pride celebrations, but support and inclusivity efforts should be year-round. Take a look around to find areas for improvement and place a renewed focus on advancing diversity and equality in your marketing campaigns and in your office.
This free and instant analysis of your website performance will show you what Justuno can do for your business.
Please enter a valid email address
This originally appeared on
JustUno
and is made available here to educate and cast a wider net of discovery.