Are you wondering what the best accounting software for self employed is?
Look no further, because we've compiled five of the best ones out there. But, before that, let's talk a little about what accounting software is and why it's important. 
What is Accounting Software?
Accounting and bookkeeping software are tools that allow individuals and companies to manage their finances. 
These programs allow you to do the following, and more:
Link bank and credit card accounts

Record financial transactions

Track and manage expenses and revenue

Generate financial reports and analyze metrics

Create and send purchase orders, invoices, estimates, and proposals

Track inventory

Bill clients

Collaborate with your accountant 
Why Do the Self-Employed or Freelancers Need to Use Accounting Software
Every business needs to keep track of their finances, no matter the size. For one thing, freelancers tend to take on multiple projects or clients at once. This means that they have multiple streams of income. Trying to track all that by hand is not only time-consuming, but it can also be difficult to manage. 
That being said, we think that the best accounting software for self employed people is the one that takes care of this. It chould automate certain tasks in order to save you valuable time and keep all your records accurate. This tool should also allow you to generate reports so you can track how well you've been performing. Additionally, your accounting software should allow you to do accounting on the go to cater to even the busiest individual.
Can I Do My Own Accounting?
DIY bookkeeping has several pros. For one thing, it's the best thing to do if you're just starting out. It allows you to get a good idea of how much you are spending, and is more cost-effective. It also allows you to stay in control. 
In fact, the best accounting software for self employed mentioned below are purposefully designed to be intuitive. This means that anyone can use any one of them. They don't have to be an accountant, or even have a background in bookkeeping. That's one of the reasons why we recommend them. 
However, there are also a few cons to DIY bookkeeping. For one thing, you need to learn how to do your own bookkeeping the right way. Every business must comply with any local regulations and tax law. This includes all self-employed persons, like freelancers. 
Speaking of taxes, it can potentially take you a longer time to do all the filing yourself. If you are a busy person, it might be difficult to set aside time to do your books each week, then get everything filed with your local tax office. Lastly, if you don't have someone double-checking your work, there's a chance you could miss a few things. Making mistakes on your taxes could get you fined or audited. After all, the revenue service doesn't know that you made mistakes by accident, and you can't expect them to cut you any slack.
Best Accounting Software for Self Employed & Freelancers in 2023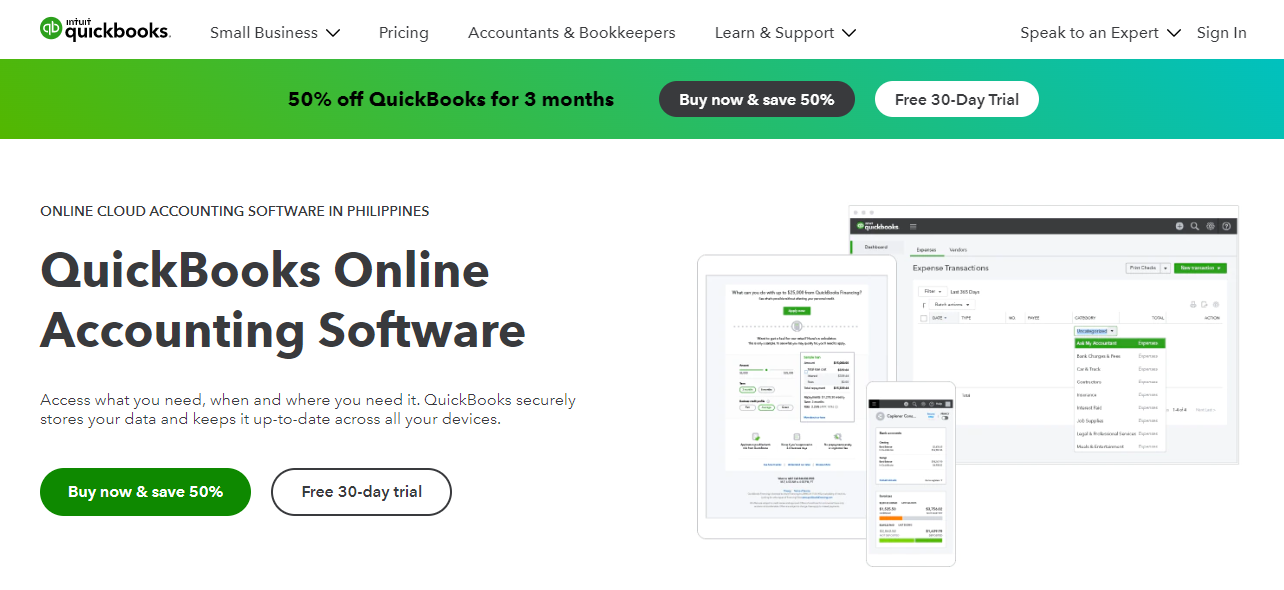 QuickBooks is probably the most popular accounting software out there. They are known for having flexible plans and robust features to handle even the most complex of bookkeeping needs. They even offer a free guided setup to get you up an running with account connections, task automation, and advice on best practices. 
Pros
Great for small businesses

Widely used and known 

24/7 customer support

Flexible pricing plans for all business sizes

User friendly

Easy implementation and integration

Many in-depth features

Cloud-based

Hundreds of integrations

Easy to search for what you need via the search bar
Cons
Plans can be costly compared to alternatives

In-depth support can be lacking

There is a learning curve to get started

Limited users on all plans
Pricing
QuickBooks pricing has four tiers:
Simple Start
$30/mo

Includes access to one user, income and expense tracking, receipt capture, mileage tracking, cash flow management, sales and sales tax tracking, access to basic reports, 1099 contractor management and the ability to connect a sales channel
Essentials
$55/mo

All of the above features plus 2 more users, time tracking., bill management, more reports, and ability to connect 2 more sales channels
Plus
$85/mo

All of the above with the ability to add up to 5 users, project profitability tracking, inventory tracking, more substantial reports, and the ability to connect all of your sales channels  
Advanced
$200/mo

All of the above plus access to up to 25 users, batch invoicing, employee expense management tools, expense creation, exclusive apps, dedicated account team, online training, workflow automation, data management and restoration, comprehensive reports, and more customization
Another one of the best accounting software for freelancers, Xero is used by over 3.5 million users across the globe. Xero is a software created for the people, so that anyone from beginners to expert accountants can use it with ease. Xero even offers to connect you with financial advisors if you ever need guidance. 
Pros
Many integrations and easy to implement 

Accounting on the go via mobile app

Easy to set up and operate 

Simple and beginner-friendly UI

Affordable

Cloud based

Unlimited user support
Cons
Limited entry-level plan 

Hard to transfer to other accounting software from Xero 

Limited customer support 
Pricing
They have three plans: 
Starter
$25/mo

Includes all the basics of receipt capture, reconciliation, short-term cash flow snapshots, and limited bill entry and limited quote and invoice sending
Standard
$40/mo

All of the above but removes the limits of bill entry and quote and invoice sending; includes bulk reconciliation 
Premium 
$54/mo

All of the above plus multiple currency handling capabilities
They also have add-on services like expense management for $4/mo, project and job tracking for $7/mo, and Analytics Plus for $7/mo after a 4-month free trial. 
FreshBooks is an accounting software that makes on the go accounting easy and affordable. Not only do they provide the software you need to manage finances, they also offer award-winning, personalized customer support to back it up.
Pros
Useful beginner templates

Simple but effective 

Cost-effective

Easy to use UI

Works well with other applications

Good customer support
Cons
Limited users

Limited entry-level plan 

Limited customizations 

Limited auditing functionality
Pricing
They have 3 regular pricing tiers with the offer of 50% off the first 6 months. For this article, we will list the regular prices. 
Lite
$17/mo

Unlimited invoices to up to 5 clients, unlimited expense tracking, unlimited estimates, credit card and bank transfer payment capabilities, sales tax tracking, view reports, mobile app 
Plus
$30/mo

All of above plus up to 50 billable clients, automatic expense tracking, recurring billing and client retainers, unlimited proposals, business health and double-entry reports, collaborate with accountant, mobile milage tracking
Premium
$55/mo

All of the above plus unlimited clients, project profitability tracking, Accounts Payable to track bills, bill payments, and vendors, customizable emails and signatures, automatic payment reminders, automatic late billing, get paid with checkout links, run financial and accounting reports
They also have custom plans for more complicated needs. 
Wave is one of the more unique entries in our list of the best accounting software for self employed people. They offer their invoicing and accounting tools for free. This US-only banking software also offers optional paid payroll, payment processing, personalized bookkeeping, and coaching.
Pros
Free Invoicing and Accounting

Great for people just getting started

Great features

User friendly and easy to navigate UI

Mobile app 

Unlimited users
Cons
No third-party integrations

Limited functionality 

Limited auditing functionality 

Need to pay for some support options allowing for subpar service
Pricing
Wave is unique in that both their invoicing and accounting software are completely free. 
Invoicing
Free

Includes customizable, professional, unlimited invoices, automated reminders, pay directly from invoices using card, bank, or Apple Pay 
Accounting 
Free

Includes unlimited income and expense tracking, unlimited users, view insights via dashboard, access helpful reports 
They also have paid add-on services:
Payroll 
$20 or $40/mo

Includes, easy payments, employee portals, access to tax forms and documents, 
Advisors 
$129/mo for bookkeeping support; $379 one time fee for Accounting and Payroll coaching 

Includes access to bookkeeping, accounting, and payroll  experts that can help you with your books, coaching, year-round access to advisors, tailored insights to fit your business
They also charge per-transaction fees for processing payments through Wave.
Zoho Books is one of the Zoho collection of apps. They offer end-to-end financial management. They keep updated on the latest changes in tax regulations and compliance and any other finance trends. This combined with the fact that it allows you to integrate with the other apps in the Zoho suite, makes this one of the best accounting software for self employed individuals who want to optimize other areas of their business management.
Pros
Has a free plan

Easy to use and configure 

Access to the Zoho suite 

Flexible and affordable pricing

Many features

Good customer support 

Easy integrations 
Cons
Limited users 

Limited integrations
Pricing
You can use Zoho Books for free and they also have 5 pricing tiers on top of that. 
Free
Includes access for 1 user + accountant, up to 1,000 customizable invoices/yr in multiple languages, recurring invoices, customer portal, expenses & mileage tracking, multiple bank and card accounts, reconciliation, automate payment reminders, import back and card statements, chart of accounts, journals, reporting and scheduling, , email support, Zoho and other app integrations
Standard
$12/mo

All of the above plus, 3 users, predefined user roles, up 10 5,000 invoices/yr, recurring expenses, connect bank and card feeds, invoice and expense tracking, project tracking, bulk updates, more customization, reporting tags, billing and timesheets, custom reports, Zoho People and Zoho Project integration, and additional voice and chat support
Professional
$24/mo

All of the above plus 5 users, custom roles, recurring bills, retainer invoices, approve sales and purchases, vendor credits, create sales and purchase sales orders, basic multi-currency handling, stock trading, tracking project profitability, recurring journals and templates, up to 10 workflow rules, 25 custom reports, timesheet approval, landed costs
Premium 
$36/mo

All of the above plus 10 users, a custom domain, vendor portal, budgeting tools, up to 200 workflow rules, 50 custom reports, cashflow forecasting reports,

Zoho Sign and Twilio integrations
Elite
$129/mo

All of the above plus unlimited custom reports, advanced multi-currency capabilities, advanced inventory control, warehouse managements, serial number tracking, batch tracking, shipping label printing, shipment tracking, Shopify Store integration
Ultimate 
$249/mo

All of the above plus up to 15 users, Advanced Analytics, real-time customizable reports and dashboards, metric tracking and data analysis, collaborative reporting, embed reports in sites and apps
What Is EcomBalance? 
EcomBalance is a monthly bookkeeping service specialized for eCommerce companies selling on Amazon, Shopify, Ebay, Etsy, WooCommerce, & other eCommerce channels.
We take monthly bookkeeping off your plate and deliver you your financial statements by the 15th or 20th of each month.
You'll have your Profit and Loss Statement, Balance Sheet, and Cash Flow Statement ready for analysis each month so you and your business partners can make better business decisions.
Interested in learning more? Schedule a call with our CEO, Nathan Hirsch.
And here's some free resources:
Conclusion
There you have it! We hope our list of the best accounting software for freelancers and other self employed individuals gave you the information you need to start organizing and taking control of your finances.
Recent Posts
Julia Valdez
Julia Valdez is Freelance Writer and Agency Owner. She regularly writes on topics related to Business Finances, Growth, Hiring, Entrepreneurship, and more.
Need help with your bookkeeping?
We're on a mission to help 1,000 businesses better understand their numbers. Will you be one of them?
Want our Monthly Finance Meeting Agenda?
Get our agenda that we've used to build 6, 7, and 8 figure businesses.
This originally appeared on the
EcomBalance Blog
and is made available here to cast a wider net of discovery.