When do you start building loyalty? Some might say it starts after the second purchase, or when a customer joins a loyalty program. However, I want to challenge you to think differently: the potential for loyalty starts from the first moment your customer hears about your brand. Better still, there's a way for you to find customers who, right from their first experience with your brand, are more likely to become high-quality customers. By "high quality," I mean they're more likely to engage with you repeatedly and have a higher customer lifetime value (LTV). 
The way you find these high-quality customers is by identifying the best customers that are already in your customer base, and then nurturing and activating them so they actively introduce new customers through brand advocacy. 
I'm Kat Wray, Director of Strategic Partnerships at Mention Me, the brand advocacy intelligence platform empowering businesses to turn brand fans into unstoppable growth. Read on to learn more about what brand advocacy means, the results that marketers can achieve with it, and even some practical tips to help you foster advocacy with your existing customers. 
Before you dive in, though, I want to invite you to also join us June 8th for our online Masterclass session as a part of the Emarsys Power to the Marketer Festival.
Contents:
What Is Brand Advocacy?
Brand advocacy is the natural social behavior of individuals to share a positive impression of a brand by any means. This can be anything from word of mouth recommendation over coffee, to leaving a positive online review, recommending products in social media, tagging friends in ads, referring friends online, or participating in communities.
People trust each other far more than they believe advertising — in fact, 92% of consumers trust recommendations from friends and family above any other form of advertising. Brand advocacy in all its forms will always be the most potent way to win new customers.
Put simply, brand advocates are your most effective marketers. Getting people and communities to recommend your brand before you've spent a penny on paid channels is the most effective way to grow. 
A consumer will listen to brand recommendations from their friends and family, and those friends and family generally will ensure the referral is relevant. People who are referred have a greater reason to trust the brand because they trust the referrer, which increases the likelihood of successful acquisition.
In marketing programs, brand advocacy is much more than an add-on widget or acquisition channel that helps customers refer a friend. With the right approach and technology, it can become a powerful driver of organic, sustainable growth. Brand advocacy opens up a world of new possibilities for the way you engage your customers. 
And marketers need to uncover new opportunities for driving growth, because the old ones… well, they just aren't seeing the same kinds of returns that they used to.
How Brand Advocacy Can Overcome Your Business Challenges
In the US, 64% of ad spend goes on just three channels: Google, Facebook and Amazon. Meanwhile, CPA costs are continuing to rise as brands out-bid each other for the same consumers, and iOS changes are further ramping up the pressure (bye bye, cookies. You were delicious while you lasted.) These days, they're having to work harder to reach customers, which is driving their costs up and up, so marketers are spending more for fewer acquisitions.
To make matters worse, these acquisitions may not be high-quality customers, meaning brands are having to spend even more to retarget and motivate them to return. Customers acquired through paid channels, compared with earned channels such as referral, are less likely to buy again from your brand and refer friends and family. 
Brand advocacy has powerful potential that many marketers recognize they need to unlock. They also realize they need to use it more efficiently, but that's where marketers frequently get stuck. 
Fortunately, this is where Mention Me can help. With a heritage rooted in referral, we're developing the world's first platform that understands advocacy at every point in the customer journey and makes every interaction smarter. 
Benefits of harnessing brand advocacy include:
Acquire high-quality customers: Increase acquisition by as much as 30% through strategic optimisation. Customers acquired through referral are better quality than any other marketing channel — they have higher average order value (AOV), higher LTV, and a propensity to refer and better overall engagement, including likeliness to enroll into your loyalty program.
Increase LTV of existing customers: Identify, nurture, and reward advocates — this is proven to increase their LTV.
Improve customer segmentation: Improve engagement by identifying your truly best customers. Then you can speak to those groups with targeted, personalized messages that further boost brand advocacy.
Improve customer experience: Identifying those not yet advocates allows you to maximize revenue by driving the next best action (i.e. discount on next offer or sign up to membership newsletter).
Attract High-Quality Customers Destined to Become Loyal Brand Fans
Referrals are about quality over quantity. Sure, you can acquire customers all day long through various acquisition channels, but when your customers are referred, you're getting the cream of the crop.
The high quality of referred customers has a significant impact on business outcomes:
The likelihood of an acquisition increases by more than 30% over non-referred customers.
The AOV increases by 11% over non-referred customers. 
The LTV of referred customers is up to 2x greater than for non-referred customers.
That all adds up to real dollars and cents, not to mention making plain old good sense.
The statistics are clear: referred customers are more likely to engage and convert, and they also have a strong potential to become referrers. 
Brand advocacy doesn't replace loyalty — rather, it ensures that loyalty is ingrained in every step of the customer journey. In the end, you achieve a never-ending cycle that leads to growth and revenue for your brand.
Where to Start: Identifying Your Best Customers
If you want to make brand advocacy central to your marketing strategy, the place to start is with the definition of who your best customers are. 
The complete value that a customer brings to the table is not limited to the sum total of their purchases. When it comes to brand advocacy, your best customers are those who regularly introduce their friends and family. 
Consider this scenario: 
Abby buys $500 worth of product in a time period and makes no referrals.
Taylor buys $100 worth of product in the same time period and makes 7 successful referrals, which lead to $100 worth of purchases per referee, and three of those new customers go on to refer friends of their own.
They're both valuable customers, but between Abby and Taylor, who is your best customer? 
The real question, though, is whether you can identify Taylor's activity and recognize them as your best advocate. Only through that identification can you then engage them with tailored, rewarding content that supports their advocacy. 
After identifying these customers, the next step is to use your data to segment them and continue developing the relationship. The loyalty of a strong brand advocate is important, so be sure not to take it for granted. Consider offering exclusive incentives, perks, and upgrades.
"If we see a customer is referring friends who then come in to buy, that changes how we talk to them and our general view of how loyal they are,"

David Witts, Senior CRM Manager E-Commerce Europe, PUMA
Mention Me and Emarsys: The Power of Brand Advocacy + Personalization
Picture this: Marketers can combine brand advocacy with personalized, omnichannel customer engagement. That's where the real magic happens, and it's why Mention Me and Emarsys have been succeeding together as partners for 2.5+ years now, with a direct integration. Mention Me is also an SAP partner integrated across SAP CX, Commerce Cloud, and soon CDP.
Mention Me offers the power to drive sustainable, organic growth through identifying, recruiting and nurturing your community of fans. Meanwhile, Emarsys empowers marketers to build, launch, and scale personalized cross-channel campaigns that drive business outcomes.
Together, these two are an unstoppable duo. Mention Me identifies who your star referrers are, and that data is passed into Emarsys for generating personalized content that's rewarding and engaging, driving more referrals and revenue. Together, these tools support the virtuous circle:
It's the end-to-end customer journey that becomes a never-ending web, as shown earlier.
One brand using the Mention Me integration with Emarsys is PUMA, a name recognized across the globe. With their brand advocacy strategy in place, PUMA has…
Increased their database by 6% in 4 months
Acquired customers who were 4x more likely to refer onwards
Began creating new VIP segments rather than focusing on just spend
Rethought the way they viewed "lapsed" customers and begin personalizing the experience
During the recent NRF conference, David Witts, Director of CRM at PUMA, shared his thoughts on how his team is using referral data from Mention Me to feed into Emarsys, informing their marketing campaigns,
"What we've managed to do with working with Mention Me is change the way that we segment and think about our customer loyalty by using the referral data that we get in that adds a whole new level to who is not just who is buying, but who is referring and who are our real brand advocates. Absolutely. What's really exciting is that we can take that first party referral data, import it into Emarsys, and then use it to support our segmentation. […] We can use it for our segmentation, but we can also use it for creating automated journeys so we can communicate to customers about that referral program, remind them that they've got a referral code to use, or get really high value customers who are referring regularly to refer more and more. So it's all really exciting and makes all of that outbound marketing, really joined up and consistent in the way that we're talking to our customers."

David Witts
Director of CRM, PUMA
David also shared his insights about the integration between Mention Me and Emarsys:
"I think the other great thing about it all is it all just links together. So Emarsys and Mention Me have an integration so we can get all of that data easily into Emarsys. And then Emarsys is like a central hub for all our customer communications. So getting all that data in there and then being able to use it for all of our segmentation is just really, really helpful. So for me, the key thing is that it all fits together. I think the key thing is we, through Emarsys and through Mention Me and through all the tools that we're working with, we're able to get real life insight into who of our customer database is interested in buying, what they're interested in buying. And that means the communications we send to them can be really hyper personalized. We want to talk to the right customer with the right message at the right time through the right channel. […]"

David Witts
Director of CRM, PUMA
If you'd like to hear more from David about how PUMA is using brand advocacy, this recent article from Women's Wear Daily explores their success and discoveries in a detailed interview.
5 Strategies for Harnessing Brand Advocacy
When you're putting brand advocacy into practice, keep these strategies in mind to maximize each and every opportunity. 
Personalization: Promote your referral program at the right time when customers are likely to use it, and show the right product to go with it. By sending targeted emails to encourage advocacy, our clients have seen up to 66% of customers refer their friends and family.
Omnichannel marketing: Promote referrals in different formats and on different channels to better reach your best advocates. Make their lives more convenient, so they can share referrals and get rewarded whether they're on the web, the mobile web, or your mobile app. 
A/B testing: Figure out what works for your brand! Where one brand might succeed by offering loyalty points, another might get more results using a 15% discount offer for referrals. No two brands are exactly alike. We've found that A/B testing by cohort can increase referred customer acquisition by 4x in the first six months.
Proven, pre-built tactics: Emarsys recently launched three pre-built tactics based on successful automations. Use these tactics to quickly create your own automations and build success. Share Again, Coupon Reminder for Referrer, and Coupon Reminder for Referee will help you launch automations quickly. Then you can use the drag-and-drop GUI in Emarsys to customize the customer journey, making it tailored to your audience.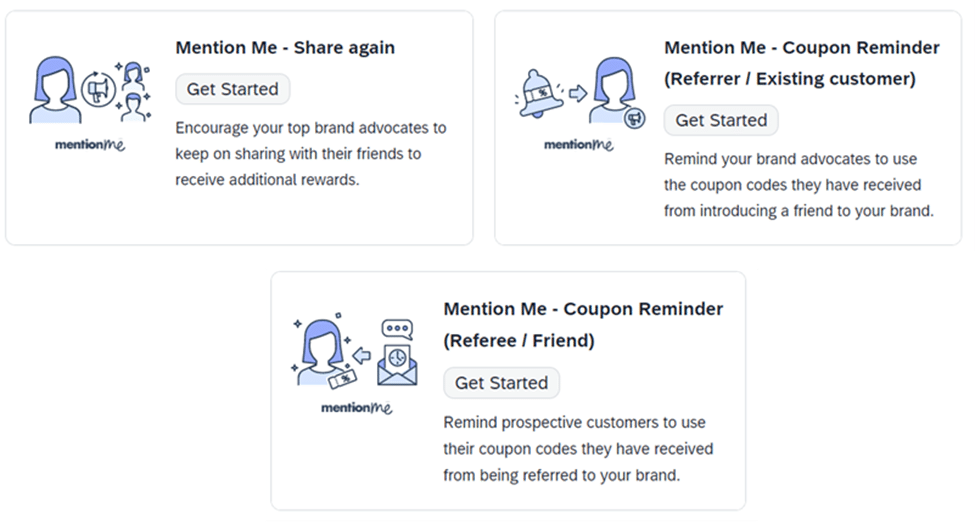 Your Brand Advocates Deserve Star Treatment 
Opportunity is knocking whenever your customers lean over to a friend and say, "Hey, you should try this. It's just what you need." 
It's up to you to uncover those moments, to discover those advocates, and then harness and reward their natural inclinations. Give them the star treatment! Then give your other customers (the ones who aren't automatically making referrals on their own) the opportunity to become advocates as well. They might not be your best brand advocates yet, but there's a good chance that all they need is a convenient solution and a little incentive for that light bulb to go on.
All of this leads to long-term value and sustainable growth — which, in a recession, is priceless. 
As always, Mention Me and Emarsys are continuing to deepen their integrations. This dynamic duo will continue building on the power and value that you can get from harnessing the power of your brand fans. 
Also, one last reminder that you're invited to join as a part of the Power to the Marketer Festival for our Masterclass, this June 8!
Special thanks to our friends at
Emarsys
for their insights on this topic.