Reading Time: 13 minutes
If you rely heavily on your digital marketing campaigns to drive revenue for your business, the email marketing software you choose will be critical to your success. While Mailchimp might be top-of-mind for many users, ConvertKit has many unique advantages to offer. 
Here's a ConvertKit vs Mailchimp comparison to help you determine which tool is worthy of your time and monetary investment. 
Overview
Since it launched in 2013, ConvertKit has steadily gained a strong user base of people who are quick to praise the email marketing software's easy-to-use platform. Built specifically for and marketed to online content creators, ConvertKit has made it easy for YouTubers, podcasters, live streamers, and the like to monetize their online presences and build a solid business around the content they create.
But although ConvertKit's success is undeniable, it is still often touted as merely a MailChimp alternative. Indeed, MailChimp's 12-year headstart has given them the advantage of a solid brand identity that dominates the email marketing space.
Additionally, its expansion from being a mere bulk email tool to a robust multi-channel marketing platform has enabled it to thrive despite the development of newer tools with comparable (sometimes better) features.
For example, among such newer tools is Omnisend. Omnisend's omnichannel marketing platform lets you run automated marketing campaigns seamlessly across multiple channels, which makes it another excellent Mailchimp alternative. Start free.
ConvertKit vs Mailchimp comparison
Choosing between available ConvertKit and Mailchimp plans can be overwhelming because there are so many factors to consider. Here's a comprehensive comparison of Mailchimp vs ConvertKit to help you determine which is the best email marketing software to suit the nature of your business, your budget, and your growth plans.
Email marketing features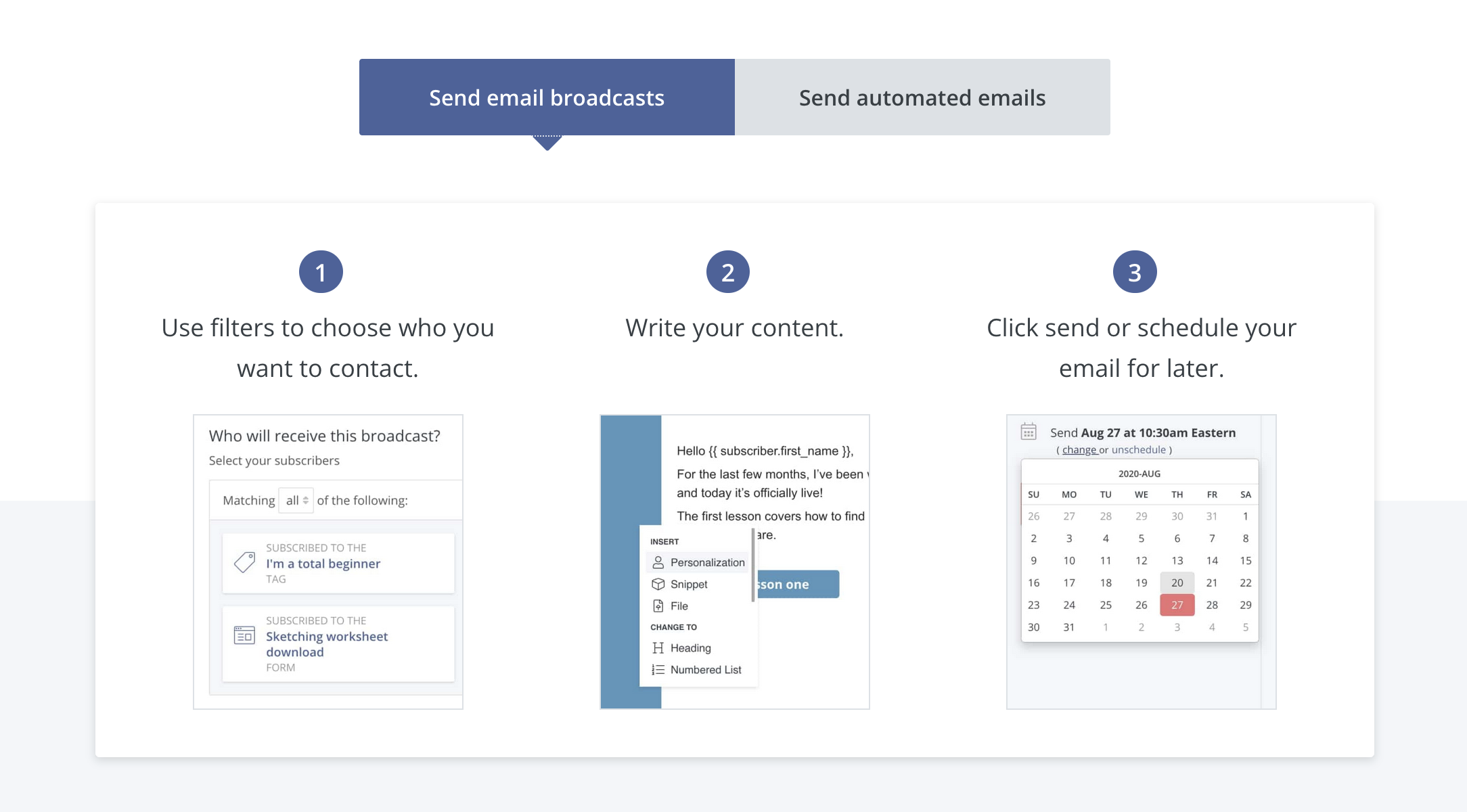 Both ConvertKit and Mailchimp email marketing features give you all the basics you need to run email campaigns. Either tool will enable you to create your own email designs or customize readily available templates to suit your brand and message. Once done, it takes a click of a button to send your messages to your targeted audience.
Additionally, both Mailchimp and ConvertKit have email capture tools that allow you to build your opt-in list from your website. You can create an unlimited number of pop-up forms and landing pages. And, you'll be able to organize your lists in ways that make it easy for you to segment your audience and reach each subscriber with personalized messages.
So if all you want is a suite of basic email marketing tools to help you grow your audience and broadcast emails, either tool will do. The real ConvertKit vs Mailchimp competition is in ease of use, additional features, and the potential impact each tool can make on your bottom line.
Similarly, Omnisend offers professionally-designed templates that are easy to customize and opt-in forms that are optimized for maximum sign-ups. It also has plenty of automation options that enable you to run robust marketing campaigns on autopilot.
Ecommerce features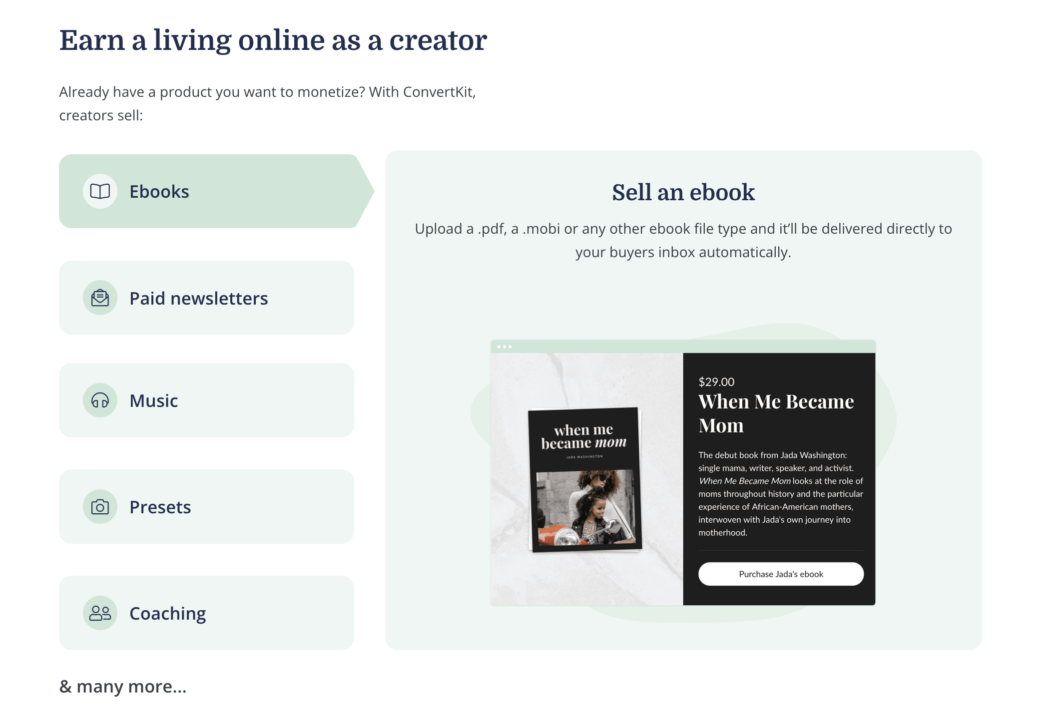 All ConvertKit plans are geared towards digital content creators. Using this platform, you can go beyond ad revenue and earn direct income by selling digital products. For example, you can offer ebooks or original music, and ConvertKit will automatically deliver files or provide instant access to your customers.
With ConvertKit, you can also run a premium newsletter service or offer recurring subscriptions to an online service. You can also set up a tipping system wherein happy subscribers can send you money to thank you for your efforts. If you want your subscribers to decide how much to pay for the digital products you offer, you can also do that using the ConvertKit pay-what-you-want pricing method.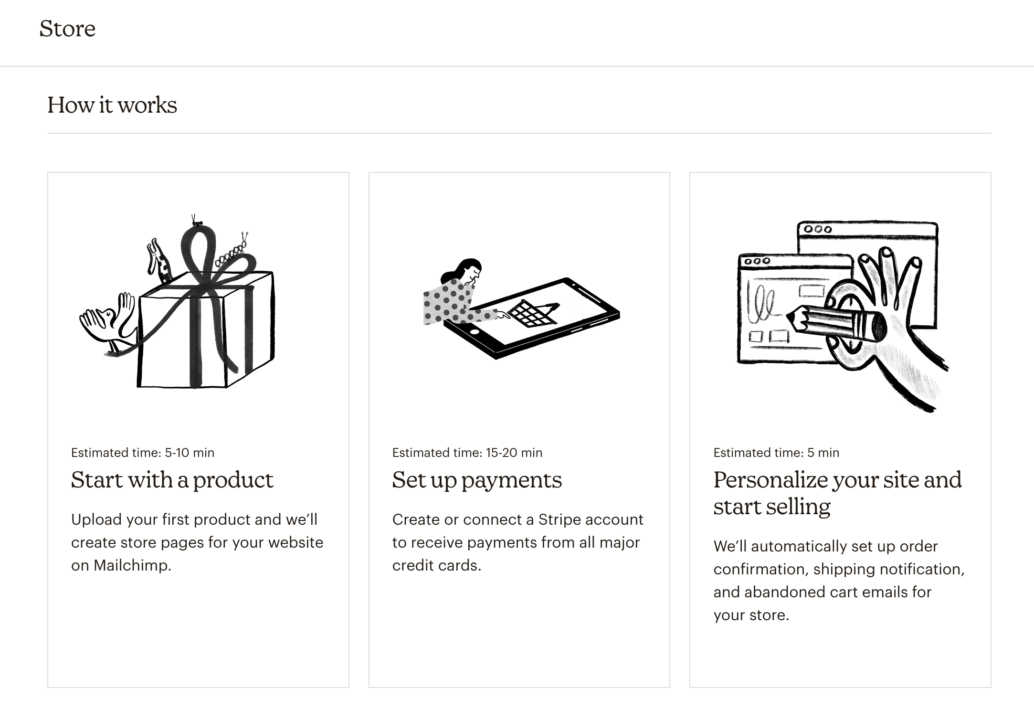 On the other hand, Mailchimp features are optimized for selling physical goods. The platform enables you to build an online store with an unlimited number of products. Unlike ConvertKit, you'll be able to create a fully-stocked online store rather than just one or two sales pages. Then, you can accept all major credit cards by activating Stripe.
Additionally, all Mailchimp plans allow you to manage an appointment booking system that lets customers schedule availing of your services. They'll see available schedules in real time and have the ability to book for one person or a group. Once booked, Mailchimp email marketing features will automatically send confirmation emails as well as reminders to avoid no-shows.
So, choosing ConvertKit vs Mailchimp would mainly be based on the nature of your business. Although both will enable you to email marketing campaigns, you'll be able to maximize the value of ConvertKit plans if digital products are your main sources of revenue. On the other hand, Mailchimp features are best for ecommerce stores offering physical goods or service-oriented businesses relying on client appointments.
In contrast, Omnisend doesn't have these sorts of ecommerce limitations. Instead, it integrates seamlessly with well-established ecommerce platforms like Shopify, BigCommerce and WooCommerce. This allows it to focus on providing advanced ecommerce-tailored marketing tools suited for all types of businesses, whether offering physical goods, digital products, or other services.
Channels
Reaching your audience on a variety of channels is crucial to the success of your online business. In fact, omnichannel statistics show that you can enjoy a purchase rate increase of up to 287% when marketing on several channels rather than just one. Ideally, you'll use at least three. Which channels to choose will depend on the communication preferences of your target audience.
In this regard, Mailchimp is the clear winner. ConvertKit is limited to email marketing, though the most premium plan enables you to access Facebook Custom Audiences. But Mailchimp features go beyond email to include social media posting and advertising. So, you can manage your Facebook and Instagram campaigns on the same platform you use for your emails. On some Mailchimp plans, you can also run retargeting ads on the same social networks and on Google.
Though Mailchimp wins the ConvertKit vs Mailchimp channel comparison, it still lags behind Omnisend in this regard. Omnisend's platform can be used to manage your email campaigns and social media ads. You can also set up web push notifications to boost engagement on your website. 
Most importantly, you can use Omnisend to run SMS campaigns either as an independent marketing channel or complementary to your other channels. The best part is that every Omnisend plan includes free SMS credits, so you don't need to be bothered with assigning budgets for a separate service.
Pricing
If the ConvertKit vs Mailchimp debate is on the simplicity of pricing plans, ConvertKit is the undeniable winner. But if you take the time to evaluate Mailchimp's plans against your own requirements, you'll find that it's actually more favorable. 
Both Mailchimp and ConverKit offer free plans that allow you to try the platforms without any financial risk. Both free plans will already let you create email capture forms and broadcast emails. However, ConvertKit limits the free tier to 1,000 subscribers while Mailchimp allows you to add up to 2,000 contacts.
As for the paid plans, the monthly cost increases along with your subscriber count. Nevertheless, Mailchimp pricing tends to be cheaper both for new or small businesses that are just starting to attract subscribers and established ones that already have large contact lists. 
Here's a side-by-side comparison of how much you would pay on each platform based on the number of subscribers you have:
| | | | | |
| --- | --- | --- | --- | --- |
| | Mailchimp | ConvertKit | Mailchimp | ConvertKit |
| Number of Contacts | Essentials | Creator | Standard | Creator Pro |
| 300 | $11 | $15 | $17 | $29 |
| 500 | $11 | $29 | $17 | $59 |
| 1,000 | $23 | $29 | $59 | $59 |
| 5,000 | $59 | $79 | $90 | $111 |
| 10,000 | $87 | $119 | $115 | $167 |
| 25,000 | $225 | $199 | $259 | $279 |
| 50,000 | $299 | $379 | $359 | $519 |
Except for the awkward list size between 25,000 and 50,000, both Mailchimp plans are less expensive than both of ConvertKit's. Additionally, Mailchimp pricing gives way to a pay-as-you-go plan, which is perfect for businesses that don't need to broadcast emails too often.
Mailchimp vs ConvertKit pricing for the higher-tier plans are exactly the same at 1,000 subscribers. Both are priced at $59, which is the same as Omnisend's Pro plan at the same contact list size. However, an Omnisend Pro account already includes up to 3,933 text messages per month as well as unlimited web push notifications. 
For large businesses with more sophisticated requirements, Mailchimp plans also include a Premium option, which starts at $299 per month for businesses with no more than 10,000 subscribers. ConvertKit only offers custom plans for businesses with 500,000 subscribers or more.
It's essential to note that Mailchimp takes on a list-centric approach to contact lists while ConvertKit uses a subscriber-first approach. This means the same subscribers can be counted multiple times on Mailchimp if they're added to several lists. On ConvertKit, every unique subscriber is counted only once, which helps you avoid unnecessary fee increases.
Ease of use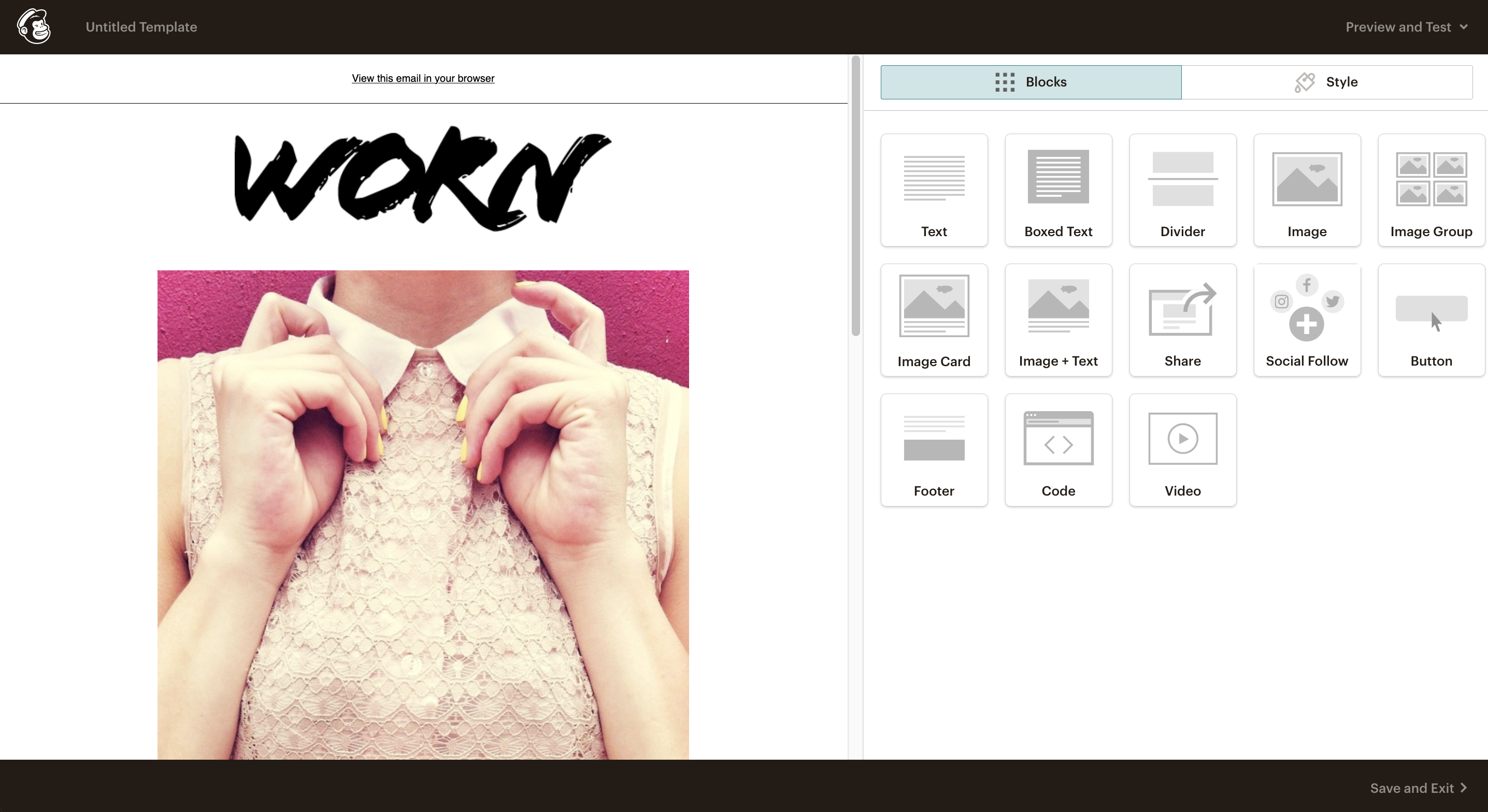 Neither ConvertKit nor Mailchimp is particularly difficult to use. But since Mailchimp has more advanced features, it's not surprising that you can get campaigns up and running much more quickly on ConvertKit. Template and campaign customizations on Mailchimp come at the cost of a little bit more time and effort while ConvertKit's basic functions mean a no-frills setup.
Creating emails on both platforms is easy. Mailchimp features a drag-and-drop editor, which makes it incredibly easy to add elements, type in text, and insert images. ConvertKit doesn't have a similar WYSIWYG interface but its email editor is incredibly simple to use mainly because it limits you to text editing and image insertion. It doesn't have the same design flexibility that Mailchimp does in terms of layout and additional elements.
Mailchimp's email editor is more comparable to Omnisend's since both have a drag-and-drop editor that makes designing so much more intuitive. Where Mailchimp lags behind Omnisend is in the availability of dynamic content blocks that you can choose from and add to your emails. Such elements include unique discount codes, personalized product recommendations, and scratch cards. Omnisend also gives you a product picker tool that allows you to easily insert products into your emails. 
In terms of setting up campaigns, ConvertKit and Mailchimp work differently but both are easy to learn. On ConvertKit, you need to select your recipients before creating an email. But like Omnisend, Mailchimp enables you to design your emails first before deciding on your audience. If you can adapt to either process, then ConvertKit vs Mailchimp is a tie.
Design and templates
Both Mailchimp and ConvertKit enable you to create responsive emails without coding anything. But Mailchimp templates are undeniably more superior than ConvertKit templates both in terms of quantity and quality.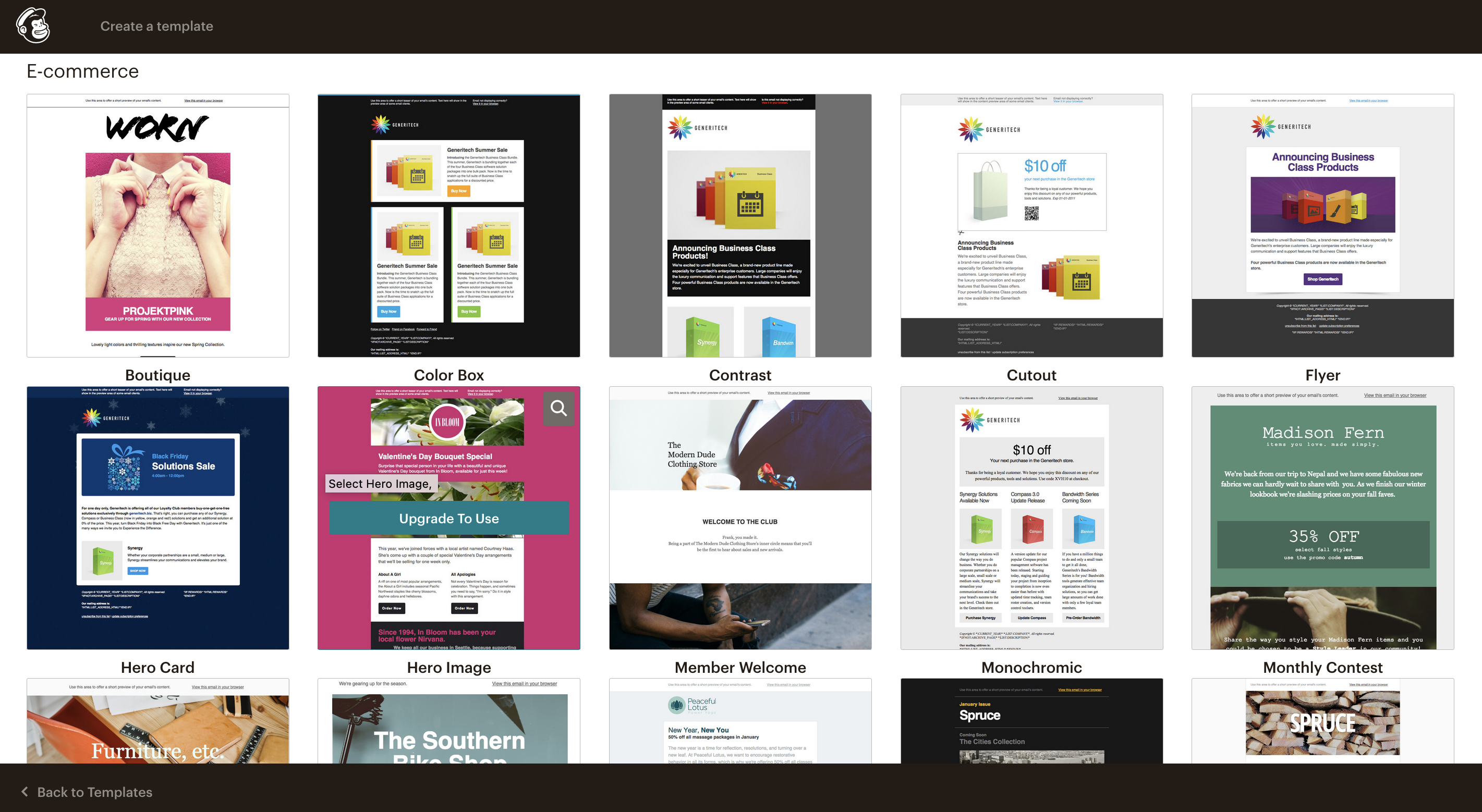 Mailchimp templates total over 80 even when you're on the free plan. With an upgraded plan, you can access and customize over a hundred professionally-designed themes. The selection is varied in terms of design, layout, and purpose. Additionally, every template is populated with sample content to inspire you as you create your own.
Mailchimp templates are comparable to Omnisend's both in number and quality. Combined with the advanced email editor on both, Omnisend and Mailchimp are much more valuable to businesses that need more design and branding flexibility. But, Omnisend offers the additional advantage of saving your templates so you can reuse them for future campaigns as well as for other brands.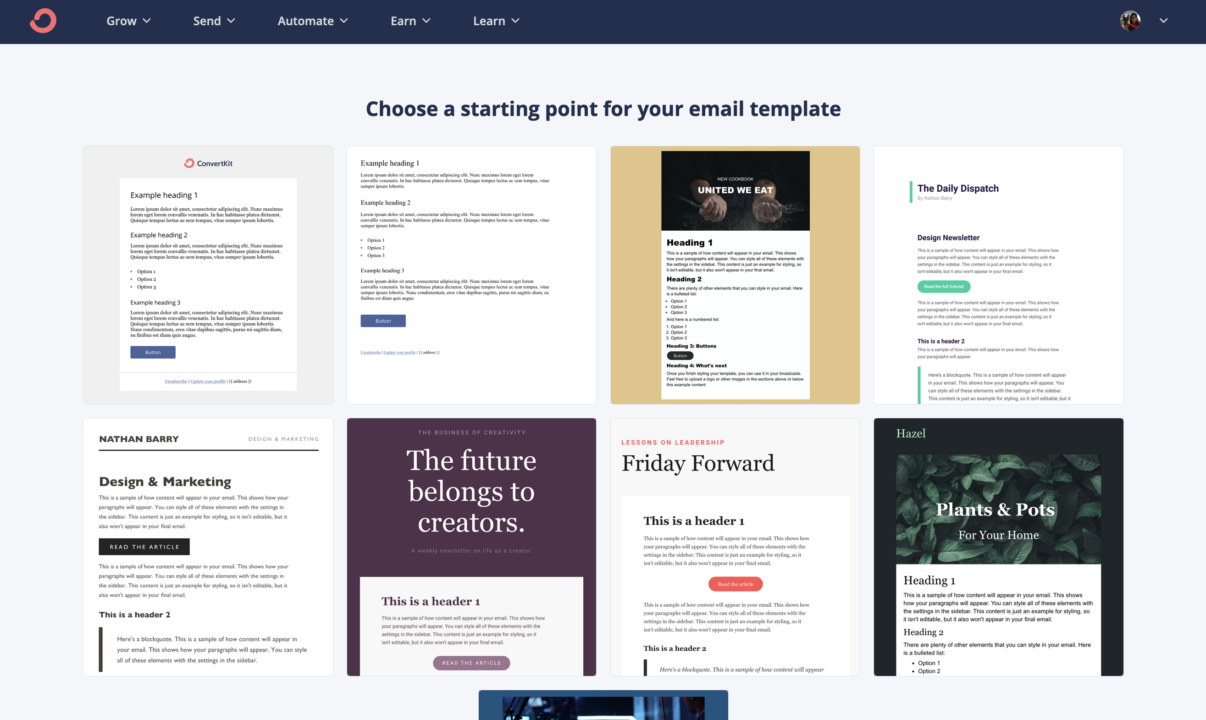 In contrast, available ConvertKit templates are fewer than ten. Not only are there much fewer templates to choose from but the quality of designs is also inferior. All themes are mostly text and the differences between each are mostly on text formatting rather than layout or graphic design. That being said, many businesses swear by text-based emails. So if you think your audience will respond positively to simplicity, the lack of creativity in ConvertKit designs might be just what you need.
Once you've created a template, Mailchimp has the further advantage of letting you test your design. You can see what your email will look like on several email clients, both on desktop and mobile. Additionally, Mailchimp features a link checker, which ensures that all links are valid. ConvertKit only offers a simple preview option before you broadcast.
Forms and landing pages
In contrast to their emails, ConvertKit offers more varied and more creative designs for signup forms and landing pages. You can choose how you want the form to appear (e.g. slide in, sticky bar, popup, or in line with text). Additionally, the ConvertKit form editor lets you change and edit images, add fields, and determine the display rules (i.e. when to show the form). You can set up your forms to appear a certain number of seconds upon landing on your website, when they've scrolled through a certain percentage of your page, or when they're about to close the browser tab. You can also limit how often an individual will see the form. 
Similarly, Mailchimp features a number of pre-built forms and landing pages. Although the quality and number of available designs are marginally superior to ConvertKit's, Mailchimp has the disadvantage of having a different editor for every type of form. None of the editors are too difficult to figure out, but being confronted by a different interface each time can be quite confusing. 
As long as you can wrap your head around the different editors, Mailchimp can be superior to ConvertKit mainly because of the quality of designs. But a comparison of Mailchimp and Omnisend highlights what the former lacks: gamified email capture forms. The interactivity of Omnisend's Wheel of Fortune form makes it incredibly effective in engaging website visitors and getting them to subscribe.
Automation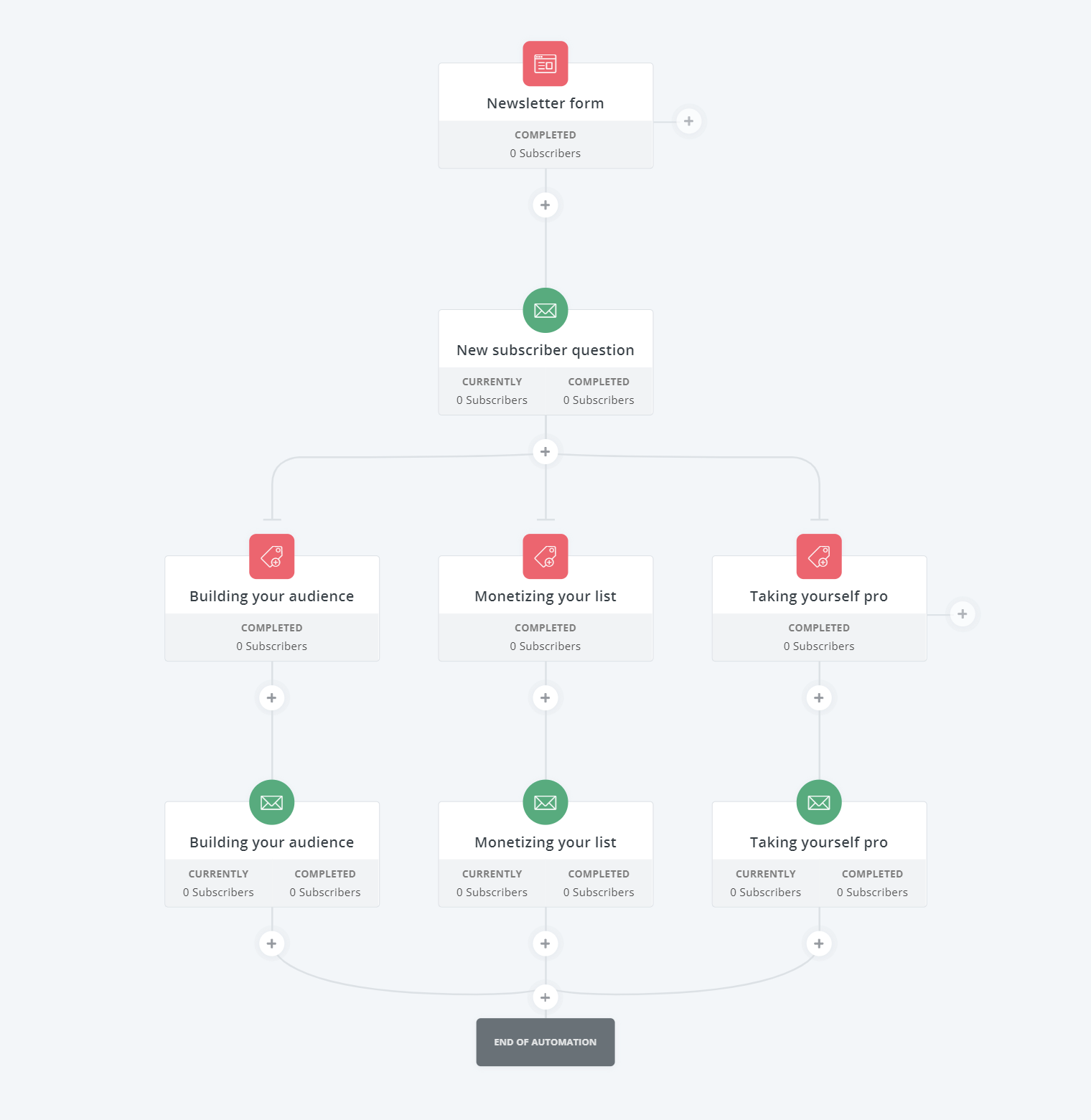 While Mailchimp features a Customer Journey editor, ConvertKit boasts a similar Visual Automations tool. Both give you access to a visual automated workflow editor where you can set up emails to be sent out automatically when triggered by a specified action. 
For example, you can develop a series of onboarding emails to send automatically once visitors subscribe to your newsletter. You can start with a welcome email and then follow up sometime later with featured products. 
With both platforms, every workflow can include multiple events, actions, and conditions. Technically, you might be able to do more on Mailchimp's customer journey feature. But, it can get overwhelming for businesses with simple automation needs. The simplicity of ConvertKit's editor makes it the superior platform for automations. Additionally, ConvertKit allows you to make changes to running workflows so you can carry on with no disruptions, allowing you to scale up more nimbly.
Although the two are comparable in terms of automation features, it's essential to note that these are only available on paid ConvertKit and Mailchimp plans. In contrast, Omnisend's pre-built automations and workflows are already accessible through its free tier. Furthermore, Omnisend lets you include multiple channels on every workflow. So, a workflow can start with an email and then be followed up by an SMS, making engagement much more likely.
Segmentation and personalization
List management on ConverKit is tag-based. So, you don't really create lists but rather add tags to every contact so that it's easy to add them to sequences, forms, and broadcasts later on. Separately, you can create subscriber segments, which allows you to select contacts based on several criteria.
For example, if you want to send an email to all contacts that have signed up using a specific opt-in form and are tagged as having an interest in a specific paid course, you can easily do so using ConvertKit's Segments feature.
On the other hand, Mailchimp lets you create several subscriber lists. For every list, you can select anywhere from one to five conditions, making personalization options more powerful. Conditions can be based on several contact and audience information. Additionally, relationships can be positive (e.g., has spent $100) or negative (e.g., has not spent $100). 
For example, you can combine geographic location, sign-up source, purchase activity, predicted demographics, and date of birth to reach birthday celebrants with timely, highly relevant, and deeply personalized messages with the most compelling incentives.
So, if the simpler tag-based list management system works better for your workflow, ConvertKit is the better option. But if you need more sophisticated segmentation and personalization features, you'll find better value in Mailchimp. 
As powerful as Mailchimp's list management features are, however, it lags behind Omnisend's advanced segmentation features. Omnisend allows you to segment subscribers based on practically any criteria you have data on. That includes customer lifetime value, purchase behavior, historical campaign responses, etc.
Analytics and reporting
All ConvertKit plans offer basic reports that show you every campaign's performance. However, these reports lack the detail needed to gain insights on how you can improve and better engage your subscribers. Even the Creator Pro premium plan, which supposedly offers more advanced reporting, only has additional deliverability data.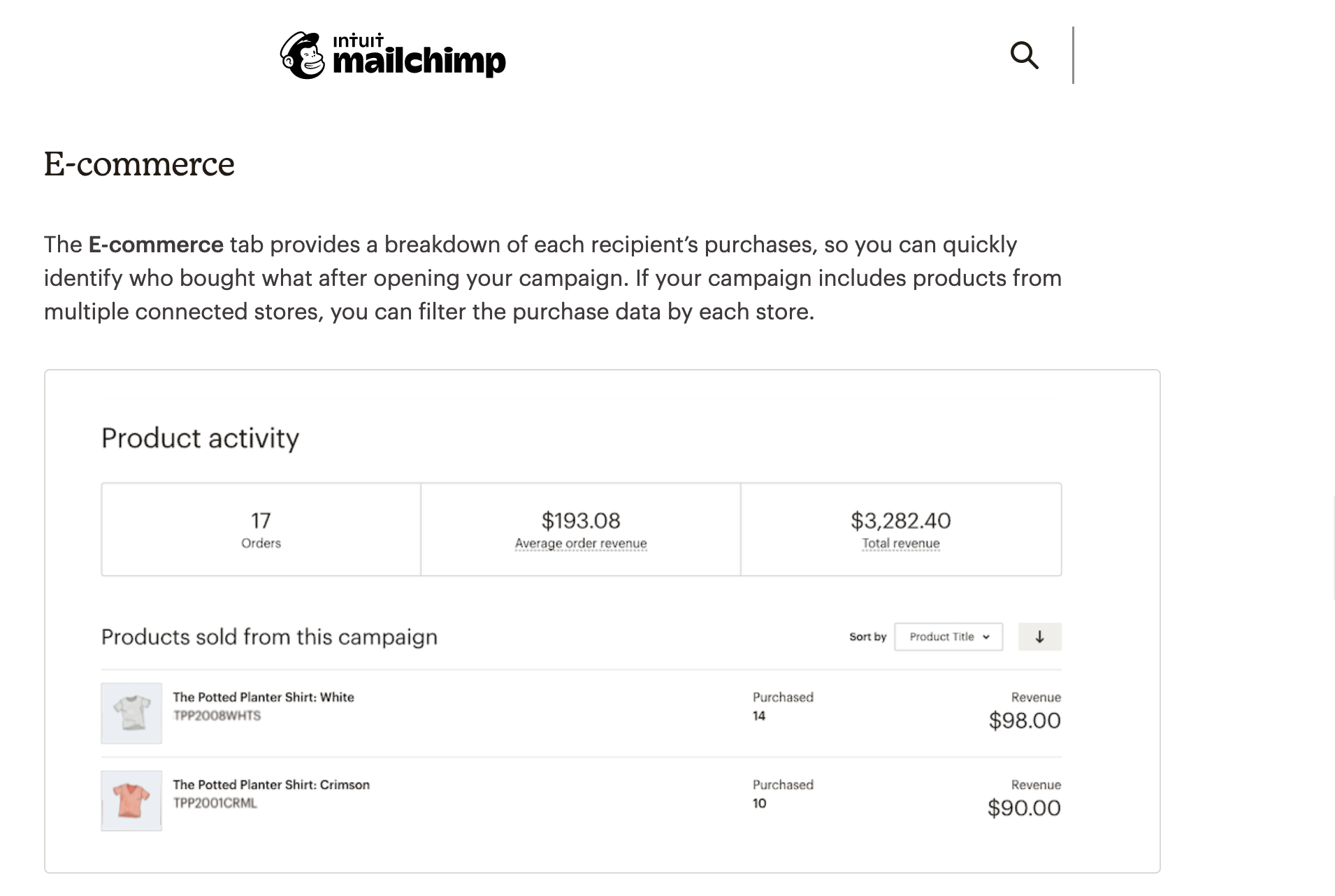 In contrast, Mailchimp gives you easily digestible reports on everything you do on the platform. You can track the performance of emails, automations, and social ads. You also have access to reports on audience engagement, growth, and revenue generation. Additionally, Mailchimp features a Click Map, which monitors what parts of your email recipients click on. 
Mailchimp also has a Smart Recommendations feature. Through this, the platform will analyze all your performance data and use artificial intelligence to provide actionable insights for improvement. With all that data organized in one place and artificial intelligence to provide further guidance, Mailchimp makes it easier to find better ways to engage your audience and generate more revenue.
Omnisend's reporting features are similar in terms of depth of detail. Where Omnisend shines is its Benchmarks feature, which lets you compare the performance of your campaigns to other businesses in your industry. This gives you a better idea of how well you're competing with similar brands.
Third-party integrations
Although ConvertKit has a decent selection of third-party integrations, Mailchimp's established brand and long history in email marketing have made it more attractive to software developers and service providers. 
In total, Mailchimp has over 430 available app integrations across 19 categories. Despite its superior built-in list management and segmentation features, it offers over 60 contact management app integrations. It also integrates easily with all the most popular ecommerce platforms, including WooCoomerce, Shopify, and Magento.
In contrast, ConvertKit only has a little over 110 apps across 14 categories. Most of its available integrations are lead capture tools and membership software. There are definitely plenty of third-party integrations that can maximize the functionality of the platform. However, there's a notable lack of essential categories like Marketing and Customer Service.
In contrast to Mailchimp and ConvertKit, Omnisend's App Market is markedly small. However, it is a meticulously curated library of useful tools. So, you don't have to spend your time combing through several apps to find the one that works best. Additionally, each tool on the Omnisend App Market is carefully built for seamless integration with the platform and goes through a stringent acceptance process.
Customer support
The availability and quality of customer support are similar on these two platforms. Both can be reached through email and chat, although ConvertKit makes it easier to access help. When you're logged into ConvertKit, you can immediately access live chat support from the main toolbar. In contrast, Mailchimp requires you to dig through a few resources before finally being able to access the chat. 
Of course, the level of support you get depends on the plan you're on. Only the paid ConvertKit and Mailchimp plans give you access to email support and live chat while those on the free plans can only access community support, published guides, and tutorials. If you're on the Mailchimp Premium plan, you have the additional option of accessing support over the phone.
Omnisend offers a similar level of support but goes above and beyond other marketing tools through the Omnisend Academy. This is a collection of videos that takes you through every step driving sales and business growth on the platform. It also gives you access to recordings of exclusive webinars that help you improve the quality of your campaigns. 
Wrap up
Choosing the better email marketing tool between ConvertKit vs MailChimp really depends on the nature of your business and the sophistication of the campaigns you're hoping to run. 
Mailchimp is the best choice for you if you're looking to sell physical goods or services that require appointments. Mailchimp also provides varied and more creative templates for emails, forms, and landing pages. And, it features a drag-and-drop editor, more advanced segmentation options, and more detailed analytics. Additionally, Mailchimp is less expensive.
Although it may seem like Mailchimp is the clear winner, ConvertKit can be better than Mailchimp in several ways. Most critically, ConvertKit is undeniably the better option if you're a content creator looking to monetize your online presence through digital product sales. Its simplicity and focus on fundamental features also make it easier for novice marketers to use.
Omnisend gives you the best of both worlds: a feature-filled omnichannel marketing platform accessible through an intuitive interface. Start free.
Special thanks to our friends at
Omnisend
for their insights on this topic.