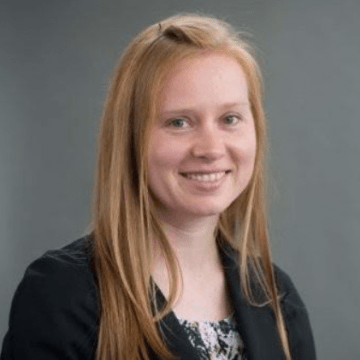 Tracy Puckett
Content Marketing Manager
Reading Time: 5 minutes
Online reviews can make or break an ecommerce business, and it's no different when it comes to your Amazon storefront. Customers instinctively look for social proof before committing to a purchase, and the trust and credibility generated by a sizable amount of positive reviews simply cannot be overstated.
Think about it. When was the last time you bought something online without checking the reviews first?
In fact, reviews have usurped that most valuable and trusted of marketing channels, the personal recommendation. The majority of today's consumers now trust online reviews as much as recommendations from their closest friends and family, and a whopping 93% of consumers say that online reviews influenced their final purchase decisions.
Here's how Amazon sellers can collect reviews to boost their store's credibility and allow customers to make their purchases with confidence.
7 Tips for Collecting Amazon Reviews
1. Know the rules
Amazon fully understands the importance of reviews and has created a strict set of guidelines to counter businesses that might be inclined to post fake or dishonest reviews.
After all, if customers can't trust that the reviews they are reading are real, they simply lose all value.
With this in mind, you need to know exactly what is allowed when collecting reviews. Here are the most important things to avoid when trying to get Amazon reviews:
Reviewing your own product or your competitor's product
Offering things like discounts or free products in exchange for a review
Using a third-party service that offers free or discounted products tied to a review
Asking a reviewer to change or remove their review
Including an insert, when sending the package, that requests a positive Amazon review or offers an incentive for providing one
Keep in mind that Amazon has its own automated system you can use to solicit reviews—the 'Request a Review' option. You can use this email feature only once, and it cannot be customized. According to Jungle Scout, leveraging the Request a Review feature significantly increases your chances of getting reviews.
2. Use the Amazon Vine Program
While the options for Amazon incentivized reviews are limited within the confines of the ecosystem, there are a couple of things you can do to boost your Amazon FBA product reviews.
With the Amazon Early Reviewer Program coming to an end in April 2021, the best way to get product reviews on Amazon is via the Vine Program. This is available to merchants that sell Amazon brand-registered products and have fewer than 30 reviews.
According to Amazon, the Vine Program "invites the most trusted reviewers on Amazon to post opinions about new and pre-release items to help their fellow customers make informed purchase decisions." You simply identify 30 products that you will give away for free. Vine reviewers test them and then write a review.
While there is no guarantee that the reviews will be positive, this is a great way to stock your reviews inventory. The program is free, reviewers are honest and trustworthy, and it's a surefire means of building Amazon reviews quickly.
3. Product inserts
As previously mentioned, Amazon prohibits merchants from including, in product packaging, a request for a positive Amazon review. Merchants are also banned from offering an incentive in exchange for a glowing review. However, this doesn't mean that you can't drop a friendly 'thank you for the order,' along with a general reminder that feedback is appreciated.
Stay neutral with your feedback request. For example, you're not allowed to suggest that buyers contact you to directly voice their less-than-ideal experience, rather than leaving a negative review for the world to see.
Your product insert can, however, feature an email list signup request. (This is potentially very useful for you, as you will see later.) Create a nicely designed insert that has, for example, a free gift or other goodie claimable by entering an email address on your landing page. Not only are they added to your mail list, but you can contact them at will and ask for a review.
4. Foster relationships with your customers
It might sound obvious, but customers are far more likely to leave reviews if you have engaged with them and there has been a meaningful exchange.
Here are a few ideas that will create a genuine and likeable brand, necessary for nurturing customer loyalty:
Establish an active social media presence on the platforms appropriate for your brand by engaging in real conversations. Social media is a great avenue for letting your brand's personality shine.
Provide outstanding customer service by promptly answering questions, whether they come via phone, email or live chat.
Gauge your customers' opinions by sending surveys. Short surveys, of about three to five questions, go a long way in expressing that customer feedback matters.
Under these circumstances, you can quite easily ask for a review, and likely receive a positive one, too!
5. Engage with your positive seller feedback
Customers often leave product reviews in your seller feedback section, so it's a good idea to check this regularly.
The seller feedback section is the place for buyers to weigh in on such aspects as interactions with the seller, customer service, and packaging and shipping. They can also type in a comment.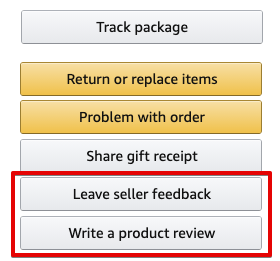 Comment boxes aren't meant for product reviews per Amazon's policy, but unknowing customers leave them anyway. Politely ask them to copy the message and post as a public Amazon product review. Most are happy to realize their mistake and correct it, as many don't discern the difference between seller feedback and product reviews.
6. Do customer follow-up
Amazon's Buyer-Seller Messaging feature allows you to follow up with the customer.
You can use the tool yourself or invest in a third-party software to help. Doing it manually is more time consuming and increases your chances of inadvertently breaking Amazon's rules, like refraining from incorporating marketing messages in the email body or persuasive text in the subject line.
Use these follow-up messages carefully and wisely. Thank your customers, offer help, and stick closely to Amazon's guidelines, or risk losing your messaging privileges.
7. Use email marketing
Last, but certainly not least, you have a chance to break free from the confines of Amazon by tapping the power of email marketing.
Since Amazon does not provide customer email addresses, it's up to you to collect them and add them to your email list. Here are some ideas:
Leave a link to a landing page on your product insert that offers a discount or incentive for signing up
Create a blog that brings traffic to your website, where you can include special sign-up forms
Offer lead magnets, which are powerful and relevant incentives like free ebooks, courses and how-to guides
The more relevant contacts you can add to your email list the better. After all, email marketing provides the highest ROI of all marketing channels by far, a staggering $45 for every $1 spent.
Owning customer email addresses provides the freedom to send a captivating product review email that not only motivates them to provide feedback, but can generate additional purchases directly from your website.
In 2020, customer review emails generated a click rate of 22% and a conversion rate of 13%.
Get Amazon reviews on your terms
Knowing how to accumulate product reviews on Amazon is incredibly important, yet only 36% of small businesses actively solicit reviews.
Getting Amazon reviews helps you build trust and credibility in your brand, while elevating you among the competition with higher-ranking products.
As Amazon continues to restrict sellers' proactive efforts to attain reviews, implementing the tips above is crucial to enhancing your review marketing strategy.
Ultimately, there are a few legal and fair ways to give customers a nudge through the Amazon ecosystem. We believe your best bet is to take the initiative and do it on your own terms.
Engage with customers as much as possible through responsive customer service. Collect email addresses using tried and tested list-building techniques. Email marketing is always going to be your most effective channel for review marketing.
Special thanks to our friends at
Omnisend
for their insights on this topic.