There's a popular saying that you're only as good as your last performance, and this is certainly true for retail establishments.
Because of the COVID-19 pandemic, consumers have become more discerning about what businesses they support. With more information at their fingertips than ever before, shoppers spend more time researching different options.
Google Reviews have become a crucial tool for businesses to manage their reputations online. This blog will explore how businesses can manage Google Reviews and increase discovery opportunities in the search results – and how Marsello can help!
---
Quick Links:
---
What are Google Reviews?
Google Reviews is a functionality embedded within Google Maps and Google My Business where consumers can publicly post reviews for establishments they've visited.
The purpose of Google Reviews is two-fold. They assist businesses with building a positive reputation amongst consumers while also helping individuals find suitable establishments in their local area. More than half of shoppers say they've used Google to discover new businesses.
Why do Google Reviews matter?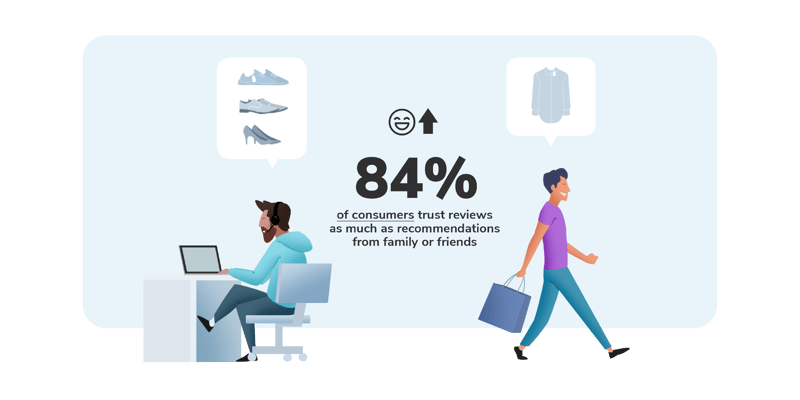 Here are some reasons you should consider leveling up your Google Reviews initiatives.
Improving your local search ranking
Google Reviews play a critical role in determining your business's local search ranking. Local SEO helps Google match a person's search with relevant nearby businesses (e.g., "Italian restaurants in New York City"). Ensuring a healthy supply of positive reviews increases the odds of your business coming up high in the search results.

Consumers trust online reviews as much as personal recommendations
Research shows that 84% of consumers trust reviews as much as recommendations from family or friends – this tells us that customers really do consider social proof in their purchasing decisions.

Giving customers the opportunity to provide feedback

Customers want to feel that their experiences matter. Giving them the opportunity to share what they love about your business on a public forum shows that you genuinely care and want to receive feedback – even if it isn't always positive.
How can retailers collect Google reviews?

Are businesses allowed to ask customers for Google Reviews?
Yes, though there are some ground rules.
Google doesn't allow businesses to pay customers for leaving reviews or "review gate" by discouraging customers from leaving negative reviews. Furthermore, you cannot use reviews left on Google for marketing purposes on other platforms, such as social media or your website.
Here are some actionable ways that your business can collect Google Reviews:
Email and SMS automated flows
It isn't practical for your business to manually send out review requests to individual customers. Instead, you need a tool that allows you to contact customers in bulk at a time of your choosing. 
Marsello's email and SMS automation tool enables brands to build custom email and message flows to request reviews. Marsello customer Harry & Her send automatically triggered email campaigns coupled with the Google Reviews Manager tool to build a solid review base and, in turn, boost their credibility as a retailer. Here's what they had to say about the tool: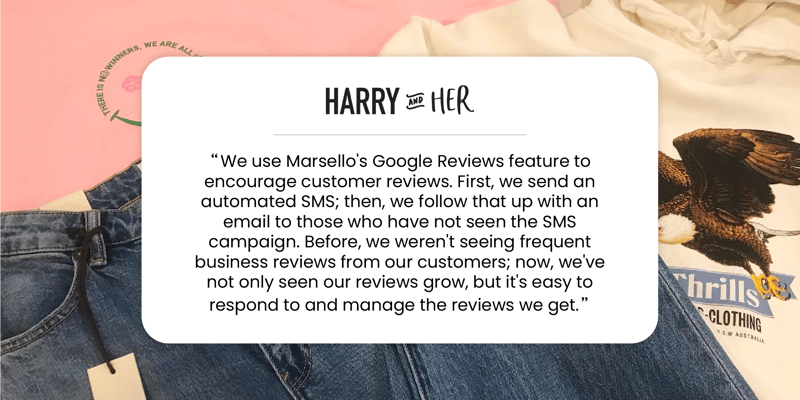 At the POS/checkout directly after a sale
While the "right" time to ask for a review will depend on your business, products, and customers (more on this below), striking while the iron is hot is usually the best way to get customers to leave reviews. In-store visitors have the chance to form a relationship with sales associates during the shopping experience, which can make customers more responsive to review requests. Consider speeding up the process by having a QR code at the checkout that directs customers straight to your review page.
When a sale is completed during a promotion
It's always a good idea to ask for reviews while your brand is hosting a sales promotion. When customers have gotten a great deal from your business, they're more likely to have a favorable impression and leave a positive Google review.
For example, if your brand runs a flash sale for 24 – 48 hours, you can set up an automation flow that sends a review request to a specific segment of customers (i.e., those who placed an order during your flash sale). By using Marsello's customer segmentation, your business can solicit reviews from customers who are most likely to engage and give glowing feedback.
When customers join the loyalty program or progress tiers
Loyalty reward programs can act as their own form of customer segmentation. The shoppers who join your program are usually those already loyal to your brand, meaning they're also more likely to leave reviews.
Brands have multiple opportunities to target loyalty program customers, such as when they sign up, redeem a loyalty reward, or progress to a new loyalty tier. These touchpoints are a great time to ask for a Google Review and show members that you care about their experience.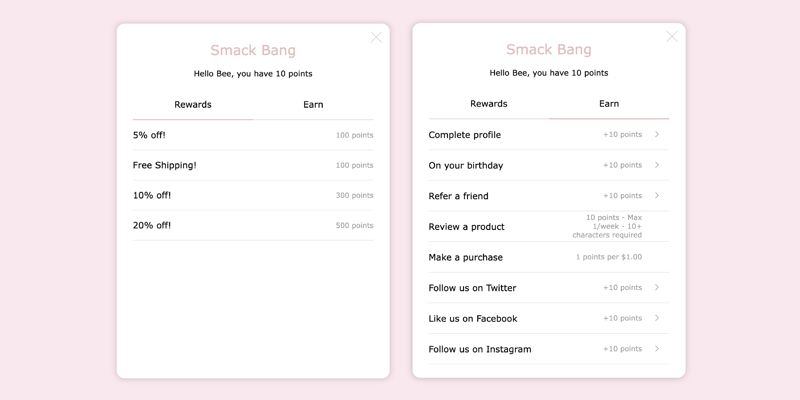 You can also take this a step further like Marsello-powered pet boutique Smack Bang by offering loyalty points in exchange for leaving a product review on the product listing itself. With custom automations, it's easy to create an automated campaign that is triggered when customers leave a positive product review. Product reviews provide a great opportunity to encourage your customers to leave a Google Review about your business.
Promote/encourage reviews on social media
Cross-channel promotion is a critical part of collecting Google Reviews. In addition to asking customers for reviews in-person or via email and SMS, you should put out a call on your social channels asking customers to share their experiences.
It's important to note that Google does not allow you to use reviews as advertising collateral on other platforms. But there are some less direct ways to achieve this.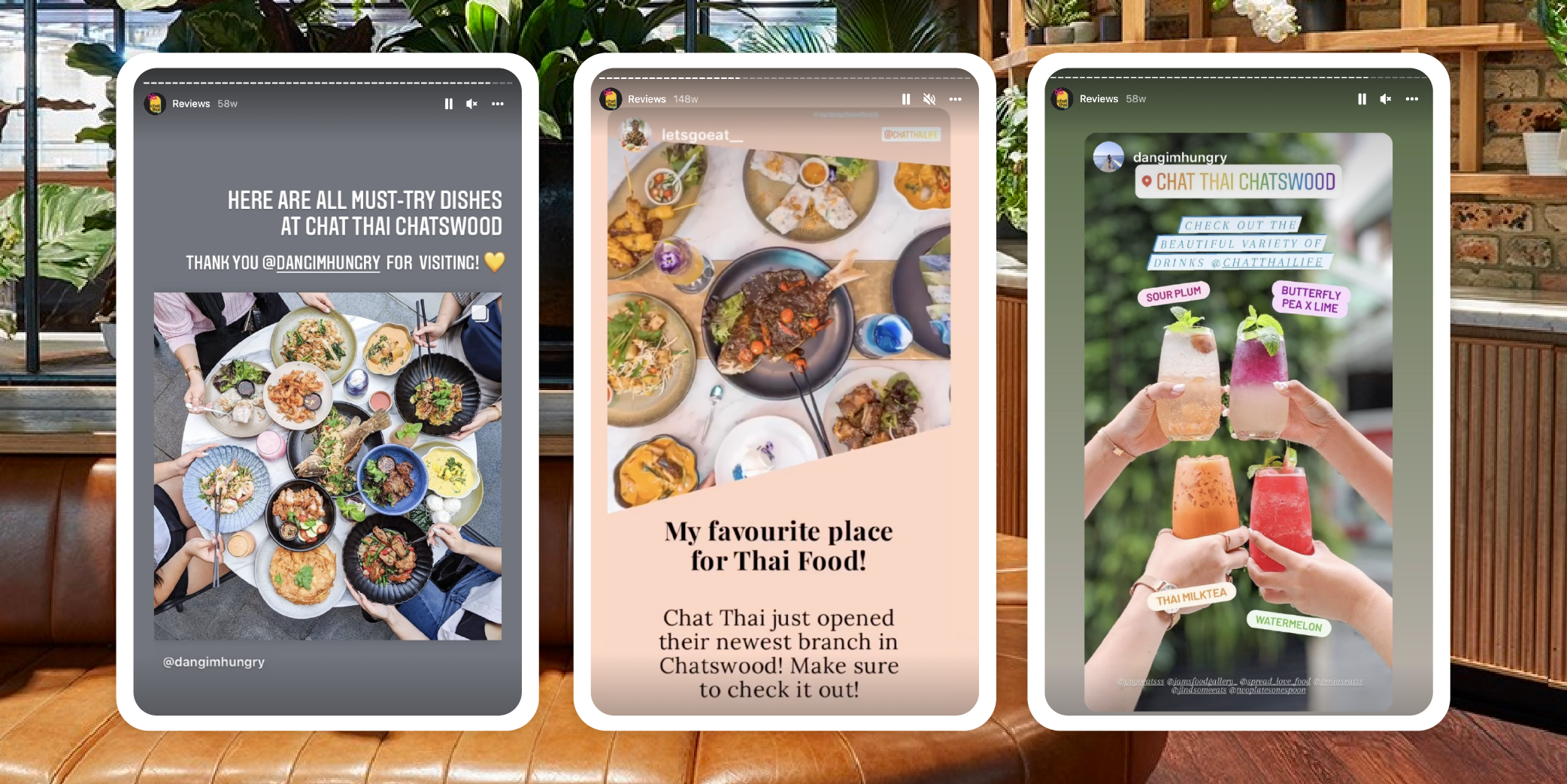 Thai restaurant Chat Thai has a collection of reviews on their Instagram account created from photos and videos they have been tagged in. Consider resharing user-generated review content to steer customers towards leaving Google Reviews.
Make your Google My Business page easy to find and direct customers there
Customers won't leave Google Reviews if your Google My Business page is difficult to find. Some of your customers may never have left a Google Review before. When making review requests via email and SMS, ensure you provide a link to your Google My Business page. Also, consider adding a review page to your website so that you can direct customers to your Google listing.
The right way to request a Google Review
We've gone over some of the best ways to collect Google Reviews. But when is the best time to request a review?
It can be a tricky balance to get the timing of requesting reviews right. If you leave it too long, your customer's experience will be less fresh, which could affect the quality of their review. But asking too soon risks annoying your customer, especially if their order hasn't arrived yet.
You should also factor in different customer segments. Some of your loyal customers may be more eager to submit reviews straightaway, while those who are new to your business may need some time before they're ready to leave feedback.
Marsello's SMS and email automations allow businesses to automate the process, segment customers, and ensure communications are sent at the optimum time to encourage positive reviews.
It's also easy to combine automated campaigns with other review collection methods. For example, a restaurant can prime diners by asking them in person to leave a review and following up by sending an automated email reminder the following day.
How should retailers respond to positive and negative reviews?
Managing positive reviews is simple enough – simply thank your customer for their feedback and say you hope you'll see them again soon. But what if their experience was less than positive?
No business wants to receive a bad review. But the most important thing to remember about Google Reviews is whatever you say (or don't say) is there for potential customers to see. How you respond affects the customer who left the review and onlookers who make decisions based on the reviews left about your business and how you choose to respond. 
If you receive a negative review, always thank the person for their review. Take the time to investigate the issue to find out what went wrong so you can explain in your response. Most importantly, tell your customer the steps you will take to ensure this doesn't happen again. Consider offering them a discount for their next visit to encourage them to return and see the changes you've made; this puts the ball back in their court and shows onlookers that you have made a serious effort to resolve the issue.
In some cases, it may help get more information from the customer. In this case, you can respond by encouraging them to tell you more about their experience. As always, it's best to stay courteous by thanking the customer for their feedback and empathizing with them. 
Check out this example from Romano's Macaroni Grill.
Final words
Google Reviews can feel like a business's best friend or worst enemy. Using a tool like Marsello to support your Google Review strategy enables you to streamline Review management and ensure that you're sending the right response at the right time to foster customer loyalty.
By taking a responsive and automated approach to Google Reviews, your business can proactively enhance its reputation and build stronger relationships with customers – one review at a time.
Published Mar 31, 2022 9:13:34 AM
Special thanks to our friends at
Marsello
for their insights on this topic.