Influencer marketing has earned its place as an integral part of the modern marketer's toolbox due to its power to help companies build brand awareness, reach target audiences, and grow their businesses.
What started as sharing recommendations and influencing people through social media has become an actual job for influencers and content creators. The advent of social media has made influencer marketing an effective tactic brands use to promote their products or services.
But does it really work? What is the state of influencer marketing, and what are the latest influencer marketing trends for 2023 and beyond? It's time to find the answers to these questions and more. We have compiled the essential statistics to provide you with a better understanding of influencer marketing, its efficacy, and the most effective platforms in the space.
Let's dive in.
BE THE FIRST TO GET THE LOWDOWN ON THE LATEST TRENDS
Sign up for the Afluencer newsletter and get insider tips delivered to your inbox twice a month.
The State of Influencer Marketing
The rise of influencer marketing has capsized traditional marketing strategies. Nearly 80% of marketers say their industry changed more in the past three years than in the last 50.
The early success of influencer Collabs opened up new opportunities for companies looking for ways to reach more customers. Suddenly, businesses were in a mad dash to figure out this new approach and add it to their marketing strategy.
As a result, the influencer marketing market bloomed. According to Statista statistics, the global influencer marketing market value stood at 16.4 billion U.S. dollars as of 2022, having more than doubled since 2019. In 2023, the market was estimated at a record 21.1 billion U.S. dollars.
Data from HubSpot shows that 89% of marketers who already use influencer marketing plan to keep up or increase their investment in 2023. Seventeen percent of marketers plan to try out influencer marketing for the first time in 2023.
This is not a coincidence or following a trend blindly. According to marketers, influencer marketing has the second-highest ROI, right after short-form video content.

The amount of dollars spent on influencer marketing is also on the rise. As reported by Influencer Marketing Hub, 43% of brands spend less than $10K annually, followed by 22% that spend between $10K and $50K, 14% that spend $50K to $100K, and 11% spending more than $500K on influencer marketing annually—nearly 3x more than last year.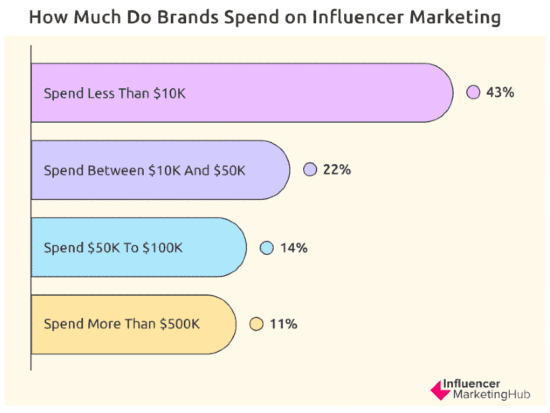 In terms of the most popular platforms for influencer marketing, Instagram leads the way. Nearly 68% of marketers adopted Instagram for influencer campaigns. Facebook followed, being used by 52% of marketers as an influencer marketing platform, while TikTok came in third with 42%. TikTok surpassed YouTube as an influencer marketing platform in 2021 and statistics show that it's expected to rise to 55% in 2025.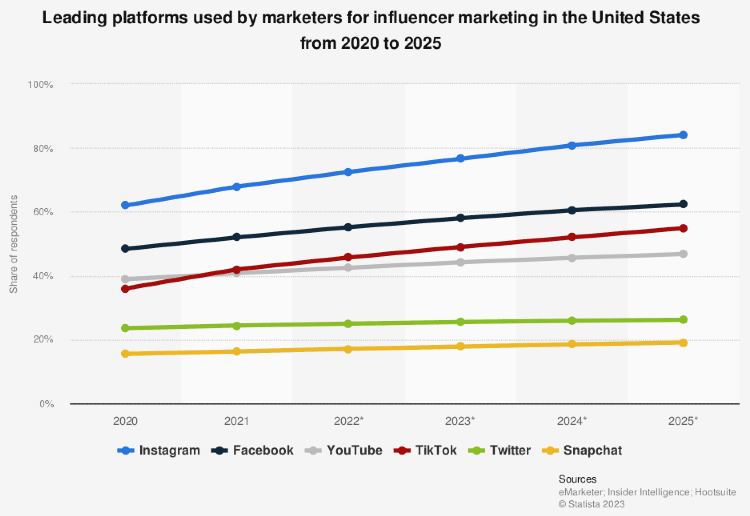 The rules are changing
There's no way around it—the trends and statistics indicate that influencer marketing will change the rules of the game. Big media companies are already seeing the potential influencers and content creators can have on the future of marketing. That's why it's no surprise McKinney's acquisition of August United — a top 10 influencer marketing agency. Is this possible in the business realm as well? Experts think so.
"I think we'll see more big brands acquiring influencer marketing agencies to keep up, innovate quickly, reduce costs, and produce more." – Ashley Cummings, Freelance writer for ecommerce and marketing SaaS
Influencer Marketing and Customer Spending Habits
In the wake of a digital transformation catalyzed by advanced technologies and the penetration of social media, customers' shopping habits have changed. We can't deny that social media has become an integral part of the buyers' journey. In fact, 57% of respondents said they use social media to discover new products. That is particularly prominent among younger consumers.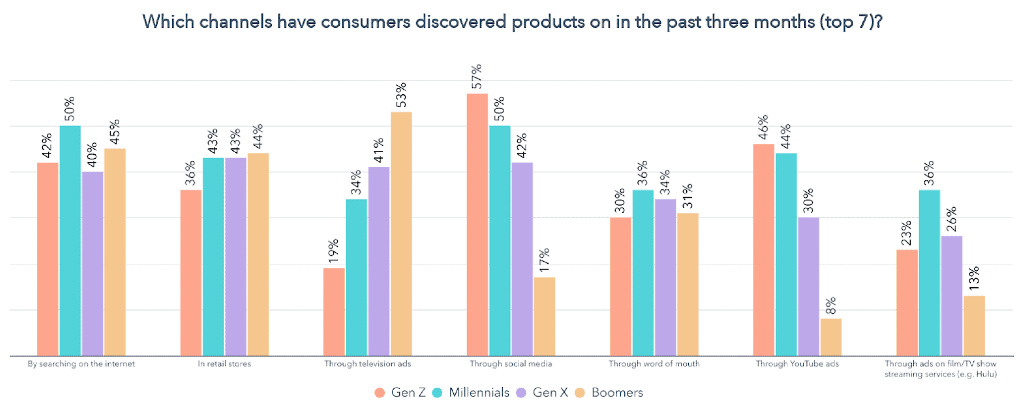 Data from Morning Consult shows that 72% of Gen Z and Millennials follow influencers on social media. What's more, 35% of American consumers made a purchase in 2022 after hearing a virtual influencer advocate a good or service. Millennials and Gen Z made up 40% of these customers.
Another research from Deloitte proves the power content creators and influencers have on customer spending habits. According to the research, 63% of Gen Z and 66% of Millennials are more likely to trust a brand if an online content creator they trust has reviewed a brand's product.
There's no doubt that younger customers trust influencers more than traditional advertisements. Deloitte's data shows that 59% of Millennials and 68% of Gen Z believe product reviews by online content creators are more authentic than brand advertisements.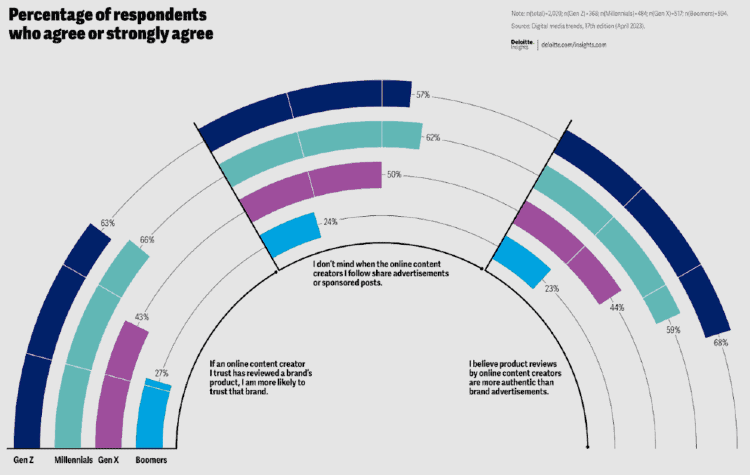 Content creators have the power to grow communities, drive brand awareness, and build trust. This is particularly accurate for Gen Zs and Millennials because they tend to feel more connected to their favorite creators. As a result, younger customers rely on influencers' recommendations to inform their purchasing decisions.
A New Generation of Influencers and Content Creators
Brands that want to bank on influencer marketing must understand the trends of ever-changing motivators, ways of work, and influencer rates.
When asked what their top priorities are when looking for a brand partnership, nearly 70% of creators said ensuring the brand is relevant to their audience is a number one priority. The monetary value of the brand partnership is a close second. Other priorities include brand values and purpose, ease of collaboration, active use of the product or service, the opportunity to test the product or service, and brand popularity.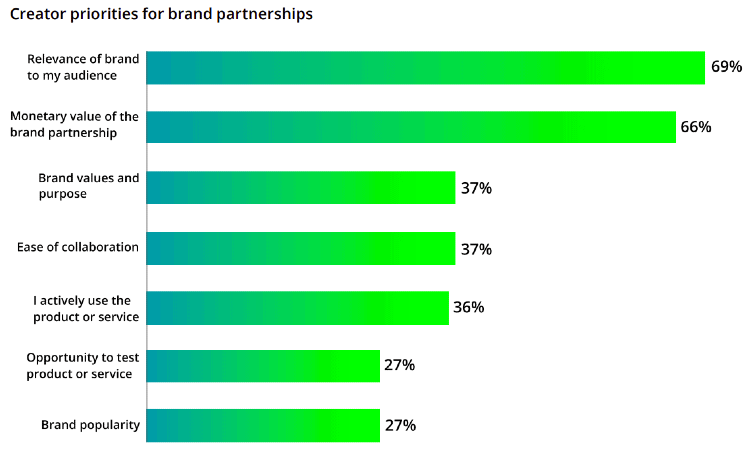 While fair compensation is non-negotiable, brands often overlook the importance of other perks. Data from Deloitte show that 76% of creators consider at least one or more perks a "very important" factor when contemplating a brand partnership. Free merchandise or services is the most important perk for 65% of creators, followed by exclusive event access and exclusive access to brand content.
What does this mean for brands? Tokens of appreciation matter to influencers. Brands can use different benefits to create a positive relationship with content creators without spending too much money. This way, they can build trust and improve the value of the partnership.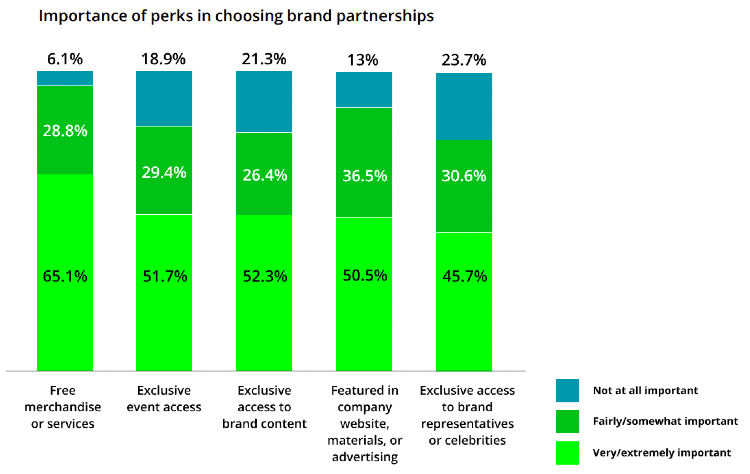 Another common question brands have when incorporating influencers as part of their marketing strategy is how much influencers charge per post. Influencer rates depend on various factors such as industry, frequency of posts, exclusivity, and usage rights. However, the social media platform and the number of followers play the biggest role in how much influencers charge.
Influencer rates
According to statistics from Influencer Marketing Hub, nano-influencers with 1,000–10,000 followers usually charge around $10-$100 per Instagram post, $5-$25 per TikTok post, and $20-$200 per YouTube video.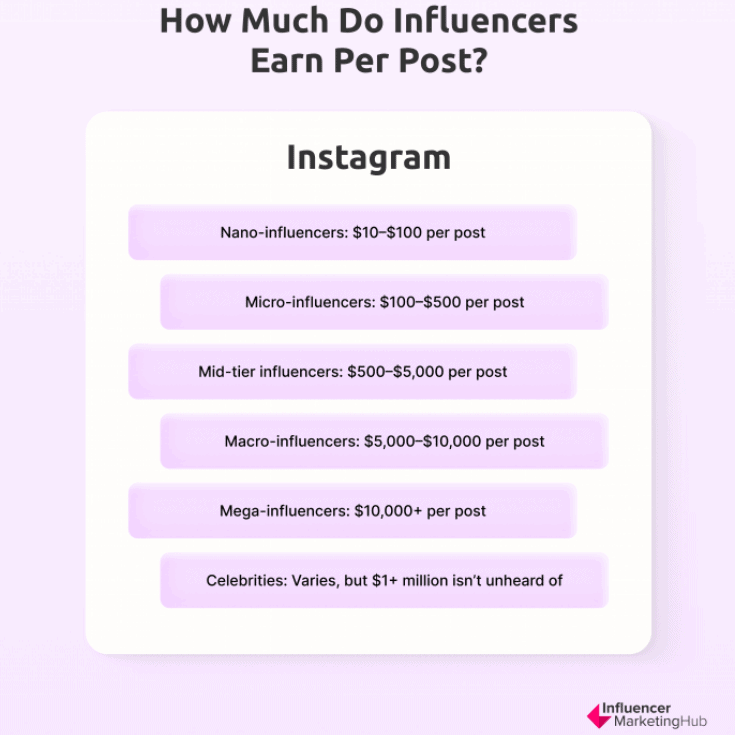 Rates are slightly higher for micro-influencers that have 10,000–50,000 followers. Prices per post for TikTok start at $25, which is significantly lower compared to Instagram, where prices start from $100 and go up to $500 per post. Micro-influencers charge from $200-$1,000 per YouTube video.
Mid-tier influencers with 50,000–500,000 followers charge around $500-$5,000 per Instagram post, $125-$1,250 per TikTok post, and $1,000-$10,000 per YouTube video.
Next are macro-influencers with 500,000–1,000,000 followers. For this type of influencer, the price rates vary from $1,250 – $2,500 per TikTok post and can go as high as $10,000 per Instagram post and $20,000 per YouTube video.
Brands that want to work with mega-influencers with more than 1,000,000 followers will have to pay more than $2,500 per TikTok post, $10,000 per Instagram post, and $20,000 per YouTube video.
10 Influencer Marketing Trends to Watch in 2023… and Beyond
Influencer marketing is gaining steam. The rise in popularity and marketing investment in influencer marketing also brought new trends into the space. As a result, a new influencer marketing playbook is emerging. Brands wanting to grow their business in the next decade must keep a pulse on the latest influencer marketing trends.
Let's check them out.
Social media has redefined how people browse the Internet. According to Statista, on average, people spend 147 minutes per day on social media. The amount spent scrolling through endless social media feeds has influenced customer browsing and shopping habits.
As reported by Techcrunch, nearly 40% of young people turn to TikTok or Instagram as a search tool instead of Google. One of the main reasons is that younger customers perceive social media searches as more trustworthy than Internet searches. The New York Times reported that according to Gen Z customers, TikTok videos don't seem biased as Google's ads and websites optimized for search because they are delivered by real people.
As social media takes primacy over search engines, especially among younger customers, brands must pay close attention to influencer marketing as trends and statistics show that it will become an inevitable part of every successful business strategy.
2. Cross-channel campaigns are becoming more popular
Brands that are aware of the power of social media don't limit themselves to a couple of platforms. Data from Hubspot shows that, on average, marketers leverage four social media platforms in their roles. Facebook is the most used social media platform, used by 64% of marketers, followed by Instagram (58%), YouTube (57%), Twitter (43%), and TikTok (42%).

When analyzing effectiveness, 22% of marketers consider Facebook to have the highest ROI. YouTube, Instagram, and TikTok were tied for second place, with 16% of marketers reporting they had the best results with these platforms.
However, different platforms have specific audiences and media formats they are known for. As made apparent by statistics, using multi-channel influencer marketing can help brands reach their target audience.
In most cases, successful creators have loyal and engaged audiences across multiple channels. This gives brands a great opportunity to partner with influencers and create cross-channel campaigns to present the product or service in a different way, depending on the platform.
3. The rise of micro and nano influencers
Influencer marketing is no longer only for big names and celebrities. Brands that worked with nano and micro-influencers have seen the power and the connection these creators have with their audience.
As reported by Influencer Marketing Hub, the growing trend is that brands prefer working with smaller-scale influencers — statistics showing 39% of brands chose nano-influencers as their most likely partners, followed by 30% opting for micro-influencers.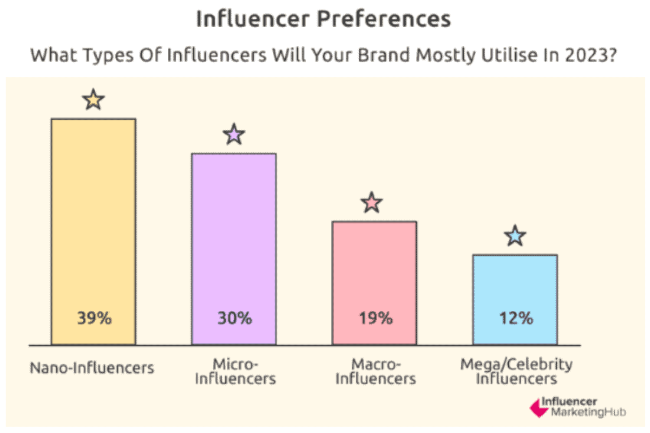 Some of the reasons brands prefer working with nano and micro-influencers include:
More reasonable cost of doing business together
Easier to make long-term partnerships
Access to more niche, tighter-knit communities
Smaller creators are more trusted by their audiences
Data from Hubspot shows that in 2023, 21% of companies plan to work with nano-influencers, while 53% plan to work with micro-influencers.
4. Testing the waters with paid subscriptions
Brand partnerships are the biggest revenue source for influencers. On average, creators report more than 50% of their revenue comes from brand partnerships. However, more creators are looking to grow by diversifying their sources of income. One in three creators wants to tap into new sources of revenue. Aware of this need, social media platforms are looking for ways to introduce subscriptions.
Instagram Subscriptions are currently available to all creators in the US who are at least 18 years old, have 10K followers, and meet Instagram's Partner and Content Monetization Policies. In Canada, Australia, and the UK, Subscriptions are currently operating on an invite-only basis for now.
TikTok introduced LIVE Subscription—a monthly subscription for people to show their appreciation for their favorite LIVE creators. LIVE Subscription will initially be available to invite-only creators but will become available globally.
The introduction of subscriptions will help creators earn recurring monthly income by offering exclusive content and experiences to their most engaged followers.
5. Video content is everywhere
The jaw-dropping popularity of video-based platforms such as TikTok forced other social media platforms to put emphasis on video content—think YouTube Shorts, Instagram Reels, and Facebook Reels.
There's no doubt that video consumption was catalyzed by the pandemic. However, data from Wistia shows that despite the fact that minutes watched fell 16% from 2021 highs, viewers continue to spend a ton of time with video content—there was an 87% increase since 2019.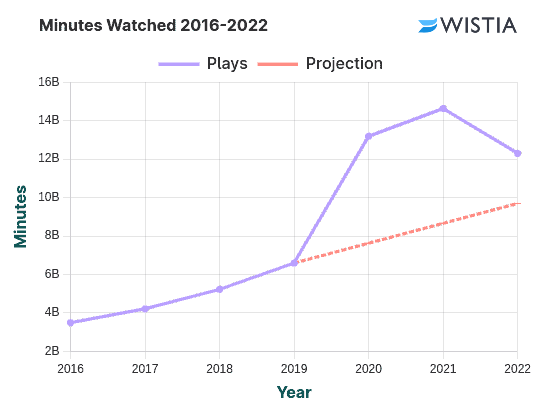 Brands recognized this as a great opportunity. According to Hubspot, 90% of marketers using short-form videos will increase or maintain their investment this year. One in seven companies plans to make a heavier investment in video, upping their video spend by more than 10%.
Video is an engaging format that has the power to capture attention, explain concepts, and educate audiences. This makes it the perfect fit for many different use cases beyond customer acquisition — customer support is one of them.
"I think we'll see more UGC and influencer-generated video used not only for customer acquisition but also for customer support purposes." – Kyle Wong, CEO & Co-founder, Pixlee
6. Live shopping gains traction
Shopping through online streams on social networks is becoming increasingly popular across the globe. By 2026, ecommerce revenues created by live online shopping are forecast to nearly triple, amounting to approximately 55 billion U.S. dollars.
Data from Statista shows that live stream purchasing increased by an average of 76% globally from before the pandemic to 2021. Live shopping was particularly popular in Europe, where livestream shoppers grew by 86%. North America recorded a usage spike of about 68%.
This is good news for everyone looking to incorporate influences as part of the marketing strategy. The reason is simple: influencer marketing and live shopping are a match made in heaven.
Influencers have good connections with their audience and are used to real-time communication through features such as Instagram Live and TikTok Live. The uptick in live shopping allows influencers to take their influencer marketing campaigns to the next level, promoting products and services directly to their audience.
7. Performance marketing takes the lead
Using influencer marketing only to boost brand awareness is a trend of the past. Today forward-thinking businesses are looking for more tangible results from their influencer marketing campaigns.
Nowadays, brands are focusing on accurately measuring the reach, likes, saves, and comments of their influencer marketing campaigns. They are also relying on discount codes and trackable URLs to determine how those campaigns affect sales numbers.
This is where influencer management platforms come in handy. By using influencer management software, brands can find influencers that match their needs but also manage and track content performance.
The power of these platforms allows creators to understand how their performance can translate to monetization and provides analytics and tracking that gives them a clear direction for growth—so it's a win-win for brands and creators.
8. Influencer marketing becomes a long-term strategy
One of the biggest challenges for content creators is maintaining consistent brand partnerships. Research shows that 46% of creators have a hard time maintaining brand sponsorships. This number goes up to 68% for micro-influencers.
Influencers are looking for more dependable and long-term streams of income. Businesses, on the other hand, are looking for content creators that will eventually become brand ambassadors. Pivoting from one-off collaborations with longer contracts will provide concrete direction and improve creator security.
Going from ad hoc sponsored posts to lasting partnerships allows businesses to define a long-term influencer marketing strategy that brings tangible results.
"Given the economic climate so far in 2023, I'd expect that the smartest brands and most effective influencers will explore longer-term partnerships with each other. It's more affordable for the brand and more predictable revenue for the influencer, so it's a win-win." – David Hoos, Marketing lead, The Outloud Group
9. B2B influencer marketing is on the rise
The first idea of an influencer is a content creator with an engaged audience that promotes skincare products, makeup, and bags. The reality is that influencer marketing is everywhere. The proliferation of channels and platforms gave content creators the spotlight they needed to share ideas with the world.
Today we are witnessing opinion makers in the B2B space that have the power to influence business buyers' decisions. According to Search Engine Journal statistics, 86% Of B2B brands find success with influencer marketing.
In B2B, value-driven and educational content is the key to more conversions. Unlike B2C, where you can see an instant boost in sales, seeing the results from B2B influencer marketing campaigns takes more time. While we are still scratching the surface with B2B influencers, there's great potential in the space that needs to be discovered.
"B2B brands should explore the opportunity to collaborate with micro-influencers who are already part of the brand community. This involves identifying the most influential members and establishing VIP programs." – Dominique Lahaix, CEO, eCairn Inc
10. Influencer management software to scale influencer marketing efforts
Brands that want to make influencer marketing a strategic priority and build strong influencer relationships can't do so without proper influencer management software. Using an influencer marketing platform will help you get all the information you need to find the right influencers, plan your influencer marketing budget, track campaign performance, analyze results, and make optimizations to maximize the effectiveness of your influencer marketing strategy.
Instead of doing all the heavy lifting by yourself, you can use a specialized influencer marketing solution that will connect you with the influencers and creators that are most suited to your business and the requirements of your influencer marketing strategy.
When choosing an influencer marketing platform, you need to make sure it allows you to:
Discover influencers based on specific criteria
Manage influencer relationships
Search through an influencer marketplace
Communicate with influencers directly
Take Your Influencer Marketing Efforts to the Next Level
Influencer marketing has finally gone from throwing off sparks to catching fire. The tangible results from influencer campaigns made influencer marketing an inevitable part of the marketing strategy of forward-thinking businesses.
Ready to explore the power of influencer marketing but not sure where to start? Afluencer is a comprehensive influencer marketing platform that offers essential features and profitable opportunities for both creators and brands. The platform provides deep visibility into your performance, allowing you to maximize your progress with ease and convenience. Try Afluencer today and see the impact yourself.
This originally appeared on
afluencer
and is available here for wider discovery.