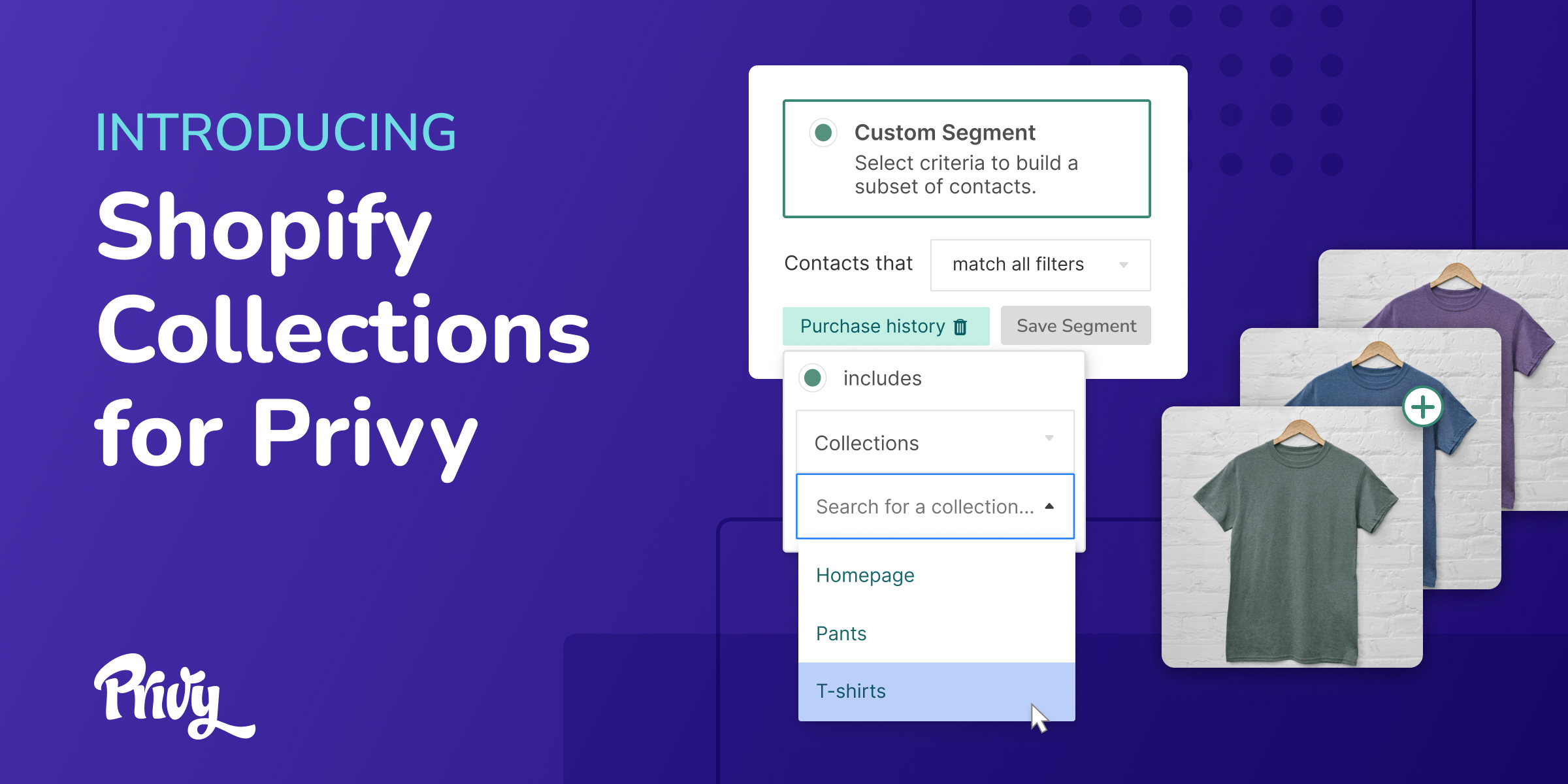 Making it as easy as possible for shoppers to buy from your store is a cardinal rule of ecommerce.
You can have a beautifully designed store and amazing products, but if shoppers can't find what they're looking for quickly, they'll move on.
That's why tons of Shopify stores use easy-to-shop categories called collections.
Shopify Collections guide shoppers to the perfect product and minimize friction to get shoppers from homepage to checkout.
And when they do buy, knowing which collection shoppers bought from gives you a huge advantage when it comes to getting them to buy again.
Think about it. If you bought a t-shirt from a brand in the past, you're probably interested in seeing the latest t-shirt designs they have to offer.
And it works the same for your own customers. Once they buy from your store, they expect a shopping experience that reflects their history with your brand.
And personalization starts with segmentation.
So we're pumped to share that Shopify + Privy just got even stronger because we're bringing the power of Shopify Collections to Privy.
Merchants like you can use your Shopify Collections, and all the purchase data that comes along with them, to send highly targeted emails and texts to supercharge your marketing through segmentation.
In this post we'll cover everything you need to know about using Shopify Collections for your marketing with Privy:
What Shopify Collections are

How to add Collections on Shopify

How to add Products to Shopify Collections

How to use Shopify Collections for email and SMS campaigns in Privy

How to use Shopify Collections for automations in Privy
Let's dive in.
Get our best content on ecommerce marketing in your inbox 2 times a week
What are Shopify Collections?
Shopify Collections are easy-to-shop product categories.
You might categorize products by type, color, size, gender, season, price – whatever makes sense for your store.
Here are some examples of collections:
Pillows

Men's jackets

Board games

Fall candle scents

Gifts for mom

Sale items
Shopify Collections can help you as a store owner keep your inventory organized.
And help shoppers browse your products without having to sort through multiple pages to find the perfect item, ultimately getting them one step closer to buying.
Take a look at this example from Pinetree Garden Seeds.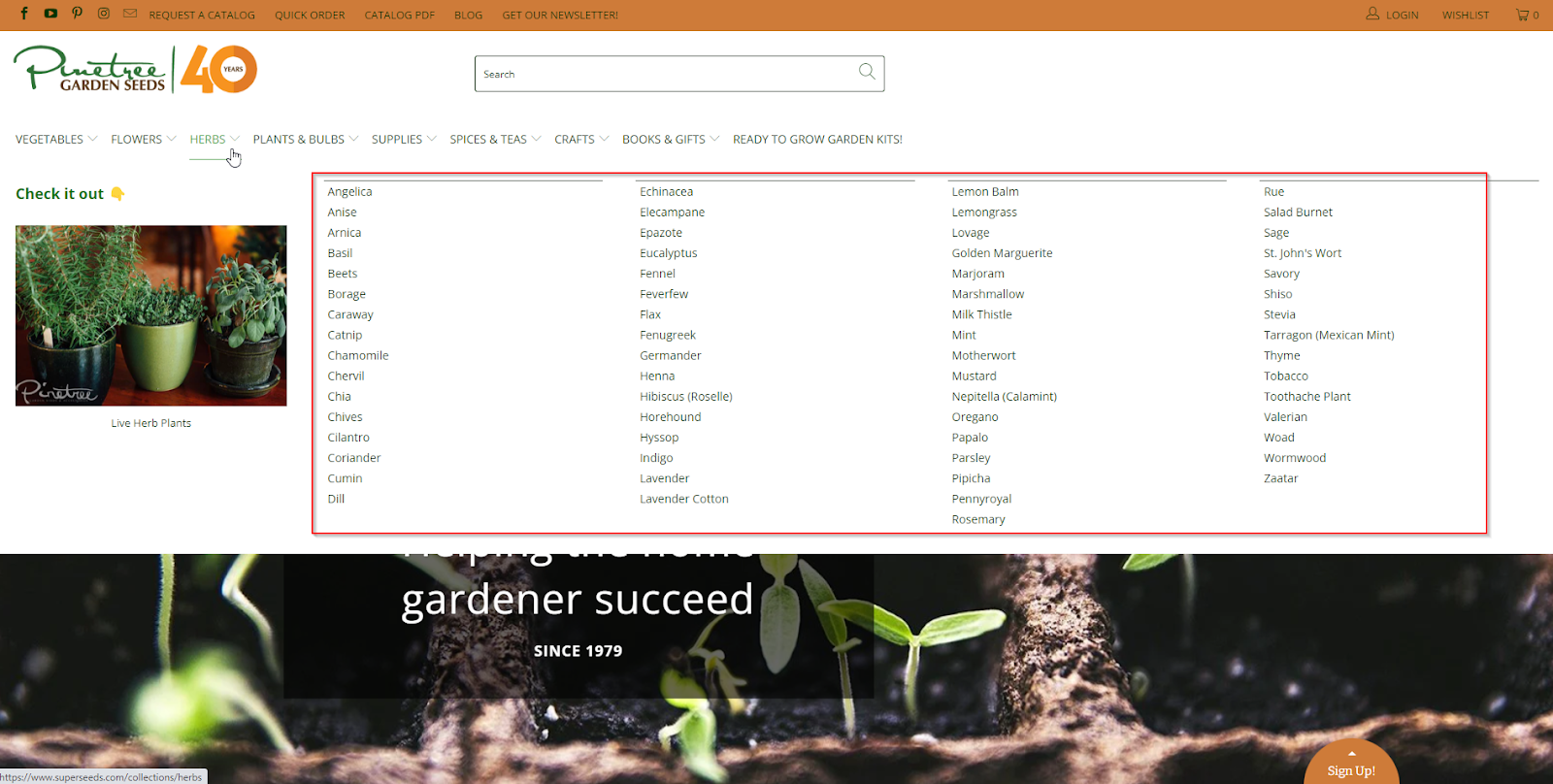 The brand sells over 1,300 varieties of seeds, along with gardening gear and live plants. That's a ton of items for shoppers to sort through.
But right on Pinetree Garden Seeds' homepage you can see a clear set of collections ranging from Vegetables to Books & Gifts to help shoppers navigate the site.
Shopify Collections essentially act as efficient sales funnels to bring shoppers to your product pages. 
How to add collections on Shopify
Head on over to your Shopify admin dashboard and follow along with these key steps to create a Shopify Collection.
Step 1: Navigate to Products > Collections and click "Create collection"

Step 2: Add your collection title, description and image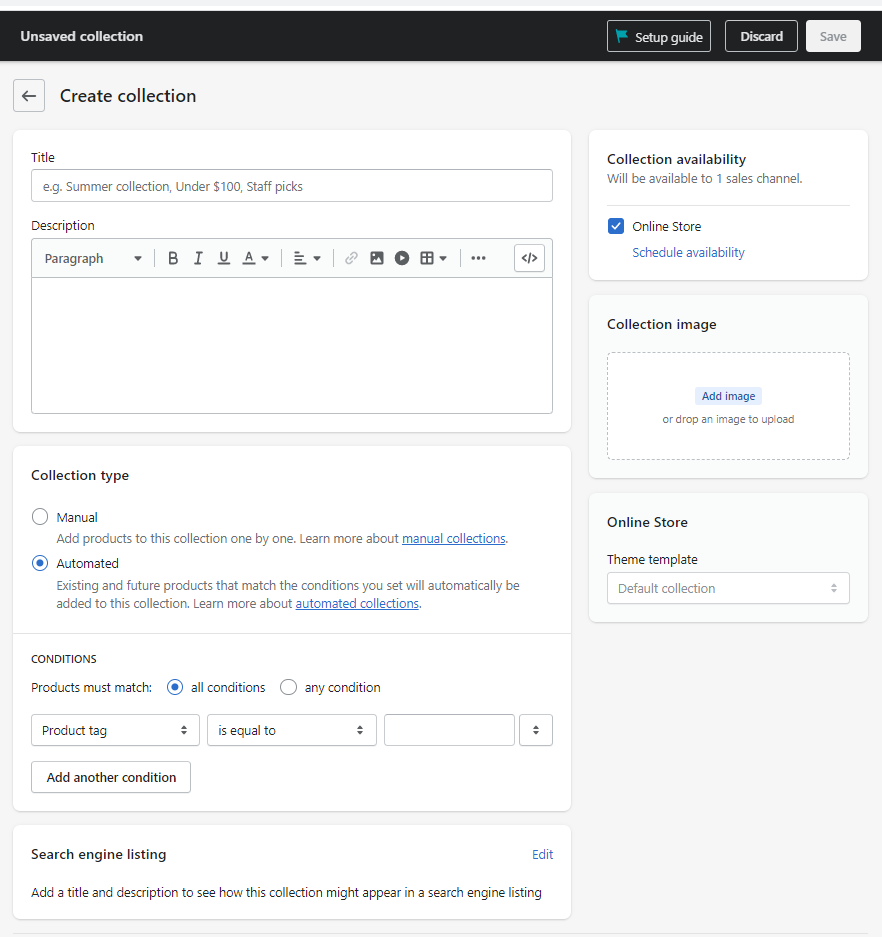 Think of your collection title as the headline that will represent your collection throughout your store. This title will show up anywhere your collection is added on your site. So make sure to choose one that's on-brand and recognizable to shoppers. 
Adding a high-quality image to your collection will give your collection a visual element, and help shoppers identify which types of products are associated with the collection. 
A collection description is optional but can be helpful in defining what your collection is all about. If you're releasing a collection as part of a brand collaboration, for example, the collection description is a great place to call out the collaboration. Plus, including a description that explains your products can give your collection page a nice boost on search engines.  
Step 3: Edit your collection page SEO
Speaking of search engines, you can edit how your page will appear on search engines under the 'Search engine listing preview' setting.
You can alter the page title, meta description and URL handle. Editing the title and meta description in your search engine listing won't change the collection title and description you set earlier. The edits made here will only apply to how your collection appears on Google and other search engines.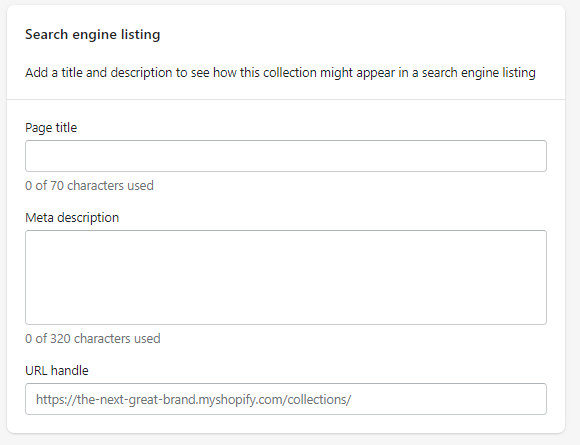 Step 4: Choose your collection type and save
The type of collection you choose determines how you'll add products to your Shopify Collection. We'll cover the two types of Shopify Collections and how to add products to both in the next section. But before you move, make sure to save your progress in your Shopify admin dashboard!
How to add products to Shopify Collections
There are two types of collections you can create in Shopify: automated and manual.
Manual collections give you the ability to hand pick which products belong to a certain collection. These are great if your store has a smaller selection of products, or if you want to make a very specific collection that can't be made with automation, like a flash sale. 
The drawback to manual collections is that they require more work to upkeep. Manual collections are fixed lists, so you'll need to add or remove products manually.
You can learn more about adding a manual collection on Shopify in this 5-minute video. This video walks you all the way through creating a manual collection to adding it to the navigation on your store's homepage.
Automated collections, on the other hand, are more adaptable but also more complex. As the name implies, these collections automatically add products based on the conditions you set. So if you have a large, rotating inventory, automated collections are ideal for your store.
You can set rules for automated collections based on:
Product type

Product title

Product tag

Product vendor

Price

Compare at price

Weight

Inventory stock

Variant's title
Once these rules are set, the automated collection will pull in any new products that fit the conditions you set. You can apply multiple conditions to be hyper-specific about which products belong to different collections.
Follow along with this 5 minute video to create an automated collection for your own store.
Using Shopify Collections for email campaigns in Privy
You can create custom segments using Shopify Collections for your one-time emails and text.
So if you want to do something like share your latest men's clothing items with anyone who shopped from your Men's Collection in the past, you can create a custom segment of any contacts who meet that criteria.
Here's how it works: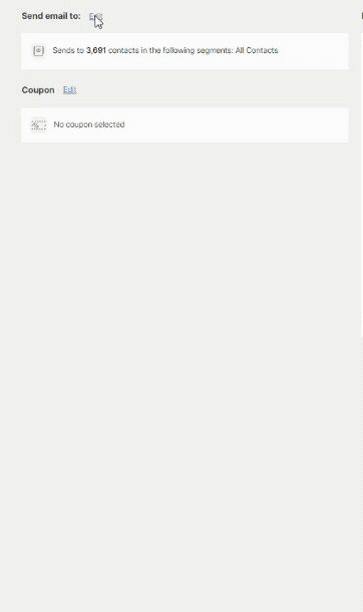 In your email settings, select 'Custom Segment' under 'Send email to.' Then select the 'Purchase history' filter.
You have the option to either include or exclude certain Shopify Collections from your segment criteria. After you select 'includes' or 'does not include,' you'll have the option to select 'Products' or 'Collections.' Click on 'Collections' and your list of available collections will appear in the dropdown.
It's a best practice to save your segment, especially if this is a group of shoppers you know you'll remarket to often. Simply click the 'Save Segment' button in the custom segment builder and give it a name. When you send an email or text in the future, you'll have the option to select your saved segment.
And here's what this process looks for one-time text messages: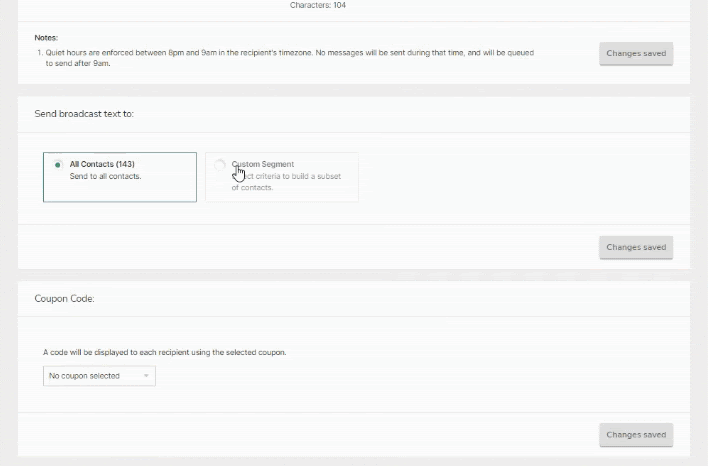 Using Shopify Collections for automations in Privy
Shopify Collections can also be applied trigger settings across multiple automation types in Privy.
To strengthen your cart recovery strategy, you can trigger abandoned cart emails and texts with content tailored to the items in someone's cart.
Let's say your brand specializes in sustainably-made footwear. With the power of Shopify Collections in Privy, you can use your abandoned cart automations to highlight the sustainable impact of your business when a shopper leaves behind sneakers made from recycled materials. 
All you need to do is edit your trigger settings in Privy and modify your content however you like.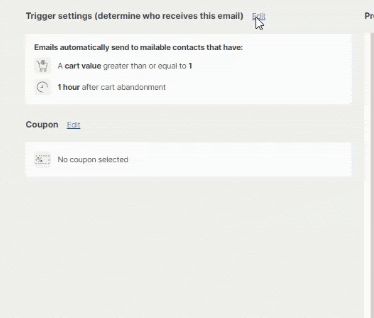 Shopify Collections can also come in handy for your purchase follow up experience.
Trigger purchase follow up emails based on customers' purchase histories at the collection level and make the shopping experience positive from start to finish.
Use this purchase history data to send helpful content and resources post-purchase, like automatically sharing recipes when someone buys from your collection of spices.
Similar to your abandoned cart automations, you'll just need to edit your trigger settings and content, and then you'll be on your way to delighting customers post-purchase.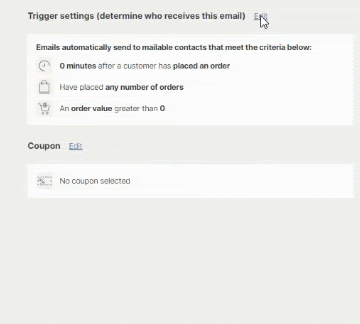 Shopify Collections are available in Privy today
There's a ton of opportunity to use the power of Shopify Collections with Privy.
With the addition of Shopify Collections for segmentation, we're focused on giving merchants everything they need to market to their customers when and how they want.
In fact, thousands of small and mid-size brands are already choosing Privy for their email and SMS marketing.
So if you're looking for an all-in-one, user-friendly platform for growing your online brand, be sure to check Privy out. Start your free, 15-day trial today.
Topics: News
Special thanks to our friends at
Privy
for their insights on this topic.