This is part of our #SmileABCs series, highlighting and going in-depth with small businesses and ecommerce brands. Check out the full series here.
Nothing says adventure more than being out in nature, whether in the ocean, a lake, or on a mountain. Rad Revolution is a bag shop that designs adventure, travel, wallet, and mini handbags all designed by Mallory Boren.
Rad Rev was born out of Mallory's search for high-quality, gender-neutral baby items and her products are designed from the scenic lake Mallory lives on in Washington State. Mallory's three boys and her love of nature, water, and the mountains are the inspiration behind Rad Rev.
"10 years ago now I was pregnant with my second baby and searching for cute boy clothing," says Mallory. "Everything had cheesy designs or trucks on them that I wasn't into, so I decided to buy some fabric and make a stretchy comfy, gender-neutral black and white striped romper for my soon-to-be two boys. After that, I got addicted to creating. I hand-sewed tons of random items including bags and listed them on Etsy. I started an Instagram and it really took off. After years and years of hand sewing, I finally found a manufacturer after lots of searching and trial and error."
Rad Rev launches new bags every Monday, keeping its customers coming back for more. From weekend duffle bags to travel-size bags, Rad Rev has built a community through its high-quality products. With more than 150,000 Instagram followers and over 4,000 members in their private Facebook Group, "Rad Rev Shop Squad," Mallory has built a brand that attracts customers to come back again and again.
"I always tell people I have THEE BEST community. The kindest and most thoughtful group of (mainly) women who are badass and just genuine human beings. I started a Facebook group called "Rad Rev Shop Squad" and seeing them connect over their bag collections has been incredible! I feel like we're all just internet besties and we get each other," says Mallory. "Once my customers buy a bag, they tend to buy them in every size and style! Lately, the sling wallets have been hard to keep in stock because they double as a wallet and bag and can hold all your daily essentials!"
When you have a community of passionate customers who not only share their bags and products but encourage their circle of influence to check out Rad Rev, adding a loyalty and referral program was a natural fit for Mallory.
👜
"I added the loyalty program about a year ago and I was amazed at how my customers reacted to it. Every single day I see customers cashing in their rewards and talking about their points. In my Facebook group, I can see them talking about saving up their points to splurge on something they may not have bought without the code. It has driven up my sales while also allowing me to give back to my supporters," says Mallory.
Rad Rev's Rad Rewards, offers customers 5 points for every $1 spent, as well as 200 points for celebrating a birthday and 50 points for follows on Instagram and Facebook. Points can be redeemed for a discount between $5 – $20 off an order. Referred customers can earn $5 off on their first purchase.
"The biggest thing I've noticed is customers being able to have a quick and easy friend referral code to share with new customers," says Mallory. "They'll post it on their own socials which in turn gives people another reason to try out a bag from my brand or give me a follow!"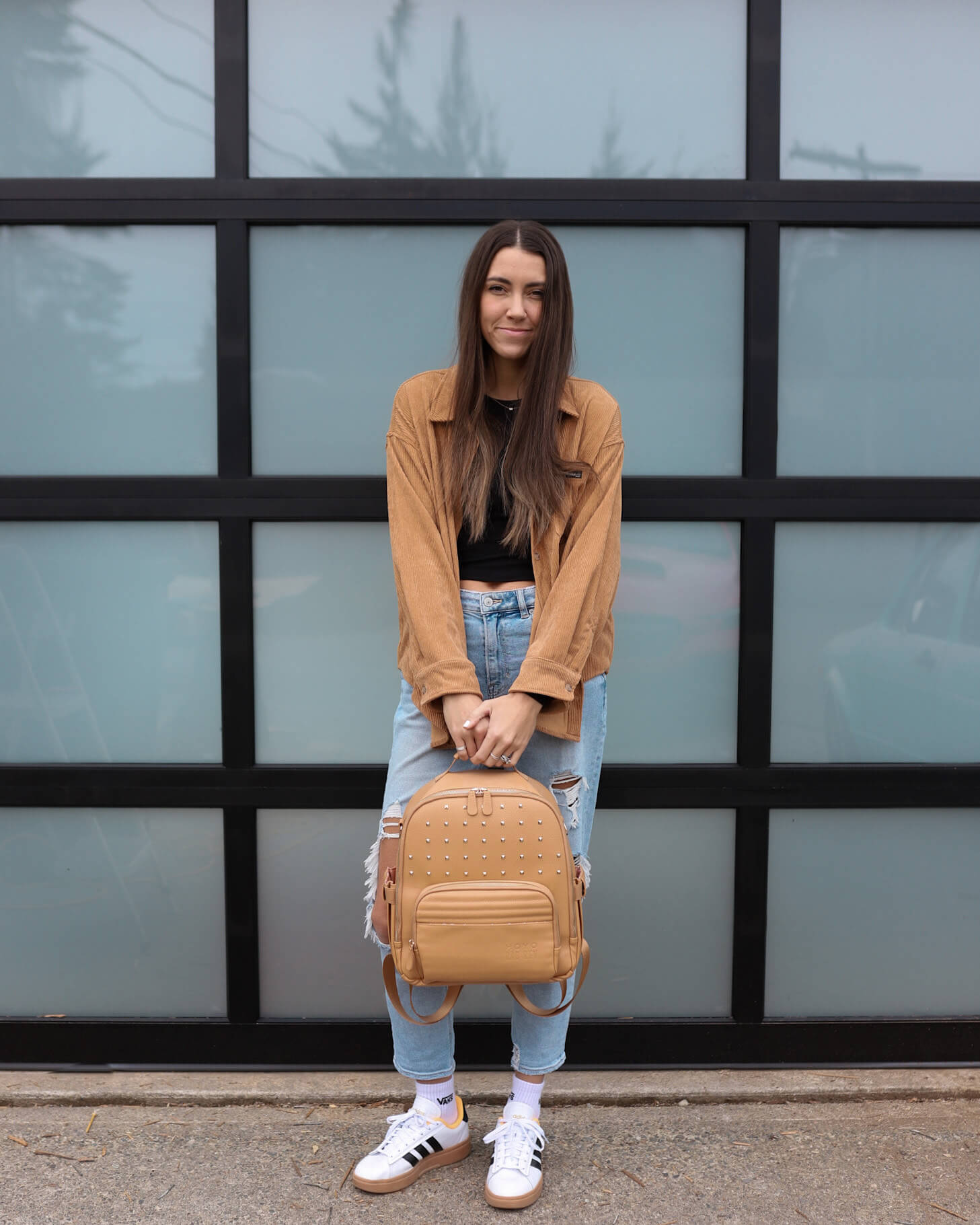 Advice for new business owners
Entrepreneurs start out doing it all, fulfilling orders, customer support, marketing, and everything in between. Especially if you're a new business owner and just getting started. Mallory and her husband are both running their own businesses (Twig & Fin, a men's shop that compliments Rad Rev) and for Mallory, being a mom juggling it all, entrepreneurship feels like a natural fit.
"I have 3 boys, my husband makes surfboards and skis, and I run Rad Rev as a more than full-time job. I think it works somehow because both my husband and I are hustlers and busybodies," says Mallory. "I cannot stand to sit still so I feel like it's a natural fit for both of us to be business owners!"
👜
Instead of offering codes to new customers, try rewarding the customers you already have!"
Her ultimate advice for new business owners in the ecommerce space is to diversify their platforms and above all, build a connection. "If you're doing business online, find multiple ways to connect with your customers. Not putting all your eggs into one platform is key. Instead of offering codes to new customers, try rewarding the customers you already have!"
Subscribe to Talking Shop
Learn from other Entrepreneurs
This originally appeared on
Smile.io
and is made available here to cast a wider net of discovery.