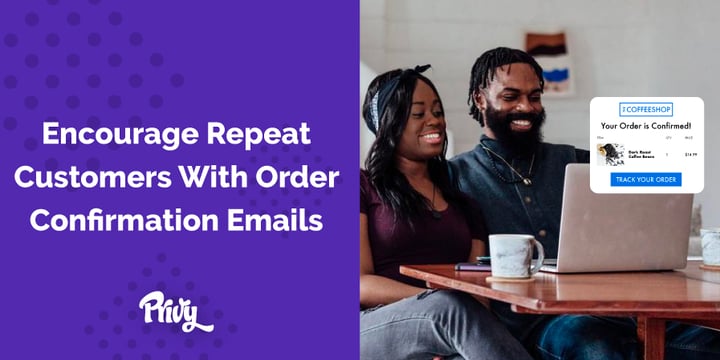 Privy customers have sent more hundreds of millions of emails using Privy Email.
And these emails have generated billions of dollars in sales.
But when it comes to email marketing, most merchants spend time optimizing their newsletters and abandoned cart emails to drive sales. Which means they often neglect another important email…
The order confirmation email.
The order confirmation email averages a 60% open rate, which is 3x the industry average.
So, today we are going deep into how you can turn this transactional email into a marketing asset that will help grow your business
Table Of Contents:
Get our best content on ecommerce marketing in your inbox 2 times a week
What is an order confirmation email?
An order confirmation email is a transactional email that a retailer sends to a customer after they've completed their order. Often, these emails include features such as order numbers, receipts, contact information and potentially even upsells.
What makes order confirmation emails such a missed sales opportunity?
Capitalize on buyer psychology
Most brands think that once they make the first sale, the process is done! But for the customer, the process has really just begun. And now that you've won their trust, you have the opportunity to win more of their business through upsells and cross-sells in your order confirmation emails.
Meet the expectation
Have you ever heard of buyer's remorse? It happens all the time in ecommerce. Customers don't want to wait for the product to ship, they decided they shouldn't be spending that much right now, the list goes on. That's why setting expectations and keeping communication with the customer throughout the process is one of the most important things you can do during the purchase follow-up process.
Hone in on the value of repeat customers
The key to profiting in ecommerce is to build up your repeat customer base. Think about it. Repeat customers are 9x more likely to convert, they spend 3x as much as first-time buyers, and they are 20% more profitable (because you're not spending money on ads to acquire them).
What to include in an order confirmation email
There are 5 main components to include in every order confirmation email. Use the list below as your checklist when drafting your first email.
Product information
It's always helpful to include the product a customer ordered in your confirmation email. Customers might not remember the name of your brand, but they'll definitely remember they ordered a "succulent cactus" when searching in their inbox.
Order and tracking number
You probably have dozens of customers with the same name. From the Johns to the Jessicas, it probably doesn't matter at a small scale. But when you're selling hundreds of products, you'll need to have order numbers to quickly find a customer's order in your database. Make sure that you're including these order numbers throughout your order confirmation emails so your customer can reference them.
Payment information
Depending on your product type, customers might be using different credit cards. If you're selling stationary, it might be a business card. If it's a food or beverage order, then they'll likely be using a personal credit card. Make sure to include which payment method they used so it's easy for them to quickly reference.
Shipping information
Be sure to always include shipping estimates in your order confirmation email. These days with Amazon Prime, everyone is expecting 2 day shipping. So setting expectations early on your average shipping time with a tracking number is incredibly helpful and important.
Customer support contact information
Regardless of how great your supply chain is, chances are you'll find yourself having some customer issues from time to time. Whether it's shipping questions or faulty products, having a direct line of contact between you and your customer is important to make sure your customer happily receives their product.
9 strategies to level up your order confirmation emails
One of the best parts about working with over 500,000 merchants is that we learn exactly what works and what doesn't when it comes to order confirmation emails. Here are the 9 strategies that are proven to work time and time again.
1. Use your order confirmation emails as an upsell opportunity
Unless you only sell a few products, it's tough for customers to see every product on your website, even if it is well designed! Luckily for you, you're able to send an order confirmation email based on what type of product a customer bought and include other items they might also enjoy. Take a look at how Dollar Shave Club does it today.

2. Use order confirmation emails to highlight  the perks of their purchase
Here's where you can break down how customers are using your products and get customers excited about receiving their order! One example I love is from Truff where they show recipes you should try with their hot sauce and mayonnaise products.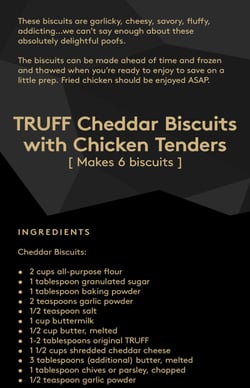 3. Use order confirmation emails to reassure buyers of their purchase
A simple way to reassure buyers is to include as many different resources that customers are able to reach out to you through. Take a look at how Chewy reassures their customers by including support connections, order tracking, confirmation numbers and more.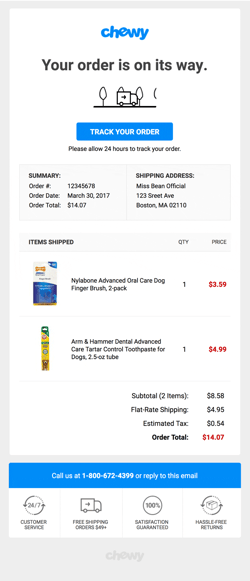 4. Use order confirmation emails to ask for referrals
If you sell a product where you know the customer often is around other ideal customers, a referral program is a great idea. Take Bala for example, they sell a shoe designed for nurses and doctors (who happen to spend a lot of time together during their 12 hour shifts). Offering a referral program that gives customers money back on their orders is a smart marketing strategy to include in your post-purchase flow.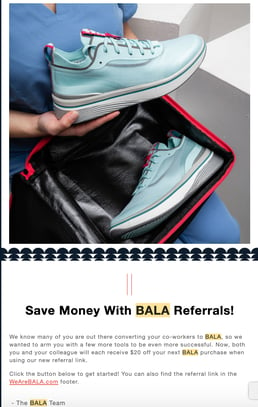 5. Use order confirmation emails to build your loyalty program
Brands using loyalty programs have a much higher repeat customer rate on average. And with order confirmation emails having one of the highest open rates out of any of your marketing emails, it makes sense to promote that program in these emails. Take a look at how Sweetgreen uses order confirmation emails to promote their loyalty program.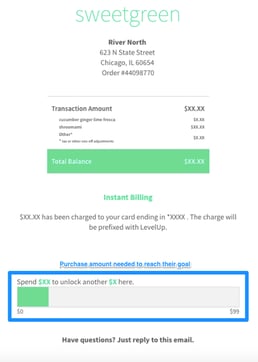 6. Use order confirmation emails as a cross-sell opportunity
Another opportunity is to use this email to cross-sell other products in your product catalog. Take a look at how Swell does it based on what product a customer bought.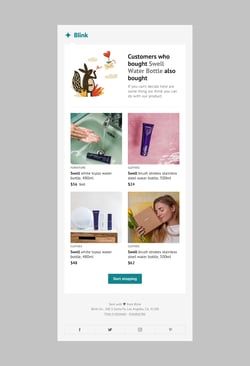 7. Use order confirmation emails to get the second purchase
Forever 21 includes a coupon code in their order confirmation emails that gives customers 10% off their next purchase whenever they join their mailing list. This helps the brand grow their email list and gives them permission to market to customers. It also increases the chances of a repeat buyer.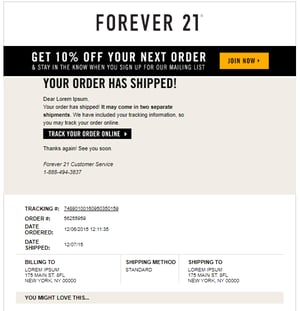 8. Use order confirmation emails to send customers VIP coupons
You can actually distinguish which email you send someone based on how many times they've purchased. So if this is a customer's second order, you can always include something like "welcome back" in the subject line and even include a special promotional offer to thank them for being a VIP customer.
9. Use order confirmation emails to communicate next steps
If you have a more complex product or there are steps throughout the ordering process, it's important to communicate those in your order confirmation email. Take a custom product like Respoke Collection, for example. Immediately after the order is placed, they send an email walking customers through the steps for the next 2 weeks.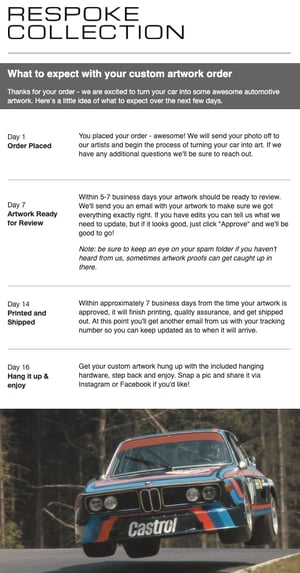 How to optimize your order confirmation email subject line
The good news is that your order confirmation email is one of the highest open rates out of any emails you'll send. Which is why we recommend using them for marketing purposes! Use these subject line tips to get even more out of your order confirmation emails.
Tip #1: Stay under 7 words or 41 characters
Keeping your subject line short and to the point is step one. Most of the time, long subject lines get cut off, so having your subject line be 5-6 words like, "Important Note About Your Order" is a good start.
Tip #2: Make it personal
These days, many email providers can include personalized information like the customer's first name in the subject line. Showing these elements can certainly help improve your open rates, even if it's as simple as including their order number and saying "A Quick Note About Order #4293".
Tip #3: Stand out with emojis
And lastly, it's worth testing emojis in your subject line. Which captures your attention more?
"Thanks for your recent order" Or "Thanks for your recent order ❤️?"
Capturing a customer's attention in a busy inbox is more important than ever.
How to send winning order confirmation emails with Privy
The best part is that you can send all of your order confirmation emails directly with Privy Email today which includes a FREE 15-day trial.
Order confirmation emails with Privy are quick to set up with our drag and drop email editor: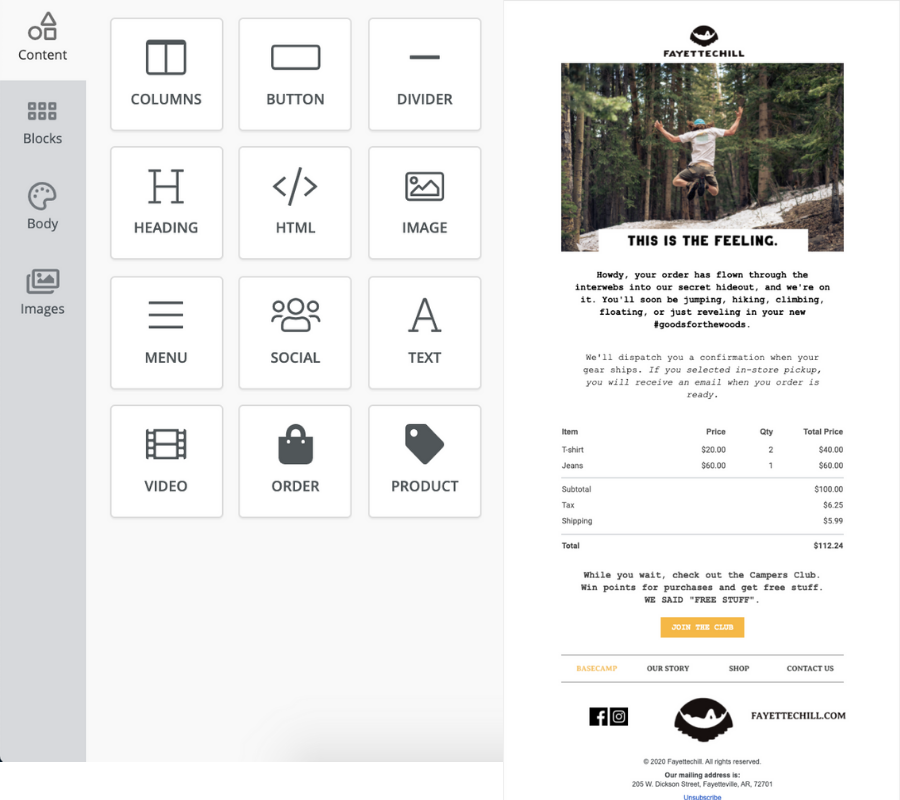 And best of all, you can even target your post-purchase flow based on:
1. What product a customer bought
2. How long it's been since they bought it
3. How much they spent
4. How many times they've ordered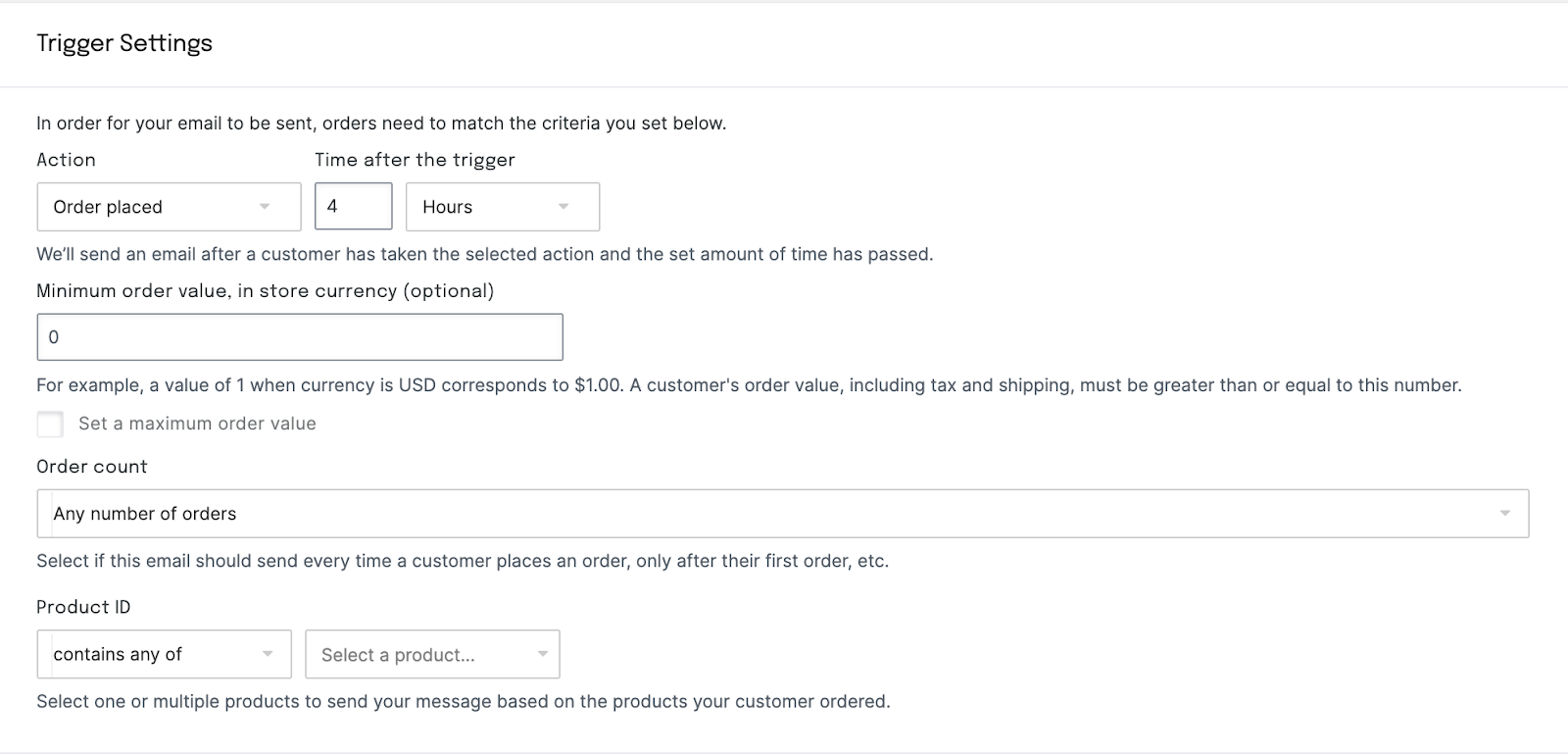 Setting up your order confirmation email in Privy is fast, easy, and automated.
And you can start your free 15-day trial to set yours up today.
Order confirmation email FAQ
Is an order confirmation email also a receipt?
An order confirmation can also be a receipt! However, if you're looking to improve your marketing, order confirmation emails should be more than just a receipt. You can include everything from a discount code for a 2nd order to your catalog of other products they could purchase.
When should I send an order confirmation email?
An order confirmation email should be sent immediately after a customer places their order. This leads to higher open rates and gives customers peace of mind that their order went through.
Do I need to send an order confirmation email with every purchase?
We recommend you send an order confirmation email with every purchase. This is because customers often view these emails as a guarantee that their order went through. This also gives customers a way to contact you if they ever have any questions. So make sure if a customer replies to that email, they're going to be able to get in touch with a real person.
Should I personalize my order confirmation emails?
Absolutely! We recommend using an email editor tool that lets you automatically send these emails and include "dynamic content." Dynamic content lets you include photos of the product customers purchased as well as things like order confirmation numbers and receipts.
Special thanks to our friends at
Privy
for their insights on this topic.