Whether you're a big credit card enthusiast or a frequent traveler or simply love a good hotel staycation, there is something to learn from Hyatt's rewards and loyalty program World of Hyatt. Hyatt's loyalty program is considered one of the best programs in the world, winning several readership awards, and always receives praise from its customers.
Hyatt's has 26 different hotel brands under its portfolio which allows them to offer more than 1,150 hotel and all-inclusive properties in 70 countries to its customers. The ultimate goal of these hotel rewards and loyalty programs is to lock in customers and have them choose their hotel over the millions of others.
Let's break down what makes World of Hyatt a top loyalty program, and the lessons we can learn from the hotel brand.
Where the World of Hyatt wins
When it comes to travel the Hyatt brand is associated with luxury, and their rewards program is no exception. In 2022, it won Nerd Wallet's annual ranking of best hotels. World of Hyatt is well thought out and includes an impressive array of elements that would make any traveler excited to stay with Hyatt and earn rewards.
Top-tier rewards make the program exclusive
World of Hyatt has four reward VIP tiers that members can fall into, and work towards unlocking:  Member, Discoverist, Explorist, and Globalist.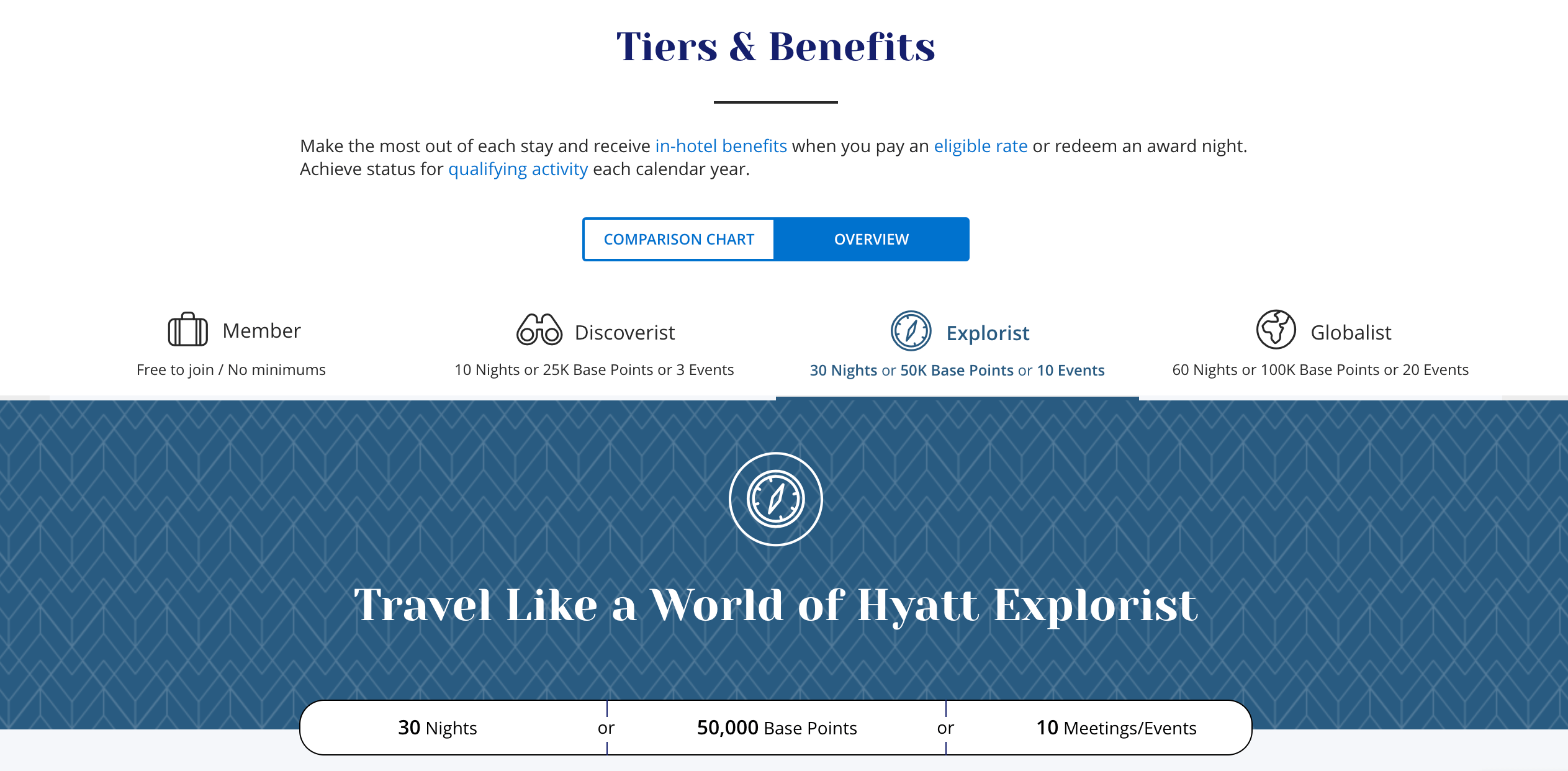 The tiers are organized by the number of stays you have at a Hyatt hotel in a calendar year, with your first upgrade to Discoverist coming once you've stayed 10 nights, earned 25,000 points through a branded credit card, or hosted a meeting or event in a Hyatt property. For guests with 60 nights or more under their belt, Hyatt offers even more rewards and top-tier status you can't get anywhere else.
Some of the perks offered in various categories range from free nights, room upgrades, late checkout, and double points on purchases at Hyatt. Hyatt has a range of properties that are affordable to luxury, meaning there is something for everyone, no matter their budget. This makes earning rewards and points attainable.
Since the Globalist tier is so exclusive, Hyatt can give these top VIPs incredibly valuable rewards, such as upgrading rooms to suites, free meals, and access to its exclusive lounge. For busy business travelers, these upgrades are definitely the most valuable part of the Hyatt program and are sure to keep them dedicated to the brand!
Hyatt continues to prove why I stay loyal. Yet another comp suite upgrade as a Globalist. (Mid-week stay makes things easier.) pic.twitter.com/oxtULgOltK

— Chris Dong (@thechrisflyer) June 8, 2022
Earning points is simple
Nerd Wallet estimates that World of Hyatt points are worth 2.8 cents per point, which members can use towards redeeming free nights or other perks at Hyatt properties. Earning points can be through stays, dining, using the Hyatt branded credit card, or its newly introduced experiences. Hyatt ensures there are multiple ways members can earn points.
Through its two branded credit cards with Chase Bank, World of Hyatt members can earn over 60,000 points for first-time card members, up to 7 points per purchase with a Hyatt credit card, and 2x bonus points for special categories every quarter.

Hyatt also runs double and bonus points campaigns for its members throughout the year for eligible stays. These campaigns are aimed at getting members to stay at new or upcoming Hyatt properties.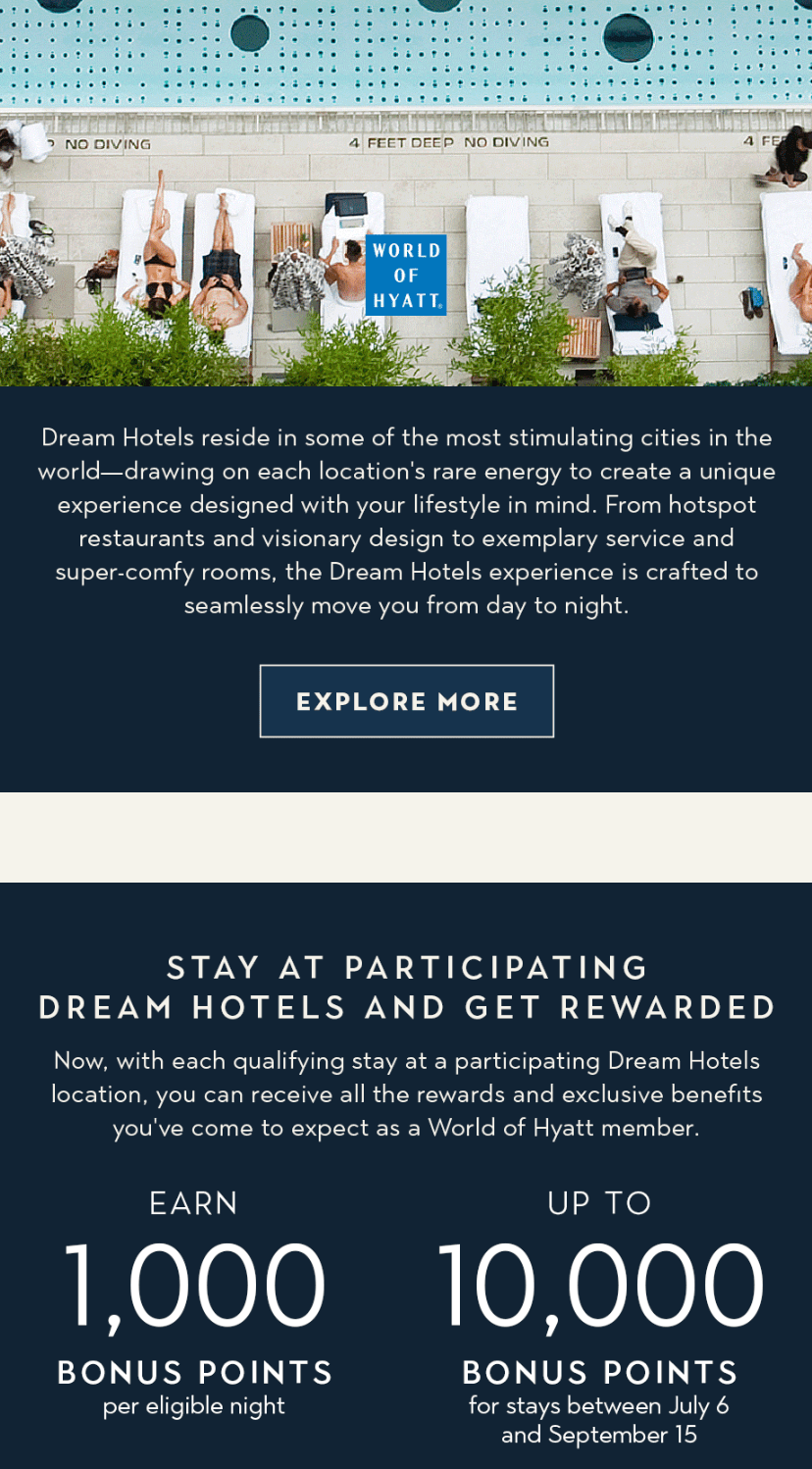 World of Hyatt introduces FIND, a place members can book over 200 experiences in 80 countries and earn 10 points per dollar spent. These experiences include anything from a Japanese whiskey-tasting tour in San Francisco to an open-air jungle safari in Indonesia. Hyatt is truly trying to bring more to its program than simply points. These types of experiential rewards are a great way for Hyatt to build emotional connections with their customers, moving their rewards away from being just another transaction that customers complete.
By keeping rewards meaningful and earning them simple, Hyatt is able to ensure that members across all tiers are motivated to continue to stay at Hyatt hotels more frequently. This gamification keeps their program engaging, exciting, and valuable for everyone involved.
Clear explainer page makes value easy to see
Since explainer pages are the first chance that companies have to garner interest in their rewards and loyalty program, it's important that they make a good first impression. Hyatt does a great job of this with a clear, visually focused explainer page.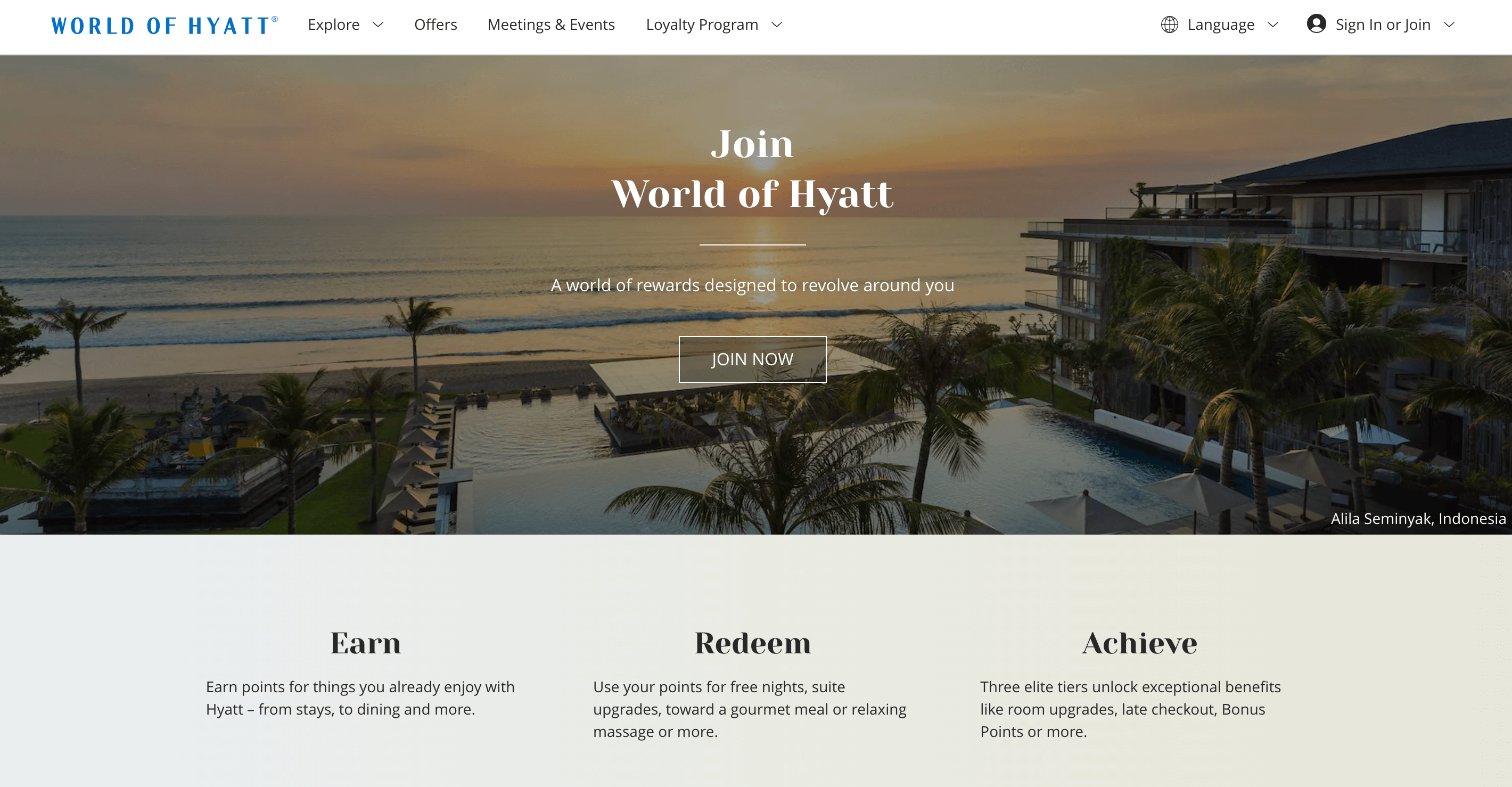 When you first land on the World of Hyatt loyalty program page, you can see how simple it is to understand and navigate. The way Hyatt lays everything out is an effective introduction to the program. It lists the ways members can earn rewards, redeem and achieve the next tier level. As a business, you want to strike the right balance between being informative yet not overwhelming to new customers, and Hyatt did this perfectly with on-brand visuals and an  effective layout.
How the World of Hyatt fails to impress
Although Hyatt's rewards program is an award winner and a favorite among its customers, there are a few cons to its rewards program. There are a number of areas where World of Hyatt fails to impress compared to other hotel rewards programs.

Difficult to qualify for VIP status
We've discussed the number of different ways customers can unlock the next VIP tier and move towards more perks. The fastest way is through qualifying stays at Hyatt properties, earning points, and hosting a meeting or event. The issue is the 'qualifying' component.
It's unclear which nights are considered qualifying and which nights Hyatt doesn't qualify toward earning the next tier. For example a night in Hyatt Bogota Colombia displays two rates, a cheaper option and for a couple of dollars more, a World of Hyatt members rate. It's unclear whether selecting the cheaper option would qualify for a qualifying night.

The same goes for qualifying events and meetings. In order to meet the threshold of earning towards VIP, you must not only host a meeting or event but have no more than fewer than 10 paid guest rooms all staying on the same night. Unless you're a business or corporation planning a conference, this won't be useful for the everyday traveler.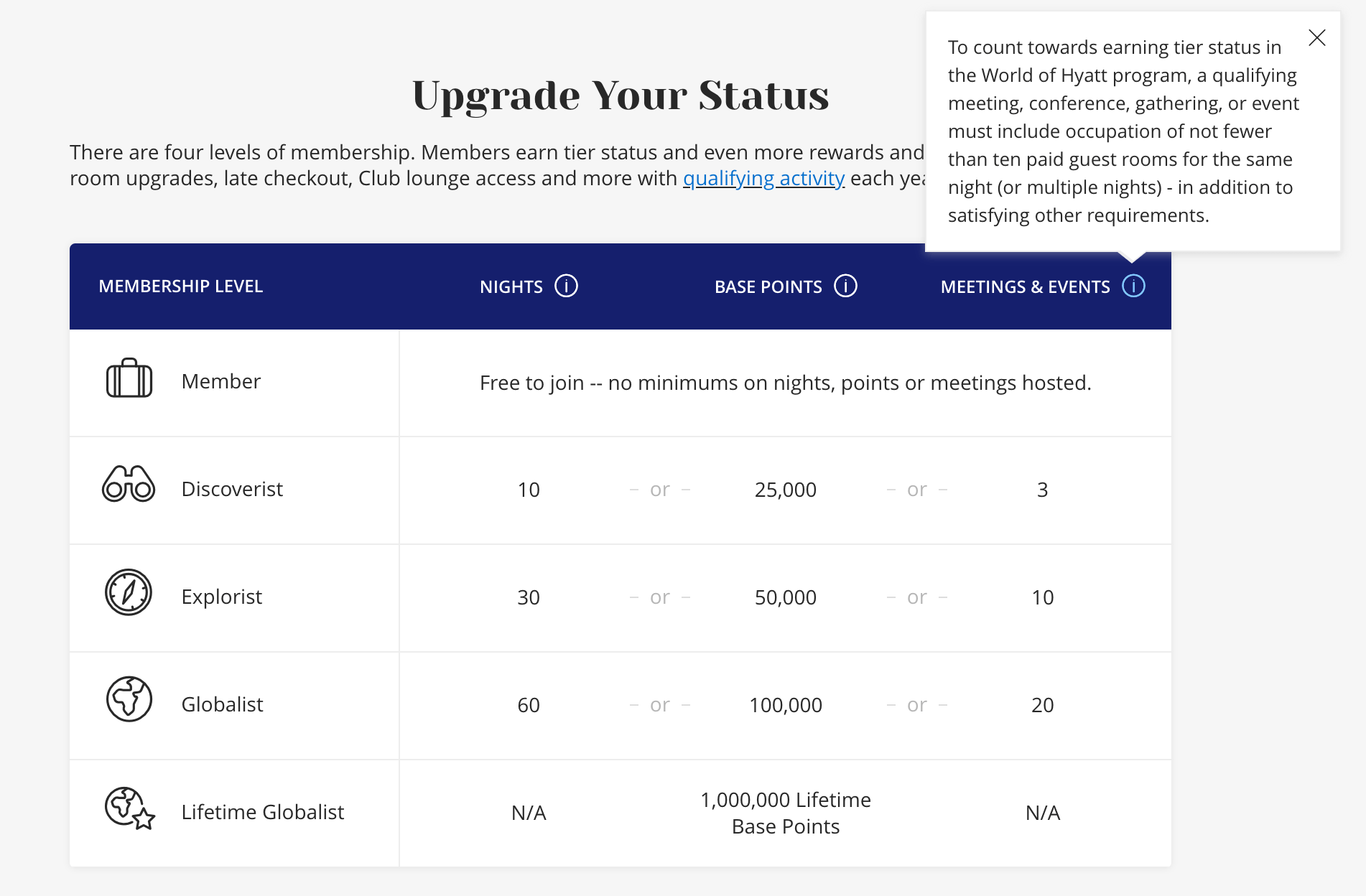 In addition to the competition with other large hotel brands such as Marriott and Hilton which has more properties than Hyatt, there is a steep competition for rooms and availability within the Hyatt properties.
If Hyatt introduced other ways to earn, such as customer referrals, members would be able to qualify for all the rewards they want without having to spend another dime! That way, Hyatt could keep their business successful without cheapening their rewards experience, and customers could still reap all of the benefits of participating in their program.
The solution to this is simply to rethink their tier requirements and make earning more clear, especially on qualifying requirements. You want your top tiers to be exclusive but also achievable. As a result, many of these customers will turn to other hotels with more accessible rewards programs, making World of Hyatt's VIP offering a little less than luxurious.
How the World of Hyatt program checks out
If you're already a loyal Hyatt customer, this program is an amazing way to be repaid for your loyalty to their brand. However, if you're a more casual traveler, you're better off sticking with reward programs with lower barriers to entry like Expedia or Hotels.com.
World of Hyatt has hit every area we recommend every ecommerce brand to do in order to be successful with their loyalty and rewards program. Hyatt offers meaningful rewards, a simple onboarding for new reward members, and an explainer page that walks through every detail of the program. While they might not be an ideal solution for budget-conscious travelers, Hyatt has done a great job of caring for business VIPs with a wide variety of rewards and outstanding VIP benefits that help each of their members feel like a luxurious traveler.
Editor's Note: This post was originally published June 26, 2018 and was updated for accuracy and comprehensiveness on July 5, 2023.
Build a loyalty program for your ecommerce brand.
Launch a program in minutes.
This originally appeared on
Smile.io
and is made available here to cast a wider net of discovery.