Skincare is a journey, and for some, an overwhelming one. But what if it didn't have to be? That's the philosophy behind Dr. Sam's skincare. This brand takes a simple, no-fuss approach to skincare.
It was founded by Dr. Sam Bunting after years of working in a clinic and finding that there was a key gap in solutions for problematic skin that were simple, effective, and affordable. The brand launched in 2018 with its award-winning Flawless Cleanser and has been making Dr. Sam's 20+ years of expert advice accessible and easy to understand ever since.
How Dr. Sam's has created a thriving brand community online
Translating Dr. Sam's years of knowledge as an expert dermatologist into an ecommerce store was no easy feat. But through a winning combination of Shopify ecommerce apps, the brand has delighted thousands of customers at every digital touchpoint.
We sat down with Dr. Sam's Sr. Ecommerce Manager, Sarah Wimpenny who unveiled some of the secrets behind the iconic brand's success. "In simple terms, our typical customer discovers the brand either via social channels, press, or word of mouth. Then they engage with educational or testimonial focussed content across a multitude of platforms and when ready, finally search for product or brand and convert."
With a brand focused on simplicity, it's only natural that its customer experience is just as seamless. The secret? An app stack that integrates smoothly.
Layering ecommerce apps for a glowing customer experience
With nearly 150K Instagram followers, Dr. Sam's has built a strong community of customers who value the no-nonsense approach to skin. But it's how you treat customers when they arrive on your site that really counts.
Dr. Sam's Sr. Ecommerce Manager, Sarah, shared what apps they use in the brand's ecomm stack and how each one benefits the business.
⚙️
Your apps should align with your business needs and goals and function cohesively with one another.
Let's learn which apps made the cut and how Dr. Sam's makes the most of its ecommerce app stack.
Recharge Payments for repeat orders
"The integration with Recharge Payments streamlines repeat orders and offers a convenient auto-replenish program, benefiting Dr. Sam's by prioritizing the ease of reordering for our repeat customers," Sarah tells us. As a skincare brand with a highly consumable product, subscriptions are a great way to encourage repeat purchases and brand loyalty.
Why do the best DTC brands offer subscriptions?

Simple. On average, merchants who offer subscriptions more than double their LTV. For certain verticals, this number is closer to 4–6x LTV. pic.twitter.com/wGfh13kFB2

— Recharge (@RechargePayment) August 2, 2023
Reviews.io for showcasing testimonials
Integrating Reviews.io helps Dr. Sam's showcase customer testimonials throughout its website. When coupled with its Smile.io rewards program it incentivizes customers to leave text and photo reviews in exchange for points to redeem for rewards. Sarah shares the value of these reviews with us, "Customers engage with educational or testimonial-focused content across a multitude of platforms and when ready, finally search for product or brand and convert."

Rebuy Engine for increasing average order value (AOV)
As you may know, another key ecommerce metric to monitor your store's health is average order value. Since revenue is driven by the frequency of purchases and the size of purchases, increasing your AOV is one way to lead to significant profits. Luckily, there's a Shopify app to do the work for you!
"Leveraging the Rebuy Engine integration drives UPT [units per transaction] by presenting customers with complementary products in their shopping cart, increasing the chances of additional purchases while seamlessly integrating with other essential apps," Sarah explains.
We love this look at @RebuyEngine in action ⬇️💜 https://t.co/tTxIj7p1zD

— Rebuy Engine (@RebuyEngine) August 29, 2023
Triple Whale for paid marketing attribution
In a data-driven ecosystem such as ecommerce, it's important to maximize customer data. Dr. Sam's does so by leveraging the Triple Whale app in its Shopify app stack.
"Adding Triple Whale to our stack has allowed us to attribute our paid marketing activity post iOS14 better," says Sarah. "We can switch between different models depending on the channel or campaign type and they have recently launched an AI-powered "total impact" model combining our zero and 1st party data to give a view of which channels drive awareness and commercial impact." Knowing where you are reaping the most value is a crucial step in making smart business decisions.
Klaviyo for segmented email marketing
"Email marketing drives the majority of post-purchase engagement (a mix of product,  educational, and loyalty) along with a great product experience," Sarah shares. When email marketing is such an important part of your customer experience, you need a great tool for it. Enter Klaviyo.
"Smile's integration with Klaviyo allows us to create specific segments based on customer loyalty status so we can accurately target our audience," Dr. Sam's team explains. "The integration also syncs their number of points and tier names so we can upsell and send relevant messaging in our campaigns." With email being one of the most direct ways to reach your customers, using a tool like Klaviyo helps you personalize your messaging to make meaningful connections.

Smile.io for a loyalty program
We also happen to know Dr. Sam's offers a great loyalty program from an app that we think is pretty cool (hint: it's us). Dr. Sam's first introduced its Flawless Rewards program in 2019 "as a means to appreciate and reward our loyal customers."  
💗
"As a brand, we recognized the value of building long-term relationships with our customers and wanted to provide them with an opportunity to earn points on their purchases."
"Loyalty is integral to our business. Good skin habits deserve great rewards!" shares Sarah. Dr. Sam's offers a points and three-tiered VIP program rewarding customers for purchasing or leaving reviews. In exchange, they get discounts on future purchases or free product gifts when they reach higher VIP tiers.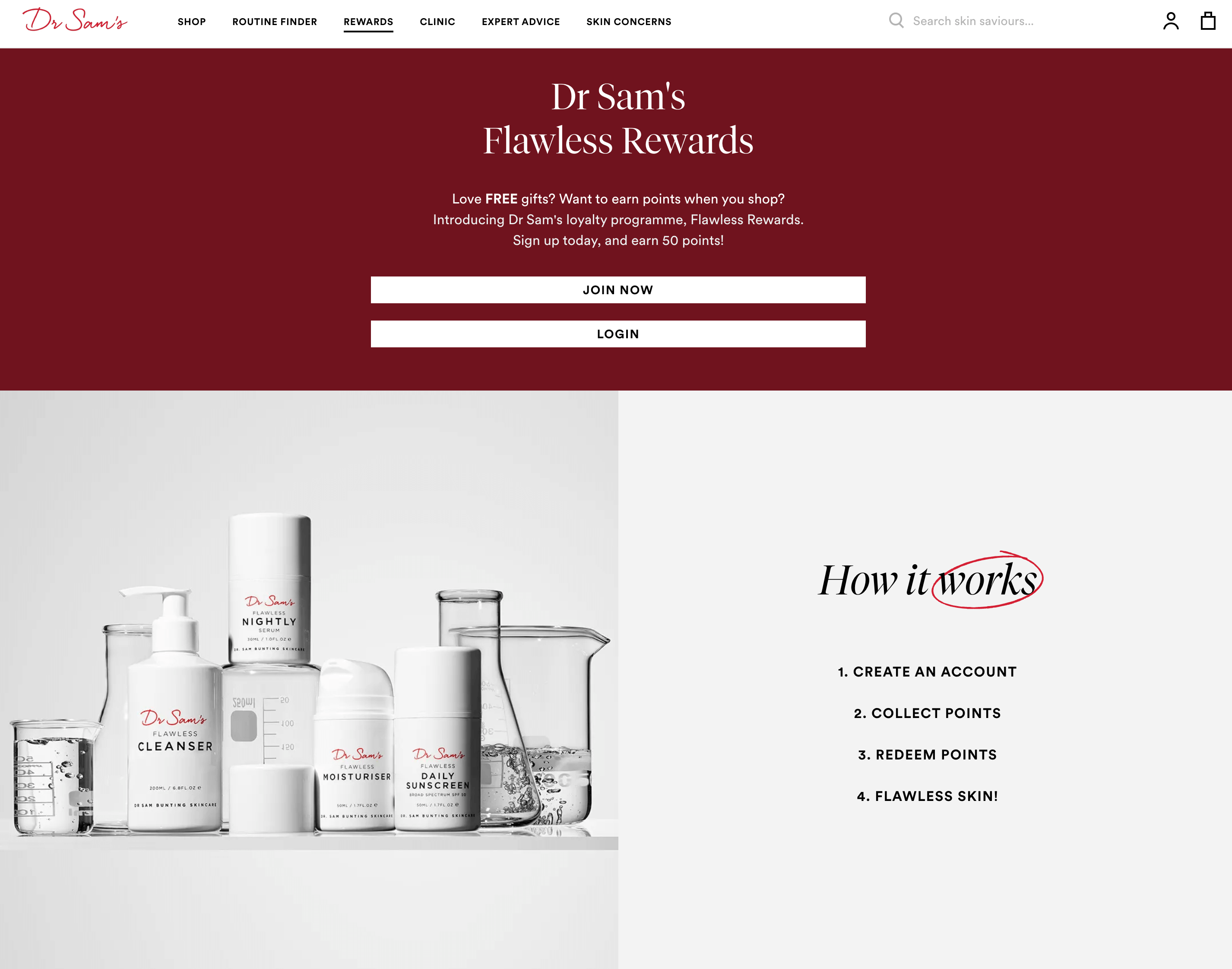 Dr. Sam's advice for other ecommerce businesses
Since 2018, Dr. Sam's has grown into a successful ecommerce brand with a dedicated brand community. And they had a toolbox full of excellent ecommerce apps that integrate seamlessly to help them get there.
If you're looking to optimize your stack, Sarah advises to, "ensure that your app stack functions cohesively and that the key apps for your business integrate seamlessly. We would highly recommend all of the above!"
Looking to add a loyalty program to your stack?
Check out Smile.io's different loyalty solutions and plans
This originally appeared on
Smile.io
and is made available here to cast a wider net of discovery.