Reading Time: 12 minutes
WooCommerce is an open-source ecommerce platform with more than 5.1 million active users. It's considered one of the most popular plugins on the internet. Having said that, a vast number of ecommerce businesses rely on WooCommerce alternatives too for their exceptional features.
Ecommerce transactions have shot up in the past few years with global sales reaching up to $4.2 trillion. It's also estimated that more than 65% of global internet users are online buyers. 
As ecommerce continues to boom, businesses are looking for the most efficient WooCommerce alternatives to set up their online retail business. 
But what is WooCommerce?
WooCommerce is an exclusive ecommerce plugin by WordPress which allows businesses to build all kinds of online stores. 
It's largely customizable and a variety of WooCommerce plugins are available to set up an impressive storefront. 
From sending confirmation emails to gently reminding the users about the abandoned cart, there are WooCommerce plugins to help your business grow in every possible way. 
All in all, WooCommerce is a good ecommerce solution for WordPress users.
But is WooCommerce for everyone? 
Well, not really. 
There are a good number of WooCommerce alternatives that offer diverse features to help you build a unique and successful ecommerce website. 
But irrespective of the alternatives you use, you'd need an efficient email marketing solution like Omnisend to generate leads and maintain a healthy relationship with your customers.
5 reasons why you're probably looking for a WooCommerce alternative
WooCommerce has ruled the ecommerce market for nearly one and half a decade now. But certain drawbacks are leading users to look for WooCommerce alternatives that can provide them with a comprehensive package. 
Let's take a look at the top 5 reasons why you may look for WooCommerce alternatives. 
1. Steep learning curve
WooCommerce will require you to have some degree of technical understanding and WordPress experience before you begin to build your ecommerce site using this platform.
For anyone who is working on such a platform for the first time may find it to be complicated and the learning curve to be quite steep. Even for businesses having a WordPress website, WooCommerce integration and maintenance can be cumbersome. 
2. Doesn't offer hosting
When you consider any leading ecommerce platform, they offer a hosted website. WooCommerce, on the other hand, is just a WordPress plugin. 
You need a pre-existing WordPress website to take advantage of the multiple functionalities this platform has to offer. 
Neither does WooCommerce offer SEO and digital marketing tools natively which have become a standard feature in many of the WooCommerce alternatives. 
The need for third-party web hosting makes the entire process more complicated and expensive. This is one of the many reasons for businesses to look for alternatives to WooCommerce.
3. Requires multiple plugins 
The bundle of features that the WooCommerce free version offers is good to get a startup or small ecommerce business started. 
But larger businesses may be left wanting for more and to meet their requirements, they'd have to install several plugins for SEO, email automation, and so on. Users admit that managing so many plugins may, at times, get really confusing and stressful. 
4. Add-ons are more expensive
WooCommerce is free to install. While the core features are good to get you started, you will need plugins and extensions to boost the efficiency of your website. 
These add-ons may prove to be more expensive compared to the leading WooCommerce alternatives which may have built-in features. At the end of the day, your running cost will be more than you originally calculated. 
5. Complicated shipping fee structure 
Another reason you might want to look for WooCommerce alternatives is because of its complicated shipping fees.
Some users say that managing shipping fees gets complicated while dropping shipping products from multiple manufacturers. WooCommerce alternatives that can simplify shipping rate calculation will be a winner in this regard.
And now, let's take a look at the best WooCommerce alternatives. 
WooCommerce alternative — Shopify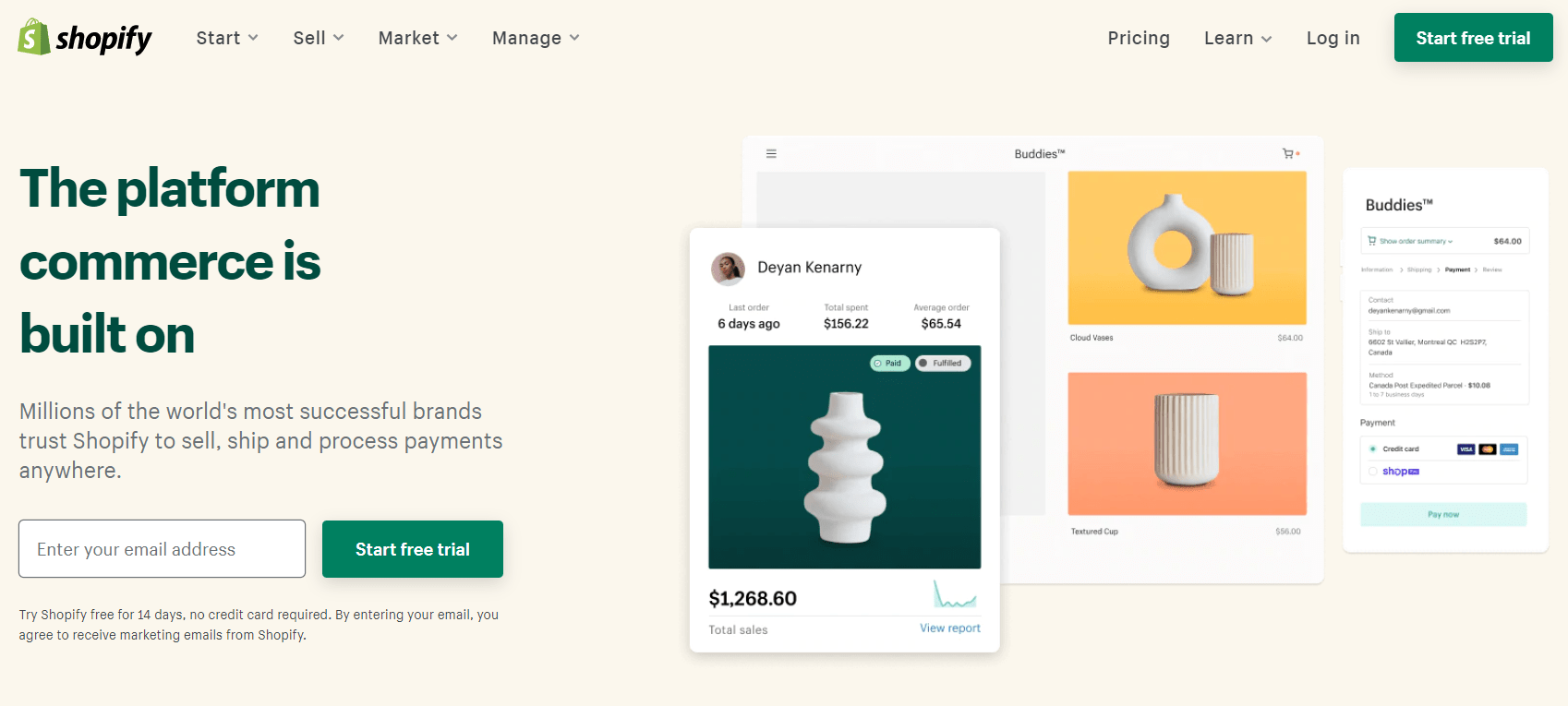 Shopify is the biggest player in the ecommerce landscape in the US and a top contender among WooCommerce alternatives. 
Nearly 29% of ecommerce websites use Shopify to run their business. It's extremely easy to use and is suitable for startups and seasoned businesses. 
The platform not only simplifies the process of building your ecommerce website but also provides plenty of opportunities to run and grow your business. 
Different businesses may need varying apps to make their online store more efficient and that's why the Shopify App Store has more than 7000 apps for its merchants. 
With different pricing packages, you can choose the best one that meets your business requirements. 
Pros: 
Shopify is an all-in-one platform to build, run, and grow your ecommerce business
Provides secure and unlimited hosting on all plans 
Shopify can be integrated with your existing website
It supports many third-party payment providers
Shopify offers competitive pricing
With Shopify, you can enjoy top-notch customer support 
Offers a 14-day free trial
Cons 
Additional processing fee is added while using third-party payment providers 
Limited options while adding product variants
WooCommerce vs Shopify: The differences 
As the top two ecommerce platforms, WooCommerce and Shopify are many times compared for their features. Here's a quick look at their differences to help you choose the right one for your business. 
While WooCommerce and Shopify are both great platforms for building your ecommerce website, Shopify is more user-friendly. A majority of the work is taken care of once you select the theme. Further, you can do minor customization according to your needs.
WooCommerce scores big on customization, as it offers plenty of options. But this freedom also makes your work more extensive and challenging. 
WooCommerce does not have built-in order fulfillment features whereas they are built-in on Shopify. You can use extensions like WooCommerce Shipping, though, to do the job for you. 
On the pricing front, WooCommerce seems to be ahead of Shopify as this WordPress plugin is absolutely free to use. On the other hand, the Shopify Basic plan starts at $29/month. But you've to bear in mind that you may have to pay for many of the WooCommerce plugins you use. 
There are more than 7000 plugins available on Shopify App Store whereas WooCommerce has numerous extensions and access to all WordPress plugins. 
WooCommerce alternative — BigCommerce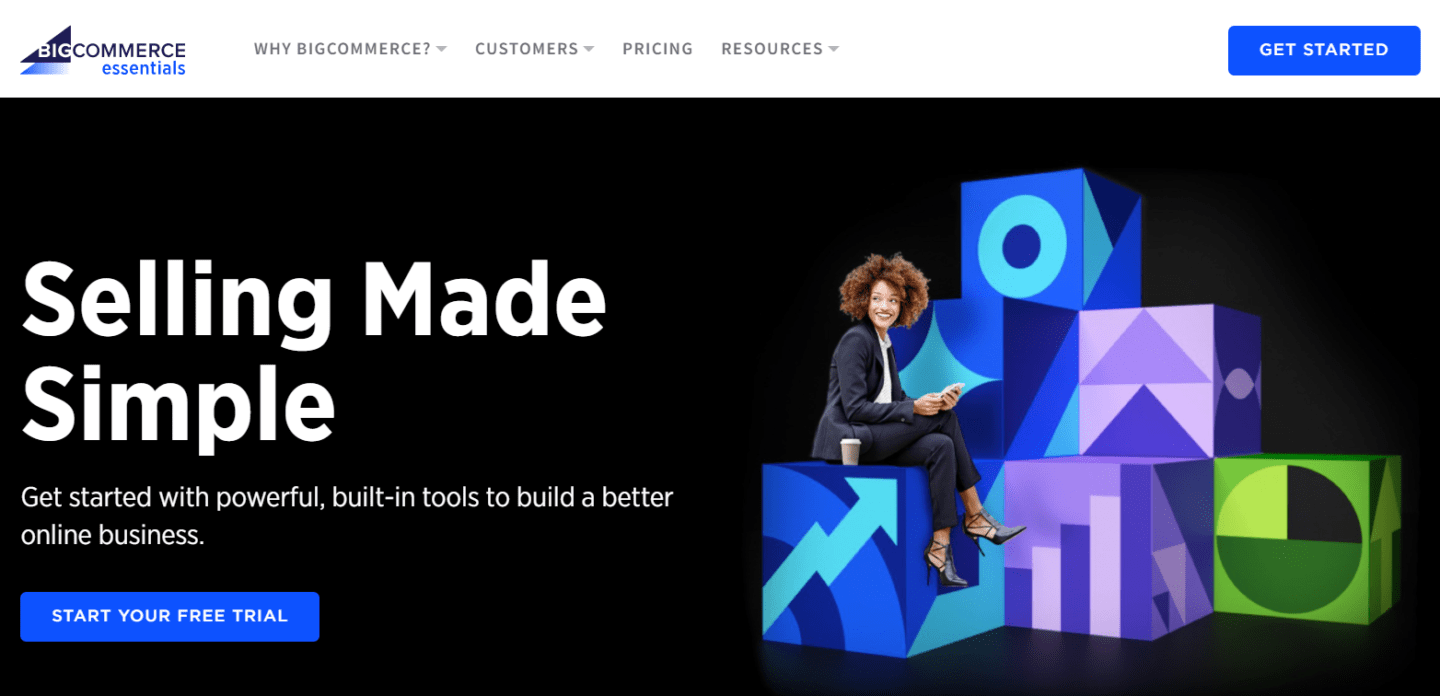 BigCommerce is a great WooCommerce alternative offering sellers powerful features to build their online store and grow their business. Not only is it a great store builder, but brings you out-of-the-box store management features. 
As a robust ecommerce platform, BigCommerce has advanced built-in features which help you build an amazing website with ease. It's a great fit for budding and expanding businesses with several customizable templates and themes. 
Whether you are selling physical products, digital products, or services, WooCommerce alternatives like BigCommerce tick most of the boxes. 
As the platform is fully hosted, you don't need to pay extra for third-party hosting. This makes a big difference when you are comparing WooCommerce and BigCommerce.
Additionally, BigCommerce provides tools to create tailored discount coupons and gift vouchers. The platform also has some strong analytics and reporting tools that can help you create a more focused marketing strategy. 
Pros: 
BigCommerce's drag-and-drop page builder simplifies your task to a great extent
It offers a content management system (CMS) with SEO features 
With BigCommerce, you enjoy integration with Amazon and eBay
BigCommerce's social selling features allow you to sell on Facebook 
BigCommerce brings you a wide range of themes to choose from (12 free and 175+ paid) 
It offers a 15-day free trial 
Cons: 
BigCommerce does not have native POS features
Has very limited free themes 
WooCommerce vs BigCommerce: The differences 
Both WooCommerce and BigCommerce are quite straightforward in their usage. But they differ in many aspects. Some of the major differences between WooCommerce and BigCommerce are: 
BigCommerce is a full-service ecommerce provider whereas WooCommerce is a WordPress plugin. The merchants have to pay additionally for third-party web hosting. Not only BigCommerce but other WooCommerce alternatives have an advantage in this regard.
WooCommerce allows you to build a new ecommerce site or turn your existing WordPress website into a retail store. BigCommerce on the other hand can be integrated with WordPress. 
Once you build and launch your business on BigCommerce, you will receive an SSL security certification which is the assurance of a secured website. WooCommerce users need to get SSL certificates from their web host. 
As one of the top WooCommerce alternatives, BigCommerce can be directly integrated with Amazon and eBay. You can seamlessly sell and grow your customer base on these platforms. What's more, it also brings you social selling options. Both these features make BigCommerce a better option for ecommerce businesses. 
Website builders have plenty of choices as far as themes and customizations are concerned on both platforms. Along with free themes, there are hundreds of paid themes on BigCommerce allowing you to create your unique storefront.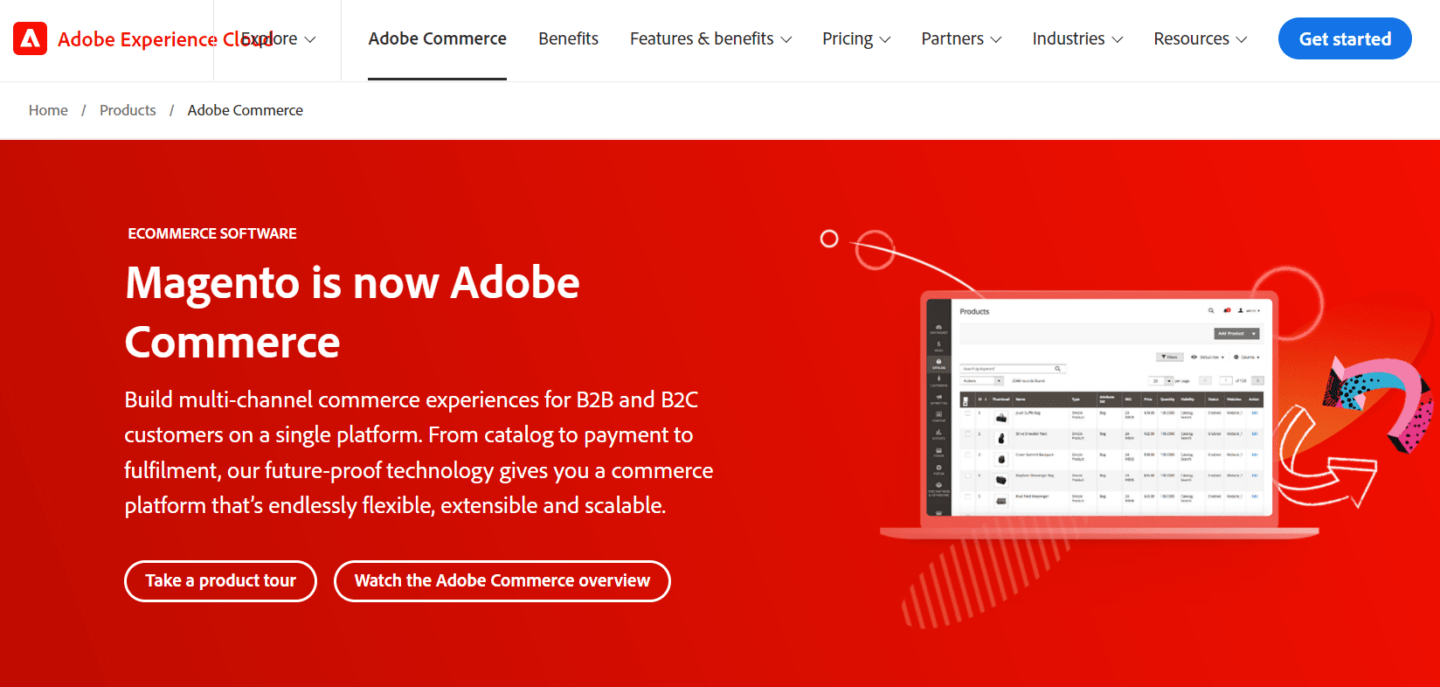 Adobe Commerce, formerly known as Magento, presents itself as a great WooCommerce alternative with a robust framework and ease of use. 
Since Adobe bought Magento, it has been transformed into a cloud-based, fully-managed platform. It brings you enterprise-level efficacy to create unmatched B2B and B2C ecommerce experiences. 
Adobe Commerce offers powerful features with out-of-the-box functionalities to build and run a top-notch ecommerce storefront. 
With extensive customization options and third-party integrations, you will be spoilt for choice when it comes to functionalities. That's why it's ranked among the best WooCommerce alternatives.
When you run a comparative analysis of Magento and WooCommerce, the Adobe product scores big on scalability and extensibility. 
It's a flexible and extensible platform with scalability features to keep your ecommerce storefront always future-ready. 
Furthermore, the templates and themes help you build SEO-friendly websites that not only look good but perform well too. 
Pros: 
Magento brings you robust multi-store management functionalities 
Its high website availability reduces the downtimes to a minimum 
Magento has a freemium business model 
AI-powered Magento features render better shopping experiences for your customers
Magento releases security patches periodically to ensure that your ecommerce website is fully protected
The Adobe community provides strong support for businesses and merchants who are working on the platform for the first time 
Cons: 
Magento may not be ideal for beginners 
Turns out to be more expensive for smaller businesses 
WooCommerce vs Magento: The differences 
Magento and WooCommerce both support an unlimited number of products, SEO capabilities, great customer support, and much more. But there are certain features and benefits that make these two platforms distinct. 
Let's take a look at the differences. 
One of the top reasons why Magento is a top WooCommerce alternative is because it has built-in inventory and product management features. WooCommerce does not have this native feature, although you can use plugins for that.
Adobe has made an aggressive move by integrating the best-in-industry AI into Magento to deliver an excellent shopping experience. Thus, ecommerce business owners may prefer this WooCommerce alternative over WooCommerce as it's more impressive.
Magento is a more suitable platform for bigger ecommerce businesses and enterprises. Startups and small businesses may find it to be a bit complicated and cumbersome. WooCommerce, on the other hand, is suited for both beginners and expanding businesses. 
When you're comparing WooCommerce vs Magento from a pricing point of view, WooCommerce gets the lead. As a WordPress plugin, it is free whereas Magento does not have a free version. Having said that, you have to pay for third-party hosting and extensions if you choose to build your ecommerce site using WooCommerce. 
WooCommerce alternative — Wix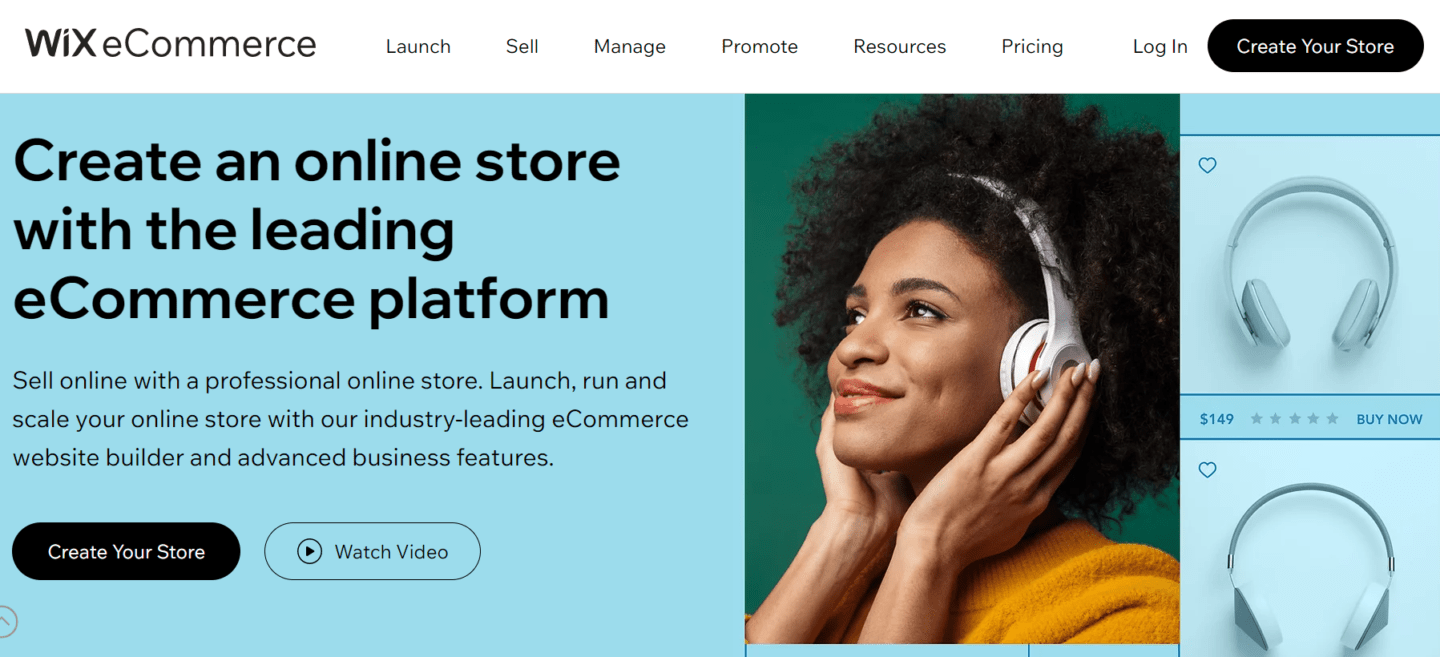 Wix is a top-rated website-building platform and one of the worthy WooCommerce alternatives. 
It offers free hosting and the freedom to design your ecommerce website exactly how you imagine it to be. 
To simplify the entire process of website building, Wix even provides professional video tutorials. 
As one of the leading WooCommerce alternatives, Wix is known for its unlimited customization options from storefront to checkout. 
More than 500 professionally-designed templates and a drag-and-drop store builder simplify the entire ecommerce store building process. 
Wix made a big move by introducing Wix ADI or Artificial Design Intelligence. This algorithm is revolutionizing the way websites are being designed on Wix and has fast-paced the entire process too. That's why Wix is one of the top WooCommerce alternatives.
Wix can cater to ecommerce businesses of all kinds with a variety of features, SEO tools, and plenty of apps. If those don't satisfy you, paid extensions are also available. 
Pros: 
Wix is best known for its design flexibility. It offers endless customization with advanced APIs
You can use 500+ free online store templates to build a customized storefront
With a Wix website, you can sell on Facebook, Google Shopping, eBay, Instagram, and several other channels
Wix brings you smart business automation 
It helps you build a fully mobile-optimized storefront
You get access to reliable and secure dropshipping solutions
Wix offers a 14-day free trial 
Cons: 
When you have the freedom to create a website from scratch, the newbies may get overwhelmed by the plethora of customization options 
Wix has minimalistic product attributes 
WooCommerce vs Wix: The differences 
When we compare WooCommerce and Wix, there are certain differences that set them apart. Let's have a look at them. 
One of the first things users look for in a website builder is the ease of use. While people with technical skills may better utilize the features Wix has to offer, WooCommerce, in general, is simpler and easy to use for first-time users.
Design is a major consideration while you are comparing WooCommerce alternatives and Wix is pretty good at it. With more than 500 templates and Wix ADI, you can create an impressive and unique ecommerce website in seconds. 
Users get plenty of choice in apps and plugins while working on WooCommerce. Wix, on the other hand, consists of apps and plugins developed exclusively by their team. Although these are fewer in number compared to that on WooCommerce, they are more secure and fully integrated into the website. 
WooCommerce vs Wix – which one provides the best support to sell online? Both of them have good features to provide adequate support for startups and small businesses. But for larger retailers, WooCommerce seems to provide advanced functionalities.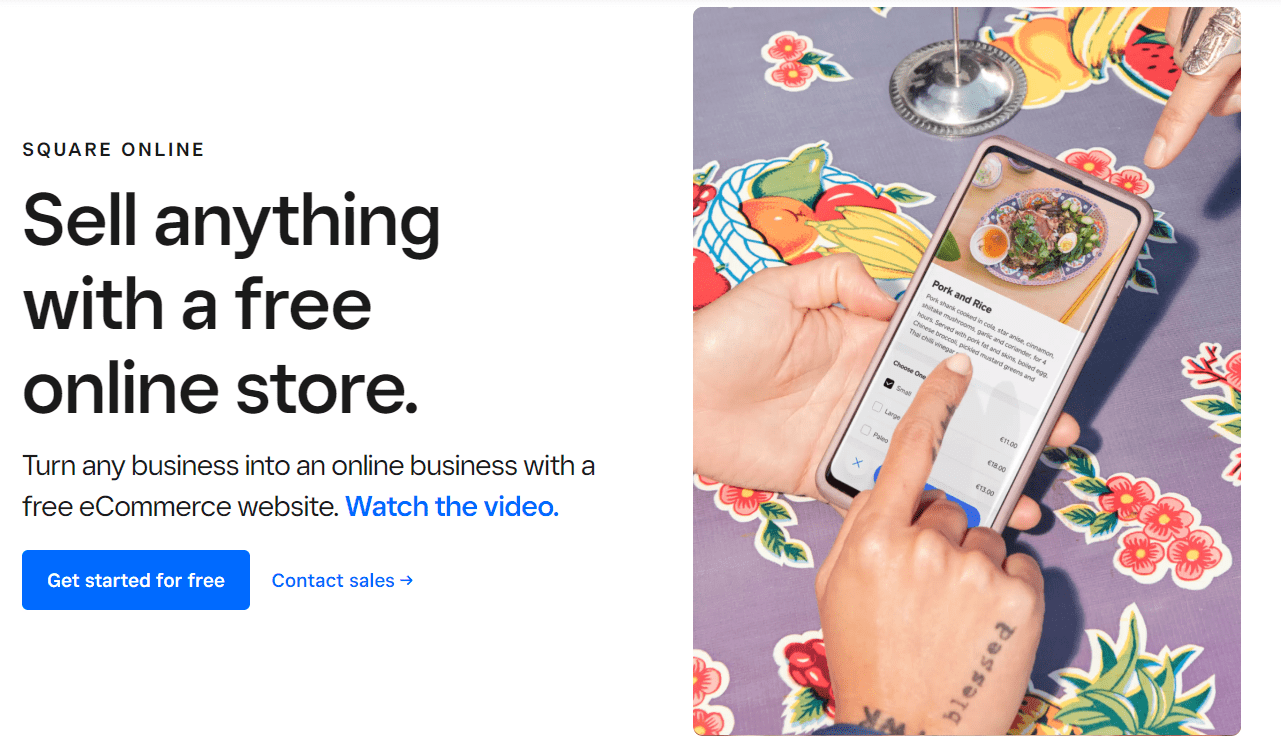 Square Online Store is next on our list of WooCommerce alternatives. This ecommerce website builder is known for its ease of use and amazing customer support. 
At first look, this website builder may look very similar to Weebly but it has plenty of features to help you build an efficient and impressive website. 
Ranked among the top WooCommerce alternatives, Square Online Store brings you great features for a reasonable price. Even without any web designing knowledge, you can easily build, run, and maintain a great storefront. 
Although Square Online Store allows startups and small businesses to set up their online store quickly, businesses may be left wanting in terms of customization. 
This may prove to be a major drawback, considering the fact that other alternatives of WooCommerce offer excellent customization options. 
You might already be aware that Square is a payment processing giant and if you use their gateway, you can easily avoid heavy transaction fees.
Pros:
Square Online Store is easy to use and reasonably priced ecommerce solution
It allows you to sell on Facebook and Instagram 
The Square Online Store free plan offers free hosting and unlimited product catalogs 
Square complies with the PCI DSS norms
Cons:
You have to pay 2.9%+$0.30 fees for every translation on all Square Online Store plans
With Square Online Store, the customization options are limited
WooCommerce vs Square Online Store: The differences
Take a look at how WooCommerce is different from Square Online Store. Here we list down some of the major differences. 
Both WooCommerce and Square Online Store have a free plan which includes a wide range of features and functionalities. Where Square gains the lead is that it offers unlimited hosting and integration with Facebook and Instagram to sell your products. It also allows you to sync with Square POS for smooth and secure transactions. 
While comparing WooCommerce vs Square Online Store, both of them offer great support over the phone, email, and chat. However, Square Online Store is praised for its excellent support. 
WooCommerce offers a wide array of customization options to make your storefront unique. But Square Online Store lacks such features as it offers very little customization. 
WooCommerce alternative — Ecwid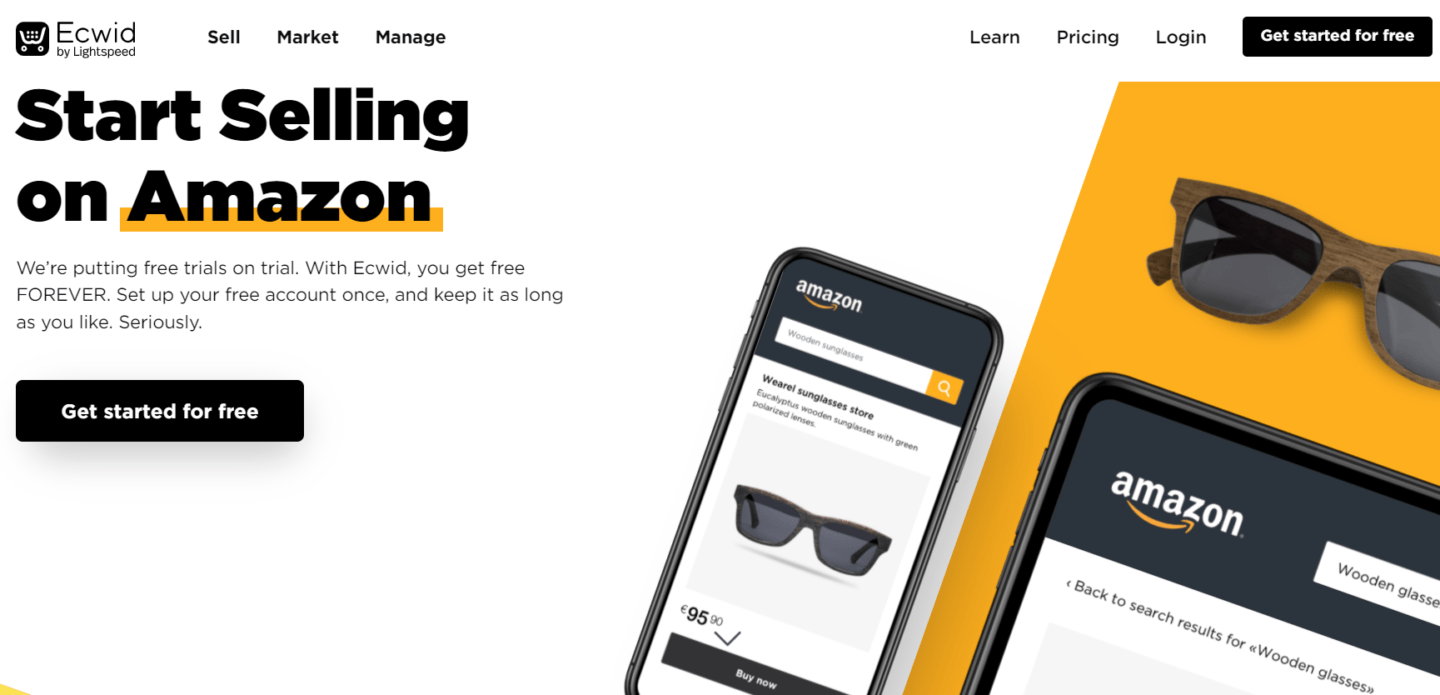 Ecwid is a top-notch SaaS product for building your ecommerce storefront. A whopping 1.6 million small businesses trust this ecommerce platform to sell their products and services online. That's why we've included it in our list of WooCommerce alternatives.
This ecommerce platform differs slightly from other WooCommerce alternatives in the sense that it allows you to create an entire website from scratch or add an online store to your existing website. This makes it more versatile than WooCommerce. 
Ecwid simplifies managing the entire business by providing a single dashboard. This consists of centralized inventory, pricing, order management, and much more. 
You can integrate any of the leading payment gateways to offer your customers secured payment options. 
Ecwid app store has a wide range of apps and extensions which can help you grow faster.
Pros: 
Ecwid is easy to use and mobile-friendly
It helps you to easily sync with and sell on Amazon, Facebook, Instagram, and more
Ecwid is a great plugin for WordPress websites 
You can promote your products more efficiently with Google and Facebook advertising
Ecwid's POS feature allows you to sell your products online as well as in stores
Your Ecwid website can be connected to 50 different payment gateways 
Smart shipment calculates the charges in real-time
Cons: 
Ecwid free plan allows you to sell only 10 products 
It requires manual setup and coding
The free pack does not offer live support
WooCommerce vs Ecwid: The differences
When you test WooCommerce vs Ecwid, they have similarities and differences. Let's take a quick look at how these two platforms are: 
WooCommerce is a WordPress plugin and is exclusive to that platform. So to leverage its functionalities, you need to have a WordPress website. That's not the case with Ecwid. It allows you to create a standalone website or you simply add an online store to your existing website. That's why it's one of the best WooCommerce alternatives. 
Ecwid offers a decent amount of ecommerce features. But larger businesses with extensive product catalogs may wish for a lot many options. WooCommerce is quite impressive in this regard, although it has some shortcomings. 
Ecwid could have gone a bit more aggressive with their customization options. Today's users wish to provide a unique shopping experience to their customers. The various WooCommerce themes and plugins can meet these particular demands, but Ecwid falls short. 
Final thoughts
There you have them, the best WooCommerce alternatives you can consider to build a unique ecommerce website for your business. 
WooCommerce is one of the best plugins for WordPress users and there are no two ways about it. It is flexible, feature-rich, and absolutely free. 
But there are some major drawbacks that push ecommerce business owners to look for WooCommerce alternatives which may better satisfy their needs. 
Furthermore, irrespective of the WooCommerce alternatives you choose, it's important to have an email platform for your ecommerce store. 
Get started with Omnisend for free right away and explore how an advanced automated email marketing tool can enhance your marketing strategies.
Get started with Omnisend today & drive sales on autopilot with pre-built automation workflows
Special thanks to our friends at
Omnisend
for their insights on this topic.