As technology evolves and the digital world expands, businesses must stay ahead of the curve. For Shopify stores, this means keeping up with the latest website design trends and using the best platforms available. That's why Shopify themes are so popular right now; they offer a great selection of responsive templates that make setting up an online store easy. 
MasterBundles is an online store that offers creators design bundles at huge discounts. At the marketplace, you can find Shopify themes for every taste.
In this article, we'll explore why Shopify themes are an excellent choice for your e-commerce store in 2023, as well as some tips and tricks you can use to get the most out of them. 
What Are Shopify Themes & Do You Need Them?
Shopify themes are pre-designed website templates that can be used to build an e-commerce store on the popular Shopify platform. They provide everything you need to get your store off the ground quickly and easily. 
Suppose you are searching for stylish designs, custom features like product reviews and social media integration, and robust search engine optimization (SEO) tools. In that case, you can just run through categories of Shopify themes https://masterbundles.com/templates/shopify/. With just a few clicks, you can set up your online store and get ready to go! 
Shopify Themes: The Main Benefits
The most significant benefit of using Shopify themes is saving you time and money. Instead of having to hire a web designer or spend hours coding your site from scratch, you must select one of the responsive Shopify pre-made templates and customize it according to your needs. This means that you can launch your store faster without breaking the bank.  
Another benefit is that these themes are designed with SEO in mind; they come with built-in SEO tools so your website will appear higher in search results for relevant keywords. This means more customers and more sales for you! 
Finally, these themes are fully responsive; this means they adjust automatically for different devices to give users an optimal experience regardless of what device they use (phone or tablet). This is especially important nowadays since people use their phones more than their computers when browsing online stores. With a wide selection of responsive themes here https://masterbundles.com/templates/shopify/responsive/, you won't have to worry about losing potential customers due to clunky design or slow loading times on mobile devices. 
Tips & Tricks for Using Shopify Themes 
When it comes to using Shopify themes for your e-commerce store, several tips & tricks can help maximize their effectiveness: 
You can take advantage of third-party plugins. 
Third-party plugins allow you to add extra features not included in the standard Shopify theme package. For example, MasterBundles offers a wide selection of plugins designed explicitly for Shopify stores so that you can easily add additional functionality like customer reviews or order tracking.  
Focus on user experience. 
Your Shopify theme should always focus on enhancing user experience first and foremost; if people don't find it easy or enjoyable to browse through your website, then there's no point in having one! Make sure your theme is clean and clutter-free with clear navigation menus so customers don't get lost while browsing through products or services offered by your business.  
Feel free to customize wherever possible! While Shopify themes provide an excellent starting point for building an e-commerce store from scratch, customizing certain elements (like colors or fonts) ensures that your website stands out from others using similar templates. It will ultimately help improve conversion rates over time as customers become more familiar with your brand identity online.  
List of Shopify Templates You Fall in Love with
Shopify templates are the best way to customize your online store. With over 1500 Shopify templates, you get a wide range of choices to create an e-commerce website that reflects your unique brand.
With all these options, deciding which template is suitable for you can take time. To make things easier, we put together this list of the best Shopify templates on the market.
Handcrafts is a responsive Shopify theme. It comes with a clean, minimalistic design and many options to customize your store. The article has been optimized for mobile devices, so customers can easily navigate your products on their smartphones and tablets. 
This theme is best suited for selling furniture, interior design, home decor, and art and crafts. It is built with a modern look and feel. The theme is fully responsive and looks great on all mobile devices. It also includes several customization options that make the music easy to use.
The theme has an attractive slider on the home page, with four different sliders. It also includes a blog section where you can add posts and pages.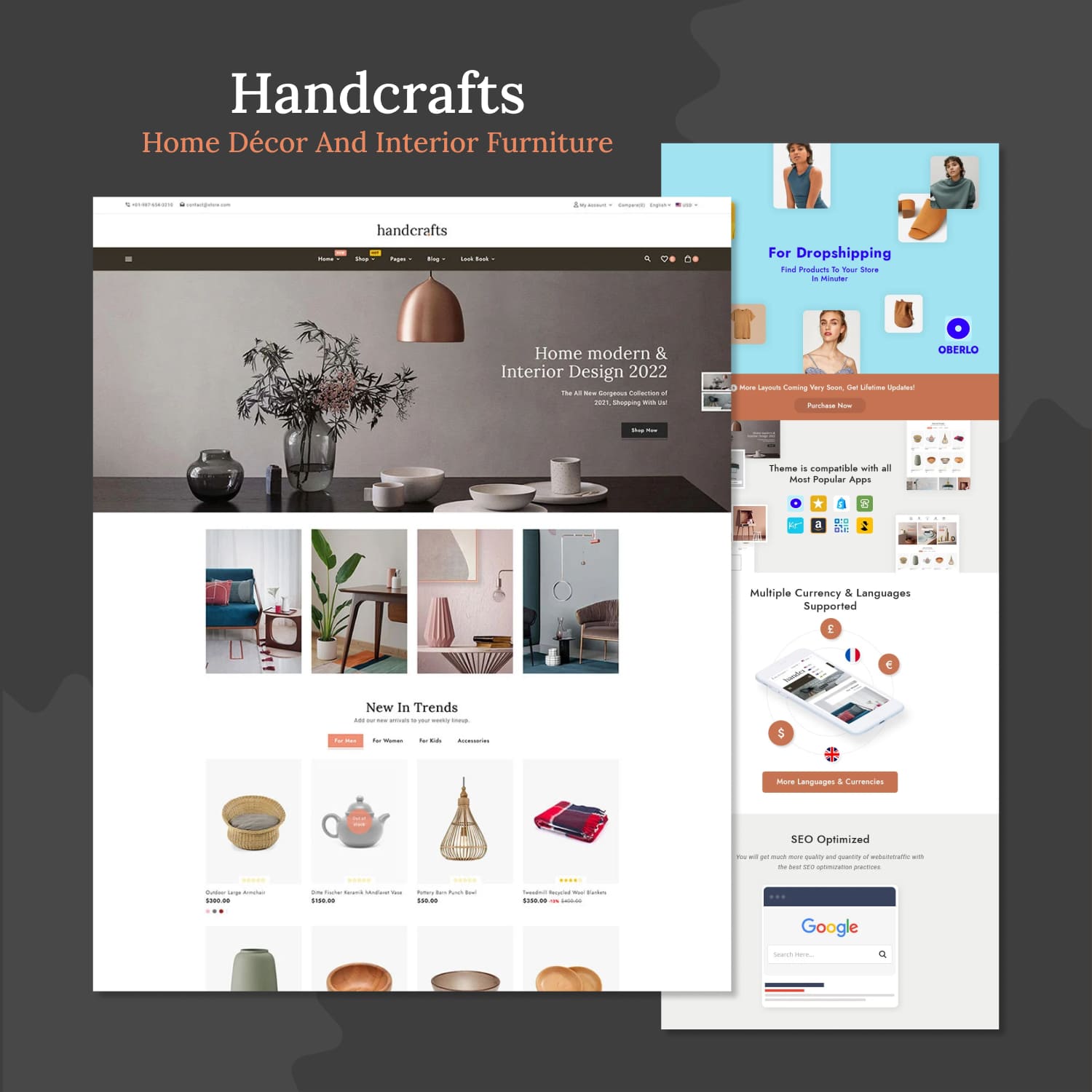 Flowsum is a beautiful and highly customizable Shopify theme with a fresh design, clean code, and tons of functionality.
The main idea behind this theme is to make it as easy as possible for you to build your flower shop website. You can easily customize the look of your store, add products and manage customer orders through the built-in features.
Flowsum is built on top of the most powerful e-commerce platform – Shopify. You don't have to worry about hosting or security, as Shopify takes care of everything! You can also use this theme for other businesses, like clothing or food stores.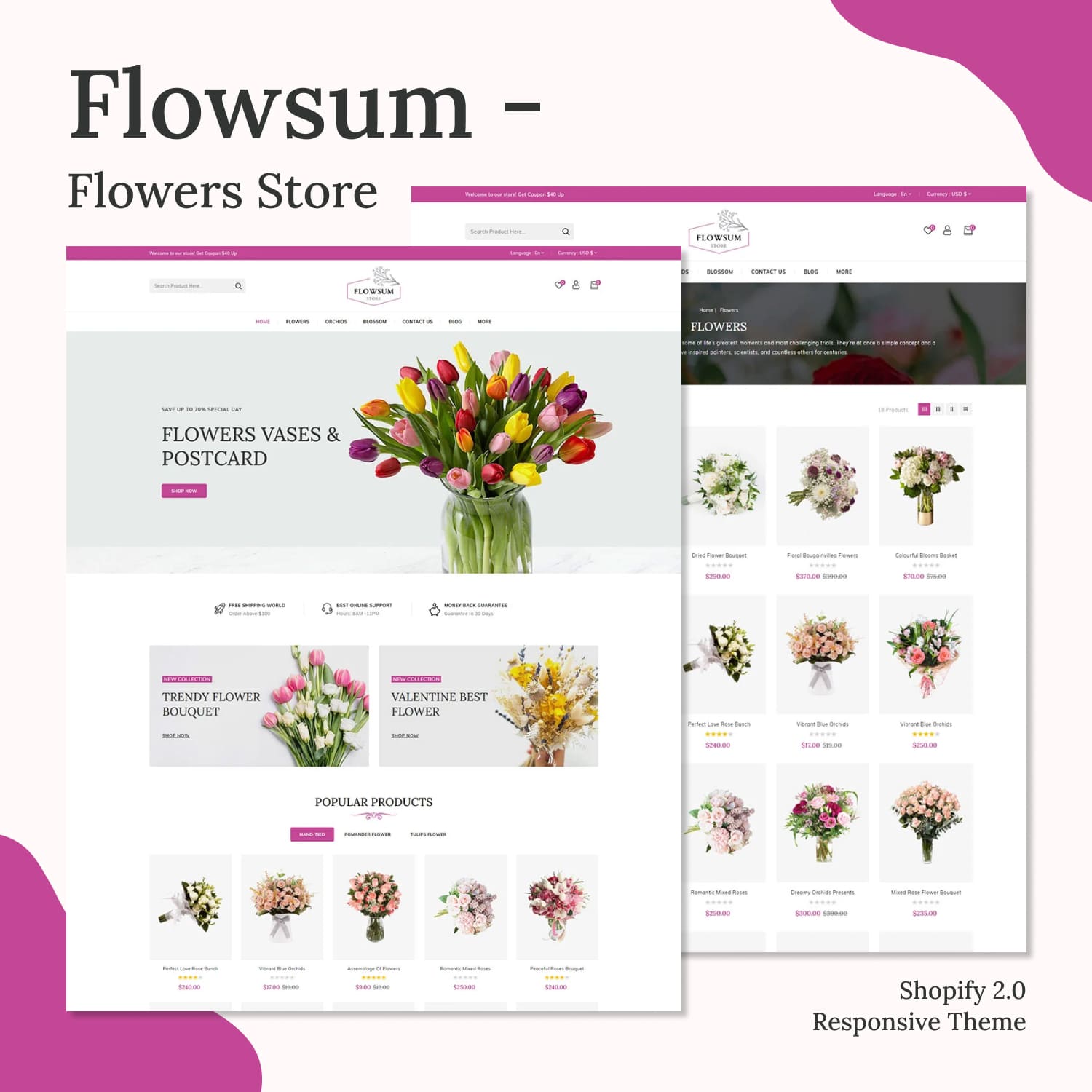 Anemone is a clean, minimal, and responsive Shopify theme. The theme uses the latest Bootstrap 4 framework, which is fully responsive and compatible with any device. In addition to that, Anemone has a clean and professional look that will make your eCommerce store stand out from the crowd.
Anemone is designed for fashion, clothing, electronics, cosmetics, and other retail stores, but it can also be used for building a landing page for your business website.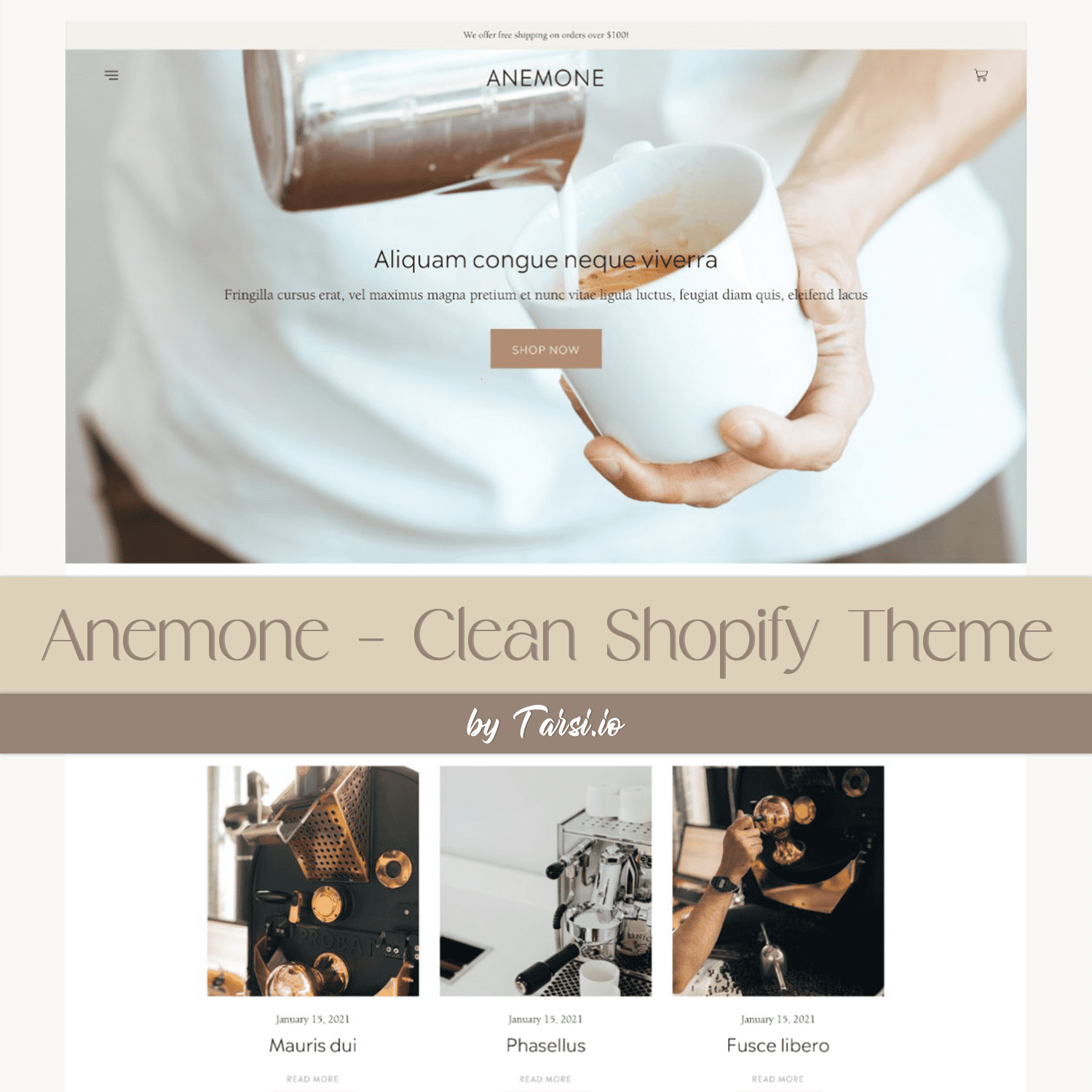 Coffee is an excellent food and coffee e-commerce theme designed for Coffee shops, bakeries, restaurants, and any food-related business. The article has an elegant design with a clean and minimalistic look. It is fully responsive and retina ready to look sharp on all devices.
The theme comes with multiple homepage layouts to fit your needs. You can even use the built-in Visual Composer to create unlimited designs. Using their fantastic back-end panel, you can use the powerful Redux Framework by StudioPress to create your custom layout or add more features to this theme.
We have put a lot of effort into making this theme easy to customize so you can create any look you want without having any coding skills! Just choose from a wide range of options in the back-end panel and build your website exactly how you want it!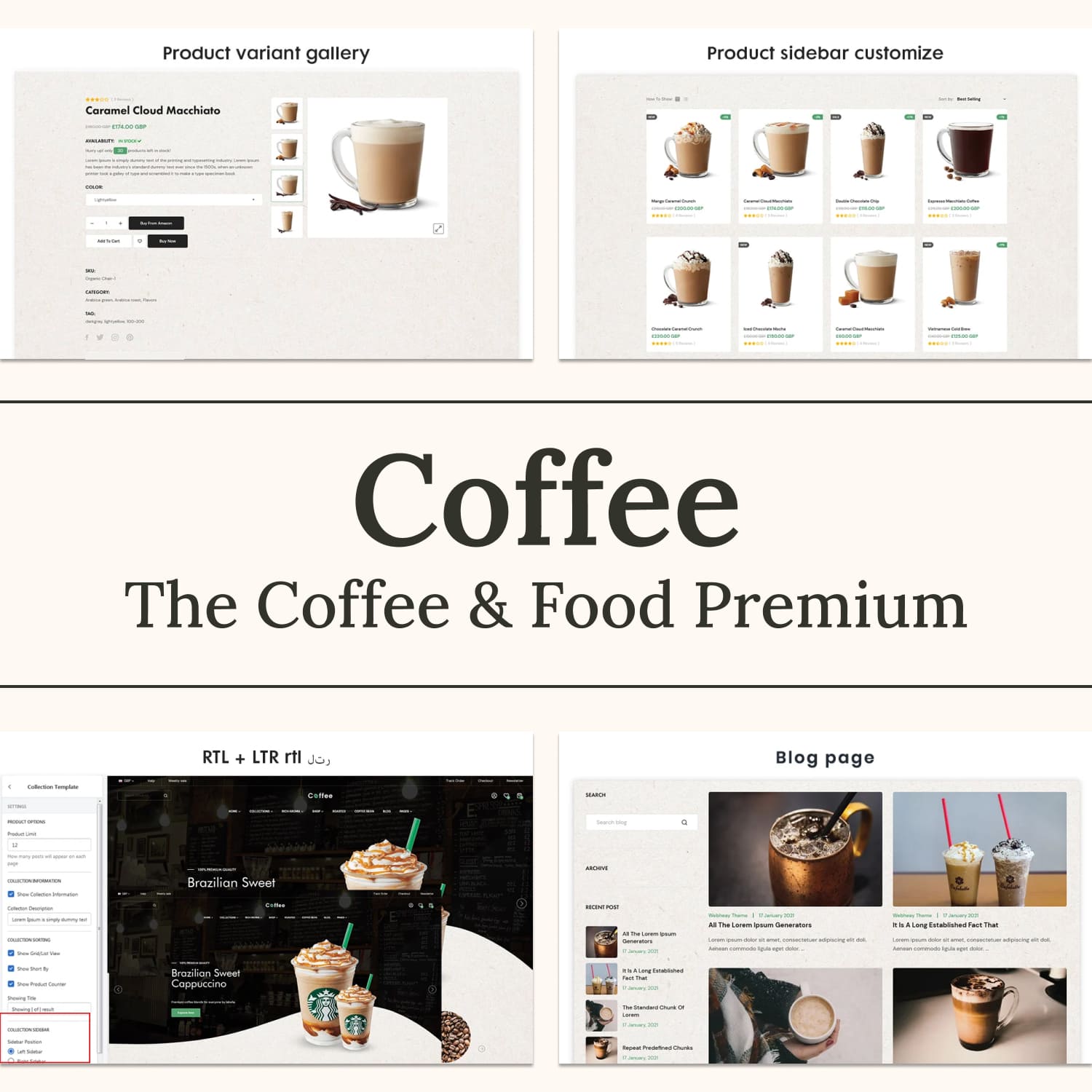 Whimsy is a clean, modern, minimalist Shopify theme that will help your brand stand out. It has a beautiful homepage layout featuring your latest products and a blog section on the right side, which you can use to share your best content with potential customers.
Whimsy is designed to be fully responsive, so it looks great on any device. Your products are shown off in a grid layout, making it easy for visitors to browse them. You can also add social buttons to your product pages for increased engagement with your audience.
This theme comes with unlimited colors and page templates so you can create unique layouts for each page on your store.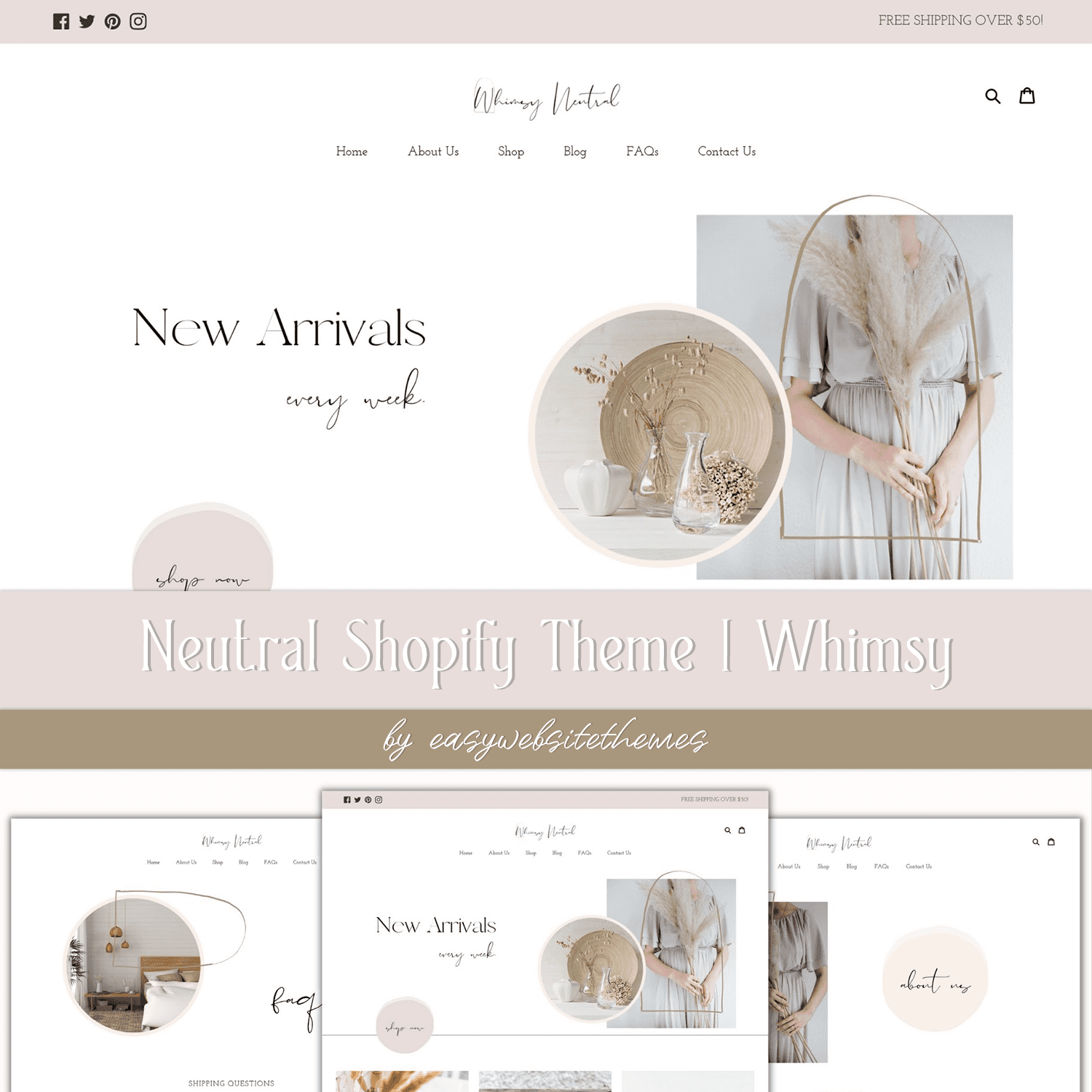 Earthy is a boho organic theme for Shopify stores. It's perfect for fashion and lifestyle brands but can also be used for other categories like jewelry, bags, home decor, or food products.
The theme includes beautiful product images and a clean design to showcase your products. You can highlight the best features of your products with the extensive product images featured on the homepage. The theme also has a few call-to-action buttons at the bottom of the homepage so visitors can easily find what they're looking for.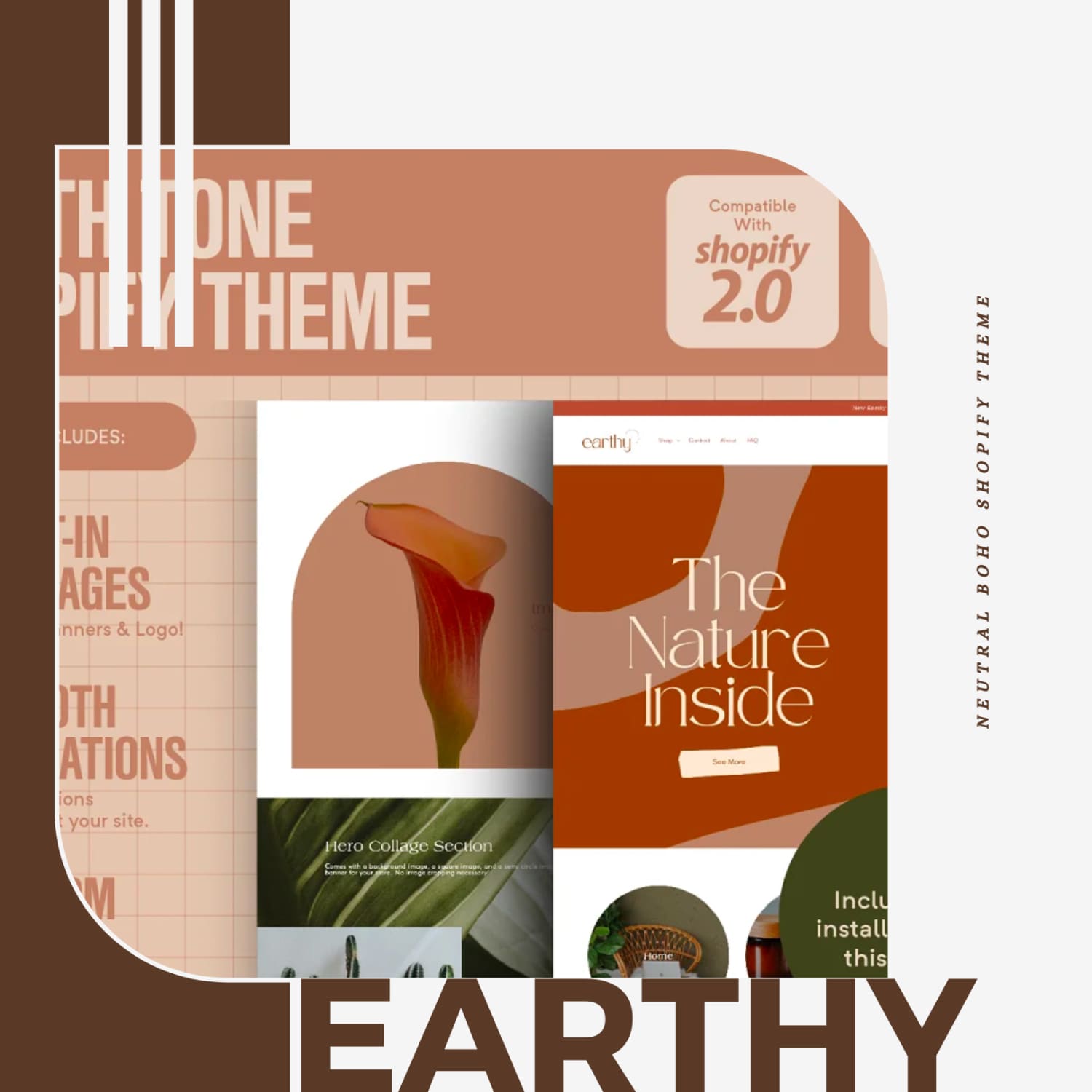 Conclusion 
Shopify themes offer an easy way for businesses to set up their e-commerce stores without breaking the bank in hiring web designers or spending hours coding from scratch! By taking advantage of third-party plugins like MasterBundles, focusing on user experience design principles when customizing each template, businesses can ensure their websites stand out amongst competitors while still providing customers an enjoyable shopping experience! 
So if you're looking for ways to improve existing Shopify templates – give these tips & tricks a try today – they make all the difference between success and failure when launching the next big thing!