Let's dive into everything you need to know about Threads.
What Is Threads?
According to the description in the App Store, "Threads is where communities come together to discuss everything from the topics you care about today to what'll be trending tomorrow".
Threads is a text-based conversation app from Meta (parent company of Facebook and Instagram), focused primarily on long-form written content. Unlike Twitter's 280-character limit, however, this new app lets users create 500-character-long threads. But what is a thread? In simple terms, a thread refers to a string of linked messages that tell a longer-form story. A thread begins with an initial message followed by a series of replies or comments.
At a glance, the Threads app experience is very similar to that of Twitter. Both offer a primarily text-based feed of posts allowing users to track what's happening in the world in real-time, start conversations, and engage with the community.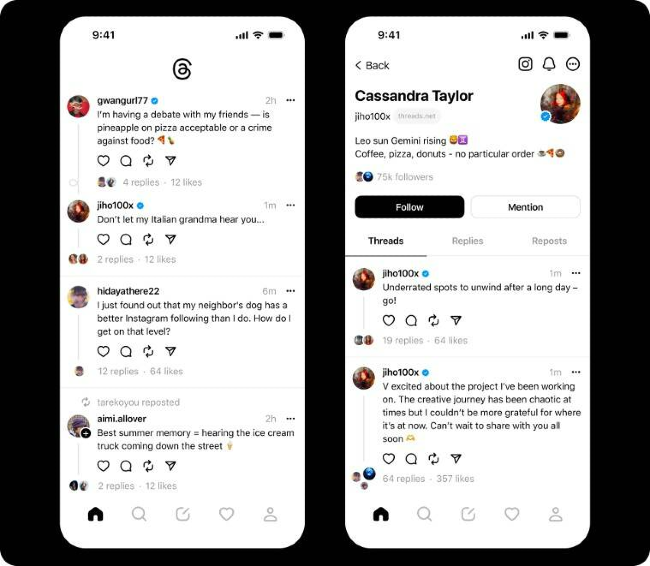 How Does Threads Work?
Threads is simple to use, and setting up an account is easier than ever thanks to its integration with Instagram. Here's a quick guide to help you get started.
Logging in: Log in to Threads with your Instagram account. Threads is linked to your existing Instagram account, so unlike other apps, you don't need to sign up from scratch. Just click on your username at the bottom of the welcome screen. Your Instagram username and verification will carry over to Threads, and you can customize your profile. For users under 16 (or under 18 in certain countries), profiles will default to private when they join Threads.
Posting: You can post updates up to 500 characters long (significantly higher than the 280 characters offered by Twitter). Threads offers the option to include links, photos, and videos up to five minutes long. Easily share Threads posts to your Instagram story or as a link on other social platforms.
Interactions: You can reply, repost, or quote posts from other people, just the same as rival social apps.
Moderation: The app has several moderation tools, including controls on who can mention or reply to you within the app.
Privacy: You can choose between Public and Private profiles while setting up the app. A public profile means that anyone can see, share and interact with your content. And that's regardless of whether they are on the Threads app. A private profile restricts your content to only your approved followers.
How Influencers Can Leverage Threads
Threads offers a more intimate and exclusive environment for influencers to connect with their core audiences and increase their exposure. The app allows you to create a dedicated thread for close followers, providing a space for more personalized interactions, making it a great platform on which you can share exclusive content, behind-the-scenes footage, and sneak peeks, fostering a sense of exclusivity and building stronger relationships with followers.
"I think it's a great time to get on [Threads] and connect with people on a very casual level. As a platform matures and people's habits and connections get established, it becomes harder to get their attention."
– Lia Haberman, Social and Influencer Marketing at UCLAx
Let's look at a few other ways influencers can put Threads to good use:
Real-time updates
Threads' status feature enables influencers to share real-time updates, such as their location, activities, or upcoming events. This creates a sense of immediacy and authenticity, allowing followers to feel more connected to the influencer's daily life.
As an influencer, you can leverage this feature to provide exclusive access to events, product launches, or collaborations. Thus making your followers feel like they are part of an inner circle.
Thought leadership
Threads app provides influencers with a powerful platform to establish thought leadership and engage with their audiences in a more intimate and focused way. Influencers can create dedicated threads around specific topics related to their niche, thus deepening their subject matter specialization.
If you're a finance influencer, for instance, by consistently sharing valuable insights, tips, and expertise on finance-related topics, you can position yourself as an authority in the space and attract an engaged audience seeking your expertise.
Storytelling
Threads' auto status feature provides real-time updates on an influencer's activity or location. This can be useful for influencers to share in-the-moment experiences and create a sense of immediacy and authenticity in their storytelling.
Attending a wedding and want to show off your outfit as a fashion influencer? How about as a travel influencer – want to give your followers an airport tour while you wait for your flight? Want to give your audience a sneak peek at a secret project you're working on? By telling stories in real-time on Threads, you can make your audience feel more connected to your everyday life.
Collaborations
Threads can be used to collaborate with other influencers who resonate with the brand or influencer's values and aesthetic. This can help increase exposure and drive traffic to the main Instagram profile.
Threads also allows influencers to co-host live videos with other influencers. This feature enables users to engage in real-time conversations, conduct joint interviews, or create collaborative content that showcases their expertise and unique perspectives.
When influencers collaborate on projects or create content together, they can tag and mention each other in their Threads posts. This not only acknowledges their partnership but also encourages their followers to discover and engage with the other influencer's content.
Influencers can initiate and moderate group conversations within Threads. Allowing them to facilitate meaningful interactions among their followers and positioning themselves as facilitators of insightful discussions.
Another great way to cultivate a sense of community and foster a deeper connection is by providing your followers with exclusive access to premium content, such as Q&A sessions, live tutorials, or behind-the-scenes footage.
More Collabs. More Money. Awesome Life.
Get on the best Influencer Marketing list for actionable advice every couple of weeks.
Long-form content sharing
Threads allows influencers to create exclusive groups specifically for their most dedicated followers. By curating a community of highly engaged individuals, you can share long-form content with a more receptive audience. This exclusivity fosters a sense of loyalty and intimacy, enabling you to delve into more detailed narratives, personal anecdotes, or educational content without being constrained by the broader public's expectations or short-form character limits.
Threads provides influencers with a seamless and interactive platform for sharing rich media content as well. Influencers can use Threads to post long-form written content with multiple images, videos, or links, enhancing the overall storytelling experience. Using the app's intuitive interface, you can present your content in a way that's aesthetically pleasing and engaging to capture your audience's attention and keep them invested in the narrative.
Images & context
Images can be a great conversation starter. As an influencer, you can share photos that evoke emotions or prompt discussions among your audience. Threads also allows you to provide additional context or a description for an image, by adding a caption. Simply tap on the text input field below the image and type in your desired caption.
Amplifying engagement
Influencers can leverage Threads' features such as stories, photos, and video messages to enhance engagement. By creating compelling and interactive content, they can captivate their audience, encourage participation, and strengthen their position as thought leaders.
Instagram has a large, active user base, with over one billion monthly active users. This massive reach, combined with the integration of Threads within the Instagram ecosystem, can potentially allow influencers to tap into their existing Instagram followers and drive higher engagement levels compared to starting from scratch on a new platform.
Gathering audience insights 
Threads offers features like Quick Reactions and Auto Status, which allow followers to share their thoughts and feelings quickly. This gives influencers instant feedback and helps them better understand their audience's preferences and interests. By leveraging this data, influencers can tailor their content strategy and deliver more relevant and engaging content to their followers.
Influencers Seeing Success With Threads
Threads has taken the influencer world by storm. Providing a fresh and exciting way for influencers to connect with their audience on a more intimate level. Here's a quick glimpse at how influencers are utilizing the Threads app to establish themselves as industry leaders.
Amanda Goetz is a three-time founder & CEO, brand-builder, creator, and single mom of three. She is currently working on Life's a Game, an anti-hustle newsletter, and formerly founded the CBD brand House of Wise. Like many app users, Goetz is curious to watch how Threads evolves and who its power users will be.
With Musk's recent moves to push users toward the paid version of Twitter and the overhaul of Twitter usage policies leaving many users dissatisfied with the app experience, Threads seems to have picked up on the opportunity to oust its rival and win over disgruntled Twitter users.
Goetz' shared her initial observations about Threads in a recent tweet, where she said "I logged into threads this morning, and the first four posts were Paris Hilton saying hi, two people I know posting their night out last night, a meme account, a thread about building wealth. Meta's social graph + Twitter features = FB status updates?"
On Threads, Goetz uses this platform to talk about topics adjacent to her newsletter content. She advocates for slowing down, urging parents to be kind to themselves. And has been using the platform to share her thoughts on self-improvement and personal development.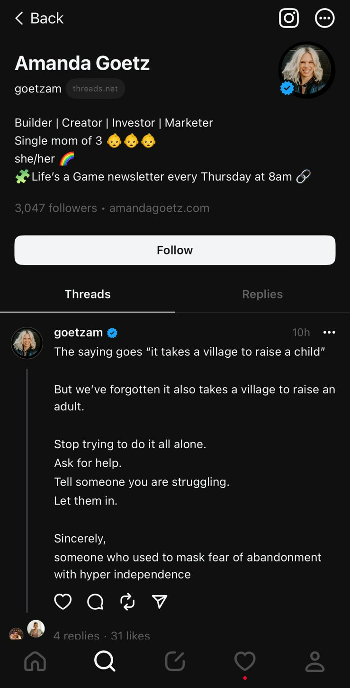 Bobby Kim is the co-founder of the streetwear brand The Hundreds, the NFT project Adam Bomb Squad, as well as the bestselling author of, This Is Not a T-shirt. He's one of the early adopters of the social media app and has already built a following of 27,000+ on Threads.
Does the popularity of Threads signal the beginning of the end for Twitter? Influencers like Bobby Kim seem to feel so, taking a dig at Musk's social platform in a recent Threads post:
"Whenever I drop by Twitter, feels like visiting a school I graduated from."
In his substack newsletter, Kim also expressed what he likes about Threads:
"Anecdotally, I find myself reaching for Threads above any other social app. Although I have the least amount of followers there (1/6 of Twitter and 1/15 of IG), I'm much happier with my connection. My engagement isn't necessarily higher on Threads, but I'm enjoying a healthier rapport with followers, old and new. It's also nice to resume a dialogue with names I haven't seen in some time due to algorithmic walls and social noise."
So far, Kim is focusing on Threads, using it to promote his work, such as his new Peso Pluma merch design and the upcoming food and fashion festival, as well as reposting fan love.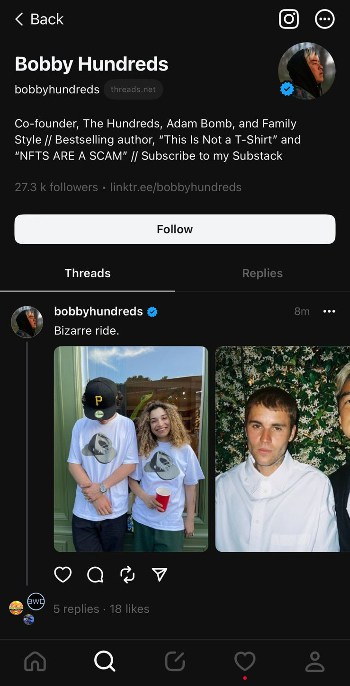 The YouTuber and boxer is the Founder of the hydration drink Prime and CEO of Misfits Boxing. He posted his first Thread, claiming to feel like he's "cheating on Twitter" and has already amassed over 70,000+ followers on the platform. If his Twitter record is anything to go by, he should bring a lot of comic relief to the timeline and will be an excellent source of information for upcoming boxing events.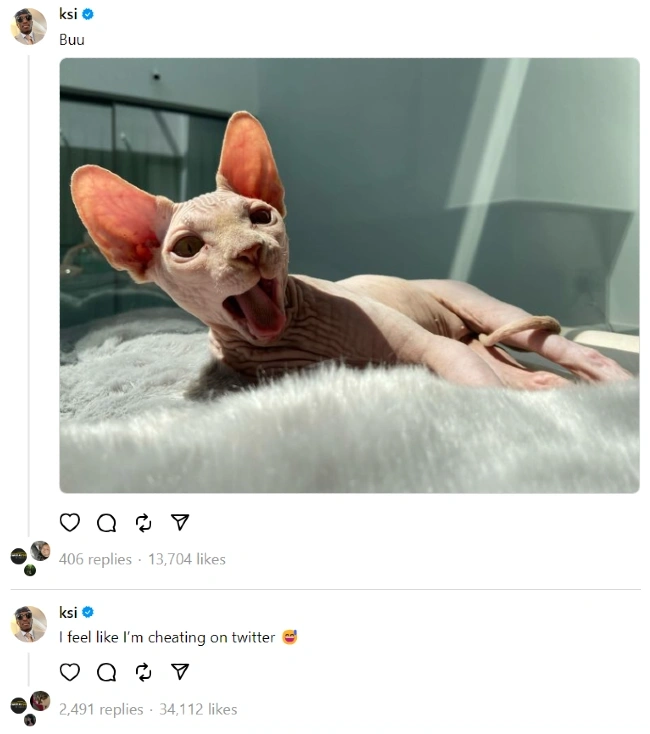 5 Things Influencers Will Love About Threads
1. Migrate your followers easily
The Threads badge (displayed below), which appears at the top of your Instagram profile, is a convenient way of letting your Instagram followers know that you're on Threads. Most followers choose to follow their favorite influencers and celebrities across social platforms, so they'll likely want to hop on over to Threads and follow you there. The experience of transitioning your followers from one social app to the other is seamless, a unique advantage made possible by its link to Instagram.
If at any point you want to remove the Threads badge from your Instagram profile, navigate to your profile, click the badge, then select Hide badge.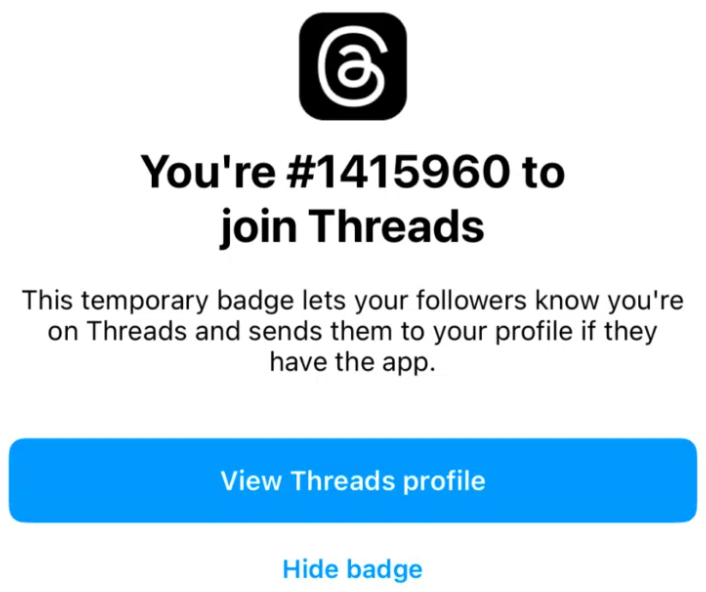 2. Follow the same accounts as Instagram
Threads allows you to automatically follow the same accounts you currently follow on Instagram, taking away the hassle of finding people you want to follow on another social media app and finding and adding new accounts to follow from within the Threads app. Your feed is a mix of posts from people you follow and recommended content.
3. Compatible with Interoperable Networks
Instagram has plans to make Threads compatible with ActivityPub, the open social networking protocol established by World Wide Web Consortium (W3C), the body responsible for the open standards powering the modern web. This would make Threads interoperable with other apps supporting the ActivityPub protocol, such as Mastodon and WordPress – allowing new connections that are impossible on most social apps today. Other platforms, including Tumblr, have shared plans to support the ActivityPub protocol in the future.
4. Less volatile than Twitter
Twitter has recently instituted restrictions and paywalls to access highly sought-after features. The relatively lower volatility on Threads could nudge brands and influencers towards Threads as an alternative to Twitter.
5. Security
Threads has privacy settings to control who can interact with you and the option to filter out certain words from your replies. Any accounts you've blocked on Instagram are automatically blocked on Threads too, and you can unfollow, restrict, or block accounts from directly within Threads.
Since the app is integrated with Instagram, Threads enforces Instagram's Community Guidelines on content and interactions. This can help brands and creators feel safer and more confident in their online presence and reduce harassment.
Unraveling The Power Of Threads
The Threads app by Instagram holds remarkable power within its simple interface. For influencers, the app can play a significant role in enhancing their personal brand and connecting with their audience on a deeper level. It empowers influencers to connect and share their lives with a select circle of close followers.
With intuitive features like Auto Status, you can effortlessly update your availability and activities, fostering a sense of real-time connection. Features like seamless photo and video sharing allow you to share intimate moments instantly, while its interactive camera allows you to capture and embellish content creatively (a pro for any content creator).
Are you an influencer looking for the ideal collaborations for your niche? On Afluencer, you can join thousands of influencers in showing off your influence to brands. You can also search for collaborations by interests, requirements, channels, and more.
This originally appeared on
afluencer
and is available here for wider discovery.