Every good loyalty program incentivizes one-time customers to return for a repeat purchase. But great loyalty programs give customers an experience they won't forget. One way to accomplish this level of retention marketing is by creating a unique loyalty program that stands out from the crowd.
There are three common types of loyalty programs—points programs, tiered VIP programs, and referral programs. But you can add innovative elements to each of these to make your rewards program different.
Before we get into that, let's review the basic structure of each loyalty program type:
Points Programs — brands set earning and redemption rules to give customers points that they can use for rewards over time.
VIP programs — brands can build on a basic points program by adding requirements customers must meet to move into new tiers. Each new tier or level offers increasingly attractive rewards.
Referral programs — these are based on the reciprocity principle, where brands offer a reward for both existing and new customers when someone shares the store with their network through a custom referral link.
All loyalty program types are effective when you pick the correct type and put the work in. You can't simply set it and forget it. Along with marketing your loyalty program, there are several things you can do to add excitement to the customer loyalty experience from custom earning actions to time-based bonus points events.
Let's take a look at loyalty strategies and brands that are leveraging retention marketing in innovative ways with some of the most unique loyalty programs.
Effective omnichannel loyalty strategies
With today's interconnected ecosystem, it's important to deliver a seamless, united customer experience across channels. We've talked about how this applies to omnichannel marketing and omnichannel commerce, but it also applies to your loyalty program!
That's right, if customers are shopping from you on different platforms, it's a good idea to deliver a consistent loyalty experience across each of those platforms. Take some inspiration from two brands that are effectively connecting their online and IRL loyalty programs.

Solo Stove lets customers scan QR codes to collect points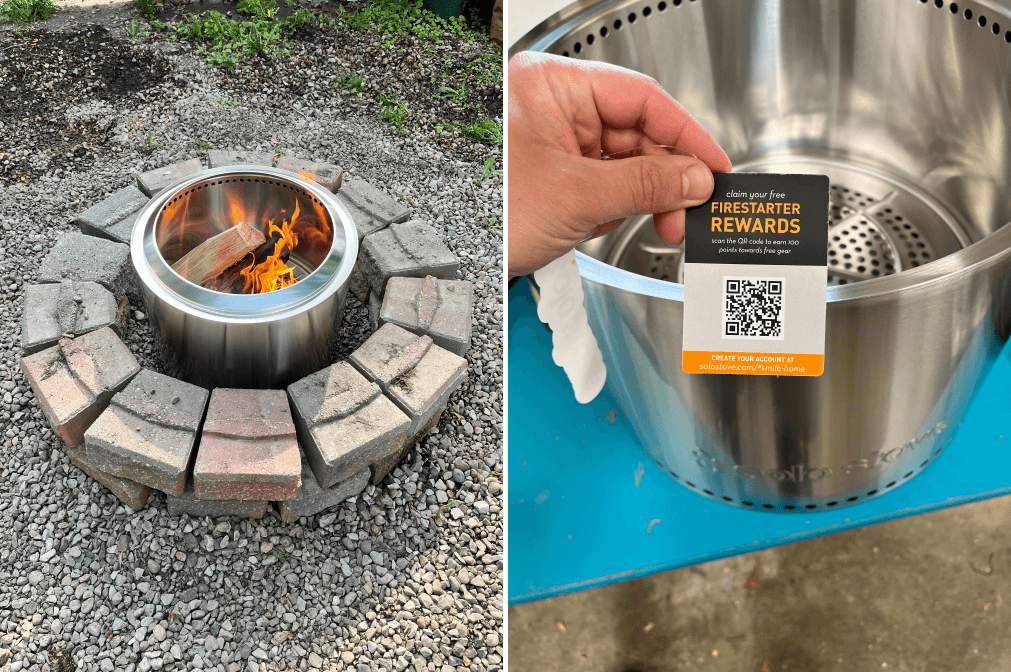 The outdoors brand, Solo Stove, was made popular by its portable stainless steel wood-burning stoves and fire pits designed for any adventure. Solo Stove offers a loyalty program as unique as its products, Firestarter Rewards. With a points, VIP, and referral program, customers have several opportunities to get the most out of their shopping experience.
While a loyalty program is a great way to encourage customers to purchase in the first place with things like sign-up bonuses, some customers don't realize you offer a program until after they make their first purchase. Rather than frustrating these customers by telling them they've missed out on some points, it's a good idea to offer them points retroactively.
Solo Stove seamlessly bridges the gap between its ecommerce and in-person product experiences by allowing customers to earn points after their purchase. When customers receive their order, they'll notice a tag on their product including a QR code that they can scan to earn 100 points instantly. While this may not be as many points as they could have earned had they signed up before the purchase, it's better than nothing.
This omnichannel loyalty program strategy extends the opportunity to get customers to join your loyalty program from beyond the checkout page to their backyard.
Liquid Death retroactively offers points from retailer receipt uploads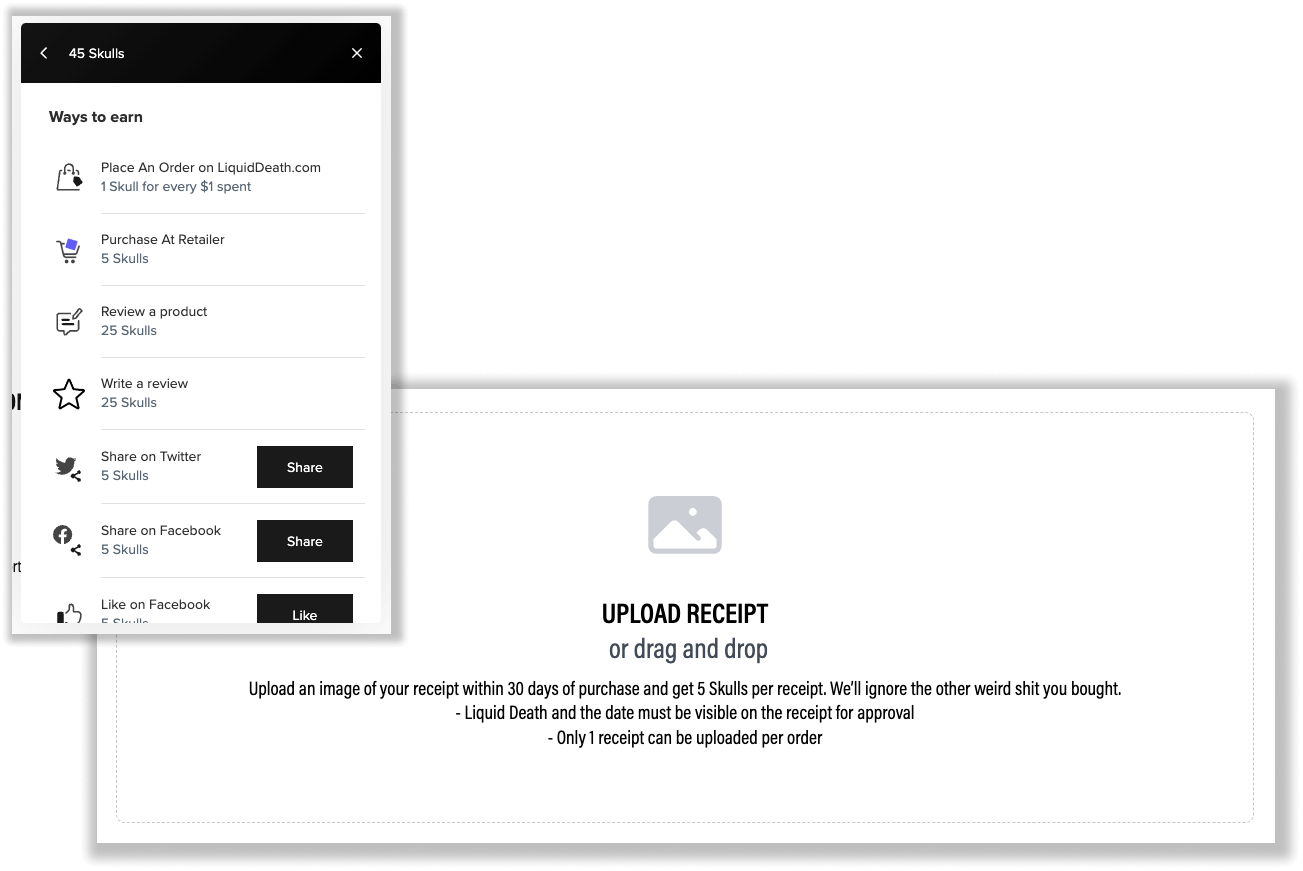 As brands grow, it's natural for them to take advantage of multiple sales channels. For some, that may be an ecommerce store and an in-person or pop-up shop. But for other brands, that may involve third-party retailers, both in-person and online. While it's most profitable for a customer to shop from you directly, those that shop from a third-party retailer are still supporting your brand and still deserve to be greeted with a great customer experience.
Leveraging a unique loyalty program across multiple channels is beneficial for brands that are using omnichannel commerce. Liquid Death, a canned water company, allows customers to earn points on their purchases made from other retailers through a receipt upload portal on its website.
Through this unique loyalty program configuration, customers can still enjoy the rewards program's perks even if they buy their products from a third-party retailer. Liquid Death strategically offers a lower amount of points for retail purchases than native purchases (5 points per receipt compared to 1 point per dollar spent). This way, their most loyal customers can make bulk orders online but still get rewarded if they happen to pick up a can or two at their local supermarket.
Custom points earning actions and campaigns
With points and VIP programs, there are several common ways to earn points—sign-up bonuses, making a purchase, interacting on social media, celebrating a birthday, and so on. These are all great and serve a purpose, but sometimes the most exciting parts of a loyalty program are the custom ways to earn points that are unique to that brand.
Similarly, consider adding even more enticement to your program with unique loyalty program campaigns like bonus points campaigns or referral competitions. Let's take a look at a few brands that spiced up their rewards programs in creative ways.
BJJ Fanatics rewards customers for watching videos and joining sessions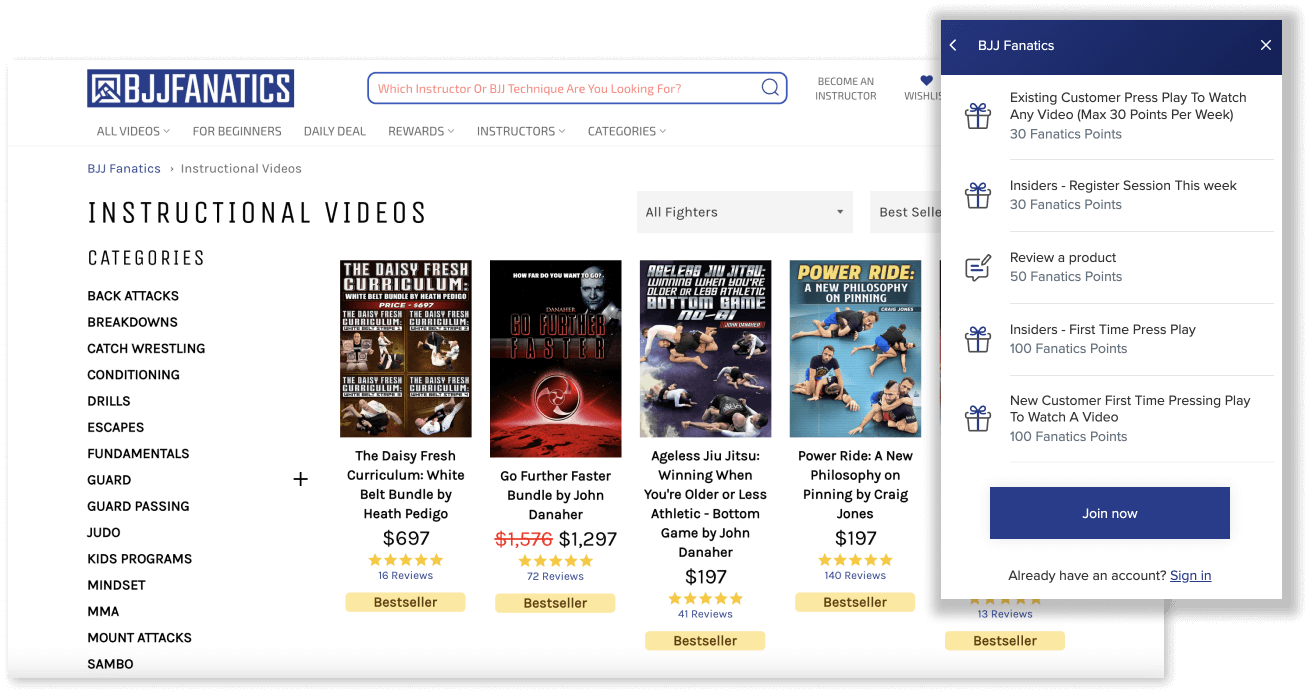 BJJ Fanatics is an online Brazilian Jiu-Jitsu (BJJ) shop for online students who don't look at Jiu-Jitsu as a sport but as a lifestyle. Founded by 2 black belts, this brand offers both a unique business model and an innovative loyalty program.
At first glance, learning something like Brazilian Jiu-Jitsu online may spark skepticism. However, offering reward points for watching a video on the blog gets customers to take that crucial first step, and then offering more points for signing up for a session locks them in. This is a great way to incentivize your value-added content to get customers even more engaged in your brand community.
BJJ Fanatics offers an extremely unique loyalty program with custom earning actions. There are different options for new customers and Insider Club members, who are part of the subscription program. This allows customers to watch videos and test out the brand before committing to the subscription, all while earning points. Then once a customer decides to subscribe to the Insiders Club, they are rewarded again for the first videos they watch and sessions they sign up for as club members. Talk about a win-win!
Outtire offers unique, custom-earning actions for brand advocates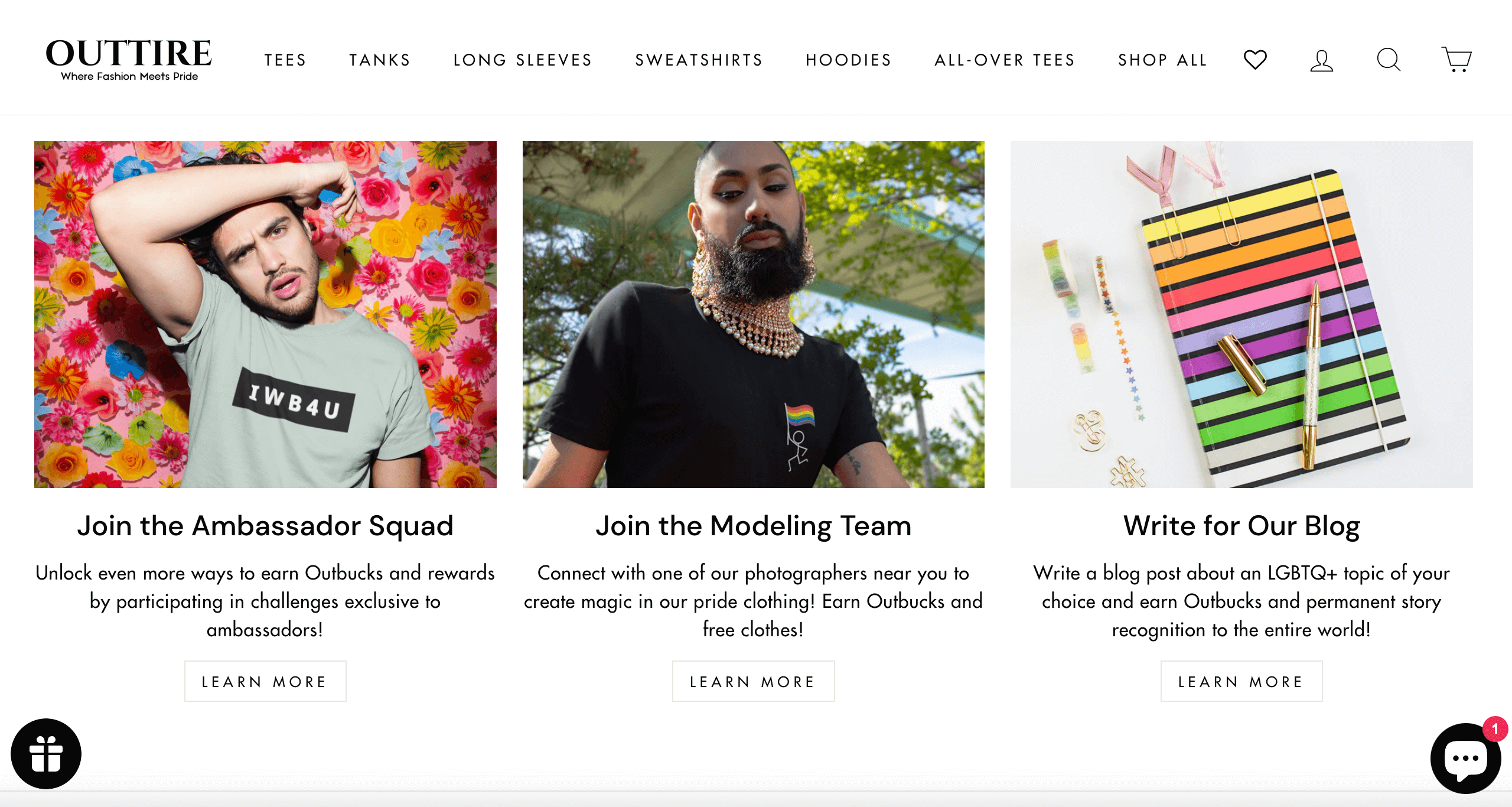 Outtire is a proud clothing brand designed by and for LGBTQIA+ members and allies. By nature, this brand is already a participant in a thriving community. But Outtire takes community building a step further by creating its own brand community within the LGBTQIA+ community. And Outtire has accomplished a lot of this by leveraging its unique loyalty program and custom earning actions.
It offers Outbucks for regular activities like making purchases, connecting on social media, celebrating a birthday, or leaving a review. But for those brand advocates, it offers 3 unique ways to earn points. Customers can join the Ambassador Squad, the Modeling Team, or write for the brand's blog to earn Outbucks towards their next purchase.
One of the best ways to fall in love with a brand is to become a part of it. All of these options are mutually beneficial for the brand and customers and give customers a reason to become even more emotionally invested in Outtire. When you're a solopreneur or a resource-strapped team, using innovative rewards strategies like this is both exciting and smart.
Tubby Todd ran an exciting referral competition campaign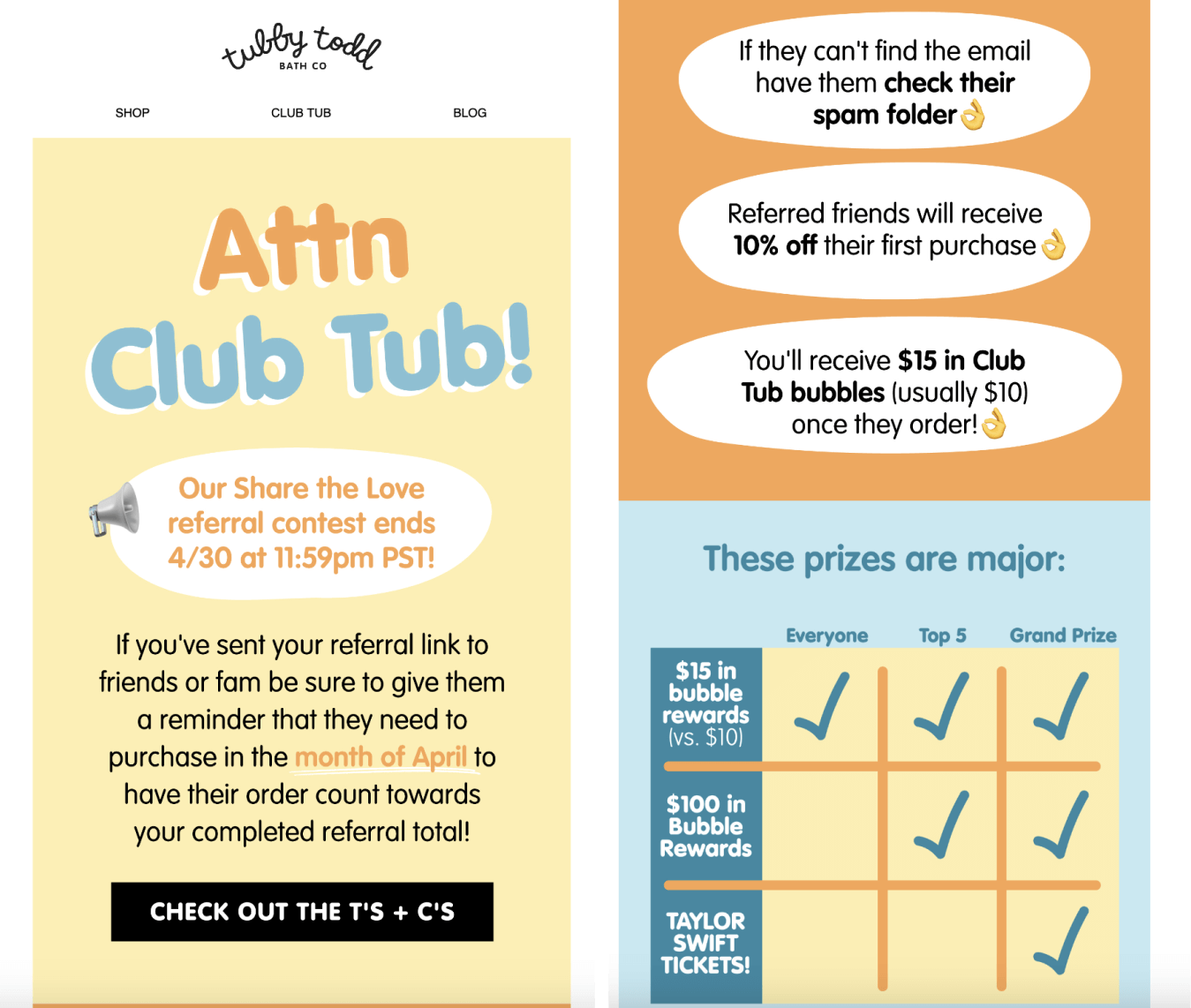 Referral programs are motivating on their own—after all you are earning a reward just for sharing an awesome brand with someone you know. But Tubby Todd, a baby and mama bath product brand, sweetened the deal even more by offering a pretty exciting prize for its referral competition—Taylor Swift concert tickets.
For any Swifties out there, you know how difficult it was to secure tickets for the iconic Eras tour. By offering such a coveted and rare opportunity, Tubby Todd excited its existing audience and attracted newcomers to the brand. Running event-based marketing campaigns like this is a great way to compensate for slower sales periods and create a sense of urgency. You don't have to be a marketing or retention genius to know one thing—mobilizing the Swifties is always a good business move.
To celebrate the campaign, Tubby Todd hosted an Instagram live where they announced and chatted with the winner, hosted giveaways for Tubby Todd gift cards and discussed its referral program with its community. A unique loyalty program campaign called for a celebration that was just as unique and Tubby Todd nailed it with this community-building social media meet-up.
Increase retention with a one-of-a-kind customer experience
While a unique loyalty program is one way to wow your customers, it's not the only way. Retention marketing involves so much more than points, VIP, and referral programs. It takes customer experience, community building, value-added content, and so much more into account.
Sometimes the most innovative loyalty marketing doesn't necessarily involve a loyalty program at all. Let's take a look at two examples of brands that fostered customer loyalty through unforgettable customer experiences.

ADAE Jewelry names its products after loyal customers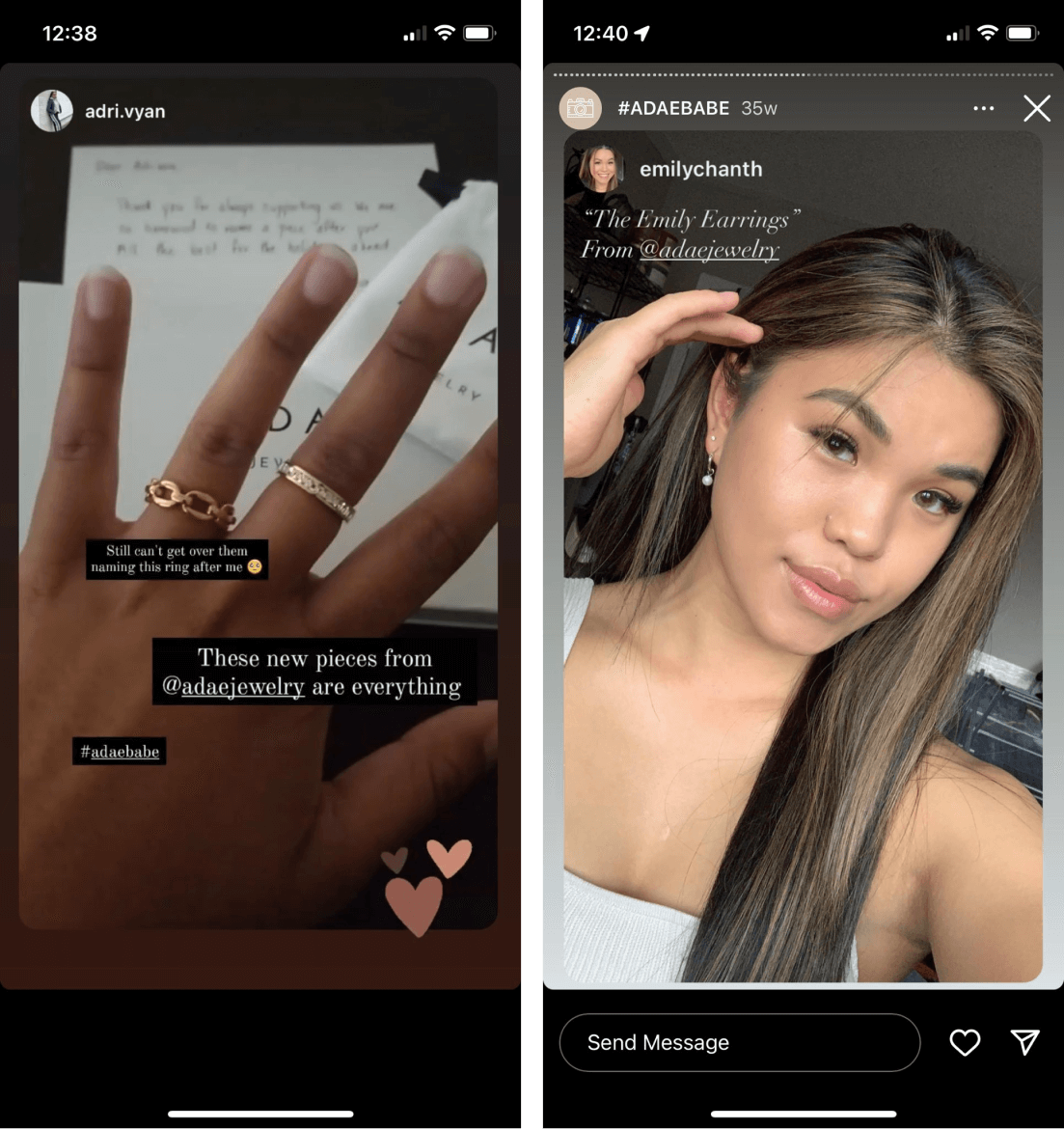 ADAE Jewelry is an online jewelry brand that offers an extremely unique customer incentive, without a loyalty program. ADAE surprises its most loyal customers by naming new pieces after them. Not only is this a nice way to say thank you to your customers, it's a great way to build an emotional connection because if there is one thing that all people strongly associate with their own identity, it's their name.
Having a piece named after you also encourages you to share the product and brand with your friends and family. Once you're tied to a brand in a tangible way like this, it creates a strong switching barrier to prevent you from going to a competitor. This retention marketing strategy allows ADAE to keep its most loyal customers around in such a competitive, saturated industry by creating an emotional tie.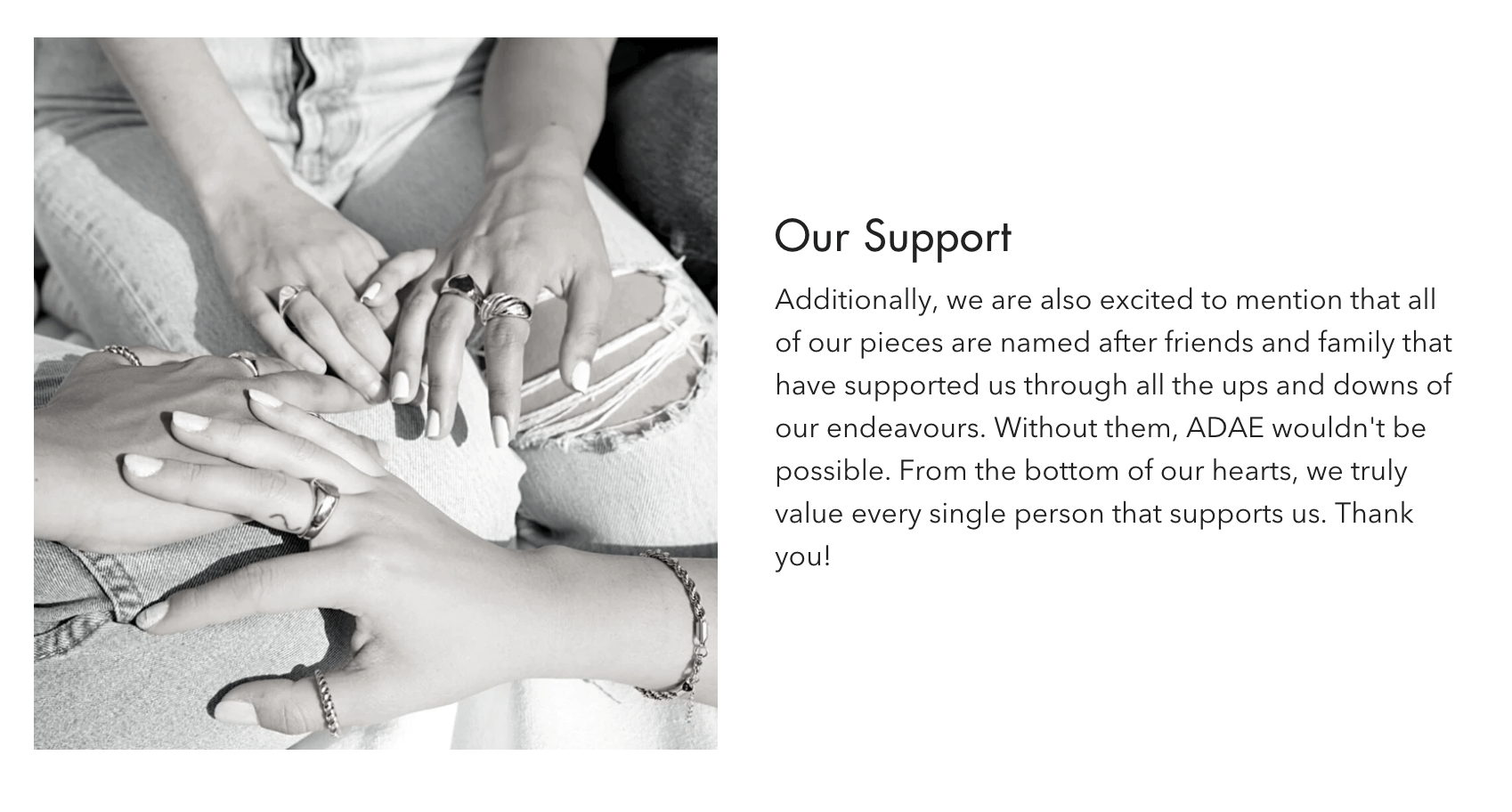 Tumbleweed has a "Happiness Guarantee" and top-notch customer service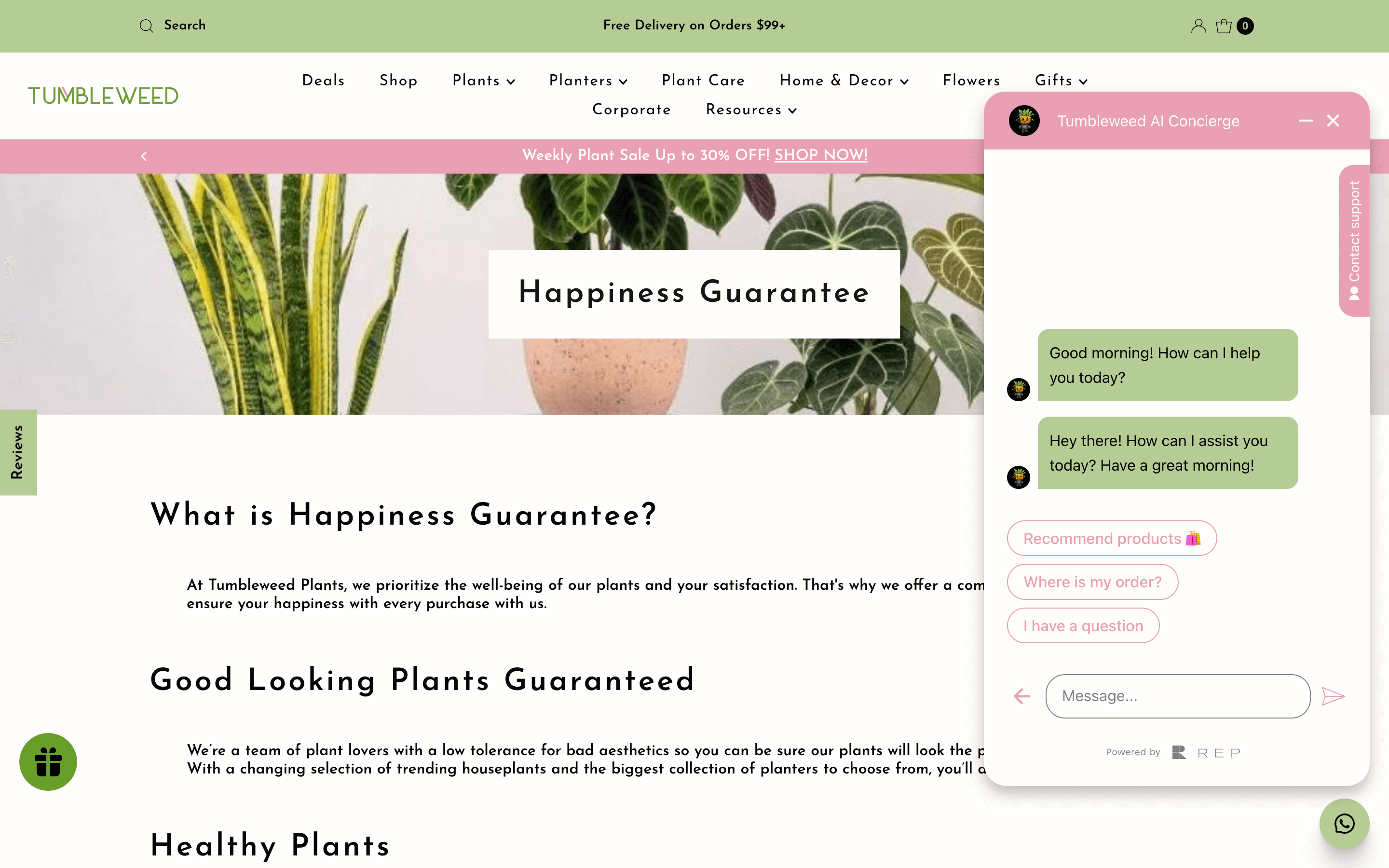 Although ecommerce has been growing steadily, there are still some widespread concerns with shopping online. Shoppers are still hesitant to click that buy button online when they can't touch, smell, or interact with the product. Or there is the possibility that the product may get ruined during the shipping process. While you can't eliminate these concerns, you can minimize the impact they'll have on purchase decisions.
Singapore-based houseplant brand, Tumbleweed does this through a "Happiness Guarantee". With a highly perishable product, it's important to lower the risk associated with buying a product online. Customers can shop knowing that they won't have to argue or fight with the brand should something happen to their plant in transit.
Tumbleweed also caters to all customer preferences with a Live Chatbot. It's no secret that being a plant parent can be stressful and sometimes you just want advice from an expert. Being able to pop online and get quality advice quickly enhances the customer experience even further. Combining great products with even better customer service is one way to ensure that customers keep coming back.
Think outside the box with a unique loyalty program
Whether you're considering launching or upgrading your points, VIP, or referral programs, make sure you're considering all options. With innovative omnichannel loyalty strategies, custom earning actions and campaigns, and creative customer experiences to inspire you, it's time to evaluate your loyalty program. Is it truly a unique loyalty program that will stick out to customers? If not, it's time to brainstorm and think of a way to stand out from the crowd so that your customers couldn't possibly forget you!
Create your own unique loyalty program
Launch a loyalty program in minutes
This originally appeared on
Smile.io
and is made available here to cast a wider net of discovery.