Is your online store ready for the holiday rush? The months of November and December are the biggest two months of the year by ecommerce revenue  with Black Friday Cyber Monday (BFCM) and holiday shopping being the biggest ecommerce events of the year!
Now that BFCM has come and gone, it's time to keep that surge of new customers coming back for more to finish off their holiday shopping. In order to take advantage of this spike in consumer spending, you need to have a holiday strategy that can withstand a serious boost in traffic.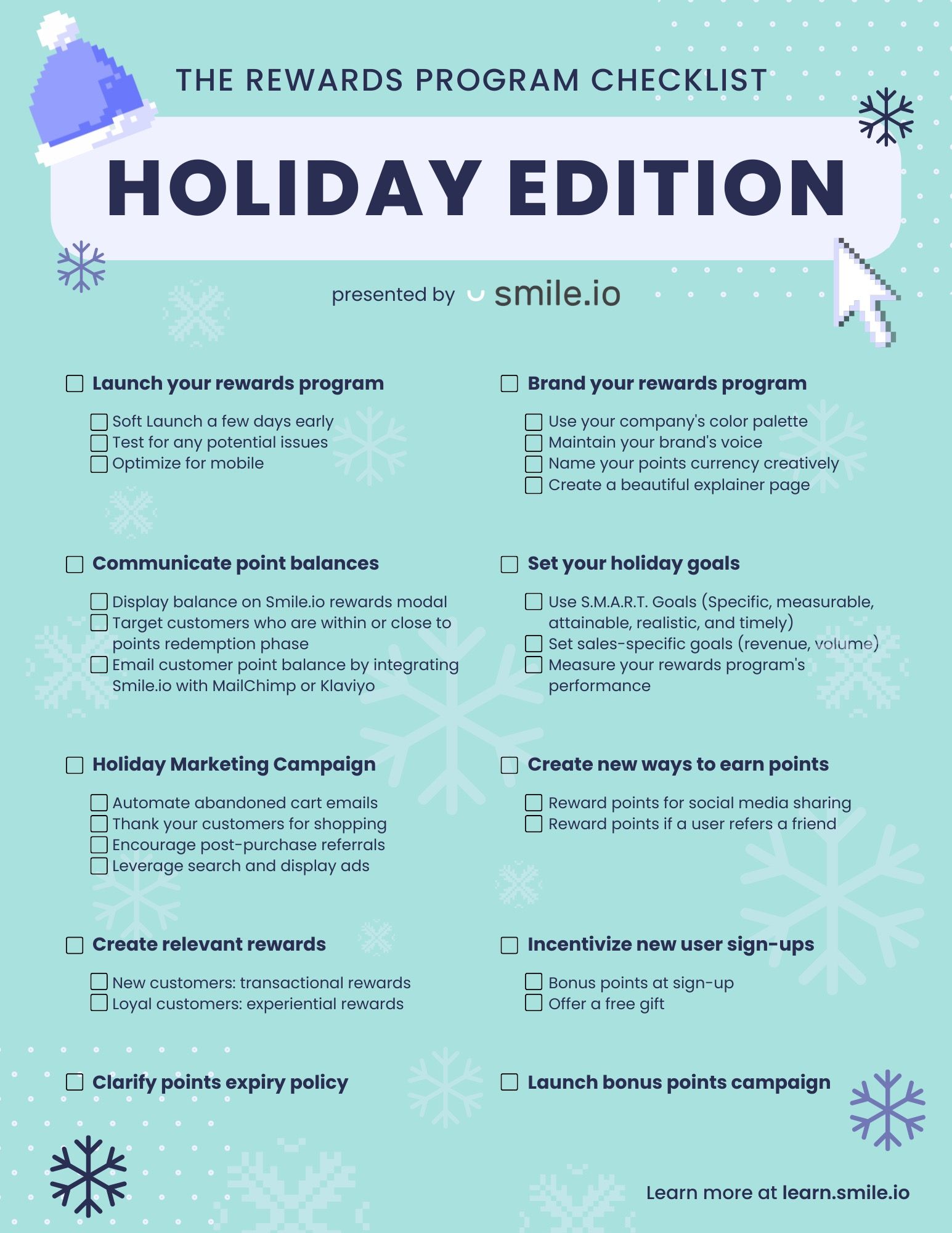 One of the most important aspects of your holiday marketing plan is your customer retention strategy. When the tree is taken down and the decorations are tucked away, do you know if the customers you acquired during the holiday season will come back? It's no secret that it's more cost effective to retain customers than to acquire them, and having a rewards program is a surefire way to do that!
If you haven't launched a rewards program yet, we can help. If you have, congratulations! We think that success is in store for your business this holiday season, and we've made this holiday checklist (and checked it twice!) to make sure your program is perfectly packaged before the rush.
1. Is your rewards program live?
Before you can prepare any other aspect of your rewards program for the holiday rush, you need to make sure it's live!
If your rewards program is brand new, we recommend that you soft-launch without any promotion before the holiday rush really begins. This will leave you with enough time to iron out any kinks before volume picks up (which is when customers will expect your program to work flawlessly)! It's best to prepare your loyalty program before BFCM so that customers can earn points then and come redeem them in December while they finish their holiday shopping.
When you're launching a program for the first time, we recommend that you keep it simple. It's important to remember that your rewards program is new to your customers, too. Outlining simple earning and redemption rules will make the transition into the program easier for everyone involved.
2. Is your rewards program properly branded?
It's important to remember that your rewards program is an extension of your brand. To build true brand loyalty, we recommend that you design your program in a way that complements the rest of your brand, rather than distracting from it. This can take a number of different forms:
Using your brand colors to customize your program.
Maintaining your brand's voice in all program communications.
Rewarding actions that are on brand.
Naming your program and "currency" (or points) appropriately.
At the end of the day, your rewards program is all about delighting your customers. This means having a full, 360 degree brand experience that goes beyond simple design and considers the larger user experience. To truly make your program shine, include a program explainer page that communicates the value of your brand in simple, easy to understand terms.
Another way you can take your program to the next level is by customizing your rewards panel. This integrates your rewards program into the entire shopping experience – all while staying on brand!
The design of your loyalty program shouldn't be an afterthought, it should be carefully integrated into the look of your store.
3. Have you set your holiday goals?
The holidays are the perfect time to set SMART goals for your business—goals that are specific, measurable, attainable, realistic, and timely. With a predestined surge of sales just around the corner, what better time to outline what kind of growth you'd like to see for your business?
Before the rush, take a look at your store's performance and choose some specific areas you'd like to see it evolve. While a lift in sales is an excellent goal for any business, honing in on some of your program-specific metrics will guide your holiday strategy with a more intentional focus.  Some commonly considered rewards program metrics include participation rate, redemption rate, and average order value.
Start Calculating Loyalty and Retention Metrics
Find all the formulas you need and more
4. Do your customers know how many points they have?
If you have been running a rewards program for a while, you know that some customers are "point hoarders" that collect without redeeming. To prevent this from happening during the holiday season, make sure your customers are aware of their current points balance and how close they are to their next reward. It's also the perfect time to introduce exclusive highly anticipated products offered only as rewards.
Point balances can easily be incorporated into a personalized email marketing campaign or your program's panel or app. By telling your customers how close they are to the next reward, you'll be putting value within their reach while reminding them why they joined your program in the first place.
5. Do you have enough ways for customers to earn points?
It's safe to assume that most (if not all) of your competitors will also be offering promotions during the holiday season. To incentivize customers to shop at your store instead, your rewards need to be attainable. The best way to do that?  Give customers more chances to earn points!  
For example, if you only reward customers based on dollars spent, someone who is purchasing a single gift for one of their friends is unlikely to return to your store because it's hard to accumulate more points and  redeem them. However, if they can also earn rewards for writing reviews, sharing on social media, or making referrals, you've opened the door to develop an ongoing relationship with this first-time buyer who could now easily turn into an engaged repeat customer.
Customers who feel like your rewards are attainable will be more likely to participate in your program.
6. Are your rewards relevant to your customers?
Not all customers value the same rewards, and a lot of that has to do with whether they're new or returning. To provide the most value to your new holiday customers, offer transactional rewards like discounts or dollars off of a purchase. As new customers, these program members are unlikely to accumulate enough points for a high-end reward during the holiday season, and will find the most value in monetary savings.
For loyal, long-time customers, try offering exclusive rewards that are experiential. These customers have already shopped at your store multiple times, and a transactional reward may make them feel like their money is all you're after! Instead, show them you value them by offering rewards that are unique to your brand, like free expert advice or a customized gift set.
At the end of the day, you should be offering your customers rewards they value. If you're not sure what your customers (new and loyal) would value this holiday season, find out with a survey or poll.
7. Have you planned your holiday marketing campaigns?
Now that your rewards program is up and running, it's time to spread the word! To promote your program, we recommend using a combination of tools, two of which are an email campaigns and social media marketing on platforms like Instagram or TikTok..
In terms of email marketing, there are a few approaches you can take. A redemption campaign may be ideal if you have a well-established rewards program and a number of customers with a points balance. To encourage these customers to spend this holiday season, you can remind them that their first reward is only a couple of points away, or even bump up their points balance to make redemption a reality!
If your rewards or referral program is new, a promotional email campaign may be a better fit. This could involve a referral program promotional email, or even a showcase of your best rewards to generate interest.  To keep in touch with your customers and retain them after the holiday season, try setting up workflows for things like abandoned carts or simple "thank you" notes after they've made a purchase.
In terms of social media, your opportunities to creatively promote your rewards program are endless! Through engaging content like photos, video, and interactive polls, you can cost-effectively advertise your program to a wide audience. We also recommend finding ways to incorporate social media actions into your program, so that company promotions are supplemented with user-generated content across customer channels.
8. Have you incorporated a bonus points campaign into your holiday marketing strategy?
While we're on the topic of your marketing strategy, we think that a bonus points campaign is so important that it warrants its own step! A bonus points campaign is simply an opportunity to provide your customers additional points for completing specific actions. This motivates customers by making your best rewards more achievable than ever.
Offering bonus points for a limited period of time makes customers more likely to participate in your rewards program because they don't want to miss out on the rewards that others are receiving. This fear of missing out will drive participation rates, increase your average order value, and encourage sales this holiday season!
With so much excitement already in the air, the holidays are the perfect time to run a bonus points campaign as that excitement and the additional points your customers earn will bring them back in the new year. To maximize the effectiveness of your bonus campaign, stress that it's a limited time offer. Countdown timers on your page are an easy and highly effective way to communicate this to all of your customers.
9. Have you incentivized your rewards program signups?
While high program participation rates are one of the end goals for your rewards program, enrolment rates are the right place to start when launching. To incentivize signups, make sure you've clearly communicated the value of your program!
Having an onsite rewards panel or a beautiful explainer page on your website can help summarize the benefits that members will have access to after joining. You can also encourage sign-ups with limited time holiday promotions; like one-time bonus points with registration or an automatic reward for new members!
10. Have you clarified and communicated your points expiration policy?
Point expiration can be a touchy subject for some. To avoid any potential misunderstandings with your customers, it's important that you've considered and communicated your policy so that your customers aren't left in the dark.
There are many arguments for and against point expiration. One of the main arguments in favor of expiration is that points collected during the holiday season are often hoarded or forgotten during the year. In this case, gently reminding your customers a month or two before expiry will motivate them to receive value for their points and keep them shopping in the new year.
If you do choose to set a point-of-expiry, we recommend a "rolling expiration" as opposed to a "hard expiration". A rolling expiration is a dynamic expiration where points expire after a certain amount of time if they are not used. A hard expiration, however, is when points are set to expire on a specific date—something that might cause problems if your customers are earning in December and expiry falls in January!
No matter how you choose to do it, the key to effective points expiration is communication. Making sure your customers are aware of and understand your policy will help ensure a smooth holiday season that keeps customers smiling instead of pouting.
Whether or not your points expire should depend on your industry, product and customers.
It's The Most Wonderful Time Of The Year
Now that you've got our free checklist, you're equipped to give the gift of rewards to your customers this holiday season. With your holiday strategy wrapped up the future of your ecommerce business is looking merry and bright!
Ready To Launch An Online Rewards Program?
Let Us Teach You How
This originally appeared on
Smile.io
and is made available here to cast a wider net of discovery.