Illustration by Diego Blanco
Of all the shopping channels available to customers, mobile commerce is taking the lead. Retail commerce sales are tipped to reach $437 billion in 2022—a 21.5% increase from the year prior.
Driving this trend is the estimated 292 million people expected to have their own mobile devices by 2024. And it's predicted that some 187.5 million of them will shop via their smartphone. 
It's no wonder global consumer mobile spending is expected to reach $728 billion by 2025.
Despite its promise, mobile commerce can be a frustrating and painful experience for consumers and businesses alike. Why? Two reasons:
Mobile-friendly sites are not universal.
A responsive storefront isn't enough to capture mobile commerce sales.
To find out how you can capture the estimated 187.5 million mobile buyers, we dug through the latest reports, industry-wide statistics, proprietary data, and case studies on businesses dominating mobile. 
In this guide, you'll find answers to your burning mobile commerce questions including:
What is mobile commerce (m-commerce)?
Mobile commerce, also known as m-commerce, is the process of buying and selling items through a mobile device, tablet, or other handheld device. Mobile commerce transactions can be for products or services including fashion items, business software, or consumer packaged goods.
In 2022, it's estimated that 6.9% of all retail transactions will take place through a mobile device. That's tipped to exceed 10% by 2025.
The release of new phone technology—including 5G—is accelerating the shift to mobile commerce. That, plus the fact society is mobile obsessed and more dependent on digital devices than ever. Here's proof:
The average person taps their cellphone once every 10 minutes (averaging three hours and 15 minutes of use) every day.
1 in 5 people would rather go without shoes for a week than take a break from their phone.
People report withdrawal symptoms—including increased blood pressure and heart rate—when separated from their mobile phones.
The 4 main types of mobile commerce
Mobile payment apps
Mobile applications are downloaded to a shopper's smartphone. People can either send money to their family and friends (through apps like PayPal and Venmo) or pay for goods and services.
Data shows that almost half of mobile device owners who've used a retailer's mobile app did so to discover more information about a product or service. Another 40% used the app to make a purchase.
Most mobile devices have a built-in card storage feature, such as Apple Pay, Samsung Pay, or Google Pay. They work using the same near-field communication (NFC) technology that powers other types of virtual payment, like contactless cards. 
China is leading the way in contactless payment adoption, with mobile wallet transactions expected to exceed $5.5 billion by 2025. Though the same data shows countries including the US, Canada, and the UK have seen an uptick in consumers' preference for contactless.
These digital wallets were used to make more payments than debit cards, bank transfers, and buy now, pay later transactions combined in 2020. The entire market for mobile wallets is expected to be worth $350 billion by 2026.
Mobile commerce apps
Smartphones give users the luxury of opening a browser and purchasing anywhere. However, being on the front page of a potential customers' smartphone—without forcing them to open their browser and find you—is possible with a mobile commerce app. 
Brands like Chewy and Best Buy invested heavily into their own mobile apps. Google found that half of shopping apps like this installed on users' smartphones are used at least once a week, with more than half of mobile shoppers downloading at least one new shopping app before the 2021 holiday season.
Once a user downloads an app to their smartphone, they can scan your product catalog, purchase an item, and track their order without leaving the interface. Mobile commerce apps also have the additional benefit of sending push notifications to people who've downloaded it (so long as you've got their permission to do so). 
While some 46% of retailers plan to spend more time on their custom mobile app in 2022, investing in one is expensive and time consuming. Platforms like Shop exist to solve that problem. 
The 24 million customers already using Shop can follow their favorite brands inside the mobile app. If they see a product they like, they can click the link and purchase the item through a retailer's website. Just one more click and their order is confirmed. 
Social commerce
Social media platforms have global audiences in the billions. TikTok, the most downloaded app in Apple's App Store, with almost 85 million users, triggers users to spend $50.4 million every year.
But it's not just virality that social media apps can give to online retailers. Most are evolving to facilitate social commerce so their users can buy products from third-party retailers without leaving the app.
TikTok allows merchants to integrate inventory and overlay products on livestreams. Instagram launched the Shopping tab as a way for its users to explore new products. Facebook pushes retailers to use its built-in storefront. Pinterest uses buyable pins to promote items for sale.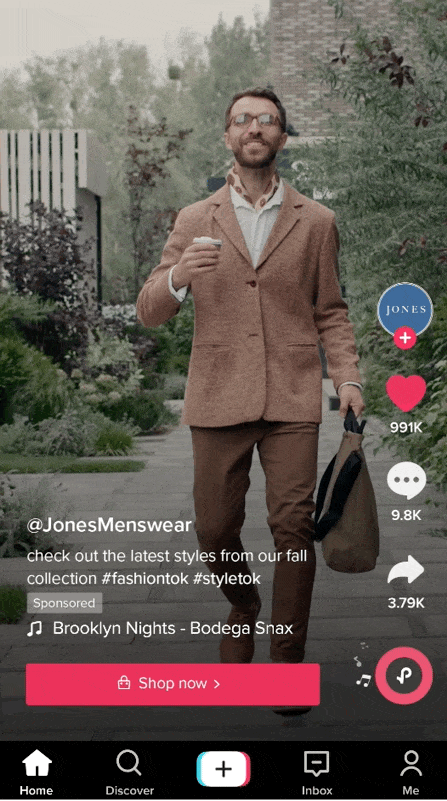 Because of the development of mobile apps, eMarketer forecasts that US retail sales through social media will rise by 6.3% in 2022, reaching $96.1 billion. 
QR codes
QR codes are small square graphics shoppers scan in-store using their smartphones. Each code is unique to a specific landing page. 
If you have a Shopcode at the checkout desk in your brick-and-mortar store, for example, you can direct shoppers to a personalized in-app checkout page. You can also add them to product packaging for customers to make repeat purchases via their mobile phone once a previous order has been delivered. 
Either of these options pair QR codes with other types of mobile commerce technology, including mobile banking, digital wallets, or applications. 
M-commerce vs. ecommerce: what's the difference?
The first wave of ecommerce saw customers buy items online through a desktop computer. However, the growth in ownership of traditional home computers has remained stagnant since 2015.
Smartphone ownership, on the other hand, is rising dramatically. Data shows 335 million new people bought a mobile device in 2021, bringing the total number of smartphone users to a staggering 6.2 billion globally.
Mobile commerce differs from the ecommerce website experience in one main way: the person buying the product is doing so from one of these smartphones. Ecommerce retailers either need a mobile-friendly website that loads on those smaller screens, or a dedicated mobile app that customers can download to their device and purchase through.
The benefits of a mobile commerce strategy
It's COVID-safe
The COVID-19 pandemic has had a major impact on consumer shopping behaviors. Mobile is paving the way in a world where more customers are concerned about safety and hygiene. 
During the first two months of the pandemic, when stores closed and people were forced to head online, some 30% of shoppers made mobile wallet transactions for the first time.
Certain countries saw a bigger shift than others. In the UK, the use of contactless payments increased 7% from the previous year, accounting for 88.6% of all card payments throughout 2020. 
Despite stores beginning to open up and people heading back to work, there's still some fear surrounding whether in-store shopping is safe. Shopping through a mobile device is a low-risk method. 
Better customer experiences
Did you know that 57% of customers won't recommend a business with a poorly designed mobile website? Half will stop visiting it altogether, even if they like the retailer and the products it sells. 
Not only that, but 15% of US adults are mobile-only—meaning the only internet-connected device they use is a smartphone. An m-commerce strategy helps you reach them, almost certainly delivering a better shopping experience than no experience altogether.  
Despite this obvious need for mobile-friendly experiences, the overwhelming majority (90%) of customers report having a poor experience when seeking support on mobile devices. It may even be a competitive advantage to prioritize mobile experiences. It seems like many businesses aren't.
Capture omnichannel shoppers
Modern-day shopping experiences aren't linear. Social media, mobile apps, email, browsers, live chat, in-store visits, and everything in between are thrown into the mix.
Mobile users are most likely to combine their smartphone search with an in-store visit. Almost three-quarters of US consumers use their phones to look for more information on the purchase they're about to make in a store. One in four say they've changed their minds while in a checkout line after looking up details on a mobile device.
Catering to omnichannel shoppers and factoring in local search are smart best practices for retailers blending physical commerce with pre-purchase mobile touchpoints.
The future is neither ecommerce or retail. It's just commerce. So the question becomes, 'How do you symbiotically integrate both channels?'"
—Hemant Chavan, founder, Brik + Clik
Mobile commerce statistics
We've covered a lot of data that proves mobile's stronghold in ecommerce. Let's round up the need-to-know statistics prior to executing your mobile commerce strategy.
Some 6.9% of all retail transactions will take place through a mobile device in 2022
292 million people will have their own mobile devices by 2024
15% of US adults are mobile-only, meaning a smartphone is the only device they use
Almost half of smartphone owners who've used a retailers' mobile app did so to discover product information
46% of retailers plan to invest more time into building custom mobile apps in 2022
Social media users spend $50.4 million every year through mobile apps like TikTok
During Black Friday Cyber Monday in 2020, some 67% of sales were made on mobile devices (versus 33% on desktop)
10 mobile commerce trends and best practices
There's no doubt about it: your potential customers are already using their mobile device to search for products online. Fail to have a mobile commerce strategy in place and you risk losing revenue to a competitor. 
So, how do you get started? Here are the 10 mobile commerce trends and best practices we expect to see in 2022. 
Build a mobile-first online storefront
Rely on social commerce features
Facilitate click-to-commerce
Offer one-click checkout
Prioritize mobile loading speeds
Collect zero-party data via apps
Spark conversation with mobile chatbots
Expand into the metaverse
Use augmented reality 
Don't forget about mobile accessibility 
1. Build a mobile-first online storefront 
First things first: "Responsive design is not mobile optimization." That was the thesis—and headline—of an article published on CXL by Shanelle Mullin, now Experimentation and Analysis Lead at Shopify.
Within the piece, CRO consultant Talia Wolf offered this distinction: "Though responsive design is much better than having to 'pinch-and-zoom,' it isn't an optimized experience for mobile visitors. At its core, responsive design makes the desktop experience look good on mobile, but it doesn't address the specific needs of mobile visitors."
Our designs always include at least four screen sizes and stop positions so that we can better control the user experience no matter which device a customer is using. And finally, we do very extensive QA across a number of devices to make sure that the UX is optimal."
—Dovi Lipton, VP of Performance Marketing at CuraLife
In the case of ecommerce, a caveat is in order. While the needs of mobile visitors must certainly be respected, what matters is marrying their needs with your own. After all, a delightful user experience (UX) is worthless if it doesn't culminate in sales.
Large buttons that cater to big thumbs (otherwise known as "fat finger syndrome")
Full screen images to showcase the product in its best light
Hamburger icons to toggle between the page contents and navigation bar 
Fitness brand Gymshark is a great example. After migrating from Magento to Shopify Plus, its online storefront—which generates the bulk of its £260 million ($349 million) turnover—meets mobile website design best practices, including:
With our previous ecommerce provider, we had to create the whole mobile site. Shopify Plus is optimized for mobile, which really lets us fine-tune our user experience."
—Ralph Montemurro, founder of Monte Design
You start with the platform you're hosting on. Shopify Plus' ecommerce platform has mobile commerce features—including a built-in mobile shopping cart, responsive theme, and push notifications. Your customers can shop anywhere, on any device. 
At the enterprise level, it's easy to get seduced by mobile design trends instead of investing in proven optimization tactics. How can you unearth the difference?
2. Rely on social commerce features
In the short time it'll take you to read this paragraph, almost 350,000 Instagram Stories will have been posted. Another 150,000 Facebook messages will have been shared. Nearly 70,000 people will have applied for a job on LinkedIn. We're producing more content than ever before. 
Social media has become central to our livelihoods, and our reliance on mobile devices fuel the addiction. The vast majority (91%) of social media users access their favorite platforms using a mobile device.
In Q4, our busiest time of the year, mobile—including tablet—was 62% of our traffic and 58% of our orders. This is down to a combination of a lower conversion rate of 1.15% versus 1.33% on desktop. It is also, in part, driven from social media traffic, which is predominantly mobile, but often not visitors with purchase intent." —Rob Weatherhead, owner of Affordable Wine
But these days, social media apps are no longer used just to chat with virtual friends. Some 29% of users sign into a social network to shop once a week. Platforms like Pinterest and Facebook play a role in mobile shopping, with 47% and 15% internet users using them, respectively.
That's why you must invest in a social promotion and advertising strategy to increase mobile traffic and conversions on native social selling channels, including:
Social commerce is definitely an opportunity for brands to reclaim their destiny by owning the customer experience and the relationship with customers, versus selling on Amazon, where price is king and your brand is an afterthought."
—Étienne Mérineau, Senior Director of Marketing, Heyday by Hootsuite
Some 49% of brands plan to increase their investment in social commerce in 2022, according to our study. Platforms like Instagram and Facebook have their own livestreaming options. To cater to both the shopper and the merchant, each feature allows brands to link directly to the products they're talking about. 
The success of your social commerce strategy hinges on the direction you're pointing social shoppers to. In most cases, linking directly to the product in question delivers a better user experience.
With people spending more time online on their phones in the pandemic, I believe social commerce will only become more mainstream, particularly on Instagram and TikTok, the millennial and GenZ favorites. As brands, we want to reach them where they are. In-app shopping will become streamlined, turning apps like Instagram into as much of an m-commerce platform as it is a social media tool."
—Alice Tam, owner of Soft Dough Co.
Take it from Glamentic, a DTC beauty brand that sells products through its online store. Its CEO, Ann McFerran, hosts regular livestreams through social media that show audiences how the products work and their differentiators from comparable products. This was the foundation of "the Glam Fam" community.
Now, Glamnetic invites influencers to host Facebook livestreams. Each influencer demonstrates how to apply the magnetic lashes, with attendees receiving a coupon code to redeem on their first purchase. 
"We already have a head of live shopping and she's setting up multiple Facebook Lives on a daily basis," Ann says. "We're on the precipice, and so we're strategizing: How can we continue to improve and get even more revenues through that platform?"
3. Facilitate mobile click-to-bricks (and back again)
Mobile commerce lies at the heart of an omnichannel retail strategy—especially one that spans both online and offline.  
Data shows that people rely on their mobile phones for in-store shopping. Half of people use their mobile device to research a product; another 27% have purchased a product from their mobile device while visiting a brick-and-mortar store. 
Work to combine this online-to-offline (and back again) shopping experience with click-to-mortar incentives. They align your in-store experience with mobile shopping using technology:
QR codes 
Mobile-specific comparison pages
Geo-fenced SMS coupons
Many companies are also turning to mobile-enabled in-store checkouts and mobile wallets for customers who have been pointed to their store by a mobile device. Long lines in-store can be a major drag. Mobile point-of-sale (POS) devices—like PayPal, Square, and Shopify POS—offer an easy-to-use and cost-effective mobile ticketing solution.
I was looking for a 38-inch slim fit pair of trousers at a store last week. They didn't have it in stock, so I ended up leaving and not placing the order. Had there been a QR/NFC code, I probably would've just purchased it in the correct size online. I wasn't going to take the time to find the website, then search for the exact product I was looking at in-store, and then place the order."
—Saul Sampson of Verbo
From ease and cost perspectives, there are no clear-cut answers. For NFC, you'll need to get new terminals to have support. In most cases, the price of the terminal stays the same or you pay a premium that's around $50. Bulk pricing also brings down costs.
The lowest barrier to entry? Buying online and collecting in-store (BOPIS). Some 59% of shoppers are interested in online shopping and collecting their purchases in-store. Interest is up 30% since the start of the pandemic, with retailers like tokyobike offering this service to mobile shoppers.
Juliana Di Simone, tokyobike's Partner in America, explains how customers also do the reverse of clicks to bricks. Prior to Shopify POS, "You would come in, try our test rides, fill out a form, and the information would just sit there until you came back," she says. 
"Now, with Shopify POS, we can easily email a cart to a customer with the bicycle model you tested, which size you need, and you can think about this at home. We send that cart to a customer and, very often, those customers end up placing an order."
4. Offer one-click checkout
Not to be melodramatic, but mobile ecommerce lies or dies at the checkout. If only a small percentage of your online sales are coming from mobile users, you may need to refine your checkout process.
How? By following the golden rule: less is more.
Some 18% of people will abandon their online cart if the checkout process feels too long or complicated. Having to re-enter basic details like credit card numbers (30%) and shipping details (25%) is what causes mobile shoppers to head for the exit button.
Here's where we turn to a few in-house advantages from Shopify Plus.
Ideally, once a user enters your mobile-checkout process, they should be presented with mobile-first payment options that enable them to purchase in a single click. On Shopify Plus, you can do this through:
Shop app
Apple Pay
Android Pay
PayPal
Amazon Pay
Include only those options that are most popular among your existing customer base. But remember: this doesn't mean you should skip traditional logins and credit cards as long as those methods have proven themselves as attractive to mobile shoppers.
Take Urban Planet as an example. Its mobile checkout offers an express checkout option: a choice between PayPal, Apple Pay, or Shopify Pay. Beneath is the traditional checkout process of entering billing and shipping information manually.
Shopify Scripts—which let you customize and personalize the entire cart-to-checkout process—can be used to show, hide, reorder, or rename payment methods during checkout based on products in the cart, customer group or tag, a customer's shipping address, or a customer's device type.
These express checkouts are so shopper-friendly that orders made using Shop Pay checkouts have a 1.72 times higher checkout-to-order rate than those going through regular checkouts. This rate increases even more—to 1.91 times higher—for mobile users.
Lastly, Dynamic Checkout flows offer your mobile customers the ability to check out single products directly on a product page. The code recognizes their preferred payment method (such as Apple Pay) and displays a simple CTA button for people to purchase in just one click.
Some of the key benefits of installing a dynamic checkout button include:
Accelerating mobile conversions by reducing the number of steps to complete a purchase
Delivering a personalized mobile checkout experience by serving up your customer's preferred payment method or wallet
Capturing customer intent earlier with a custom checkout button, which appears directly on the product page and circumvents the need to add a product to the cart first
5. Prioritize mobile loading speeds
While it's not the most exciting topic, decreasing a site's load speed matters for attracting, acquiring, and keeping customers. 
Mobile design maintains the aesthetic of its desktop counterpart, but in many cases, it fails to optimize behind-the-scenes elements that unnecessarily eat data. The result is a beautiful experience that visitors pay for in lengthy load times.
Customers are abandoning sites that don't load quickly, with ecommerce brands seeing the detrimental impact on their conversion rate. And, with 61% of Google search results now coming from a mobile device, search engines are penalizing sites that don't deliver seamless mobile shopping experiences. 
Google's shift to mobile-first indexing, for example, takes the mobile experience of a site into consideration when determining where each page should rank—even if the searcher loads it on a desktop. 
Concerned about your mobile loading times? Google PageSpeed Insights is the perfect starting point. It'll show average loading times across mobile devices, with recommendations for fixing them. Aim for nothing less than 100. 
6. Collect zero-party data
Online privacy is a growing concern for consumers. It's a large enough worry that governments are making it easier for mobile shoppers to browse the web in private mode. Google Chrome, for example, is blocking third-party cookies in 2023.
While it's good news for privacy-conscious consumers, the data DTC brands can collect from their customers is limited. Our data shows at least 28% of technology decision makers around the world expect these changes to customer data and privacy regulations to hinder their 2022 growth goals. 
One way to combat that is by producing zero-party data—information offered voluntarily by your customers. Some 42% of brands plan to offer their customers personalized product recommendations through tools like quizzes.
Jones Road, which sells clean beauty products through its DTC store, uses a "find my shade" quiz to collect zero-party data. Visitors to its mobile site are asked to answer questions about their skin type and makeup preferences. The end result is a personalized product recommendation and Add to Cart button.
Octane AI reports that Jones Road spends $8,000 on TikTok advertising that drives potential customers toward the quiz. But, it's an investment that pays off: the "find my shade" quiz increased the brand's average order value from $60 to $90, boasting a 16% conversion rate. 
If you're facilitating m-commerce through your mobile app, use this third-party data to send push notifications and get users spending more time shopping through it. They're notifications that show on customers' smartphones, usually announcing limited-time sales, promotions, or launches. 
These push notifications have been found to increase app engagement by 88%. They get disengaged users back, too, with 65% returning to an app within 30 days of the push notification. 
Shop app uses push notifications to drive shoppers back to a merchant's mobile website. Users can get automated messages when their order has shipped, special discount codes to encourage repeat purchases, and invitations to join a retailer's customer loyalty program. 
While push notifications can be effective, customer sentiment toward them can quickly change. Almost three-quarters of app users say push notifications feel spammy if they receive too many. Half tune out when they receive push notifications with clickbait. 
7. Spark conversation with mobile chatbots 
Emails are a tried and proven way to encourage customers, through reminders and special offers, to buy the items they left behind in their checkout cart. But chatbots are quickly gaining ground in this area—either in conjunction with or instead of emails. 
According to Finastra, chatbot integration in mobile banking apps will be the dominant channel for chatbot-driven customer communications, accounting for 79% of successful interactions in 2023.
265 billion customer support requests are made every year, and it costs businesses a whopping $1.3 trillion to service them."
— Finastra
Ecommerce brands leaning into chatbots are following their customers' preferences. Data shows 80% of consumers have had a conversation with a chatbot. More than half say that chatbot helped them outside of standard customer service hours—so much so that, by 2027, global chatbot revenue will exceed $454 million.
Gymshark is one retailer using social media chatbots throughout all stages of the mobile shopping experience. Its Facebook Messenger chatbot begins by asking customers what language they speak. The next automated message returns a selection of prompts—including My Order, Faulty Item, and Restocks—to give customers real-time answers to their query.  
8. Use augmented reality 
Augmented reality (AR) has come a long way in recent years. What once felt like an expensive investment is now accessible to most medium-sized to large companies.
One technology advancing faster than others is virtual fitting rooms. Shoppers can use their mobile devices to livestream their body. Augmented reality places a 3D model over the livestream so shoppers can see what the product looks like. 
In the challenging times of COVID-19, where hygiene is a big concern, consumers will be less prepared to physically try on products, and this is where augmented reality can replicate experiences without the health implications."
—Ji Hyuk Park, Nielsen Commercial leader in South Korea
Allbirds' mobile app, for example, lets customers try on shoes in the comfort of their own homes.
Magnolia Market also uses Apple's ARKit technology. Customers choose the item of furniture they're thinking of buying and overlay the AR model of it in their own home. Not only is it more likely to combat high return rates (since most happen because the product looks different in-person), but the immersive shopping experience makes m-commerce fun. 
9. Expand into the metaverse
If there's one buzzword that's taken the online world by storm, it's this one: metaverse.
An increasing number of consumers are taking part in an alternate virtual world—but they're not just gaming in metaverses like Roblox. Customers are purchasing virtual products from their favorite brands.
NFTs aren't just products—they're somewhere between a product, a game, and code. If you're not using all those things, you're really not using this medium to its full advantage. It's all about the interactivity."
—Paul Budnitz, President, Founder, and CEO, Superplastic
Take it from NYX, a beauty brand that opened its first virtual cosmetics store. Designed to showcase its new product line, its metaverse store is a new wave of experiential retail. Virtual shoppers try on makeup, attend livestream concerts, and more.
There are two key themes to look out for with this mobile commerce trend:
Non-fungible tokens. Also known as NFTs, these one-of-a-kind digital assets represent real-world objects. Some metaverses buy, sell, and trade NFTs as part of their virtual world. Fashion brands like Under Armour, Vans, and Balenciaga are collaborating with either Roblox or Fortnite to bring NFTs to their metaverse. 
Cryptocurrency payments. Shoppers pay for items in the metaverse with cryptocurrency—such as bitcoin, litecoin, or ethereum. These payments are set to reach $1.4 billion in 2024. Consider offering them as payment options on the mobile version of your ecommerce store, and encourage people to use their mobile crypto wallets to purchase products. 
10. Don't forget about mobile accessibility
Many state and federal laws in North America and Europe are becoming sensitive to the needs of disabled citizens. Large enterprises and SMEs alike are facing Americans with Disabilities Act (ADA) and Section 508 lawsuits—especially since 4.1 million in the US report difficulty using a phone.
Unfortunately, the majority of the mobile web is not built with accessibility in mind. Many sites even prohibit users from taking advantage of the accessibility or personalization features of modern smartphones.
Increasing a site's accessibility helps website visitors do what they came to do. Things to check on mobile include making sure text is large enough to read and buttons have enough space from other clickable items. 
Check that important content isn't only visible when a user hovers over an item, as users can't hover on mobile. Mobile use may be an indicator that a user is multitasking—looking after a child, watching TV, etc.—or on the move. Accessible sites help all users complete tasks on a site, increasing the likelihood they'll complete a purchase."
—Dave Smyth of Scruples Studio
Shopify's Liquid template technology allows store owners to add accessibility features directly from their store's back office.
Shopify Plus Partner Something Digital advises that merchants engage in accessibility exercises to ensure compliance—as well as avoid litigation—as part of their IT and mobile marketing calendar.
According to Something Digital, web developers can use Aria attributes to let browsing platforms know that accessibility features are enabled on a site. These attributes can be added to plain HTML, which essentially tells the platform: "If you're looking for where to start with accessibility, here I am."
This goes a step beyond plain old semantic HTML, which describes the type of content and details its purpose.
For screen readers, the most important element of site design is the ability to maintain focus. When a link is clicked and displays a modal window, for instance, the focus should be moved to that modal.
Once dismissed, the focus should then be returned to the prior link or text area from which it was stolen. Something Digital doesn't advise removing modals altogether; instead, consider whether using them is necessary or common practice, and approach them with accessibility in mind.
By replacing iconography with simple text instructions, mobile users can benefit from the smaller page sizes. Plus, by implementing common keyboard navigation techniques to menus, web crawlers such as Google can understand and prioritize navigation structures on your sites.
Another best practice is using browser plug-ins to test out designs that emulate common color blindness. With these plug-ins, you can find potential issues with conversion, such as drawing attention to your calls to action.
Begin by performing a quick check of your site. There are many tools online to test simple ADA guidelines like font size and colors, including:
To learn more, you can read about the ADA's guidelines. After performing a quick self-assessment, reach out to a knowledgeable Shopify Plus Partner agency like Something Digital to continue the conversation about a UX audit and accessibility primer.
5 mobile commerce examples
Emma Bridgewater
British home and kitchen brand Emma Bridgewater experienced the impact of going mobile. 
Improving mobile experiences was one of its greatest priorities when replatforming. It changed the layout of mobile product pages and streamlined mobile checkouts.
The result? Emma Bridgewater saw a 32% increase in mobile users, contributing a 13% uplift in mobile revenue. Those changes lead to a record-breaking £190,000 ($255,000) sales day immediately after migrating.
It looks much better than our old site did on mobile, and it functionally works much better. It feels like we can do much more now, and Shopify Plus can help us make it even smoother."
—Samantha Marsh, Ecommerce Manager, Emma Bridgewater
LOOKFANTASTIC
LOOKFANTASTIC is a beauty retailer that doesn't go the traditional route with its mobile app. David Gossage, SEO Manager, explains, "Mobile visitors tend to be higher up the conversion funnel. This means that they may convert less, but they read more.
"With a world of information at their fingertips, [shoppers] will research a product before buying it and will absorb the content and may visit other sites to do so. Providing premium content within easy reach from your mobile site or app will not only aid the user journey when making a purchase, but can also drive more traffic via organic search."
Because of this, LOOKFANTASTIC uses its mobile app to deliver exclusive digital content to its shoppers. Gossage reports this tactic keeps "users engaged, even when they are not currently shopping."
MVMT
Shopify Plus customer and watch retailer MVMT already had a mobile-first designed ecommerce site when it launched a Facebook shop in 2014—around the time that mobile usage surpassed desktop users for the first time. That's when the company saw its mobile usage increase to 60% almost overnight.
The MVMT team wanted to "cut out steps in the purchasing process" and make it easier for social media users to buy directly via their favorite social networks.
But MVMT couldn't have achieved these results without a mobile-commerce approach to advertising. In fact, its success on Facebook, Instagram, and Pinterest earned the company official case studies on all three platforms.
On Facebook, MVMT's use of carousel ads generated 1.8 times higher CTRs and three times lower CPA. MVMT learned that 75% of the revenue generated from its Facebook shop came from the three products displayed most prominently on its profile.
On Instagram, MVMT doubled its engagement compared to other channels, strengthened brand awareness by 75%, and lowered CPC by 20%.
On Pinterest, MVMT's campaigns, which initially resulted in a two times lift in conversions and higher average order values, have seen as much as 10% to 20% in additional ecommerce sales after a promoted pin has been paused.
When people see something they love, they want to buy it immediately. It's easy to get lost on a website. So we started thinking about how to make commerce easier for social media users."
—Spencer Stumbaugh, VP of Marketing at MVMT
Olipop
Olipop is a CPG brand that sells healthy soda through its DTC store. "Our website is fully optimized for our mobile customers," says its Ecommerce Manager, Melanie Bedwell. "It's extremely easy to navigate as well as purchase our products.
Browse its mobile storefront and you'll see large Shop Now buttons immediately. Continue scrolling and visitors are presented with three opportunities to purchase products, alongside other offers like subscriptions and blog content. 
Melanie says, "You'll still see our scroll bar at the top of the screen highlighting the benefits of becoming a subscriber, as well as our $15-off referral offer that stays on the screen as you continue to scroll. 
It's imperative that you optimize your site for mobile customers to increase your overall conversion rate."
—Melanie Bedwell, Ecommerce Manager at Olipop
Shop
Shop offers express checkout options for customers shopping on mobile. 
Shoppers can use the digital wallets—including Apple Pay and PayPal—already set up on their mobile phones. And, for those who don't use mobile wallets, the native checkout stores a customer's billing and payment information for one-click ordering. 
The end result? An express mobile checkout that determines whether a shopper will complete their order. 
Mobile commerce in 2022 and beyond
There's no doubt that mobile commerce is changing the way consumers shop. Both ecommerce and brick-and-mortar retailers can lean into the power of mobile shopping, offering mobile checkouts to visitors regardless of where they shop and what they buy. 
Remember that the success of mobile commerce lives and dies at the checkout. Improve the mobile experiences already happening by offering various types of mobile payment—including in-app checkout, mobile wallets, and Shop. You'll soon start to see the surge of mobile visitors (and customers) on your site.
This originally appeared on
Shopify Plus
and is made available here to cast a wider net of discovery.