Listing your business on multiple online marketplaces is crucial to maximize brand visibility and reach.
With increasing competition, you cannot rely on a single eCommerce channel for your sales. Diversifying your sales channels to tap into wider audiences is thus an intelligent approach.
However, managing multiple channels for your eCommerce business could be cumbersome. Not all marketplaces work the same way; it takes time and resources to figure out how to excel in managing them, and as a new business, you may struggle with the same. 
But fret not! This guide will sort everything for you, from choosing the best listing channels to avoiding common marketplace management mistakes for better results. Let's take a look.
How are multichannel listings beneficial for eCommerce businesses?
Listing your business and offerings on multiple marketplaces like Flipkart, Amazon, eBay, etc., can benefit you in the following ways:
Enhances customer base and acquisition rate
The multichannel sales approach lets you tap into a larger market share, which is impossible if limited to a single channel. Customers often prefer a specific marketplace for all their shopping requirements. In such a scenario, you can lose potential customers by not being present in that marketplace. 
Buyers interacting with a brand through multiple sales channels often purchase more than single-channel shoppers. When your products are available on various eCommerce platforms, they attract and acquire the highest volume of such buyers.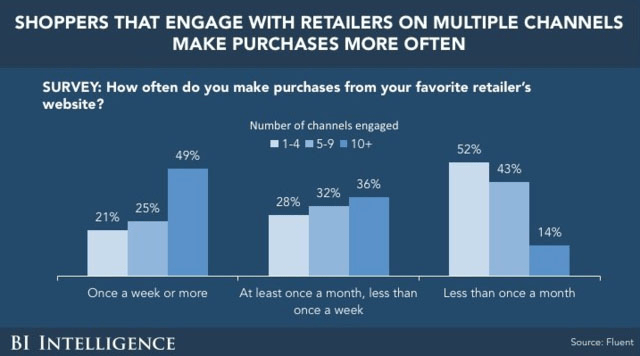 Maximizes brand visibility
When your brand is listed on multiple eCommerce platforms, more people are aware of it and thus access/search for your products. This maximizes your brand awareness and credibility online to boost sales.
Improves customer experience and perception
Online buyers must have a seamless shopping experience across all platforms and devices. They may shift their shopping from one platform to another, offering them a better user experience overall. 
Did you know that, for 84% of online shoppers, the experience provided by the brand is as important as its products and services? By being present on multiple sales channels, you can offer them a device-friendly customer experience along with vast delivery, payment, and discount options.
When your business is listed on all the leading marketplaces, like Amazon, Walmart, eBay, etc., it shows your potential customers that you understand and value their shopping preferences and offer them shopping flexibility. It improves the buyer's perception of your brand. 
Minimizes risks with multiple revenue streams
Selling your products on multiple channels reduces your dependency and risk factor on single-channel sales. This means that you can still generate revenue from the other channels if your sales drop on one of the platforms for reasons such as changes in marketplace policies or ranking algorithms.
Offer better flexibility
A diversified sales approach allows you to experiment with different channels and strategies to see what works best for you. This helps you to stay agile and adapt quickly to market changes. 
When you know which channel and strategy works better for your targeted audiences, you can maximize your marketing and advertising efforts for better ROI.
Significant eCommerce multichannel marketplace management challenges and their resolutions
When working on a multichannel sales approach, you can face multiple logistics, growth, and branding challenges that need your attention. Here are some possible solutions addressing such challenges to resolve them effectively:
Inventory management
Managing channel-wise inventories gets more complex and challenging as you expand to more marketplaces. Some common inventory-based challenges arise due to this, such as 
Overstocking/Underselling
One of the biggest challenges with managing inventory for multiple marketplaces is not having an appropriate supply and demand estimate. 
By overestimating the demands, you will end up overstocking, which will, in turn, drain and restrict your financial resources. On the other hand, insufficient inventory can cause unnecessary order cancellations, bad reviews, missing out on sales trends and promotions, order delays, etc.
Poor visibility across multiple platforms
Manually tracking orders coming and processing from various marketplaces is prone to human errors, especially during returns and order cancellations. Furthermore, it won't enable complete visibility of your real-time stock across all warehouses and platforms, complicating your regular operations.
To overcome these challenges, you need to optimize inventory management across all marketplaces in the following ways:
Use an automated and centralized inventory management system instead of managing your stocks separately for each platform. This will give you real-time insights on inventory levels across all channels to make more informed decisions.

Track and analyze historical sales data, market trends, and other relevant factors to forecast inventory demands accurately for each product. This way, you can avoid understocking or overstocking.

Set safety stock levels for each product to ensure sufficient inventory to meet unexpected spikes in demand. You can also set notification alerts using inventory management software, so you get notified to take necessary actions whenever stock passes that safety level.

Regularly monitor your inventory levels and optimize your order fulfillment process to avoid stockouts and delays that can result in lost sales.
Order processing and fulfillment
Manually processing and fulfilling large orders for multiple marketplaces is time and resource-intensive. The diverse order and shipping formats of subsequent channels can make it challenging. Disc discrepancies/mistakes can arise during this process without proper expertise and attention. It can affect your business's online credibility and reputation with negative reviews.
How to optimize your order fulfillment process?
To overcome such order processing and fulfillment challenges for multiple marketplaces, you can:
Use an order management system(OMS) to fetch order details from multiple marketplaces, streamline the order fulfillment process, automate shipping labels, and provide real-time tracking information to customers.

Partner with a reliable third-party eCommerce order processing service to manage and fulfill orders promptly without mistakes.
Listings management and optimization
Maintaining your listings within popular and relevant search queries of different marketplaces must be properly optimized with the right keywords and descriptions.
The listing format and ranking factors differ significantly for different eCommerce platforms (the strategy which may be effective for Amazon listings might not work as well for Flipkart or eBay). To maximize your ROI and sales on each channel, you must adapt to the respective listing and ranking formats, which is time- and resource-intensive.
How to overcome this challenge?
Though managing and updating listings across multiple marketplaces is a tedious task, you can simplify it in the following ways:
Use a centralized listing management tool to streamline the updation of listings across various platforms. It helps you manage and optimize product listings across multiple sales channels from a single dashboard to save time and effort.

Dedicate some time to researching and understanding the ranking factors for each channel and optimize your listings (including product titles, descriptions, images, and keywords). This will benefit you to save time and effort on optimization later on. 

Use data analytics tools like Google Analytics, Hotjar, Optimizely, etc., to track your sales performance across different marketplaces. It helps you understand which channels are performing well in sales and where you need to focus more on optimization.

Regularly track customer feedback and reviews across all sales channels and promptly respond to negative feedback. Listings with positive reviews and ratings perform better on all marketplaces.

Analyze which titles, descriptions, images, and keywords works best for your listings across different channels using tools like Ahrefs, Moz, Google Analytics, etc., and use them on all platforms to boost sales.
Pricing strategy
Setting the correct prices that are both competitive and profitable across various eCommerce platforms is necessary. You must optimize your pricing strategy often to stay ahead of your competitors without losing margins and compromising product quality.
But how to do that?
To devise a profitable pricing strategy that works well for all marketplaces, here are a few suggestions:
Analyze your competitors' pricing strategies. Monitor how they position their products on various marketplaces, price points, and target audiences. 

Determine your product prices based on quality, uniqueness, and customer experience.

Create an excellent customer experience beyond prices by offering value-added services like free shipping.

To encourage customer loyalty, use promotions strategically. Run discounts or BOGO (Buy One Get One) occasionally offers on best-selling products to gain customer attention. However, avoid using them as a long-term pricing strategy, as it will affect your profit margins and revenue.

Experiment with different pricing strategies, monitor customer behavior, and adjust as necessary. Use the data analytic tools explained earlier to track the performance of your pricing strategy and refine it over time.
Prompt cross-channel customer support
When working on a single sales channel, it is easier to provide dedicated customer support and prompt response to all feedback and queries. But with a multichannel sales approach, offering consistent and high-quality customer service becomes challenging and time-consuming.
Regardless of which sales channel customers choose for their online shopping needs, they want a prompt response to their queries and reviews. To maintain your brand's credibility online, offering a positive and valuable customer experience across all platforms is crucial.
How to provide that?
Hire a dedicated team of experts having sound knowledge and industry experience regarding your products and offerings to provide high-quality customer assistance.

Alternatively, train your in-house team or staff to provide the proper guidance and support to all customers' queries across various marketplaces.

Use automated customer service management tools like Zendesk, Sprout Social, LiveAgent, etc., to manage all consumer interactions across different channels in one place. It will help you provide a consistent, prompt, and high-quality customer experience.

Standardize your response templates for frequently asked queries to save time and offer the same response regardless of the customer's channel.

Evaluate your customer service performance regularly for all channels by conducting feedback surveys and checking customer retention rate and average issue count. It will help you identify areas for improvement and adopt a better strategy to improve consistency and customer satisfaction.
Multichannel messaging and branding
Your brand messaging and strategy for branding must be uniform and of high quality to create an unforgettable first impression for your customers across all marketplaces. Keep a look out for the changes you make in your brand message or branding strategy to be consistent across all channels.
If the information (product title, description, appearance) is not identical across all channels, customers might be unable to find a particular product across the platforms. 
While ensuring a unified branding experience for all your products across all marketplaces is crucial, it is challenging to implement without the right strategy. 
How to keep your brand message and branding effective for all channels?
Here are some tips for creating a consistent and effective branding & messaging strategy to use for all your eCommerce marketplaces:
Develop a clear brand voice that reflects your business's personality and values.

Create effective brand guidelines outlining your company's color theme, visual and messaging standards, and products. Follow this guideline across all channels for

branding

to maintain uniformity.

Experiment with different templates and

keep the best ones for emails, social media posts, and other communications to maintain consistency in brand messaging,

tone, and visual elements.

Track the effectiveness of your branding and

messaging efforts

regularly for all platforms. Use A/B testing tools like 'VWO' and 'Optimizely' to track and analyze the performance of different branding

and messaging efforts to make required changes in your strategy.
Shipping and returns
Managing returns and shipping is easier for single-channel sales. But when selling products on multiple marketplaces simultaneously, handling product cancellations and returns becomes challenging, and choosing suitable fulfillment options and managing shipping costs becomes challenging.
How to solve shipping and return-related issues?
Set straightforward shipping and return policies across all marketplaces to maintain transparency and consistency. To gain customers' attention and trust, consider offering free shipping.

Partner with a third-party logistics provider to manage shipping and logistics across various marketplaces. It will help you streamline your shipping processes and reduce delays by ensuring timely delivery.

In case of self-fulfillment, use automated tools for sending real-time tracking updates and information to customers to reduce their queries and follow-up processes.

Track customer feedback across all the marketplaces about your shipping and returns to make required changes in the strategy to improve customer satisfaction.

Work on your packaging quality to protect products during shipping and minimize product damage & return rates.
While these challenges can make marketplace management difficult, you can overcome the growing pains using the right marketing, branding, shipping, and inventory management tools. To keep your resources and time free to focus on crucial operations, outsource eCommerce marketplace management service from a reliable third party.
How to choose the right eCommerce channels for your business?
While plenty of marketplaces are available online to experiment with, the right ones for your business are where your target audience is present. 
To find out the right eCommerce platforms to boost your brand presence and sales, here are a few tips you can follow:
Determine which marketplaces your targeted audience trust and prefer for most of their shopping needs. You can conduct online surveys, analyze your competitors' online presence, and use website analytics tools to track your audience's online shopping patterns.

Evaluate various features and benefits of each eCommerce channel as per your business needs. Consider factors like ease of use, pricing, traffic, customer demographics, and marketing tools.

Consider how much selling fees and commissions are associated with each eCommerce channel to understand their profitability for your business. Some channels charge a flat monthly fee, while others work on a percentage of each sale.

Consider how easily a channel can be integrated with your existing sales channels and inventory management system to streamline your processes and save time and resources.

Analyze your sales data, customer feedback, and marketing metrics to determine which channels drive the most revenue and engagement.

After identifying your business's most profitable eCommerce channels, optimize your marketing and sales strategy by focusing on brand building, high-quality customer experience, product quality, and effective shipping methods.
5 Best multichannel eCommerce management platforms to try today
To effectively manage your listings, order processing, fulfillment, and shipping processes across all sales channels, here are the five best ecommerce marketplace solutions you can try:
Shopify
Shopify is the leading and most convenient eCommerce solution to integrate multiple marketplaces with your online store, automate processes and optimize listings for multichannel sales. It also has built-in integrations for popular marketplaces like Amazon, eBay, Facebook, etc.
Its built-in reporting and analysis tools help to track marketing and sales performance for each channel. You can also customize your listings for each marketplace to increase online visibility and sales. With the available plugins, you can automate your shipping, inventory management, and fulfillment processes.
Pros:
Simple and easy to use

Offers 14-day free trial

Mobile-friendly UI

Plenty of eCommerce management plugins

Effortless and multiple third-party integration options

Support various payment methods and options
Cons:
Limited support and integration options for specific marketplaces

High transaction fee
Pricing:
Basic plan– $29 per month with 2.9% + 30¢ per online transaction
Main plan – $79 per month with 2.6% + 30¢ per online transaction
Advanced plan – $299 per month with 2.4% + 30¢ per online transaction
SellBrite
Sellbrite is a cost-effective cloud-based multichannel eCommerce management platform efficient for small and mid-size businesses. It supports various popular marketplaces like Amazon, eBay, Walmart, Newegg, etc., for integration, management, and optimization. 
The best thing about it is that it automatically syncs all your inventory in real-time from various marketplaces to enable management in a single place.
The other notable features are
Automated order syncing

Listing and price optimization

Inventory forecasting and replenishment

Custom workflows

Detailed cross-channel analytics and reporting
Pros:
Budget-friendly

Simple to adopt

Flexible pricing

Seamless marketplace integration

Multiple integrations options with single-click

User-friendly UI
Cons:
Slow product listing process

Delayed customer support

Mobile experience can be improved
Pricing:
The platform is forever free for businesses with monthly orders of less than 30. For 100 orders or more, the monthly price starts at $29.
Channel Advisor
Channel advisor is another popular multichannel eCommerce management solution for growing businesses. It supports over 200 sales channels, including eBay, Amazon, Walmart, Facebook, etc., for domestic and international selling. 
It automates crucial processes like listing management, order fulfillment, inventory syncing, etc., to save time and manage everything from a single dashboard. One of its best features is allowing marketplace ads management within the platform.
Some other notable solutions it provides are
Feed and product content management

Real-time brand analytic reports

Social media marketing

Price optimization
Pros:
Supports a large number of marketplace integrations

Offers digital marketing and ads management

Easy to use

Customizable

Multiple customer support options
Cons:
Expensive

Limited reports and analytics functionality
Pricing: 
Pro Plan: $499/month for access to over 40 marketplaces
Premium Plan: $1499/month for access to over 100 marketplaces
BigCommerce
BigCommerce is an all-in-one eCommerce solution for new and growing businesses. The platform has pre-built integrations for all leading marketplaces like Facebook, Amazon, eBay, etc.
The tool maximizes your marketing and sales efforts through email marketing tools integration for abandoned cart alerts, personalized campaigns, etc. You can also integrate third-party marketing tools like Google AdWords, Facebook ad manager, etc., to manage and optimize all your ad campaigns for multiple marketplaces.
Pros:
Wide range of integrations

Interactive UI

Built-in marketing and SEO tools

Supports plenty of third-party apps

24/7 customer support
Cons:
Design limitations

SEO challenges for large SKUs
Pricing:
Free trial – For 15 days
Standard Plan – $29/month for up to 3 storefronts
Plus Plan – $79/month for up to 5 storefronts
Pro Plan – $299/month for up to 8 storefronts
Brightpearl
Brightpearl is an advanced eCommerce management solution designed for large businesses recording sales of $1 million or above. It integrates CRM (Customer Relationship Management) and POS (Point of Sales) tools with the essential marketplace management tools to automate crucial processes like invoicing, inventory management, listings optimization, order processing, dropshipping, etc. 
For scalable growth, it supports plug-and-play integrations. It offers multichannel support and optimization for leading marketplaces like Amazon, Shopify, eBay, etc.
Pros:
Efficient order management

Impressive inventory management features

Detailed reporting

Support various payment gateways
Cons:
Not ideal for small businesses

Poor customer support

Expensive
Pricing:
Doesn't have specific price plans, as they provide quotes according to your business needs.
Common marketplace management mistakes and how to avoid them?
While a multichannel sales approach can help you boost online sales significantly, it can also hamper your business if not implemented correctly. Here are six common marketplace management mistakes, along with solutions to prevent them:
Lacking automation
For multichannel sales, handling everything manually requires a lot of effort, time, and resources. This can become challenging and lead to inaccuracies/mistakes.
To enhance productivity and efficiency, use multichannel management tools (suggested above) to automate crucial processes like inventory management, price and listings optimization, order processing, etc.
Overexpanding
Trying to sell on too many marketplaces at the initial stages without proper research can lead to poor management and sales. 
Focus on a few sales channels initially to see how your products perform. Once you gain experience managing your inventory, orders, and shipping requirements on those marketplaces, consider selling on others.
Failing to optimize price for each marketplace
Not all marketplaces charge the same monthly fee/percentage for sales commission, shipping, etc.; thus, miscalculating prices can lead to a massive loss for your business. When managing listings on multiple marketplaces, businesses either over-optimize the price or don't do it at all. In both cases, you can lose out on potential sales.
To avoid this, first, understand the pricing structure of each marketplace or use automated tools for price optimization across multiple marketplaces to keep your business sustainable and profitable.
Ignoring customers' feedback & queries
Not managing your customers' reviews or responding to their queries across multiple marketplaces can lead to a poor service experience. If a potential customer is asking any questions on any of your sales channels regarding your product, you must provide them with a prompt and detailed answer to their concern to build brand trust. Failing to respond to customer inquiries or complaints professionally and on time can result in negative feedback and lost sales.
Invest in good quality CRM (customer relationship management) software like Salesforce, Zoho CRM, Zendesk, etc., to automate chat responses to customer queries and feedback across multiple marketplaces.
We are not utilizing promotional opportunities.
Many marketplaces run extensive sale campaigns for special days like Black Friday, New Year, Christmas, etc. You can lose tremendous sales opportunities by not submitting your products for those campaigns.
Also, these marketplaces emphasize using promotional vouchers, deals, etc., to boost sales and traffic on your best-selling products. Monitor promotional opportunities across all marketplaces to enhance your brand visibility and sales.
Neglecting data analytics
Failing to analyze your sales data properly across all marketplaces can make identifying trends and making informed decisions difficult. 
To avoid this, use analytics tools like Google Analytics, Mixpanel, Tableau, etc., to track your sales across all marketplaces and identify areas for improvement.
Conclusion
Multiple eCommerce marketplace management involves dozens of responsibilities and processes to streamline. To keep your resources free and overcome common multichannel sales challenges, automating inventory management, listings optimization, platform research, marketing, and order fulfillment is ideal with reliable marketplace management tools. 
As a new business, if you don't wish to invest in tools, it is better to outsource marketplace management services to experts that can handle everything on your behalf and boost your online sales and presence with their expertise.
FAQs
Which are the best eCommerce management platforms for eBay and Amazon?
Several excellent multichannel eCommerce platforms are available for managing multiple marketplaces, like Magento, SellBrite, BigCommerce, Wix, Channel Advisor, etc.
How can I increase my sales and reach a wider audience through multichannel eCommerce?
To increase your sales across multiple marketplaces, understand your target audience needs, analyze competitors' listings, and adjust your pricing. Participate in ongoing promotions and use effective marketing tools for personalized and abandoned cart marketing campaigns.
Which CRM tools are best to improve customer service experience across multiple marketplaces?
To streamline and improve the customer service experience for various marketplaces, some powerful CRM tools you can use are AgileCRM, Pipedrive, Freshworks, Zoho, and Hubspot CRM. They automate multiple marketplaces' contact management and communication processes to save time and effort.