Social responsibility is a huge priority for consumers. According to Harvard Business, "87% of consumers are motivated to purchase from companies committed to making the world a better place." Consumers vote with their wallets, deciding which businesses to support or not support, depending on a company's beliefs and social mission. Consumers are willing to choose brands that stand up for an issue they care about.
🌱
"Social responsibility is the idea that businesses should balance profit-making activities with activities that benefit society. Social responsibility means that individuals and companies have a duty to act in the best interests of their environments and society as a whole." – Investopedia
Social good, supporting charities, and being political are all strategies ecommerce brands are using to retain their customers. Customers are now demanding that brands be authentic and impactful in their communities. From the way, products are created, distributed, and sold to the benefits and opportunities a business provides to its employees and community.
This stems from different generational values and how Gen Z is becoming the top desired target market for advertisers. Customers no longer want to be sold to—instead, they want to get involved with brands that not only care about their business but also care about the world at large.
To put this concept into perspective, we've put together a list of the 10 best socially responsible initiatives from different brands and industries that keep customers coming back for more.
1. TOMS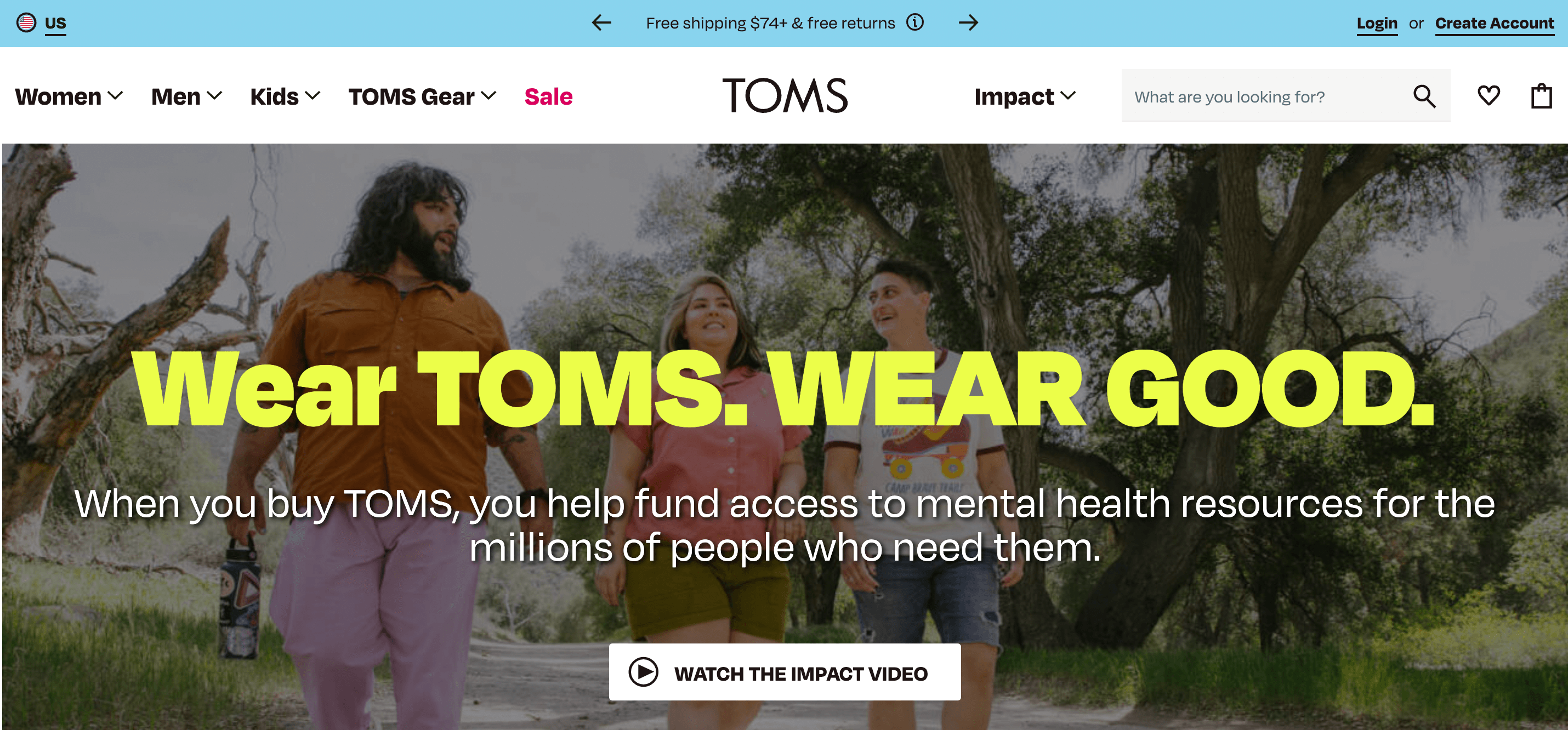 TOMS is perhaps the best-known example of an ecommerce business doing good with every product sold. TOMS was the world's first (and most famous) example of how the "one for one" business model can benefit consumers and society as a whole. Up until 2019, for every pair of shoes purchased, TOMS committed to donating a pair of shoes to an individual in need. The success of this business model led TOMS to apply the "one for one" model to a variety of their products, including eyeglasses, coffee beans, bags, and backpacks.
Today, TOMS is donating a portion of purchases to various social initiatives in the mental health space. "When you buy TOMS, you help fund access to mental health resources for the millions of people who need them," states their website.
TOMS put a spotlight on how brands can provide more than profits and give back to organizations. TOMS "one-for-one" model established a connection on why someone should buy something from them. Their current model of donating proceeds from a customer's purchase gives shoppers a way to support initiatives without taking an extra step. TOMS is still an incredible example of how to approach social responsibility and made an incredible impact on how other brands should operate worldwide.
What you can learn from TOMS
By creating opportunities for customers to have a direct impact, TOMS empowers their customers to change someone's life by completing a purchase. This results in positive emotions with every purchase, encouraging customers to buy more in the future.

2. Jungalow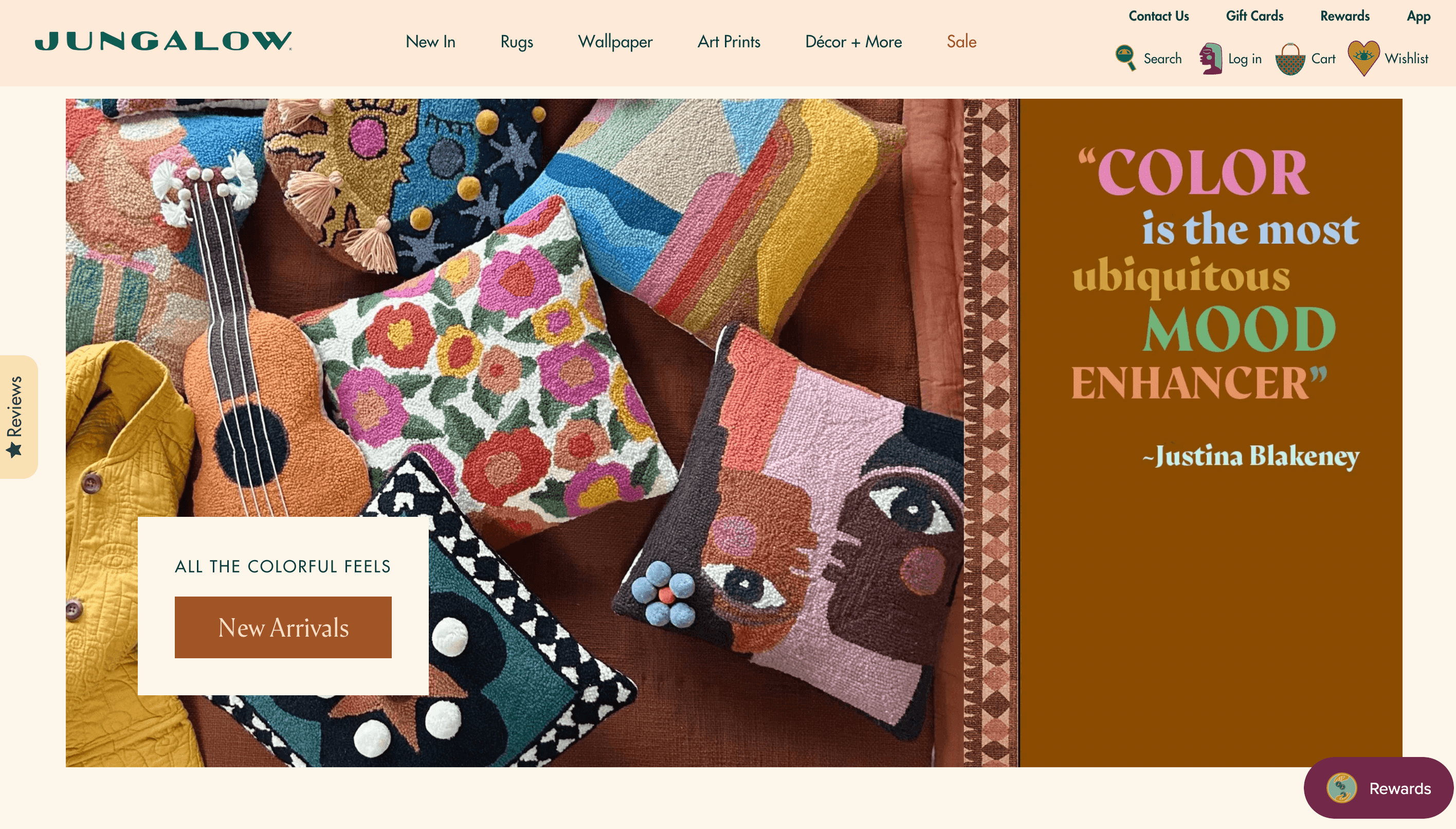 Jungalow is a lifestyle brand that sells home decor and goods from rugs, to art prints, and so much more. It started in 2009 as a design blog by owner and founder Justina Blakeney. Jungalow hopes "that it is a place that will inspire you to tap into your own creativity, connect with nature, and help you to bring good vibes home." From the moment you land on Jungalow's site, you feel what each product is trying to emote. A fun, artistic vibe for its customers.
Jungalow supports various organizations through its profits such as the ACLU, Black Lives Matter, Girls Who Code, and so many others. One way customers are included in giving back is through Jungalow's partnership with the nonprofit Trees for the Future. "Each time you shop with us, you will support this mission. At least two trees are planted with every single order. Through our "Trees For The Future" initiative, with your help, we have planted over 98,000 trees (& counting!)" states Jungalow's website.
Another way Junaglow includes customers is by allowing customers to make an additional donation to Trees for the Future in exchange for reward points. Customers can make a donation with their purchase, and earn 150 JungaLoco Coins for a future reward. By adding more details on the product page, Jungalow ensures every step of the ecommerce journey outlines what they stand for and the causes each purchase supports.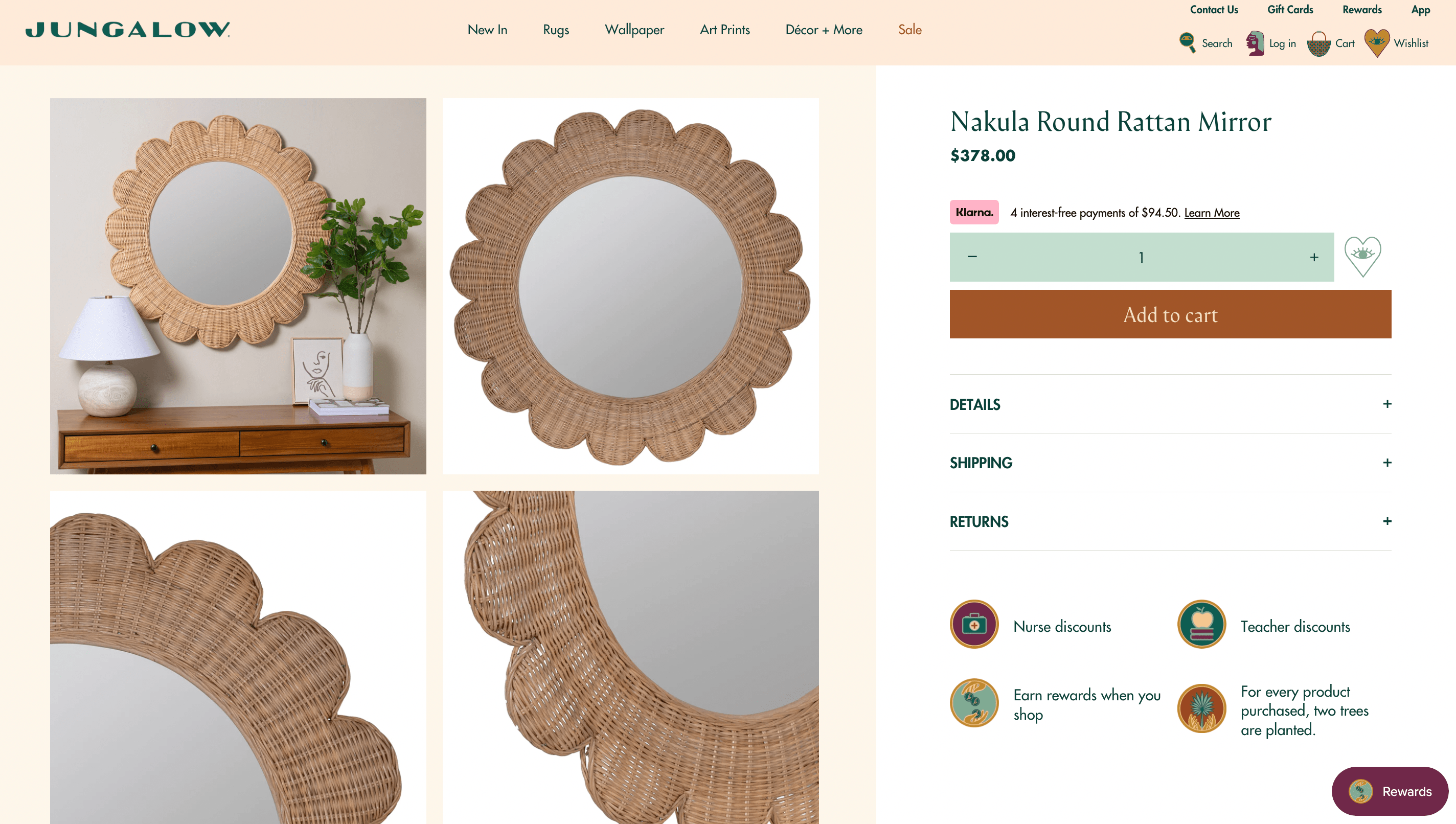 What you can learn from Jungalow
Include your mission through every step of the customer experience journey. Add more information on the product page or include socially responsible initiatives in your loyalty program. This brings a more inclusive and authentic experience to your customers.
3. Mermaid Straw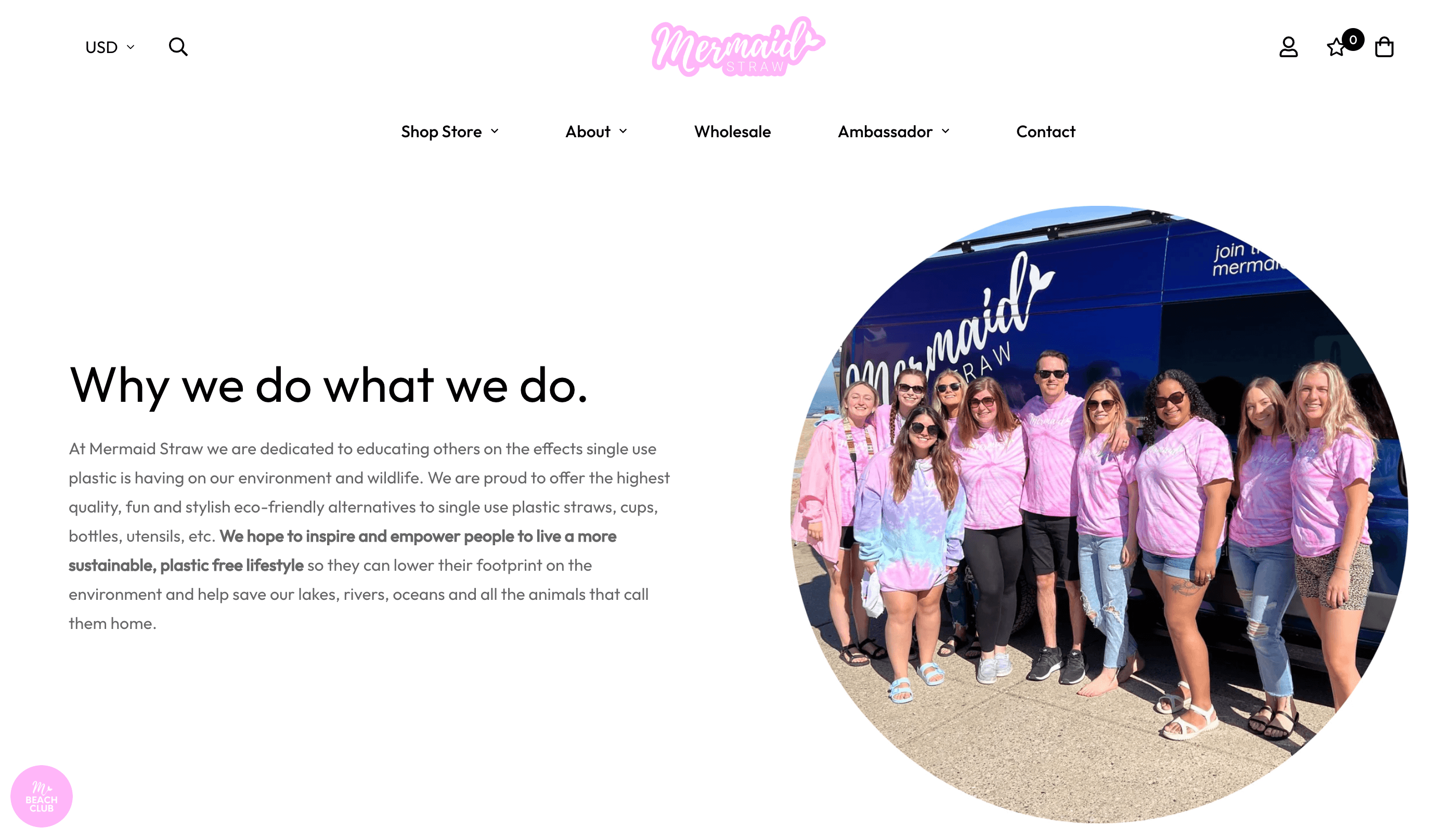 Mermaid Straw is an eco-friendly and sustainable straw company that has expanded into other environmentally-friendly products. With every purchase, Mermaid Straw lets customers know the impact they are making by simply buying a product. Mermaid Straw has a mission, which is to provide education on the effects of single-use plastic on the environment, ocean, and wildlife.
Mermaid Straw's Beach Club is their loyalty program that gives rewards to customers for purchases, taking social actions, and celebrating birthdays. They have built a community that not only values their products but what Mermaid Straw stands for.
🌊
"We donate to an organization called Plastic Bank with each purchase and have been able to collect an additional nearly 1.4 million ocean-bound plastic bottles from our environment through our donations!" – Lisa Harrington, Co-Founder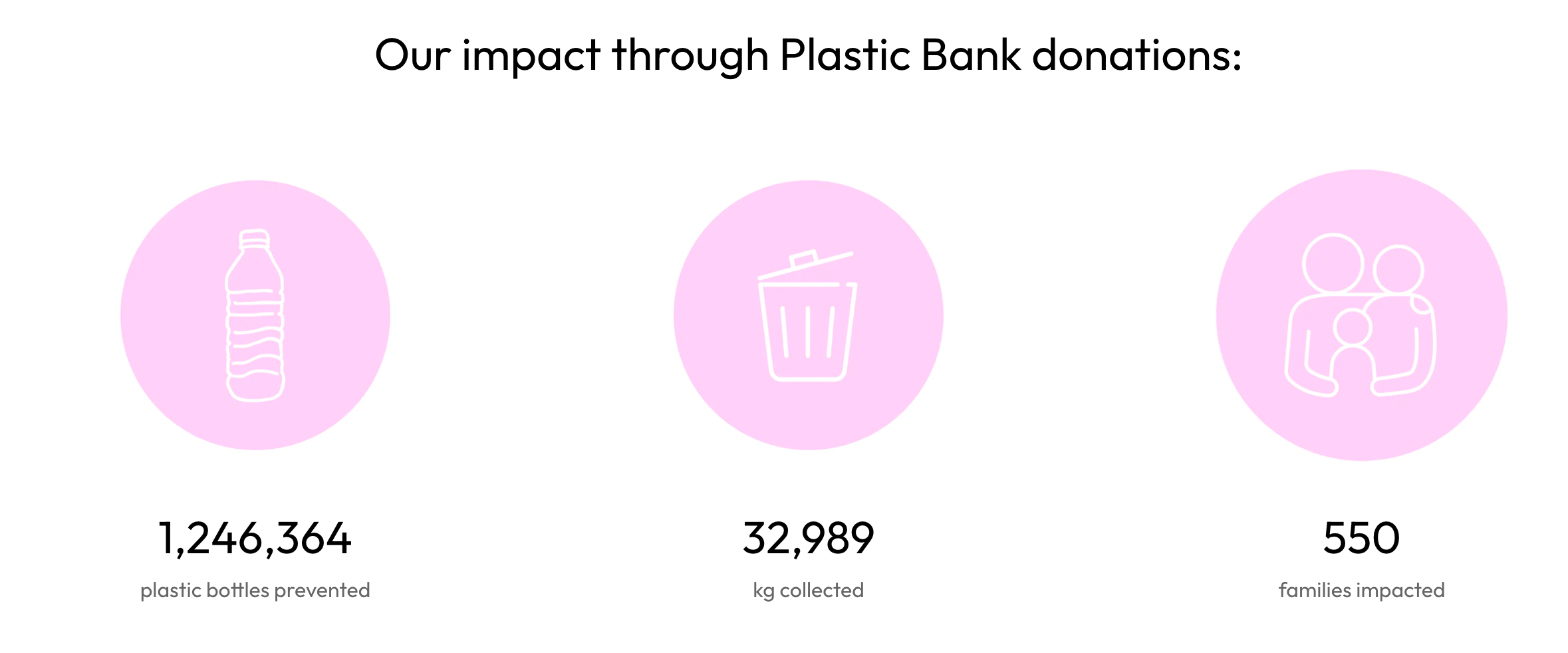 Intersecting their rewards program and their mission has allowed Mermaid Straw to make customers feel part of that world-changing mission by encouraging beach cleanups in different communities. Every product a customer buys contributes towards something good.

What you can learn from Mermaid Straw
Mermaid Straw has a clear mission tied to its products and overall brand. Every customer knows what they stand for and by making a purchase they're opting into what Mermaid Straw is trying to accomplish. Appeal to a customer's emotion and truly build a community around that.
4. Origins Apparel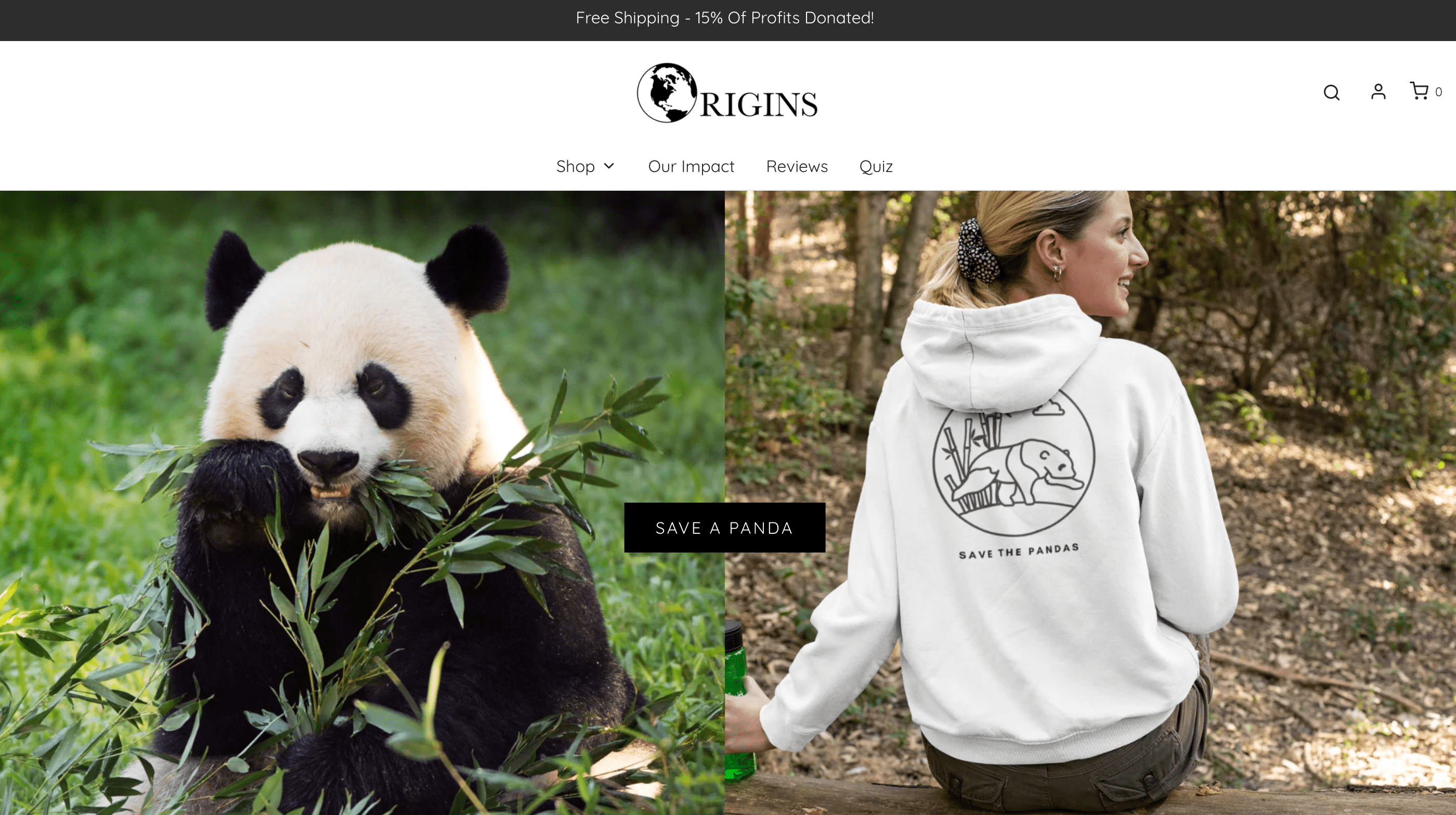 Origins Apparel has one mission, to save endangered animals. Origins Apparel designs apparel that is focused on saving one animal, depending on which product you buy. 15% of all profits are donated directly to the World Wildlife Fund through their zero-waste apparel. "All clothing is created by Bella + Canvas and produces zero-waste. Our process is our main focus as we try to help the environment in multiple ways," states Origins Apparel.
🐼
"We put the planet first. Instead of focusing on profits, we donate 15% to help adopt critically endangered animals, removing them from dangerous habitats and helping their species live on! Excess funds are funneled back into the business to help grow and help more animals in the future." – Origins Apparel
While Origins Apparel isn't the only for-profit company whose business model revolves around social responsibility, they are one of the few doing everything they can to make their customers aware of the cause they're supporting. With more than half a million followers on TikTok, Origins Apparel has been able to build a community on social media that believes in their mission.
With a clear focus on something more than simply selling more clothes, Origins Apparel's  customers can trust that their clothing purchases are more than investments into their wardrobe—they are investments into the greater good on a global scale. With every part of their digital footprints (social media and website) showing customers their impact with every purchase, Origins Apparel has tied its mission to the reason they exist.
What you can learn from Origins Apparel
With each purchase, Origins Apparel customers receive the products they love while also contributing to saving their favorite animal in a clear, direct way.  If your customer's passion lines up with your mission and purpose, you have locked in a repeat loyal customer for life.
5. Who Gives a Crap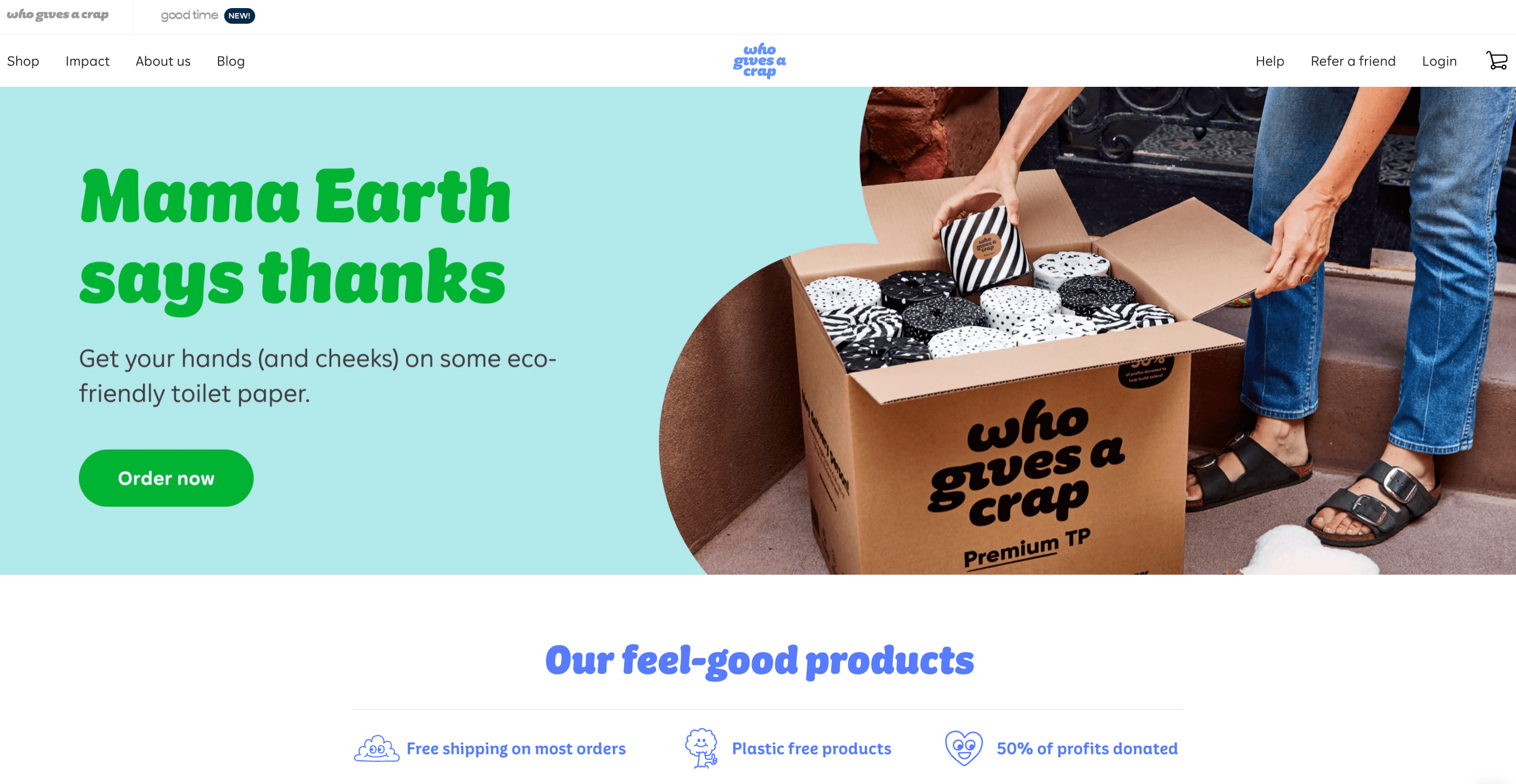 Who Gives a Crap is on a mission to provide quality toilet paper that does good in the world. They offer 100% bamboo toilet paper, paper towels, tissue paper, and cloths. Who Gives a Crap donates 50% of profits to clean water and sanitation non-profits, along with their products being made 100% plastic free. Who Gives a Crap is a great example of selling a product built around a social mission and a community of people wanting to do good in the world.
🧻
"We started Who Gives A Crap when we learned that 2.4 billion people don't have access to a toilet (now 2 billion–yay for progress!). That's roughly 40% of the global population and means that around 289,000 children under five die every year from diarrheal diseases caused by poor water and sanitation." – Who Gives a Crap
What you can learn from Who Gives a Crap
Who Gives a Crap has built a great example of a social mission and a product being tied together. It's easy for customers to support something positive if they are already shopping for an item they use every day. Show your customers that their everyday purchases can actually have a positive impact on the world.
6. IKEA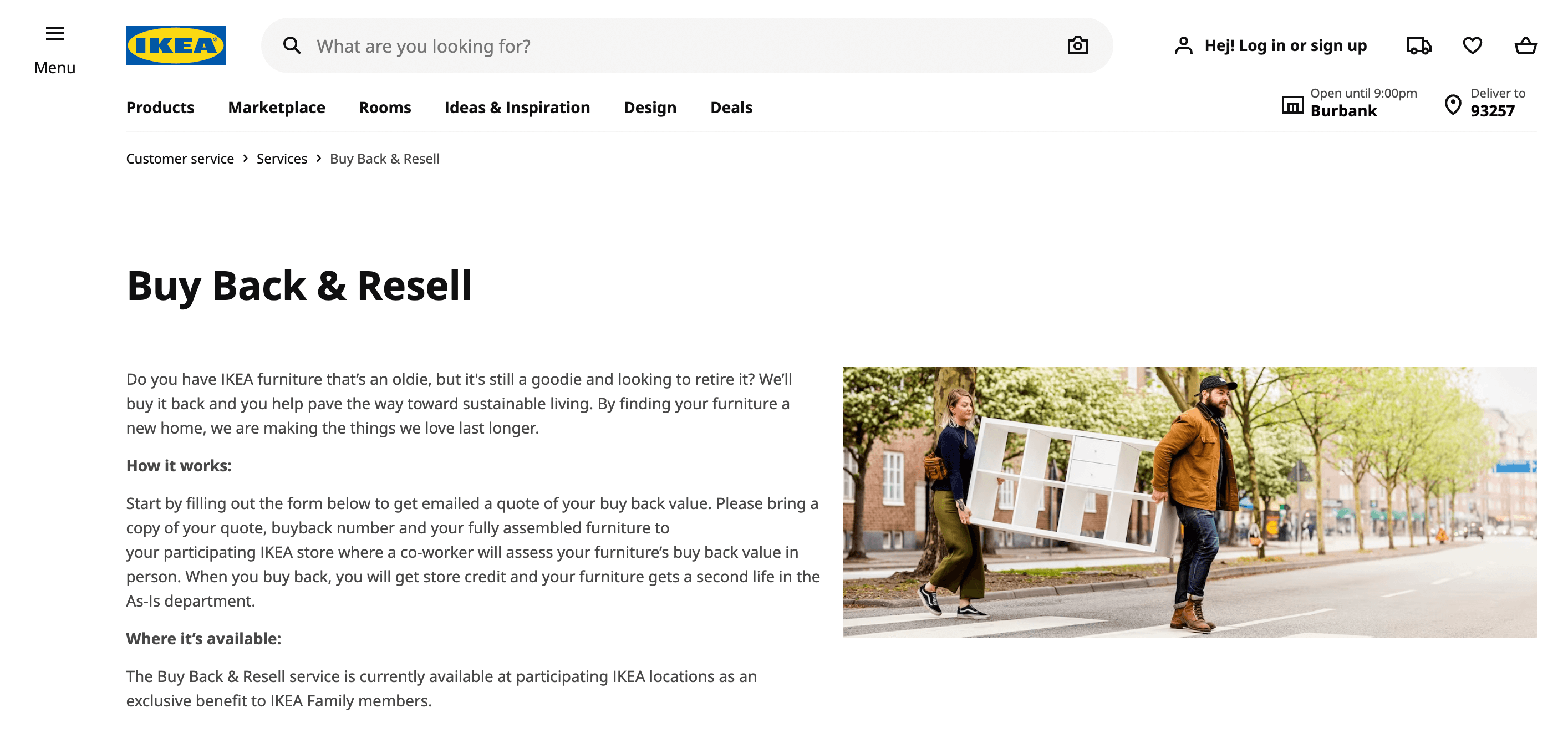 IKEA is one of the most recognized companies in the world when it comes to social sustainability—so much so that the company was ranked number one in Sweden's most Sustainable Brands Index last year. IKEA is always looking for better, socially responsible ways to create, sell, and recycle their products, and the company has committed to a variety of environmental and social initiatives in the hopes of a better future for all.
🪑
"The best way of achieving a sustainable future is by moving forwards, not backwards." Steve Howard, Former IKEA Group CSO
Their IKEA Buy Back and Resell program will buy back old items in exchange for credit for a new IKEA furniture piece. With this campaign, customers are encouraged to sell back unwanted furniture and home goods that may otherwise end up in landfills. From cardboard to couches and everything in between, customers can return products in-store fully assembled to be recycled at no extra charge.
This buy-back program demonstrates a commitment to not only their customer experience but their environmental footprint as a company. This aligns their values with those of their customers, creating a greater emotional relationship that will prompt customers to choose them over a competitor the next time they redecorate their home.
What you can learn from IKEA
IKEA uses social responsibility to retain their customers by offering affordable, energy-efficient products customers can't find anywhere else. Customers can also take advantage of IKEA's recycling program that disposes of used products on the customer's behalf. Go the extra mile for customers and provide value even after they have purchased a product from you.

7. Cloud Paper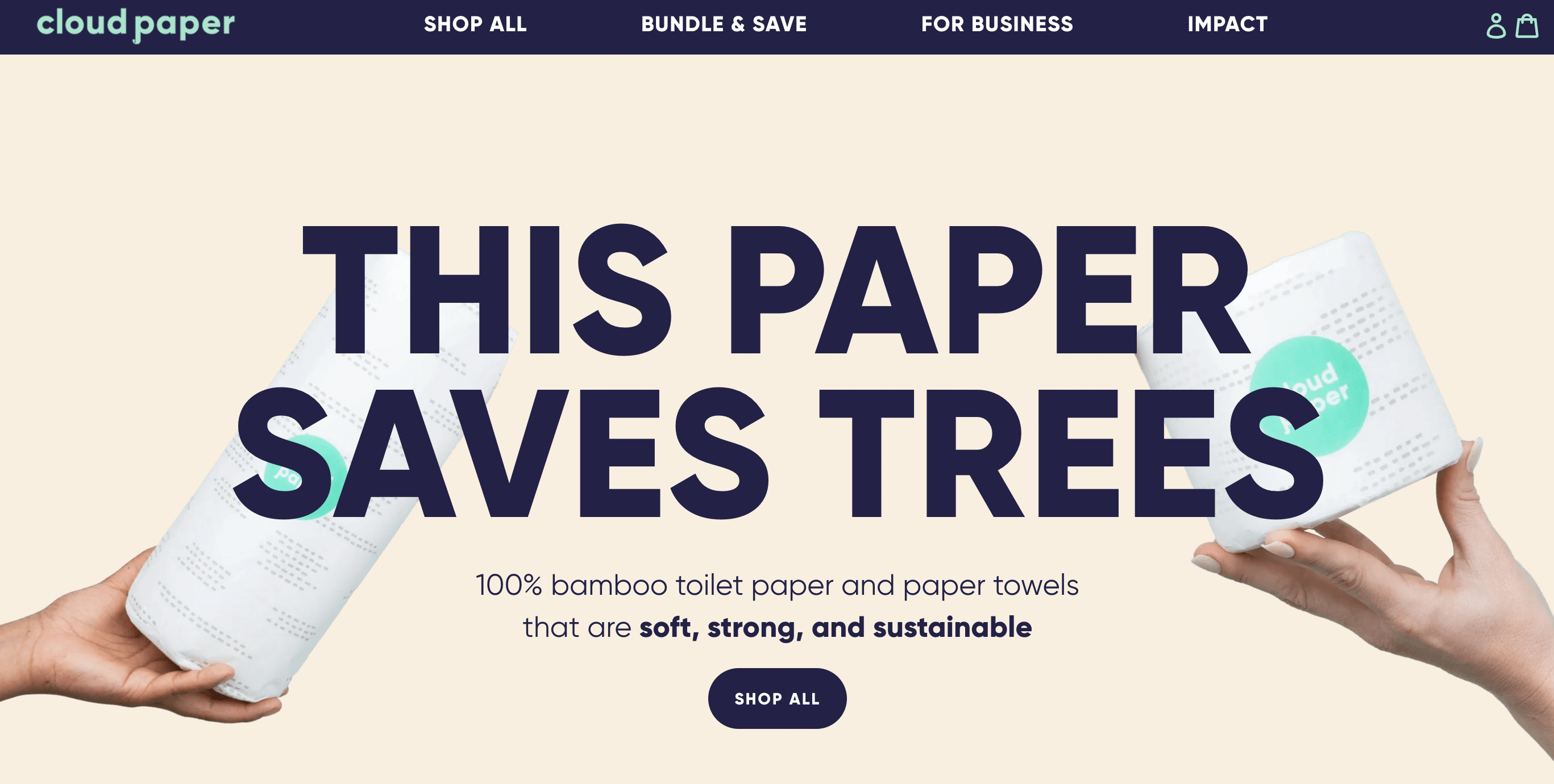 Cloud Paper could not be more clear on their mission to save the planet. Cloud Paper is another toilet paper brand that is 100% bamboo based with recycled and plastic-free packaging and carbon-neutral deliveries. From the moment you land on their website, you know what you are getting (and supporting) when making a purchase from Cloud Paper. Their mission is simple. "Our mission is to save one billion trees, and every person that makes the switch to bamboo helps get us there."
Cloud Paper has built a steady following as they expand offline into grocery stores. Cloud Paper invites customers to be part of its mission by letting customers know that a purchase is going towards something bigger than a profit.
What you can learn from Cloud Paper
Cloud Paper dives into their local community as a way of empowering their customers to give back with every purchase and be part of its mission. As their products make their way into local grocery stores, Cloud Paper is able to capture audiences that resonate with its mission and build a loyal base of customers. This "homegrown" approach to social responsibility builds strong connections between every customer and the world around them.
8. Pura Vida Bracelets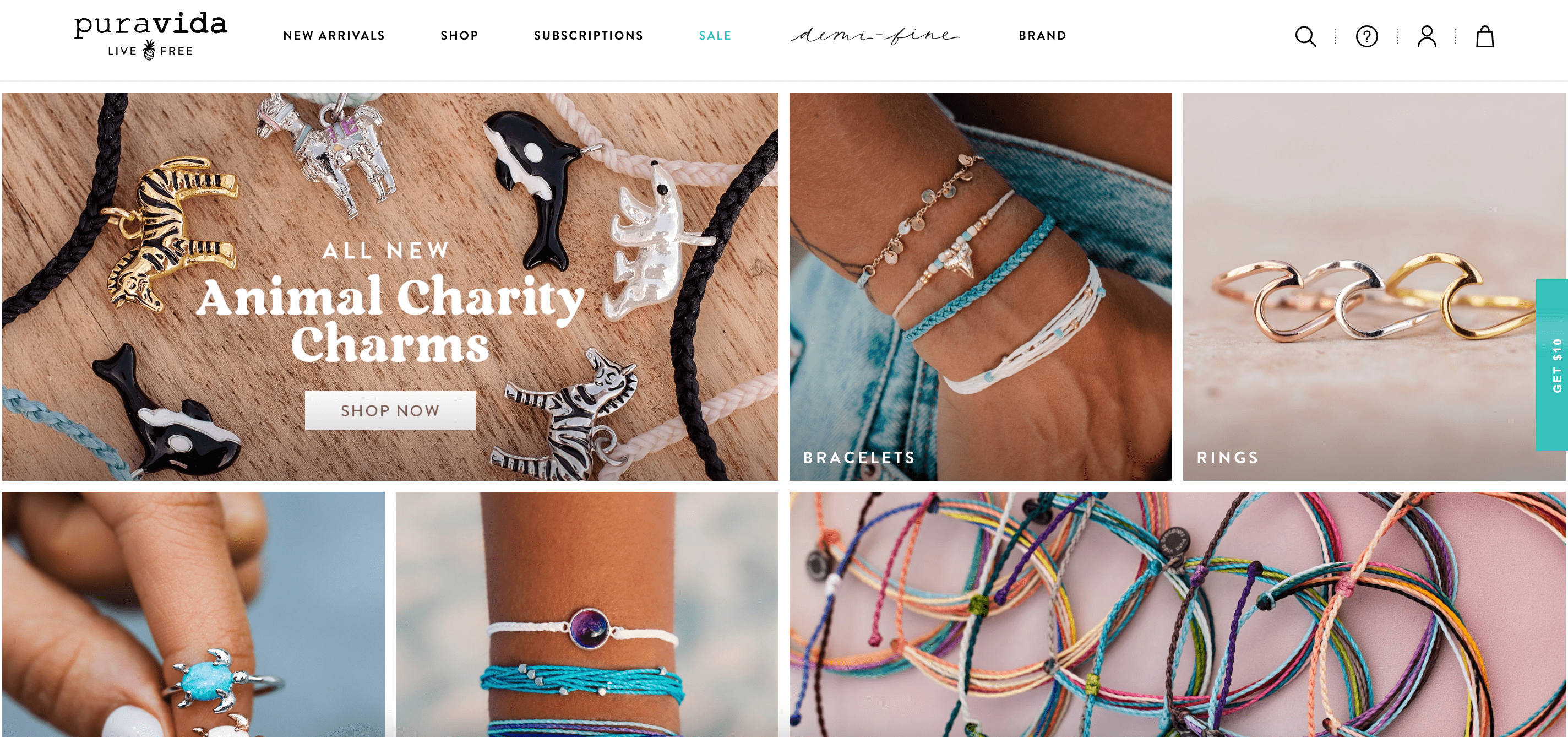 Pura Vida Bracelets has been the staple jewelry and bracelet brand for Millennial and now Gen Z. Not only are they perfect with every look, but they have donated over $4 million to over 200 charity partners over the years. "As stated on each of our charity-related product pages we donate 5% of the purchase price to our charity partners after each quarter has ended," states Pura Vida.
Pura Vida Bracelets have special collections where they feature one organization and over the year have created limited edition bracelets where 100% of the proceeds go directly to various causes in response to an emergency. Such as the Boston Marathon attack in 2013 or more recently the Turkey and Syria earthquake relief.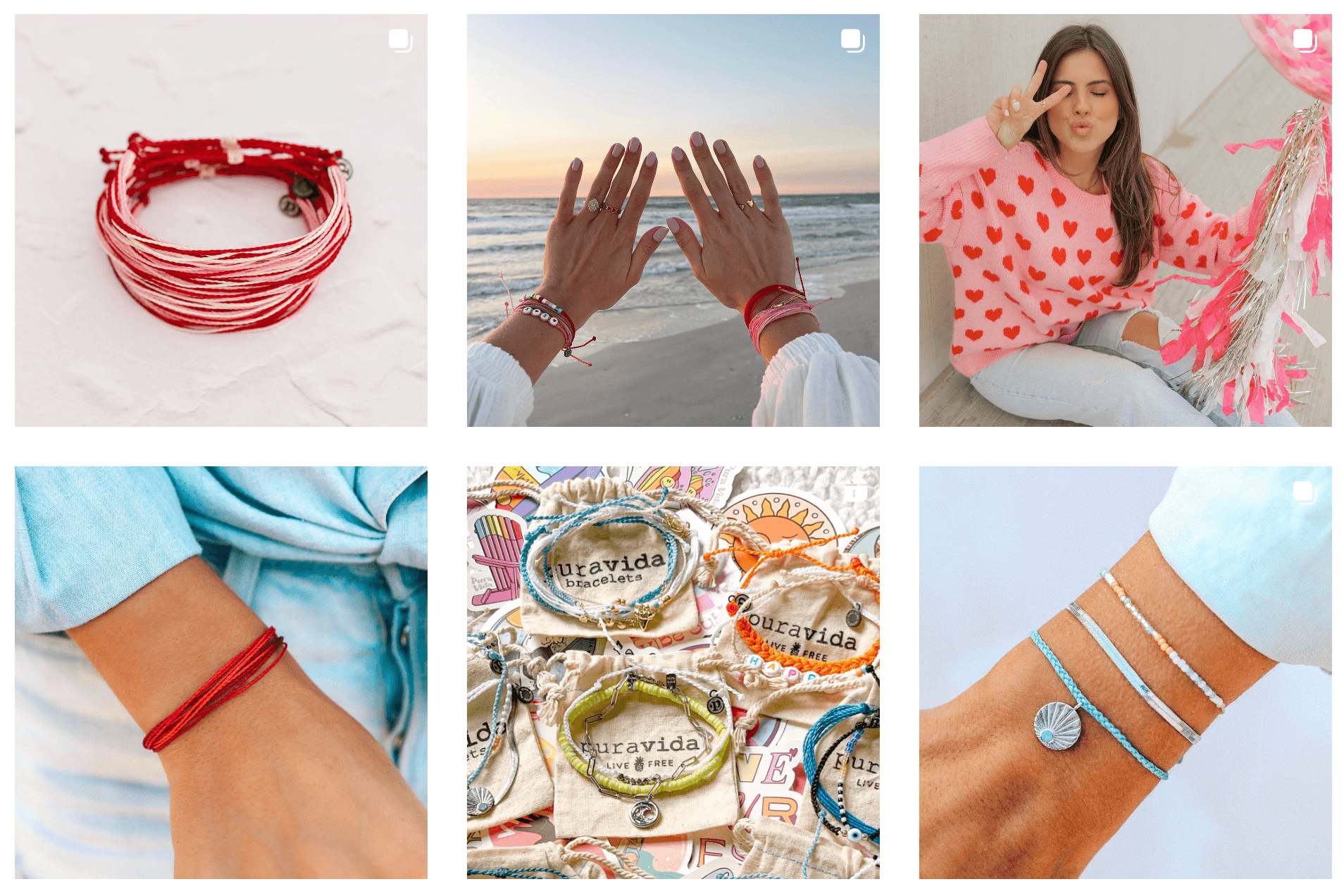 Pura Vida Bracelets also lets anyone create custom bracelets to sell and fundraise for a school project or a special cause. "Have a special cause, organization, sports team, charity, or club you wanna support? Then raise some major $$$ with a custom Pura Vida bracelet!" This creates a genuine product that customers can purchase and create a fundraiser or simply purchase so the customer feels good and looks good.
This community mindset is what ultimately makes shopping with Pura Vida Bracelets so appealing, and is made even stronger with their brand community and rewards program.
For every purchase they make, customers are awarded 1 Shore Dollar and customers are able to move up through their VIP tiers. Pura Vida Bracelets has built an audience that is passionate about giving back while also shopping for products that speak to their lifestyle. Having each product support different organizations means that there is something for everyone and that your action of buying something supports something much larger.
What you can learn from Pura Vida Bracelets
Pura Vida Bracelets has built a brand community through emotionally-driven products, because every product supports a different cause. This builds stronger emotional relationships between their community members and larger philanthropic organizations that make everyone feel like a valuable contributor.
9. Levi's SecondHand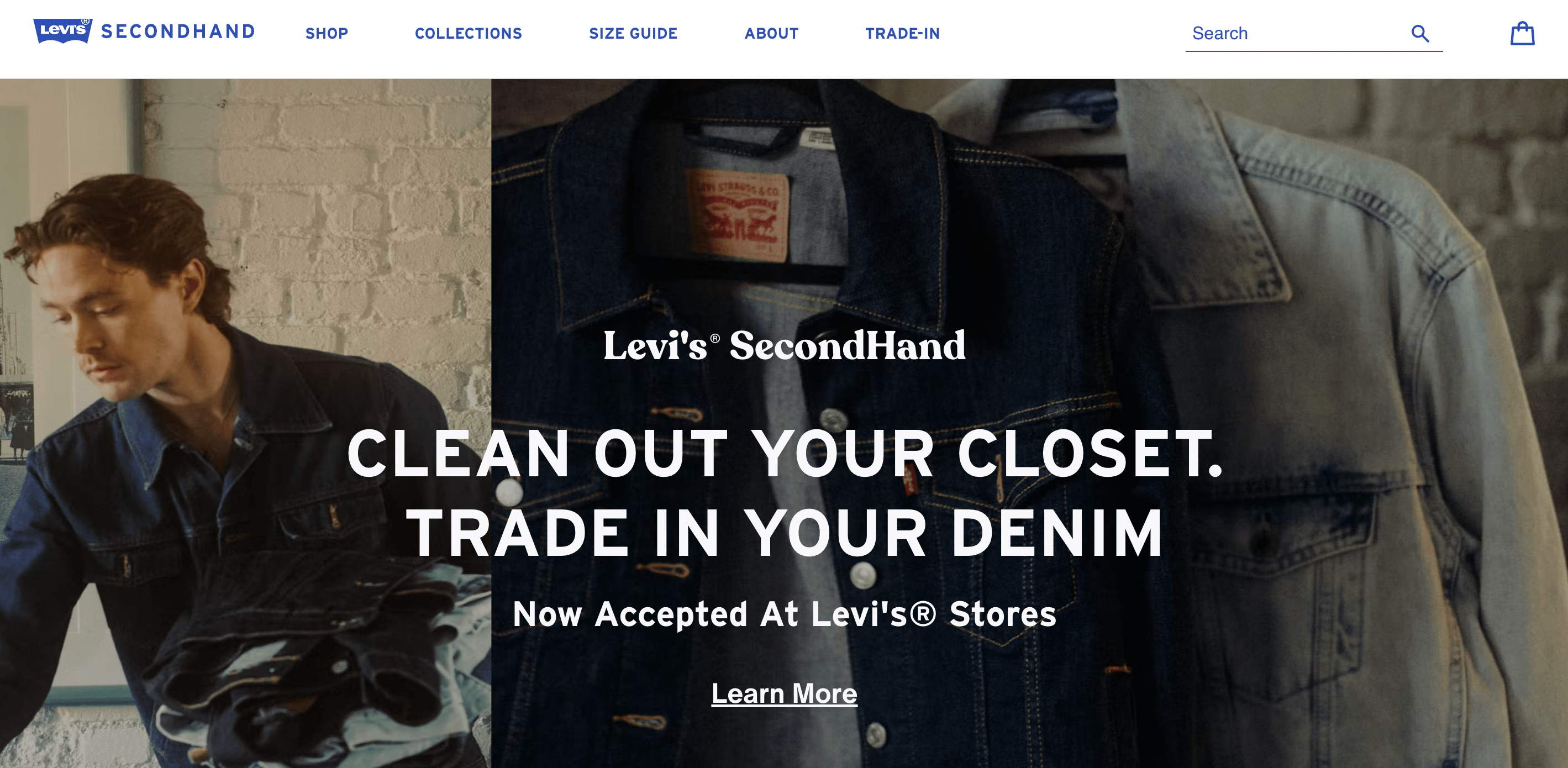 The fashion industry is known for being a negative contributor to the environment and a top polluter. According to the UN, "the equivalent of one garbage truck full of clothes is burned or dumped in a landfill every second." Levi's SecondHand is hoping to be a positive force within the fashion industry through their trade-in program. "Keeping coveted Levi's in circulation and out of landfills."
Through its three-step process, customers can bring in their Levi's products, check them in with a stylist at any of their locations and receive a gift card for the value of their trade-in. Immediately this opens up a way for past customers to return to Levi's store and presents an opportunity to use that gift card for a new purchase.
This brings in foot traffic, a repeat customer, and an opportunity to reintroduce the brand to the customer no matter how long it's been since their last purchase.
👖
"If everybody bought one used item this year, instead of buying new, it would save 449 million pounds of waste. With Levi's SecondHand, we're inviting you to join us in a more sustainable future." – Levi's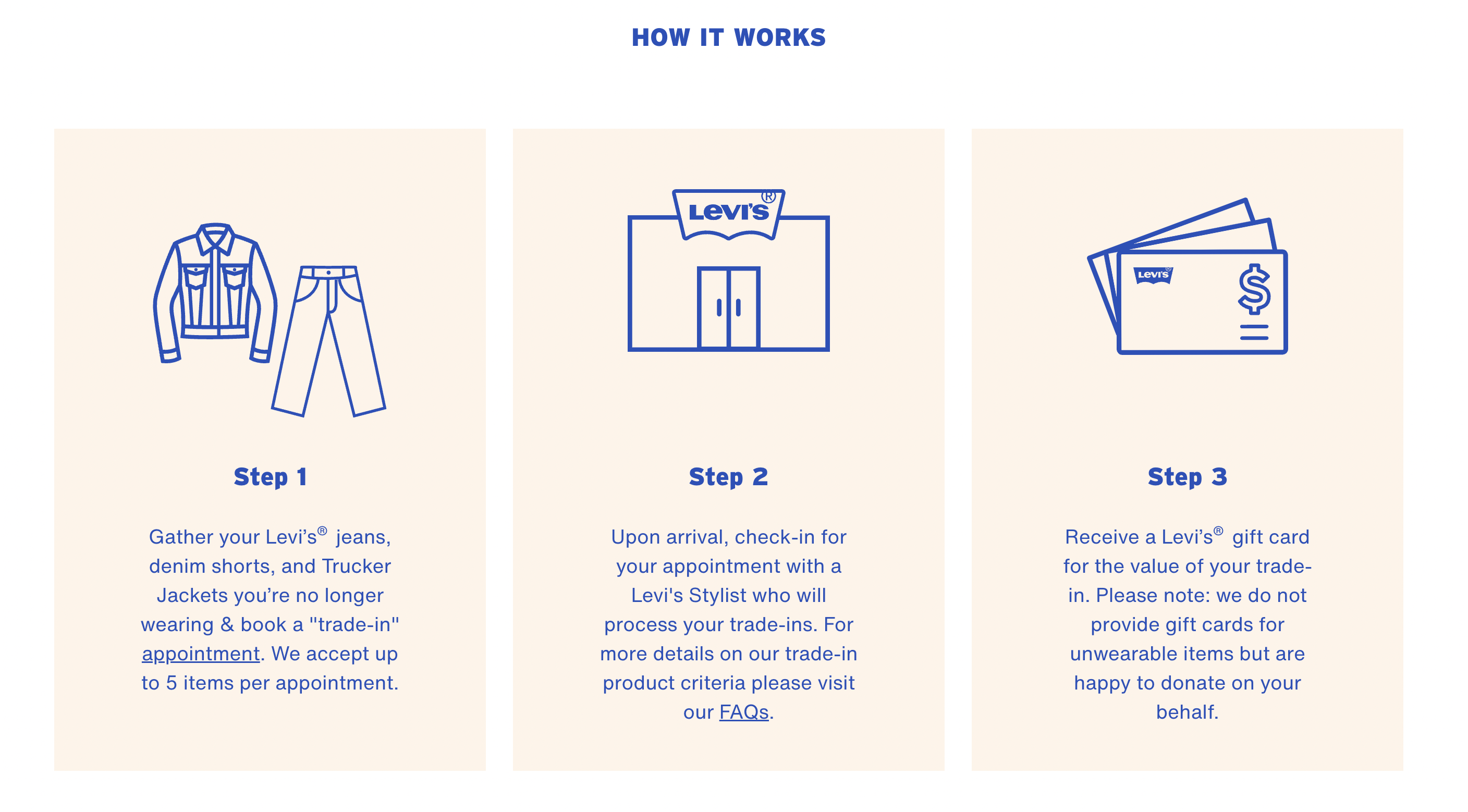 What you can learn from Levi's
Levi's offers their customers a way to recycle old items and an incentive to return for another purchase. Levi's knows through their trade-in program, they can guarantee a purchase if they can bring customers back to recycle their old items since they walk away with a gift card. In the mission to reduce pollution and help the environment, Levi's is associated with doing good through its products and therefore becomes the brand customers want to be associated with. This encourages customers to conserve resources alongside them, creating a partnership between every customer and their brand that's hard to break.
10. Girls Who Grind Coffee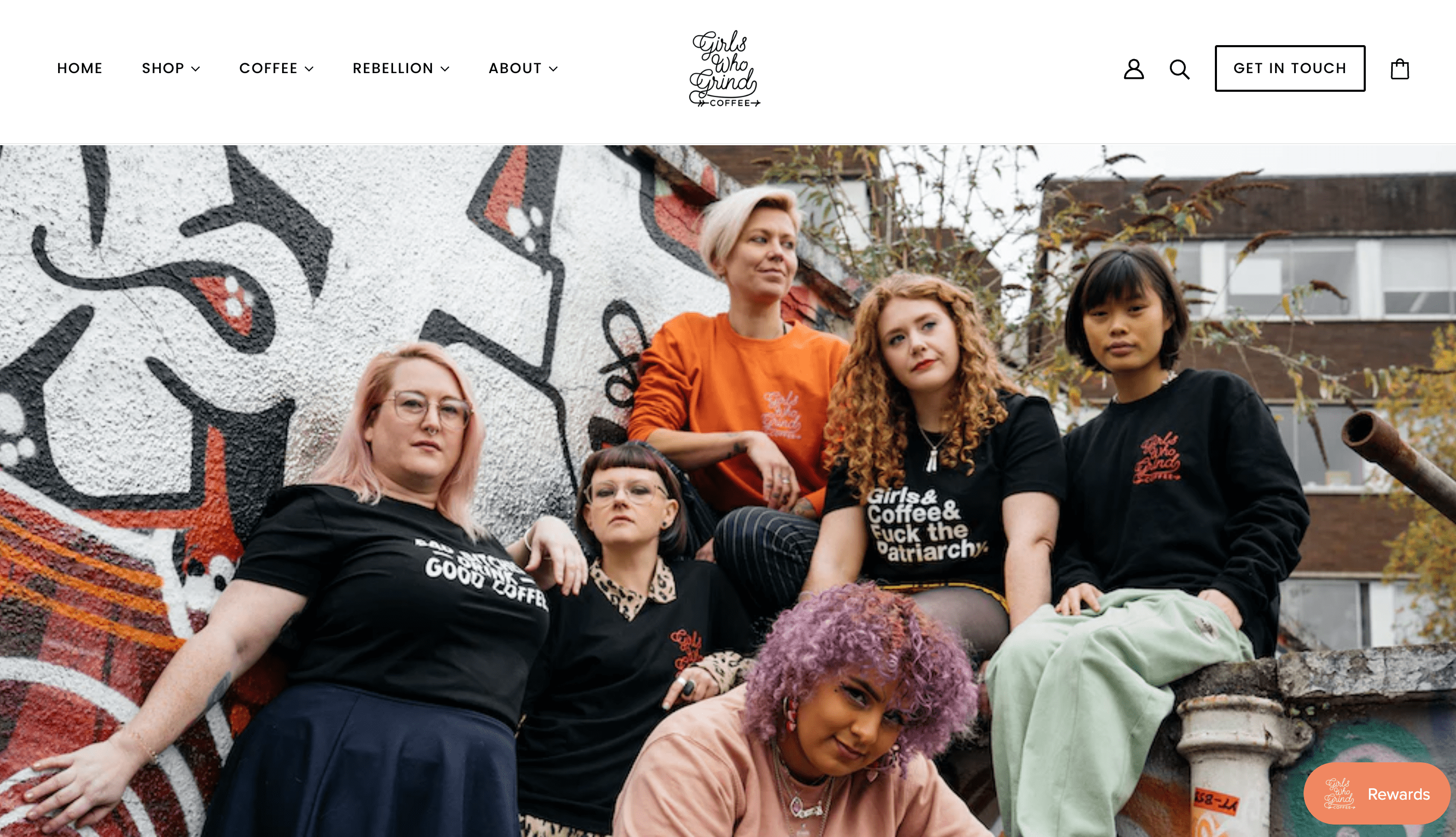 If there is one brand changing perspectives and leading in the coffee industry it is Girls Who Grind Coffee. They are "a womxn-led, anti-patriarchy specialty coffee roastery and rebellion movement." They source all of their coffees exclusively from women producers and donate 10% of their sale price back to the roasters through their Cheek to Cheek initiative. They have raised more than £10,000 to date. The idea is to compensate the female roasters for using their image and story.
Girls Who Grind Coffee is unapologetic about who they are and what they stand for, which is why they have been able to build such a great community of coffee lovers who believe in the company. Through their loyalty program, GWGC Rewards, customers can earn exclusive loyalty points on purchases, 6 GWGC Points for every £1 spent. Customers can also refer their friends and earn a £5 off coupon for every referral.
#coffeetwitter here's a quick recap of @GWG_Coffee visiting our farm a couple days ago! Such an amazing opportunity to share with those who became our first specialty client ever a few years ago! pic.twitter.com/lJXiymmNqD

— karla 🌱 (@kbozaaa) February 13, 2023
Making it their mission to support women, and be unapologetic about their beliefs is a significant part of Girls Who Grind Coffee's brand image. It makes it easy for their customers to understand their priorities as a company.
What you can learn from Girls Who Grind Coffee
Girls Who Grind Coffee uses social responsibility to make a small, everyday purchase represent something more. Customers can trust that their coffee is contributing to actual coffee farmers and roasters, making every purchase enjoyable for both themselves and the coffee industry.
One small step for your business, one giant leap for customer relationships
When you consider that 87% of consumers are motivated to purchase from companies committed to making the world a better place it's clear that social responsibility is a highly effective customer retention tool.
By defining your brand experience with the ways you're giving back to the world around you, you can sow the seeds that foster strong emotional connections between your business and every customer who shops with you. These connections are what turn into lifelong loyalty and fuel a thriving brand community committed to positively impacting the world around it.
Editor's Note: This post was originally published April 16, 2019 and was updated for accuracy and comprehensiveness on March 1, 2023.
Start retaining customers with a loyalty program
Create a rewards program in minutes
This originally appeared on
Smile.io
and is made available here to cast a wider net of discovery.