In retail, B2B eCommerce platforms are essential for a successful business. The top B2B eCommerce platforms help small companies reach large audiences and build strong brands.
They allow you to create websites, mobile apps, and other marketing products that can all be branded according to your company's personality. B2B eCommerce platforms are also designed to make managing inventory, payments, and customer service requests easy in one place to focus on growing your business.
BigCommerce
BigCommerce is an excellent platform for B2B eCommerce. It has a solid customer base, and it's easy to use. It also has a lot of features and functionality, as well as an excellent price point.
If you want to build an online store for your business, BigCommerce is the right choice.
Oracle Commerce Cloud
Oracle Commerce Cloud offers eCommerce tools that make building and managing your business online easy. The product includes features like an online storefront, a marketplace, cart management, catalog management, and digital assets management (DAM).
If you're looking for a B2B eCommerce platform that offers more than just basic functionality, there are reasons why you might choose Oracle Commerce Cloud over other options on this list.
In addition, Oracle Commerce Cloud has a large ecosystem of partners who've built third-party apps and extensions for the platform. This means you'll have no shortage of options when it comes time to find new features or integrations with other products in your stack.
OroCommerce
OroCommerce is an open-source eCommerce platform that offers a large community of developers and users. It was built on the Laravel framework, known for its flexibility and ease of use.
OroCommerce has everything you need to start selling your products online, including catalog management tools, product attributes, shipping methods, payment gateways, and more. If you're looking for a free option with plenty of support from other users and developers, then OroCommerce may be the best choice.
Shopify Plus
Shopify Plus is an excellent platform for B2B eCommerce. It comes with a wide range of features, including: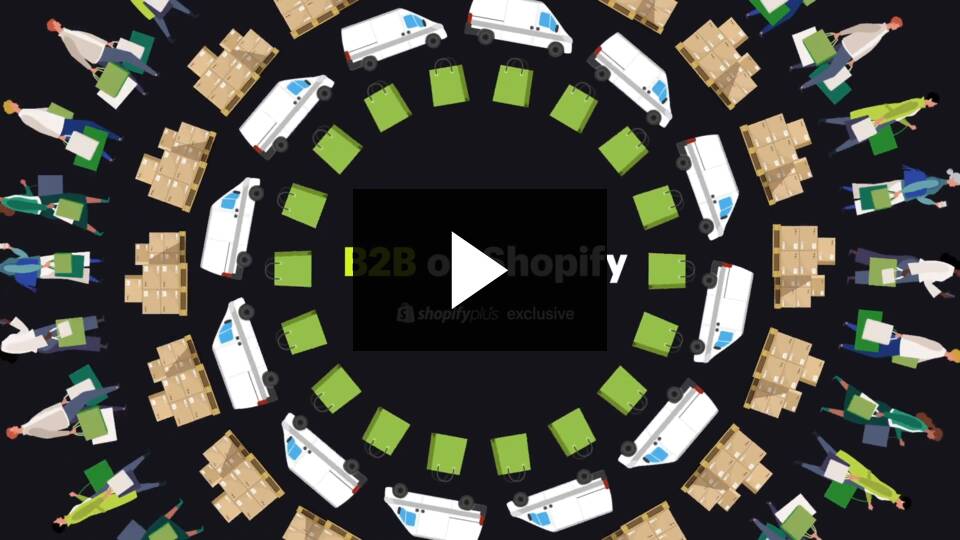 B2B Ecommerce Platform – Shopify Plus
Adobe Commerce
Adobe Commerce is a powerful and flexible eCommerce platform that can be customized to fit your business needs. The Adobe Commerce platform is ideal for companies with large catalogs of products or complex product information that needs to be managed.
Adobe Commerce'sCommerce's flexibility allows you to build a customized online store with the look and feel of your website without redesigning your site from scratch. With Adobe Commerce, you can access all the tools and resources needed to manage any online store at scale – including support for multiple languages and currencies, advanced customization abilities (including live previews), and more.
WooCommerce
WooCommerce is an eCommerce plugin for WordPress that enables you to sell products and services while building your online store. It'sIt's the most popular eCommerce plugin in use today, powering over 28% of all online stores and websites.
With over 2,000 extensions, it's no wonder WooCommerce is powerful. However, this also means hundreds of ways to customize your site with plugins and extensions. If you do end up getting lost along the way (and we know how easy that can happen), here are some tips from us:
How strong is their customer support? We recommend looking for answers on their internal forum if you need help or guidance with your project before emailing them directly. That way, if they don't respond as quickly as possible, there will still be other users who have faced similar problems before offering assistance too.
Sana Commerce
Sana Commerce is a multi-channel commerce platform that allows you to sell online, mobile, and in-store. Sana Commerce provides full eCommerce functionality, including inventory management, shipping, order management, and customer service. It also has an integrated marketplace that supports paid ads and paid placements.
OpenCart
OpenCart is an open-source eCommerce platform. It is a free and open-source eCommerce platform licensed under GPLv2. OpenCart's code can be downloaded from its official website, which allows you to modify the script to fit your needs.
OpenCart has been around since 2007, but it has recently seen increased popularity among B2B merchants due to its low costs (free), ease of use, and wide range of features.
ProStores
ProStores is a hosted, cloud-based eCommerce platform that offers catalog management, product search, and payment processing features. ProStores is also compatible with many third-party integrations, such as Shopify.
Product Catalog Management
As an eCommerce store owner, you want to manage your products efficiently so your customers can easily and quickly find what they wish. With ProStores, you can:
Import products from different sources like Amazon or eBay

Upload photos for each product directly from the website

Create multiple categories for all of your products
Wix Business
Wix Business is a cloud-based eCommerce platform offering a simple way to set up, run and manage your online store. Wix Business comes with many features that make it easy to customize your site, including:
Login and password protection (to protect your customers, customers, and sensitive information).

Real-time shipping rates are available for carriers like UPS and FedEx.

Wix'sWix's built-in payment processing tools allow you to accept payments directly through the site without integrating another system.
Salesforce B2B Commerce Cloud
Salesforce B2B Commerce Cloud is a robust platform that helps businesses grow their eCommerce business. It is a cloud-based platform that allows you to create, manage and scale your eCommerce business. With this platform, you can manage orders and improve customer experience. Here are some of the features:
Manage Orders:

Keep track of all your customers' demands in one place so that they can be easily managed and improved upon

Track Activity History:

Track customers' actions using this software to learn more about how they use it.

Customer Insights:

Collect data about your 'customers' activities on the site, allowing for better marketing campaigns.
WooCommerce
WooCommerce is a free and open-source eCommerce plugin for WordPress, which allows you to sell anything from digital downloads to physical products. WooCommerce features a robust set of extensions that will enable you to customize your store in countless ways.
WooCommerce comes with many useful features out of the box. It includes:
Product variations (color and size).

Multiple payment gateways, including Stripe, PayPal, Authorize.net, and others

A range of shipping options, including flat rate or per-item shipping based on weight.

Tax rules are based on product categories or locations.
Squarespace For Commerce
Squarespace for Commerce is an excellent choice for eCommerce sites that want to sell physical products. It is easy to use, has many features, plus it's a cost-effective platform.
Squarespace for Commerce can also create unique, customized storefronts that function beautifully on all devices. This platform also includes features like:
A/B testing (to optimize your website)

Product recommendations (to improve conversions)

Content marketing integration (to increase leads)
These platforms are a good foundation for building an excellent B2B eCommerce platform.
A good eCommerce platform is the foundation of a successful B2B business. You need more than a great product and an excellent marketing strategy; you also need an eCommerce platform that can scale your business as it grows.
The top B2B eCommerce platforms have many features that help you grow your business, from easy-to-use interfaces to affordable pricing plans. These platforms also allow for customization, so you can customize them to meet the needs of your unique brand or industry.
In summary
The top B2B eCommerce platforms are a big deal for business owners. They help connect you with customers, manage inventory, and analyze data to improve your business strategy. Further, eCommerce platforms can also be expensive to start up and maintain, so you must choose a platform that fits your needs and budget.
In this blog post, we looked at the top B2B eCommerce platforms of 2022, including Magento, Shopify Plus, and OroCommerce. These platforms offer great features like live chat support, free shipping options, and more.